We use affiliate links and may receive a small commission on purchases.
2023 Trek Farley 7
Price: $2,849.99
Frame: Alpha Platinum Aluminum
Gear: 1×12
Tires: 27.5×4.50"
What we love about it: Created for the rough, rough hills, a four-season freedom bike that lets you ride outdoors year-round with a different experience.
What we don't like about it: The 4.5″ tire size makes it harder to ride on flat roads, but if you're a power rider, this won't hold you back.
Rating (4.8/5)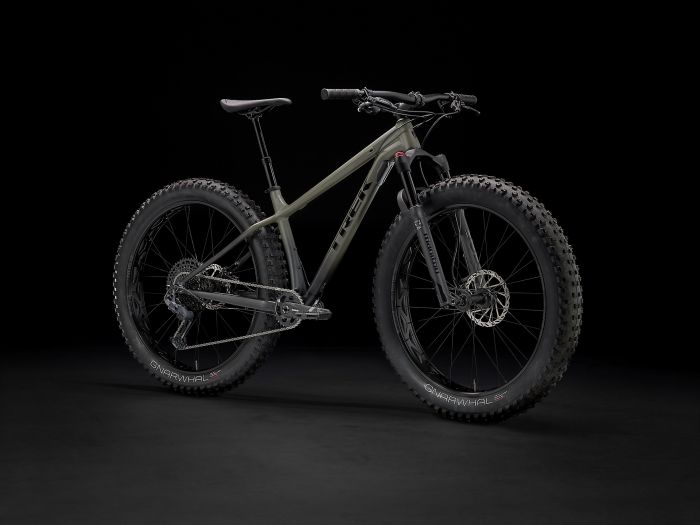 The Trek Farley 7 really blew us away. Its rugged shape made me feel as powerful and secure as Dwayne Johnson. The overall paint color Matte Olive Grey to Trek Black Fade is full of mystery, I think it can conquer the rider who likes to experience the thrill.
In our two-month-long test, the Farley 7 showed a great sense of safety on both rough uphill and gravel-filled trails. We also tried putting it on smooth roads that might not be so friendly to it, but its performance on the road didn't quite match its rough appearance, and I didn't expect it to have such a delicate performance.
Although the Farley 7 is better at surfing on sand and snow. With an overall weight of 35.1 pounds, some might find it too bulky. But through our evaluation experience, we found that when we actually ride it, its weight is not as heavy as we imagined, but it gives us a sense of stability and security.
Below is our detailed review of the Trek Farley 7 for off-road and road riding, key features, components, and specs, as well as other versions in the rest of the series.
If you are a little bit interested in the Trek Farley series, be sure to check out our review of other versions of the Trek Farley.
Learn more: Great Value Mountain Bike – 2022 Trek Farley 9.6 Mountain Bike Review
Mountain Off-road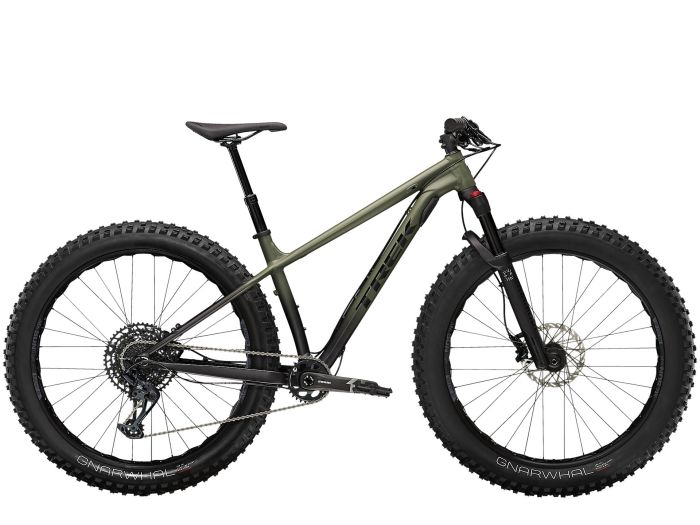 If you like to go to the top of the mountain to watch the sunrise, and there is a challenging downhill or uphill near you, and you like to challenge all kinds of rough roads, you may wish to take a few minutes to see what we cost two Farley of the monthly time test.
We had high hopes for it (on the off-road side), so we headed to the foot of a nearby mountain after a rainy day. This hill has almost no flat riding trails suitable for uphill riding. Even if we had high expectations for the Farley 7, we could not help worrying about it, and it did not disappoint us.
Now let's take a closer look at the components of the Farley 7 that make a difference in off-road riding.
First of all, our first sight was drawn to its huge wheels. The 4.50" tire size, with aggressive lugs on the tread, gave our uphill testing excellent traction to keep you moving in all conditions.
Looking back, the Farley 7's maximum compatible fork travel (100mm) and its air spring make it very cushioned on rough trails.
On the other hand, because of its 1×12 shifting, we have a wider range of speed options, and the shifting will be faster. Also worth noting is the Farley 7's Rapid Drive 108 rear hub, which gives it a more responsive speed response when climbing hills thanks to its excellent just-in-time acceleration.
If you need one for mountain biking and enjoy exploring new routes, I think this Farley 7 will win you over.
Road Riding
The Farley 7, though, has a wild tire size. Some would argue that it won't keep up with professional road bikes on smooth roads. Of course, this is undoubtedly a reasonable explanation, and indeed 27.5×4.50" tires will have such troubles. But in our review, the Rapid Drive 108 rear hub's design also showed impressive road riding speeds in terms of timely acceleration.
Moreover, the rear rack mounting holes and the kettle mounting holes of the upper and lower pipes can not only carry the necessary equipment but also bring enough water.
If it's a steep, bumpy road ride, it allows you to maintain your speed while reducing the bumps.
Even though the Farley 7 can't keep up with professional road bikes at speed, stability is an area where it excels. Not to mention that this is a well-rounded mountain bike, and I think its performance is adequate.
Main Feature
Frame
If you were pleasantly surprised by the Farley 7's punchy overall look, its Matte Olive Grey to Trek Black Fade paintwork might also surprise you (and some might find the paint choices too few).
Generally speaking, bicycle cables are usually placed inside, but the Farley 7 has a combination of internal and external routing. From the outside, it is not only simple and elegant, but also provides an additional port design.
This design also allows you to avoid a lot of trouble in the cold winter. Not only that, but it also has a frame protector, which is really worth mentioning.
We saw the Farley 7's water bottle mounting holes and its rear rack, a design that gives you all the water you need and room for essential luggage when you're on a challenging mountain ride.
And in our review, the steeper seat tube angle allowed us to maintain a comfortable upright ride. If you've climbed hills on a Farley 7, I think you'll love this fine-tuned horizontal slip release. You can adjust the length of the chainstays so you can ride comfortably in any situation.
Geometry
As you can see, the Farley 7 has a platinum aluminum frame, which saves some weight and makes you feel lighter when riding. The triangular-like frame design makes the Farley 7 more stable during driving.
Also, the tighter head angle (69°) can be a problem for you when riding. But don't worry too much, the slack seat tube angle makes up for it.
Of course, we also have to look at the Frame reach. Since the Farley 7's Frame reach is the largest at 45.4cm, for those with long arms, the arms will feel sore after riding for a long time, but the increase of the air spring can protect it in the high-speed off-road wrist area. Of course, choosing a suitable mountain bike is very important. Then we will naturally focus on the BB, the Farley 7 low BB (maximum size 32.1), when going downhill, it lowers your center of gravity to give you better stability on the descent.
And the Farley 7 has a horizontal slip release for stability over long rides and can be adjusted up to 12mm, which is a rare experience.
Components and Specifications
SRAM NX Eagle, 1×12 speed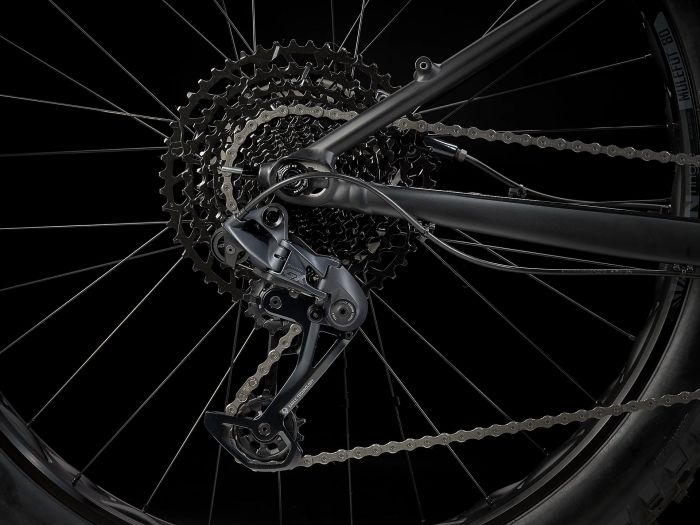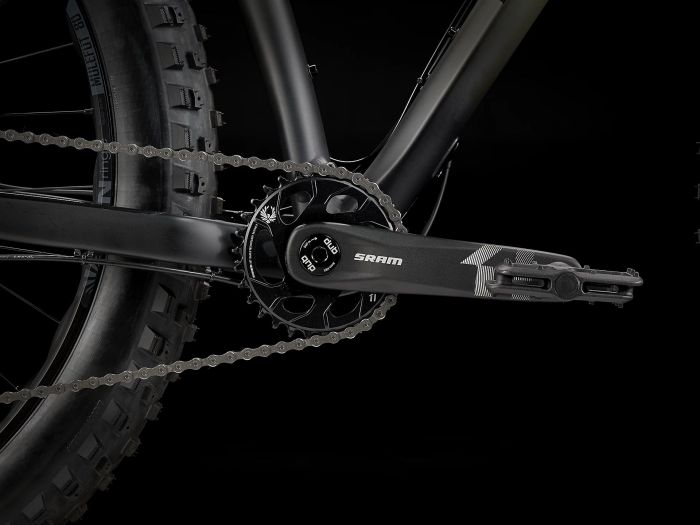 The Farley 7 uses an SRAM NX Eagle, a 1×12-speed drivetrain, and an SRAM GX Eagle rear derailleur. In fact, I'm a little bit shocked by a drive like this at this price. The NX Eagle 1×12's drivetrain not only has a wide range of speeds, but its rear derailleur can achieve smoother movement and be more durable.
The 11-50 gearing, which some might find underwhelming, didn't make a big difference in our review, and even gave the Farley more climbing ability.
All in all, the mass of the Frisbee in the drivetrain is a bit heavy for me, but also because it uses a high-strength steel material. If you need a bike that has a wide speed range and is durable enough, I think the Farley is worth checking out.
SRAM Level T hydraulic disc brake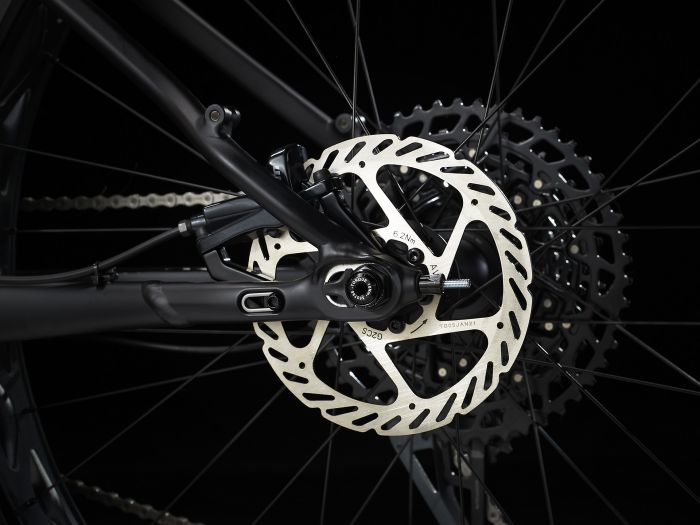 SRAM Level T brakes are a staple in off-road and XC riding. The Farley 7 is a mountain bike with SRAM Level T for strong and stable braking on steep and rugged descents.
Not only that, but the SRAM Level T has smaller levers, weighs a lot less than I thought it would, and still pulls off its powerful braking ability against the giant 4.50″ tires. For the price of the Farley 7, it's definitely affordable and of high quality.
When I was actually riding on a slippery and steep downhill path, and in tight corners, the SRAM Level T braking gave me a sense of security, allowing me to brake quickly with strong tire traction, which Cycling on off-road and mountains will give you enough security. However, if the Farley7 is loaded with heavy loads, then, in this case, it will bring some inertia. At this point, your SRAM Level T's brakes will still work stably, but at a certain speed.
So, in terms of the SRAM Level T braking system, I think Farley 7 has put a lot of effort into that.
Tire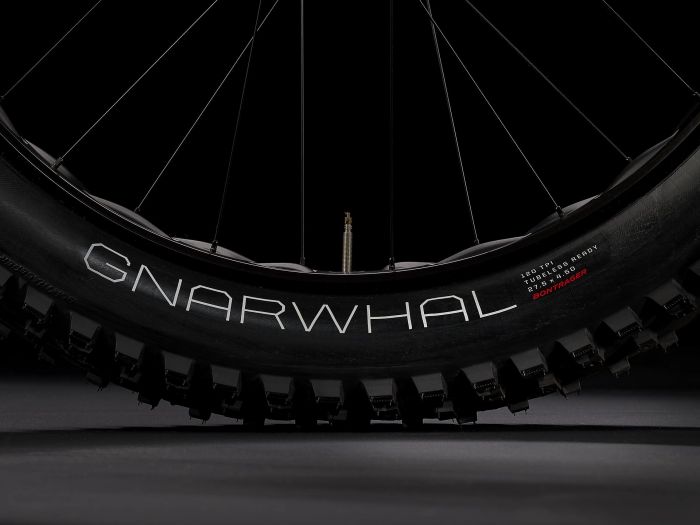 Just by looking at the tire size of the Farley 7, we can tell that it is good at climbing. Conspicuous lugs that fit into cleats and are designed to bite into any road surface showed us its grip and traction even in winter.
Not only that, but I can't wait to get into winter if I look closely enough to find the Bontrager studs that work with the Bontrager stud tool easily installed.
Some would think its wide tires might cause its sluggish steering, but that's not the case. In our review, the wide tires were so nimble in the face of sharp turns that they could be dubbed nimble fat tires.
Certainly, not only on mountain biking, for this we also came to relatively smooth and wet roads, and the aggressive convex pattern also provided enough traction. The design of the tubeless tire reduces the overall weight, is more wear-resistant, and has better balance.
TranzX Dropper
Farley 7 mounts the TranzX dropper post on the TranzX JD-YSP18 seat post and the 130mm of travel is adjusted by pushing the button at the handle for a quick-stop adjustment.
If we are riding, this allows us to have a good shock absorption effect even when we encounter bumpy road conditions. On descents, the dropper travel can be adjusted to lower our center of gravity, allowing us to sit more securely in the saddle.
I do have some complaints about the way the dropper post is adjusted, though, and it would be better if it could be updated to electric control.
Manitou Mastodon Fork
Sub-$2500 fat tire bikes don't have forks, which is a pain point for many fat tire bikes, but the Farley 7 comes with an unexpected Manitou Mastodon fork, which is a huge plus for wilder roads. There is ample capacity to absorb shock and bumps.
If that's the case, I'm afraid it still can't arouse your interest enough. The air spring fork of the Farley 7 Manitou Mastodon 34 Comp has a very good ABS damper which is a progressive lockout. It's also very easy to do if you want to choose a rebound. However, when the Farley 7 is riding on flat roads, its fork travel gets in the way. However, in my opinion, the Farley 7's main ability is climbing, so it's understandable that even on flat roads it won't be as good as a professional road bike.
In short, like these, excellent components, we all think there is nothing wrong with its price.
Past editions of Trek Farley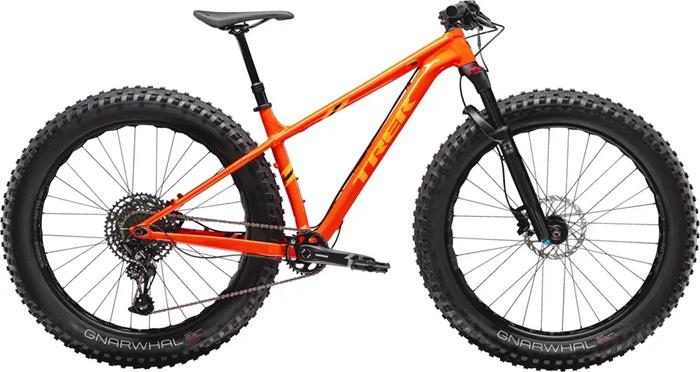 For this review, we tested the Farley 7, which features an Alpha Platinum Aluminum frame, an SRAM NX Eagle 1×12 drivetrain, Bontrager Gnarwhal Team Issue tubeless tires, and powerful SRAM Level T brakes. But its lineup doesn't stop there, there are 5 other models in the Trek Farley line.
The Farley 5 still has huge tires, and although there are no air springs, its climbing and off-road capabilities are worth experiencing. If you're a fan of trail riding and want to see more of the Farley line, check out our review of the Farley 5 and I think you'll find your favorite trail bike there.
What do we like about it?
Strong grip on rough gravel roads.
A mounting bracket and two water bottle mounting holes allow you to be fully prepared before riding.
The configuration of wide tires, dropper posts, and air springs allow you to ride more securely in the face of harsh riding conditions.
In the face of slippery and changeable road sections, strong braking will give you enough sense of security.
What do we not like about it?
Riding on a flat road may not be as fast as a professional bike.
The rugged body is not so easy to steer in the face of extremely narrow places.
Specs
Frameset
| | |
| --- | --- |
| Frame | Alpha Platinum Aluminum, tapered head tube, internal derailleur & dropper post routing, rack mounts, 197x12mm adjustable horizontal sliding dropouts |
| Fork | Manitou Mastodon 34 Comp, air spring, ABS damper, lockout, tapered steerer, 51mm offset, 150x15mm thru axle, 80mm travel |
| Max compatible fork travel | 100mm (513mm axle-to-crown) |
Wheels
Hub front
Bontrager alloy, sealed bearing, 6-bolt, 15x150mm thru axle
Hub rear
Bontrager alloy, sealed bearing, 6-bolt, Rapid Drive 108, Shimano 10 freehub, 197x12mm thru axle
Skewer rear
Bontrager Switch thru axle, removable lever
Rim
SUNRingle Mulefut 80 SL, 32-hole cutout
*Tire
Size: S, M, L, XL
Bontrager Gnarwhal Team Issue, Tubeless Ready, Inner Strength sidewalls, studdable, aramid bead, 120 tpi, 27.5×4.50"
Size: S, M
Bontrager Gnarwhal Team Issue, Tubeless Ready, Inner Strength sidewalls, studdable, aramid bead, 120 tpi, 27.5×3.80"
Max tire size
Frame: 27.5×4.50″ or 26×4.70″ Fork: See manufacturer
Drivetrain
Shifter
SRAM NX Eagle, 12 speed
Rear derailleur
SRAM GX Eagle
*Crank
Size: S, M
SRAM X1 1000 Eagle, DUB, 30T alloy FAT 5 ring, 170mm length
Size: L, XL
SRAM X1 1000 Eagle, DUB, 30T alloy FAT 5 ring, 175mm length
Bottom bracket
SRAM DUB, 121mm, PressFit
Cassette
SRAM PG-1230 Eagle, 11-50, 12 speed
Chain
SRAM NX Eagle, 12 speed
Pedal
VP-536 nylon platform
Max chainring size
1x: 32T, 2x: 22/36
Components
Saddle
Bontrager Arvada, steel rails, 138mm width
*Seatpost
Size: S
TranzX JD-YSP18, 100mm travel, internal routing, 31.6mm, 361mm length
Size: M, L, XL
TranzX JD-YSP18, 130mm travel, internal routing, 31.6mm, 425mm length
Handlebar
Bontrager alloy, 31.8mm, 15mm rise, 750mm width
Grips
Bontrager XR Trail Comp, nylon lock-on
*Stem
Size: S
Bontrager Elite, 31.8mm, Blendr compatible, 7 degrees, 60mm length
Size: M
Bontrager Elite, 31.8mm, Blendr compatible, 7 degrees, 70mm length
Size: L
Bontrager Elite, 31.8mm, Blendr compatible, 7 degrees, 80mm length
Size: XL
Bontrager Elite, 31.8mm, Blendr compatible, 7 degrees, 90mm length
Headset
FSA IS-2, 1-1/8" top, 1.5" bottom
*Brake rotor
Size: S, M, L, XL
Avid G2 Cleansweep, 180mm, 6-bolt
Size: S, M, L, XL
Avid G2 CleanSweep, 6-bolt, 160mm
Brake Set
SRAM Level T hydraulic disc
Weight
| | |
| --- | --- |
| Weight | M – 15.92 kg / 35.1 lbs (with TLR sealant, no tubes) |
| Weight limit | This bike has a maximum total weight limit (combined weight of bicycle, rider, and cargo) of 300 pounds (136 kg). |
Comparison Chart
BIKE
PRICE
DRIVETRAIN
WHEEL
BRAKE
DROPPER
Trek Farley 5
$1,999
Shimano Deore M4100, 1×10 speed
27.5×4.50"
SRAM Level Hydraulic Disc
Y
Salsa Mukluk C XT
$4,249
Shimano SLX M7100
1×12 speed
26 x 4.6″
SRAM G2 RS Hydraulic Disc
Y
Pivot LES Fat Pro XT
$4,999
Shimano XT M8100
1×12 speed
27.5 x 3.8″
Shimano XT M8100 2-piston hydraulic disc
N
Fezzari Kings Peak Elite
$2,899
SRAM GX Eagle,1×12 speed
27.5×4.5"
SRAM G2 R Hydraulic Disc
N
Trek Farley 7 VS Trek Farley 5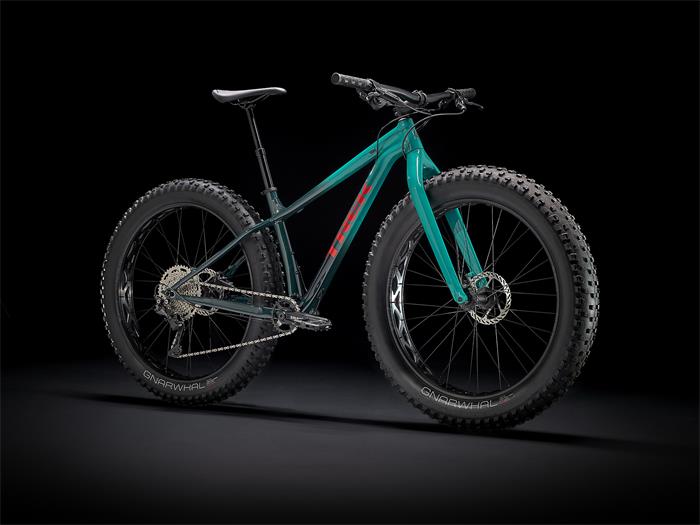 The Trek Farley 7 is a capable off-road bike that can tackle slippery, rough terrain with ease without bogging you down. The Trek Farley 5's paint is Nautical Navy to Teal Fade, and I think it's a little less impactful than the Trek Farley 7's paint color. And it has the same dropper design as the Trek Farley 7, which makes the Trek Farley 5 have a good shock absorption effect when facing gravel roads.
We've also noticed that the Trek Farley 5's Bontrager Haru carbon fork is a bit underwhelming compared to the upgraded Trek Farley 7's 80mm Manitou Mastodon suspension with air spring and lockout, but that's normal, if not How can a more advanced design be called an upgrade?
Also worthy of our attention is the braking system, the Trek Farley 7's upgraded braking is more stable and agile, and there is a reduction in weight.
Learn more: 2022 Trek Farley 5 Review – Does It Qualify To Be Your Fat-Tire Bike?
Trek Farley 7 VS 2022 Salsa Mukluk C XT
The 2022 Salsa Mukluk C XT, priced as high as $4,249, uses Mukluk Carbon. I have to say that the material of the frame is enviable, not only with high strength resistance, but also lighter, but the price is high. However, I think the Trek Farley 7's use of Alpha Platinum Aluminum for under $3000 is enough to show how seriously they take the Trek Farley 7.
But if we take a look at their drivetrains, they have the same wide range of speed options. If I had to choose which one is better, I don't think it's fair, since the Trek Farley 7 is still pretty good at this price. They didn't abandon their pursuit of speed, which I agree with.
Trek Farley 7 VS Pivot LES Fat Pro XT
Speaking of off-road bikes, we also got to check out the 2022 Pivot LES Fat Pro XT. It fits almost all fat/plus wheel sizes via the Swinger II dropout system. Not only that, but the 2022 Pivot LES Fat Pro XT also has a carbon fiber frame, which makes the entire body more lightweight.
To be honest, I really have no complaints about the 2022 Pivot LES Fat Pro XT other than the price of the 2022 Pivot LES Fat Pro XT makes my heart skip a beat.
Based on this aspect, I think the Farley 7 is really an affordable mountain bike, both in terms of brakes and drivetrain, its components can be called the price. The best configuration, not to mention, it's enough to catch the eye with the setting of the air springs.
Trek Farley 7 VS 2022 Fezzari Kings Peak Elite
In terms of price, the two bikes are almost indistinguishable. But the 2022 Fezzari Kings Peak Elite does not have a dropper post, which will make you to have some obstacles in the long bumpy road section, and the design without the air spring will also have this problem. However, the 2022 Fezzari Kings Peak Elite has more A bottle mounting holes, mounting holes on both sides of the front fork and a rack mounting hole at the rear will bring enough equipment for your long trips.
If you're interested in these, I recommend taking another look at the Trek Farley 7, which will give you an amazing experience in terms of shock (this is because of the dropper post design and air spring), and the SRAM Level T The braking is also very stable and reliable.
Learn more:Is Fezzari La Sal Peak Elite Worth Buying?- [2022 Fezzari La Sal Peak Elite Review]
Summary
The Trek Farley 7 is a mountain bike that is very competitive at this price point. If you are a mountain trail enthusiast or a rider who loves adventure and innovation, I think the Trek Farley 7 will attract you like a magnet. Worth a try!
Video