We use affiliate links and may receive a small commission on purchases.
We've selected the Top 8 Best Mountain Bikes Under $1000 from over 200 bikes.
With the outbreak of the new crown epidemic since people are paying more and more attention to their physical health. And in my opinion, mountain biking is the best way to exercise. Mountain bikes are simple to get started while being diverse in their selection. Most of these bikes have the same accessories and technology, but not all of them are worth their weight in gold.
For most people, the only difficulty lies in choosing the right bike for their limited amount of money.
Here is our list of the 8 best mountain bikes under $1000, please refer to the comparison table and buying advice about them.
Mountain Bike Comparison Table
1. Best All-around Mountain Bike: 2022 Trek Marlin 6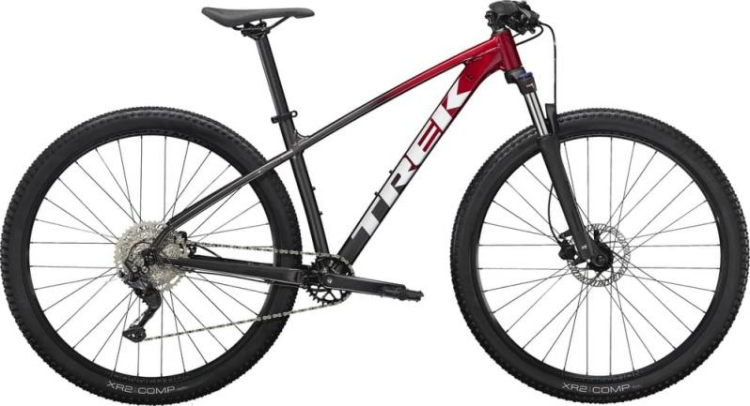 Price: $849
Suspension: 100mm (front)
Tires: 27.5″ / 29″
Gear: 1×10
What we like about it: All-around off-road performance.
What we don't like about it: There is still room for improvement in terms of weight.
Learn More: Is Trek Marlin 6 Worth Buying? [Trek Marlin 6 Review] 2022
As a well-known bicycle brand, Trek bicycles have always been much loved by us. And the Marlin series is a popular model under it, with an affordable price and full function.
The Trek Marlin 6 is near the upper end of the $1,000 range, and it's arguably the best all-around mountain bike. with a lockable SR Suntour XCT 30 shock fork with 100mm of travel and a relatively smoother shifting Shimano Deore 1×10 drivetrain, it provides you with an efficient trail ride. In addition, if you love adventure, its all-around capability will make it easier for you to experience the fun of riding. Because with features like luggage racks and stands, you can bring as many tools as you need for your adventures.
However, the Trek Marlin 6 comes in at 31.1 pounds in weight, which makes it not as fast as the nimble-focused bikes on the list. The relatively short fork travel can be rough for handling more technical trails. But the Bontrager XR2 Comp tire makes up for it nicely. Because it comes in two-inch options, you can change the tire that works best for the terrain you're using. Of course, if you want a better experience, the Marlin 8 has a smoother RockShox Judy Silver fork with Solo Air springs and TurnKey hydraulic lockout, as well as a wider 1×12 drivetrain. I heartily recommend it, but you'll also need to spend an extra $480 for it.
So, if you're on a budget, the Marlin 6 may not be the fastest mountain bike, but it's certainly one of the best all-around mountain bikes out there. And it has enough options in terms of size specifications to take care of more riders.
2. 29-inch Mountain Bike: 2022 Specialized Rockhopper Comp 29
Price: $950
Suspension: 100mm (front)
Tire: 29″
Gear: 1×9
What we like about it: The cool look.
What we don't like about it: It doesn't cope well with rough mountain roads.
As Specialized is also very famous, their bikes are always sought after. This Specialized Rockhopper Comp 29 has a lot to live up to.
Its gloss redwood/smoke paint color with Specialized A1 premium butt alloy frame impressed me at first glance. In terms of configuration, it uses SRAM hydraulic disc brakes, and the excellent braking performance gives you precise braking in the descent. Further, the SR Suntour XCM fork with 100mm of travel gives you a smoother ride on gravel-covered trails.
However, the microSHIFT Advent 9-speed drivetrain is not so ideal on rough mountain trails. It has fewer gearing options compared to the Trek Marlin 6, which makes it a little less fun to ride on steep mountain trails. But it's worth mentioning that it uses 29-inch size Fast Trak Sport tires, making it very passable. This makes up for its lack of gearing very well. If you happen to be a rider who likes larger tires, then it would be a good choice.
3. Best Entry-level Mountain Bike: 2022 Cannondale Trail 5
Price: $960
Suspension: 100mm (front)
Tire: 29″
Gear: 1×10
What we like about it: The classic aluminum frame.
What we don't like about it: The semi-internal walk wiring design.
Learn More: Cannondale Trail 5 Review [2022]-The Best Entry-Level Off-Road Bike
When it comes to entry-level mountain bikes, we have to mention the Cannondale Trail 5.
This bike still uses the SmartForm C3 alloy frame. The mature technology allows it to balance weight and quality, so you can ride with confidence and boldness. And there is two water bottle mounting holes on it for your daily ride. In terms of components, hydraulic disc brakes keep you riding safe, while the SR Suntour XCM shock fork effectively absorbs the vibrations generated while riding.
The only complaint I have is that not all of its cable runs are stowed in the downtube. Indeed, the semi-inside-out cabling design can make it look less clean and tidy than the Specialized Rockhopper Comp 29 above. Although equipped with pedals, this is only the basic model, and you can upgrade it according to your needs. Accordingly, you'll need to spend more on the price. As an excellent entry-level mountain bike, it can fully ignite my passion for mountain trails. In my opinion, its performance in the mountains more than makes up for its lack of appearance. Of course, if you want a cooler bike, we will introduce you to the next one.
4. Best Mountain Bikes For Beginners: 2023 Marin Bobcat Trail 5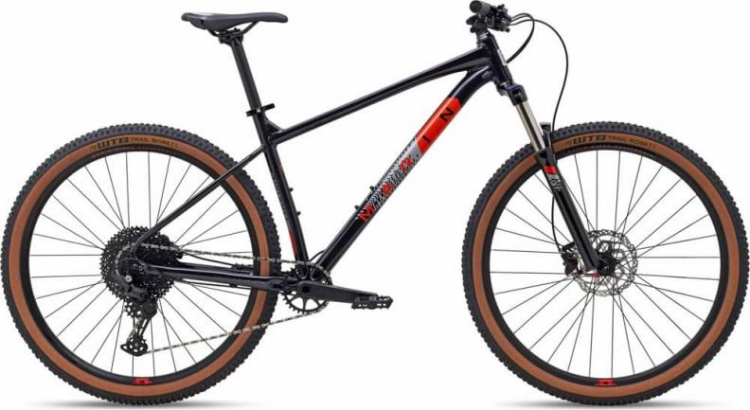 Price: $999
Suspension: 120mm (front)
Tire: 27.5″
Gear: 1×11
What we like about it: The cool look.
What we don't like about it: It's not for intense trail riding.
This Marin Bobcat Trail 5 is very bright in appearance. The black, red, and grey color clash design successfully attract many beginners. Not to mention the use of SR Suntour XCR LOR-DS shock fork with barrel axle and Shimano Deore wide range 1x 11 drivetrain in the configuration. These allow you to have a more comfortable experience and fast speed in riding. In addition, the use of 120mm of travel brings a smooth ride.
With the matching saddle, it can bring a comfortable ride. And the use of Shimano BL-MT201a brakes is to give you effective braking. And the modern forest road geometry is designed to allow you to explore the singletrack forest road to your heart's content. All in all, it is very suitable for beginners to ride.
However, the main factors that make this Marin Bobcat Trail 5 drop in the ranking are the following. On one hand, it's due to its price, which is one of the most expensive on our list. On the other hand, it's due to the fast-rolling tires and flexible fork. This means it's better suited for long rides rather than intense off-roading through the woods. Of course, if you want a more strenuous ride, check out the Giant Talon 1 below.
5. Men's Mountain Bike: 2022 Giant Talon 1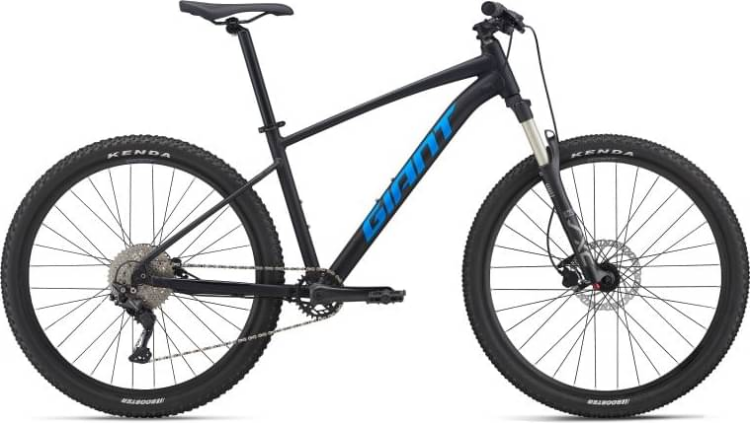 Price: $980
Suspension: 80mm (front)
Tires: 27.5″ / 29″
Gear: 1×10
What we like about it: The radical geometric design.
What we don't like about it: the limited fork travel.
Learn More: Giant Talon 1 Review [2022]- A Guide For Novice Riders To The Wilderness
The Talon series, a popular model of Giant, is trusted for its performance. And this Giant Talon 1 is one of the best. First off, the Giant Talon 1 uses the same Shimano Deore 1 x 10 drivetrain as the Trek Marlin 5, which is unusual for bikes under $1000.Additionally, there's its slightly more aggressive geometry that allows you to ride more aggressively. It also comes with versatile Kenda Booster tires, which give you a better grip on the trail. Finally, the Tektro HDC M275 hydraulic disc brakes are used to ensure your riding safety. In short, the Giant Talon 1 is a great choice for male riders on a budget who want to ride aggressively.
However, it's not a perfect mountain bike. Although the Talon 1 uses an air-spring-equipped SXC32-2 RL fork, it has only 80mm of travel, the shortest on our list. This also makes it inferior to other bikes in terms of shock absorption performance. But for those male riders who love mountain trails, we think it's worth a look. Of course, if you want a mountain bike with a great experience in terms of damping, then the Marin Bobcat Trail 5 mentioned above will serve you well.
6. Best Budget Mountain Bike: 2022 Trek Marlin 5
Price: $719
Suspension: 100mm (front)
Tires: 27.5″ / 26″ / 29″
Gear: 2×8
What we like about it: The right price.
What we don't like about it: The off-road performance is not satisfying.
Learn More: Is Trek Marlin 5 Worth Buying? [Trek Marlin 5 Review]-2023
This Trek Marlin 5 is cheaper than the Trek Marlin 6 above, and correspondingly less in performance. As the best budget mountain bike, it features Tektro HD-M275 hydraulic disc brakes for great braking power. The Suntour XCM 30 shock fork with 100mm of travel is also locking and effective at absorbing bumps from the road. In addition, there is also a frame and kickstand, which is very convenient for your outdoor riding.
Of course, the cheaper price is due to changes made elsewhere. 2×8 Shimano Altus drivetrain, slightly outdated and more complex in operation than the 1× drivetrain. This also makes it more suitable for everyday riding rather than sprinting around inside the track. However, to our surprise, it is 0.3 pounds lighter in weight than the Trek Marlin 6.
Overall, the Trek Marlin 5 gives you the trail ride of a name-brand bike at a much lower price. But if you are looking for a better experience, you can try its upgraded model.
7. Best affordable mountain bike: 2023 CUBE AIM SLX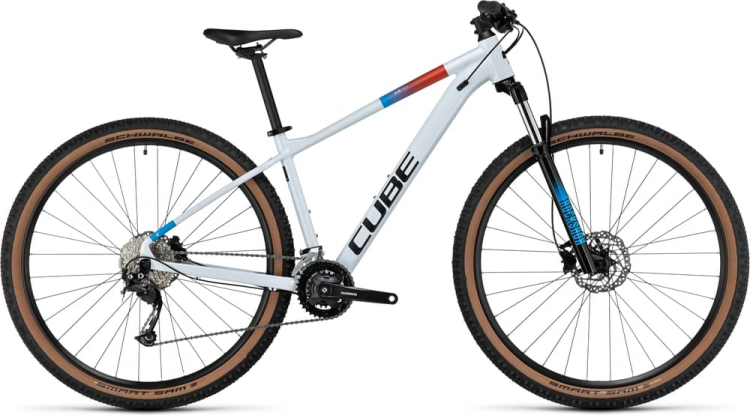 Price: $829
Suspension: 100mm (front)
Tires: 27.5″ / 29″
Gear: 2×9
What we like about it: Different wheel sizes for different riders.
What we don't like about it: Slight lack of hill climbing performance.
CUBE has always designed their bikes with the rider in mind, and they've done a great job of that. With two different sizes of wheels, you can determine the right bike for your size, as if it were built just for you. And the Aim SLX offers a smooth 100mm of travel with locking features. Combined with powerful hydraulic disc brakes and grippy 2.25″ tires, it ensures you're always in full control. And, the wide range of 2×9 gearing puts any route within reach.
However, it has to be said that the 11-36t gears struggle slightly when facing some steep climbing terrain. Of course, the sacrifice of climbing performance in exchange for having a smoother shift speed. If you're looking for more efficient climbing in the mountains, take a look at the Cannondale Trail 5 above, which features a microSHIFT 10-speed drivetrain and 11-48t gears for a more efficient ride on climbs. That's one of the reasons we've ranked it below.
8. 26in. mountain bike: 2022 Specialized Rockhopper 26
Price: $650
Suspension: 80mm (front)
Tires: 26″
Gear: 2×8
What we like about it: It has good performance off-road.
What we don't like about it: The small audience for a particular size of tire.
This Rockhopper 26, like the Rockhopper Comp 29 described above, is a Rockhopper series mountain bike from Specialized. The difference is that it uses a smaller size 26-inch bike. For this reason, a microSHIFT 8-speed drivetrain is used in the components, allowing you to navigate any terrain without hindrance. And the Radius CX7 mechanical disc brakes are used to set the stage for its ride. Further, impressed us with the locking-equipped SR Suntour XCM fork and with custom multi-circuit damping.
Of course, since it is a specific size tire, it is not widely available in terms of audience. Compared to mainstream tires, it has less passing power when riding and is too sensitive to be handling-friendly for beginners. If you want better passability, the above bikes are well-catered for. Conversely, if you are more interested in the different experiences that 26-inch wheels bring, then this Rockhopper 26 is also worth a try.
Mountain Bike Buying Advice
Mountain bike frame material
Wheel sizes: 27.5- and 29-inch
Brakes
Drivetrain and gears
The life span of a mountain bike
Unisex and women-specific mountain bikes
MTB and Road Bikes
Frame Material
To be honest, there aren't many framing materials to choose from under $1,000, but that doesn't mean you don't have a choice.
As far as materials are concerned, aluminum frames like the one used in the Trek Marlin 6 are by far the most widely used material. And all of the bikes on our list use aluminum frames. It has enough sturdiness as well as being light enough in weight to satisfy your comfortable ride quality while still being able to withstand steep roads. What's more, it's affordable.
In addition to this, there is also a steel frame material. Compared to aluminum frames, it lasts longer, has a tougher quality, and can withstand harsher terrain conditions. For this reason, it sacrifices lightweight and you will find it less flexible than aluminum bikes when riding. This is one of the reasons why we did not choose a steel bike.
Finally, carbon fiber is the standard for premium bikes. It's lighter, has a cleaner look, and delivers a more flexible riding experience. But accordingly, it costs more to manufacture, so if you want a carbon bike, then you'll have to think about boosting your budget.
Wheel sizes: 27.5- and 29-inch
The mainstream wheel sizes on the market today are generally 27.5 vs. 29er. Of course, you'll also come across 26-inch bikes, like the Rockhopper Comp 29 on our list, but that's generally the choice of riders who love smaller bikes.
For what it's worth, we've stabilized the 27.5- and 29-inch options. In terms of riding experience, they both deliver a more fun ride. But relatively, the 29-inch tire brings better passing performance. It has better performance when facing obstacles in the mountains, but you need to be aware of its weight. The 27.5-inch tires, on the other hand, have more agile handling and can corner more easily and quickly.
In general, the choice of wheels depends on the size of your body. Taller riders may prefer 29-inch tires, while smaller riders may prefer the opposite.
Learn More: 27.5 vs 29er Mountain Bikes – The Battle Of The Century
Brakes
If you were to ask me what I pay more attention to when choosing a bike, then I would have to answer you about brakes. A great braking system will always keep you safe on your ride. And as technology advances, disc brakes are gradually being added to the ranks of cheaper bikes. You can see all the bikes in our list use disc brakes, which can provide more powerful braking ability, especially in wet and muddy conditions, and also have excellent performance.
Moreover, it is smoother in handling, allowing you to focus more on the road ahead while riding. Of course, you will also see rim brakes in some cheaper mountain bikes. relatively speaking, it is not so satisfying on wet roads after the rain.
Drivetrain and Gears
Perhaps many newcomers to the drivetrain have the misconception that the more gears the better the drivetrain. But this is not the case. In actual riding, you will encounter different terrain, and this is where the 1× drivetrain can shift more quickly. You know, the simple operation so you don't have to worry about shifting. Just like the Specialized Rockhopper Comp 29 and Cannondale Trail 5 on the list, it's great for beginner mountain riding.
Of course, when faced with more complex climbs or descents, we prefer the more options that come with a 2× drivetrain. For example, the Trek Marlin 5 is equipped with a Shimano Altus 8-speed drivetrain, which can bring me more interesting experiences.
The lifespan Of A Mountain Bike
In general, a mountain bike can last more than 20 years if you take good care of it. Of course, this number is not absolute, it depends mainly on where you ride and how much you ride. If you ride a lot, while the terrain is all very complicated, then it is inevitable that damage will be caused to the bike. This is when its service life will be greatly reduced. It is worth mentioning that many riders choose to upgrade or replace components after a year or two of riding. This will greatly delay its use and will give you a different experience.
Unisex and women's-specific mountain bikes
While our list is all about unisex mountain bikes, there is still a women's specific mountain bike under $1000. Its most intuitive change is that it has a lower stand-up height and a step-through frame design. This is specifically designed to facilitate women's riding.
Of course, some women's bikes will make changes in the color scheme to better match the aesthetics of female riders.
As far as geometry design is concerned, there are no outstanding changes in unisex bikes. However, some high-end female-specific mountain bikes are designed with a more female-friendly shape in mind.
MTB and Road Bikes
Mountain bikes and road bikes are, as their names imply, bikes designed for different terrain. If you are a beginner mountain biker, then you need to pay attention. It's slower on the sidewalk and harder to pedal. But it has a more upright riding position, and it copes well with some complex terrain.
We usually recommend that newbies try mountain riding starting with a hardtail, which performs much better on wooded trails. And the bikes we mentioned above are all hardtails, you can find the right one for you inside.
Summary
In this presentation, we list the best 8 mountain bikes under $1000, and you can see bikes from various famous brands in them.
We put the Trek Marlin 6 at the top of the list, mainly because of its all-around performance. The Specialized Rockhopper Comp 29 is a close second. For beginners, try the Cannondale Trail 5 and Marin Bobcat Trail 5. For male riders, this Giant Talon 1 also performs very well. If you need to control your budget, then you can try Trek Marlin 5 and CUBE AIM SLX. Of course, for riders who prefer a smaller tire size, this Specialized Rockhopper 26 will work well for you.
By the way, if you want to go riding in well-known terrain or special terrain, you can book your accommodation on IHG Hotels & Resorts. It is not only rich in variety but also easy to operate.
Anyway, if you like our content, feel free to share it with your friends. Also, if our content is helpful to you, you can click the email subscribe button below! Thanks for your support!