We use affiliate links and may receive a small commission on purchases.
We've selected the Top 8 Best Gravel Bikes Under $2000 from over 164 road bikes.
Whether it's a flat, fast road or a rough, bumpy gravel road, gravel bikes can handle it. As gravel bikes come into the public, more people need gravel options to meet their needs.
These bikes are categorized as affordable by the manufacturer, but we know money doesn't just fall out of the sky. So we wanted to show you a few bikes that are worth getting on your hard-earned money.
In our review, we have selected 8 gravel bikes under $2000 for your reference, including touring gravel bikes as well as racing gravel bikes.
For more and more detailed information, please check our review sheet as well as the content. If you find our content useful, you can share it with your friends.
Gravel Bike Comparison Table
1. The Most Cost-Effective Gravel Bike: 2022 Specialized Diverge Elite E5 ($2000)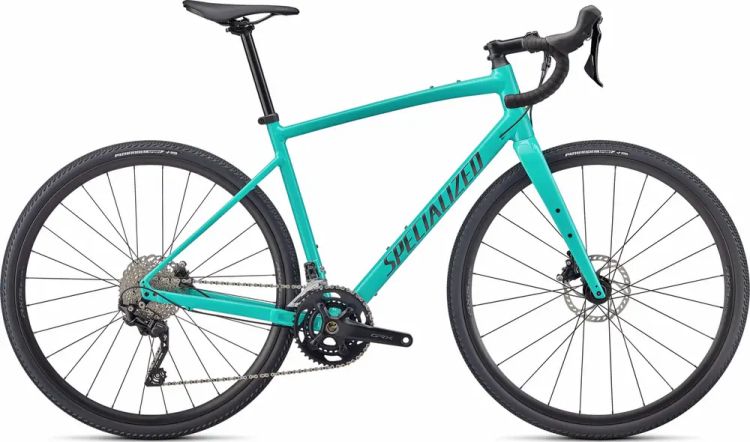 Groupset: GRX 400, GRX 600
Tires: 700×38c
Gear: 2×10
Frame: Aluminum
What we like about it: The superb price/performance ratio and the pursuit of speed.
What we don't like about it: The stock tires are only 38mm, making it difficult to handle the harsh gravel terrain.
We were surprised to see the top brand of the century-Specialized-at this price. If you're looking for a bike that's fast over bumps, the Diverge Elite E5 is Specialized's modern frame built specifically for gravel, and the increased reach and relaxed head tube for a low-slung body position give the rider a faster passing experience, which is great news for race riders. The gravel-designed GRX 400 and GRX 600 allow for efficient shifting. I dare say that without the Specialized Diverge Elite E5, this list has little reference value. It is so popular that all sizes were sold out on the website before this article was sent. That's a shame.
The most perfect brand can have its flaws. The bike comes standard with a relatively narrow 38mm outer tire for gravel road bikes, and the smooth surface may not be up to the task of overly harsh gravel terrain. But the rims are very forgiving, and you can change them by replacing the widest 47mm outer tire for a fraction of the cost. Most notably, this is a gravel bike that is looking for a quick pass and has a superb price/performance ratio. If you're after short gravel rides rather than long trail rides, then this is the bike for you.
2. Most Comfortable Gravel Bike: Trek Checkpoint ALR 4 ($1699)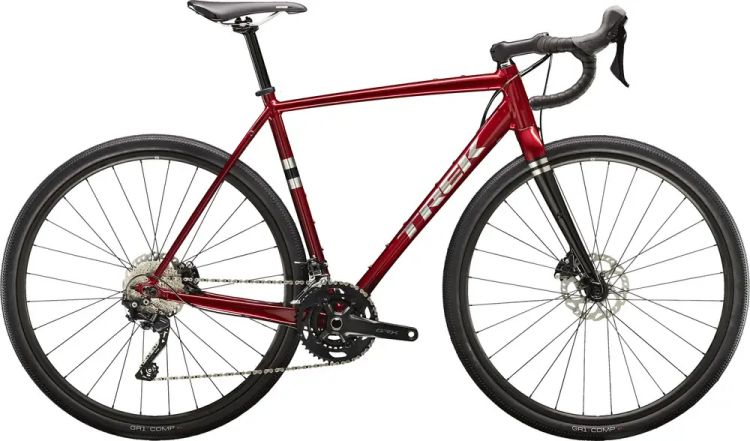 Groupset: GRX 400, GRX 600
Tires: 700×40c
Gear: 2×10
Frame: Aluminum alloy
What we like about it: The smooth ride and comfortable pedaling gear ratio, solid tread.
What we don't like about it: Possible compromise on speed.
The Checkpoint ALR4 is part of Trek's most popular series. If you enjoy touring on your bike, commuting, and riding on rough gravel roads, this gravel bike is the right fit.
The bike has a 430mm rear fork length compared to conventional road bikes, so I could feel the rear end of the bike is very stable while riding. In addition, the Shimano GRX 600's 46/30 gear ratio designed for gravel allows for equally efficient pedaling on bumpy roads.
The tried and true Bontrager GR1 Comp is a whopping 40mm wide and allows me to transition well from tarmac to forest roads. Of course, if appearance is a consideration for you, we think the deep red paint job is well worth the wait and will wow you with its color.
On gravel, the right gear ratio allows it to pass more quickly. Unfortunately, on flat roads, even the largest gear ratios seem a bit of a struggle. But pros do pros, and if you need a bike that can go fast on flat roads, you might prefer something like the Cervelo Aspero or 3T Exploro. In our opinion, if you're aiming for a long gravel ride, the Trek Checkpoint ALR 4 is the better choice.
learn more:Is Trek Checkpoint ALR 5 A Good Bike? [2023 Trek Checkpoint ALR 5 Review]
3. Gravel Bikes For Beginners: 2023 Canyon Grail 7 ($1999)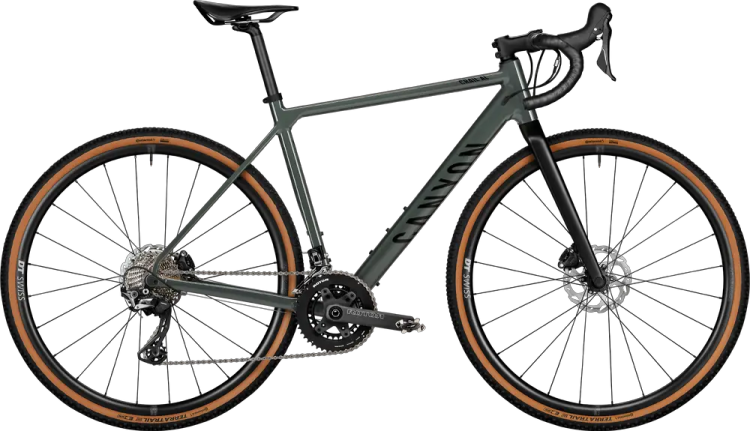 Groupset: GRX 800, GRX 600
Tire: 700×40c
Gear: 2×11
Frame: Aluminum alloy
What we like about it: The harmonious colors and the fresh look.
What we don't like about it: The solder joints look a little rough.
Learn More: Canyon Grail 7 Review [2022]- A good Companion To The Adventure
The Canyon Grail 7 is a modern gravel bike classic, perfect for gravel lovers who are just ready to get into bike touring. With its harmonious colors and fresh look that captures me and most riders with a taste for looks, it's a huge plus in terms of style. And for just $1999, you get a complete Shimano GRX 2×11 kit with internal cables and high-quality DT Swiss Gravel LN wheels, plus 40mm of maximum tire clearance for high traction tires.
Like most Canyon bikes, it is simple and practical for the mass rider.
One thing that is not easily noticed is that the welds on the Canyon Grail 7 look very sketchy, which doesn't look like a fine product made by a major bike manufacturer. The fish scale welds are exposed, which is bad news. If what you need is a smoother-looking bike, the Substance VR-2 by Vitus is next in line. They use a patching technique to cover up the welds and look very refined. But I have to say, it's hard not to fall in love with the Canyon Grail 7's fresh color scheme and harmonious appearance for beginners.
4. The Most Flexible Gravel Bike: 2022 Vitus Substance VR-2 ($1809)
Groupset: GRX 400, GRX 600
Tires: 700 x 40c
Gear: 2×10
Frame: Aluminum alloy
What we like about it: Flexible and fast geometry settings.
What we didn't like about it: The frame's ability to absorb shock was a little strained in certain situations.
The Vitus Substance VR-2 offers a nimble, durable, and lightweight ride for gravel racing and trail riding. It features the traditional pairing of an aluminum frame with a carbon fork and a Shimano GRX 400 kit with hydraulic disc brakes. It also uses Tubeless Ready DT Swiss G 1800 Spine wheels wrapped in Vee Rail Sport 40mm all-terrain tires. The shorter reach and steel and steep head tube angle (71.4°) provide a nimble geometry that is perfect for both fast-paced gravel racing and staying light in mixed terrain.
It seems to be built for racing, but once it gets too fast, the frame's ability to absorb shock seems a bit lacking. In all honesty, I felt the bumps very noticeably. If your plan for gravel riding is a more stable gravel bike rather than a fast and nimble model, then the comfortable and stable geometry of the Trek Checkpoint ALR 4 may be more your speed.
The fast pace and nimble handling are perfect for those young riders. They are eager to have more fun on their rides rather than carrying heavy backpacks for long trips.
5. The Best Traveling Gravel Bike: 2023 Marin Nicasio 2 ($1699)
Groupset: Tiagra, FSA
Tire: 700×37c
Gear: 2 × 10
Frame: Steel
What we like about it: Sturdy and durable frame and cost-effective accessories.
What we don't like about it: The color selection is somewhat homogeneous.
A classic road endurance geometry that is good for those who want a mix of tarmac gravel and dirt for short trips. Not exactly common, the steel-framed gravel bike represents the category well, with a comfortable but responsive personality.
The Tiagra kit with the FSA chainring is great value for money. And, the WTB Riddler Comp 37mm outer tire paired with Marin's aluminum wheelset makes it a great value for under $2000. This has made it known for its durability and forgiveness.
However, it may be bad news for color lovers. Because it only comes in one color, dark blue, which isn't exactly what we were looking for. If you prefer a gravel bike with more color options, the fresh and varied color scheme of the Canyon Grail 7 above might get you.
Overall, it's not a particularly fast or twitchy bike. To be honest, it does its job as a steel-framed gravel bike, sturdy and long-lasting enough to stay with you for a long time. And, for the true entry-level rider, it's a very good choice.
6. Like A Mountain Bike Gravel Bike: 2023 Marin DSX FS ($1599)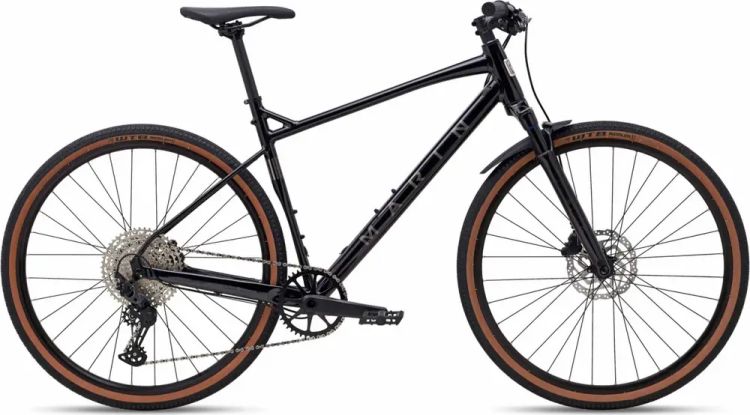 Groupset: SLX, Deore
Tires: 700x45c
Gear: 1×12
Frame: Aluminum
What we like about it: The flat handlebar design and the cushioned fork.
What we don't like about it: The flat handlebars make it difficult to support long rides.
No matter how you look at the flat handle of gravel bikes, it is becoming more and more popular. And, the cushioned fork makes it look like an XC mountain bike. The wider flat levers add to the fun of the gravel bike and make it easier to control when conditions are dangerous, and Shimano is high on the bike's construction list. For starters, the Deore 1×12 derailleur is nearly flawless. In addition, the forgiving tire clearance accommodates the WTB Riddler's 45C outer tire. Such a configuration is perfect for beginners on gravel roads.
Longer rides seem to be less suited to flat-handle bikes because you can't change the handlebar position as much as a bent handle to relieve hand fatigue. I always get numbness in my hands when riding, so, I would prefer a bent handle, but I have to say that for short gravel rides, a flat handle would be the most comfortable and stable choice. If you need a bent-handle gravel bike you can look at the other gravel bikes on the table and maybe they will be a good choice.
To summarize, the comfortable flat handle and the front cushioning system give the rider a comfortable experience for short distances. It can break through some bumpy gravel like a mountain bike and has a high speed that is hard to achieve on a mountain bike. If a comfortable short gravel ride is what you need, then the 2023 Marin DSX FS is a good choice for you.
7. Women's Gravel Bikes: 2022 Liv Devote 2 ($1749)
Groupset: Sora, FSA
Tires: Giant CrossCut AT 2, 700x38c
Gear: 2×9
Frame: Aluminum
What we like about it: A frame geometry designed for women.
What we don't like about it: It's not very friendly for tall people.
For the female gravel lover, this is welcome news! Whether you're going on an outdoor adventure ride like gravel grinders or participating in a group trip, the affordable Liv Devote 2 will inspire your desire for the wilderness. For only $1749, you get the cost-effective design of the Shimano Sora with the FSA chainring, and the wheelset and outer tire are made with Gaint's usual design using their products greatly enhancing the cost-effectiveness. This has a strong appeal for riders on a budget who are eager to break through the gravel.
The frame is designed to be very compressed to accommodate smaller female riders. If you are a male rider or a taller female rider, then you may not be able to choose this bike. The Liv Devote 2 is only suitable for riders under 170cm.
If you are a taller rider, check out the other recommended models in the table, especially for taller female riders, I highly recommend the last Marin DSX FS flat handlebar gravel bike, the upright geometry is also very well designed for women.
In short, it's a gravel bike designed for smaller female riders. The equivalently scaled-down frame allows riders who are not very tall to get the same comfortable upright riding position.
8. Small-wheeled Gravel Bike For 650b: Kona Rove DL ($1999)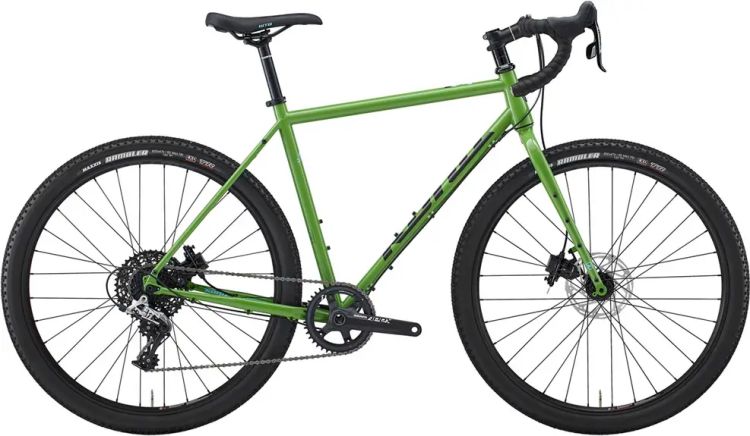 Groupset: Rival, Apex
Tires: 650x47c
Gear: 1×11
Frame: Steel
What we like about it: The wide, small tires make it nimble and stable.
What we don't like about it: The weight of the steel frame is not accepted by the public.
"Unique" is how steel frame enthusiasts describe this material. It's meant to handle long or mixed surface adventures, as well as the carrying capacity of the bike, so it can withstand rough and unknown distances. To keep things simple and efficient, the Rove DL comes with an SRAM Rival 1×11 drivetrain, and a smaller WTB ST i23 TCS 2.0650b wheelset with both high-capacity 47C tires, pushing gravel riding to its limits. If you only have a few hours of free time each week to blaze through the woods, then this fun bike is perfect for you.
Weight is a topic that can't be avoided with steel-frame bikes, and with that ruggedness comes a surprising amount of weight. Even with advanced tube extraction technology it still weighs twice as much as those carbon frames. If your quest is to get through short gravel stretches quickly rather than long unknown journeys, then you can opt for one of the other aluminum frames recommended in the list or even the more expensive carbon frames. Needless to say, if you are facing a long trip on unknown roads, I think a steel-frame gravel bike would be a good partner for you to stay with.
Gravel Road Bike Buying Advice
Gravel road bike frame material below $2000 – aluminum alloy, steel
Drivetrain & Gearing
Should I choose 1× or 2× for the gravel bike?
Tire selection for gravel bikes
About the weight of gravel bikes
How to choose shoes and pedals for gravel bikes?
Why do the gravel bikes have abundant mounting holes?
Are used gravel bikes worth being purchased?
Frame Material – Aluminum Alloy, Steel
Aluminum is undoubtedly the most cost-effective material for gravel road bikes under $2000. Aluminum is used on most entry-level bikes because of its excellent strength-to-weight ratio and its low price.
In addition, manufacturing techniques such as hydroforming allow bike manufacturers to manipulate the shape of the tubes to optimize the weight and riding characteristics of the frame. At the top of the list, the Specialized Diverge Elite E5 is recognized by gravel enthusiasts for its aluminum frame and extreme value for money.
And for gravel bikes, which are more susceptible to vibration than road bikes on rough terrain, the most important quality of a steel frame is its excellent damping characteristics. The number of steel frames on the market today is very rare, with high-end tubing only found on expensive custom frames. That said, many companies including All-city, Salsa, and Niner are offering some very affordable and good steel frames.
Drivetrain and Gearing
Pure and simple, the advantage of the 2× design is that you can use more gears, and there are plenty of gears. But it's not the number of gears that matters, it's the spacing of the gears. Road bikes were developed for racing, the bikes are light and fast and efficiency is paramount.
But in gravel bikes, the width of the rear lower fork is often increased to increase tire clearance, allowing it to fit thicker tires which leaves it to make room for the front chainstay as well as the crank. This is why mountain bikes are trending towards 1×. The Kona Rove DL in this article uses a 1× Rival Apex drivetrain, which also allows it to use up to 47mm outer tires. Based on the wide tire attributes of gravel road bikes, major manufacturers have had to balance the number of chains and the number of tires in the chainring.
Should I choose 1× or 2× for the gravel bike?
Whether you choose a 1× or 2× drivetrain is something you'll need to decide for yourself when you browse our list of the best gravel bikes under $2000.
If you're looking for a bike that can do double duty while participating in gravel races and riding on the road, then I recommend the 2× system. This is also the choice of most people who are new to the gravel scene. Because the extra discs will mean you can maintain the best cadence in the group and you can also climb well. It's a very easy choice for riders who are keen to race.
And for those who are more interested in exploring rugged routes, the 1× seems to be more your speed. I've never mentioned this before, the 1×'s biggest advantage is the simplicity of the components. It doesn't have a front derailleur, so there are fewer components to fail, and these features are perfect for wilderness riding. Any time the 2× has components you need to be aware of cross-chaining (using two big rings or two small rings at the same time). Obviously, on a flat road, this is easy to notice, but a lot can happen off-road. You have to focus on the ride, not on what gears you are using.
Tire selection for gravel bikes
Gravel bikes have a wide variety of tire options to accommodate the various surfaces that gravel riders may encounter once they leave the tarmac. Therefore, it is critical to choose the right wheelset for your gravel bike.
The Liv Devote 2 in the article is only $1749 but uses Giant CROSSCUT AT 2 tubeless tires. The fast-rolling and durable all-terrain attributes make it suitable for gravel bikes, and the enhanced puncture protection will accompany you on longer rides. And the 38c outer tire is not overly wide and has good speed on flat surfaces.
Regardless of wheel size, choosing wider gravel tires will allow you to drive over bumpy roads with less stress, and just need plenty of tire clearance to mount them. From low-profile treads or bald tires to mud-proof treads with aggressive tread patterns, the tread pattern is probably the most important factor in your gravel tire choice.
That's why the Marin DSX FS prefers pure gravel, and the WTB Riddler tires are 45mm wide and have a rich tread pattern that quickly filters out wheel-swept mud and sand to help you break through tougher roads.
If you're still looking to upgrade your ride, check out our 2023 The Best Gravel Bike (the high-end version).
About the weight of gravel bikes
Gravel bikes didn't seem to care about weight from the start, because eventually, they all ended up with heavy packages on their backs. That is until gravel bikes were included in UCI cycling competitions. Weight information for gravel bikes is one of the most popular numbers for potential buyers. The good news is that weight doesn't vary much in the gravel bike list and you can easily get an estimate from the frame material.
Much of the weight reduction is due to better components, such as the drivetrain and wheels. If you use a carbon frame instead of aluminum, the weight will be significantly lower, but it's hard to get this material at the sub-$2000 price point. If you want a better experience, check out our 2023 The Best Gravel Bike (high-end version). Serious riders are usually willing to spend more money on lighter models, while casual riders will opt for relatively heavier models to save money.
How to choose shoes and pedals for gravel bikes?
The vast majority of people prefer to use trail shoes on gravel road bikes and wide spiked pedals similar to those used on mountain bikes.
While gravel bikes have a lot in common with road bikes, road lock shoes usually have a smooth and flat outsole. As a result, road lock shoes are difficult to get off and walk on if there is a push.
For pedal selection, the locking shoes for mountain bikes are perfectly suited according to the riding characteristics of gravel bikes. Double-sided lockable pedals ensure fast pedaling on bumpy roads, while thick outsoles ensure that you can push the bike forward in special situations and are not prone to damage to the locking tabs. In addition, you can choose more affordable pedals, such as Giro's Cylinder or Shimano's XC3, which are lightweight and affordable for the general public. Feel free to follow us to learn more about this.
Why do gravel bikes have abundant mounting holes?
Compared to regular road bikes, the Gravel is equipped with plenty of mounting holes. These include mounting left and right on the fork, top and bottom tubes, seat tube, and even under the BB. In short, these holes allow riders to carry extra water bottles, bags, and other gear on long trips.
In general, gravel trips are mostly located in the jungle as well as in some unexplored areas where few resupply points can be found. This also means having to stock up on food water and other equipment before a long trip. For example, Specialized's entry-level road bike, the Allez Elite, comes with two pairs of mounting holes, while the Specialized entry-level gravel bike on this list, the Diverge Elite E5, comes with five pairs of mounting holes. Normal road bikes tend to eliminate the extra mounting holes for fenders and luggage racks, but you'll see both on the gravel bike.
Are used gravel bikes worth being purchased?
To be honest, buying a used bike can reduce waste and extend the life of the product. But before choosing a used bike, I think you need to consider a lot of things. The main attraction of buying a used bike is to save money, but a bike that doesn't come with a warranty could cost you a lot in the future.
Craigslist Pinkbike and pro's closet bikes are some of the used bike sites that may be in your browser favorites. I should caution that unless you are a very professional bike veteran, make sure you seriously consider whether you want to buy a used bike. This is because most newbies and even some veterans make mistakes when buying a used bike and then have to spend more money to repair it after they buy it. In conclusion, buying a used bike is indeed one of the ways to get the best bike for this budget, provided you can afford the huge risks this entails.
Conclusion
In this list, we selected eight gravel bikes under $2000 for the year. Again, they are created for the bumpy and loose gravel roads but highlight their characteristics according to different people. By the way, if you want to go riding in well-known terrain or special terrain, you can book your accommodation on IHG Hotels & Resorts. It is not only rich in variety but also easy to operate.
I'm glad you were able to read through the review analysis of this list. Nowadays, major manufacturers have launched budget-friendly gravel bikes, and this is what we would like to see. If you're struggling to decide whether to buy a mountain bike or a road bike for your first bike, you might want to try a gravel bike.
If you like our content, feel free to share it with your friends. Also, if our content is helpful to you, you can click the email subscribe button below! Thanks for your support!