We use affiliate links and may receive a small commission on purchases.
We've selected the Top 10 Best Road Bikes Under $1000 from over 200 road bikes.
With the growing popularity of cycling, riding is no longer a sport exclusive to those professional players. If you are a budding rider and overly expensive bikes can be a bit of a burden, then road bikes under $1000 can work well for you.
Most of these cost-effective bikes share the same characteristic of bringing the most comfortable ride possible to the rider while reducing costs. The good news is that there are many suitable options under $1000, and here are our top 10 best road bikes under $1000.
Of course, if you still want to know more about cheaper bikes, then you can refer to this article: Top 9 Best Road Bikes Under $500 [Review].
Best Road Bike Brands
1. Best Road Bike: BMC Alpenchallenge THREE
Price: $999
Type: Commuter bike
Tires: 700 x 35c
Gear: 2×9
What we like about it: The quest for a speedy experience.
What we didn't like about it: Poor performance on rough roads.
The BMC Alpenchallenge's greatest style is the pursuit of extreme speed, and this BMC Alpenchallenge THREE takes full advantage of this characteristic.
The Alpenchallenge is manufactured using a hydroforming process that allows the body to balance strength and weight. And the light weight allows you to ride more easily.
And its geometric design, which draws on aerodynamics and adopts the compliance of the endurance model, makes it a further speed improvement. In addition, the use of the BMC LSB 03 straight handlebar brings even better handling and smooth control even in fast rides.
For those who are looking for a speedy experience, the Shimano Sora 9-speed drivetrain gives it a great performance on different hills, so you won't want to stop once you get on it. And you can hardly find a better drivetrain than it in this price range.
Although, a commuter bike, qualifies in terms of speed and looks. But it doesn't ride as well on some rough roads as the gravel bikes on the list. If you want a challenge on rough roads, the Marin Gestalt and CUBE NUROAD below might be a better fit.
2. Best Road Bike For Women: Liv Alight DD Disc 1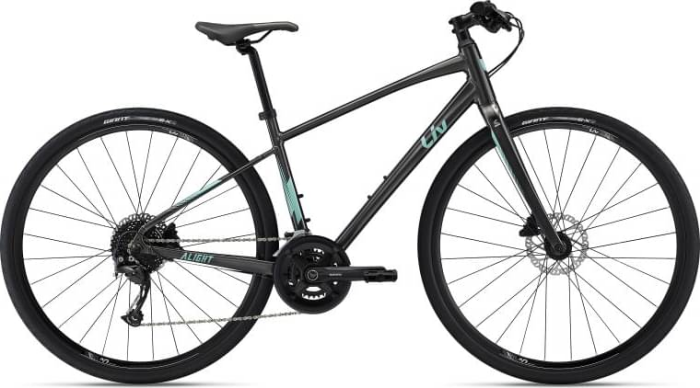 Price: $930
Type: Commuter bike
Tires: 700 x 38c
Gear: 2×9
What we like about it: step-through frame design for women's riding.
What we didn't like about it: The shifting options left a lot to be desired.
Liv is Giant's brand for female riders, and its bikes are guaranteed in terms of quality and after-sales service. This Alight DD Disc 1 is one of Liv's commuter bikes that is both beautiful and comfortable.
It uses a step-in geometry in the frame design, which facilitates female riders to get on and off. With the application of an ALUXX-Grade aluminum frame, it is more delicate and lighter in appearance, which greatly saves your energy when riding. The use of carbon fork further enhances the riding experience and can effectively alleviate the feeling of bumps from the road, perfect for women commuting, exercising, and cruising in the city.
Liv has shed too much shifting out of consideration for women riders, so this Liv Alight DD Disc 1 can't meet people's expectations in terms of speed. Although the 2×9 gearing doesn't satisfy everyone, it more than makes up for it in terms of comfort. With its 700 x 38c size Giant S-X2 tires, the Liv Alight DD Disc 1 is perfect for city roads, with enough width to give women a smooth ride.
Of course, if you can't compromise on shifting and want more shifting options, the Liv Alight Disc 3 would be an option that fits the bill. But again, it will be a bit more complicated to shift. Also, the fork is made of aluminum, but at a lower price. In short, if you like Liv, you can find the right one for you, whether it's affordable or a good experience.
3. Best Road Bike For Men: 2023 Marin Gestalt
Price: $999
Type: Gravel bike
Tires: 700 x 40c
Gear: 2×8
What we like about it: handsome solid color paint, fun to ride.
What we don't like about it: mechanical disc brakes.
Marin Gestalt uses a solid black paint job with a blue brand logo. In addition, with a simple internal alignment design and a tall frame suitable for male riders, the bike has successfully won the praise of the boys in terms of appearance.
Of course, its handsome appearance is not the reason why it is on the list as the best entry men's road bike, but also its geometric design. The Marin Gestalt's seat tube is 520mm long, while its head tube is only 170mm long, which allows you to lower your center of gravity considerably while riding, making it more aerodynamic. This aggressive geometry design is certainly a good choice for riders who are keen on the pursuit of speed.
But in terms of brake options, it uses mechanical disc brakes. Compared to the hydraulic disc brake, it is a bit stiff in use and slightly heavier in weight. But you can be assured of its braking performance, which can bring precise braking on gravel roads.
Of course, if you prefer hydraulic discs for a silky smooth experience, you might want to try its upgraded version. This Marin Gestalt 2.5 has a better configuration in terms of components, the use of hydraulic disc brakes, and the application of carbon fiber forks to bring you a more comfortable ride. However, you need to spend $700 more on this.
4. Best Beginner Road Bike: 2023 CUBE NUROAD
Price: $985
Type: Gravel bike
Tires: 700 x 40c
Gear: 2×8
What we like about it: The application of a carbon fork is satisfying in terms of weight.
What we don't like about it: the slightly outdated drivetrain.
learn more :Is CUBE NUROAD PRO FE Worth Buying? [2023 CUBE NUROAD PRO FE Review]
The CUBE NUROAD is the cheapest of the series, costing only $985. As a beginner road bike, it is made of heat-treated 6061 aluminum, which has high fatigue resistance, good stiffness, and excellent strength. It can accompany you to ride for a longer time.
Worth mentioning is the full carbon fiber fork configuration, which is not only lightweight but also helps reduce vibrations from the road. Mind you, that's not often seen in this price range. The CUBE NUROAD will meet your needs if you ride a lot on gravel trails in addition to your daily commute.
It comes with the 700 x 40c size Schwalbe G-One Allround tires that perform well in this terrain. The versatile tread makes it easier to roll and brings less vibration while providing a safe and reliable grip on gravel roads.
I think the Shimano Claris RD-R2000 8-speed drivetrain will be slightly more complicated to operate, but for novices, smooth shifting and the ability to handle different terrain is what they need. If you are obsessed with drivetrain options, then its counterpart, the CUBE NUROAD EX, features a 1×11 drivetrain. The simple and smooth shifting ability meets your needs. Given this CUBE NUROAD's good performance on gravel roads and adventure commuting, it's one of the very best road bikes in the NUROAD series to choose from as a beginner bike.
5. Best Entry-Level Road Bike: Giant Contend 3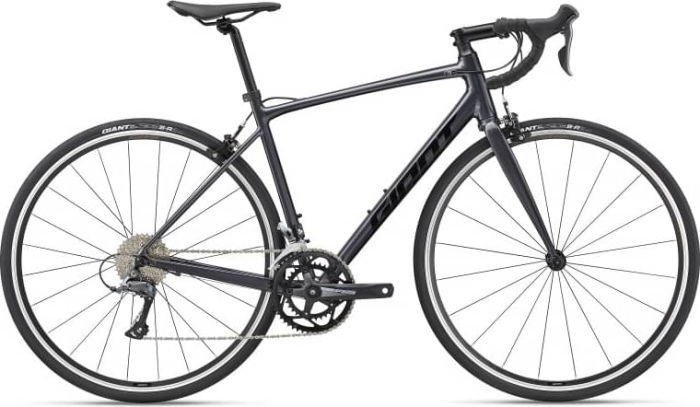 Price: $950
Type: Endurance bike
Tires: 700 x 28c
Gear: 2×8
What we like about it: Thoughtful geometric design.
What we don't like about it: the use of rim brakes.
Learn More: Giant Contend 3 Review [2022]- Cost-Effective Long-Distance Runner
If you want an entry-level road bike that you can use just for everyday riding, then try this Giant Contend 3.
Like Trek, Giant has a similarly high profile in the bike industry. All their bikes come with free shipping and 14-day free returns. So you can be completely assured of their service.
In addition to all of this, the performance of the bike itself is equally important. Giant's innovative D-Fuse seat post design reduces shock and vibration from the road. Paired with Giant S-R3-AC tires, it will give you a smoother and more comfortable ride quality.
The Shimano Claris 8-speed is the most basic of the entry-level models, with plenty of gearing options. With its silky smooth shifting speed, you can put more eyes on the road ahead.
Why do we have the Giant Contend 3 in this position? The short answer is the use of Tektro TK-B177 brakes. the Rim brakes also provide accurate braking but are not ideal on wet and slippery roads, but it is not surprising that the Giant Contend 3 makes compromises due to cost considerations.
If you're in a better financial position, you can try the Giant Contend AR 4. In addition to upgrading the original aluminum fork to a carbon fork, this bike also makes a change in the brakes. That is, the rim brakes are upgraded to mechanical disc brakes, further enhancing your riding experience and allowing you to enjoy the ride to the fullest.
Of course, if you're not a professional road rider, the entry-level Giant Contend 3 will meet most of your needs.
6. Best Affordable Road Bike: Specialized Allez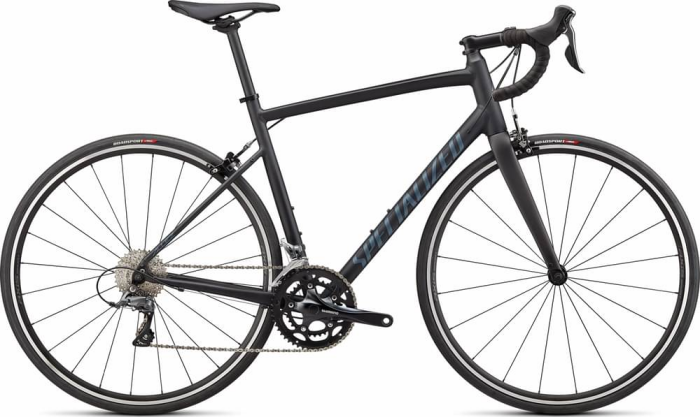 Price: $1000
Type: Race bike
Tires: 700 x 26c
Gear: 2×8
What we like about it: A well-known brand.
What we didn't like about it: The braking options are slightly mediocre.
Specialized, as a famous bicycle brand manufacturer, has a good guarantee of quality and after-sales service for its bicycles.
This Specialized Allez is Specialized's entry-level road bike. It's built with reliable Shimano Claris gearing, durable Axis Sport alloy wheels, a comfortable Body Geometry Bridge saddle, and well-protected RoadSport tires. What's more, it also uses a FACT carbon fork for a lighter weight and a smoother ride.
If you love riding on wet roads, then the performance of this Specialized Allez may not be that satisfying. To save money, it uses rim brakes, which makes it bring less braking power than disc brakes in such terrain. Of course, you can also opt for its sibling, the Specialized Allez Sprint LTD – SRAM Force eTap AXS 1x, which is not only upgraded with carbon wheels but also equipped with hydraulic disc brakes to give you precise braking no matter what the conditions. It just costs a lot more at $6,800, so I think you need to revisit your budget at this point.
7. Marin DSX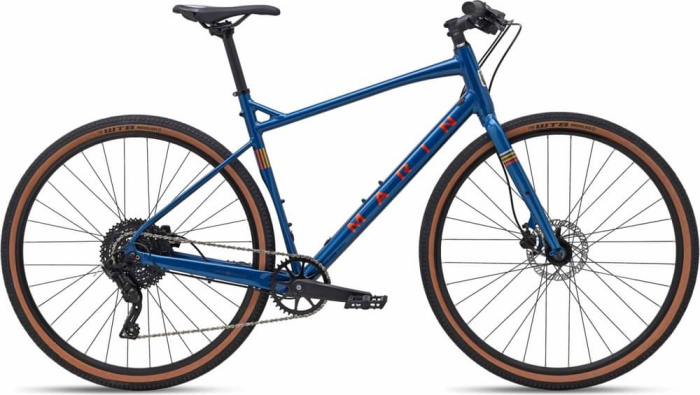 Price: $979
Type: Gravel bike
Tires: 700 x 45c
Gear: 1×9
What we like about it: Hydraulic disc brake applications.
What we don't like about it: It needs to be improved in speed.
This DSX is also manufactured by Marin, so you don't have to worry about its after-sales service. And in terms of components, it comes with a MicroSHIFT Advent 9-speed drivetrain. This is also the only bike on the list with a 1× system, which has easier handling as well as lighter weight. It is also designed with an upgraded seat tube for better ride control. Also on the brakes are Tektro HD-M275 hydraulic discs with 160mm rotors to give you more powerful braking.
Of course, we ranked it behind the Marin Gestalt because it has wider tires. While this tire provides a smoother ride on gravel, not all roads are gravel. On flat roads, it has more rolling resistance, which makes for a relatively slow ride. If you like to ride smoothly on the road, then the previous Specialized Allez will satisfy you well. Overall, for gravel riding, we'd give this Marin DSX priority.
8. Kona Rove AL 700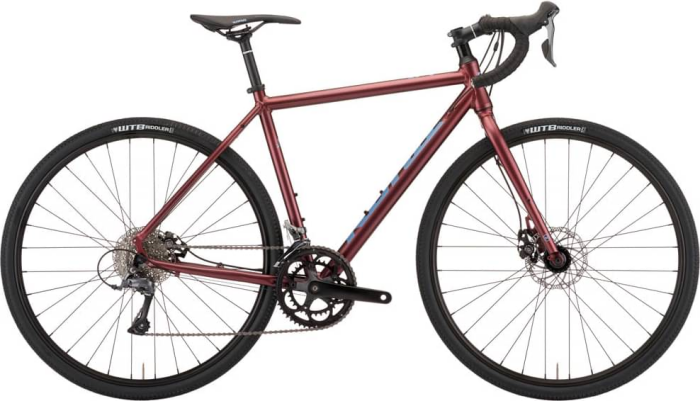 Price: $949
Type: Gravel bike
Tires: 700 x 37c
Gear: 2×8
What we like about it: Comes with more than enough mounting holes.
What we don't like about it: lack of dynamism, dullness in handling in twisted conditions.
We were impressed by the exterior design of the Kona Rove AL 700. First of all, it has enough mounting holes on the frame, which greatly facilitates you to carry more equipment on long rides. In addition, the application of aluminum alloy material gives it the ability to bear more weight and has good sturdiness. And, the use of WTB Riddler Comp tires adds a touch of comfort to your ride, and the excellent rolling ability allows you to reach your destination quickly.
However, the bike lacked oomph in some of the twisty terrain. This is probably due to the use of the Shimano Claris 8-speed drivetrain, whose complex shifting made me feel a bit bored when accelerating. Of course, if you yearn for a more interesting ride, the Kona Rove DL in the same series will satisfy you well. Because of the 1×11 drivetrain, it is not only easier to operate but also has a silky smooth shift speed, which makes you feel the breeze while riding and enjoyable. However, you need to spend an extra $1000 to get it.
9. 2023 Marin Nicasio
Price: $899
Type: Gravel bike
Tires: 700 x 30c
Gear: 2×8
What we like about it: The clean design.
What we don't like about it: the application of steel frames.
Marin Nicasio's exterior design always catches your eye right away. You won't see a cumbersome drivetrain or fancy paint colors, it's clean and uncluttered. The silver frame with black saddle, handlebars, and tires is a minimalist style that is perfect for city riding and will get you plenty of looks from pedestrians, and the Shimano Claris 8-speed drivetrain is the choice of most bikes in this price range and is well suited for different terrain. Noteworthy is the mechanical disc brake used in the braking option, which allows for quick response while riding. The water bottle mounting holes in the seat tube are designed with the rider's convenience in mind.
Of course, the use of a steel frame makes it less heavy than other aluminum bikes, but you can be sure of its quality. For those riders who are particular about the weight of their bikes, you can also consider the bikes mentioned above. They all use a high-quality aluminum frame and are equally good in performance.
The most important thing is the unbeatable price, it qualifies as a cheap road bike. And, I think the $899 price tag more than makes up for some of its performance shortcomings.
10. Schwinn Fastback AL Tourney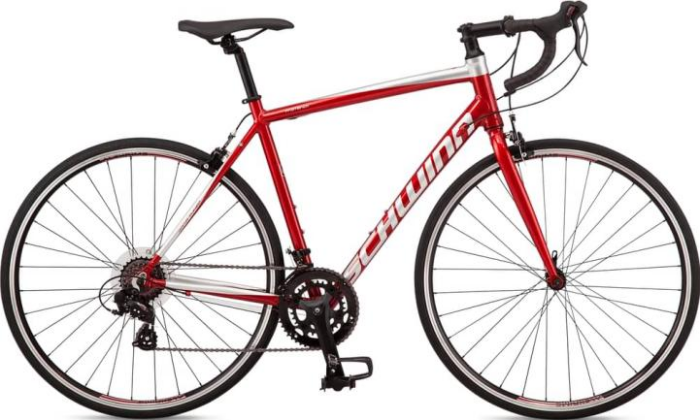 Price: $799
Type: Endurance bike
Tires: 700 x 28c
Gear: 2×7
What we like about it: Affordable price.
What we don't like about it: overly fancy colors.
If you were to ask me for the best budget bike, then I would choose this Schwinn Fastback AL Tourney. as Schwinn's most popular Fastback series, the Schwinn Fastback AL Tourney has many desirable features.
First of all, in terms of price, $799 is very easy for most people. It is a surprise that it comes with a Shimano Tourney drivetrain at such a cheap price. In addition, its front and rear chainstays bring 14-speed shifting with quick responsiveness in shifting. This means you can easily adapt to different terrain and have a faster experience in the city or on country roads.
Next is the use of aluminum Promax RC469 caliper brakes, which provide precise braking in a variety of conditions so you can ride with confidence.
There is only so much Schwinn can do in terms of performance considering the cost. It's no match for the BMC Alpenchallenge THREE in terms of drivetrain, or the Marin Gestalt in terms of braking, but it's as comfortable as it can be in terms of geometry. The right wheelbase provides more responsive handling, and with a 73.5° seat tube angle, you'll feel comfortable every time you ride.
All in all, as a budget bike, the Schwinn Fastback AL Tourney does the best it can for a limited cost. So in terms of value for money, it fits the bill.
Road Bike Purchase Advice
Road bike types: gravel, commuter, and aero bikes
Aluminum, steel, and carbon fiber frame
700c and 650b wheels
V-brake and disc brake
1× system with 2× drivetrain
Geometric Design
Road Bike Types: Gravel, Commuter, and Aero
There are many types of road bikes, not just those with handsome construction or cool looks, but also those with urban or country trails. All of these road bikes are involved. So before you make a decision, you need to have an understanding of the different types of road bikes.
First up is the gravel bike, which features a wider tire design and a sturdy frame designed to handle rough roads and perform well on gravel roads in the wilderness in particular. Because it focuses on providing a smooth riding experience, it doesn't have an advantage in terms of speed.
Next is the commuter bike, as its name implies, this type of road bike is designed specifically for commuting. It has better speed and efficiency while bringing high comfort, very suitable for commuters, even teenagers and the elderly can also ride.
Then there is the aerodynamic bike. This type of road bike is designed for windy areas, for which it is equipped with a more aerodynamic frame that effectively reduces air resistance and has a faster speed when riding.
Aluminum, Steel, and Carbon Frame
There are pretty much only a few mainstream frame materials on the market today. And in the under $1000 range, there are even fewer to choose from. All of the road bikes we have listed here use aluminum frames, and only one is made of steel.
In terms of performance, the aluminum frame has the advantage of being light in weight and strong enough in quality. Therefore it can withstand some rugged terrain and is durable enough.
In terms of manufacturers, aluminum frames are affordable and easy to manufacture, making them the material of choice. As the vehicles described above all use aluminum frames.
Steel bikes, on the other hand, are more prominent in terms of longevity. It is strong enough and tough enough to give it excellent durability, but it does not perform as well in terms of weight. That's why most riders consider steel bikes to be less maneuverable.
In addition to this, there is the carbon fiber frame, which is a common choice for premium bikes. It's lighter in weight, cleaner in appearance, and more comfortable in ride quality. But it comes with a much higher price tag, so you won't find a carbon frame bike at this price point.
700c and 650b Wheels
Regarding the wheels of road bikes, the 700C size is the mainstream size nowadays and people have gotten used to this big size of tires. Because in riding, bigger tires mean it has better passability and can bring a smoother ride. For those taller riders, the 700c size allows them to stretch their bodies more, which makes riding easier and more comfortable.
In addition, there is one in the specification that is 650b in size. Because of its smaller size, it is more flexible in operation and at the same time has a better experience in terms of speed. This is also more suitable for smaller riders.
Of course, there is no good or bad choice for wheel size, it depends mostly on your riding habits. As long as it's a size you like, we think both styles are a great match at this price point.
V-brake and Disc Brake
As society has grown, updates have been made to the drivetrain, most notably the inclusion of disc brakes on road bikes under $1000. While rim brakes are lighter in weight and easier to maintain, they don't perform as well in muddy and wet conditions. Such is the case with the rim brakes on this Tektro TK-B177, for example.
Disc brakes, on the other hand, provide more powerful braking power, which is used with less effort, allowing the rider to focus on the road ahead, rather than the brakes themselves.
Disc brakes are also divided into hydraulic discs and mechanical discs. Hydraulic discs are smoother and more responsive in use. Mechanical discs, on the other hand, have the same excellent braking performance and are less expensive to maintain than hydraulic discs, but are heavier in weight. Therefore, the hydraulic disc brakes on the Shimano GRX 600 are lighter than the Tektro Mira CX mechanical discs.
Of course, it's not that cheap bikes can't be equipped with good brakes, and the BMC Alpenchallenge THREE proves that great quality disc brakes can be standard equipment on even the cheapest models.
1× and 2× Drivetrain System
If you are a newbie to cycling, you may think more gear options are good, but in actual riding, it is not what you think. For road riding, a 1× operating system will result in easier shifting operations and is lighter in weight. With the Shimano Deore M4100 10-speed drivetrain, for example, you can put more focus on the road ahead, rather than on how to shift gears.
Of course, this doesn't mean that the 2× system is useless either. For cheap bikes, the 2× system is cheaper, while some people prefer the more versatility that comes with a 2× drive when facing climbs and descents. Just like the Shimano Claris 8-speed drivetrain, which can adapt to more terrain.
Geometric Design
The geometry of the road bike determines two very important things: the way the rider handles it and the position of the rider on the bike.
Different geometries lead to different riding experiences, and different types of bikes have different geometry requirements. Here is just a brief overview of the impact of different geometries.
First, the amount of forward reach affects the amount of space in the cockpit. The longer it is, the more the body extends forward, and vice versa, the more upright the body is. But this is only relative because you can compensate for the short forward reach by increasing the length of the stems, and vice versa, shortening.
Secondly, the seat tube angle affects the seating position by changing the front-to-back position of the saddle. Road bikes typically have a seat tube angle of around 74°, with steeper angles providing more efficient pedaling.
Likewise, different head tube angles affect steering ability. A steeper head tube angle will result in more responsive and quicker steering, but too high an angle will make your descents unstable. Of course, this is only in theory, in practice, designers try to do both.
Conclusion
Among the road bikes presented above, the BMC Alpenchallenge THREE is our best choice. Because it has excellent engineering and is good enough in terms of components to deliver a fast ride. Of course, we also chose different bikes for each gender, so you can choose the Liv Alight DD Disc 1 or the Marin Gestalt depending on your needs, and if you're a beginner you might want to try the CUBE NUROAD or Giant Contend 3, which will meet most of your needs. And if you're also considering the price, the Schwinn Fastback AL Tourney is also a good performer. By the way, if you want to go riding in well-known terrain or special terrain, you can book your accommodation on IHG Hotels & Resorts. It is not only rich in variety but also easy to operate.
We are happy to compile this guide for you and hope this will help you in buying a bike. If you like our content, feel free to share it with your friends. Also, if our content is helpful to you, you can click the email subscribe button below!