We use affiliate links and may receive a small commission on purchases.
We've selected the 12 best indoor cycling bikes for your reference.
As society continues to develop and progress, cycling is no longer limited to the outdoors. More and more people are choosing to ride indoors, they are just as beneficial as riding outdoors, fully exercising your body, and are also weatherproof.
For this reason, choosing an indoor bike that suits your needs becomes crucial. Here we have listed 12 of the best indoor bikes on the market today and divided them according to price range. If this content is helpful to you, please don't be stingy with your likes and shares, and thank you for your support.
100 – 300 USDBest Indoor Cycling Bikes
1. YOSUDA Indoor Cycling Bike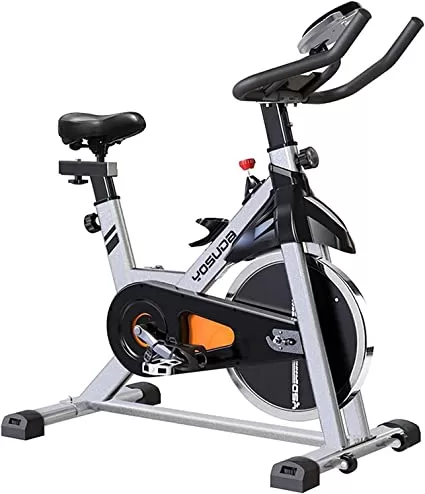 Price: $209.99
Color: Gray
Product weight: 35 lbs
Maximum weight capacity: 270 lbs
What we like about it: Smooth and comfortable ride.
What we don't like about it: No clips on the pedals.
If you are looking for an affordable fitness bike with excellent performance, then this YOSUDA Indoor Cycling Bike is the right choice for you. Thanks to the 35lb freewheel and heavy-duty steel frame, your ride will be more stable. Quiet belt drive system for a better riding environment.
What surprised us, even more, is that you get an additional LCD and mount for just over $200. You can clearly understand your cycling information, real-time tracking time, speed, and calories burned. You can also listen to music anytime and anywhere, making it easier for you to stick to your workout.
It should be noted that the pedals of this indoor exercise bike are not set up with clips, which do not connect well to your feet during exercise and perhaps slip off. You need to just pay extra attention when riding.
2. Cyclace Exercise Bike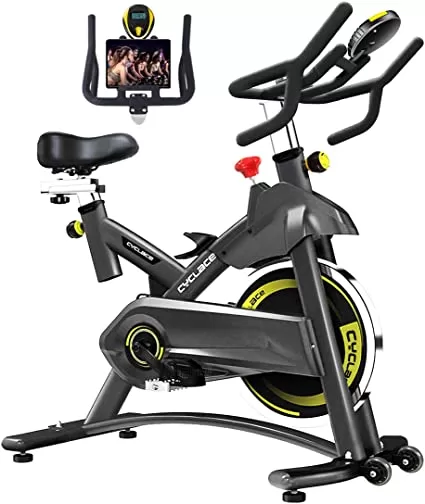 Price: $299.99
Color: Black
Product weight: 36 lbs
Maximum weight capacity: 330 lbs
What we like about it: Personalized fixation.
What we didn't like about it: The slightly noisy ride.
For everyone who loves to ride fitness indoors, the weight of the bike can be annoying, especially when it comes to organizing the room. But Cyclace Exercise Bike solves this problem perfectly. It is an adjustable indoor machine for home use, not only can you move the bike easily, but also adjust the seat support post to meet the needs of different customers.
What's more, the wider and thicker frame gives you a more stable ride and can support up to 330 pounds of weight. The ergonomically designed saddle provides a comfortable riding experience, and the multi-grip handlebars bring a variety of grips for a full workout.
It is worth mentioning that the information we gathered found that we encountered a squeaky noise during the ride. Oops, that's really annoying! The reason is that the pad is not adjusted to the correct alignment with the wheel, or a few drops of lubricant can be applied to enjoy a comfortable ride.
3. DMASUN Exercise Bike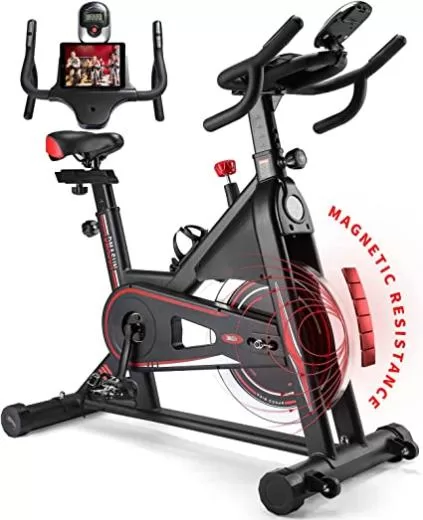 Price: $269.99
Color: Black
Product weight: 77 lbs
Maximum weight capacity: 330 lbs
What we like about it: A trusted brand.
What we don't like about it: Heavier weight.
Don't doubt it! The DMASUN is a brand that you can trust, integrating sports product design, production, sales, and service, and has ample protection in after-sales service. This DMASUN Exercise Bike optimizes the seat structure based on the original stability, making your riding position more comfortable.
Well, the quiet and smooth ride allows you to enjoy the fun of exercise. Different resistance variations bring different experiences of mountain and road, which can be freely played according to your riding habits. The details are also well thought out, whether it's the non-slip cage pedals or the two-way handlebar adjustment and water bottle cage settings, all bringing a better riding experience.
The use of thicker alloy steel makes the overall weight of the product heavier. This is not friendly to those who often organize their rooms, and you need to spend more effort to move it around.
300 – 600 USDBest Indoor Cycling Bikes
4. RENPHO Auto Resistance Exercise Bike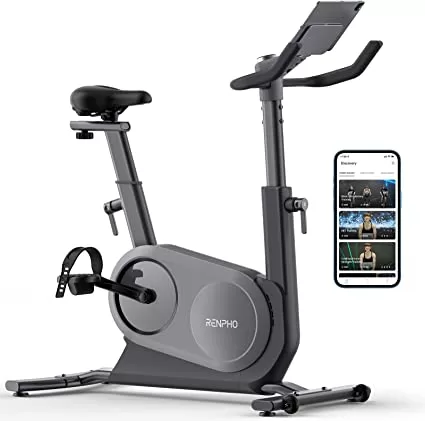 Price: $599.99
Color: Gray
Product weight: 35kg
Maximum weight capacity: 265 lbs
What we like about it: Free video courses.
What we don't like about it: It's not suitable for larger riders.
Trust me! RENPHO always brings us something different. This RENPHO Auto Resistance Exercise Bike offers more than 70 free professional instructional classes for an enjoyable ride at no extra cost and no subscription. With different scenic rides and multiple map challenges, you can enjoy an exciting cardio workout even indoors.
Not only that, but it also features custom training with real-time monitoring to constantly understand and optimize efforts in cycling training. For some riders who still ride late at night, the intelligent motor damping is designed to provide a quiet ride. And it can automatically adjust pedal resistance in time, which is very convenient.
However, unlike the above products, there will be slightly worse in the maximum weight bearing. So those larger riders need to pay attention to whether they can withstand.
5. Pooboo Stationary Exercise Bike
Price: $599.99
Color: lividity
Drive system: Belt
Maximum load capacity: 500 lbs
What we like about it: Continuously variable speed system.
What we didn't like about it: It wasn't easy to move.
If you are a mountain biking enthusiast, congratulations!lol.. The Pooboo Stationary Exercise Bike can meet your needs well. The professional non-slip mountain pedals and adjustable belts, together with the bearing system, allow you to feel the fun of mountain riding at home. With the fully adjustable seat and handlebars, people of different sizes can find the best position, and the whole family can use it.
Also, an infinitely variable speed system is used to precisely adjust to the resistance you need. When you want to experience a flat road, it can still satisfy you. And the cowhide brake pads used are more durable and efficient compared to wool brake pads, which stop immediately when pressed.
Although this exercise bike comes with 2 convenient transport wheels at the bottom, this is not easy for some people. You will need to lift it to move it.
6. leikefitness Fan Exercise Bike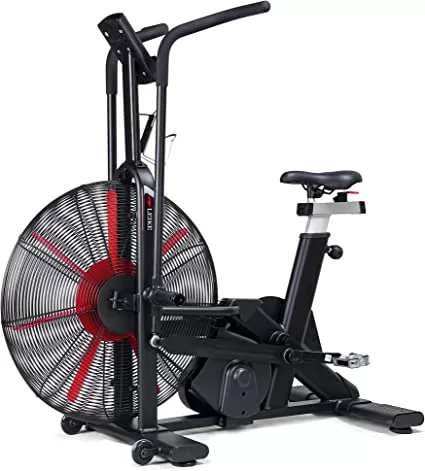 Price: $689
Color: Black
Product weight: 54kg
Maximum load capacity: 300 lbs
What we like about it: The unique wind resistance system.
What we don't like about it: The slightly cheap LCD screen.
Haha! The first thing that attracted us was the huge fan of the leikefitness Fan Exercise Bike. It's so interesting! This is a unique air resistance system designed by leikefitness. The harder you push, the greater the resistance you will feel. This not only strengthens your legs but also increases your upper body endurance. Not only that, but when you put your feet on the foot pegs, you isolate your arm workout.
Also, the extra stand holds your phone or Ipaid directly while you place your water bottle, allowing you to fully engage in your cycling fitness. The display directly in front of you records your fitness information straightforwardly and clearly, and you can use the setting mode to create specific fitness goals.
The only complaint we have is that the price is not cheap but the LCD screen looks very cheap. If leikefitness can make this upgrade, then it is a good choice for home fitness.
600 – $1000 Best Indoor Cycling Bikes
7. Sunny Health & Fitness Evolution Pro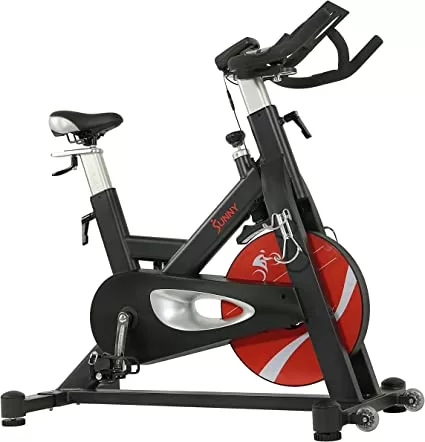 Price: $696.14
Color: Black
Product weight: 136 lbs
Maximum load capacity: 149.69 kg
What we like about it: 40 lb flywheel application.
What we don't like about it: The inconvenient location of the water bottle holder and dumbbell rack.
This exercise bike is also produced by Sunny, the difference is that in other aspects to make the upgrade. sunny Health & Fitness is the most advanced performance test track, which can detect more content, so you have a more comprehensive understanding of their workout.
Well, the higher seat allows for a more ergonomic riding position. 40lb flywheel is used, designed for those riders who are looking for speed, creating more power over a longer period, allowing you to continue your workout. The application of the magnetic resistance system is also smoother and maintenance-free, bringing a better riding experience.
Honestly, we like the extra design of Sunny Health & Fitness. But the location of its water bottle holder and dumbbell holder is not very convenient, you need to bend down more to get it. But we agree that this does not affect its that excellent performance.
x
8. Schwinn Fitness Indoor Cycling
Price: $970
Color: Black
Product weight: 112 lbs
Maximum load capacity: 330 lbs
What we like about it: Smarter technology design.
What we don't like about it: The squeaky sound that makes people dislike it.
You'll find more smart designs on the Schwinn Fitness Indoor Cycling, Bluetooth connectivity designed to work with the Peloton and Zwift apps, a JRNY experience to assess your fitness level, and global routes that automatically adjust in real-time based on speed. This tech-savvy fitness bike allows you to enjoy riding outdoors even when you're indoors.
The comfort is handled equally well with the 4-way adjustable handlebars, plus the racing-style seat and the use of dual-link SPD pedals to make your workout more comfortable. Even long rides will not feel too tiring.
However, in terms of noise handling, it does not satisfy us. Ouch! The noisy squeak will make your ride not so pleasant. If you mind this very much, you can try to repair or return it. Of course, I have other methods. Because I will wear headphones when I ride, the music will cover the noise.
9. NordicTrack Commercial Studio Cycle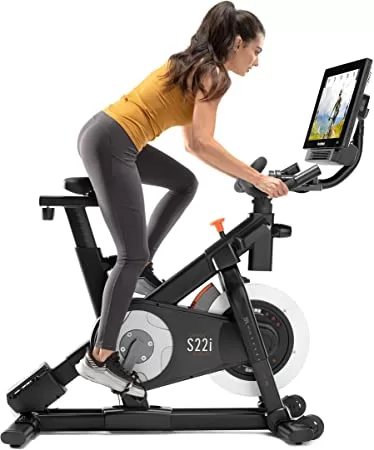 Price: $1,099
Color: Black
Maximum height: 126 cm
Maximum weight capacity: 350 lbs
What we like about it: The quiet ride.
What we don't like about it: The inability to fold.
If you weren't happy with the last noisy ride, then this NordicTrack Commercial Studio Cycle is worth a try. The use of the magnetic resistance system allows you to have a quieter ride. The enhanced tilt motor is equally quiet and also automatically adjusts your resistance and tilt for a hands-free workout at home.
The upgraded HD smart touch screen is even smoother to use, and the new Bluetooth headset link is the ultimate listening effect. It is worth mentioning that after purchase, you will also receive a free 30-day iFIT family membership and a variety of professional training courses at your disposal.
To our disappointment, it is not capable of folding, which also means that it does not work well for storage. The massive machinery will take up most of the space. Of course, if your room is big enough and you don't need to move around a lot, then you can ignore this regret.
Over $1000 Best Indoor Cycling Bikes
10. Peloton Bike
Price: $1,445
Color: Black
Product weight: 135 lbs
Maximum weight capacity: 297 lbs
What we like about it: A sleeker, more compact design.
What we don't like about it: Memberships need to be purchased separately.
If you are considering a more top-of-the-line indoor fitness bike, then this will be your perfect companion. In a compact size, it is designed with an adjustable seat, handlebars, and screen to adapt to different heights. Also applied are a manually controlled resistance knob and an extra water bottle holder with a stabilizer. You can enjoy the ride in a limited space.
Of course, the most exciting part is the large-screen smart tablet. You can ride fitness with other members and there's even a leaderboard feature to keep you motivated. With thousands of classes to change your workout, there's always something for you.
While you can enjoy a smarter experience, it requires a separate purchase for membership. This is something that many users have complained about. The extra expense cost isn't that expensive compared to the bike, but we still wish Peloton would give it away for free, even for a month would be excellent.
11. Echelon Smart Connect Indoor Cycling Bike
Price: $1,499.99
Color: Black
Product weight: 123.45 lbs
Maximum load capacity: 136 kg
What we like about it: Well-designed dynamic cycling.
What we don't like about it: It's not easy to install.
We can safely say that the Echelon Smart Connect Indoor Cycling Bike is a well-designed fitness bike. The sleek design makes you fall in love at first glance, and the reversible HD screen for drag cross training, smooth functionality, and total immersion provide maximum comfort. The use of silent magnetic resistance changes the intensity of the workout, the oversized cushioned seat provides a comfortable ride, and the powder-coated frame prevents scratches, all designed to make your riding experience even better.
What's more, you can enjoy a 30-day membership for free. That's right, you get access to different fitness classes, as well as the ability to compete and achieve fitness goals on leaderboards. No one can deny the joy of winning, which greatly enhances your fitness motivation.
But I have to mention that it was not so easy to install it. It took us quite a while to get it assembled after we got it and it wasn't easy. If you don't have experience in this area, then it's best to let someone more professional do it.
12. Hoist Fitness LeMond Series Pro Exercise Bike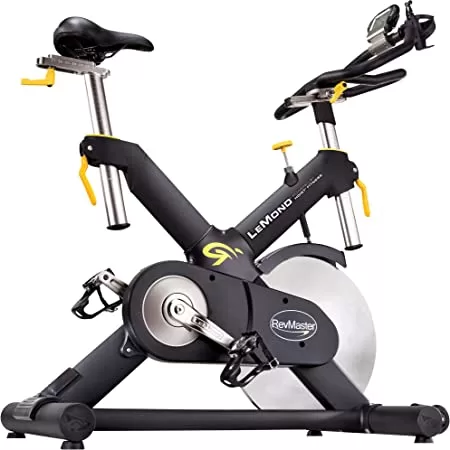 Price: $1,599
Material: Kevlar
Drive system: Belt
Maximum height: 46 inches
What we like about it: Easy to install.
What we don't like about it: The high price.
As a professional exercise bike, the Hoist Fitness LeMond has done the ultimate in both quality and performance. The sturdy frame will provide years of service and the ergonomic shape is designed to make you feel great comfort when you sit on it. Foldable features make it easy to store and uncomplicated to assemble, it's everything you want.
And in terms of performance, it provides a smooth and quiet ride. The heart rate monitor can be used with the Pilot II monitor to fully understand your ride information and make a targeted training plan for it. 47 lbs. precision machined flywheel delivers a silky smooth ride, so you can enjoy riding outdoors at home.
Of course, great performance often means a more expensive price tag, as is the case with the Hoist Fitness LeMond. For some users, the price is not easy. If you don't have a budget to worry about and are looking for a professional fitness bike, then it will be the right choice for you.
Learn More: Top 9 Best Recumbent Exercise Bikes [2023]–Lying Down Exercise
Indoor Fitness Bike Buying Guide
What to look for on an indoor bike?
Why choose indoor cycling?
Indoor cycling exercise which muscles?
How to configure the bike correctly?
Other indoor cycling notes
Care and Maintenance
What to look for on an indoor bike?
Comfort
Whether you're riding a bike outdoors or on an indoor exercise bike, comfort is crucial. And the more comfortable the bike is, the greater your desire to work out will be. Generally, most bikes with comfort features have these characteristics. Wide, soft seats, and padded handlebars, and are adjustable to ensure that every rider can find the optimal level of comfort.
Of course, long cycling workouts can be tiring. This is when you need to set the bike up properly to ensure that your legs can fully extend at the bottom of the pace. Also, the handlebars should be at the same height as the seat to help you avoid hunching over while riding.
Overall, you need to make sure the seat and handlebars of your bike are adjustable before you choose so you can customize the seat to fit you.
Resistance
The resistance system is the second factor you need to consider. As an indoor fitness bike, you don't have the same freedom to choose your terrain as other outdoor bikes. And that's where the resistance system is set to make your bike workout dynamic and challenging.
You are free to adjust the bike resistance to give yourself a harder or easier workout. For most bikes, it requires you to turn a manual tension knob and feel the resistance level as you ride. But some high-tech bikes allow you to control resistance levels with the push of a button.
It is because of the application of the resistance system that you can enjoy riding hills even indoors, fully exercising your muscle nerves while challenging your body.
Indoor cycling computer
Many indoor bikes are now equipped with computers that can display some information about your ride. Things like power output, RPM (revolutions per minute), pedaling time, resistance level, and distance traveled can give you a good idea of how your workout is going. Based on this information you can customize a detailed workout plan specifically for yourself to keep track of progress and maintain a perfect workout promptly.
It's worth mentioning that some computers will have an online leaderboard feature. This also means you can see riders from different places working out on it and use it to motivate yourself and stay motivated.
Of course, for those who are self-disciplined or casual riders, these optional things may not be necessary. But they do make your workouts more fun and provide a nice experience.
Additional Features
When choosing an exercise bike, some products come with extra features. For example, water bottle holders are conveniently set up to allow you to carry a water source with you, so you don't have to go to the kitchen to rehydrate after a full workout. Other bikes will have power ports on both sides so you can charge your phone or tablet while you work out. Of course, some bikes come with Bluetooth capabilities to make your ride more immersive.
These add-ons will give you a better riding experience, so don't be shy about looking for features that will motivate you to spend more time on your bike.
Why choose indoor cycling?
Not everyone has enough time to ride outdoors, and they don't want to drive home sweaty after a workout, which is why indoor bikes exist.
Unlike working out at the gym, you only need to spend the money on the bike once, you can enjoy the ride forever. And there is no need to be upset about not being able to go to the gym by accident, you can work out whenever you want.
If you're not used to sweating it out in a crowded place, then indoor cycling offers pretty good privacy. You can easily replace the need for a trainer by having the freedom to customize your training program and then find the right workout for you in the fitness videos.
Believe me, the experience it brings you is not worse than outdoor riding.
Indoor cycling exercise which muscles?
We believe that the reason most people buy an indoor bike is for fitness. If you want to build specific muscles, understanding the benefits of cycling will help you achieve those goals.
Cycling fully engages your whole body cells and burns your fat, it works your heart and builds your cardiovascular strength. And it requires a lot of core strength and consistent abdominal engagement, making it an excellent workout for those who want to build abs.
In addition, the lower body muscles can also be exercised, like the quadriceps, calves, and gluteus maximus can be mobilized. If you also want to exercise your biceps and triceps, you can also find some bikes with arm exercises.
How to configure the bike correctly?
The right configuration can bring a comfortable riding experience. Before riding you need to adjust the height of the seat so that it is parallel to your hips, and you also need to determine the angle of the handlebars to maintain the most comfortable position for riding.
When you are pedaling, you need to pay attention to the full extension of your legs to make your feet and legs more comfortable while riding the bike.
Other indoor cycling notes
You don't necessarily have to purposely prepare a pair of cycling shoes, but they can give you a more enjoyable riding experience. The right cycling shoes can provide greater stability, and a good enough fit that they won't slide around while riding, and they can maintain pedaling efficiency and enhance your workout.
Of course, the choice of cycling clothing is equally important. Generally, you need to wear clothes that are as tight as possible to make sure they don't get stuck in gear. Clothing made of breathable and sweat-absorbent materials works better, but it's okay if they don't.
Care and Maintenance
For fitness bikes, in addition to daily riding, the usual maintenance and care are equally important. Sweat is very corrosive, which is very harmful to your bike, so regular cleaning is necessary. Regular inspection and cleaning will keep your bike rust-free for a long time, giving it a longer life and reducing the cost of repairs.
Conclusion
In summary, we have not only listed the 12 best indoor bikes for 2023 and introduced them with a detailed and detailed summary, but also answered related questions. We hope these contents can bring you help.
Finally, if you like our content, feel free to share it with your friends! If you find our content helpful, you can click the email subscribe button below!