We use affiliate links and may receive a small commission on purchases.
We've selected the 10 best portable power stations for your reference.
Portable power stations are the best way to help you get out and explore, while still having your equipment available. Today, an efficient and reliable power station is essential for most families camping on vacation. During the week, all sorts of things can cause power outages and can lead to long periods without power in your house. And it can provide you with heating, electrical usage, and even water.
Choosing how big a portable charging station to use has always been a common problem among camping players. On camping road trips or off-road, a smaller portable power station is a more convenient way to get power. Larger stations can provide power for longer periods. In this article, we'll take a look at what portable charging stations are, how they work, and the questions at the end of the article that will give you an idea of which is the right choice for you. We're focused on finding the best portable charging stations in 2023 that are perfect for powering up your camping and won't cost too much.
If you like our articles, welcome to subscribe to us to get the most timely new review information!
2023 Best Portable Power Station List
1. Jackery Portable Power Station Explorer 1000 ($999)
Rated maximum output power: 1000 W
Rated capacity: 1000 Wh
Weight: 22 lbs
Size: 12.5 x 8 x 8.5 inches
What we like about it: The balance point of capacity and weight, the visualization screen.
What we don't like about it: The original accessories are very expensive.
It's at the right balance of capacity and weight and lights enough for the average adult to lift and carry with ease. But it can run up even the most power-hungry gear in camping. It also has one of the largest capacities of any of our test models, making it compatible with most devices to keep running all day at the same time. The visualization screen allows me to see the input/output power and the remaining power.
If you want to equip this product with a solar panel, this accessory is too expensive for me. On top of that, it has more output ports than any other portable power supply on this list – three AC outlets, two USB-A, and two USB-C. This allows you to charge all sorts of gadgets, from laptops to cameras to your GPS device all well taken care of.
2. EF ECOFLOW Delta max Portable Power Station ($3699)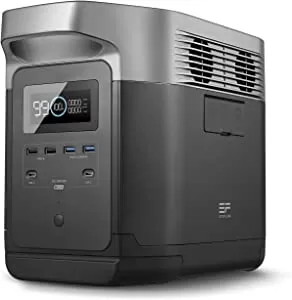 Rated maximum output power: 1800W
Rated capacity: 1260Wh
Weight: 31lbs
Size: 2,25 x 16.4 x 11.2 inches
What we like about it: Very fast charging and high capacity.
What we don't like about it: Expensive, no wireless charging and no lights.
As you know, the EF ECOFLOW is a very expensive solar power station (not equipped with solar power panels, which you can subsequently purchase). This charging station is very fast and only requires 4-8 hours of solar charging to fill it up. For those who need to get power quickly, it can be charged from zero to 80% in an hour with standard AC power. Of course, there are several USB-A, C, and onboard 12V ports.
The lack of wireless charging and emergency lights leaves me feeling somewhat limited, take a look at the Jackery Portable Power Station Explorer 1000 above. but if you need a lot of wall plugs (110v), then this power station is perfect for you. In addition, there are six 110v outlets and 1800 watts of power on the back. With a large color screen, you can view statistics and keep the power up all night if needed, ideal for laptops and other electronics.
3. Westinghouse iGen160s ($81.53)
Rated maximum output power: 100W
Rated capacity: 155Wh
Weight: 4 lbs
Size: 7 x 3.77 x 8.14 inches
What we like about it: Compact and portable, with plenty of outlets.
What we don't like about it: It is only suitable for single camping, not for multiple camping.
The reliability of a good brand has always been unquestionable. The simple output as well as the compactness and portability make it the most popular product and the best choice for camping enthusiasts to get started. While it doesn't put out as much power as those larger models, there's plenty to cover your equipment with two peaks 110-watt wall plugs, four USB plugs, and three DC output plugs to cover any charging needs. You can plug in a 25-watt mini projector for 4-5 hours of movie playback at camp.
Only suitable for single-person camping use, for a large group of people for weekend camping is not enough. But the simple and compact appearance allows you to easily take it with you or even tuck it into a small corner of the trunk. If you're on a tight budget, this one is a very good choice. That's because it offers more power than its competitors in the same price range.
4. BLUETTI Portable Power Station AC200P ($1599)
Rated maximum output power: 2000W
Rated capacity: 2000Wh
Weight: 4,60.6 Pounds
Size: 4,16.5″L x 11″W x 15.2″H
What we like about it: The ability to charge up to 17 devices simultaneously and the abundance of outlets.
What we don't like about it: Heavy weight, not multi-person camping is not suitable.
Honestly, this is by far the biggest and bulkiest power station on the list! Bluetti has the most power on the list at 2,000 W. If you're looking for a portable battery power station that can replace a generator, be sure to keep an eye on this big guy! It can charge or power up to 17 devices at the same time, and it will meet all your electrical requirements. You read that right! And a 110v outlet can fill it up in less than 2 hours.
The weight is too big, if not for multi-person camping this big guy is a bit redundant. If you're simply camping with your family, you can choose the Jackery Portable Power Station Explorer 1000, but it's a great companion for multi-person camping trips, with enough power to keep you watching a full movie and some small refrigerator equipment running all night.
5. EcoFlow DELTA mini Portable Power Station ($999)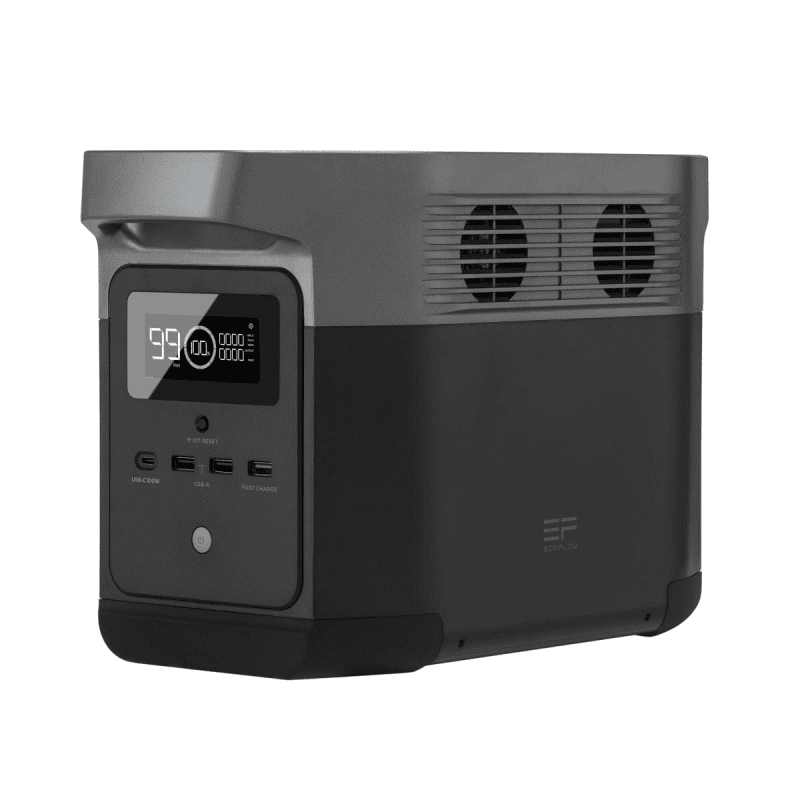 Rated maximum output power: 1800W
Rated capacity: 882Wh
Weight: 31lbs
Size: 5,14.9 x 9.4 x 7.2 inches
What we like about it: Great for light camping and solar charging.
What we don't like about it: The capacity is too large for multi-person camping and not easy to carry.
Actually, it's not suitable for glamping. In other words, it can't power your PS5, beer fridge, and massage bathtub. But for light camping, this model hits the top spot in terms of basic features, capacity, and price. You can choose solar panel charging, or you can spend an entire weekend vacation on a full charge, depending on how you power it. Output options are plentiful, and the abundance of charging ports allows you to use multiple devices at the same time.
Well, it may be a bit too big for those camping solo, I suggest you go with the portable Westinghouse iGen160s Portable Power Station. and for simple 2-4 person camping, this is a great size. It allows you to keep your equipment on all night, and the solar power can be instantly replenished the next day.
6. Goal Zero Yeti 500X ($549.95)
Rated maximum output power: 500W
Rated capacity: 505Wh
Weight: 12 lbs
Size: 11.2 x 7.5 x 6 inches
What we like about it: A very wide variety of sockets, noise-free output, suitable for players.
What we don't like about it: None.
The Yeti power station can power almost anything. If you want all the critical plugs and don't want to spend too much money, stop by and check this product out. I like the 12V car plug on top and can use the long top for my car products as well. The pure sine wave output allows it to maintain a noise-free output, great for laptops and music players, and pair it with a solar panel for a complete network-free power solution.
The display contains almost all the information you need, including battery capacity, output power, and input power. If you're looking for an all-around solution for your portable power supply, it will be the best choice. You'll get something far beyond its price level for the price.
7. Anker 757 PowerHouse ($1099.99)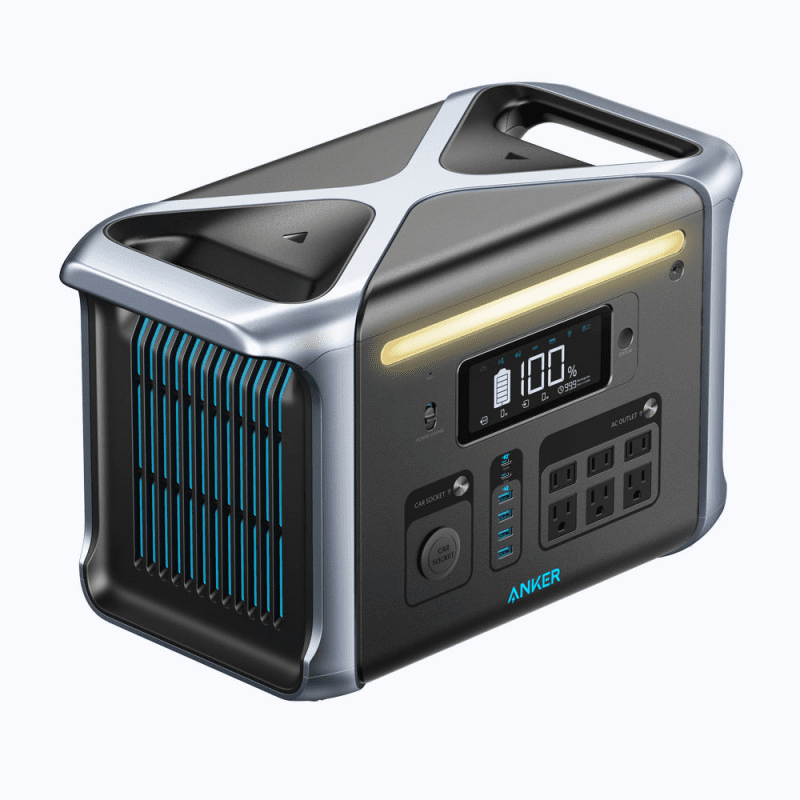 Rated maximum output power: 1500W
Rated capacity: 1229Wh
Weight: 43.9 lbs
Size: 18.22 "L x 9.34 "W x 11.34 "H
What we like about it: Rugged and durable, the battery lasts 5-6 times longer than regular batteries.
What we don't like about it : None.
Rugged and durable machine, it is a good choice among the options of more than 1000Wh!:) And because of the wide range of features in other products in this category, I prefer the simplicity and practicality of the Anker 757 PowerHouse. abolishing the lithium battery and instead using a new LiFePO4 composition, which is safer to use and lasts five to six times longer than ordinary lithium batteries. This also allows Anker to provide a five-year warranty instead of two years for most power supplies.
Notably, Anker's UPS mode can quickly become a backup power source for the device in the event of a power failure. This is important for medical equipment that must always be on to sustain life. In the event of a power failure, it can quickly turn on backup power from 0 ms to 12 ms to keep medical equipment powered. This has allowed the Anker 757 to be used in many medical devices.
8. Jackery Explorer 300 ($299.99)
Rated maximum output power: 300W
Rated capacity: 293Wh
Weight: 7 pounds
Size: 9×5×8 inches
What we like about it: Great value for money, best used as a power source in the home.
What we don't like about it: None.
Don't doubt it, a great performance option at a great value! If you don't mind sacrificing a little power, the Explorer 300 offers a wide range of port options. Lightweight enough to make it easy for even children to carry it around, the two USB-A and one C ports are more than most lightweight options.
But the power is relatively small. If you need to stay for 2-3 days you can look at the Jackery Portable Power Station Explorer 1000, but the compact size makes it the most popular product. I like to take it to the beach, park, or campground to recharge my inflatable bed, allow fans and lanterns, etc. Don't think about running your air conditioner or multiple laptops with it, but you can save a lot of money doing so.
9. Yeti 1500X Portable Power Station ($1799.95)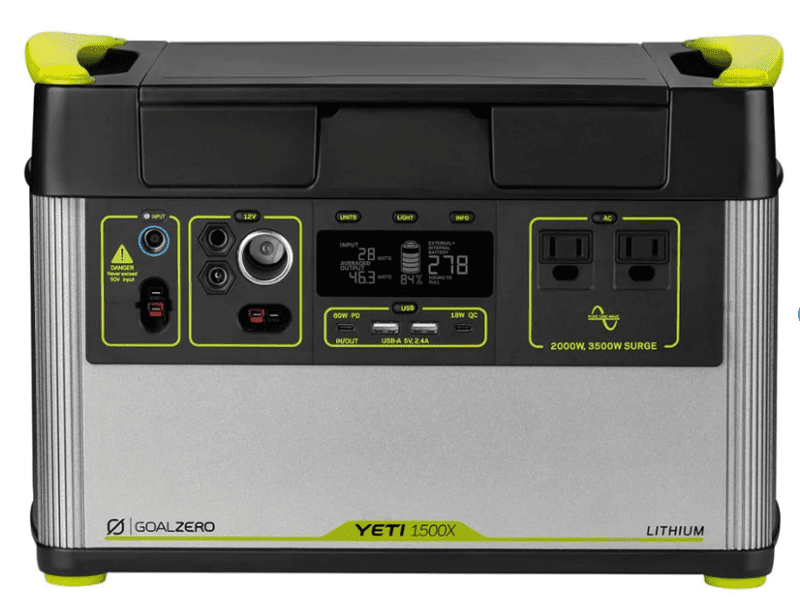 Rated maximum output power: 2000W
Rated capacity: 1500Wh
Weight: 84 lbs
Size: 31 x 20 x 24 inches
What we like about it: Different output ports that can be used in time for any scenario.
What we don't like about it: The weight and size are very large, the heaviest product.
The innovator of portable power supplies that can support home travel and off-the-grid office scenarios. 7 different output ports for timely use in any scenario, and a 1500Wh Li-ion battery that can charge your phone 127 times and run a full-size refrigerator for up to 28 hours. In addition, the integrated MPPT charge controller improves charging efficiency by up to 30% when charging with solar panels.
The downside that has to be said is that the weight is very heavy and the size is very large. This is one of the heaviest products on this list and you may need a large trunk to carry it to the campground. For those camping party groups, this is great and you can use it all night to power large equipment. So it is also a very good choice for those campers who are delicate and heavy.
10. Yeti 3000X Portable Power Station ($3499.95)
Rated maximum output power: 2000W
Rated capacity: 3032Wh
Weight: 78lbs
Size: 25 "L x 19 "W x 23 "H
What we like about it: The largest capacity charging station.
What we don't like about it: Smaller application scenarios and to carry.
It's clearly the biggest capacity mobile charging station on the list. The brand was clever to use a wheeled model, making it easier to transport in the same size product. You can easily drag it from the parking lot to the campsite without having to look for a separate camping car to haul it. The abundance of sockets makes it suitable for a wide variety of appliances. Through the Home Integration Kit (sold separately), you can control your Yeti 3000X through the Teti app and intelligently switch to power-saving mode as needed.
The useful Yeti app can monitor, control and optimize your power usage wherever and whenever. In addition, it has remote control power input and output, optimizing battery life. Top-notch customer service is always on call and all products come with a 2 year warranty, giving users peace of mind when using.
How to choose Portable Power Station?
How does a portable power station work?
Charging portable power stations
Municipal power
Solar charging panel
Hydro and wind charging
Portable power station capacity
Peak power
Where should the portable power station be stored when not in use?
How many years can a portable power plant last?
How long can a portable power plant run?
What is the difference between a portable power plant and a generator?
How does a portable power station work?
The portable power station works on a very simple principle. It looks more like a large cell phone power source that gets its power from sources such as power companies, solar chargers, or other network-free solutions and stores it in an oversized battery. The size of this internal battery largely determines the different needs of campers for camping.
Of course, the output is also very critical, and the abundance of connectors allows it to output to a variety of devices. Output types may include 120v wall plugs, USB plugs, and cigarette lighter-style plugs.
But remember, a charging station is not like a plug in your home, it has a limited supply of power. Once the power is depleted you will have to recharge it to use it again.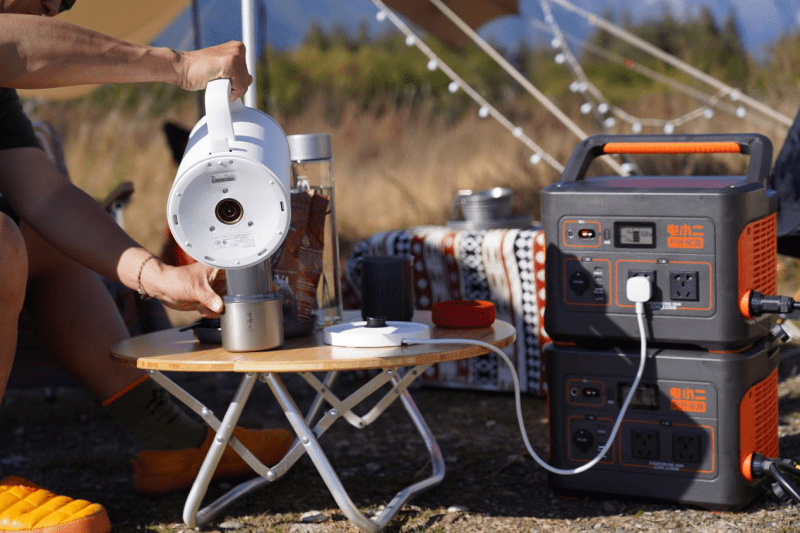 Charging portable power stations
You will need to charge the charging station before (or during) each camping trip or use. There are many options to perform this operation, but these are the most common.
1.Utility Power: Use household outlets in your home to charge charging stations. Examples include a power dock in a campground, a wall outlet in your home, and an extension outlet in your garage. Yes, this is by far the fastest and most reliable charging power source available for portable workstations.
2. Solar Charging Panel: Use a solar charging panel to charge your charging station. You can buy the original charging panel that comes with the charging station, or you can buy another brand of charging panel yourself or power your charging station on a sunny day. However, this method does not seem to work on cloudy days.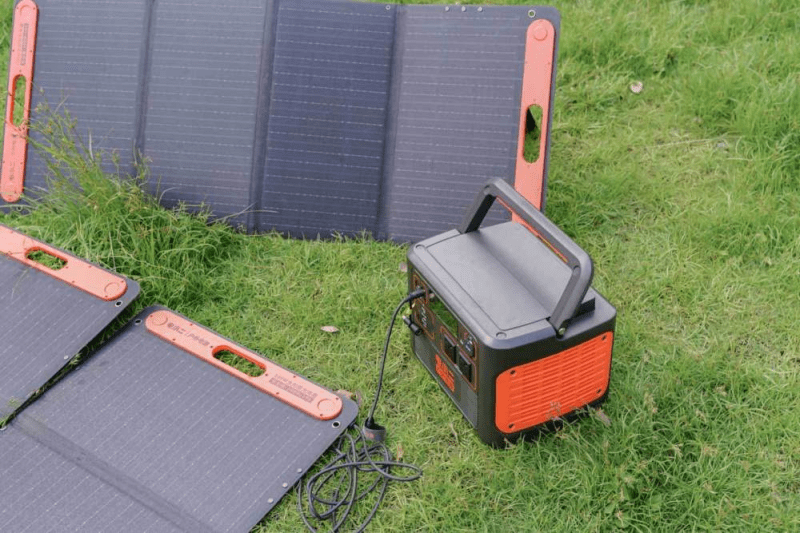 3. hydroelectric and wind charging: This is not common and is not reliable for most large charging stations. But if you are in a long-term fixed location, it may make sense to build a hydro or wind power plant. Use your imagination, it will be very interesting.
Attention: Many charging stations support onboard charging. New energy vehicles such as Tesla can now directly support this discharge, and other gasoline vehicles can do so by simply using the onboard charging plug. But if your car is not running, they will only use your car's battery charge. Eventually, your car battery will be dead and you won't be able to start your car. Be sure to charge your portable charging station only while your car is running!
Portable Power Station Capacity
Capacity will be a measure of how much power output the portable charging station can hold, usually measured in watt-hours. Usually, the higher the watt-hour value, the more power you can get from the power station. Say you have a device that consumes 1 watt of power. On a power station with a capacity of 100Wh, assume that the 1-watt device will run for 100 hours.
The more devices you have, the more power you consume and the faster you run out of power. Therefore you will need a higher-capacity charging station. So before you buy one you need to determine how much capacity you need and need to calculate how many devices you need to plug in at one time and how much power they consume.
Most electronic products list their power supply specifications, so calculating the approximate usage can give you a clearer picture of the power plant capacity you need to buy.
Peak Power
Each outlet on the portable power plant will be rated for a certain maximum peak power. This peak power will determine which plugs can operate and which cannot operate from those plugs.
Power is measured in watts, and both your equipment and portable power plant should list their power output and consumption.
While your portable power supply may have a 120V standard wall plug, the power rating of that plug may or may not output enough power to make your device work properly. Many devices plugged into a standard wall outlet are very power-hungry and may overwhelm the portable power plant.
To facilitate your understanding of wattage, let me list a few common appliances for you.
Cell phone charger: 2-6 watts
Amazon Kindle Charger: 4-9 watts
Laptop: 65-90 watts
TV: 80-400 watts
Angle grinder: 500-2500 watts
Drilling machine: 600-4400 watts
Chainsaw: 1100 watts
Where should the portable power station be stored when not in use?
Your portable charging station should be stored in a cool, moist place when not in use. Yes, do not store it in any location where it may be hot or humid. It is okay to keep the station in your car or RV while you are on the road, but storing it in these locations all the time will shorten the battery life.
In addition to placing it in a suitable environment, it is best not to let its power level fall below 40%-50%. Because too low a charge will cause a loss of battery may not be able to charge the next time. Of course, do not charge too full, for lithium batteries below 80% of the power are the ablest to extend the battery life of the power.
But if you live in an area prone to power outages during winter storms, hurricane season, or other natural disasters. You'd better keep it fully charged during these times so that it's ready for emergencies. Because nothing is more important than the provision of power at critical times.
How many years can a portable power plant last?
The service life of a portable power plant depends on three key factors: how well the product is maintained, how often it is used, and the type of battery.
For this reason, we have talked and researched with several manufacturers and most devices have a life span of no less than 500 cycles. In some cases such as the Anker 757, a unit may use LiFePO4 cells and provide up to 3000 cycles or even longer compared to common lithium batteries.
A cycle means using the product from 100% to 0%, or in some cases at least 80%. Therefore, it can probably last longer if you use it less frequently.
How long can a portable power plant run?
You can approach the answer by doing some basic math arithmetic. For example, if you have a power station rated at 1000 watts hours and you plug in a device, a TV rated at 100 watts, then you can divide 1000 by 100 and the answer comes up. It will run for 10 hours.
But you have to consider power loss, "you should take 85% of the total and divide it by 100 watts". The actual runtime is 8.5 hours and based on this example, you should expect it to be between 8.5 and 10 hours.
What is the difference between a portable power plant and a generator?
A portable power station is theoretically a large rechargeable battery that you can carry around. Deplete it and it is useless until you can recharge it.
By definition, a generator can convert some type of energy into usable power in any circuit to which it is linked, such as diesel generators, hand-pulled generators, and wind-hydro generators. They are often used as a power source in remote areas or as a backup power source for an entire home. They convert some type of mechanical action into electricity and solar generators can use solar panels for the device to charge your batteries, using the batteries to temporarily store power. The battery itself is usually a portable power station.
Conclusion
A good portable mobile charging station can significantly improve the quality of your camping trip. When looking for the best portable power station, you need to consider the pros and cons of various aspects. These types of devices are best for use when traveling, but they can also provide you with extra power for a short period if your home is facing shortages or power outages.
The best power devices will provide you with hours of charging time, but it will also mean that they will be very bulky and not easy to carry. And those portable and compact charging stations can let you easily take it out, but for the case of multiple people camping may not be enough. For this reason, I have identified the best mobile charging stations for camping in 2023, you can follow the advice we give at the end of the article to choose the right mobile charging station for you.
If you still want more reviews on camping products, such as our 2023 Best Camping Chairs, you can enjoy your entire vacation more comfortably.
Finally, if you like our content, feel free to share it with your friends! If our content is helpful to you, you can click the email subscribe button below!