We use affiliate links and may receive a small commission on purchases.
We've selected the 10 best rechargeable headlamps for your reference.
Believe it or not, no night activity can be done without the help of lighting or torches. With them, people can have more safety and speed up the process. We believe that headlamps, which can be worn on the head directly, are a better choice than flashlights to free up hands.
Among all the headlamps, the rechargeable options are the most economical. Though they require you to spend some waiting time, it's still cheaper than changing batteries. Therefore, we have carefully selected the 10 most reliable rechargeable headlamps to solve problems for users.
If you are looking for an outdoor light, you can pay attention to us. Whether it is a bike light or a camping light, we have done a profound evaluation. Of course, the headlamps powered by AAA batteries have also been tested, and you can refer to the best headlamps of 2023.
Recommendation List
1. SLONIK Headlamp Rechargeable – 1000 Lumen LED USB Rechargeable Headlight ($24.44)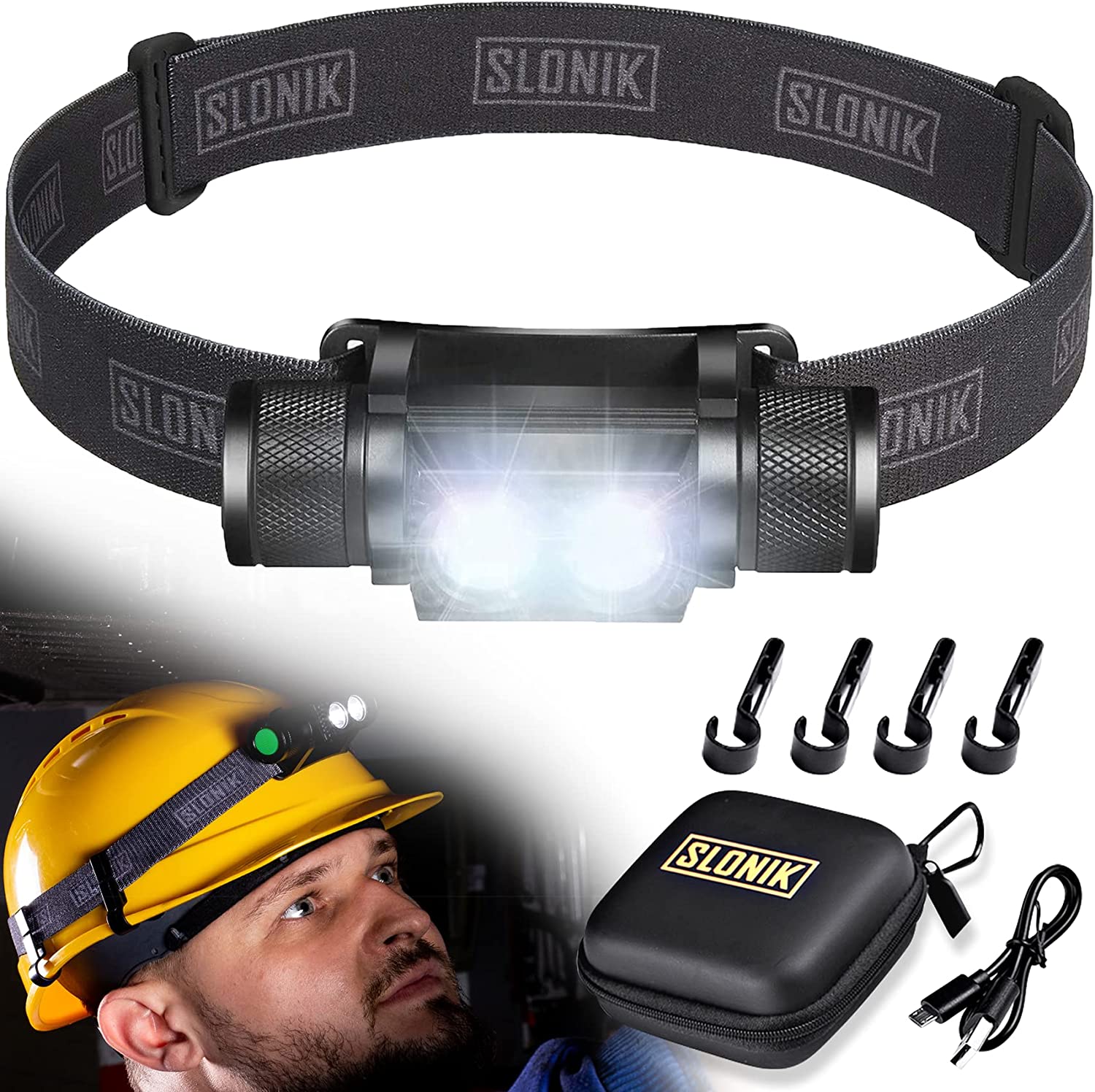 Color: 6 kinds
Weight: 4.12oz.
Maximum lumens: 1000
Battery: 1 Lithium Ion batteries required.
Waterproof performance: IPX8
What we like about it: Superb water and dust resistance, the reliable field of view conditions.
What we don't like about it: The range is average.
This new upgraded SLONIK Headlamp impresses with its ultra-reliable waterproof and dustproof performance and super bright intensity of light. Needless to say, the headlamp made of durable aircraft-grade aluminum alloy 6063 has a waterproof and dustproof rating of IPX8. This is the highest level in the headlamp. At least it can support people to walk with it all the time in heavy rain without rain gear and keep it illuminated. Therefore, it is so durable that it is a reliable waterproof headlamp.
This headlamp is equipped with 1000-lumen CREE LED lights, projecting an ultra-bright 60-feet beam. Although the distance isn't far, it can ensure the illuminated area is bright. Furthermore, with a 120-degree adjustable angle featuring a spotlight and wide beams, it can provide a better view in any situation. Therefore, it is also an excellent work headlamp, serving as a reliable partner for a construction safety helmet.
It would be more competitive if SLONIK Headlamp were to refine its technology regarding the battery. Because the high-power mode supports up to 3.5 hours of exploration or work. Even in low power mode, it can only have a runtime of 8 hours.
2. BIAT Headlamp Rechargeable 2PCS ($27.99)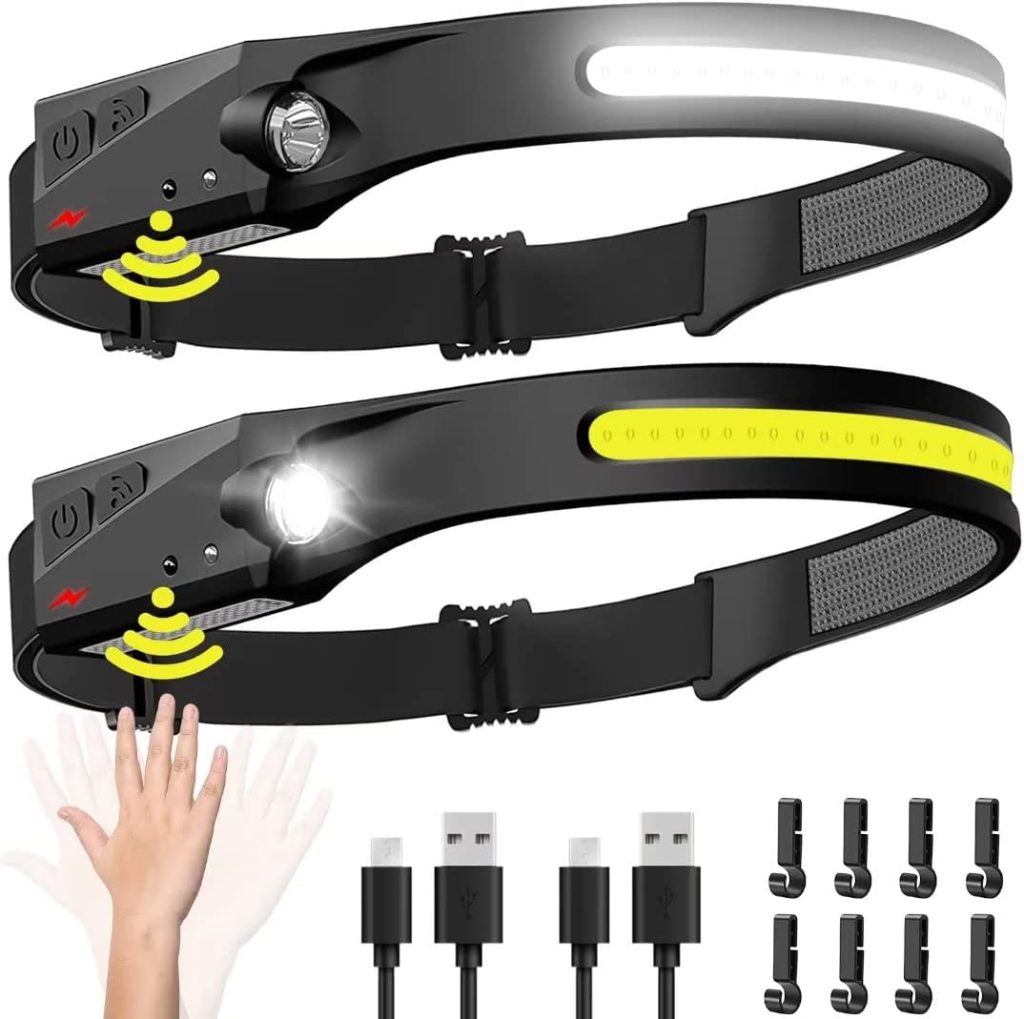 Color: Black
Weight: 2.47oz. single
Maximum lumens: 350
Battery: 3 Lithium Ion batteries required. (included)
Waterproof performance: IPX4 waterproof
What we like about it: The large light range, the powerful intelligent sensing system.
What we don't like about it: Average luminosity.
If you're looking for a headlamp indoors and outdoors, this 230° light will illuminate all the views that can appear in one's line of sight. the BIAT Headlamp Rechargeable Beam Head Lamp is a great place to start. A huge field of view, and a spotlight that can focus on a specific range. Whether you are dealing with outdoor riding, fishing, or indoor or car maintenance work is easily handled.
The reliable smart sensor allows you to control the switch by waving your hand even when you are wearing gloves, as long as the distance to the device is kept within 10 cm, which is very reliable. In addition, 6 light modes (COB light high, COB light low, XPE high, XPE low, and Strobe Mod) give the user the right to adjust the light level. Commendably, it is a rechargeable headlamp composed of soft silicone and an adjustable elastic headband. So it can be easily folded and put into a pocket when not in use, and the weight of only 2.47oz. is very convenient to carry.
However, the maximum 350 lumens brightness is still lacking compared to the list of luminaries. Nonetheless, it is still very impressive that such power can light up places 150 feet away in long-distance flood mode.
3. LE LED Headlamp Rechargeable 2 Pack ($25.99)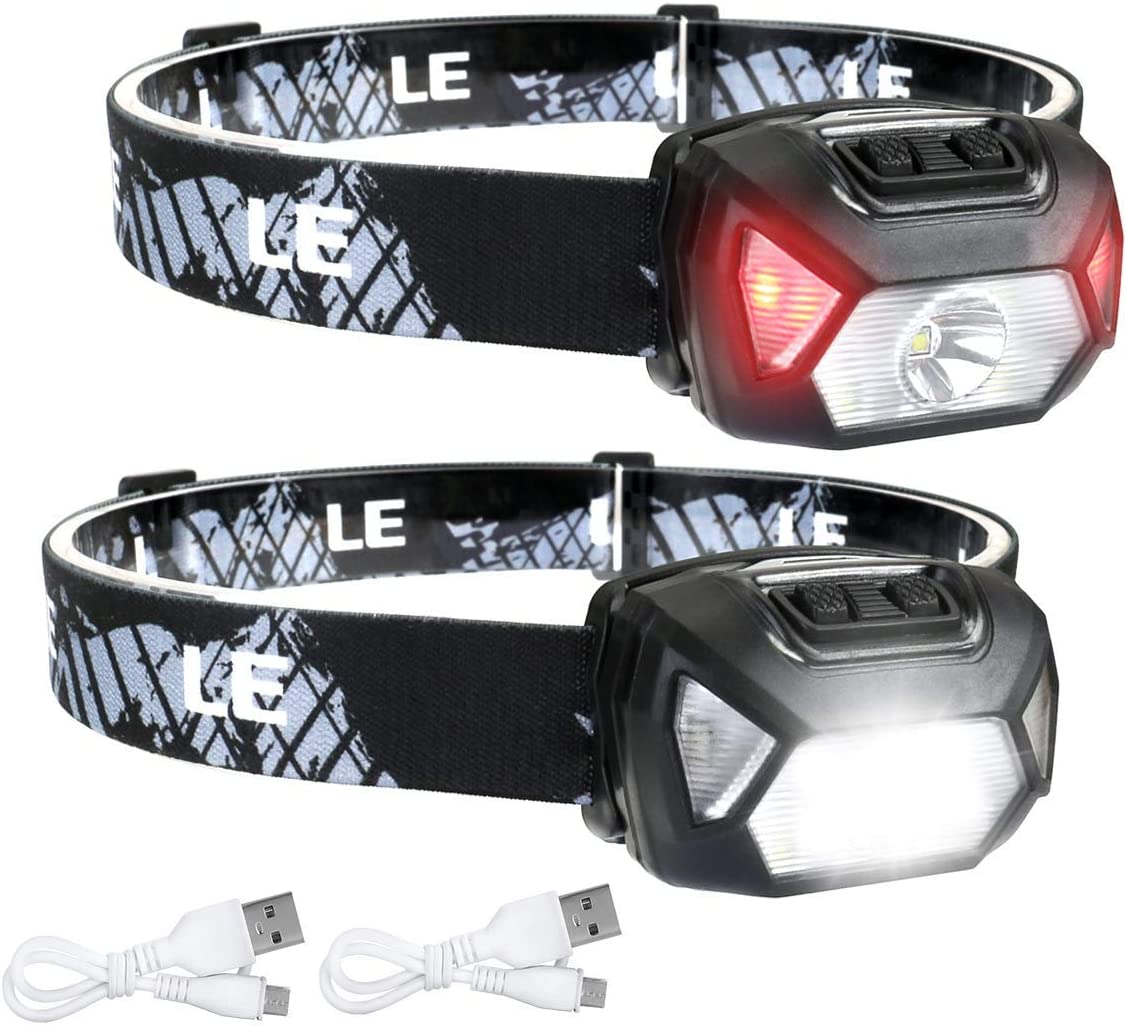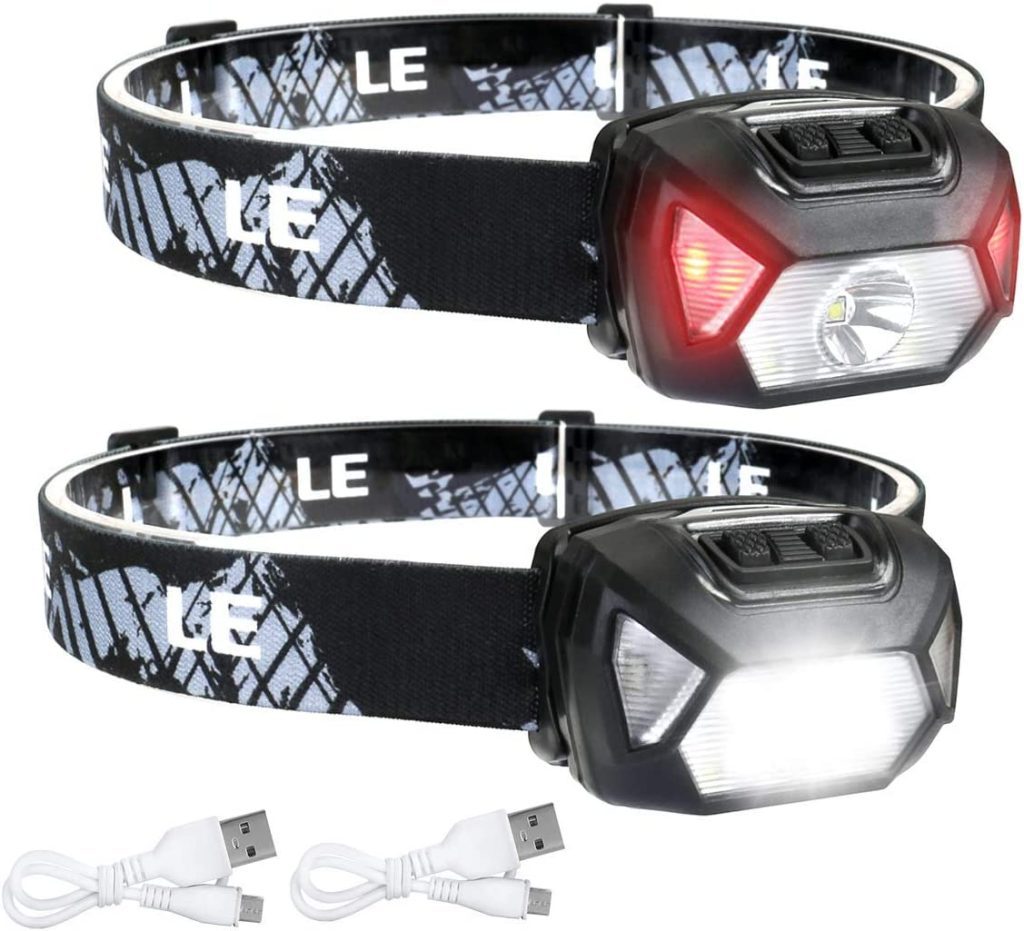 Color: Black
Weight: 2.65oz.(75g)
Maximum lumens: 2000
Battery: 2 Lithium Ion batteries required. (included)
Waterproof performance: IPX4
What we like about it: Powerful light capacity, lightweight.
What we don't like about it: Elastic headbands don't always work for everyone.
If the spotting distance of the two mounted BIAT Headlamps isn't enough to impress you, consider this LE LED Headlamp. with the powerful Cree XP-G2 LED, it will shine a powerful beam of up to 2000lux to a distance of 500ft (150m). Of course, you can also change the type of light by adjusting the mode, if needed. With 6 light modes including spotlight (high/low), flood light (high/low), and red light (stay on/flash), it covers almost all the needs of night places.
Anytime a device can last longer, it's extra appealing. Fortunately, they can last for 15 hours of dark travel on a single full charge. Not exactly long, but if you consider its unit price, you'd think it's understandable. In addition, the relatively lightweight (75g) is a relief. That means your neck won't be too tired even if you need lighting all night.
For children with smaller head circumferences, the sweat-proof elastic headband is very reliable and holds the light head firmly in place. Of course, for adults with higher requirements for comfort, such a design that cannot share the weight may make them feel uncomfortable.
4. DanForce Headlamp Ultra Bright CREE 1080 Lumen Headlamp ($35.97)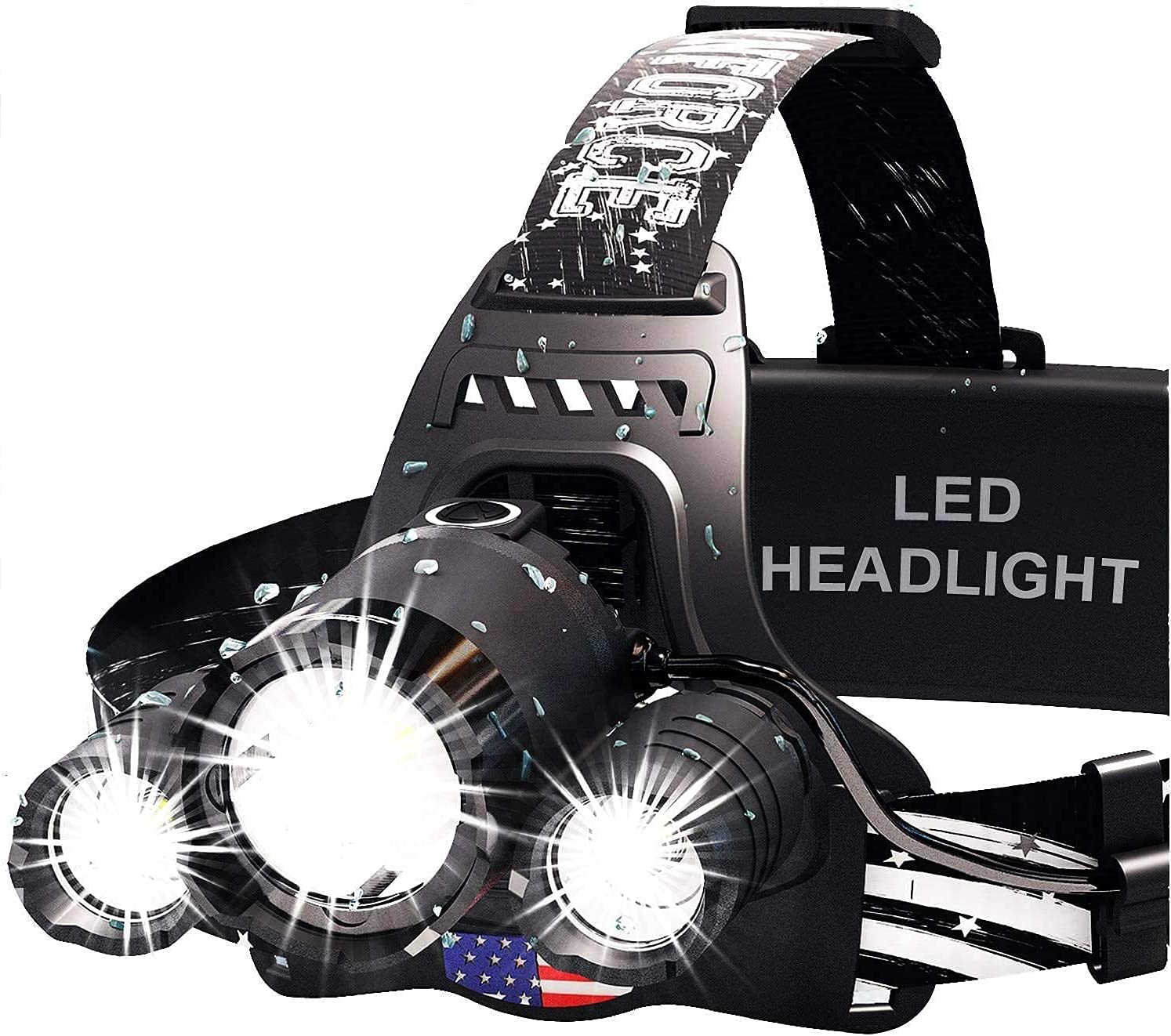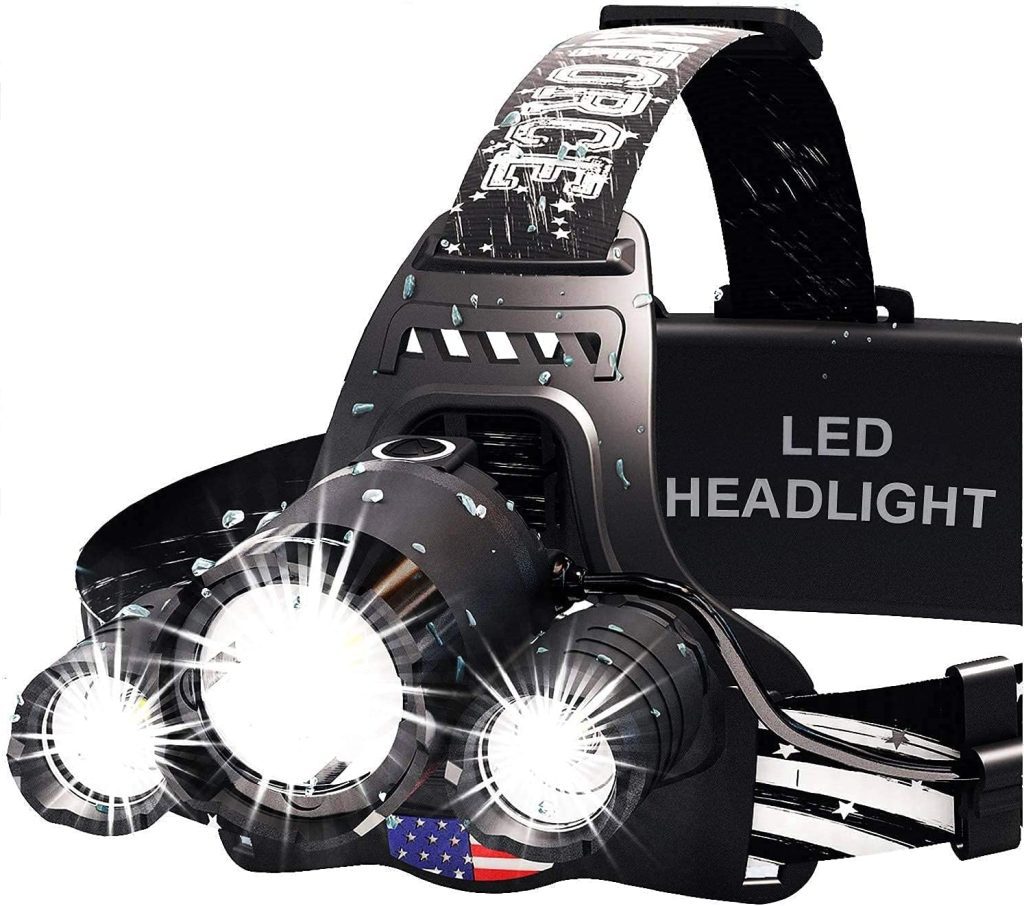 Color: 6 kinds
Weight: 11.7 oz.
Maximum lumens: 1080
Battery: 2 Lithium Ion batteries required. (included)
Waterproof performance: IPX45
What we like about it: Comfortable and stable safety mode headlamp, powerful lumens output and range.
What we don't like about it: It's too heavy at 11.7oz.
Compared to those traditional Head Lamp, this helmet-style headlamp is more comfortable and stable. The reliable sweat-resistant headband not only controls the temperature but also supports the user's adjustment to customize the comfort level. And Hard Hat Light is designed to fit snugly on the scalp and is less prone to swaying. So whether it's camping, fishing, hunting, or other nighttime activities, it's up to the task.
Of course, this is not possible without its super bright output of 1080 lumens, which is enough to see all obstacles or details in front of people. In addition, it has four reliable light modes (high, low, medium, strobe), a red headlamp as well an adjustable 90-degree head flashlight, so its practical scenarios are all over the place. To its credit, a fully charged DanForce Headlamp can run in high mode for nearly eight hours, so your nighttime journey will be bright all night long with it.
However, such a design also has its obvious drawbacks, because of more layers of wrapping and more light heads, it weighs 11.7oz. If such a weight is handheld, people do not feel heavy, but if hanging on the head for a long time, it may make their necks tired.
5. PETZL Bindi Headlamp – Ultra-Compact Rechargeable 200 Lumen Headlamp ($42.85)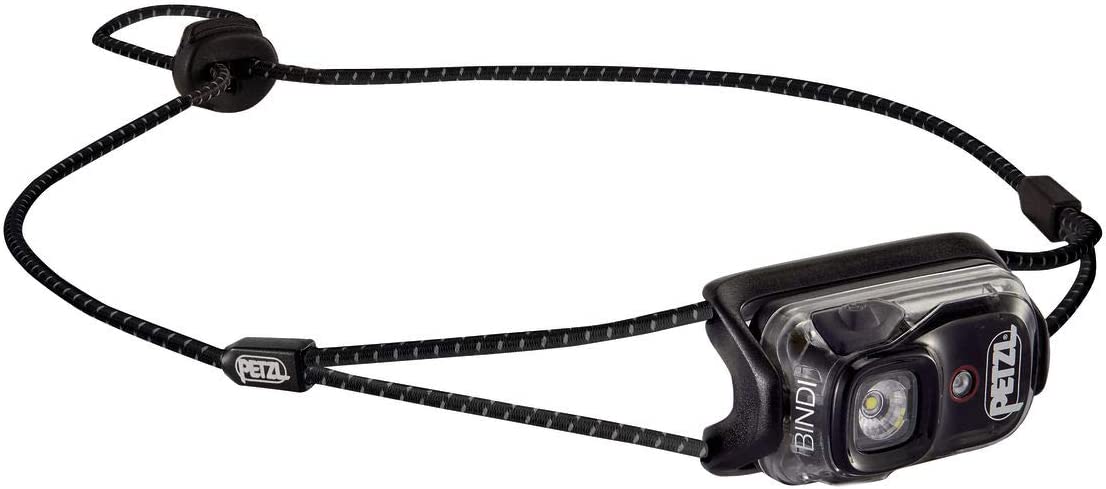 Color: Black/Emerald/Orange
Weight: 35g
Maximum lumens: 200
Batteries: 2 CR2 batteries required.(included) or AAA battery
Waterproof performance: IPX4
What we like about it: Lightest headlight, more reliable Brightness-to-Burn-Time ratio.
What we don't like about it: It only lasts 2 hours at high power.
The ultra-lightweight PETZL Bindi Headlamp is more for night sports than for night activities such as camping or fishing. With a weight of 35g and a reflective bandage that makes minimal contact with the scalp, this best running headlamp will often make night runners forget it exists.
Petzl's 50:50 Brightness-to-Burn-Time ratio is not quite the same as those products that like to burn brightly when the lights are on, so when the power is low it still maintains 50% of its initial charge, rather than the 20%-30% brightness we commonly see. However, such a small device also has three light modes (proximity, movement, and distance), as well as red light. The maximum output of 200 lumens will illuminate the road 36m away. In addition, this best headlamp for running is also equipped with two LOCK functions, effectively preventing the transport or people's careless operation resulting in power depletion.
Although, when using the lowest power consumption of white light, it will last 50 hours of lighting hours. But once at maximum power, it will run for a much-reduced length of time – only 2 hours. Therefore, athletes should use the standard mode of operation as far as possible to obtain longer light hours.
6. Nitecore NU25 400 UL Ultra Lightweight Headlamp ($36.95)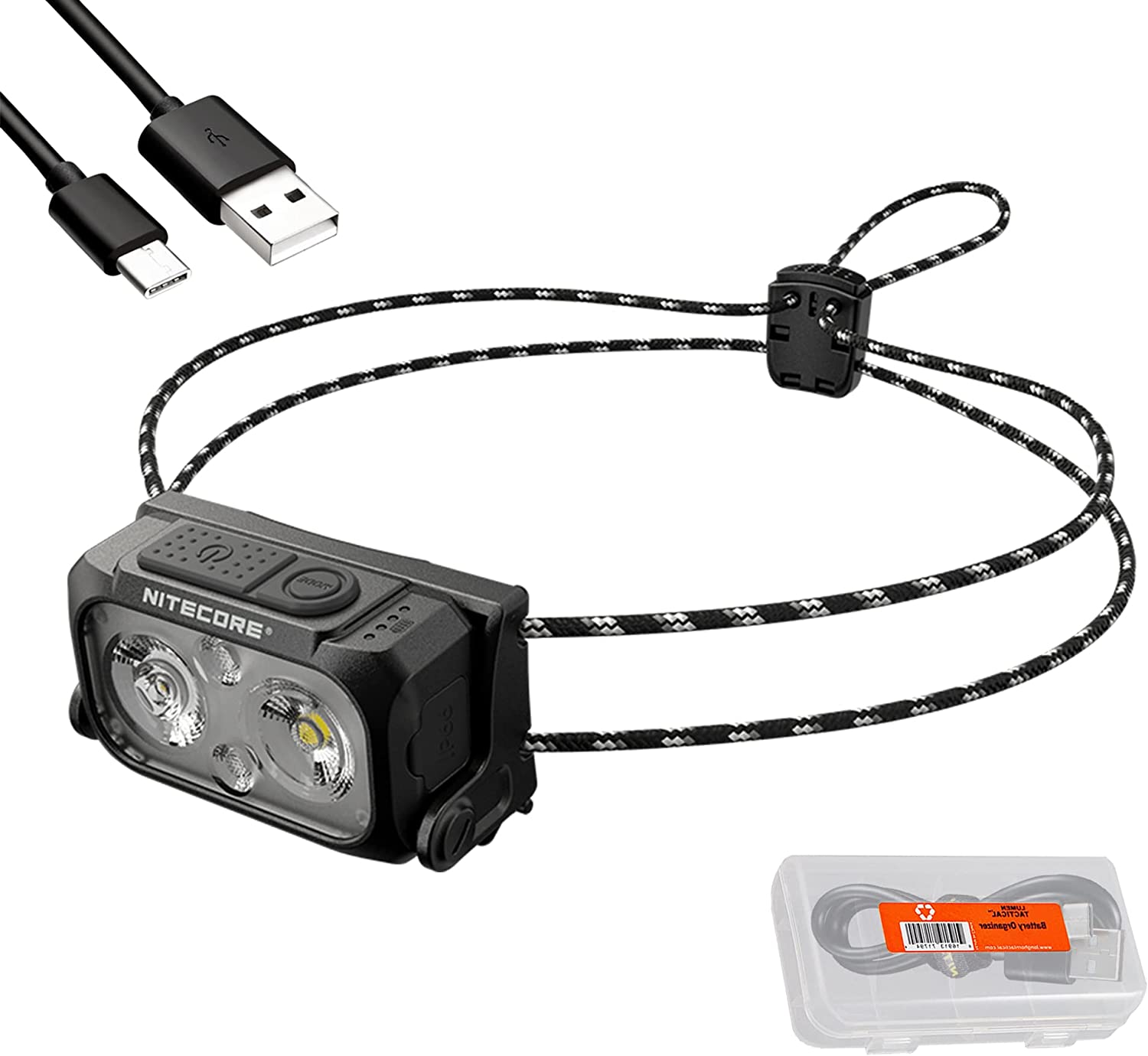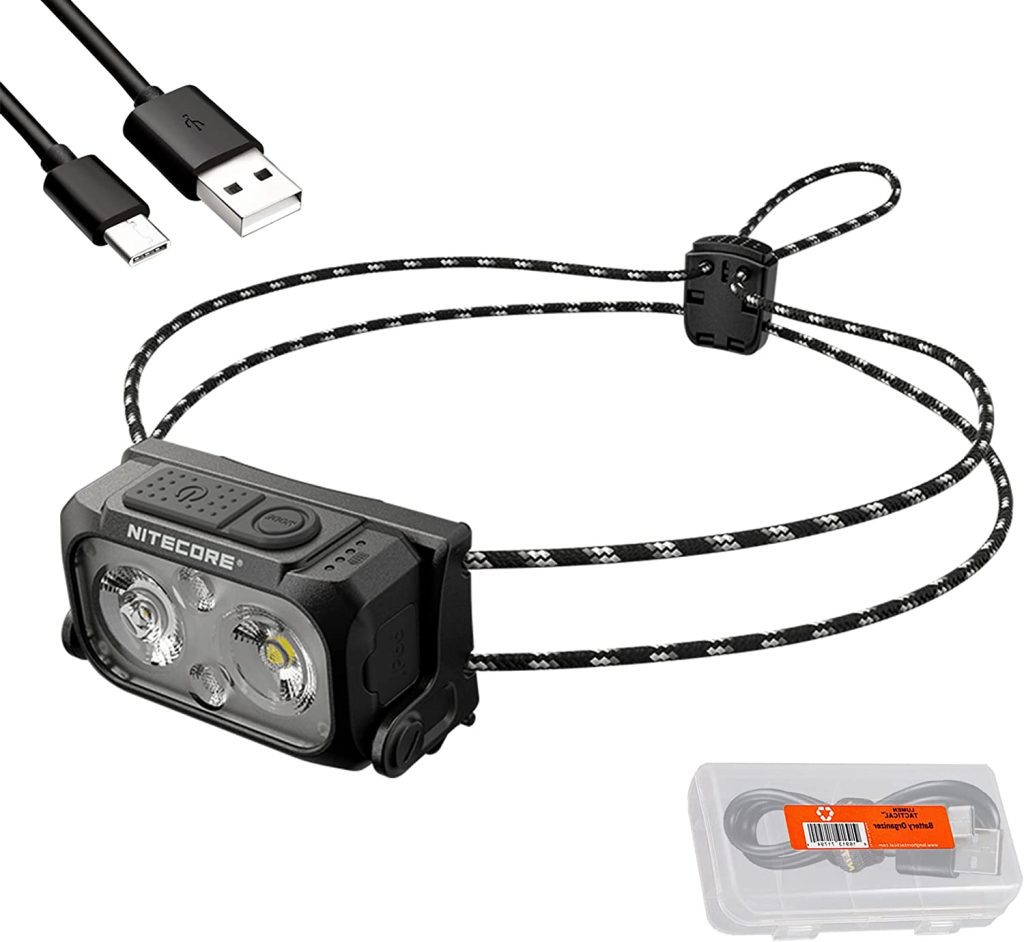 Color: Black
Weight: 1.59 oz.
Maximum lumens: 400
Battery: 1 Lithium Polymer batteries required. (included)
Waterproof performance: IP66
What we like about it: More powerful lighting effects, meeting a variety of event needs.
What we don't like about it: It's heavier compared to the competition.
If you think the light brightness of the PETZL Bindi Headlamp is not powerful enough, you can also consider this Nitecore NU25 400 UL Ultra Lightweight Headlamp. with a maximum of 400 lumens, the NU25 gives a longer and clearer range of vision. Similar to its predecessor, the umbrella cord design effectively reduces its weight, making backpacking or jogging activities a breeze. In addition, it also has three light sources (spotlight, floodlight, auxiliary red) to meet cope with any use scenario.
In addition to the 400lumens output from the combination of spot and flood lights we mentioned earlier, there are also 200lumens in spot mode for focused long-range illumination. and 200lumens in flood mode for reading and other close-range tasks with a wide range of illumination. Of course, if you need to, you can use the alarm red light to maintain night vision, hunting, or signaling. Commendably, equipped with a reliable battery indicator to indicate its power status.
Perhaps due to the Nitecore NU25 400 UL Ultra Lightweight Headlamp's dual-band fixation strategy, it weighs a little more than the PETZL Bindi Headlamp above. But that doesn't stop us from liking it at all. Because this design is not only more secure, but the two cords sharing the weight will give the head a more pronounced sense of comfort.
7. Ledlenser MH10 Rechargeable Headlamp ($89.95)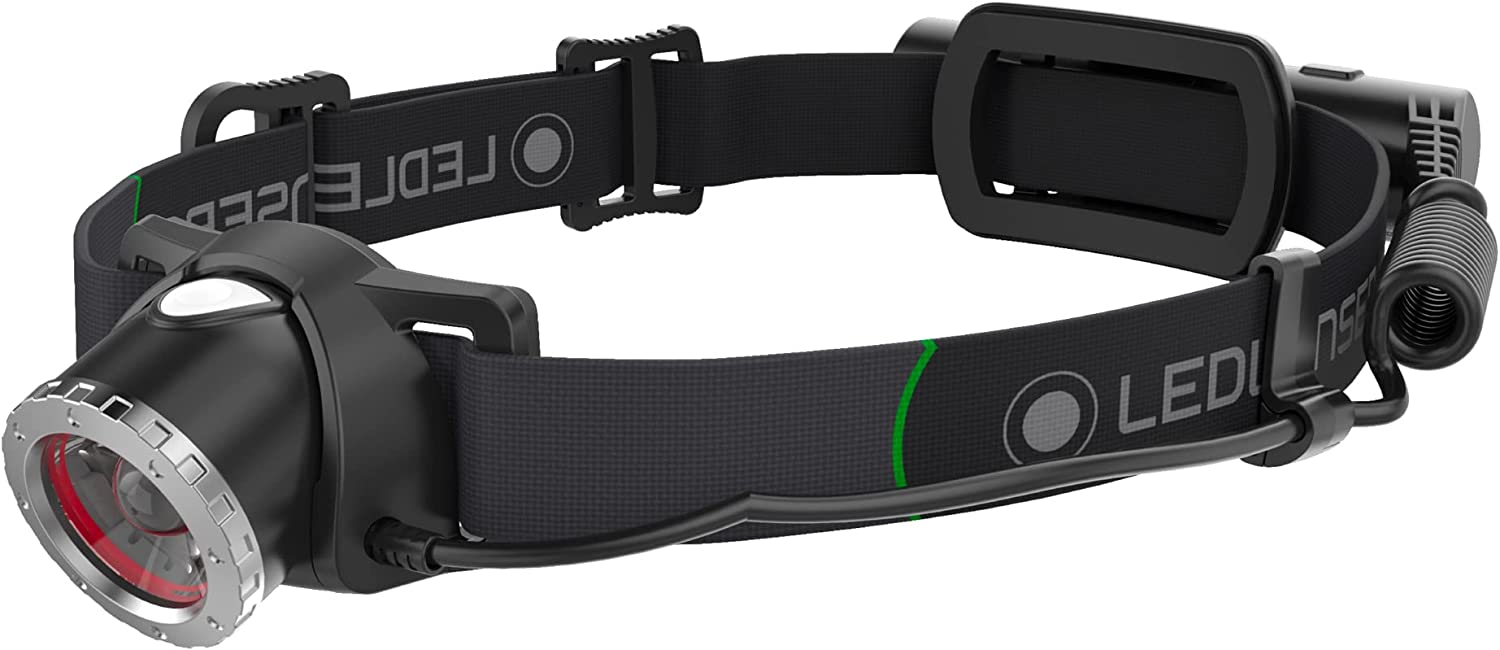 Color: Black
Weight: 158g
Maximum lumens: 600
Battery: 1 Lithium Ion batteries required.
Waterproof performance: IPX4
What we like about it: The versatile headlamp, the extra-long sounding distance, and the extra-long runtime.
What we don't like about it: The price and weight are not competitive.
Whether as a hiking headlamp or hunting headlamp, this Ledlenser MH10 Rechargeable Headlamp is qualified. They have the best weight-to-lumen ratio of all Ledlenser headlamps, with an ultra-high 600 lumens brightness that extends beyond 150 meters, enough to light up a trail or campground. And it also supports longer working hours, 120 hours long, enough to help users through the long night.
With efficient red and green color filters, this bright headlamp becomes the best hunting headlamp. because users will have better night vision for fishing or hunting. The reliable rear red light, in turn, increases the user's visibility, so it can also be used as a hiking headlamp. In addition, the IPX4 waterproof rating means that sweat or light rain during sports is not something to be feared. Of course, the reliable transportation lock is also a detail that should not be overlooked, it can effectively prevent the light from lighting up in the backpack.
Admittedly, both the price of the Ledlenser MH10 $89.95 and its 158g weight make it not competitive in a crowd of lightweight and inexpensive headlamps. If you are bothered by this, you may want to consider its sister versions MH2 or MH6, which are lighter and cheaper, and equally reliable.
8. Coast XPH30R 1000 Lumen USB-C Rechargeable Dual Power Headlamp ($42.95)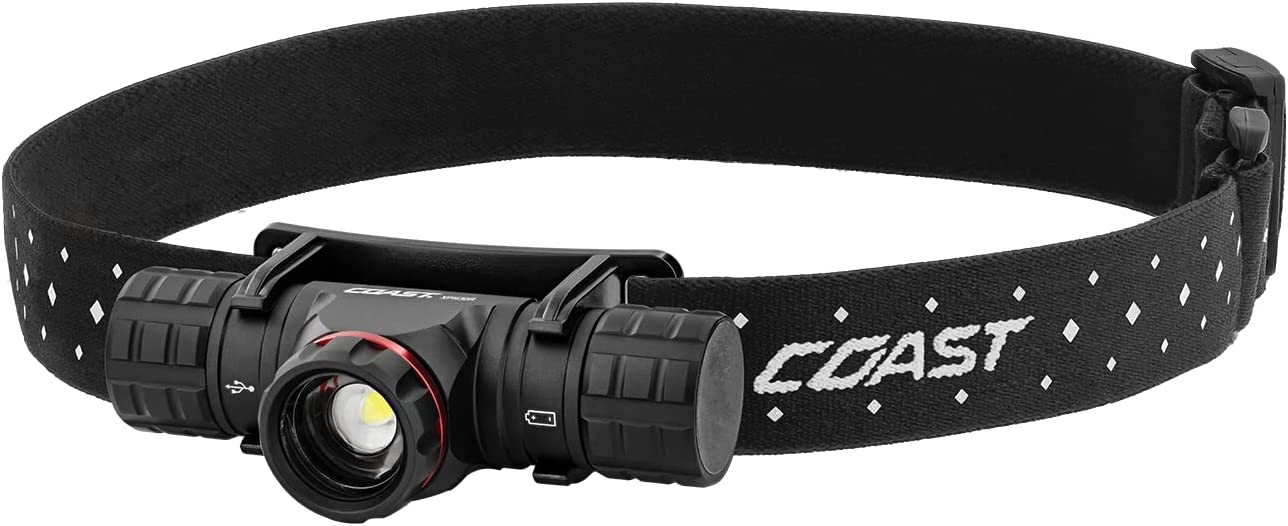 Color: Black
Weight: 11.6 oz.
Maximum lumens: 1000
Battery: 1 Lithium Ion batteries required. (included)
Waterproof performance: IP54
What we like about it: Dual power supply design, removable magnetic base headlamp.
What we don't like about it: The super heavy design.
This headlamp with pure beam focusing optics in turbo mode cleverly "seamlessly focuses" both beams. Because they cleverly "hide" the halo or focus point, it is ideal for medium-distance spotting or work. Of course, in addition to this standard lighting mode, one can also enjoy high-intensity light of 1000 lumens to meet the needs in emergencies.
With the rechargeable dual power supply design, Coast Headlamp many times can continue to accompany people around. Because it can continue to work for 7.75 hours even with the high output when fully charged. Even if the battery is dead, it does not matter, because it also accepts the invitation of other batteries to last. Its detachable head design is good news for anyone who wants to use it as a flashlight by simply removing the head from its holder. Best of all, the base of the light head also has a built-in magnet that allows it to be bonded to any metal surface.
If you don't consider its weight, this headlamp is outstanding and all-around. Because its performance is impeccable. However, the weight of 330g may make people feel uncomfortable. Therefore, the following Fenix HM50R V2.0 Rechargeable Headlamp is much more attractive.
9. OLIGHT Perun 2 2500 Lumens Rechargeable Headlamp ($89.95)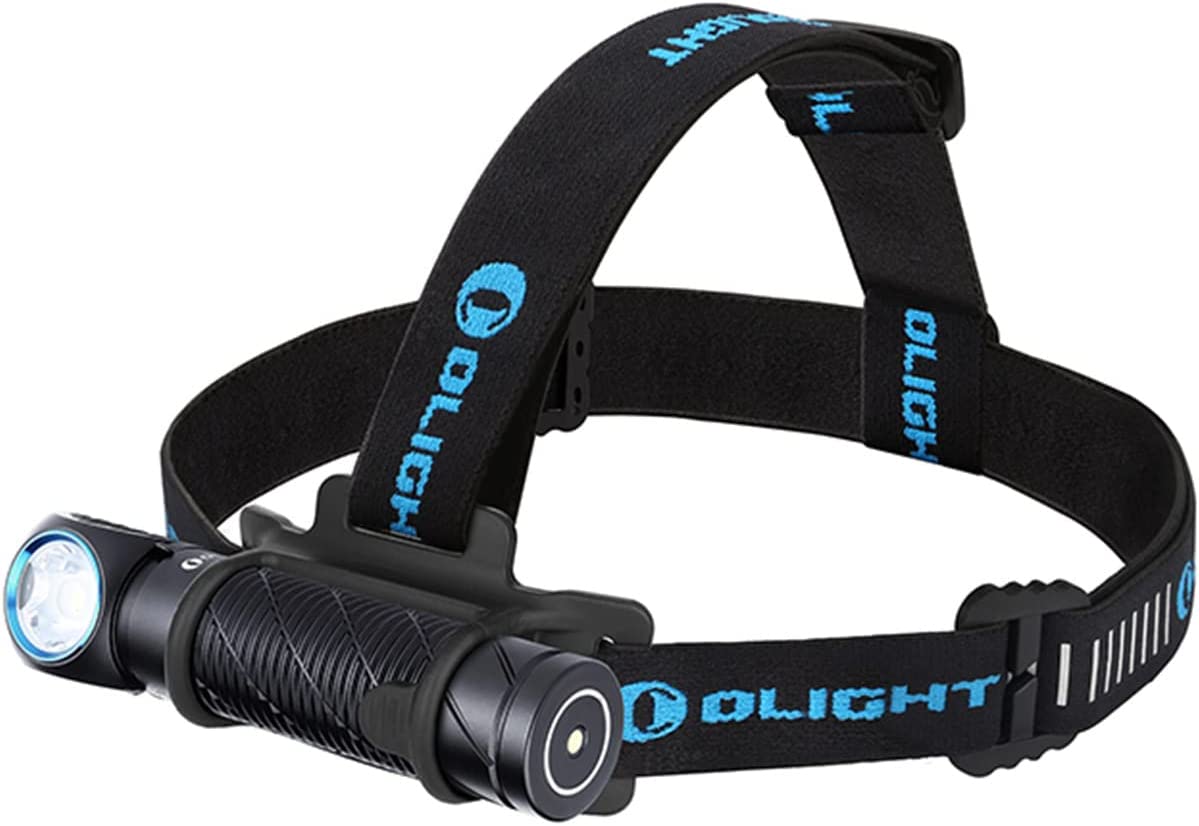 Color: Black
Weight: 0.35 Pounds
Maximum lumens: 2500
Battery: 1 Lithium Ion batteries required. (included)
Waterproof performance: IPX8
What we like about it: Improved brightness and charging speed, reliable smart sensors.
What we don't like about it: It only glows with 1 cold white Led head.
It seems that all helmet-style headlamps are keen on extra-large lumen light design, and the OLIGHT Perun 2 is no exception. With a maximum of 2500 Lumens high-performance headlamp, it is 25% brighter than the Perun, but also becomes the brighter star of the outdoor night. Combined with a bandage for greater fixation and a superb IPX8 waterproof rating, it becomes the first choice for night hiking, running, fishing, or other activities.
Of course, they are also an important accessory for the safety cap. With the reliable MCC3 cable, it can charge up to 2A, and the charging speed is increased by 33%. In addition, it is equipped with a smart sensor that sets it apart from other lamps. This sensitive built-in proximity sensor will reduce the brightness to alert people of increased safety protection when the light head detects an obstacle nearby.
In fact, in addition to its more bulky size, its light head design is of more concern. Although it has 5 modes, relying on only a cool white Led head as a light source takes away the character of its light for all nighttime activities (it can't gather). This also means, of course, that it does not have a red warning light.
10. BioLite HeadLamp 425 ($59.95)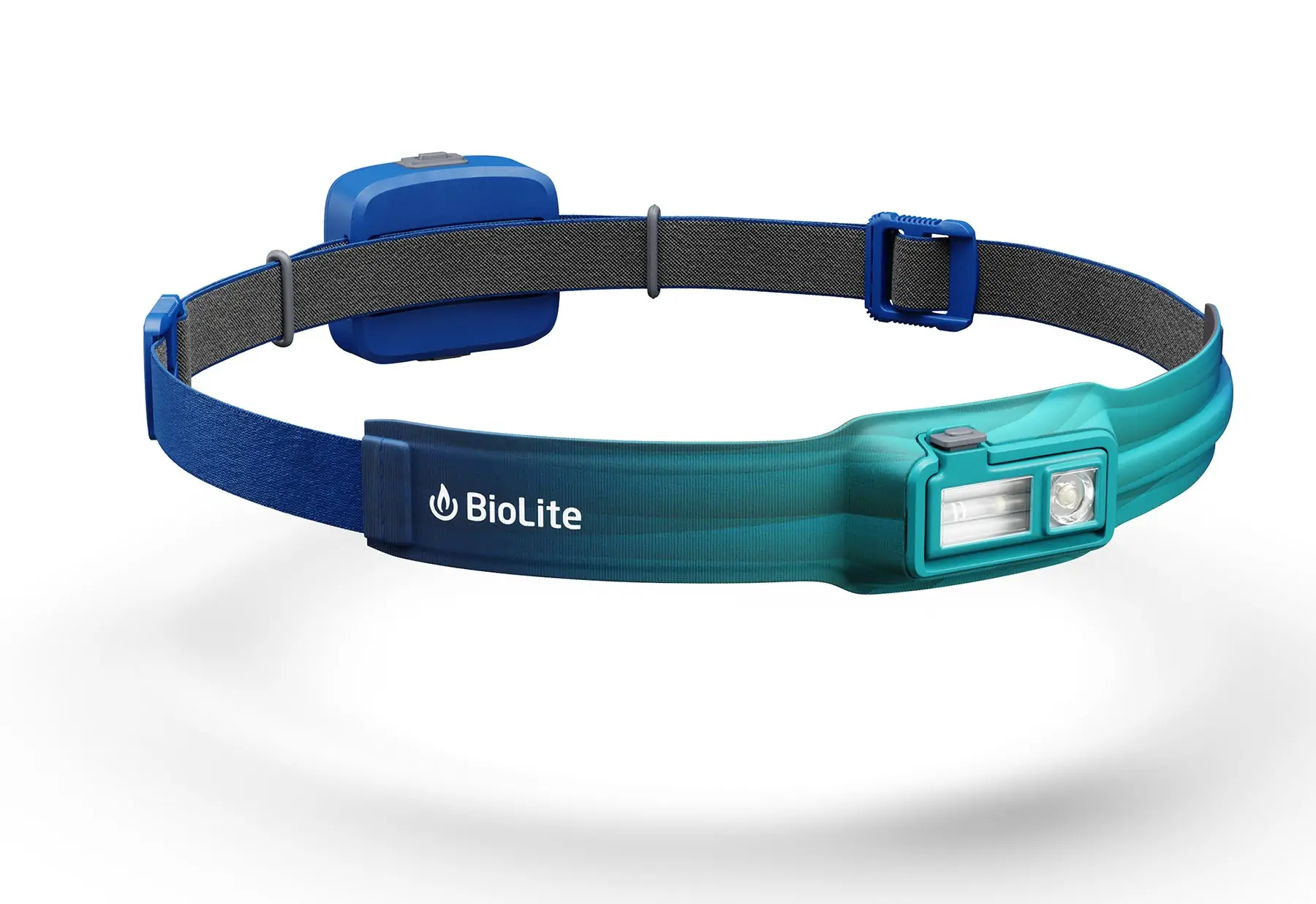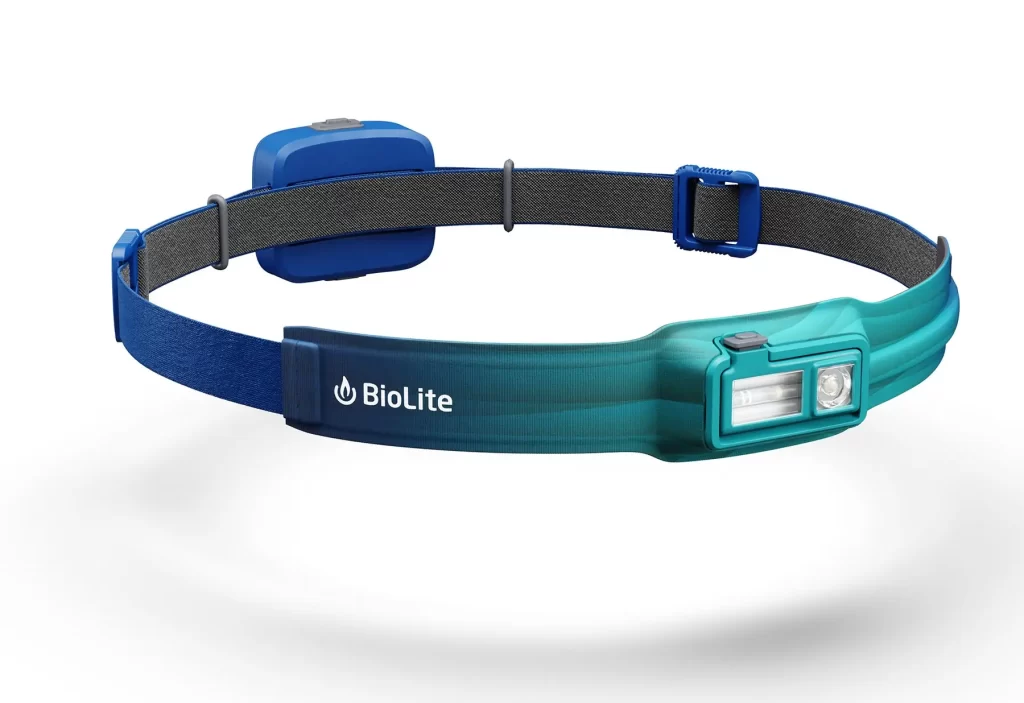 Color: ocean, midnight grey, ember
Weight: 2.8 oz.(78g)
Maximum lumens: 425
Battery: 1000 mAh Li-ion
Waterproof performance: IPX4
What we like about it: The ultra-comfortable wearing experience, the clear field of view.
What we don't like about it: 4 hours of maximum runtime.
For those backpackers, having a BioLite HeadLamp 425 can make their trip even more successful. BioLite uses 3D SlimFit Construction and a front profile of only 10 mm to ensure that the headlamp fits securely on the head without wobbling or sliding. The soft and comfortable Moisture-wicking fabric band always absorbs the sweat secreted by the body in the first place, keeping them fresh. The weight of only 78g is not to say that it is lightweight, but many times it will make people forget it exists.
With an output of 425lumens, this light will spread the light beyond 85 meters, ensuring that users have a longer field of view to plan their routes. It is worth mentioning that all modes of this light support light adjustment light and provide brightness mode memory. in addition, the updated larger power button is a good design to facilitate the control of the light in the absence of vision.
Although it only runs for four hours at maximum power, the 1-hour backup power alert is very user-friendly when it gives people a timely warning to figure out coping strategies.
About Rechargeable Headlamps
Rechargeable headlights
Selection of brightness
Beam mode
Waterproof performance
Rechargeable Headlights
As mentioned before, we recommend users choose lights that support rechargeable, mainly because they are more cost-effective. Because over time, the electricity cost of charging is not as much as the cost of buying AAA batteries. Of course, rechargeable electric devices are also more environmentally friendly. Because after the replacement of the battery, if you do not do special treatment of the battery, it will cause environmental problems.
In daily use, you just need to remember to charge it, and it can be used infinitely. It is very convenient for both running and short trips as well as outdoor work. But if you want to be outside for a long time, you must carry a data cable as well as mobile power.
Selection of Brightness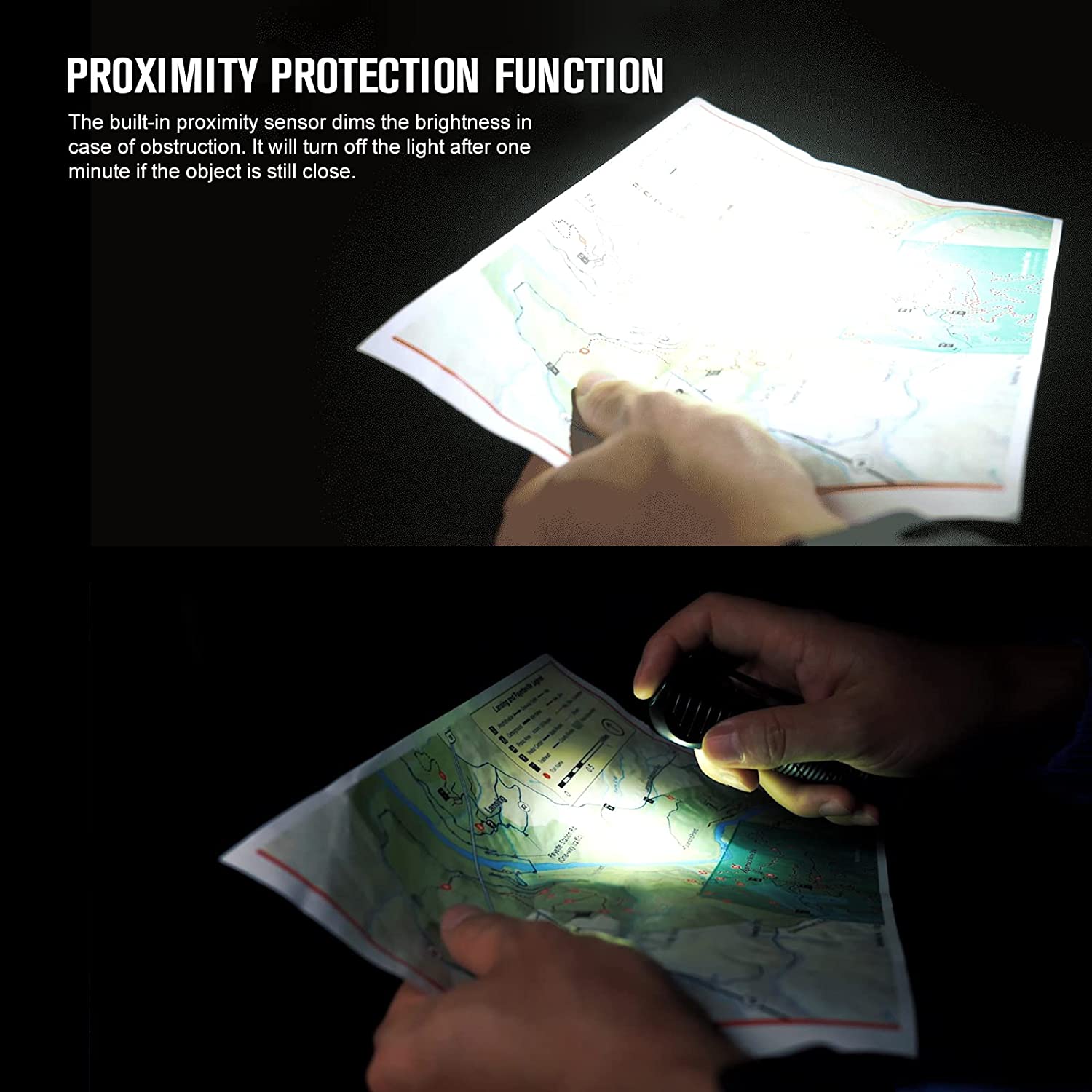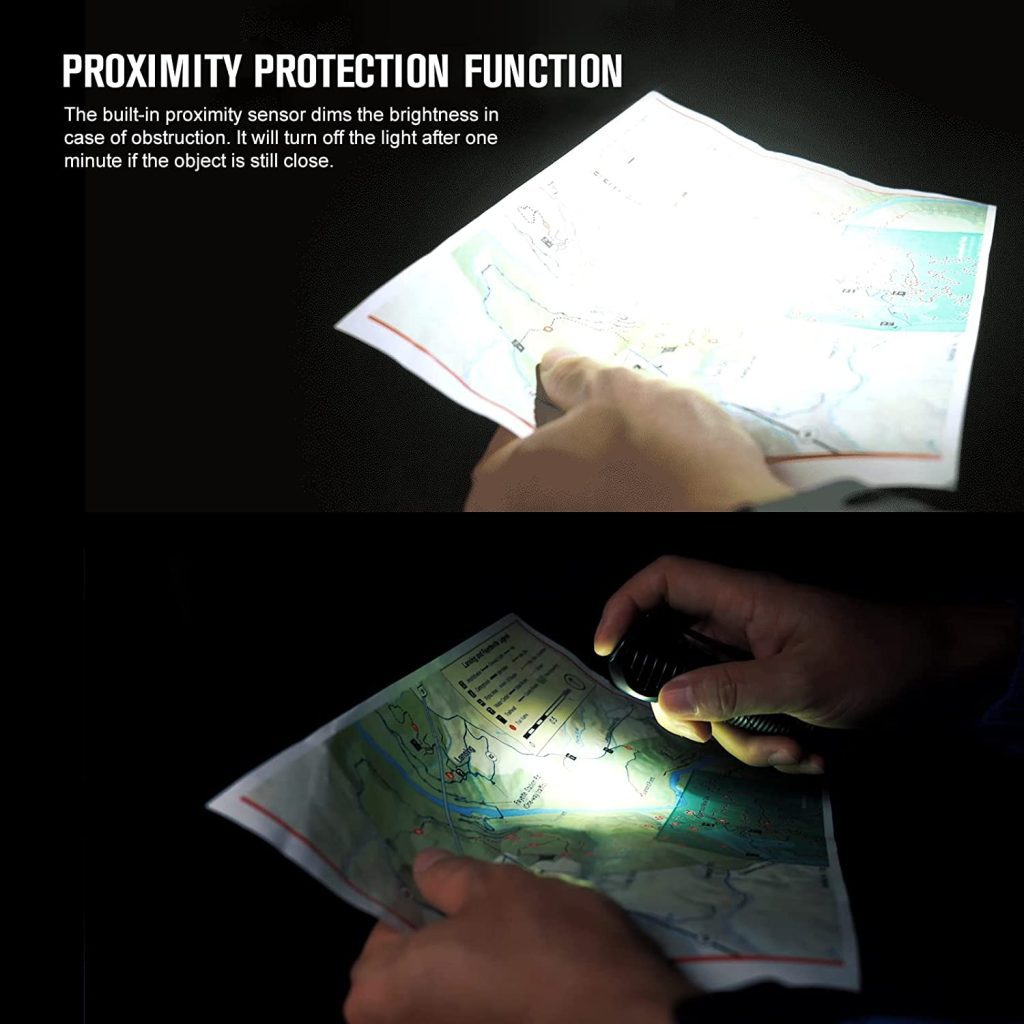 All people unconsciously consider the brightness of a lamp when choosing it. We measure its brightness in lumens and generally speaking the more lumens, the brighter the light.
Therefore, before considering the brightness we have to combine their use of the place, such as you expect to engage in reading, cooking, and other close activities in the dark tent, less than 200lumens of light must be preferred. Fortunately, most of our headlamps are equipped with a variety of light modes, you can adjust the brightness to complete the above needs.
And for those who are keen on running or hiking at night in the dark, for safety 200lumens is the minimum requirement. If your route is longer, it will be safer to choose a better-range SLONIK Headlamp, Ledlenser MH10, Coast XPH30R, and other equipment.
And for those sports with a greater difficulty factor (such as skiing, cycling) and activities such as search and rescue, a light higher than 1000lumens is not too much. Our list of up to 2500 lumens OLIGHT Perun 2 meets your needs.
Beam Mode
I believe that the beam pattern is not a difficult topic to understand. Because people who have had experience with flashlights or electric lights can perceive the difference between spotlights as well as floodlights.
Spotlight
If you want to go to the deep town, or remote areas to feel natural or in the night patrol, choose the kind of light effect that is strong (Ledlenser MH10 Rechargeable Headlamp and DanForce Headlamp ) is safer. Because they can focus the light farther away to illuminate them so that we can see the situation that may arise ahead.
Floodlights
Of course, if you want to participate in camping, work outdoors, or read choose a floodlight with wider coverage (such as SLONIK Headlamp) will work better. Because if you engage in these activities with a powerful spotlight, your eyes may feel dazzled.
Hybrid Mode
In addition, mixed-mode lights about both (such as BIAT Headlamp Rechargeable 2PCS, LE LED Headlamp Rechargeable 2 Pack, and Coast XPH30R Headlamp) are also more common. This kind of light is more suitable to participate in activities suitable for fast-paced, such as trail running in the dark or cycling at night. This beam combination helps people to see the changing terrain in front of them while exploring the movement further away.
Red Light
The kind of red lights (such as LE LED Headlamp, DanForce Headlamp, Ledlenser MH10, etc.) that use less energy to glow continuously should not be ignored. They don't light up so harshly that your pupils are uncomfortable, but they can also maintain simple chores and are good to use as nightlights. Of course, red flashing lights are even more impressive. This is still very necessary for hikers or bikers because it increases people's visibility.
Waterproof Performance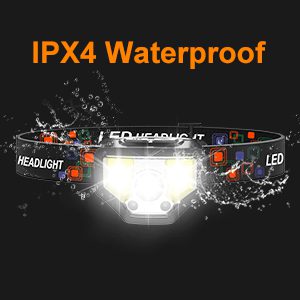 Virtually all of the options on our list have some water resistance to ensure that users are not swallowed up in the dark when outdoors in unpredictable weather.
But we must also remind you that those headlights with a waterproof rating of IPX-4 do not support you submerging the whole lighting tool in water, they only protect against those splashes of rain. Therefore, if you encounter rain outdoors, you should still take care to protect the lamps.
Of course, you can also choose the more waterproof SLONIK Headlamp Rechargeable (IPX8), OLIGHT Perun 2 (IPX8), or Nitecore NU25 400 U (IP66), just in case.
Conclusion
The safety of traveling at night always deserves to be taken seriously. Whether it's you or your family, these little things that glow can light up your way home in the dark. Even without considering their use and light conditions, as long as there is light, there is hope for us in the dark.
Of course, we prefer users to combine their own needs to choose the right lamps and lanterns. Because since they have already chosen to consume, they should pick it with care.
If you can't find a satisfying headlight in this article, you can also refer to our 2023 best headlamps.
Finally, if you like our content, please share it with your friends! If you find our content helpful, we appreciate your click to subscribe!