We use affiliate links and may receive a small commission on purchases.
We've selected 10 best camping blankets for your reference.
No matter what season it is when you travel, it's always hard to resist sitting or lying down when you want to relax, and it's essential to have a comfortable camp blanket. These quality outdoor blankets not only provide users with more warmth and comfort, but also have durable shells and insulation materials, making them durable, waterproof, and dustproof.
Below are the best camping blankets we have specially selected. They are reasonably priced, comfortable, and durable so that travelers' wallets can be relieved while they have a perfect camping experience.
We hope you will be satisfied with the blankets we have selected for campers. Of course, the equipment needed for every camping trip is certainly not limited to blankets. If you need, you can follow us to seek exquisite camping tools.
Best Camping Blankets List
1. Kelty Galactic Down Blanket ($99.35-$129.95)
Color: Cathay Spice ($99.35) Cranberry ($114.95) Grisaille ($129.95)
Dimensions: 72 inches x 55 inches
Insulation: 550-fill-power down
Weight: 1 lb. 12.6 oz.(810g)
Shell: 50D
What we like about it: Sleek and beautiful, warm and comfortable and durable.
What we don't like about it: Average waterproof performance.
The moment you drape yourself in the beautiful Kelty Galactic Down Blanket at your friends' camping party, you can be the center of attention. Whether it's the warm Cathay Spice, the bright Cranberry, or the gorgeous Grisaille, it's all very beautiful and stylish.
The nice Kelty Galactic Down blanket is very lightweight and the down material is so silky soft that it keeps visitors' nights as comfortable and warm as those spent on their mattresses at home. Because of the 550-fill-power down, it is enough to keep the heat in all night. Of course, Durable 50D polyester shells are also very worry-free in many cases, they are not only durable and wearable, and can resist the invasion of down by stains.
As we all know, the warmth of down is undeniable. But when they encounter water, they may take your skin to the other extreme. Therefore, the Kelty Galactic Down Blanket, which has average water resistance, is very dependent on the user for protection. They are not suitable, for use on days when rain is rampant. Fortunately, the storage bag that comes with them can maintain performance when you don't need them. Of course, if you can't predict the weather, you can spend an extra $10 and purchase a BROWNTREK Pocket Blanket below for it as a protective pad.
2. Get Out Gear Down Camping Blanket ($69.99-$79.99)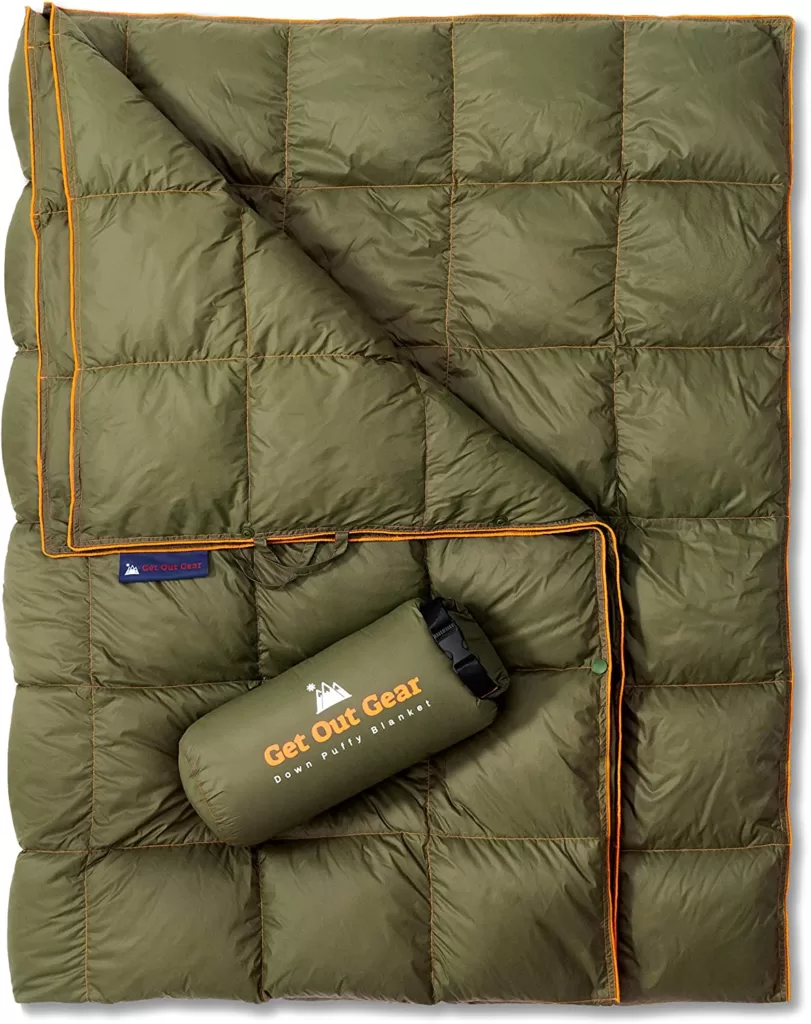 Color: 6 kinds
Dimensions: 80 "x54", 77 "x50"
Insulation: 650 Fill Power
Weight: 1 lb (with storage bag 1 lb 1 oz)
Shell: 20D
What we like about it: The waterproof and dustproof coolest blanket, ultra-lightweight camp blanket.
What we don't like about it: The price doesn't compare favorably with the competition.
For those backpackers who are afraid of the cold, they may feel warm when they see the Get Out Gear Down Camping Blanket. With 650 -fill-power down insulation material, it can be easily filled with down. It gives users a sense of comfort and warmth from the inside out, even on sub-zero days when they gather around the campfire.
I don't think anyone can resist the DWR (durable water-repellent) coating (100% nylon) that repels water and dust. Because that means you can play with your pet as much as you want, even in the sand. Like other premium outdoor blankets, the camping blanket can be turned into a poncho in seconds with Premium snaps, freeing up your hands for reading or playing with your phone. In addition, it weighs only 1 pound 1 oz including the storage bag, which can't be praised enough because it won't burden your backpack.
Of course, the price of the Get Out Gear Down Camping Blanket doesn't compare favorably with the two equally good warmest blankets below, as the cheapest model costs $69.99. But we think it's reasonable, as its ability to stay warm and its premium water and dust resistance are both plus points.
3. PUFFER WOLF Extra Large Double Insulated Outdoor Camping Blanket ($58.75)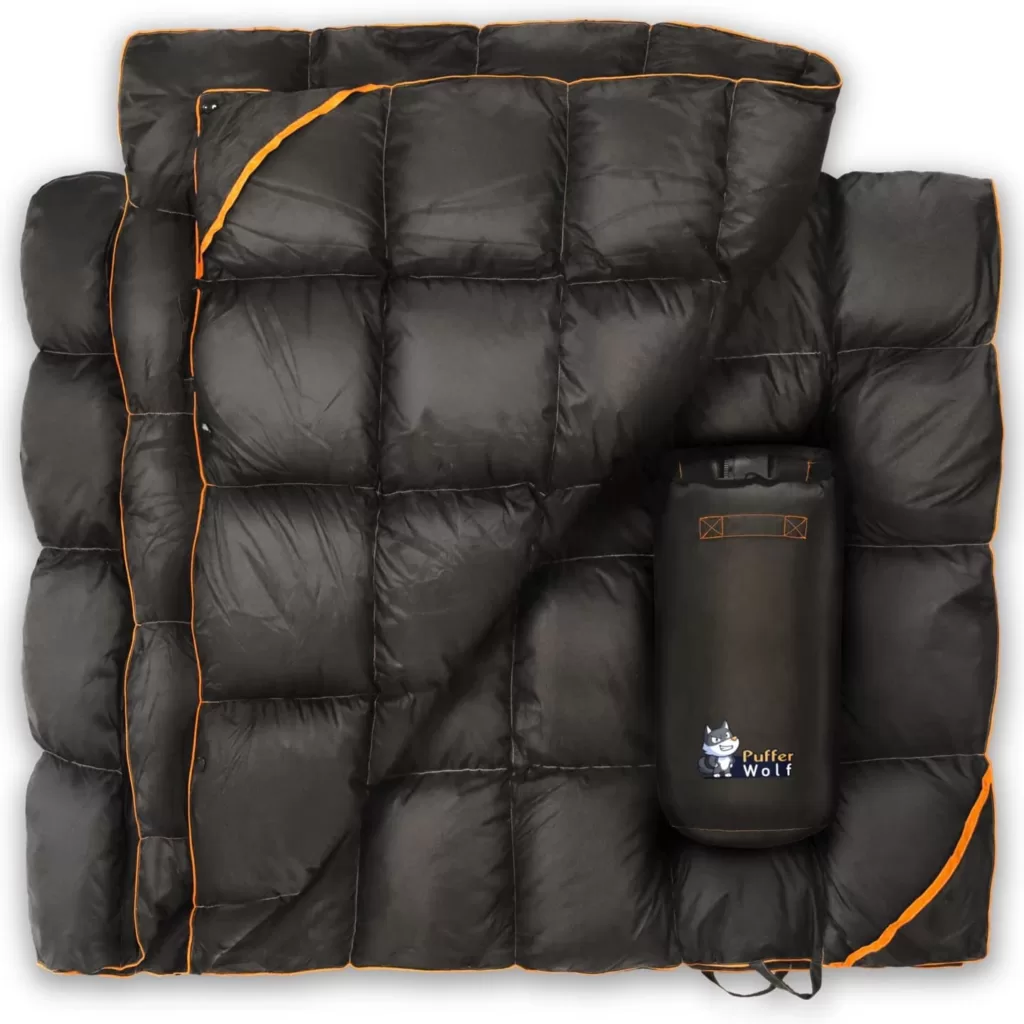 Color: Black and orange/ Vivid cyan
Dimensions: 80 "x54", 77 "x51" (fluffy)
Insulation: PW 700 Fill Power
Weight: About 14oz
Shell: 20D
What we like about it: Very warm blanket, lightweight and easy to carry.
What we don't like about it: Occasionally not quite yet stowed into the bag.
Attending camping parties in the cold season, having a warm PUFFER WOLF Extra Large Double Insulated Outdoor Camping Blanket will keep you smiling at all times. The blanket with innovative new PW700 Featherlight Premium Insulation is very warm when it is in a fluffy state and can effectively insulate the body from cold air.
It also compares favorably with high-fill power goose down or ducks down, which have similar high heat-to-weight ratios, and to its credit, it doesn't make things difficult for users with its 5 "x5 "x12" size and nearly 14oz weight when folded. With 20D Ripstop Nylon, the same grade material as the parachute, it is durable and reliable. Of course, whether it is facing rain, wind, or dust, the prevention ability is trustworthy.
One possible point of disagreement with the PUFFER WOLF Extra Large Double Insulated Outdoor Camping Blanket is its storage. It's undeniably very fluffy, so when we're ready to pack it, we may have a hard time fitting it into a small storage bag the way it is. Although many times it barely fits in, there may still be parts left out.
4. LUXCOL Down Camping Blanket ($51.99)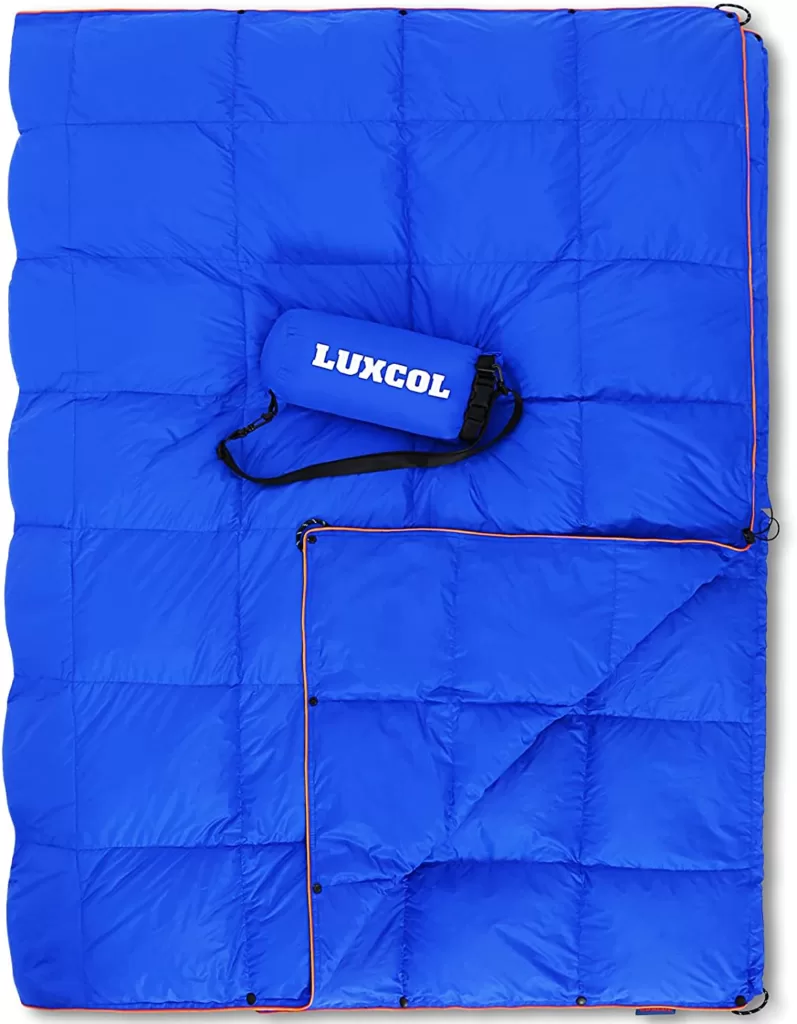 Color: Blue/ Black
Dimensions: 80 "x54"
Insulation: 700+Fill Power
Weight:1 .2 lbs
Shell: 20D 380T
What we like about it: Versatile design, reliable quality.
What we don't like about it: Adding snap buttons can upgrade to a sleeping bag.
The versatile LUXCOL Down Camping Blanket is another excellent choice for campers who are afraid of the cold. Although it does not look as thick as its rival PUFFER WOLF above, 700+ fill power down insulation in keeping body heat, but also in blocking cold air in this aspect of the ability to be undeniable. At least it will give you great comfort when you are close to the freezing point.
Based on a waterproof DWR coating and 8 functional snaps, the LUXCOL Down, like camping blankets that excel at freeing up your hands, is eager to serve as a competent poncho or a padded jacket for early and late nights. The 4 corner loops are designed to make the camping blanket a picnic mat, but more stable and secure. At the same time, as long as the user needs, just pull the rope, it can also be transformed into a warm foot box, to ensure that travelers will not be cold and cold. Most importantly, this down blanket is made of tear-resistant, hook-resistant, and wear-resistant 20D 380T ripstop nylon shell, so its quality is reliable.
The LUXCOL Down Camping Blanket would be more competitive if it considered putting snap closures in the middle of the two edges so that it could also be used as an open sleeping bag.
5. KingCamp Packable Lightweight Travel Down Alternative Warm Camping Blanket ($33.95-$39.95)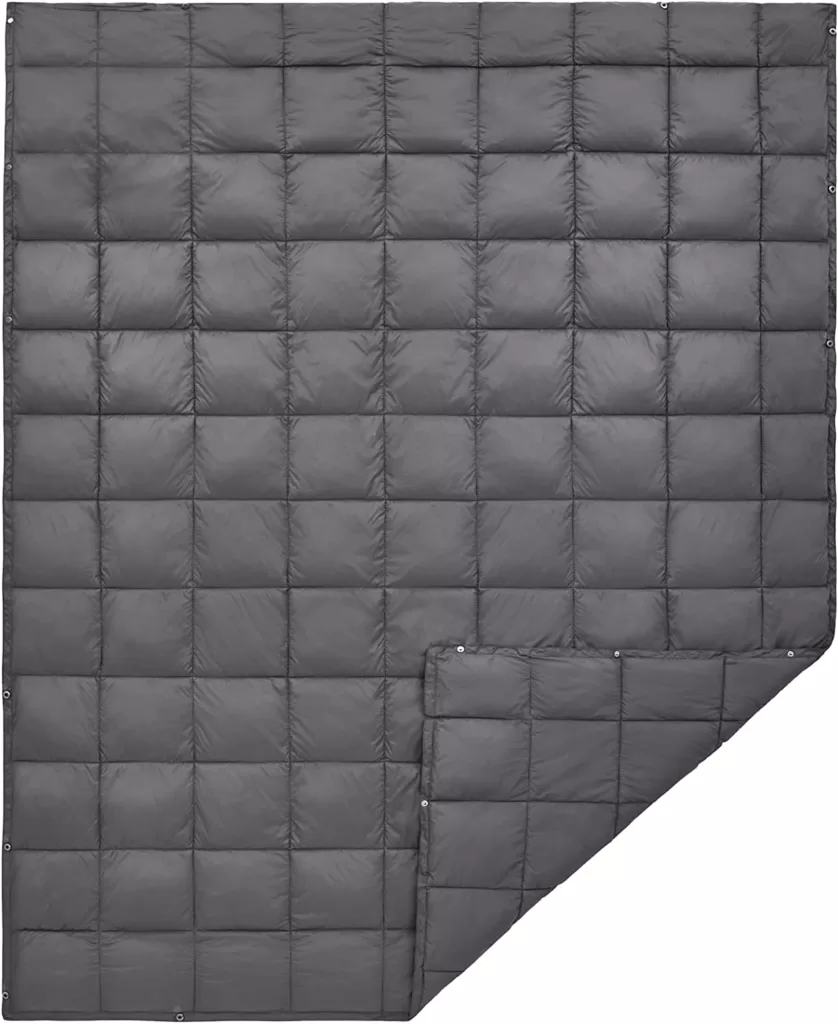 Color: 5 kinds
Dimensions: 4 kinds, 69 "x53″(s)
Insulation: 620 Fill Power
Weight: 15.5 oz (440g)
Shell: 20D
What we like about it: The stain-resistant color makes it usable as a rug and the waterproof design.
What we don't like about it: The large size KingCamp Camping Blanket is not in stock much.
Because the KingCamp Camping Blanket is designed with a reliable inner closure (which enables the blanket to be draped over the body like a raincoat) that frees up the hands, many people like to use it as a shawl. Although many times it is draped over the body for reading or resting, we feel it is better suited as a camping rug.
Because the five colors it has (gray, black, navy, olive, and red) are all very resistant and durable, it looks clean at all times. Even if you are unfortunate enough to get mud or dust on it, just wipe it off with a damp towel or a slightly damp towel to treat it and it will be back to looking like a new purchase. Because it's made with strong, 20D ripstop nylon, reinforced stitching, and a water-repellent shield. with the warm hypoallergenic KingLoft, it can reach 620 fill power, so it's able to sneak up on winter the days when winter is creeping up on the traveler.
Although the KingCamp Camping Blanket's s size is only 69″ x 53″ large, which is not suitable for taller people, the thoughtful KingCamp has prepared a total of 4 sizes. For those who need to use an oversized backpacker, the maximum size of 78.7 x 56.7 is still very substantial. However, the large size of the camp blanket is not overstocked.
6. Therm-a-Rest Argo Insulated Camping and Backpacking Blanket ($81.79-$124.95)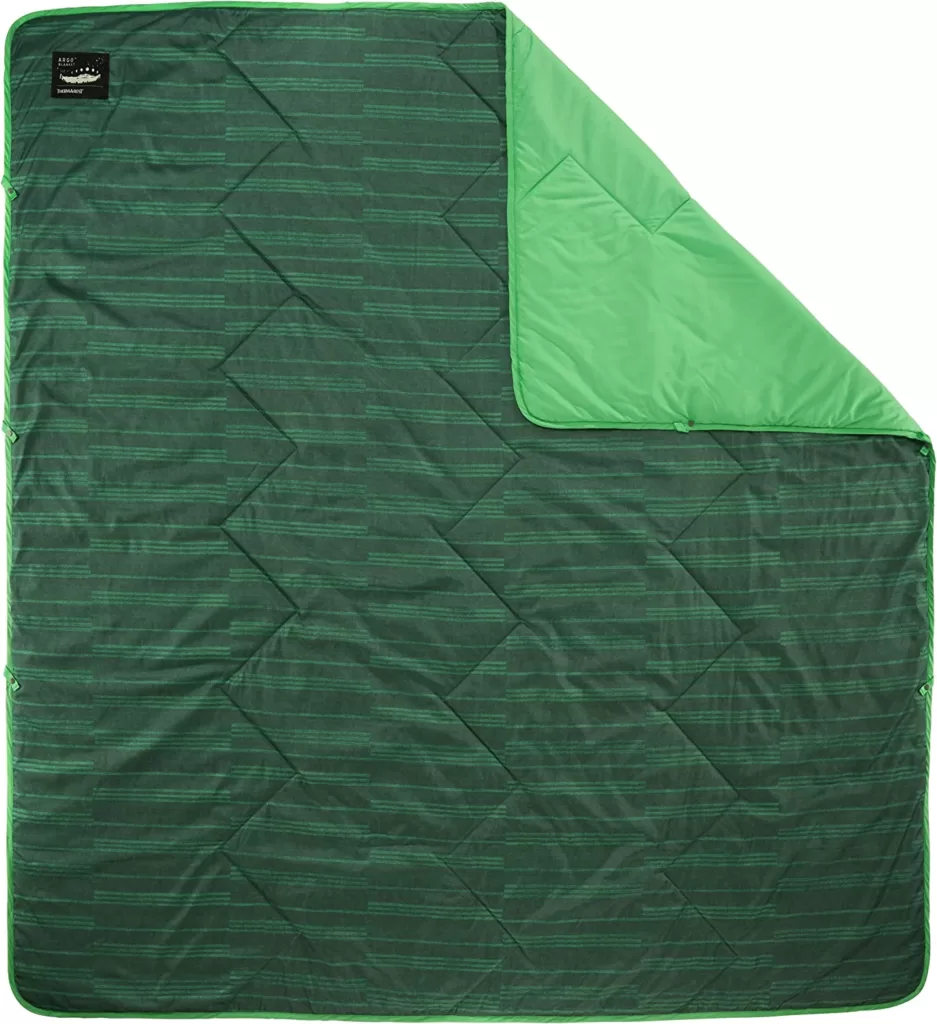 Color: 7 kinds
Dimensions: 78 x 72 inches
Insulation: Synthetic
Weight: 1 lb 10 oz (737g)
Shell: 30D
What we like about it: Oversized double design, soft and comfortable fabric.
What we don't like about it: Limited insulation not suitable for cold days.
For those backpackers who like to travel with their significant other, or a good friend, having an oversized and functional camp blanket not only saves money but also enhances the bond between two people. 78 x 72 inches spacious design can support two people's playfulness or peaceful sleep. Meanwhile, the soft and comfortable Therm-a-Rest Argo Insulated Camping and Backpacking Blanket is lightweight and supports compression, reducing the weight of the bag while making it smaller in size. In addition, the skin-friendly polyester lining always gives people more comfort when in contact with the skin.
However, we must also state that this camping blanket with waterproof eraLoft insulation is too demanding for its weight, resulting in its insulation being cut. Therefore, it is not wise for those who want to stay warm on cold days. Of course, if your trip is in the cool summer or early fall, it will keep you warm enough and not feel stuffy, whether you use it as a shawl or a quilt.
7. ENO FieldDay Blanket ($89.95)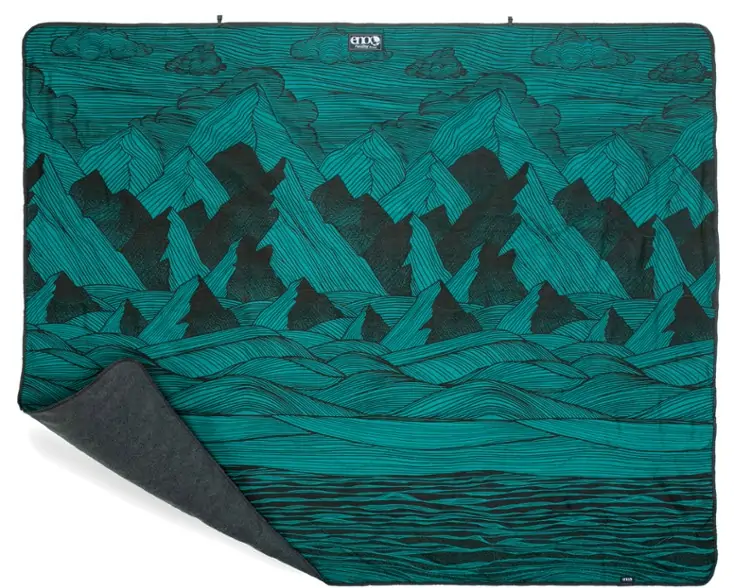 Color: Mountains To Sea
Dimensions: 72 x 58 inches
Insulation: Wool
Weight:2 lbs 9 oz
Shell: 70D
What we like about it: The perfect partner for a campfire party, super warm and cozy.
What we don't like about it: The folded size and weight are not competitive.
With Ultra soft polar fleece lining and a premium ombre finish, the Blanket not only looks great but is also super comfortable and warm. With a 70DD water-resistant nylon finish, they won't let fog or dew wet a backpacker's clothes. Even if they are unfortunately stained with moisture, they will still provide warmth.
Most importantly, wool is safer as a natural fire retardant compared to those down jackets that catch on a little and are better suited as warm gear for campfire parties. We love that the skin-friendly wool lining won't let the cold hurt you no matter what season or temperature you're facing. In addition, its detailed Integrated mini-buckle transforms blanket, not only can fully protect the chest from the cold is resisted, and also can free people's hands.
While wool products are soft, comfortable, and warm, they are not as highly compressible as synthetic materials or down. Therefore, no matter the folded size or weight, ENO FieldDay Blanket does not have an advantage. In addition, the price of nearly $90 is not friendly for wool products.
8. Arcturus Military Wool Blanket ($33.99)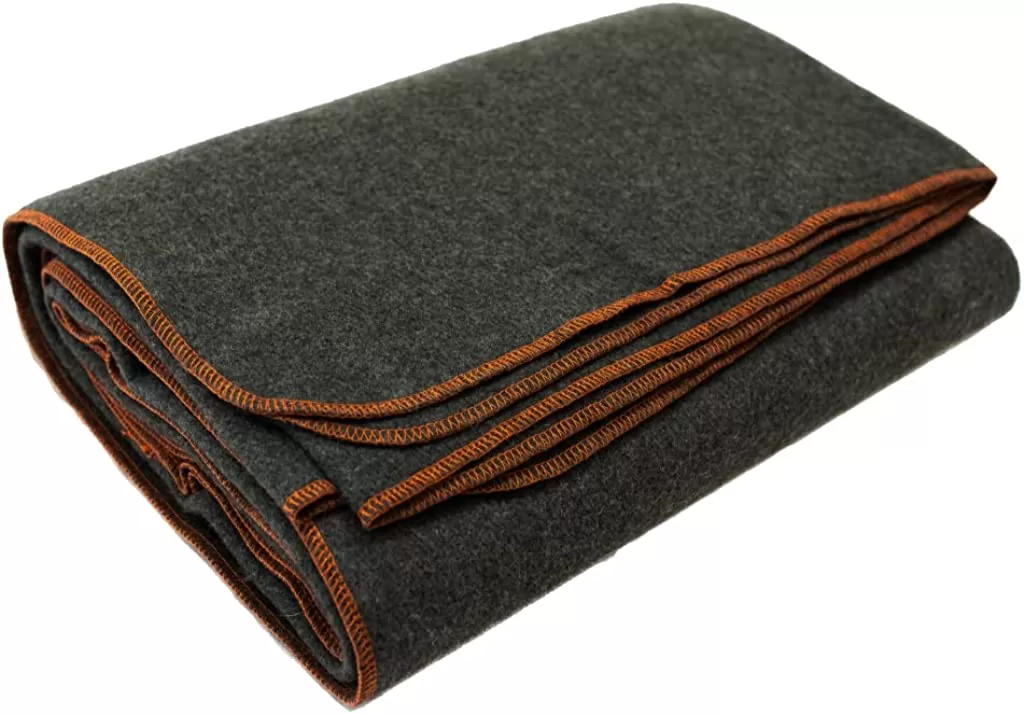 Color: 5 kinds
Dimensions: 88″ x 64″
Insulation: Wool
Weight: 4.5lbs
Shell: 20D
What we like about it: A cheap and durable wool blanket, soft and comfortable to the touch.
What we don't like about it: It's a little heavy.
If you think the above wool blanket ENO FieldDay Blanket is too expensive, consider this inexpensive and durable Arcturus Military Wool Blanket. at less than $40, it's always less than breathtaking. This remarkable wool blanket, woven on a delicate loom, has been washed three times before it is sold. So it's not only soft and comfortable but also clean, so your coat won't get its "hair" on it. And, it's stitched all the way around and won't come off easily. With 20% hypoallergenic synthetic fibers, the Arcturus Military Wool Blanket is more durable than any camping blanket, and even washing it only makes it softer.
In addition, as with normal wool products, it is safe and reliable. Because of the flame retardant material, it will not let the sparks spilled from the campfire pile hurt you.
However, at about 4.5 pounds, the Arcturus Military Wool Blanket may not be suitable for those hiking backpackers. Because they surely have other heavier luggage. Of course, if you are driving to the countryside or far away to enjoy your vacation, its weight is negligible for your car.
9. Farm Blue Coyote Army Camping Blanket Tactical Woobie Blanket ($33.33)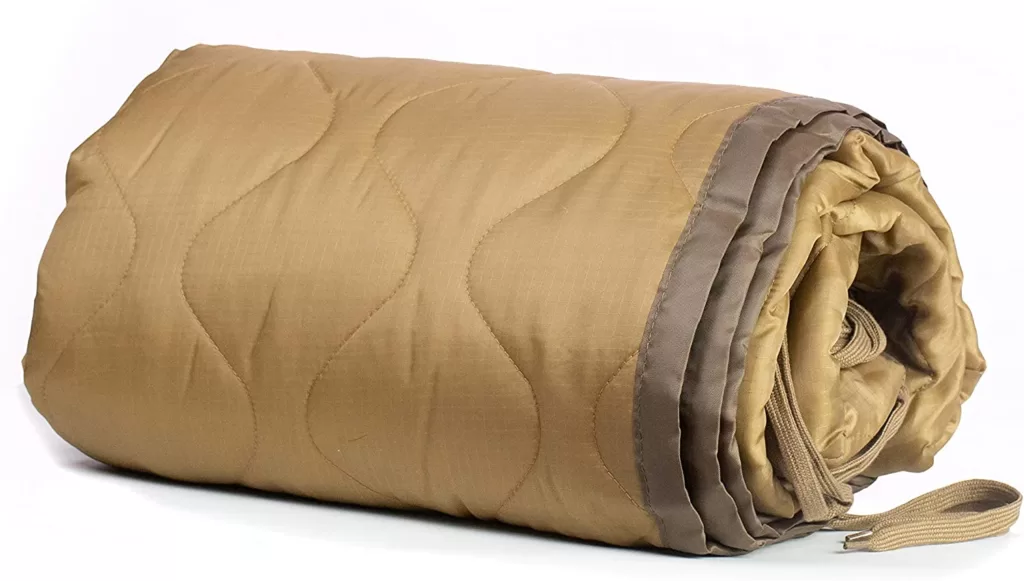 Color: 9 kinds
Dimensions: 82 inches x 57 inches
Insulation: 550-fill-power down
Weight: 1.5lbs
What we like about it: Super waterproof multi-purpose camping blanket, very strong and durable.
What we don't like about it: It's a little thin and more suitable as a floor mat.
Similar to those great military devices, the Farm Blue Coyote Army Camping Blanket gives those on the go more than a little help with its versatility. Crafted with a 100% polyester outer layer and insulation, the Farm Blue has water resistance and durability engraved into its DNA, and combined with its Cape-Clip technology – a simple buckle clip – it can be transformed into a poncho to protect you from the wind and rain and provide warmth. The ripstop polyester shell with polyester lining is strong enough and durable enough to make the rough and tumble of the wilderness mild.
Of course, using it as a rug is another common way to open it up. Although it does not have a thick body, if you lay it on the ground, it is more soft and comfortable than the BROWNTREK Pocket Blanket below, even if you lie on the grass through it, you will not feel that the ground is too hard.
Although it can be used as a shawl, Farm Blue does have a limited thickness, making it less than stellar at keeping you warm. Therefore, it is more suitable as a cool summer night outfit than a cold winter one. Of course, if you use it as a floor mat, it won't let you down all year round.
10. BROWNTREK Pocket Blanket ($10.99)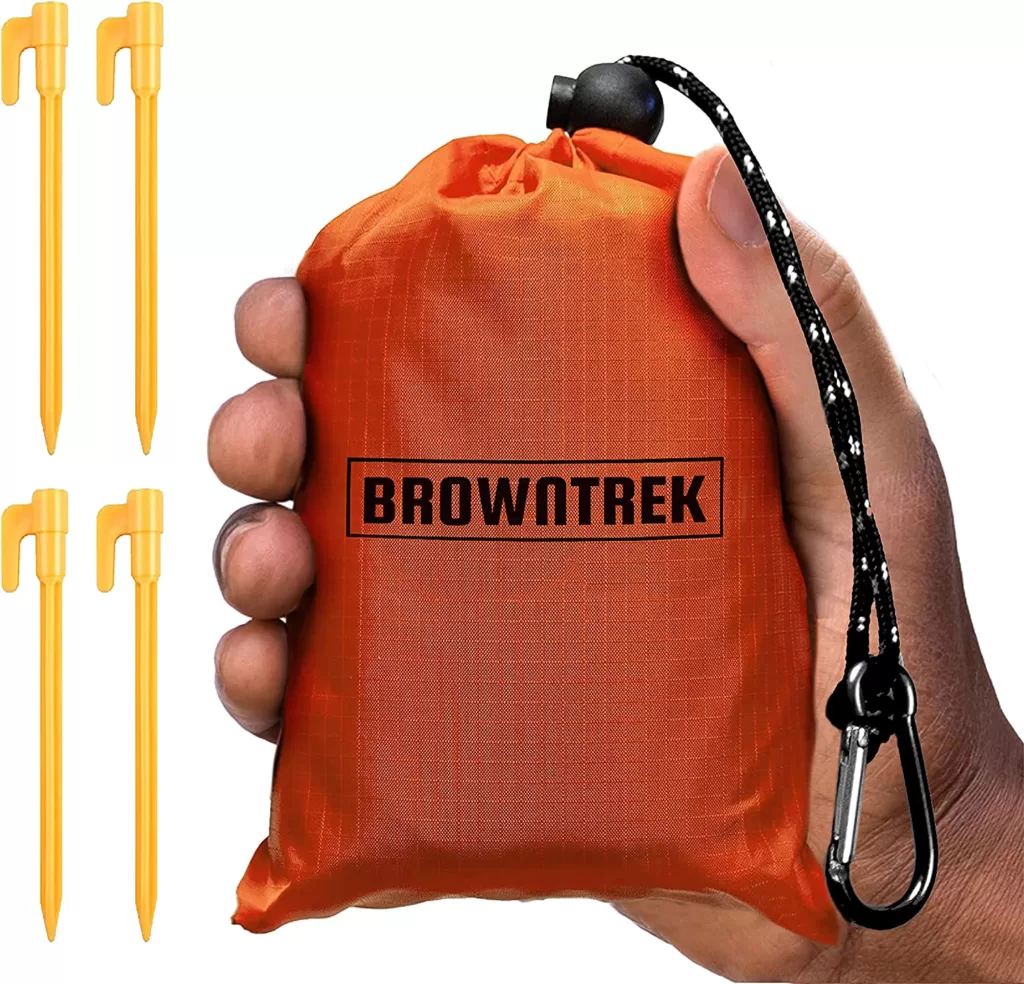 Color: Orange
Dimensions: 60″ x 56″
Insulation: Polyester Fabric
Weight: 0.33lbs
What we like about it: The cheapest camping blanket, it is compact in design and easy to carry.
What we don't like about it: Average comfort, can't be used as a shawl.
The BROWNTREK Pocket Blanket is super lightweight and compact, making it a must-have for backpackers who like to camp out on the hottest of days and for tourists who want a down blanket in the winter but are afraid of getting it dirty or wet. It's an absolute bargain at only 10 dollars for a foldable and waterproof sand-proof blanket.
This cheapest camping blanket is made of durable Polyester, Nylon Spandex Bag, pocket blanket waterproof Polyurethane coating, so it not only prevents dew on the turf as well as tree branches and rocks from coming into close contact with your body but is also comfortable enough to fit your skin. The main thing is the compact design, after folding, only the size of the palm of your hand. If backpackers want to save even more luggage volume, you can hang it on the luggage by hooks. So whether you are planning a picnic, hiking, camping, fishing, or planning a beach trip, such cheap and lightweight equipment is friendly.
Of course, since it has such a cheap price, you can't expect it to be as soft as those down or wool rugs. Besides, if you want to use it as a shawl, it is not a wise move.
Frequently Asked Questions
Down Material
Wool Material
Waterproof Performance
Comfort
Camping blankets and Sleeping bags
Down Material
It's hard for us to find a material that is lighter, warmer, and cheaper than down for heating equipment. They are the most comforting materials for those cold days. When it comes to the quality of down, fill power is the most direct and observable measurement.
Take the LUXCOL Down Camping Blanket which has the highest fill power in the list, 700+Fill Power looks like fluffy bread, soft and warm. What's more is that with a weight of only 1.2 pounds, not only will users not find it difficult to breathe at night, but it is also absolutely gentle for the luggage.
Of course, down materials are not very good in wet weather compared to wool or synthetic materials. That's because when rainwater seeps in, they tend to clump up and stop keeping you warm at that point. Fortunately, Get Out Gear Down Camping Blanket and KingCamp Camping Blanket both have a hydrophobic treatment for the insulation that prevents rain or coffee from harming the blanket. There is also the inexpensive and reliable BROWNTREK Pocket Blanket to help protect you from liquids.
Wool Material
There is no denying that the demand for wool camping blankets in the market nowadays has been drastically reduced. Even though this insulating material is less popular today, we cannot deny its advantages. In addition to giving people a sense of warmth, they are naturally odor-resistant and have good moisture absorption, very soft, comfortable, and skin-friendly. Even in wet conditions, they still provide warmth.
What's more, this wool can make it fireproof by wicking away moisture. And with the property of not being easy to burn and preventing static electricity, it makes it the brightest warm equipment for a bonfire party.
Of course, it also has the obvious disadvantage of not being fluffy enough and not being compressible. Therefore it is difficult to stuff it into small packages, in other words, it is not easy to carry. In addition, its thickness is limited, and windproof performance is not as excellent as down. Therefore, many times used to be used as a sleeping bag to supplement the use of people.
Waterproof Performance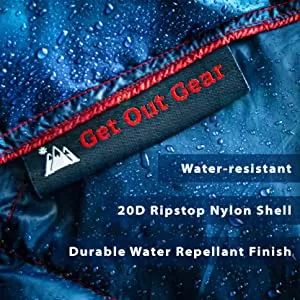 Waterproofing is necessary for outdoor blankets. In addition to unpredictable outdoor weather, accidental spills of coffee or drinks are another reason why waterproofing is popular. Designs such as the Get Out Gear Down Camping Blanket and KingCamp Packable Lightweight Travel Down Alternative Warm Camping Blanket are designed with a completely waterproof structure, easily removing surface moisture, dust, pet hair, or other debris.
Whether used as a shawl or a rug, it will make people feel more comfortable. Of course, the BROWNTREK Pocket Blanket, which is also waterproof and dustproof, is only suitable to exist as a picnic blanket. It can protect people from the moisture of the ground and the attack of water vapor on the human body.
Comfort
Although comfort is a subjective thing, people tend to agree on the feel of the goods. It's undeniable that the blankets we feature in our list today with the best value for money are still a far cry from the more premium designs. But neither their touch nor their fill power will make you feel rough.
Moreover, we still choose cheap but extraordinary representatives, such as Kelty Galactic Down Blanket and Therm-a-Rest Argo Insulated Camping and Backpacking Blanket. They have a soft, comfortable touch, and skin-friendly warmth, and can give users tailor-made comfort.
Camping blankets and Sleeping bags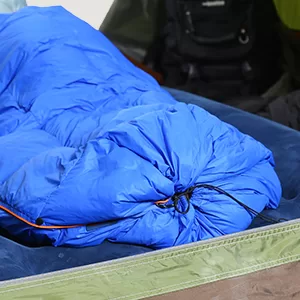 Unlike those sleeping bags that can wrap people in all aspects at night, most camping blankets do not have a tight closure or bottom drawstring to ensure that the user can be in a strictly wrapped state. But the camping blanket is still an indispensable piece of equipment on the way to camping because it can provide sleeping bags but can not provide a picnic blanket or shawl function.
Imagine when the campfire party starts, your partners are draped with blankets or with blankets on their legs, while half of your body is struggling in your sleeping bag, it will be an awkward picture. In addition, a camping blanket can also be used as your sleeping bag to supplement your presence and give you more temperature on cold nights.
Of course, if you want to have quality sleep, then it is necessary to prepare a quality sleeping bag. If you need to see our best sleeping bags, choose the right sleeping bag for you.
Conclusion
In fact, in addition to the above issues that are often discussed on the table, people will also take its durability and fire resistance into account when choosing the best blanket.
Durability is well understood, as no one wants to spend money on a piece of equipment that can only be used once. That's why most of the camping blankets we choose (such as Kelty Galactic Down Blanket, LUXCOL Down Camping Blanket, Therm-a-Rest Argo, etc.) have an outer fabric that protects the insulation to ensure it's tear-resistant. They are effective in limiting damage to the blanket from tree branches, rocks, and your pet's sharp claws.
We had trouble making sure that the spark from the fireplace wouldn't splash on us at the campfire, even from a distance. And unlike the wool blankets (ENO FieldDay Blanket and Arcturus Military Wool Blanket) that are prone to getting holes from sparks, they are quite safe.
I hope travelers can find the best camping blanket in this article.
Finally, if you like our content, please share it with your friends! If you find our content helpful, we appreciate your click to subscribe!