We use affiliate links and may receive a small commission on purchases.
We've selected the 10 Best Camping Pillows for your reference.
Whether it is a warm and snug sleeping bag or a comfortable and soft mattress, these can bring a higher quality of sleep. But the small and soft pillow is often overlooked. What we need to tell you is that a quality camping pillow can also bring quality sleep, rather than insomnia all night long.
For this reason, we have spent a lot of time selecting the 10 best camping pillows in 2023 among many products. Whether you're spending the night in the park or hiking outdoors, these pillows can easily handle it. If you still want to know more about camping, welcome to subscribe to us.
Recommended List
NEMO Fillo Pillow ($44.95)
Therm-a-Rest Compressible Pillow ($46.95)
HEST Pillow ($89)
Sea to Summit Aeros Premium Pillow ($49.95)
Cocoon Air-Core Ultralight Travel Pillow ($36.95)
NEMO Fillo Elite Pillow ($59.95)
REI Co-op Trailbreak Foam Pillow ($20)
ZPacks Medium-Plus ($54.95)
Exped Mega Pillow ($59.95)
TETON Sports Camp Pillow ($17.99)
1. NEMO Fillo Pillow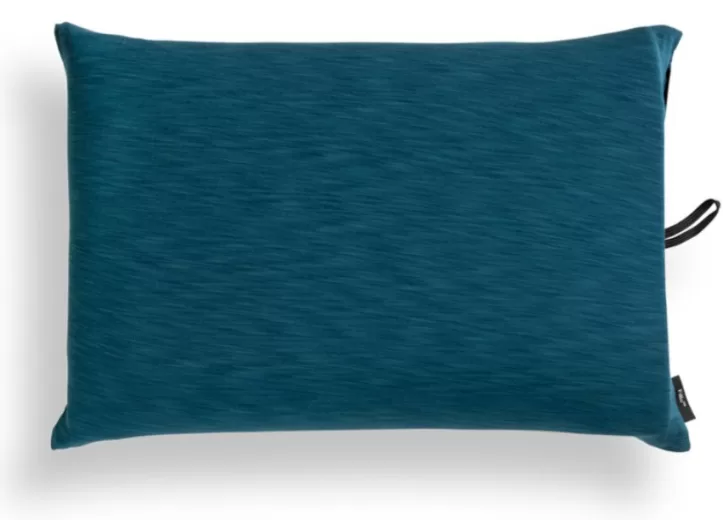 Price: $44.95
Type: Traditional pillow
Dimensions: 17 x 11 x 4 inches
Weight: 9 oz.
What we like about it: A trusted brand.
What we don't like about it: It's hard to store in a storage bag.
If you are a camper with many years of camping experience, then you must be no stranger to the brand NEMO. It has been recognized by many campers for its excellent craftsmanship and outstanding performance. And this NEMO Fillo Pillow is the best of its kind, becoming our first choice.
The I-beam baffled air cell creates a natural pillow shape that eliminates the balloon feel, expands with just a few puffs of air, and features an air hole to release air at any time for proper support. The machine-washable microsuede cover offers a clean and cooling feel.
Although this pillow provides an integrated storage bag, we found it difficult to tuck it in during our experience. This may be an oversight on the part of the designers, but it does cause some inconvenience. If you are not picky about this, it is still your first choice.
2. Therm-a-Rest Compressible Pillow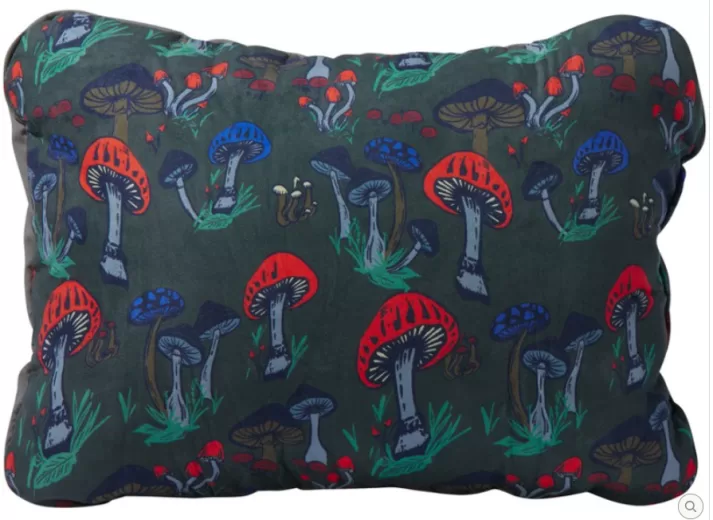 Price: $46.95
Type: Traditional pillow
Dimensions: 22 x 15 x 7 inches
Weight: 15 oz.
What we like about it: The fun pillowcase pattern.
What we don't like about it: It needs to be prepared well in advance for use.
Therm-a-Rest has won us over with some surprising designs, and these fun pillowcase patterns make your trip more colorful. You can always remove and replace your favorite pillowcase. But it's not just that that appeals to us.
The Therm-a-Rest Compressible Pillow features a luxuriously soft, 60% recycled polyester cover filled with supportive and compressible foam, which gives you a more comfortable experience. The light and soft insulation layer on top eliminate lumps for an even snoozing surface, fully protecting your neck. It is also well thought out in the details, you can use the tightening cord to freely adjust the support to achieve the ideal level of comfort. The compressible folding feature makes it easy to carry and frees up your storage space.
It is worth mentioning that, although compressible, the foam material that fills it inevitably adds weight and volume. You must open it in advance before use, as it takes some time to expand. These preparations are slightly cumbersome, but they are also necessary for a more comfortable sleep.
3. HEST Pillow
Price: $89
Type: Traditional pillow
Dimensions: 22 x 15 x 8 inches
Weight: 2 lbs 3.2 oz.
What we like about it: A more luxurious experience.
What we don't like about it: Bulky.
HEST products have always been at the top of the industry, it has a higher price than other brands to provide you with a more luxurious camping experience, and this HEST Pillow is the same. Unlike the above pillow, it uses a blend of shredded enhanced memory foam and polyester fill, and excellent support will hardly deform. The soft surface allows you to fall into it as soon as you lie down, and the curved shape fully conforms to your head and neck, keeping your sleep temperature throughout the night.
The compact package brings a home-like experience, and you are free to adjust and customize your loft level. a carrying ring is thoughtfully designed in detail for easy mobility.
The only complaint we have is its weight. 2 lbs. 3.2oz. is not that easy to carry, especially for those hikers. This also means it's better suited for car campers who aren't constrained by space, and the high-end luxury experience makes your camping more fun.
4. Sea to Summit Aeros Premium Pillow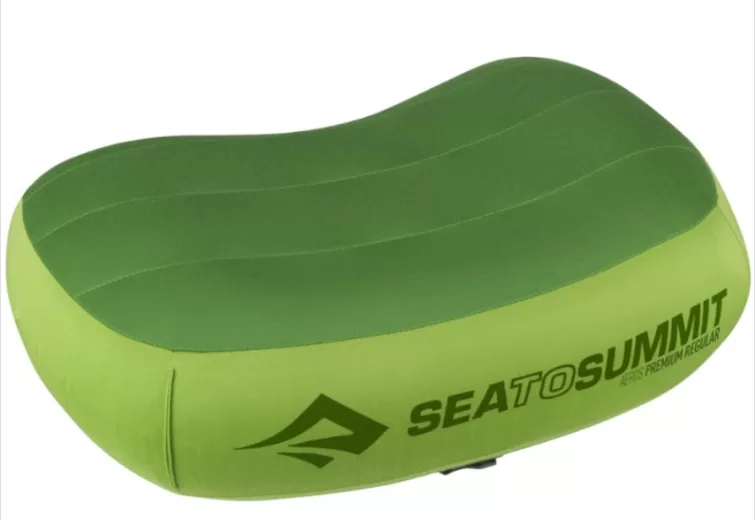 Price: $49.95
Type: Traditional pillow
Dimensions: 13.4 x 9.4 x 4.3 inches
Weight: 2.7 oz.
What we like about it: The unique PillowLock™ system compatibility.
What we don't like about it: It's not the most comfortable.
Sea to Summit Aeros Premium PillowUpdated to add compatibility with the unique PillowLock™ system, which keeps your pillow right where it belongs on your Sea to Summit pad for an even richer camping experience. Aeros™ Premium construction ensures the outer shell retains the maximum softness and a skin-friendly surface that cares for your neck. The support is excellent, with a thermoplastic polyurethane liner support that helps provide a good night's sleep, and padding inside that wicks away perspiration for the camper's benefit. There is also a multifunctional mini valve on the outside, so even a novice can easily inflate and deflate. It is these excellent designs that impress us.
Despite its many excellent features, the Sea to Summit Aeros Premium Pillow is not the most comfortable on our list. If you are not an extreme user, then this pillow would be a good choice.
5. Cocoon Air-Core Ultralight Travel Pillow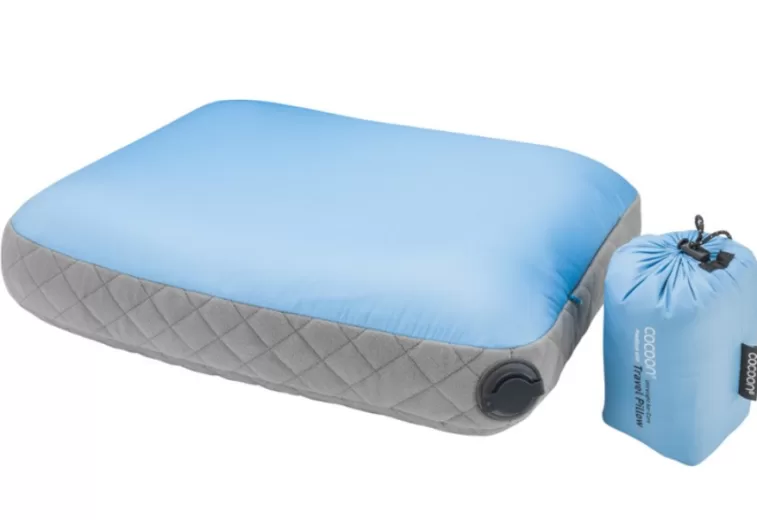 Price: $36.95
Type: Traditional pillow
Dimensions: 14 x 18 inches
Weight: 6.7 oz.
What we like about it: A customizable sleep experience.
What we don't like about it: The smooth back.
This Cocoon Air-Core Ultralight Travel Pillow is unique. It is designed with different materials on the front and back sides to be able to handle different temperatures at night. The microfiber side keeps you warm on cold nights, while the nylon side brings cool comfort on warm nights.
The adjustable support is the finishing touch, so you can make your own choices based on your preferences. In use, the updated, low-profile valve ensures quick and effortless inflation and deflation, and in carry, it can also fit in a storage bag at any time to free up your travel space. It all seems to be just right and you'll love it.
In our testing, we found that the smooth back can feel kind of shaky, and it's no exaggeration to say that it's like applying lubricant. It took us a while to get used to it, so it's best to have had experience with this before choosing it.
6. NEMO Fillo Elite Pillow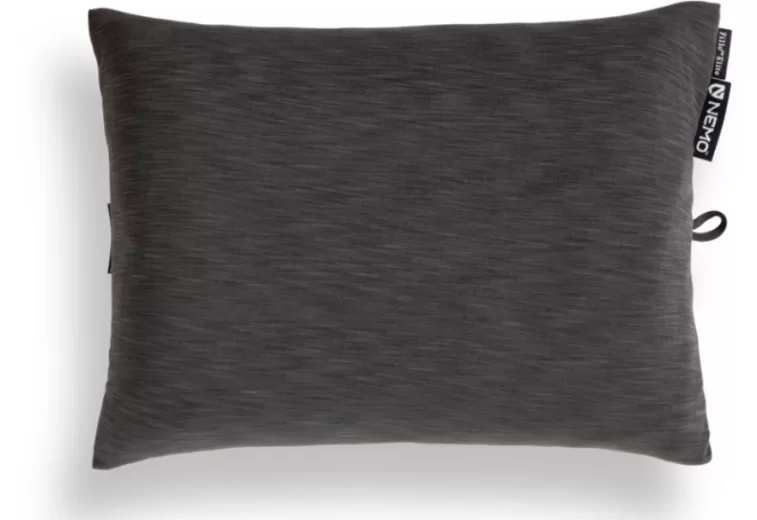 Price: $59.95
Type: Traditional pillow
Dimensions: 15 x 11 x 3 inches
Weight: 3 oz.
What we like about it: The lightweight.
What we don't like about it: the insulation that needs to be improved.
This pillow, also by NEMO, differs from the previous one in that it manages to attract our attention with its lighter weight. You can easily fit it into the integrated storage bag, and the compressed size takes up less space, making it perfect for backpacking. Likewise, you can always inflate it and use it as a lumbar support for long trips to ensure your comfort of use. The updated valve is ergonomic, unobtrusive, and easy to use.
But the reason we put it in this position is that it is not outstanding in terms of insulation. It may not please you in the face of colder weather. So this is a summer pillow that is more suitable for use in the warmer months.
7. REI Co-op Trailbreak Foam Pillow
Price: $20
Type: Traditional pillow
Weight: 10.1 oz.
What we like about it: The cheap price.
What we don't like about it: It takes up more storage space.
If you want to have an affordable and very comfortable camping pillow, then this REI Co-op Trailbreak Foam Pillow must be your second choice. The same compressible foam is used in the filling, so you can use it immediately after you get it by simply opening the package, without waiting for it to expand. This provides enough support for your sleep. The shell is also made of a double-layer fabric, with a warm wool side paired with a cool, silky polyester side, bringing better sleep quality. In terms of cleaning, you can put it directly into the washing machine, which is greatly convenient for some users.
But the same as the Hest pillow above, it has a larger size, only able to compress the size to 1/5. This also means that it is more suitable for camping not far from the car so that you do not have to carry it farther away. If size and weight are not an issue for you, and you're after a cheaper pillow, we think it's worth a try.
8. ZPacks Medium-Plus
Price: $54.95
Type: Traditional pillow
Dimensions: 7 x 13 inches
Weight: 1.8 oz.
What we like about it: Waterproof zipper design.
What we don't like about it: lack of adequate support.
For every camping enthusiast, there is nothing more annoying than wet weather, which can greatly reduce your camping experience. But this ZPacks Medium-Plus considers this problem. It has a waterproof zipper seal on the top to keep out moisture. You can even use it as a waterproof storage bag, which is very practical. With the soft microfleece inside, you can also turn the dry bag over and fill it with spare clothes to use as a pillow. The comfortable wool surface provides an excellent touch and fits well with your neck for quality sleep.
Of course, you need to be told that this pillow is not as good as the above ones in terms of support. This may make you feel uncomfortable. But even if you are not satisfied, you can even return it, so do not worry.
9. Exped Mega Pillow
Price: $59.95
Type: Traditional pillow
Dimensions: 20.9 x 12.6 x 4.7 inches
Weight: 6.5 oz.
What we like about it: The generous size.
What we don't like about it: It's not suitable for use with a mummy sleeping bag.
While the market is looking for a more comfortable and soft pillow, the Exped Mega Pillow chose a wider design. The wide pillow proved to deliver an equally excellent experience. The wool liner with air core provides adequate support, and the almost vertical side walls are designed to maximize the head contact area. With a soft, skin-friendly polyester warp-knit fabric, you'll feel comfortable all night long.
In use, the low-profile FlatValve for quick and easy inflation. when you're not using it, SIMPLY insert the built-in drain pin into the valve to deflate. finally, you can put it in the provided storage pouch to reduce your backpack space.
The rectangular pillow is comfortable, but you should note that this does not match the mummy sleeping bag. It does not fit well into the hood, which can cause a little inconvenience. So we recommend campers use rectangular sleeping bags to choose this pillow.
10. TETON Sports Camp Pillow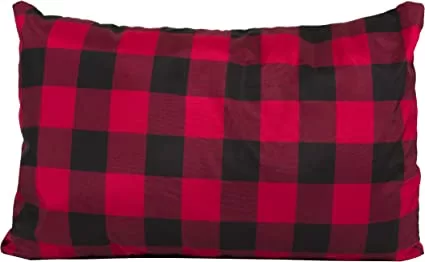 Price: $17.99
Type: Traditional pillow
Dimensions: 18 x 12 x 3 inches
Weight: 10 oz.
What we like about it: The impressive facecloth look.
What we don't like about it: It's not as fluffy as the pillows above.
TETON Sports Camp Pillow may not be as high-end in performance as those pillows above, but it has managed to get our attention with its hard-to-refuse price and practicality. Especially its impressive brushed flannel outer layer, but also brings us a sense of a family pillow. The comfortable and soft outer shell brings a high-quality sleeping experience, and it won't wear down your skin even if you turn on your side or flip over. In terms of detailing, Teton is also fully considered for the user. Comes with a travel storage bag with a drawstring, so you can always carry it and reduce the storage space of your backpack. When your trip is over, it's easy to just toss the pillow into the washing machine with the rest of your clothes.
But what you need to know is that the cheap price comes at the expense of other great performances. This pillow is inferior to the rest of the list in terms of support, and the filling inside does not fluff well and evenly, which means it tends to clump. While it has a soft feel overall, it lacks adequate support and has no valves to add extra air. If you are looking for a soft pillow at an affordable price, then the TETON Sports Camp Pillow is worth it.
Learn More: Top 10 Best Camping Sleeping Bags [2023]
Camping Pillow Buying Guide
Types of pillows
Pillow size: length and width
Weight of the pillow
Durability
Maintenance and Cleaning
Key Considerations
Types of pillows
Stuff Sack Pillows
Stuff Sack Pillows have a very lightweight feature. This is because it is essentially a pillowcase, you can freely fill the clothes inside as a pillow. This clever design is not only easy to store, but also can provide space for storing clothes. Since it is based on your fill to support, you can choose your suitable support.
But again this requires you to spend more time to fill it, it while requiring a certain amount of patience and care. Because it can be uneven if you don't pay attention to it and affect the quality of your sleep. It may not be for everyone, but it is a no-brainer for those minimalists.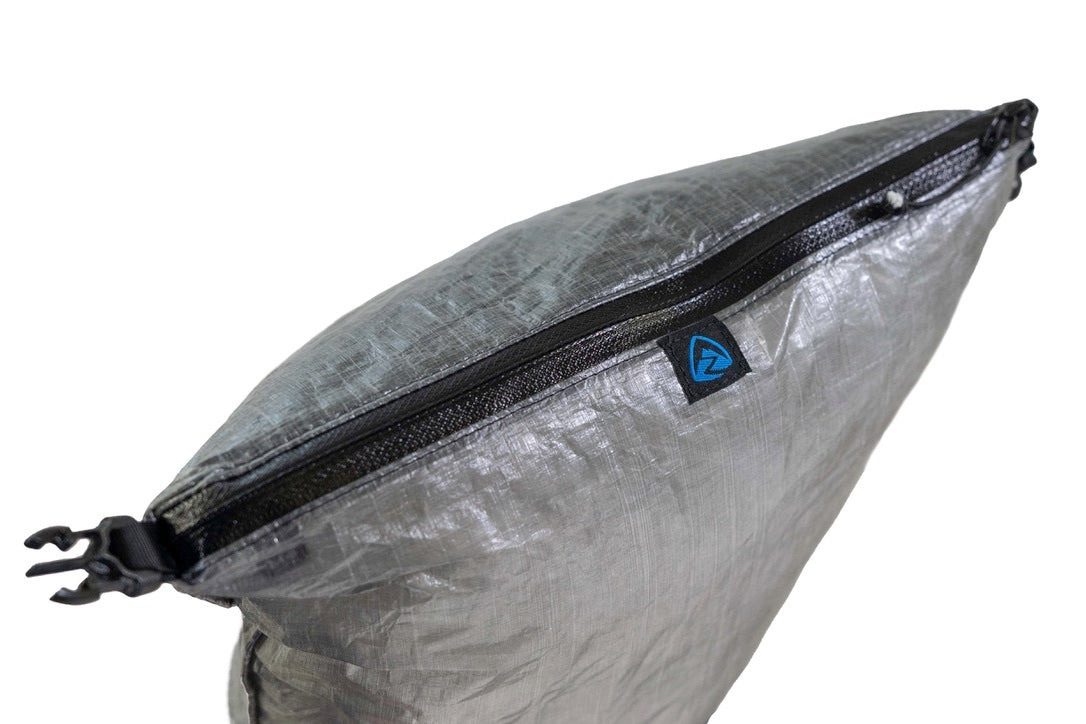 Inflatable Pillow
As its name suggests, this pillow is filled with air to provide adequate support. They are lighter in weight, easy to store foldable, and are a favorite of those hikers. Because they are air-filled, they tend to have good height and support, providing a more comfortable experience for side sleepers.
However, the performance on the softness is not so outstanding, long sleep may feel a little hard. But some pillows will add a layer of light insulation to slightly improve comfort and warmth.
Compressible Pillow
Compressible pillows are generally made from expanded materials, using air-free foam or memory foam, which gives them excellent comfort. The soft filling not only gives the pillow excellent cushioning but also has compressible features. When you hike, you can compress it for storage and reduce backpack space. At the same time, the durability has been improved, and can more effectively cope with ground debris. This pillow is preferred by those users who seek comfort.
Although compressible, it still has increased in weight and size. You may feel some bulk when carrying it, but these are also sacrifices that have to be made for a more comfortable experience.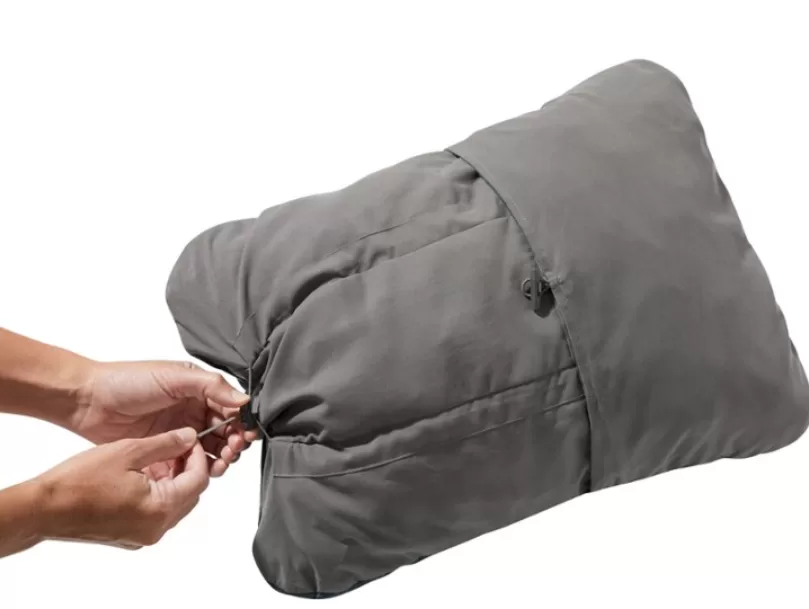 Pillow size: length and width
Before choosing a pillow, you need to be clear about the size, which is about overall comfort. Generally speaking, larger-size pillows will be designed in a rectangular shape, with a larger surface area to allow you to move throughout the night and not let you lose the pillow. In a sense, the larger size pillow will be more comfortable. Of course, you need to pay for this more space to carry, as to how to choose, it depends on your personal preferences.
There is also a size of pillow that will not be very regular like a rectangle and will remove excess material to keep the weight and volume to a minimum. The benefit of this pillow is that it is lighter and also fits your neck better, and also fits nicely into the hood of a sleeping bag, especially a mummy sleeping bag.

Weight of the pillow
In addition to the choice of type size, it is also worth noting in terms of weight. Although the pillow is smaller in size compared to other items you carry on your camping trip. But those hiking users want to have a lighter weight to reduce the burden of travel as much as possible. And there are a few pillows on our list that have a light enough weight, such as the ZPacks Medium-Plus and the Sea to Summit Aeros Premium Pillow.
Being lightweight is important, but some will lose enough support as a result. Most users will choose the middle position, which is not too heavy and also has some support. However, for car campers, weight is not a consideration as they can carry more items and are not too far from the car.
Durability
In outdoor camping, the durability of the equipment is the most important thing to pay attention to, not just the pillow, but for other equipment as well, after all, no one wants to use a product of poor quality. In the field of textiles, the standard we use to measure durability is Denier (D). It indicates the thickness of the fabric, generally, the higher the value of the pillow, the better the durability, with a longer service life.
Pillow shells with low values will be thinner and more likely to be punctured or torn, while pillow shells with high values are significantly thicker. The current market standard for pillows is 20 D. Of course, you can also choose your own according to your preferences.
Maintenance and Cleaning
In addition to durability to determine the service life of the pillow, daily cleaning and maintenance can also extend the service life. Before each use, you need to make sure that there is no sharp debris on the ground to prevent scratching the surface. Also when storing it after use, please be sure to press heavy objects on it, which will greatly reduce the support of the pillow and affect its comfort.
For frequent campers, the cleaning of the pillow is also worth noting. Unlike in the past, most pillows now have removable pillowcases, so you can simply wash the pillowcase separately. But for those who do not have removable pillowcase inflatable pillows, it is necessary to remove all the air inside and then clean. Compressible pillows can be thrown directly into the washing machine, but you need to dry them clean, otherwise, it will affect the next user experience.
Key Considerations
Temperature
While a pillow doesn't provide enough warmth like a sleeping bag or mattress, it is equally capable of insulating the ground from the cold. That's why it's equally important to have a pillow that protects your head from the cold air. Those pillows that have an extra insulating barrier set up will provide a warmer experience. If it's summer, it can likewise wick away sweat to keep you cool for sleep.
Sliding
Typically, people have the same frustration with camping pillows that they keep sliding around in their sleep, which can significantly affect the quality of their sleep. As an experienced camper, we usually use Velcro fasteners to secure them. For pillows, there are connecting drawstrings on the side to make it easier to secure, just align them and you can enjoy a comfortable sleep.
Noise
What you need to know is that the pillow will also have noise present. This is because those folds of material, in friction, will make a sound, which is certainly noisy for outdoor camping. Even if you choose a quiet pillow, it will also come with a subtle sound. Generally speaking, the lightest pillow is also the noisiest, so if you are a light sleeper, consider bringing earplugs.
Conclusion
Any comfortable camping is inseparable from the choice of quality equipment, and the pillow is one of them. Here we detail a summary of the 10 best camping pillows. They are affordable, come with special fabrics and features, and can be used well for a long time. At the same time, we have also answered some common questions about the pillow for you, hope it will help you.
Finally, if you like our content, feel free to share it with your friends! If you've found our content helpful, you can click the email subscribe button below! Thanks!