We use affiliate links and may receive a small commission on purchases.
We've selected the 10 best camping sleeping bags for your reference.
Whether you are traveling, or overnight in a national park, camping sleeping bags are always an indispensable piece of equipment. A comfortable sleeping bag not only can bring quality sleep but also can save as much space as possible and reduce the weight of carrying. In other words, the choice of a sleeping bag is crucial.
Here we list the 12 best camping sleeping bags and introduce them in detail, and also answer some related questions. If you are satisfied with our content, please don't forget to like the collection, we will continue to bring more reviews.
Camping Sleeping Bags Recommendation Form
1. REI Co-op Siesta Hooded 25 Sleeping Bag
Price: $129
Shape: Rectangular
Weight: 4 lbs 6 oz
Size: 11 x 17 in.
What we like: It makes people feel warm.
What we don't like: It doesn't compress easily.
Rectangular sleeping bags will be more popular in camping because they are more spacious and can provide better sleep quality. This REI Co-op Siesta Hooded 25 Sleeping Bag is the one for you, and you can experience a quality warm sleeping bag for only $129. Large enough for your body to stretch out, the synthetic fiber fill features an offset quilted design that remains warm even on cooler nights.
Unlike other sleeping bags, it is also equipped with an insulated hood to increase warmth and the ability to retain a pillow. The internal storage pocket helps to store some ready items, bringing great convenience. The zipper system is designed to bring a better experience, fully closed to prevent the entry of cold wind, allowing you to have a more comfortable sleep.
It's worth mentioning that to be warmer, the Siesta is fuller in padding, which makes it less compressible and therefore not as convenient to carry around. It is not suitable for car-free travel, but for those who need to keep warm travelers, it is the best choice.
2. Outdoor Vitals Summit Sleeping Bag

Price: $344.98
Shape: Mummy
Weight: 2 lbs
Size: 5'6″ to 6′
What we like: Lightweight.
What we don't like: Expensive prices.
If you want an extremely light and warm enough sleeping bag, then this Outdoor Vitals Summit Sleeping Bag is not to be missed. With a high-quality down-filled backpack, it has an ultra-lightweight and also has excellent warmth. The compression is also excellent, you can easily fold it to fit any backpack or space, easy to carry.
The mummy shape makes it fit your body better, while extra down is added to the foot area so you can enjoy the warmth all night long. Even in the face of wet conditions, you are not too worried, the down and outer fabric are coated with a water-resistant coating, fully insulating you from all the factors that make you feel cold and have quality sleep.
Price factor aside, it is one of the best camping sleeping bags. However, excellent performance often comes with higher costs, which is not suitable for those users whose budgets are not very high. Of course, for those who want to pursue a better experience for travelers, this sleeping bag is worth a try.
3. Hyke & Byke Eolus 0 F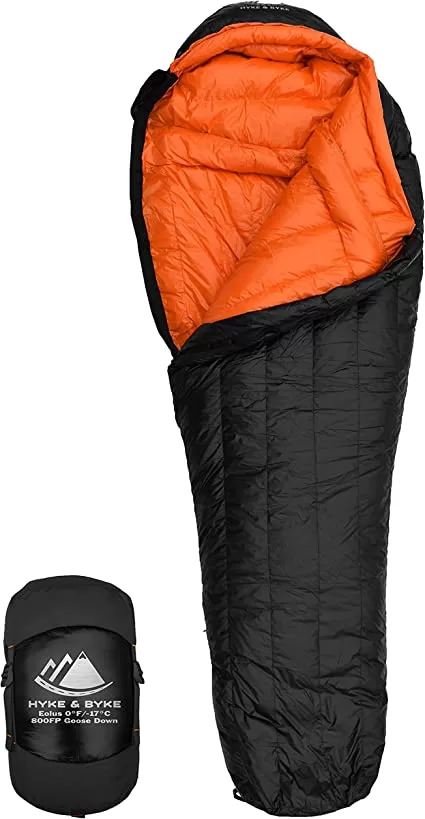 Price: $214.97
Shape: Mummy
Weight: 3.2 lbs
Size: 10x 7 in.
What we like: Excellent weight-to-warmth ratio.
What we don't like: Wash before use.
Hyke & Byke is not a very famous brand, but it has been working hard for years to create quality products and provide backpackers with better-quality travel. This Hyke & Byke Eolus 0 F is designed for hiking and camping. It has an excellent weight-to-warmth ratio and can maximize the degree of space and weight savings, bringing the ultimate warmth.
It also uses hydrophobic down to ensure that heat does not dissipate even in the face of moisture, making it versatile for 4 seasons. The waterproof fabric and ripstop nylon fabric lining give it long-lasting durability. It is the perfect hiking companion.
It is worth mentioning that when you get this sleeping bag, you need to wash it before use. In the feedback we received perhaps because of the express storage reasons, will give off some odor. But there is no need to worry, even if the cleaning can not solve the problem, it has a perfect after-sales service, and replacement can be done.
4. Exped MegaSleep Duo
Price: $199.95
Shape: Rectangular
Weight: 4 lbs 6 oz
Size: 12 x 28 in
What we like: Different temperature ratings.
What we don't like: Not the best in terms of warmth.
Although many double sleeping bags exist on the market today, this does not prevent us from being surprised by the creative design of the Exped MegaSleep Duo. You can freely flip the sleeping bag according to the different weather, this humanized design allows you to not need to buy a separate summer sleeping bag. And it has two separate sleeping bags with different temperature ratings to achieve the versatility of sleeping alone, solving our complaints about the double bag.
What also surprises us is that this sleeping bag can be used with any sleeping pad, so you can enjoy the home sleeping experience outdoors. To increase the warmth, the air guide is designed at the zipper, which can stop the heat from dissipating. Meanwhile, the central snap on the head can reduce airflow when sleeping in pairs to further keep warm.
However, as with most rectangular sleeping bags, the Exped MegaMat Duo doesn't excel in its thermal handling. That's not to say it doesn't have warmth, but it's good enough to face most summer camping trips, but not much more than that. If you're in the middle of summer, then it's still the perfect choice for you.
5. Big Agnes Dream Island 15 Sleeping Bag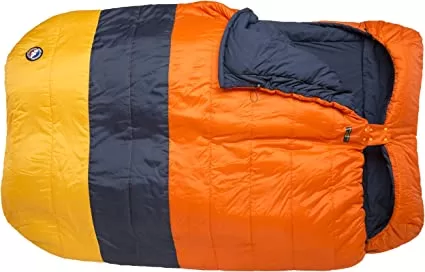 Price: $270
Shape: Rectangular
Weight: 7.6 lbs
Size: 11.5×10.5 in.
What we like: Enough space.
What we don't like: There is no insulation at the bottom.
We never envisioned having the comfort of sleeping at home in the great outdoors, but this Big Agnes Dream Island 15 Sleeping Bag does. It has what you might call a luxurious space, and the two-way, full-length, hook-resistant zipper offers freedom of opening and closing so you can be in complete control of your comfort. The spacious hood also has an internal tightening feature that locks in unwanted airflow when needed to keep your body warm.
In addition, the surface of this sleeping bag also uses a waterproof and stain-resistant treatment, combined with a soft and comfortable lining to achieve a perfect balance of durability and lightness.
What makes us complain, though, is that there is no extra insulation designed into its bottom. In the face of colder weather, you will need to use it with a sleeping pad to keep you adequately warm. Of course, this requires you to buy extra, for some people this is not cost-effective, but in the not-so-cold wilderness, it is still a good choice.
6. The North Face Eco Trail Bed 20 Sleeping Bag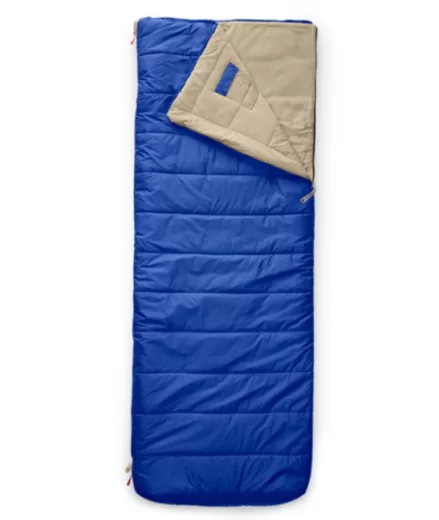 Price: $76.93
Shape: Rectangular
Weight: 4 lbs 8oz
Size: 11 x 20 in.
What we like: Soft and comfortable fabrics.
What we don't like: No hood.
For me, a soft and comfortable sleeping bag is the first element to consider for outdoor camping. And this The North Face Eco Trail Bed 20 Sleeping Bag is a strong contender in that regard. Made from 100% recycled fabric, the soft interior is kinder to your skin, while the 14-inch side zipper at the collar allows you to sit up more comfortably.
In terms of detailing, it is equally excellent. The use of a full zipper allows you to use it as a blanket when you need it, and the interior pockets are designed so that you can easily place some cell phones or watches. The light weight is also very convenient in carrying.
To be more lightweight, this sleeping bag discarded the hood design. Although it uses a top drawstring to stop the loss of warmth, it is still slightly inferior in terms of warmth. Considering its cheaper price than the above products, and comfortable experience, we put it in this position.
7. Kelty Cosmic 20 Sleeping Bag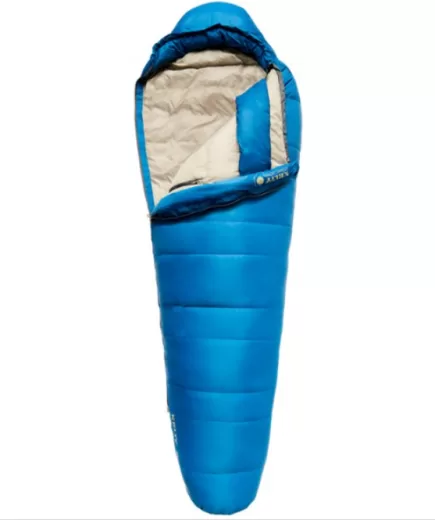 Price: $164.95
Shape: Mummy
Weight: 2 lbs 10 oz
Size: 8 x 13 in.
What we like: Comfortable down.
What we don't like: Unstable fillers.
The Kelty Cosmic 20 has been a popular choice for campers and backpackers who have always had a good reputation in the camping community. A large part of the reason for this is the 550-fluff down, which gives it excellent warmth, as well as extremely lightweight. This not only gives it good compressibility but also makes it very easy to carry.
Of course, its excellent performance doesn't stop there. The spacious, form-fitting foot box gives your toes more room to move, and the ventilated collar and hood are designed to help keep hot air in and cold air out. The moisture-resistant exterior coating keeps you warm inside at all times.
The only complaint we have is that perhaps the reason for the softer down filling is that it is very unstable. When you close or open the zipper, it sometimes snags and takes some very thin nylon with it. This made my experience unpleasant, having to use extremely precise movements to close myself up at night and then open it again.
8. Teton Sports Celsius
Price: $81.35
Shape: Rectangular
Weight: 5 lbs
Size: 10 x 15 in.
What we like: The unique mummy hood.
What we don't like: The size is on the short side.
Teton always delivers some great value for money. You can have a great performing travel sleeping bag for just under $80, which is why we chose the Teton Sports Celsius. The unique mummy hood is one of its highlights, keeping the pillow clean and the head warm. The deflector tube design around the shoulders is even more effective in preventing drafts from entering, so you can always stay warm in cold weather.
It may not compare to the prestige handbags in terms of overall workmanship, but it does provide enough warmth. The double offset printing and the innovative hollow fiber filling work together to keep the warmth inside for longer. And you need to fluff it up before going to bed, which will greatly increase its warmth.
It's worth mentioning that the Teton Sports Celsius is always short, which also means it will look a little ill-fitting for larger campers. So you'll need to buy an extended sleeping bag, otherwise, you'll have to spend the night bent over, and that's something you don't want to experience.
9. KINGS TREK Sleeping Bag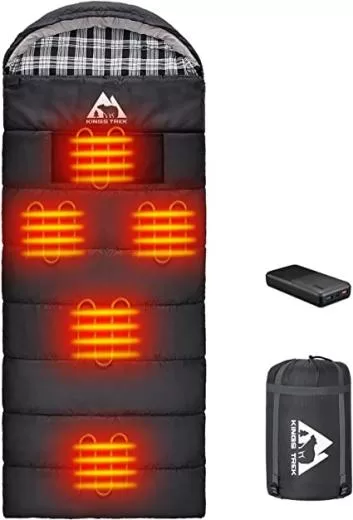 Price: $99.99
Shape: Rectangular
Weight: 4.4 lbs
Size: 220 X 90 cm
What we like: Intelligent temperature control systems.
What we don't like: The charging time is very long.
For those backpackers who wish to have a warmer sleeping bag, the existence of KINGS TREK Sleeping Bag meets their needs. Unlike the above ordinary sleeping bag, this product is equipped with a heating system. This also means that even in the coldest season, it can still provide enough heat to keep you comfortable all night long. It also has 3 adjustable temperature controls, so you can easily adjust the temperature as needed with a simple push of a button.
The choice of material is made with a soft wool lining that hugs your skin and keeps the interior warm and comfortable. And the heating pad is set up in various core areas so that you won't feel cold everywhere on your body. The most important thing is that when the temperature exceeds 131°F, the battery will automatically shut off to keep you safe.
The use of an intelligent heating system means it needs batteries to provide heat. And the battery of this sleeping bag needs 4-6 hours of charging time. Longer charging time is not convenient on long outdoor trips, so you'd better get it fully charged in advance in case of accidents.
10. Coleman Brazos Cold Weather Sleeping Bag
Price: $39.99
Shape: Rectangular
Weight: 6 lbs 15 oz
Size: 11.5 x 19 in.
What we like: Great price/performance ratio.
What we don't like: Heavier weights.
If you're on a budget and want a durable camping bag, the Coleman Brazos Cold Weather Sleeping Bag is the right choice for you. The durable construction prevents the insulation from shifting, and the thick shell gives it a longer life.
It is rated at 30°C and is quite comfortable in warm weather. The use of hollow polyester insulation provides better warmth, while the deflector along the zipper prevents body heat from dissipating. It can give you comfortable and warm sleep during cool autumn nights.
Of course, price and quality usually correspond to each other. To try to save costs, it is also slightly crude in manufacturing. It has a heavier weight, which is not easy to carry. Also, the zipper design is not as detailed, you will occasionally stuck, and will also take some padding. But we can't hold it to a higher standard, and it's perfect at this price.
Camping Sleeping Bag Buying Guide
Sleeping bag shape
Temperature Level
Down and synthetic insulation
Need an extra mattress?
Do I need to buy a double sleeping bag specifically?
Care and Maintenance
Sleeping Bag Shape
1. Rectangular Sleeping Bag
As its name introduces, this sleeping bag is designed with a more spacious rectangular shape. It can provide plenty of rolling space, allowing your body to have plenty of stretches, which is why most campers choose it. In addition to being able to sleep and use it, they are usually able to fully open the zipper, which can then be used as a blanket for two people and is a good choice in the cooler summer months.
It is worth mentioning that most rectangular sleeping bags are heavier, more troublesome to carry, and not easy to pack into small packages. So it is not suitable for those traveling away from the car.
2. Mummy Sleeping Bag
Unlike rectangular sleeping bags, the Mummy sleeping bag removes material from the shoulders, hips, and feet to mimic the shape of your body, for which it is named. This more body-friendly design can fully maintain internal warmth and prevent hot air from escaping while minimizing the entry of cold air.
Unlike the rectangular sleeping bag, it will be more convenient in storage. You can pack it into a package, and the lightweight will not bring pressure on your trip. If your destination is in a cold area, then the mummy sleeping bag will be a good choice.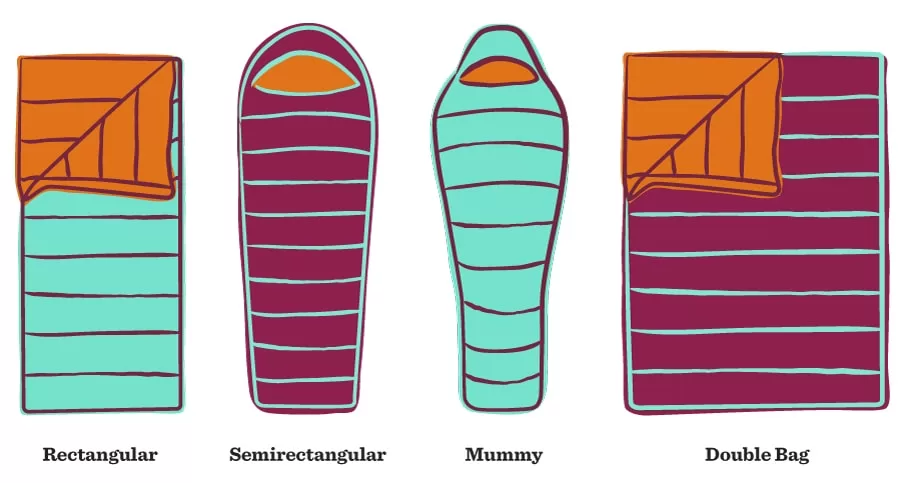 Temperature Level
If you are careful enough, you will find that these sleeping bags will have a temperature rating. This is to give you a reference target that you can use as a basic guideline for outdoor travel. Find out the local minimum temperature at night before camping and then pick the right sleeping bag based on that number. What you need to know, however, is that the temperature rating is closer to the extreme temperature, which is the maximum temperature you can tolerate, than to the comfort temperature.
One thing you need to make clear, though, is not to consider these temperature ratings as hard facts. Because this certification is not cheap, some brands will give it up for this reason. And different brands have different rating standards, and there are differences in the determination.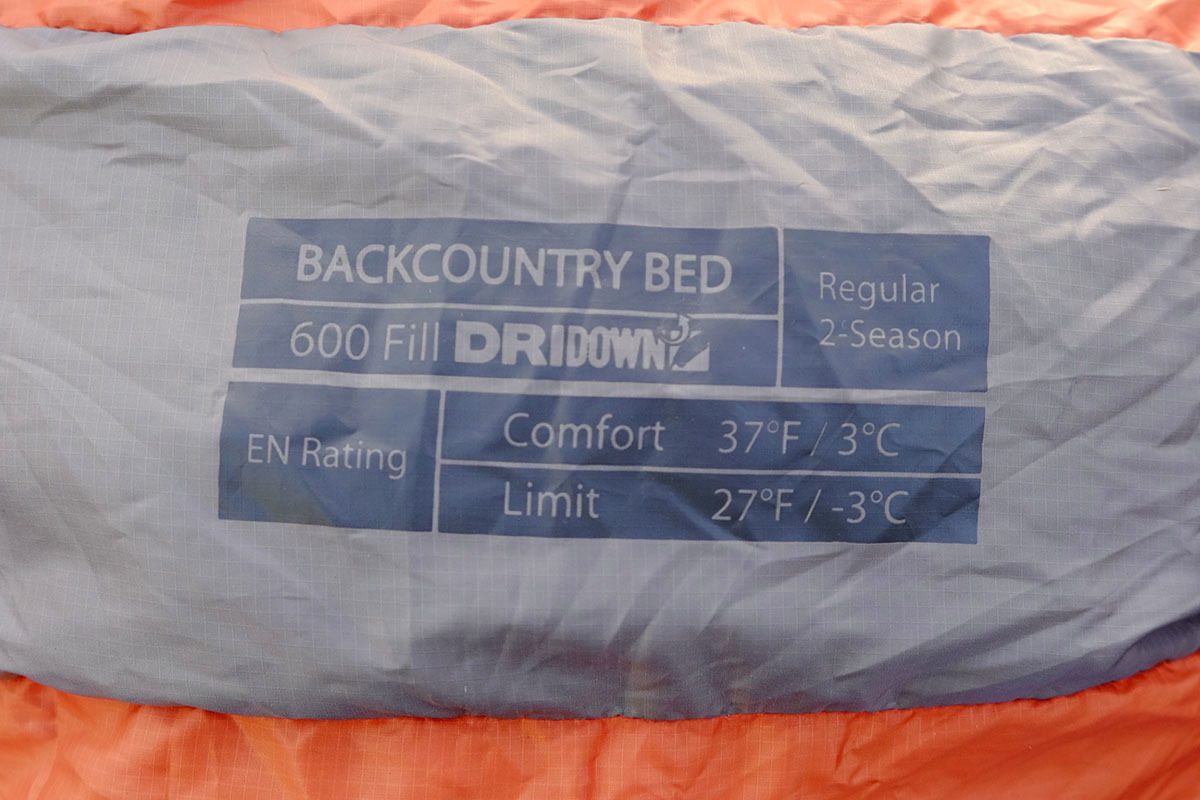 Down and synthetic insulation
For camping sleeping bags use materials are generally divided into two kinds, synthetic fiber and down materials. Generally speaking, down has a better warmth effect, in weight is also more lightweight. You can fully compress it, very convenient in carrying. It is because of its excellent warmth-to-weight ratio, making many campers are very popular. However, you need to note that it is much more expensive than synthetic materials, which makes it only appear in the more high-end products.
Synthetic insulation, on the other hand, dominates the low and medium end of the range by its affordability. In addition to its cheaper price, the most important thing is that it has excellent performance in the face of wet weather. It does not lose its fluffiness because of moisture and dries quickly even when wet by rain, which is something that down cannot match. The disadvantage is that it is not as warm as down, is heavier and less compressible, and has a relatively shorter life span.
Need an extra mattress?
If you are now in a warm season and the temperature at night is not very low, then the need for a mattress is not high. But you can still choose it, will bring you a softer sleep.
If you are in the cold north, then you know how important an extra mattress can be. The thickness of the tent and sleeping bag doesn't do a very good job of blocking out the cold air on the ground during very cold nights. Also, you will compress the insulation, which will affect its ability to keep you warm. And that's when you need to choose a sleeping mattress that is warm enough.
For mattress selection there will be an R-value rating, the higher the value the better it will be at blocking out the cold. As a general guideline for use in all three seasons, we recommend using a rating between 2.5 and 4. If you want to have a better understanding of mattresses, see our article on mattresses.
Do I need to buy a double sleeping bag specifically?
Many people struggle with whether buying a double sleeping bag is going to be more cost-effective than two separate sleeping bags, and it depends on your own choice. A double sleeping bag doubles in width, it can accommodate two campers sleeping side by side, and it can bring you two close together. This is a great option for couples or couples to increase their bonding.
There are also double sleeping bags on our list, which are spacious enough and comfortable enough to sleep in. If you happen to need them, they are worth a try.
Care and Maintenance
The sleeping bag is not a disposable item, so you need to know some basic maintenance knowledge after you buy it back, so that it can have a longer use time.
First, try to sleep in your clothes and make sure they are clean. Because over time, the body produces oil and sweat will destroy the bag lining and reduce the service life. And this is not only to protect your sleeping bag but also for your health considerations. When you no longer use the sleeping bag, you need to open it and store it from the inside to the outside, which can reduce the smell inside and facilitate the next use.
Secondly, when storing, you need to be careful not to compress any type of sleeping bag. This will destroy the overall fluffiness, making it less warm. And it needs to be fluffed in advance before use to ensure maximum warmth.
In terms of cleaning is particularly important, you need to pay attention to its material, you can not randomly machine wash, which will damage the material inside. The best way is to hand wash, although that will take a lot of time. And please do not heat directly after cleaning, air dry can be done.
Conclusion
Thank you very much for reading this article, these 12 sleeping bags are carefully selected and tested, to bring you the most detailed content. For camping sleeping bags related issues we have also made a detailed answer, I hope it will help you.
Learn More: Top 10 Best Camping Mattresses [2023]
Finally, if you like our content, feel free to share it with your friends! If you approve of our content, you can click the email subscribe button below!