We use affiliate links and may receive a small commission on purchases.
We've selected 10 best camping tents for your reference.
Buying a tent is the very beginning of what people expect from camping! Our team has a wealth of imagination and over a decade of camping experience. Whether it's a single-day camping trip in the park or a long multi-day traversing trip, our experience provides us with the rigorous expertise to make your shopping easier. While many tents claim to do this, the difference between good and bad can only really be felt in actual use.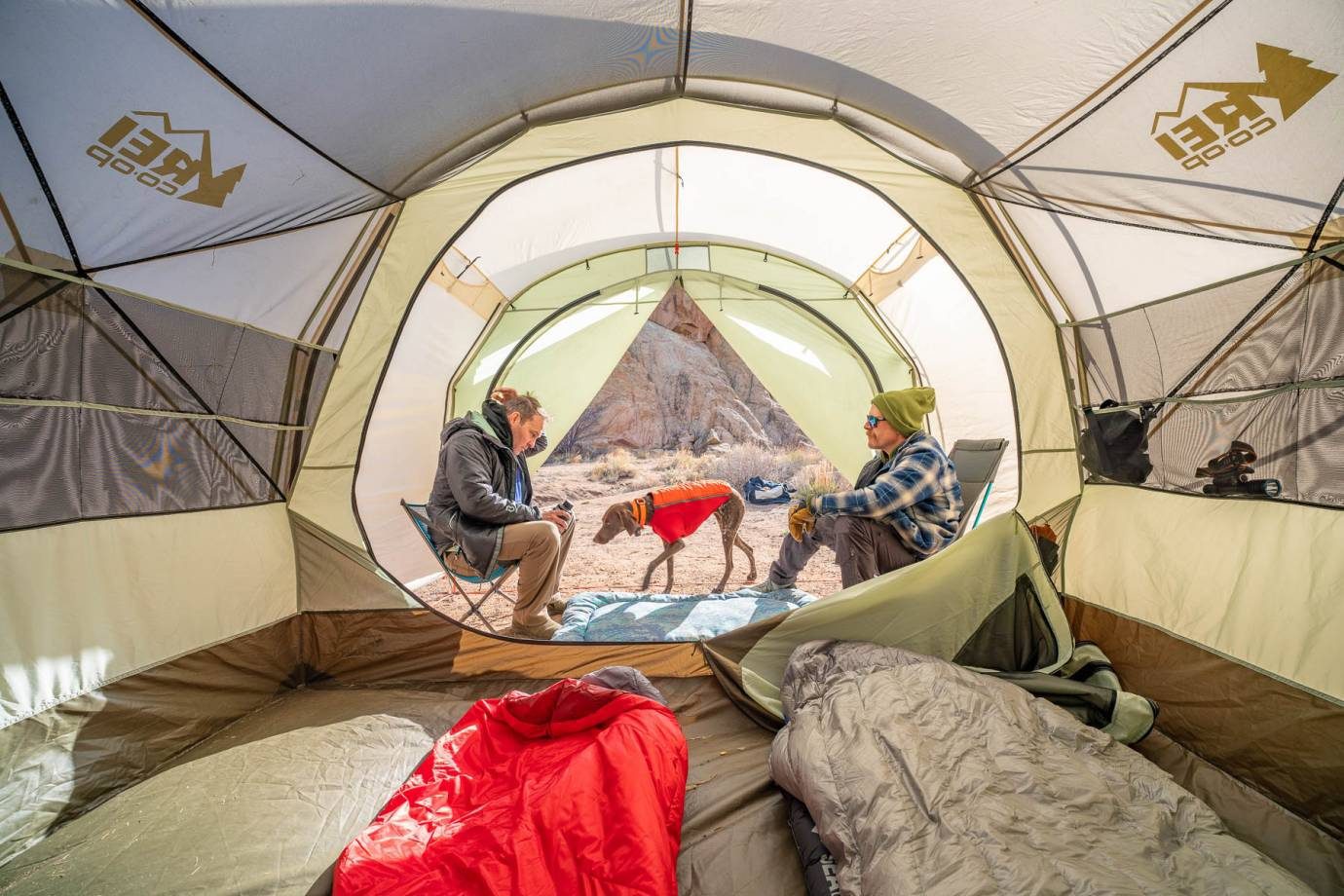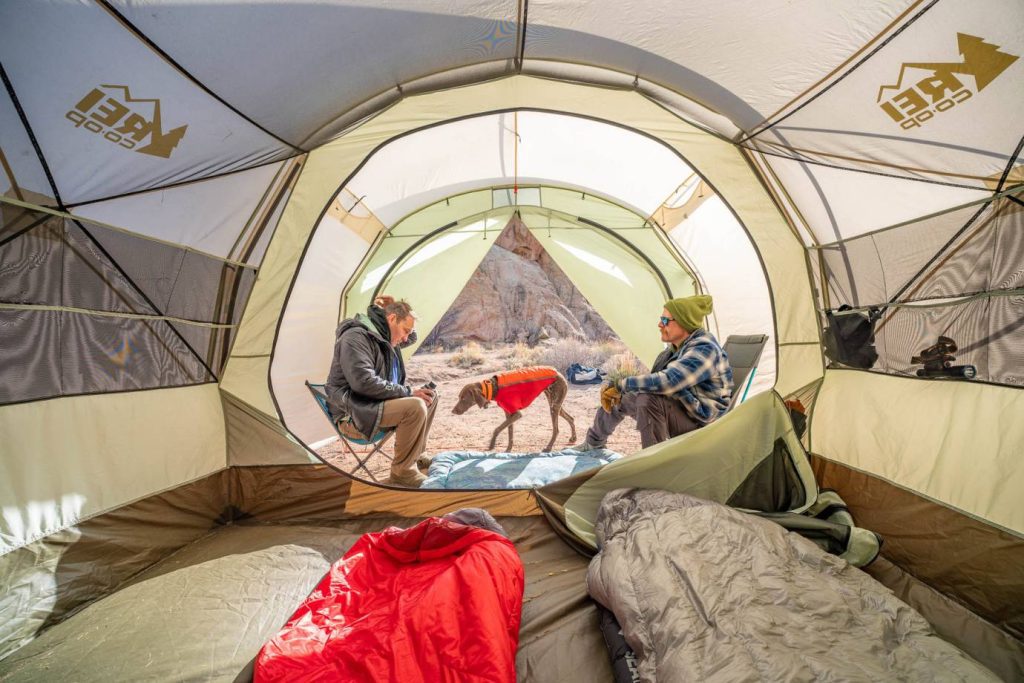 For those who simply need a picnic in the park, a fine and beautiful tent not only makes for a very nice photo shoot, but also provides a place to nap, protection from the sun and rain, and other functions. Moreover, the space is often very large and can accommodate an entire family to live and play. If you need such a large tent, you may want to read on.
It's worth mentioning that we focus on weather resistance, comfort, and easy-to-set-up extras. In this article, we focus on finding the best family picnic tents for 2023 that can give you a sophisticated and comfortable picnic experience. This also means you can take the whole family to the green pastures of the countryside and have a happy and perfect vacation. If you like our articles, feel free to subscribe to us for the most up-to-date information on new reviews!
2023 Best Camping Tents List
REI Co-op Wonderland X ($1249)
The North Face Wawona 4 ($400)
Tepui Ayer ($999.95)
Core 9-Person Instant Cabin Tent ($299.99)
OZTRAIL 12-PERSON DOME TENT ($499)
OUTDOOR CONNECTION BEDARRA 2R DOME TENT ($699)
Big Agnes Big House 6 ($480)
Coleman Montana 8P ($152.96)
Kodiak Canvas Flex-Bow Deluxe 8 ($759.99)
OZTRAIL GENESIS 9-PERSON TENT ($199)
1. REI Co-op Wonderland X ($1249)
Building Area: 70.5 sq. ft.
Peak Height: 75″
Capacity: 4P
Weight: 35 lbs. 1 oz.
What we like about it: Large area for cars, gathering party area.
What we don't like about it: The large area is expensive.
This is a very large and unique tent that is incredibly spacious. It is designed to be a four-person car camping tent, but the REI Co-op Wonderland X is much more than that. The interior's unique sleeping area and long aisles provide extra floor space and perform perfectly when it's windy or rainy. Other than the sleeping area other parts are large gathering space that allows for easy gathering and daytime living. It is worth mentioning that this area can stop a small car in its entirety.
But it's too big for smaller campgrounds and more expensive. If you're a simple three-person family camper, check out The North Face Wawona 4 below, and for those who need a picnic party or those who need to park their car inside the tent, I think this is the perfect size for you.
2. The North Face Wawona 4 ($400)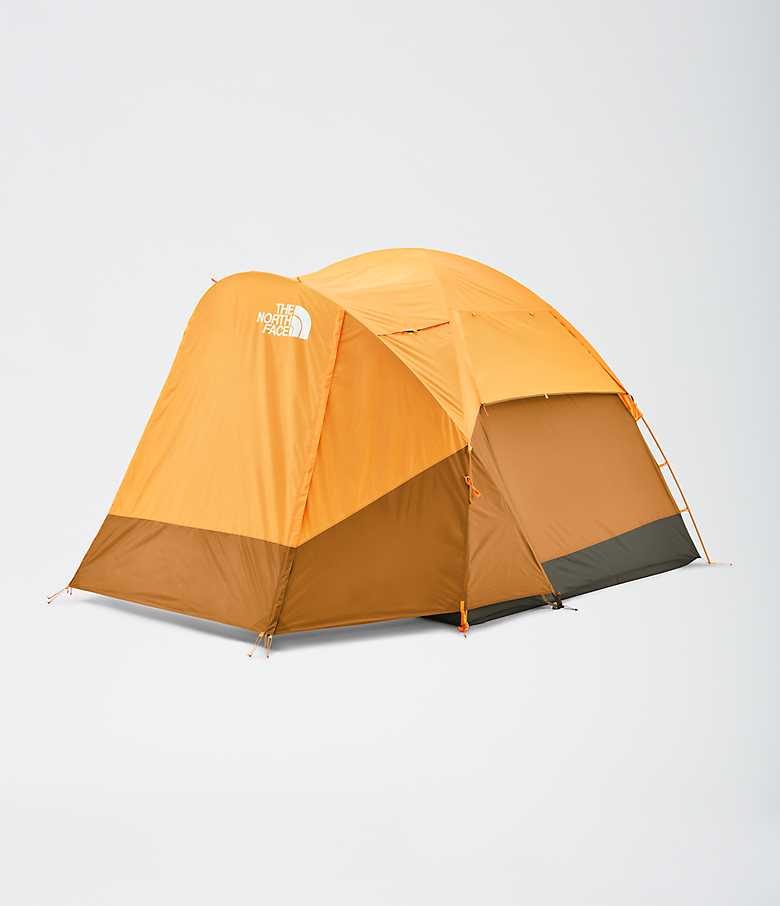 Building Area: 58 sq. ft.
Peak Height: 78″
Capacity: 2P,3P
Weight: 13 pounds
What we like about it: Comfortable height, lightweight and small size.
What we don't like about it: There is no separate fabric covering the back door.
From single to double, the redesigned poles make it easier to set up and are worth the upgrade. The large front door and a small door at the back allow for easier air circulation and great breathability. The overall height is very high, so that the space is not too depressing when camping, while you can easily walk around the tent and set up the camping tools outside the door to start the holiday easily.
One downside is that nothing is covering the back door. The back door of the exterior tent is set up with waterproof zippers, but I'm concerned about whether it will be able to carry heavy rain. If you need a camping tent for harsh conditions check out the Kodiak Canvas Flex-Bow Deluxe 8. But this is just the right size for a small tent for a family outing, while the stowed size can easily fit in the trunk of a car and be carried to camp easily.
3. Ayer ($999.95)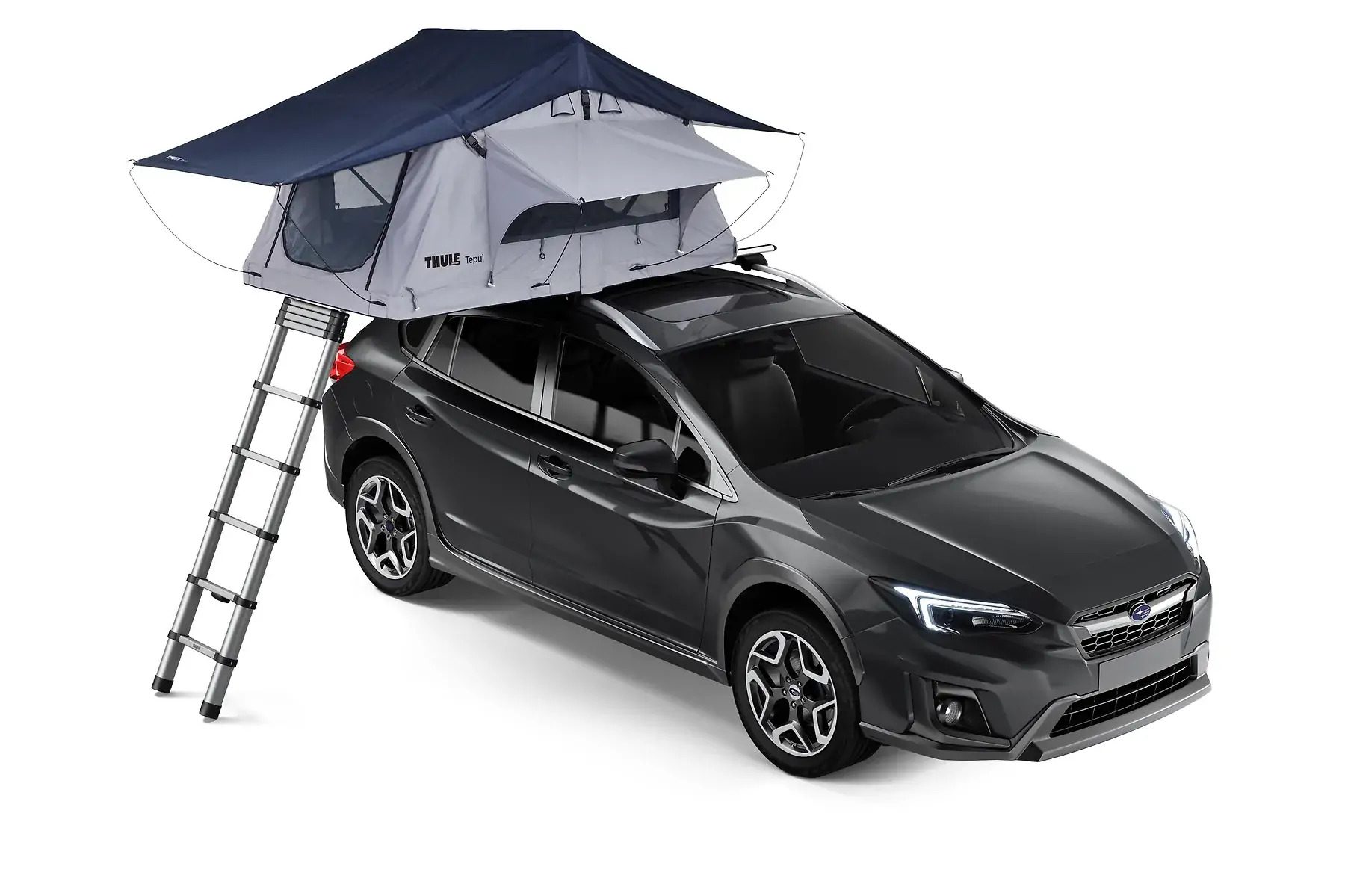 Building Area: 136 square feet
Peak Height: 92 cm
Capacity: 2P
Weight: 45.5 kg
What we like about it: Innovative design, easy to store isolated from moisture, and does not take up trunk space.
What we don't like about it: Be careful to empty the tent when storing it, otherwise it will be easily damaged.
This creative car roof tent has a flip-up design that is very easy to put away and open, and won't take up your trunk space. It redefines car camping and is very waterproof and breathable, while wet ground won't bother you at all. The high-thickness foam bedding also eliminates the need for you to carry extra resting pads.
When you need to drive or put away the tent need to empty the tent, otherwise it will not be stored or the tent will be damaged. But this is a novel design, you can isolate the ground from the cold and crawling insects, while also eliminating the lack of storage function of small cars, and get a very comfortable holiday experience, ideal for 2-3 people on short trips.
4. Core 9-Person Instant Cabin Tent ($299.99)
Building Area: 14 ft. x 9 ft.
Peak Height: 78 inches (6.5 feet)
Capacity: 9P
Weight: 37 lbs
What we like about it: The tent pole pre-link is very easy to lock and build.
What we don't like about it: It's very large, and probably smaller family cars won't fit in the trunk.
It looks very big, but it is very fast to set up. The H2O Block technology allows the waterproof fabric to be taped together at the seams, making it waterproof. If you're traveling with two families, the divider included with the product will split it into two rooms. If more people are camping, you can also remove the divider to accommodate nine adults sleeping at the same time.
Honestly, the size is very large and this is due to the large size when stowed due to the pre-chain connection to the tent pole. If your car is of the smaller type, it may not fit in the trunk; be sure to measure the size before you buy to avoid trouble. If you are not traveling with a particularly large number of people, you can take a look at The North Face Wawona 4 can accommodate up to 4 people. But if you're using it for a picnic party use, this sleeping tent for up to nine people is perfect for multi-person trips
5. OZTRAIL 12-PERSON DOME TENT ($499)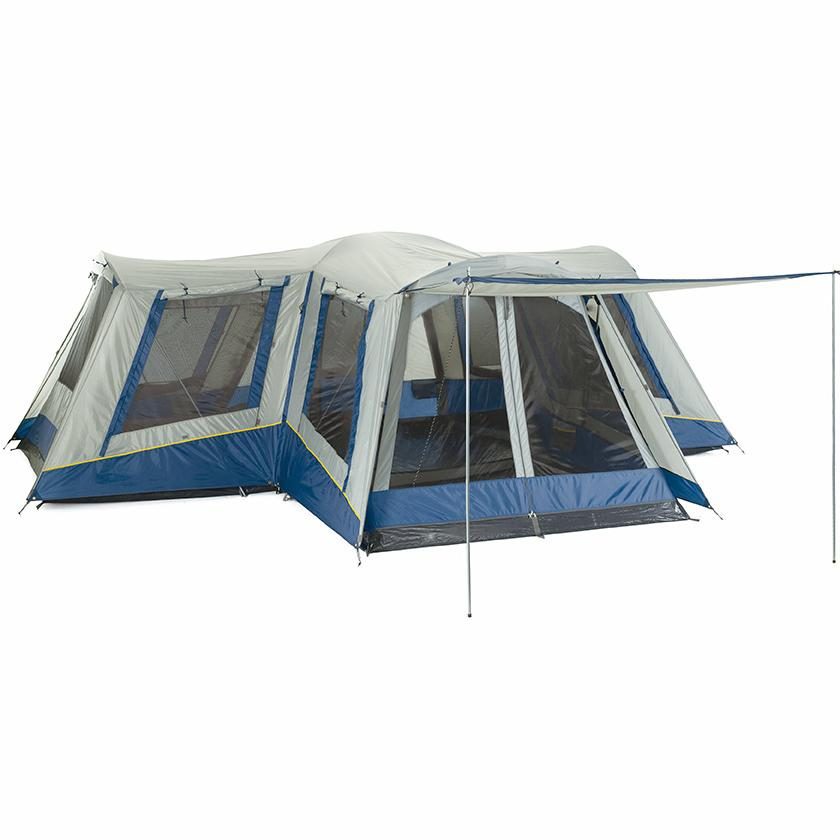 Building Area: Tent floor area: 600 x 420 cm, Bedroom 1-Floor area: 180 x 240cm, Bedroom 2-Floor area: 240 x 240cm,Bedroom 3-Floor area: 180 x 240cm, Bedroom 4-Floor area: 240 x 180cm
Peak Height: 200 cm
Capacity: 12P
Weight: 22 kg
What we like about it: It can accommodate multiple people at the same time and is high enough.
What we don't like about it: The requirements for the terrain and the number of people to build on.
This is an oversized multi-person tent, perfect for multi-person gatherings and parties. The four-room family dome tent is perfect for growing families, with two bedrooms divided by a central living room that LEADS onto an all-weather insect-screened sunroom with large awnings on all sides. all-weather control is possible through a system of front doors, back doors, and windows. Portico bars allow for adequate head height to be maintained throughout the length.
The terrain requirements for setting up are very high and it requires a minimum of two people to set up at the same time. If the place you want to camp does not have such a large flat surface, then I don't think this is a good choice. But for picnic-style camping in the park, I think this tent is perfect. You can open the curtain to let it ventilate on all sides, while also protecting it from rain and UV rays, making it a quality choice for multi-person gatherings.
6. OUTDOOR CONNECTION BEDARRA 2R DOME TENT ($699)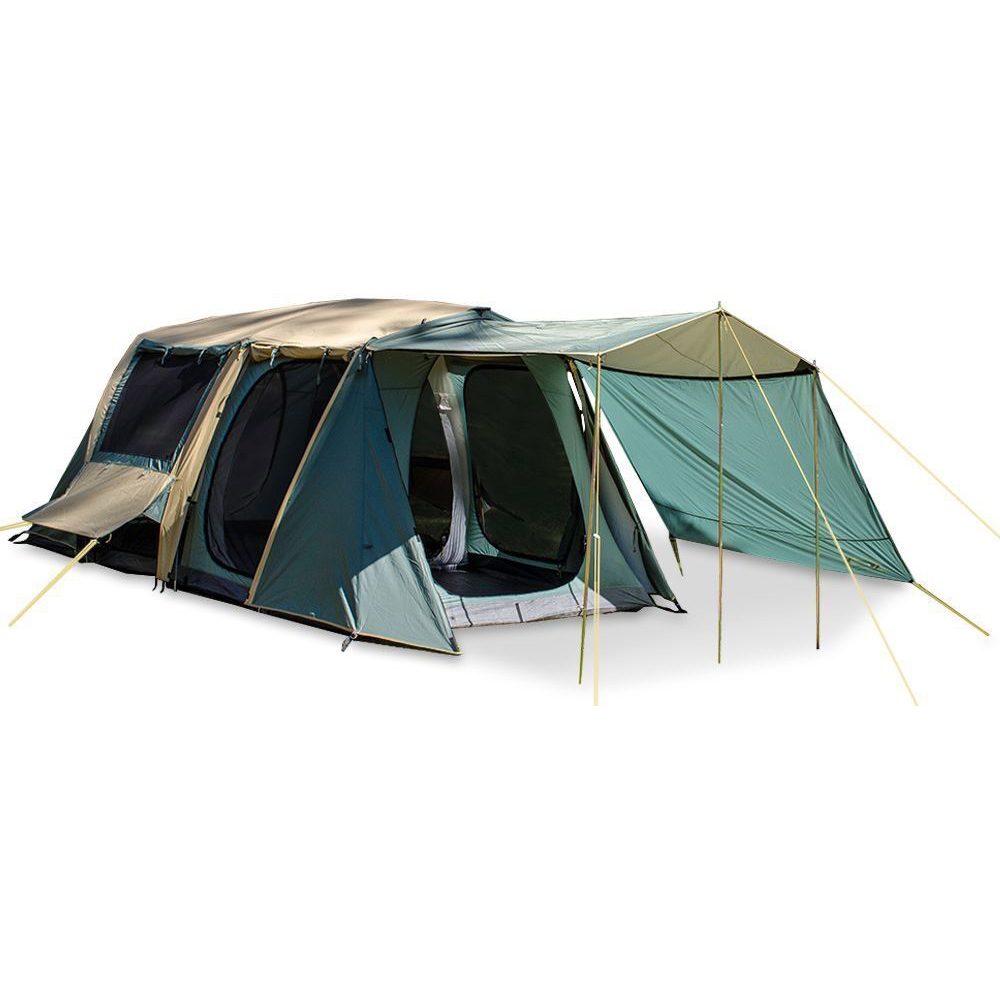 Building Area: 500x270cm
Peak Height: 210cm
Capacity: 8P
Weight: 24.8kg
What we like about it: Spacious, lots of room, well ventilated for all-day use.
What we don't like about it: The outside room used as a sleeping area gets cold.
This is the two-room tent of the OUTDOOR CONNECTION Premium Resort Collection. The spacious bedroom is equipped with unique Ventraflow panels, two large floor-to-ceiling windows, and "Omega" shaped doors to provide maximum heat dissipation during the hot summer months. Moreover, the high-strength material and the waterproofness of over 3000mm+. So it is perfect for families that need enough space for up to 4 adults. Provided that you are willing to use the second grid room as a bedroom.
The room in front has mesh vents for ventilation, so when multiple people use it as a bedroom, it can get a bit chilly in winter. If you have camping needs for more than 4 people, we recommend taking a look at the Core 9-Person Instant Cabin Tent above. However, the design of this tent is perfect for family camping with 3-5 people, and the front area can be used as a living room for convenience.
7. Big Agnes Big House 6 ($480)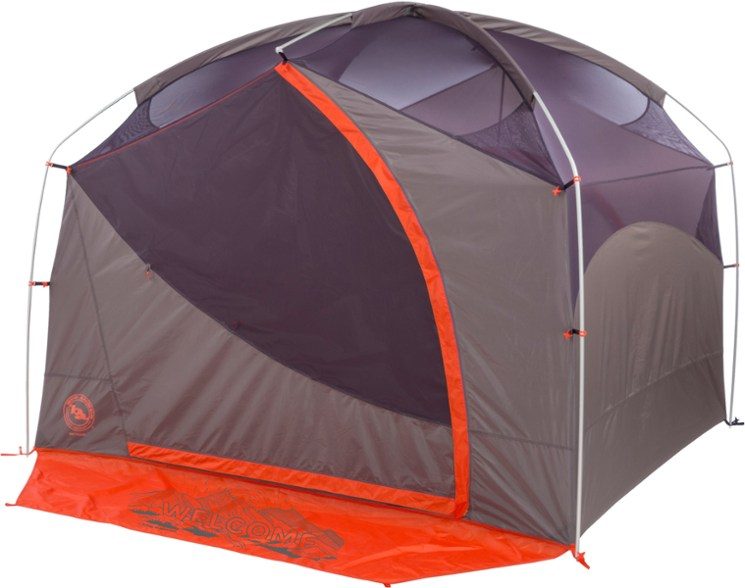 Building Area: 83 square feet
Peak Height: 81″
Capacity: 6P
Weight: 16 lbs. 7 oz.
What we like about it: Large capacity, ventilation, and breathability.
What we don't like about it: Windproofness is not particularly strong.
Large capacity and the same ability to stand up. The design is often difficult to get up in traditional multi-person tents, but this tent is designed to be very square, just so campers can stand up easily in the tent. The two large, smooth, openable doors have a mesh design and can be used for ventilation only, or pulled completely up on the polyester layer to close completely for warmth. The windproof flaps and shelters overhead are designed to be perfect for opening in hot weather.
However, the windproof is not particularly strong. If you are constantly faced with extreme weather, this non-aerodynamic square tent may be subject to accidents due to high winds. In addition, this tent can be easily set up by one person, making it an excellent choice for sleeping at family gatherings or just using the tent for a quick shade in an open space.
8. Coleman Montana 8P ($152.96)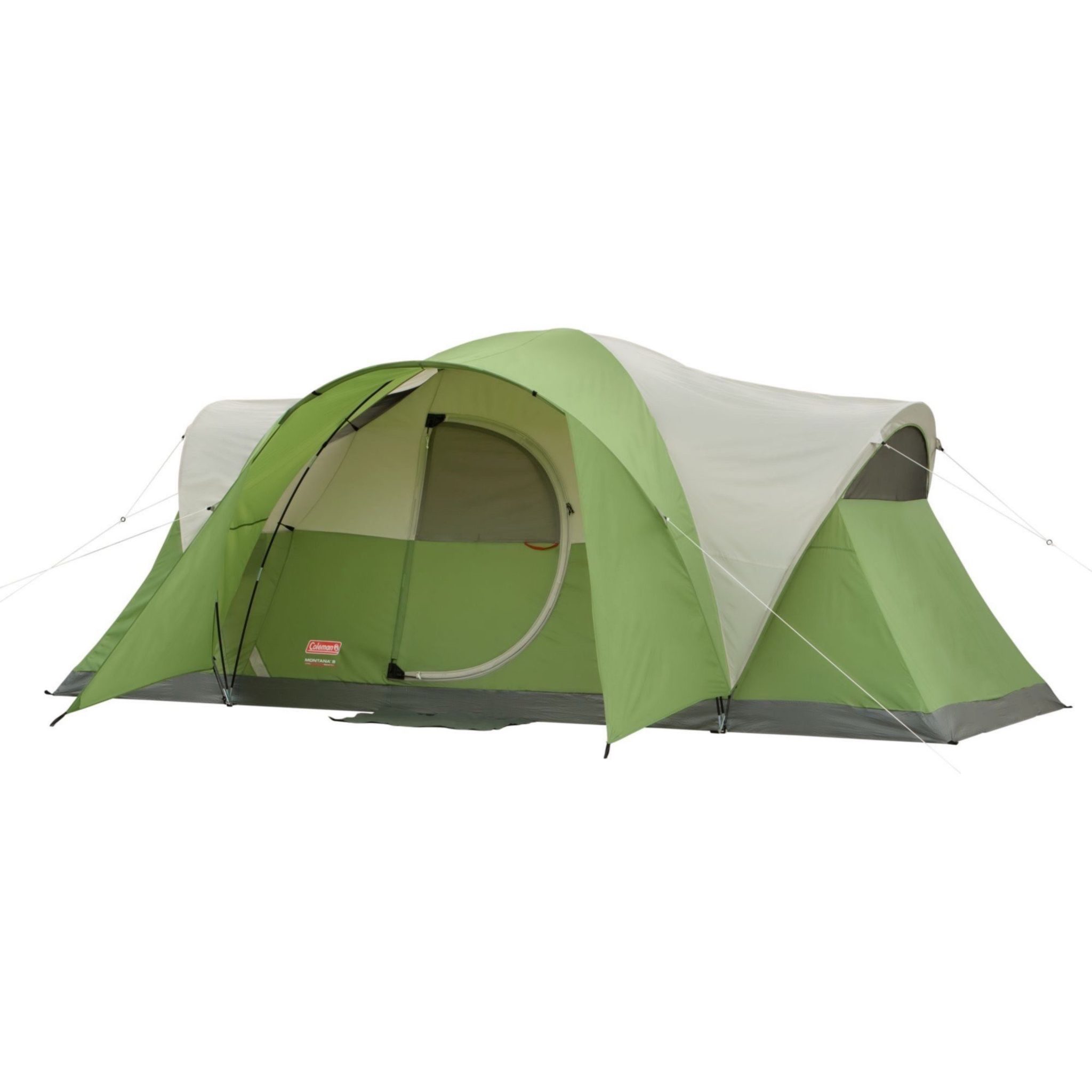 Building Area: 16 ft. x 7 ft. x 6 ft. 2 in.
Peak Height: 5 feet 8 inches
Capacity: 8P
Weight: 26.9 lbs
What we like about it: Affordable price, aerodynamic shape.
What we don't like about it: The possibility of getting water in a storm.
Many affordable tents compromise on interior space, but it doesn't. The 8-person maximum capacity boasts a maximum height of 74 inches, and the near-vertical walls make for a very roomy upper section as well. The aerodynamic shape is designed to make it surprisingly sturdy in high winds. And the price is so right that you simply pay the price of a traditional 2-3 person tent to get a tent that can house up to 8 people.
I have to warn you that the tent seems to be somewhat prone to water ingress during stormy weather and we don't recommend you use it in stormy weather. However, in the absence of wind, even with very heavy rain there was no water ingress whatsoever. On a sunny day, less than $200 can be obtained to provide a comfortable tent supporting a maximum of 8 people living, or a very good deal.
9. Kodiak Canvas Flex-Bow Deluxe 8 ($759.99)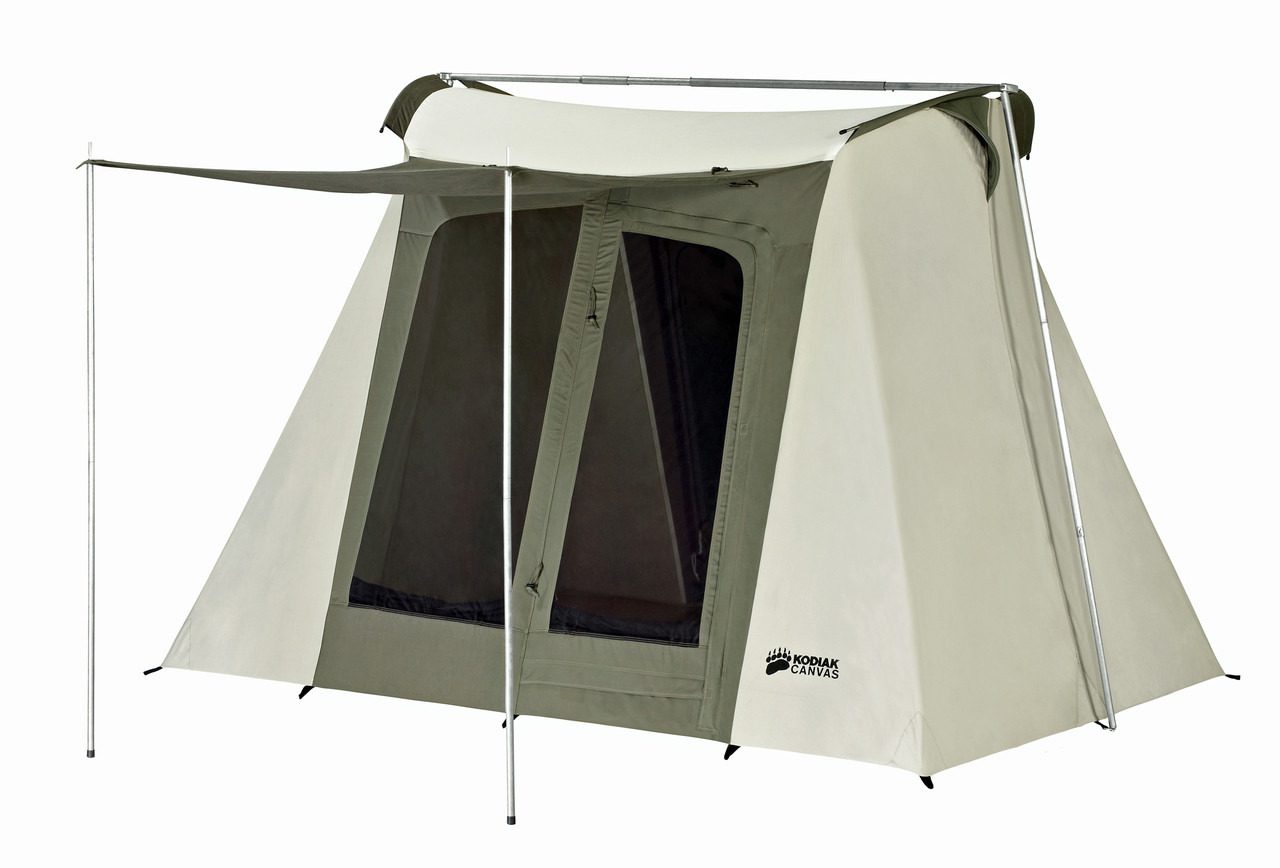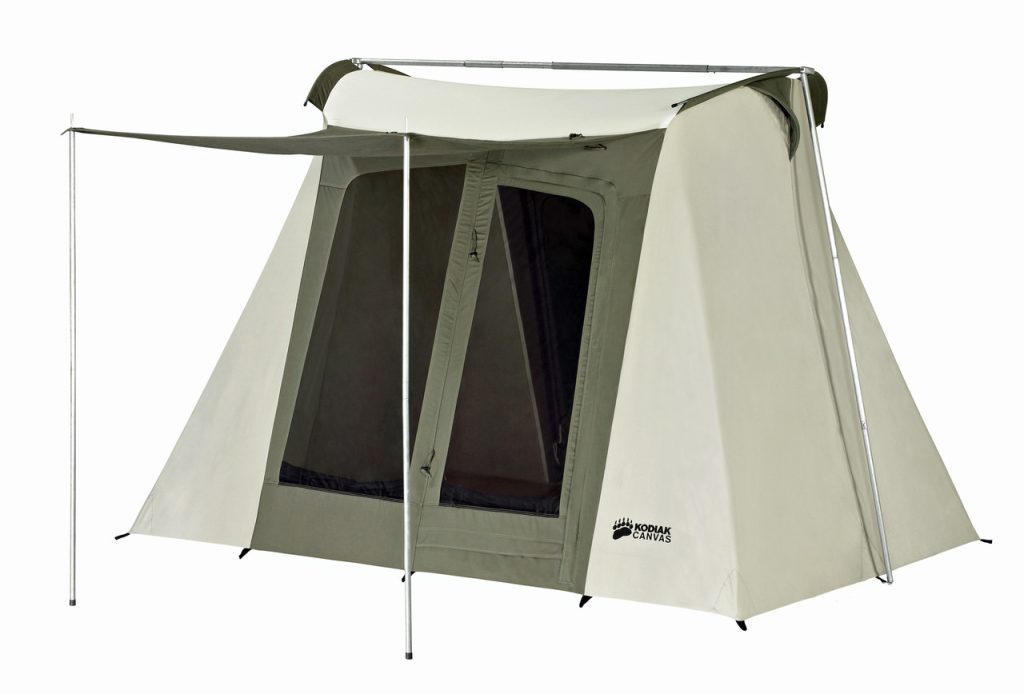 Building Area: 140 square feet
Peak Height: 78 inches
Capacity: 4P
Weight: 79 lbs
What we like about it: Exquisite and durable tarpaulin, waterproof and fireproof material.
What we didn't like about it: The canvas was thick and heavy and very large.
The tent differs from traditional tents in that it is constructed using just one unique piece of canvas, a material that can withstand high winds, severe precipitation, and rough use. In addition, it is equally good at storing warm air and ventilating and breathing in cold times. With gates on both sides, it is beautifully shaped to be a beautiful sight in campfire camping and can accommodate up to 8 people at the same time.
But it also has the obvious disadvantage that the canvas is thick and heavy and will take up a lot of your trunk space. If you want a lightweight and easy-to-store design you can choose the Coleman Montana 8P. Although it is not for everyone, especially those who need lightweight. But it is an interesting option for large families or in the form of a base camp tent.
10. OZTRAIL GENESIS 9 PERSON TENT ($199)
Building Area: 560 x 270cm
Peak Height: 195cm
Capacity: 9P
Weight: 15kg
What we like about it: It is suitable for families or group gatherings.
What we don't like about it: Awning poles need to be purchased additionally.
This tent is ideal for large groups or families who need plenty of room to stretch out. It features three large interior areas, two private bedrooms separated by a central living area, extra high ceilings, and large rear and side opening windows that allow for quick airflow. In addition, the front awning can be raised with tent poles by opening the door to the hall room.
The awning poles need to be purchased separately, which is another cost to me, and takes time to find a matching tent pole. I'm hoping for some improvements in the next generation. But other than that, I can't seem to find any flaws in such a spacious and affordable tent. The spacious and comfortable interior and impressive head height are what keep it popular with campers.
How to choose the most suitable camping tent?
How to choose the most suitable camping tent?
Weather resistance
Construction materials
Coating
Ease of use
Additional Features
Price
Take care of your tent
What else do you need?
How to choose the most suitable camping tent?
To help you understand what kind of tent is best for you, we've considered five types of tents: weather resistance, comfort, ease of set-up, special features, and price. For some campers, each of these points is important to know what kind of tent you should choose when, and where.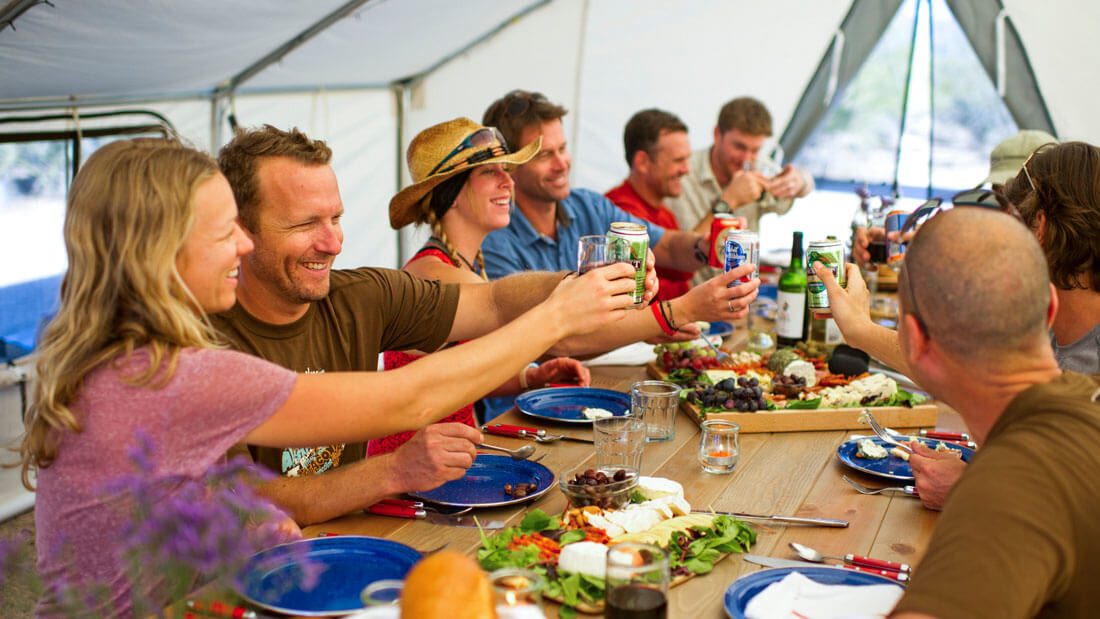 We have another guide to the best hiking tents, focusing on lighter, smaller tents for those wilderness adventures, and here we are more concerned with those car camping tents for prosthetic camping, which are larger, can be more complicated to set up, and are beautifully shaped for family outings, for those adventures where outings are within reach and tent weight doesn't matter.
1. Weather Resistance
This is one of the major reasons why people are investing more money in tents. The most basic tents are perfect for those days when the air is pleasant and can even handle some light rain and lesser winds. If you plan on camping in those stormy conditions, it is worth spending more money on a sturdy and waterproof tent. Premium tents have a more windproof tent, complete with a rainproof outer tent and sealed seams.
If you think these things are less important, then you shouldn't feel that way after you've been through a storm of epic proportions.
2. Construction Materials
The weather resistance of a tent is determined to a large extent by its construction material. Nylon and polyurethane materials are common materials used in car routing tents.
Nylon: Stronger, more wear-resistant, and can be stretched to some extent. But there is bad news, nylon material will absorb a certain amount of water under prolonged rain. The water it absorbs will cause your tent in a storm will increase the weight and fall or even collapse.
Polyester: Less elastic, so this material is not very resistant to tearing. However, this rigidity performs very well in wet conditions. Not only is it more waterproof, but at the same time, it does not make the whole fabric bulky because of water absorption. But you need to be careful not to be scratched by sharp objects when using it, it will quickly overall damage.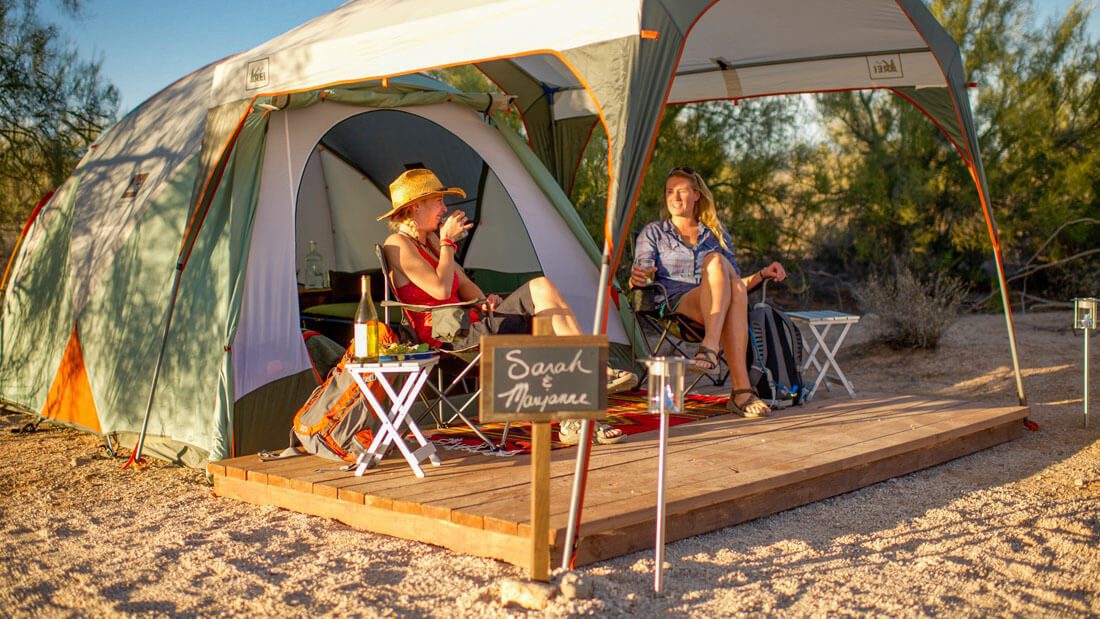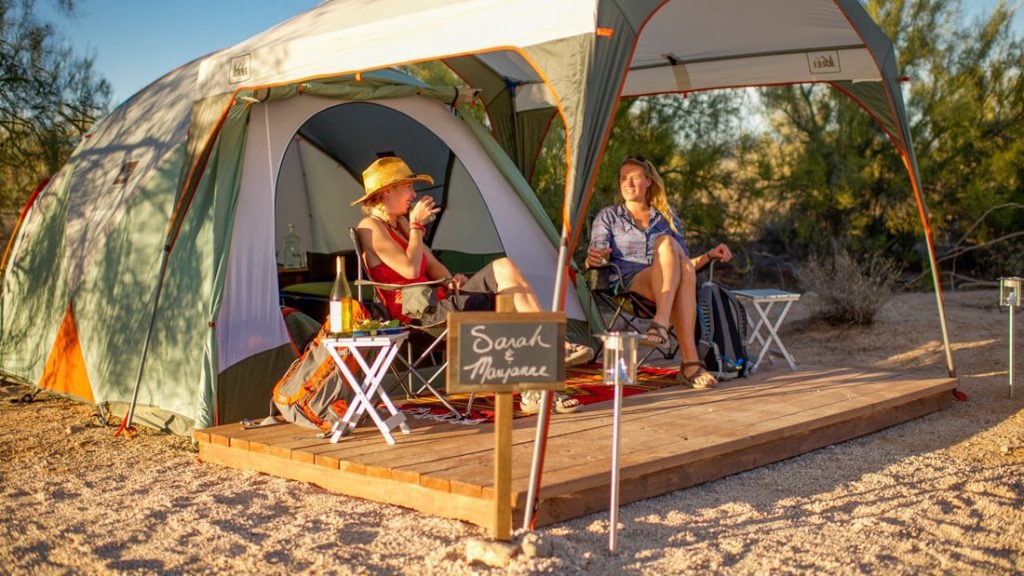 3. Coating
Manufacturers usually coat these fabrics with Sil, PU, and PE coatings. And these coatings tend to have their advantages and disadvantages.
PU: The vast majority of brands choose PU material. Because it has been for a long time, it is the classic not easy to go wrong material. However, after a long time of exposure, this material will be a little degree of water absorption. This also makes it more prone to cracks in the fabric surface volume expansion, which leads to a decline in life and will also appear moldy.
PE: This material has good water repellency and will not produce cracking from water absorption. This does reduce tearing but is not common.
Silicone: It is the most waterproof of these three materials, but it does not bond well with the fabric and is expensive. It differs from PE and PU in that silicone increases the tear resistance of the base fabric, and some tents use silicone in combination with PU.
4. Ease of use
Because of their very large size, some camping tents can be very large and difficult to set up, some requiring at least 2-3 people to complete. One thing we learned while doing the review is that it's not worth it to deal with tents that are poorly designed. It took too much time and effort to set up and cost me a lot of fun in the outdoors.
No matter what the purpose of a tent is, usability is an extremely important performance. Almost every tent on this list can be set up by 1-2 people.
Additional Features
One of the extra features of a camping tent is its storage function. Because when camping, you have to put almost all of your equipment inside the tent to prevent unscrupulous people from coveting it. Especially a lot of small things, you can not be placed in the bedroom bedside table drawer as usual, when an extra small storage bag is particularly important.
There's nothing like rummaging through a tent to find a headlamp. But luckily, the vast majority of family tents come with a bunch of pockets to help keep things tidy.
Price
The amount of money you spend on a tent often has a lot to do with how often you use it. If you're camping every weekend, spending more than $500 on a tent is a worthwhile endeavor. And if you need to stay out overnight with your family during those cold, snowy months, then you may need to spend more money to buy a good tent.
On the other hand, if you're just new to camping or you just do a few camping trips during your vacation each year, then I think the cheapest Coleman Montana 8P on the list will do the job, and it's a very economical choice.
More expensive tents tend to use more durable and corrosion-resistant materials that can last you up to a few years or even a dozen years. But on top of those more affordable tents, the poles are replaced with fiberglass from aluminum, and other materials may be compromised. So you may find that it has been damaged and rotted after two or three years.
Take care of your tent
We've discussed various aspects extensively about how to choose a tent, but it doesn't end when you take it home. You must understand how you can extend its life so that your next tent doesn't empty your wallet too soon.
First of all, don't get it wet. I mean after the rain, please dry it in a dry and ventilated environment before storing it away. Sun exposure may cause the coating to crack, and long-term wet storage will lead to the proliferation of fungus and mold. These organisms can damage the tent's fibers, making it age faster and smell bad.
What else do you need?
Depending on the camping situation and your usual style, camping situations can range from minimalist to sophisticated and rich, including a kitchen sink. In addition to the tent, you must bring a sleeping pad and sleeping bag so that you have the most basic sleep. Of course, you can also choose a more high-end camping pillow and camp bed.
Next, you'll want to consider your kitchen facilities. A good camping stove can give you a different cooking experience, from the simplest fried eggs to dishes seen on high-end restaurant menus. If you only need to boil water, then a simple camping stove is all you need.
For a casual camping trip, you may need a comfortable camping chair or a camping hammock to make you cozy and enjoy your vacation time. Don't forget the camping lights, it may seem like a lot to remember, but setting out a camping checklist can help you find what you need.
Attention
Different materials and prices will suit different usage scenarios and you need to consider the terrain you are using and the distance you need to carry it on your back. This article focuses on the best car camping tents, you just need to pull them from the parking lot to your campsite. So weight is not the primary consideration. If you want a hiking tent that you can fit in your backpack, check out our recommendations for the best hiking tents in 2023. To do this, we've found the ten best camping tents on sale. Whether it's the material, the aesthetics of the look as well as the stability of the windproof and portable three-person sophisticated tent, there's one that's perfect for you.
Conclusion
Camping tents are vital for families who are looking forward to holiday picnic gatherings. A comfortable and beautiful camping tent can not only meet the needs of the night but some large tents can also be turned into an open living room for a more high-quality outdoor camping experience. Strong and durable multi-functional tents often bring the most comfortable feeling, but those difficult set-up materials short life of poor quality tents will make the holiday trip into wilderness survival. In short, there is a wide selection of tents, and how to choose a camping tent that best suits you and your family and friends before buying, is something you need to take into account.
If you want more reviews of camping products, such as the 2023 Best Portable Power Stations, which allows all your electronics and electronics to be used with full peace of mind.
Finally, if you like our content, feel free to share it with your friends! If our content is helpful to you, you can click the email subscribe button below!