We use affiliate links and may receive a small commission on purchases.
We've selected the 10 best hiking backpacks for your reference.
For adventurers who love hiking, a suitable backpack is extremely important. Especially for those who trek long distances, comfort and organization are important considerations. Finding the best backpack is the foundation of your hike, and it needs to have not only enough capacity but also be comfortable enough.
For this reason, we have selected the best backpacks in 2023 for you in a vast market, so that you can cope well with either short overnight trips or months-long hiking trips. We have also answered some detailed questions about hiking packs for you, which we hope will be helpful to you. If you are satisfied with our content, welcome to like subscribe to the collection, thank you for your support.
Best Hiking Backpacks List
1. Osprey Atmos AG 65 Pack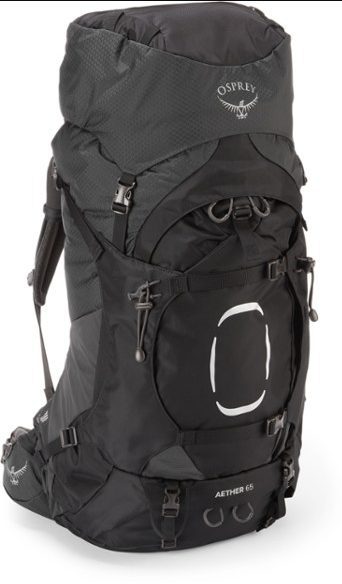 Price: $340
Weight: 4 lbs. 10 oz.
Fabric: Nylon
Capacity: 65 liters
What we like about it: Excellent versatility.
What we don't like about it: The high price.
The Osprey Atmos AG 65 is the top backpack of the year, and it has managed to win our hearts with its excellent comfort and durability. What impressed us the most was the "anti-gravity" suspension mesh back panel, which replaces the traditional foam design to maximize ventilation and bring you cooler on long trips. And the AntiGravity suspension provides an incredible fit, allowing the back to wrap seamlessly around it. The adjustable shoulder straps are designed to provide a perfect fit.
The choice of materials used is recycled and environmentally friendly while also setting up a waterproof finish that effectively protects the contents inside. The multiple pockets are thoughtfully designed to provide more options for equipment distribution.
Honestly speaking the advantages of this backpack is hard to describe in short words, it can be said that there are no disadvantages. The only thing worth saying is that the price is expensive and not everyone can afford it. However, we think this is what you have to pay to enjoy higher-end products. If you happen to have enough budget, then don't miss it.
2. Gregory Paragon 48 Pack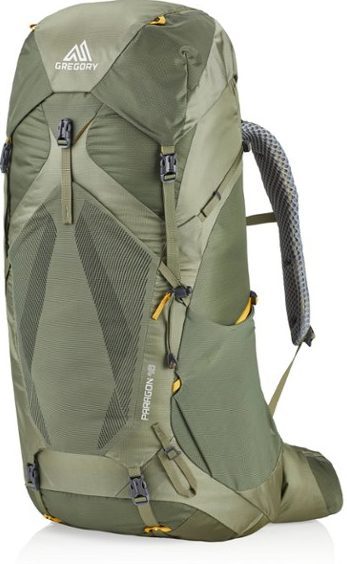 Price: $229.95
Weight: 3 lbs. 8oz.
Fabric: Nylon/Polyester
Capacity: 48 liters
What we like about it: Lightweight backpacking.
What we don't like about it: It's not for larger people.
This Gregory Paragon 48 Pack is designed for fast-paced adventures. Nothing beats it for streamlined hiking. 48 liters of capacity is enough to carry all your hiking essentials, and it features a separate zippered sleeping bag compartment for overnight gear. Perforated dual-density shoulder straps with a chest pocket with hose clips allow you to carry water with you. And the multiple zippered pockets are designed to give you more storage space.
In terms of practicality, the included rain cover provides waterproof protection, and the use of the adjustable waist belt brings a no-hot spot fit and comfort, allowing you to hike more freely.
However, you need to note that in our actual tests, we found that it is not suitable for those with larger bodies, especially those with wider shoulders. This will give your neck a sense of squeeze. Other than that, it is a lightweight and comfortable travel backpack.
3. Hyperlite Mountain Gear 3400 Southwest Pack
Price: $379
Weight: 2 lbs. 2.9 oz.
Fabric: Dyneema composite material
Capacity: 55 liters
What we like about it: Impressive lightness.
What we don't like about it: The slightly simplistic organization.
If you're looking for a minimalist hiking backpack, then this Hyperlite Mountain Gear 3400 Southwest Pack is the one for you. The construction features a distinctive Dyneema structure that allows it to provide incredible water resistance at an extremely lightweight. The beautiful streamlined design is stylish and beautiful, making it the perfect companion in terms of both performance and appearance.
This backpack is made of Dyneema fiber for a tighter and more durable compilation. The sturdy foam back panel and aluminum stays allow it to handle heavy loads with ease. The adjustable sternum strap design allows you to freely adjust the tightness for a more comfortable hiking experience. The exterior of the pack is also designed with 3 sturdy pockets, so you can quickly access it without opening the entire pack, making it more convenient.
It's worth mentioning that its organizational design is very basic, with only the main compartment and a few external pockets for the organization. This seems a bit simple for a backpack at this price point. We think it could be even better, and is uncompromising in the face of rocky canyons and forest streams.
4. REI Co-op Traverse 60 Pack
Price: $229
Weight: 4 lbs. 4oz.
Fabric: 300 D/recycled ripstop nylon
Capacity: 60 liters
What we like about it: It has excellent durability.
What we don't like about it: Only one torso size is available.
If you're a seasoned hiker, you're no stranger to the REI Co-op, which always delivers a higher-quality experience at an affordable price. The REI Co-op Traverse 60 is a versatile backpack that combines durability, comfort, and ease of adjustment.
The material used is ripstop nylon, which is not only recyclable but also has a longer life span. The adjustable back panel gives you a better fit, and the padding helps avoid hot spots and gives you better comfort. For gear management and balance the raverse 60 uses Packmod compression straps to solve this problem. You can mold your pack to the shape of your load to maintain better balance.
What compromises did I need to make to choose the REI Co-op Traverse 60? Truth be told, it is only available in one torso size. Although it has adjustability it is still a bit unsuitable for some users. So before choosing it, you need to measure your torso length to avoid ill-fitting situations.
5. Arc'teryx Aerios 45 Pack
Price: $250
Weight: 2 lbs. 6.4 oz.
Fabric: 100D/ CORDURA nylon
Capacity: 45 liters
What we like about it: It seals well and is durable.
What we don't like about it: The shoulder straps make squeaking noises.
Outdoor enthusiasts are certainly no strangers to this brand, which has long been revered by outdoor users. This Arc'teryx Aerios 45 Pack not only has the durability you need, but the lighter weight support to keep your hike moving forward.
It is made of high-tenacity 100-denier CORDURA® nylon fabric with a liquid crystal polymer ripstop grid, so you don't need to worry about it getting scratched even if you use it a lot on the trail.
Not only that, there is enough space to support you to bring more essentials. One of the breathable shoulder straps has 2 zippered pockets where you can fit your soft water bottle. There are also multiple external pockets. 1 front pocket you can use for quick access to your belongings, 2 stretch mesh pockets and 2 side zippered pockets depending on your needs, you can arrange them yourself. All in all, this backpack is perfect for your easy and quick multi-day trips.
Although it has good performance in all aspects, its shoulder straps made noise during our hike. This made my hike less than quiet. If there was an improvement in this area, I think it would be a great choice for me. Of course, if you'd also prefer a bag that doesn't make noise, you can check out our recommendations below.
6. Granite Gear Blaze 60 Pack
Price: $299.95
Weight: 3 lbs
Fabric: 100 denier ROBIC high tenacity nylon
Capacity: 60 liters
What we like about it: Lightweight and reliable adventure hiking bag, user-friendly design.
What we don't like about it: Water storage bags need to be purchased separately.
This Granite Gear Blaze 60 Pack, prepared for adventure, is an absolute lifesaver for those travelers who are about to go on a long hike. It takes the lead with an impressive 3 pounds, killing the equivalent capacity (60L) of backpacking powerhouses. For hiking, having a fully adjustable Re-Fit hipbelt and molded foam back panel will make the back and shoulders feel both effortless and relaxed. Of course, the role of a reliable Dual-density shoulder harness with load-lifter straps should not be ignored. They can reduce shoulder soreness to the maximum degree and make the hiking process easy.
I like the design of the internal suspension vents. Because it can evaporate the sweat we just secrete, so when people rest in the middle, they will not feel cold because of the blowing wind. When your route becomes shorter, you can also remove the fully removable lid to reduce weight. Of course, you can also use it as a chest bag to make short trips quicker.
Although its hydration pocket with port design is also very convenient for people to solve their thirst needs, we still feel a little disappointed when we learned that the water reservoir needs to be purchased separately. We admit that Granite Gear Blaze 60 Pack is very good, but the additional gift of a water storage bag will make this product more competitive.
7. Osprey Aether 65 Pack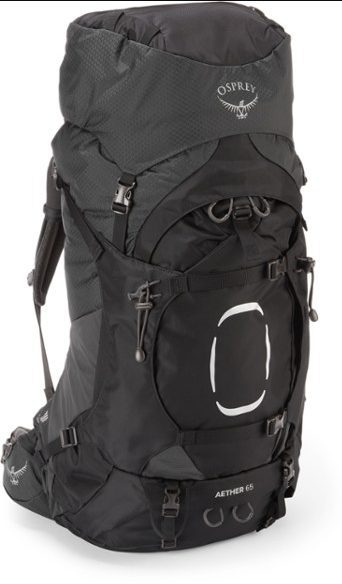 Price: $320
Weight: 5 lbs. 2 oz.
Fabric: 420HD nylon wrap fabric 210 D nylon diamond
Capacity: 65 liters
What we like about it: Excellent tunability.
What we don't like about it: It's slightly inferior to Atmos in terms of performance.
If you're still having trouble finding a pack that fits, you won't want to miss the Osprey Aether 65 Pack, which features an adjustable torso length and custom Fit-on-the-Fly™ shoulder and waist straps to provide the best fit for your hiking experience. The comfortable fit allows you to hike with more power and maintain your balance.
In terms of performance, the same durable water-repellent treatment is paired with the included raincover to provide you with effective protection in bad weather. If that's not enough, the reinforced front push-in pocket can also store rain gear for all-around protection.
The main drawback in our opinion is still the fact that there are only 5 external pockets and they are hard to reach in the waistband stash location. Most people prefer the Osprey Atmos AG 65 Pack, and the price is similar for both. Of course, both are excellent hiking backpacks and you can make your own choice based on personal preference.
8. MYSTERY RANCH Glacier Pack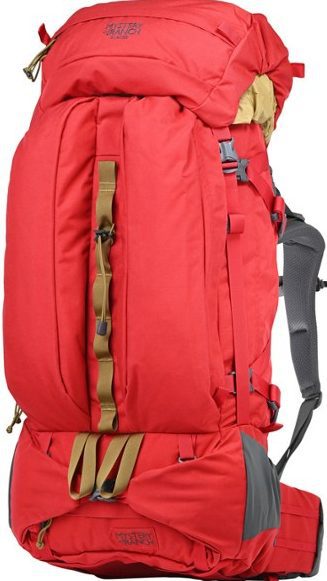 Price: $375
Weight: 6 lbs 6.4 oz.
Fabric: 550 D/Lite Plus Cordura nylon
Capacity: 71 liters
What we like about it: Greater capacity.
What we don't like about it: The heavier weight.
We're confident that the MYSTERY RANCH Glacier Pack will meet all your gear needs, with a massive 71-liter capacity to hold all the items you want to carry. You also don't have to worry about it folding or putting pressure on your shoulders and back. That's because it's designed with four vertical spacers to provide you with enough rigidity and transfer loads when carrying heavier items. On the inside, Speedzip™ compartments provide easy access to the sleeping bag, while on the outside two vertical pockets bring quick access.
It has to be said that the larger storage capacity makes it heavier than most of the backpacks on the list as well. For users who travel long distances, it might add some burden. But we don't think this is an area that needs improvement, because then it wouldn't have such a large capacity.
9. Granite Gear Crown3 60 Pack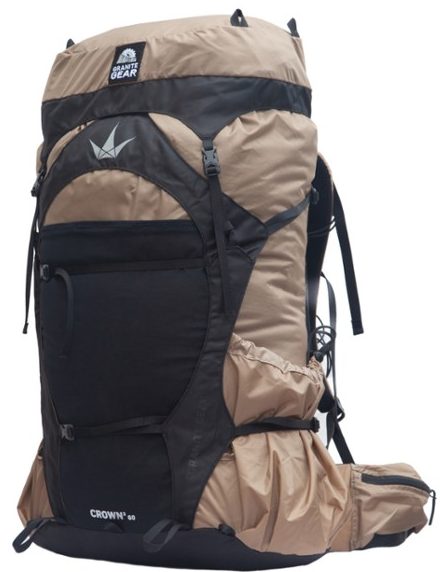 Price: $239.95
Weight: 2 lbs. 4.8 oz.
Material: Robic high-tenacity nylon
Capacity: 60 liters
What we like about it: Rich strap setting system, the top bag can be used as a punching bag.
What we don't like about it: The package is wider and not suitable for those jungle weaving.
After four long iterations of upgrades, the Crown3 has become one of the most affordable and versatile hiking bag options. What I like most is its top bag, which can be disassembled and used as a summit bag when I need to go back and forth for a day for short-distance summiting or sightseeing. And the rolled edge of the top bag mouth can effectively prevent the entry of rain and snow to destroy the contents of the bag. The latest Re-Fit system allows for precise adjustment of my waist circumference, and the optional aluminum bracket can enhance the maximum load capacity of the pack.
The overall width of the pack is wider and may allow surrounding branches to bother it when bushwhacking. If you want a slimmer and more form-fitting backpack, check out the Hyperlite Mountain Gear 3400 Southwest Pack. overall, the extensive expansion system and more strap systems allow you to let your imagination run wild. The summit pack's top pack design also allows you to put most of your luggage in the last base camp before the summit and hit the top fast with it on your back!
10. Kelty Coyote 85
Price: $144
Weight: 4 lbs. 14 oz.
Fabric: Polyester
Capacity: 85
What we like about it: A more economical option.
What we don't like about it: Only one size is available.
As you browse through the hiking backpacks above, are you surprised at their prices? Don't worry, the Kelty Coyote 85 is our pick for the most cost-effective backpack for you. As an entry-level backpack, we appreciate its affordable price and sturdy construction.
There is enough storage space for all your essential gear, and plenty of external pockets to give you a neater organization. In terms of convenience, it's just a matter of reaching out and getting it. In terms of breathability, it's just as good, with the Amp Flow ventilated back panel keeping you cool and dry at all times on long trips in the wilderness. This is a large-capacity backpack for family use.
What makes us complain is that this backpack is only offered in one size option. This also means it's hard to fit comfortably. Combined with the cheaper foam material makes it a poor performer on long trips. It's these compromises that I've placed here. But we think it presents a better option for those on a budget.
Backpack Buying Guide
Backpack Organization
Backpack size
Capacity
Air permeability
Water Protection
Ultralight backpack
Backpack Organization
Main Compartment Entrance
The main compartment of the backpack is the largest storage space, and it is usually used to place some large items such as tent clothing. Some campers prefer backpacks with many independent pockets and pouches, which will have a neater finishing placement.
And almost every backpack has an opening at the top through which you can access the main compartment. And the extra access through the U-shaped zipper will give you more help to find the items you need more easily. These extra zippers add some weight, but for a better travel experience, we think it's worth it.
External Pockets
The backpack's top flap is usually located above the main compartment access point. In most cases, you will need to remove the backpack to use the top flap pocket. There will also be pockets designed on the outside, and these zippered pockets are perfect for keeping things with you, or things you need to use often, such as a cell phone.
Waist pockets are then generally used for items that you need to access quickly, such as life jackets or cameras. The current market for hiking backpacks has seen an increase in the use of external floating pockets, which are generally used to fill equipment such as rain jackets or insulated interlayers.
Compression
Compression straps are used to tighten the pack from front to back to pull the load closer to your body and help you stay balanced on the trail. This helps a lot on your hikes, so you need to make sure you have these side compression straps on the top and bottom of your backpack before you buy them to help keep the load stable and tighten them up properly every time you put your backpack on.
It is also important to tighten it the right way, otherwise, it may cause it to swing when you walk and make you lose your balance. In addition to this role, it can also be used on the side of the backpack to store items, which is very convenient.
Backpack Size
The right backpack size can provide you with a better travel experience. Since these sizes vary greatly in terms of torso and hip measurements, they are generally differentiated by torso length. If your hip measurement is out of proportion to your torso, it's best to choose a backpack with a customizable waist belt or one with a wide range of adjustments. This is why we don't recommend that you choose a backpack size simply because you are tall or short. Because even two people of the same height can have very different torso sizes.
And some hiking backpacks are designed in such a way that there is still plenty of room for adjustment in terms of size. In most cases, you can adjust the torso length appropriately, and some backpacks also allow you to adjust the height of the waistband.
How to measure the length of your torso
You simply rest your chin on your chest and with the help of a friend, position the C7 vertebrae at the base of your neck. At this point, you place your hand over your hip bone and press your thumb into your lower back. Simply measure the length between your C7 vertebrae and the center point of your spine at the level of your thumb, which is the size of your torso.
Capacity
We don't have a hard and fast standard for backpack capacity, it largely depends on the length of your trip and how much equipment you need to carry. One thing to keep in mind, though, is that you need to make sure that your backpack capacity matches the type of equipment you're going to be carrying. This means trying not to carry some equipment that doesn't compress well. Also when choosing extra items, make sure they are all useful. Because you have to have everything you need in a limited amount of space.
If you're not sure what size backpack to buy, don't worry. Here we have listed some general guidelines for you to follow. If it's just wilderness camping, a 35-55 liter capacity backpack is enough for a single overnight trip. For longer trips than 3 days, we suggest you choose at least a larger backpack of 60 liters, especially in cold weather. For most people, a backpack from 50 to 70 liters is enough for 2 to 3 day trips.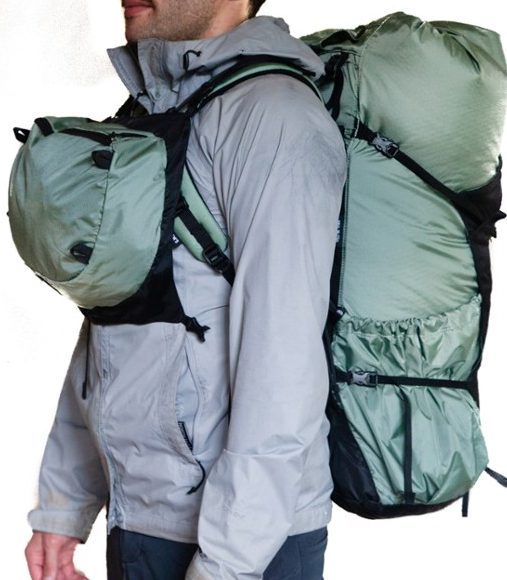 Air Permeability
Don't overlook breathability just because it's just a backpack. On hot outdoor hikes, your backpack will be in direct contact with your body, and this is where excellent breathability is important. No one will want to be walking with their back already all wet, which will make your trip a bad experience.
Typically, backpacks will have effective ventilation in two main places: the back panel and the waistband. Your back panel will fit your back, so there shouldn't be too much negative space between the panel surface and your back. Some high-end packs are equipped with a fully suspended mesh back panel that maintains airflow along the length of your back.
However, most backpacks simply use an offset mesh and foam panel pattern to create airflow pathways on the surface of the wearer's back. Generally speaking, the hanging mesh back panel is more ventilated than the offset mesh/foam pattern. The design of the waistband also needs to take into account breathability, as excessive sweating under the belt can lead to discomfort and blisters, especially in the heat of summer.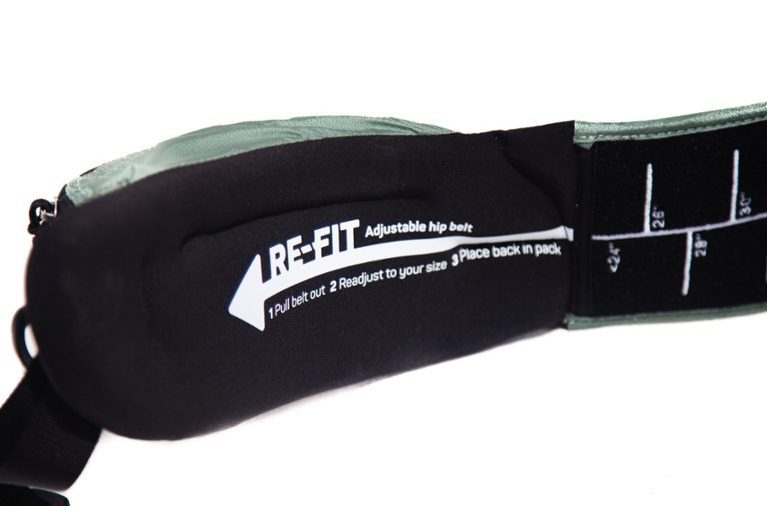 Water Protection
On a hiking trip, you can't always have sunny and warm weather. And when faced with wet weather, the waterproof performance of your backpack is especially important. As society continues to evolve, backpackers are no longer simply carrying clothes and tent items. Valuable items such as cell phones and cameras are easily damaged by moisture. But the good news is that most backpacks on the market today are made with hard-sided nylon and durable water-repellent (DWR) coating, which gives you good water resistance.
If unfortunately, your backpack doesn't have waterproof protection, then you better take some extra measures. You can purchase a separate waterproof bag to protect your internal items. Of course, they are not foolproof and do not cope well in windy weather. You can even use garbage bags if you are not prepared in advance for an unexpected situation outdoors. However, this is only an emergency treatment, you'd better be protected in advance.
Ultralight backpack
As the name suggests, these backpacks typically weigh about 2 to 3 pounds less than standard backpacks, due to their simple construction, most of them having only one main compartment and waist belt pocket. In addition to this, they also use light materials and a minimalist suspension system to minimize weight.
For some short-distance travelers, ultralight backpacks are a popular choice. What you need to know, however, is that it doesn't compare to a standard backpack in terms of capacity. With its streamlined suspension and thin fabric, the UL backpack simply can't handle loads over 30 to 40 pounds, so you'll be able to carry less.
While it's great to reduce weight and feel more listenable on the road, it's not the best choice for long trips. If it's light and fast you're after, then an ultralight backpack is a viable option.
Conclusion
In this test, we detail the 10 best backpacks of 2023. They have different types, all different in focus, so you can choose according to your preferences. We also have detailed answers to what you need to know before you buy. Hope these contents can help you.
Finally, if you like our content, feel free to share it with your friends! If you approve of our content, you can click the email subscribe button below!