We use affiliate links and may receive a small commission on purchases.
We've selected the 10 best hammocks for your reference.
For campers, apart from beautiful scenery and quality sleep, hammocks are the only way to enhance the fun of camping. When you arrive at your destination after several hours and then set up your tent hammock, that's when you can start your own relaxation time. You can suspend yourself in the air by the hammock and hang freely, and there is nothing more pleasant than this.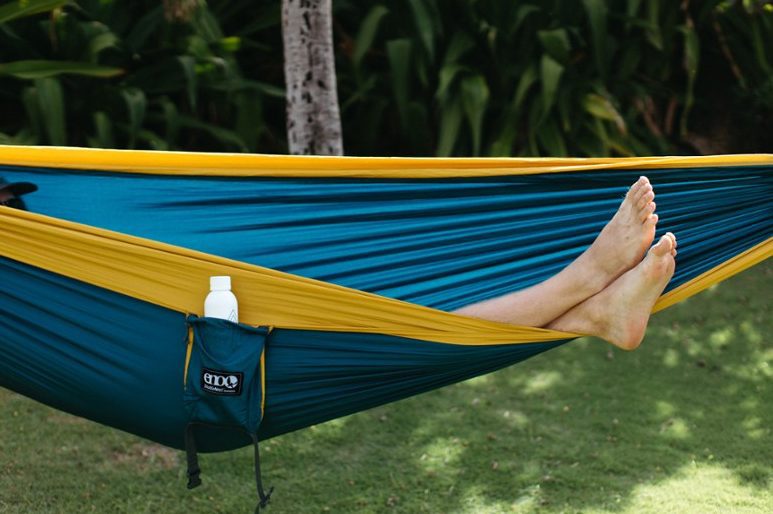 Of course, the many hammocks will make you struggle with how to choose. But do not worry, we are here to choose the 10 best hammocks in 2023 for you. They have different performances and features to bring you a comfortable experience. Next, we will introduce you to these hammocks in detail, if you feel like our content, welcome to like and collect, thank you for your support.
Best Hammocks Comparison Table
1. ENO DoubleNest Hammock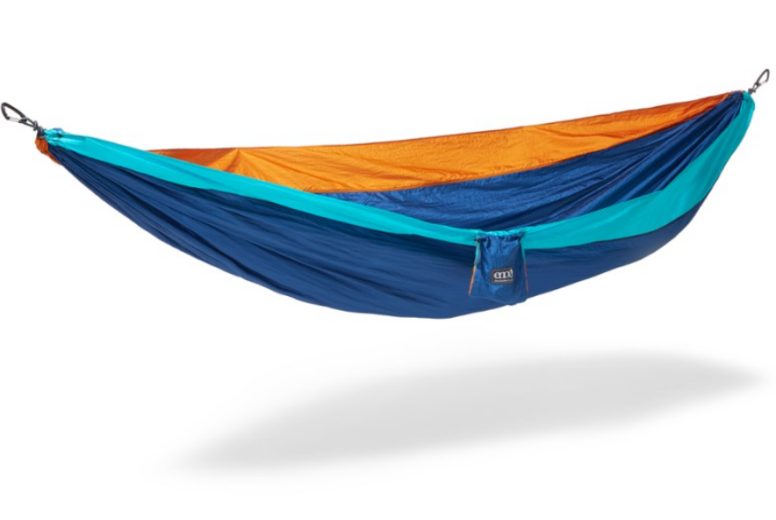 Price: $74.95
Size: 114 x 76 inches
Weight: 1 lb. 3 oz.
Maximum load capacity: 400 lbs
What we like about it: Excellent versatility.
What we don't like about it: The straps that need to be purchased separately.
As a double hammock, the ENO DoubleNest Hammock has managed to win our hearts with its roomy, comfortable fabric and outstanding versatility. The FreeWave fabric is breathable, quick-drying, and features a unique wrinkle finish for added softness. The carefully manufactured triple-stitched seam construction offers unparalleled durability and tear-proof protection to keep you safe while you sleep.
Equally convenient to carry, the integrated storage bag easily compresses it into the right size for travel. Keep in mind that this hammock weighs only 1 lb. 3 oz. and its compact size allow you to take it with you. Inside it also provides additional internal storage pockets to store some ready supplies, fully for the user's consideration.
What makes us complain, though, is that these don't include the shoulder straps and suspension system, which also means you'll need to spend extra money on them. Other than that, it's the best double hammock in terms of performance alone.
2. Hennessy Hammock Expedition Asym Zip Hammock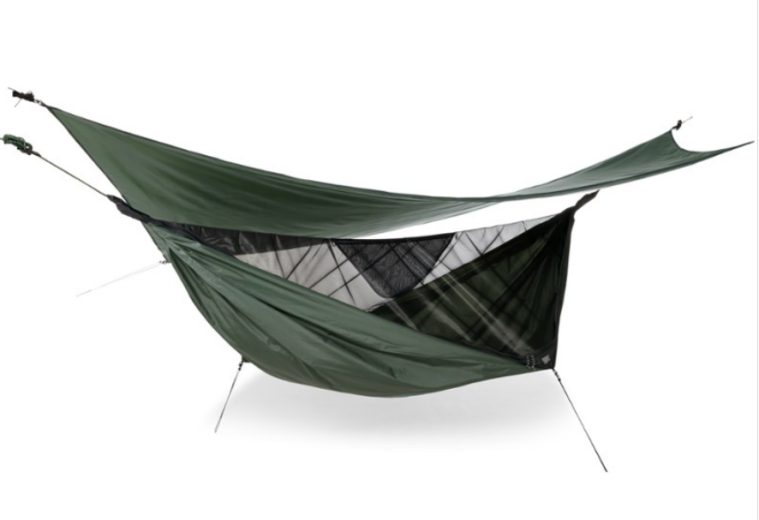 Price: $169.95
Size: 7 x 10 inches
Weight: 2 lbs. 13 oz.
Maximum load capacity: 250 lbs
What we like about it: The unique asymmetrical design.
What we don't like about it: It's not easy to install.
There are many kinds of hammocks on the market, but this Hennessy Hammock Expedition Asym Zip Hammock brings us a lot of surprises. First, it is the unique asymmetric design. This shape allows the sleeper to lie flat while leaning across the hammock, and the flat bottom allows you to always be comfortable and have more shoulder room.
The No-see-um mesh provides excellent insect protection and ventilation, and the ripstop rain cover provides plenty of protection. You can even fold it into an outdoor lounger or use it as a tent. It's perfect for those adventurous backpackers traveling alone, providing you with more fun camping experiences.
Although this hammock has excellent performance, but also because of its cumbersome features, it seems a little complicated the installation. For some novice users without camping experience is not friendly. If you have a lot of travel experience before that, then this hammock will be your second choice.
3. Hummingbird Hammocks
Price: $73.95
Size: 4 x 2 x 4 inches
Weight: 5.6 oz.
Maximum load capacity: 300 lbs
What we like about it: The ultra-lightweight.
What we don't like about it: It's slightly compact for those with larger bodies.
If you're looking for a super lightweight hammock, then congratulations! This Kammok Roo Single Ultralight Hammock will be the perfect choice for you. With a weight of only 5.6 oz. you can hardly feel its weight when carrying it. Especially for those backpackers, it greatly reduces the burden of travel. This is due to the use of lightweight nylon fabric, and the use of lighter weight soft connection hiking buckles at the connections.
You can also rest assured that the durable fabric has a good tear-proof effect in terms of quality. The use of double stitching to fix, so that this hammock has more solid stitching, not easy to fall apart.
As with most lightweight hammocks, compromises had to be made on size in the pursuit of extreme weight. The smaller size is suitable for only one person and slightly more compact for those with larger bodies. So it is more suitable for those hikers who venture out alone.
4. Grand Trunk Skeeter Beeter Pro
Price: $59.97
Size: 104 x 47 inches
Weight: 5.5 oz.
Maximum weight capacity: 400 lbs
What we like about it: The cheap price.
What we didn't like about it: It didn't stand out in the cold weather.
We were looking for an affordable camping hammock with good performance, and that's when the Grand Trunk Skeeter Beeter Pro caught our attention. It is an inexpensive product for those campers who don't have a big budget. You'll be able to fully compress it and place it in the included storage bag for easy carrying. And its internal storage system also provides storage, you can always store some, for example, cell phones and other portable items.
It's worth mentioning that the built-in mosquito net hangs overhead and away from you, giving you plenty of interior space. It can also effectively prevent mosquitoes from infesting, so you can keep a comfortable experience. When you don't need it, you can also remove it, very user-friendly. The simple suspension system makes it easier to install, especially for novices.
As an entry-level hammock, it does the best it can with a limited cost. But it is still slightly inadequate in the face of cold weather. You need to add extra sleeping pads or blankets to stay warm.
5. ENO Skyloft Hammock
Price: $129.95
Size: 4.5 x 18.5 inches
Weight: 2 lbs 13.8 oz.
Maximum load capacity: 250 lbs
What we like about it: The dual-mode experience.
What we don't like about it: Poor maximum load-bearing capacity.
ENO has once again caught our attention with its excellent design concept and superior craftsmanship. Unlike the last one, the ENO Skyloft Hammock is a single hammock. It is perfect for those who are backyard loungers or car campers. The novel dual-mode design makes your camping more fun. You can freely switch between the two modes of relaxation and sleep to fully experience the beauty of outdoor camping.
The ventilation design is used to make your sleep more comfortable. And the included storage bag can also be used as a pillow, so you can sleep peacefully in the breeze. At the edge, it is also designed with stretchy pockets for you to store your belongings.
It should be noted that the maximum weight of this hammock is one of the lowest on our list. This means that those users who are heavier need to give it some thought. At the same time when you leave the hammock, it is very easy to flip in the wind, you need to pay attention to the items inside will fall to the ground.
6. Kammok Roo Single Ultralight Hammock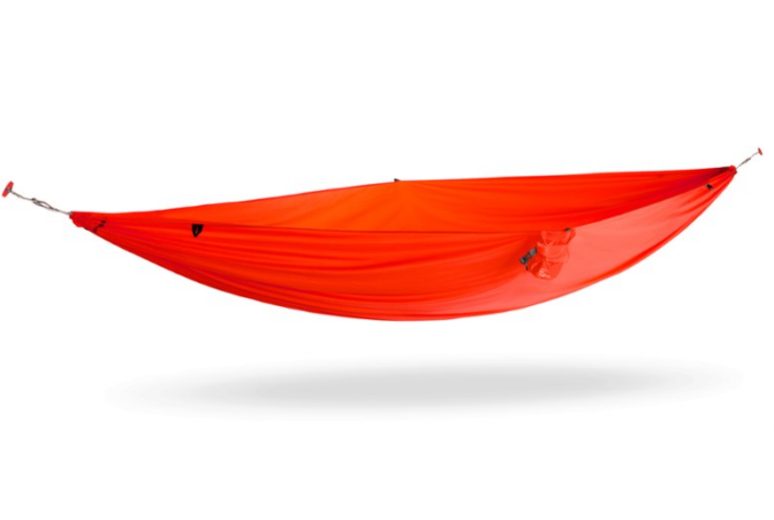 Price: $89.95
Size: 50 x 100 inches
Weight: 5.6 oz.
Maximum weight capacity: 300 lbs
What we like about it: It's covered by a lifetime warranty.
What we don't like about it: There is still room for improvement in durability.
The Kammok Roo Single Ultralight Hammock is the lightest camping hammock Kammok has ever made, with the ultimate in lightweight. You can easily compress and pack it, greatly reducing backpack storage space, and it's the style those backpackers are after. On its surface, a durable waterproof coating is added to keep the hammock safe from rain and moisture. Meanwhile, the ultra-lightweight nylon fabric provides breathable and comfortable sleep.
Toggles offer a lighter alternative to carabiners and integrate with traditional straps or whoopie slings. It is easier and safer to install. You can swing freely with confidence.
Most of the weight savings of the Kammok Roo Single Ultralight Hammock come from the 20 D nylon ripstop fabric. This also makes it less durable than the stronger nylon in terms of durability. The lighter surface is more prone to tearing, so you'll need to watch out for sharp objects when storing it to prevent punctures.
7. Lawson Hammock

Price: $ 229
Size: 22 x 6 inches
Weight: 4.25 lbs
Maximum weight capacity: 275 lbs
What we like about it: Hammock tent in one.
What we don't like about it: The high price.
The Lawson Hammock can be used as a hammock and can be placed on the ground as a tent for camping. This innovative, patented design provides an alternative for those who can't find a place to camp after a long hike. Versatility is its greatest strength, and you get two very different experiences for the price of one.
In addition, the redesigned hammock is flatter, eliminating the "cocoon/banana" effect that other hammocks produce. The insect-proof mesh on the outside gives you a better quality sleep on summer nights. Good breathability always keeps the space inside cool, so you feel comfortable.
Of course, excellent performance means you have to pay more for it. If it were just a hammock the expensive price might not be worth it. But with the addition of camping options, it is the perfect companion for those hiking backpackers. Not only is it easy to carry, but it's also fully functional and brings a pleasant travel experience.
8. ENO SingleNest Hammock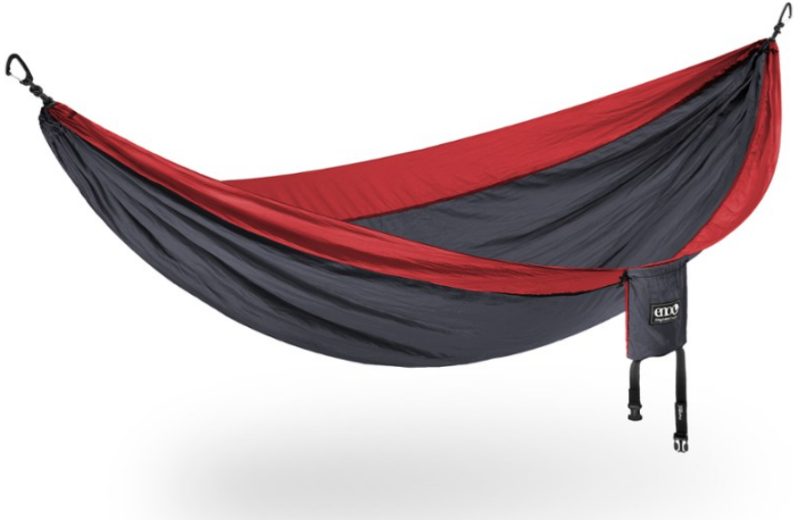 Price: $54.95
Size: 114 x 58 inches
Weight: 1 lb
Maximum load capacity: 400 lbs
What we like about it: It's easy to carry.
What we don't like about it: The older style.
This ENO SingleNest Hammock has a compact and lightweight feature. The one-piece storage bag compresses the hammock into a travel-friendly size and also provides additional internal storage pockets for campers' consideration. In terms of weight, the SingleNest weighs only 16 oz. plus other accessories weigh only 1 lb. A lighter weight greatly reduces the burden of your hike.
Not only that, but the durable FreeWave™ fabric is breathable and comfortable, and also features a wrinkle finish that gives it excellent softness. In terms of area, the wide hammock body allows you to stretch out freely on it and enjoy the fun of the hammock.
This classic single sling design has a long history, which makes it seem slightly old-fashioned now. But if you value comfort and excellent performance, then this ENO SingleNest Hammock is also a good choice.
9. Handwoven Hammock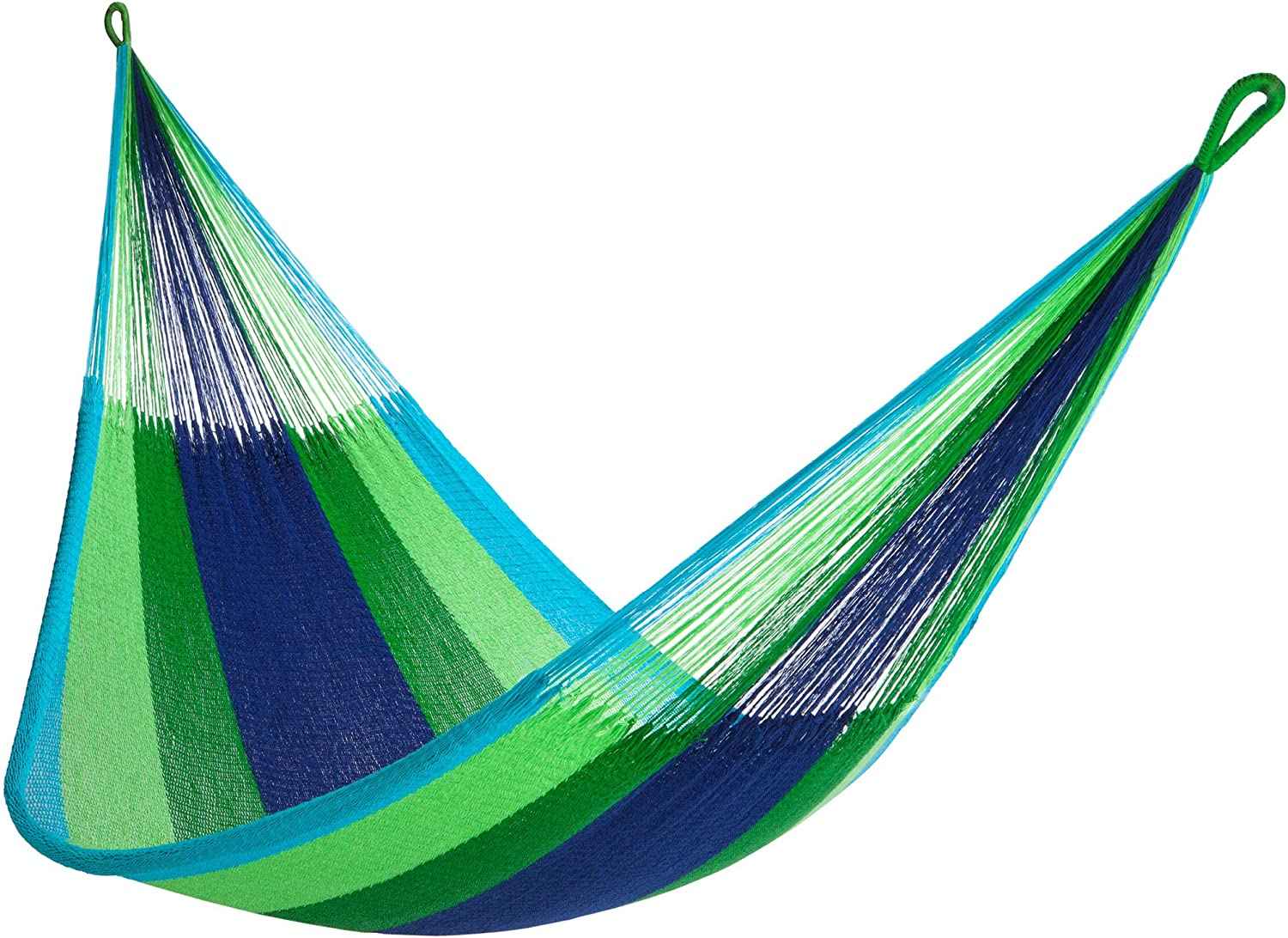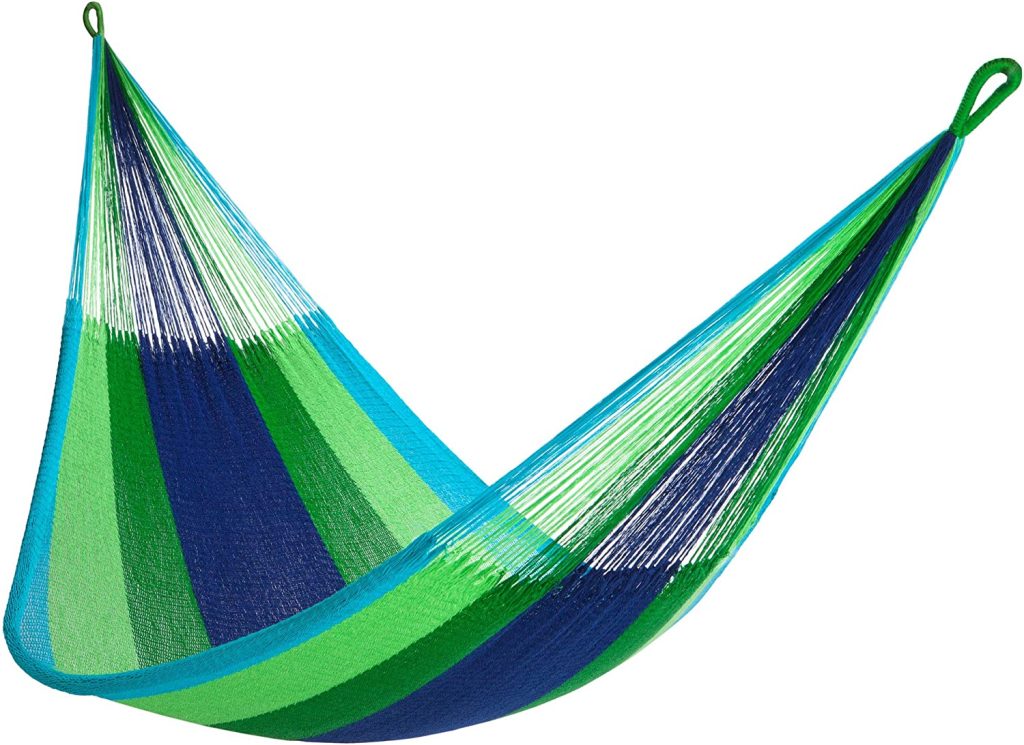 Price: $199
Size: 108 x 72 inches
Weight: 1.79 lbs
Maximum load capacity: 400 lbs
What we like about it: Hand knitting.
What we don't like about it: Please avoid intense direct sunlight.
As a hand-prepared hammock, this andwoven Hammock is different from other hammocks. The triple-reinforced weave technique combines 150,000 interwoven loops of ultra-soft yarn to make you feel comfortable while providing adequate support. The thoughtful anti-flip design brings you stability and security.
What impressed us is still its maximum load capacity of up to 400 pounds, which can accommodate two people at the same time. The generous space allows you not to feel crowded. Unlike cotton hammocks, the material used is weatherproof, so even if you put it outdoors, you don't have to worry about mold. At the same time, a variety of styles to choose from, and to meet more people, there is always one that suits you.
Although it is mentioned in its introduction as UV-safe, for you to have a longer service life, we suggest you better avoid prolonged direct sunlight. Strong UV rays will erode the inside of the hammock and become more prone to tearing.
10. Pawleys Island 13DCMDW Duracord Rope Hammock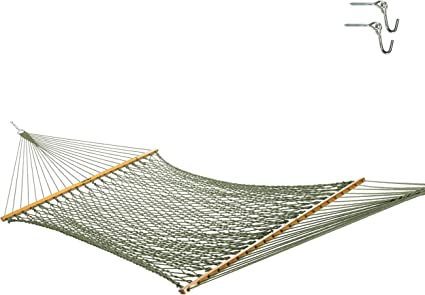 Price: $269.99
Size: 13 x 55 inches
Weight: 14 lbs
Maximum load capacity: 450 lbs
What we like about it: Longer service life.
What we don't like about it: The wider lattice mesh design.
This hammock is also prepared by hand. It is made of a synthetic blend that is soft as cotton with the durability of polyester to give maximum comfort to the user. It also has excellent resistance to rot, mold, and mildew, so you can use it with confidence. The honey gold marine grade varnish that is repeatedly hand-dipped further extends its life. The wide mesh sling means it is more suitable for use in summer to feel the beauty of the breeze and sunshine.
Unlike the last handwoven hammock, it has a larger lattice, which means that if you don't wear a jacket and sleep for a long time, it tends to leave what looks like a waffle mark on your back. That's what we're complaining about. Of course, you just need to wear clothes, although then it may be a little hot.
Learn More: Top 10 Best Camping Chairs [2023] – Sitting In Nature
Hammock Buying Guide
Types of hammocks
Suspension system for hammocks
Size selection of hammocks
How to properly install the hammock?
Is sleeping in a hammock bad for your back?
Additional Accessories
Types of hammocks
Camping Hammock
As its name suggests, this hammock is designed for camping. They have the versatility to respond to camping needs. The most notable feature is convenience. They are lightweight, easy to pack, and easy to carry. And most of these types of hammocks come with intuitive straps, which are designed to make it easy for you to hang up anywhere. Also, it has good performance in durability. The thicker fabric makes it last longer, which also means better insulation in cooler weather.
Backpack Hammock
A backpacking hammock is usually lighter and easier to carry than a camping hammock. This is because it can be carried on the back, while backpacking models are mostly made of sturdy materials with reinforced stitching to prevent accidents. This type of hammock is more suitable for those who hike or have outdoor adventures, is easy to carry, and is more secure.
Ultralight Hammock
Named for its lightweight, this hammock further reduces weight by using a backpacking hammock model, which is currently the lightest option on the market. This ultimate lightweight design is so easy for backpackers to carry that you can barely feel its weight.
What you need to know, however, is that there is a decrease in comfort because of the quest for more extreme weight. And this hammock lacks insulation and has almost no insulation. It is also not high in durability and may tear at the slightest cut.
Suspension system for hammocks
Whoopie Sling
Whoopie Sling is an adjustable hammock suspension and is the usual strap used by most travelers. it is relatively lightweight and easy to carry. In general, they use a much simpler system of loops and buckles that can maintain tension to the maximum limit. They can be easily adjusted even when there is no pressure. Indeed, it is a good choice.
Daisy Chain
Unlike the previous suspension system, it is much simpler to set up. It consists of two sturdy straps with many small loops at the end, and all you need to do is wrap the straps around it. In terms of weight, it is not as light as other hammocks, but it has the advantage of being easy and quick to install. This is the reason why many travelers choose it.
Carabiner Straps
To be honest, carabiner Straps are not as common as the two above. This is probably because it is not the most prominent one. But it also has excellent performance, is light enough in weight, and is easy to install. When you finish your trip, it is much quicker to disassemble. Of course, the choice depends on your personal preference.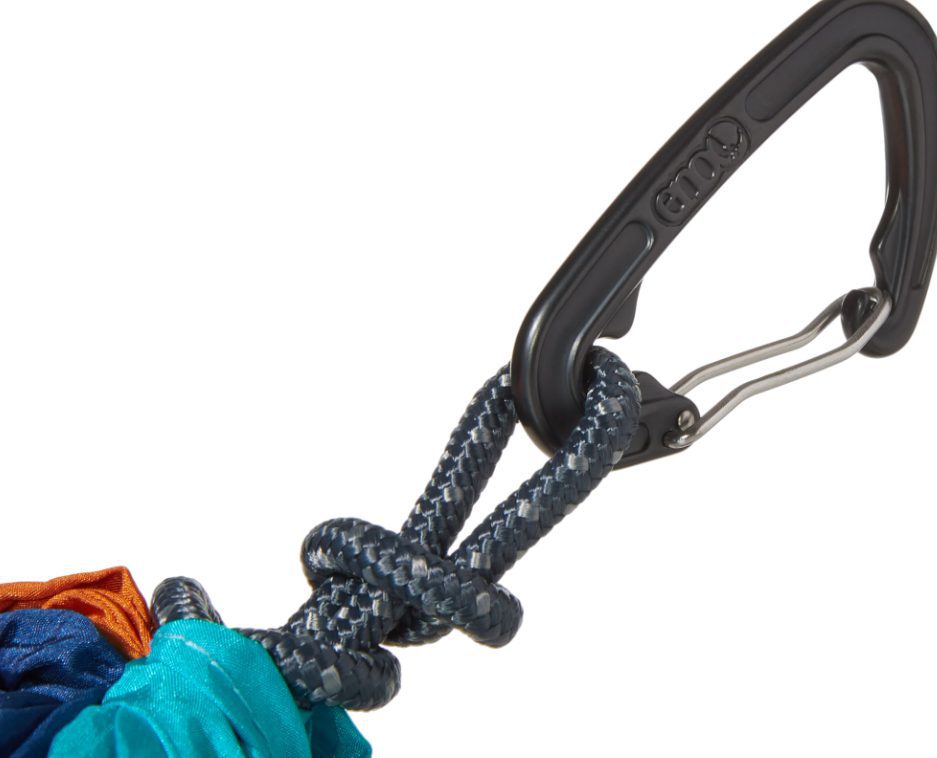 Size selection of hammocks
Generally speaking, hammocks do not vary much in size, and the only difference is between a double hammock and a single hammock. If you are out camping with your wife or girlfriend, then a double hammock with more space is the right choice for you. You can always hang on top and enjoy the breeze, the sun, and the beauty of your girlfriend.
Of course, if you want to enjoy yourself alone, then a single hammock is more appropriate. In the choice of length, the general standard size can be. But if you want to hang it higher, then you better measure the distance in advance, so as not to hang it.
How to properly install the hammock?
For the installation of the hammock, it is not a simple hanging can be. Because it is used to lie on it, so the correct installation is related to your safety.
First of all, you need to know something about the suspension system of some hammocks. We have also detailed some of them above for reference. Before you travel, you need to practice in advance how to tie knots or some other knots that may be needed for all the ropes. Of course, you need to know these tips before you practice. You need to always hang the hammock on a tree of at least 6 feet, and make sure that the tree is strong and sturdy. You also need to check if there are any falling objects to eliminate the risk of falling and hitting you.
Secondly, since ropes can damage trees, try to use tree-hugging straps when using them to disperse the pressure exerted on the trees. However, some places do not allow the use of hammocks to protect the environment, so you'd better check the local policy before you go.
Finally, the hammock and the ground at an angle of about 30°, according to scientific research shows that angle will give you maximum comfort. If the hammock is pulled too tight, then you will feel pressure points when lying down.
Is sleeping in a hammock bad for your back?
This is probably a question that many users have. Some people who sleep in hammocks wake up to find that their lower back is more painful, which may be caused by the sagging of the hammock. You can sleep on a slant in the hammock, which is good for the safety of your back. Some users have not had much experience sleeping in a hammock and sleeping in an incorrect position causes back pain.
We can tell you for sure that a hammock is much more suitable for short rests than a tent floor. This is because it effectively reduces the number of pressure points between your body and the sleeping surface, and also minimizes the number of rollovers that can lead to spinal misalignment.
We recommend hammock campers use sleeping pads as much as possible. A hammock with a sleeping pad goes a step further in terms of comfort and also ensures that you don't get too cold while sleeping. There is no need to be tangled in the choice of sleeping pad, any style can be.
Additional Accessories
In general, most hammocks are supplied with some additional components. Of course, you can also customize them to suit your needs. However, before choosing accessories, you need to find out which brands these accessories are compatible with.
Blankets and sleeping pads are indispensable when facing the colder temperatures of camping. These can ensure that you are warm and more comfortable at the same time. If it is in the lush forest, an insect net is also required to be equipped. It can effectively prevent the infestation of mosquitoes and insects, allowing you to have a more secure sleep.
In addition to these components that must be equipped, if you want to try something extra, then you can be equipped with an organizer bag. So that you can always place some, for example, cell phone glasses and some other belongings, to bring you more convenience.
Conclusion
The hammock may not be for anyone, but it offers many camping enthusiasts a more interesting experience in this test. All of the above hammocks have been tested in detail by us, and the excellent performance can bring you a more comfortable experience. Also, we have answered some questions about hammocks for you, hope it will help you.
Finally, if you like our content, feel free to share it with your friends! If you approve of our content, you can click the email subscribe button below! Thank you very much!