We use affiliate links and may receive a small commission on purchases.
We've selected the 10 best camping mattresses for your reference.
For those professional backpackers, travel is more than just the scenery on the road and the starry night sky, good sleep is just as important. Unlike a sleeping bag that keeps you warm all night, a soft and thick mattress can provide enough support and mattress, effectively isolate the cold air from the ground, so you can enjoy a comfortable sleep.
Therefore, we have summarized and shared with you the top ten camping mattresses of 2023 and answered some of the most common questions about mattresses. We hope it will give you a better understanding of mattresses. If you are satisfied with our content, please like and collect it. We will continue to update it.
Best Camping Mattresses Listing Table
1. Exped MegaMat Duo 10
Price: $349.95
Type: Hybrid Mattress
Dimensions: 77.6 x 52 x 3.9 inches
Weight: 9 lbs 14.7 oz
What we like about it: Impactful comfort.
What we don't like about it: The high price is not affordable for everyone.
Exped always brings us some surprises! The Exped MegaMat Duo 10 has managed to attract our attention with its excellent performance. As a double mattress, it has a large enough area to fill most two-person tents. Just like in your bed, sleeping two people does not feel crowded.
Laminated polyester fabric is used in the material, which has the feature of durability. High-frequency welded seams form an airtight structure, bringing sufficient support. As a hybrid Mattresstress, two valves are used, and the included micro pump makes inflation and deflation easier. It is also worth mentioning the height-adjustable roll-top Smart Pack Sack strap, which can be used as a handheld shoulder bag, making it very convenient to carry.
Great performance often comes with a higher cost, and that's its biggest drawback. At $350, it's second only to the HEST Sleep System Sleeping Pad on the list, and while it's really good, we have to consider the price, which is a bit of a waste for those camping enthusiasts. Of course, if you are a professional backpacker and often camp with your partner, then this mattress will be the right choice for you.
2. Nemo Quasar 3D Insulated Air Sleeping Pad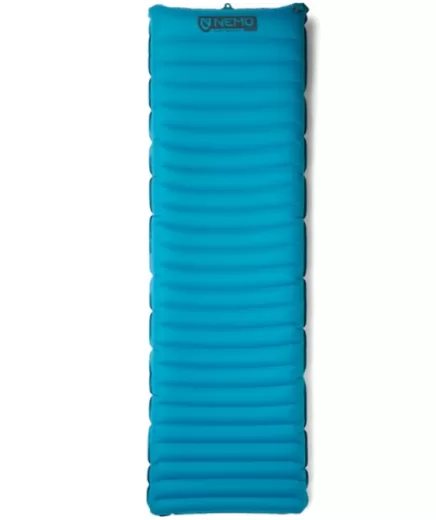 Price: $179.95
Type: Insulation Airbed Mattress
Dimensions: 72 x 20 x 3.5 inches
Weight: 1 lb 9 oz
What we like about it: Very lightweight.
What we don't like about it: It needs extra attention to the surface.
If you want a comfortable camping mattress, look no further than this NEMO Quasar 3D Insulated Air Sleeping Pad. soft, mapped baffles provide core bracket support to keep you comfortable all night long. a 3.3 R-value means it's perfect for cool-weather adventures, bringing moderate insulation from ground temperatures.
The material used is 100% recycled material, is very environmentally friendly, and quickly inflates greatly reducing the difficulty of using. This also brings it light enough weight that you can deflate it for storage. This is very convenient for those campers who have limited space.
As a purely insulated Airbed Mattress, there is no foam in the structure, which means it has to be more fragile in appearance. This is a necessary trade-off to reduce the size and weight. So extra care needs to be taken in use to avoid puncturing by debris or sharp objects. Trust me that's a result you don't want to see.
3. Therm-a-Rest LuxuryMap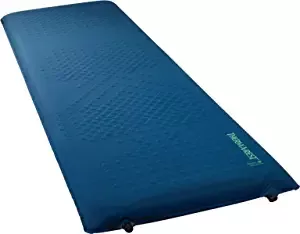 Price: $179.95
Type: Hybrid Mattress
Dimensions: 72 x 20 x 3 inches
Weight: 2.4 lbs
What we like about it: Easier inflation and deflation.
What we don't like about it: It's a little narrow for larger people.
Therm-a-Rest LuxuryMap is a well-designed hybrid Mattress. Pressure mapping technology has been used to alter the support in the mat to ensure that every part of your body feels comfortable. 6 R-value means that no matter what the season or conditions, it will easily cope, with excellent insulation to keep you warm all night long.
To make it easier for you to use, this Airbed Mattress is specially designed with two TwinLock valves. Specialized air inlet and outlet, so that it is easier to inflate or deflate either. However, you need to note that it should be fully inflated before use, otherwise the uneven surface will interfere with your sleep.
The Therm-a-Rest LuxuryMap does the best in terms of performance, but it doesn't please everyone in terms of space. For some larger campers, the width of this size seems a bit narrow. If Therm-a-Rest is willing to widen it some more, then even paying more is worth the price.
4. REI Co-op Camp Bed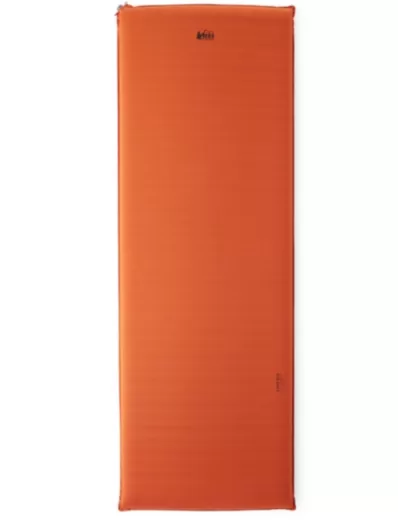 Price: $125
Type: Hybrid Mattress
Dimensions: 72 x 25 x 2.5 inches
Weight: 3 lbs 10 oz
What we like about it: Good all-around performance.
What we don't like about it: There is still room for improvement in comfort.
For every professional travel backpacker, REI's products will always be favored. And this REI Co-op Camp Bed is our favorite with its comprehensive performance and more favorable price. Although it is only 2.5 inches thick, it is still not weak in terms of isolation effect. With an R-value of 7.6, this air mattress is ideal for use in the colder months, and the high level of grounded insulation brings quality sleep.
This inflatable is equally durable with a polyester bottom that is highly resistant to wear and tear and all seams are welded for increased leak resistance. Inflation is made easy with the high flow valve for rapid inflation and deflation. Most importantly, it comes with a storage bag for easy portability, perfect for the adventurous traveler.
What you need to know is that good all-around performance also means that in some areas it doesn't do the best. For those who are demanding when it comes to travel comfort, this Airbed Mattress still has room for improvement. But at this price, this all-around performance won us over and it's a worthwhile option.
5. REI Kingdom Insulated Sleep System 40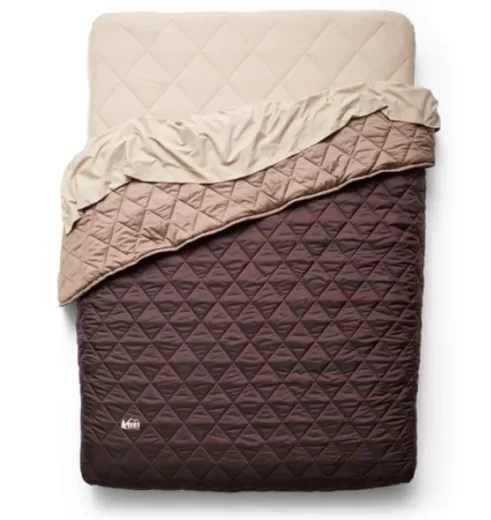 Price: $299
Type: Airbed Mattress
Dimensions: 79 x 56 x 6 inches
Weight: 15 lbs 9 oz
What we like about it: Comes with a fixed quilt cover.
What we don't like about it: Bulky.
It's hard to believe that you can enjoy the same experience in your home bed while camping outdoors, but this REI Kingdom Insulated Sleep System 40 does. Unlike the above air mattresses, it comes with extra sheets and covers, which makes it more like a home mattress. The unique cover makes it look cozier and also provides you with soft support on which you can move freely.
The Kingdom Insulated Air Bed has a 3.6 R-value and is rated at 40 degrees, which makes it more suitable for the cooler spring and summer months. You can even cover it with a blanket or sleeping bag for added warmth. There's no need to worry about carrying it around, either, as the included hand pump and storage bag are a great solution.
The only complaint we have is that it is so bulky in weight that it is a considerable burden for those who hike. Comparatively speaking, it is more suitable for those whose road is not very far and who can drive the car to camp in national parks or countryside hills. It can bring a different experience.
6. TETON Sports Camp Pad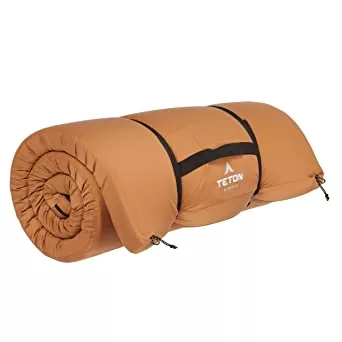 Price: $109.99
Type: Foam mattress
Dimensions: 80 x 30 x 2 inches
Weight: 6 lbs
What we like about it: It has great durability.
What we don't like about it: The relative hardness.
The TETON Sports Camp Pad is simply affordable and resistant to wear and tear. This mattress is made of a very different material, and the all-foam construction gives it more durability so you don't have to worry about the risk of punctures or leaks. Unlike the air mattress above, extra insulation is also provided, and you can even use it as a mattress for camping. This is a mattress that you don't have to worry about damaging.
In addition to this, this mattress offers excellent comfort. The thick mattress effectively insulates against cold air from the ground, providing consistent insulation in all conditions. It is also lightweight and easy to carry, and the roll-up straps with compression buckles make it compact and easy to store.
We like that it is thick and durable, but this is relatively stiff for some travelers. It's slightly less soft than the air mattress above, which is why we've put it here to introduce it. Of course, for those campers who often challenge themselves, that hardness is nothing.
7. HEST Sleep System Sleeping Pad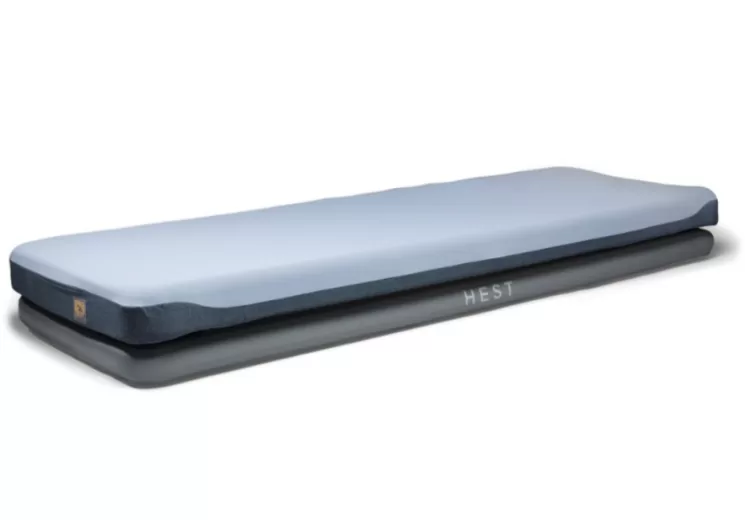 Price: $449
Type: Airbed Mattress
Dimensions: 78 x 25 x 7 inches
Weight: 26 lbs
What we like about it: A luxury camping experience.
What we don't like about it: Heavier weight.
The HEST Sleep System Sleeping Pad is the most luxurious camping mattress we've tested, and its price tag bodes well for those top campers out there. The luxury camping experience is exhilarating, plus the incredible comfort even makes us think it's going to be more comfortable than our bed at home.
The two-layer foam structure gives it enough support in its design without the hassle of debris on the ground. Pockets at both ends keep essentials within reach and off the ground at all times. The moisture-wicking nylon pad cover is of good quality and can be removed and washed at any time. What's more, the R-value of 11.8 means it's easy to handle any adventure in any temperature condition.
But its shortcomings are also obvious, 26 pounds of weight is not suitable for hiking. But for those who drive camping or RV use, then the weight is not a problem. If you value the luxury of the camping experience, then the weight is also irrelevant.
8. NEMO Roamer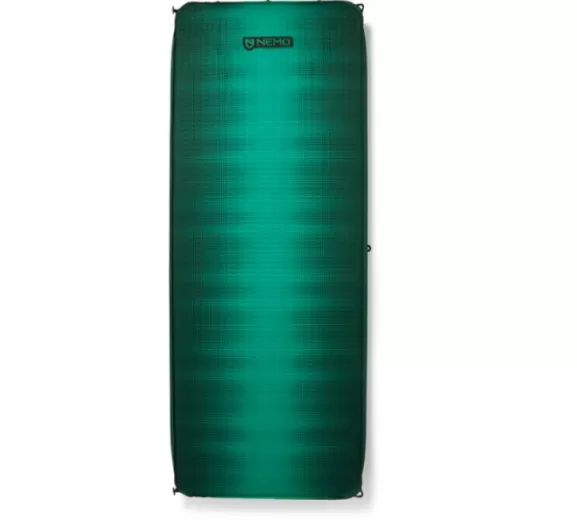 Price: $249.95
Type: Hybrid Mattress
Dimensions: 78 x 30 x 4 inches
Weight: 5 lbs 8oz
What we like about it: Trusted after-sales service.
What we didn't like about it: The slightly compact space.
For those experienced campers, camping doesn't have to mean roughing it, you can enjoy a comfortable and warm sleep as well. the NEMO Roamer is designed to give you a smooth bed surface on all kinds of rough ground. The high-quality stretch fabric with a bottom made of polyester gives it durability. The innovative Flow Core™ construction features high-capacity air channels and a strategic valve arrangement for faster self-inflation and deflation. Also equipped with an oversized storage bag for easier packing.
Another important reason why we chose NEMO Roamer is that it has a trusted after-sales service, offering a lifetime warranty so you don't have to worry about damage.
It has to be said that the slightly compact space does not seem so spacious in the wild and you need to stay in one position all night. If you are not used to this kind of sleep, then NEMO carefully provides you with countermeasures. It is designed around the button, you can connect two of the same mattress to form a queen-size mattress, and you can even use it as a double mattress.
9. Klymit Klymaloft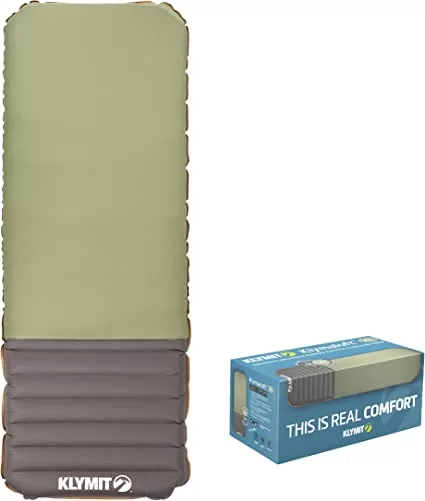 Price: $99.98
Type: Hybrid Mattress
Dimensions: 14 x 8 x 7 inches
Weight: 1 pound
What we like about it: The unique hybrid structure.
What we don't like about it: The lowest R-value in the list.
For every outdoor camper who wants a soft, comfortable mattress, you can't go wrong with the Klymit Klymaloft. Unlike other mattresses, Klymit has made an innovative, thick inflatable mattress combined with plush memory foam. This construction is often used in backpack designs to control weight and pack size. The plush foam at the top brings even more support to reduce pressure on the shoulders and hips.
Considering the ease of use for campers, this sleeping pad can be quickly inflated at any time with the included USB rechargeable air pump, so you don't have to wait to enjoy a comfortable night's sleep.
However, it must be mentioned that it only has an R-value of 2.3, which is the lowest R-value in our list. This means that its insulation is not outstanding and is somewhat inadequate for use in all three seasons. It would be a good choice if the place you are visiting is in the warm season.
10. Sea to Summit Camp Self-Inflating Foam Sleeping Mat
Price: $79
Type: Hybrid Mattress
Dimensions: 72 x 20 x 1.5 inches
Weight: 2 lbs 7 oz
What we like about it: 4.2 R-value for three seasons.
What we don't like about it: Too light and thin thickness.
As an entry-level sleeping mat, the Sea to Summit Camp Self-Inflating Foam Sleeping Mat is loved by many campers for its comprehensive versatility and affordable price. It has an R-value of 4.2, which makes it suitable for all three seasons. And the good insulation can bring warmth all night long. The tapered mummy design with the thick fabric is equally excellent in durability. An on-site repair kit is also available if you accidentally damage it. In terms of detailing, the multi-functional reversing valve allows for quick and easy inflation and deflation. You'll also be able to fine-tune the air pressure and pack it quickly.
But what makes us complain is that it is only 1.5 inches thick, and this light thickness hardly provides enough support. For those users who like to sleep on their side, this is not suitable. In addition, the thinner thickness may be affected by ground debris, so please make sure the ground is level before use.
Learn More: Top 10 Best Camping Sleeping Bags [2023]
Mattress Buying Guide
Basic types of mattresses
Size of mattress
Thickness of mattress
Valves for mattresses
Mattress Insulation: R-value
Maintenance and Care
Basic Types Of Mattresses
Airbed Mattress
There are currently many different styles of airbed mattresses on the market, with different materials and orientations. There are lightweight ones suitable for hiking and luxurious ultra-thick ones, but they generally contain insulation or reflective materials to increase warmth. Since they are supported by air inside, they have a very comfortable and lightweight feel, which is very convenient to carry. And very soft, bringing high-quality sleep.
However, their costs are often higher, usually appearing in higher-end products. At the same time, the durability is poor, and it is easy to be affected by gravel or sharp objects from the ground, punctured or torn. So you'd better prepare a suitable patch kit in advance, so you can repair it anytime. Some cushions will make loud noises due to wrinkles, which can be annoying.
Hybrid Mattress
The hybrid mattress is an upgrade from this. It combines open-cell foam insulation with air, which can bring you better support. Because it automatically draws in air when in use, it is also easy to carry, you can fold it lengthwise and roll it up into your backpack, or just roll it up. In terms of performance, the self-inflating pad is comfortable and compact, providing birth insulation. You can adjust the firmness by adding or releasing air, which makes hybrid mattresses usually more durable than air mattresses.
But the downside is that it is heavier in weight than a simple foam pad, and while it is equally likely to be punctured, it is not difficult to repair in the field, so you don't have to worry about it.
Foam Mattress
This type of mattress is mostly made of dense foam filled with tiny enclosed chambers, usually rolled up for transport. Foam mattresses are relatively lightweight and have good durability. Excellent insulation prevents punctures, so you don't have to worry about being punctured or leaking. Unlike air mattresses, they are inexpensive and provide consistent insulation under all conditions, so they have a wider audience.
It's worth noting that good durability is sacrificed for softness. The hard surface is not very comfortable for some campers, and this is an unavoidable balance.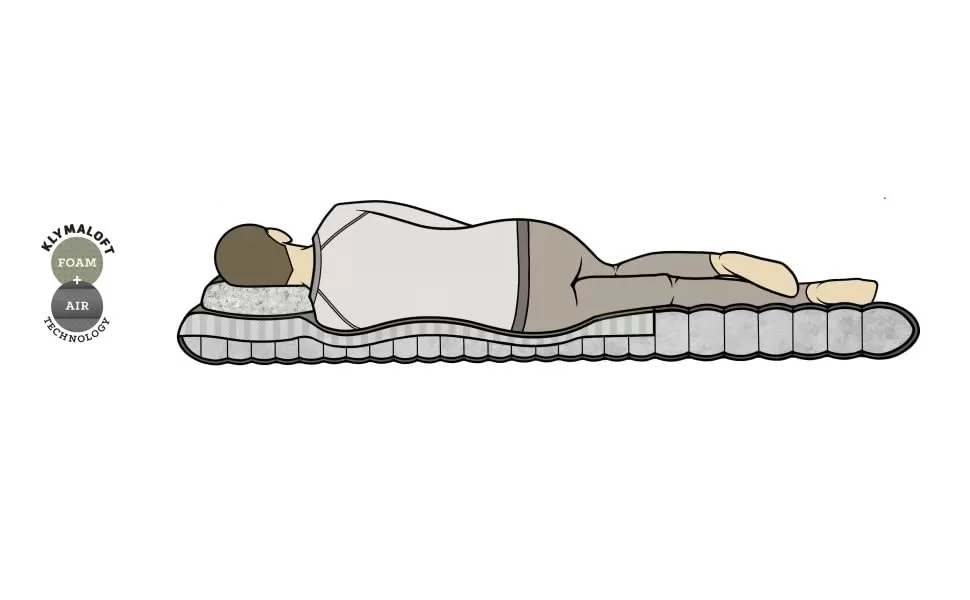 Size Of Mattress
Before selecting a mattress, you need to make sure you get the right size for yourself. Trust me, it's important, and the right size not only makes for a more comfortable sleep, but it's also easier to carry. For different campers, their size selection may be different. Generally, longer sizes are more suitable for tall users, while wider widths are needed for those with larger body sizes.
A 20-inch mattress is the standard size for backpacking, which means you have plenty of room to stretch out. Of course, if you want to have a bed as comfortable as the one you have at home, you can also consider a larger size sleeping pad. However, you'll have to pay more for it. So for the best experience, make sure you consider the size before you choose.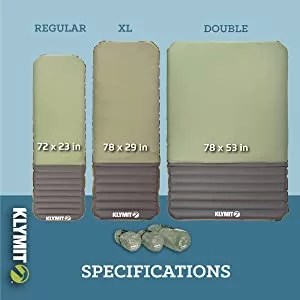 Thickness Of Mattress
In addition to the size of the mattress that needs attention, the thickness of the mattress is equally important, especially for those users who prefer to sleep on their sides. Generally speaking, side sleeping results in a higher percentage of weight around the hips and shoulders, so it is recommended to use a mattress that is 3 inches or thicker. Because this thickness is what will make your sleep more comfortable. A thicker mattress will support your shoulders and hips, even if you sit up and don't hit the bottom. Also, thicker mattresses are improved in durability and effectively prevent debris.
Of course, for those who sleep on their backs, the choice is based on their personal preferences. The thinner mattress is more convenient to carry, saving space. The thicker ones bring a more comfortable touch.
Valves For Mattresses
For a hybrid mattress, you just need to open the valve and it will automatically suck in air. You just need to wait for a while. If you want a harder mattress, you can also input air with your mouth. This kind of air cushion is more convenient and simple to operate, suitable for beginners.
Some airbed mattresses are also inflated with a pump. In comparison, the speed of inflation has a faster filling, but also do not have to use their mouth to enter the air, more clean and hygienic.
Mattress Insulation: R-value
The R-value is used to measure the mattress' ability to block the cold from the ground, and its higher value indicates better results. However, not all air mattresses provide an R-value because it is not cheap to measure.
Generally speaking, you don't need to think about this too much in warmer weather. This is hardly used. For three seasons of use, then a mattress with an R-value of 3 or higher is recommended. If you are in colder areas, you will need to buy a mattress with a higher value to keep you warm.
Maintenance and Care
If you want the mattress has a longer life, then its maintenance and care are very important. The correct storage can greatly extend the use of the mattress time.
For a hybrid mattress, you need to roll them up for storage and let them self-inflate occasionally if it is not used for a long time to avoid long-term damage to the open-cell foam. Also when storing, you need to make sure not to place any heavy objects on it to avoid damage. In terms of cleaning, you need to read the details carefully to avoid unnecessary damage.
Conclusion
In this review, we detail the 10 best camping mattresses in 2023, they have different types, all different in focus, and you can choose according to your preferences. We also have detailed answers to what you need to know before you buy. Hope these contents can help you.
Finally, if you like our content, feel free to share it with your friends! If you approve of our content, you can click the email subscribe button below!