We use affiliate links and may receive a small commission on purchases.
We've selected the 10 best headlamps for your reference.
In the dark of the night, it is still very necessary to have a headlamp for your trip. This is good for both your safety and efficiency. For this reason, we have selected the 10 best headlamps to help people better enjoy their travels, camping, walking the dog, or participating in work. These headlamps range from rechargeable headlamps to options that use AAA batteries.
We hope our article can truly help you. If you're interested in learning more about rechargeable headlamps, you can refer to our list of the 2023 best rechargeable headlamps. If you want to learn more about outdoor and camping gear, you can follow us.
Recommendation List
The Most Rugged Headlamp:
Black Diamond Storm 400 Headlamp ($44.88)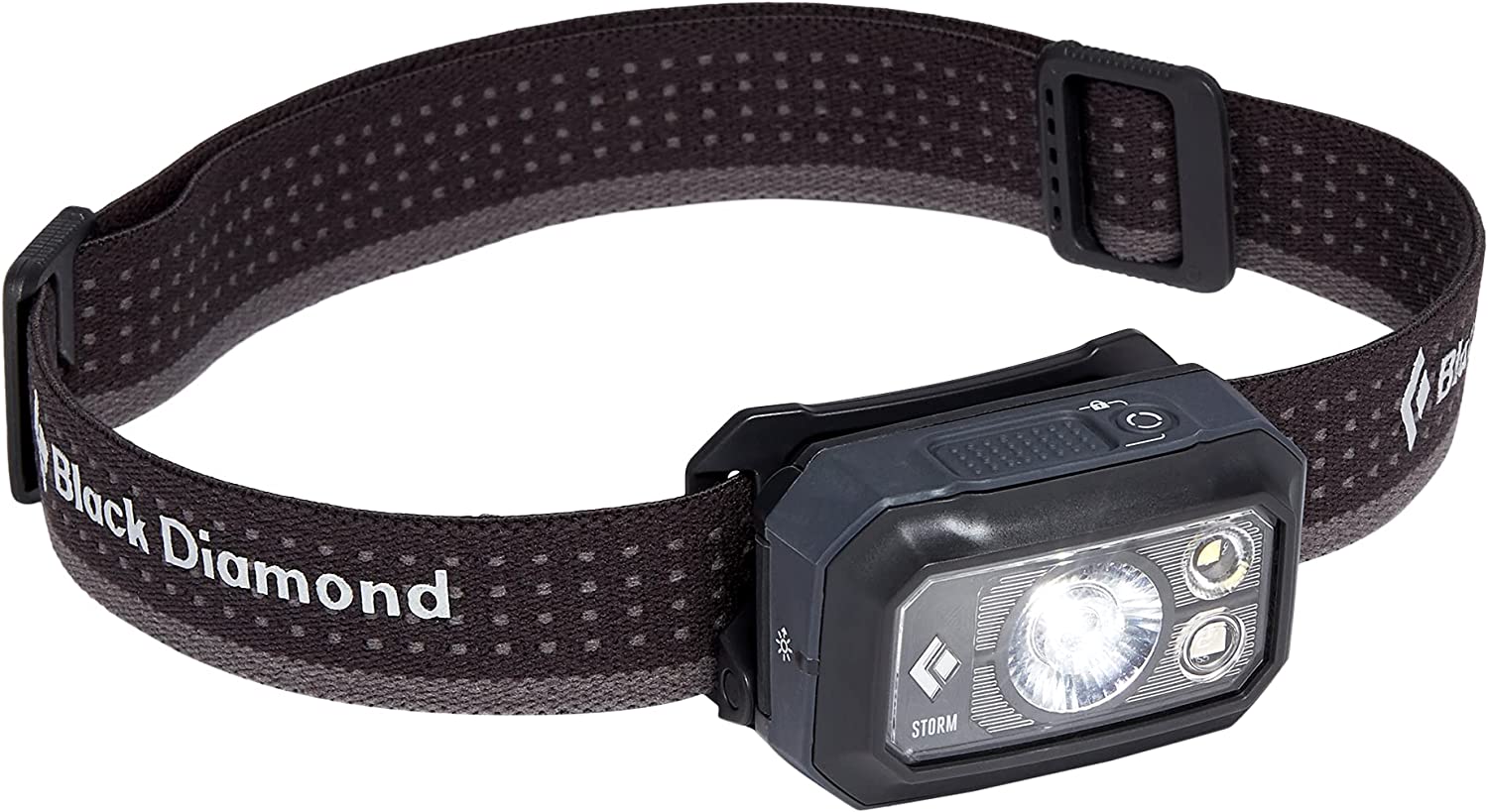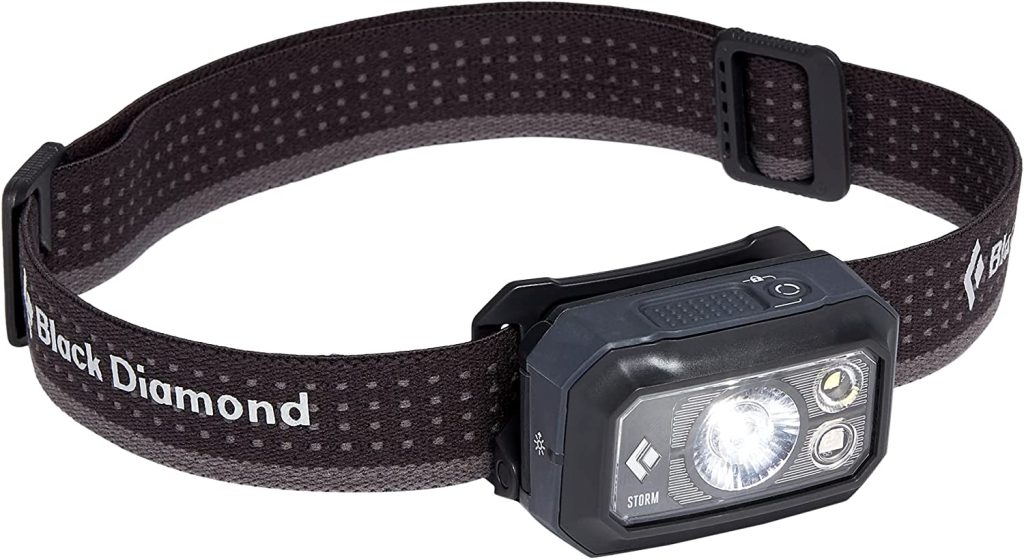 Color: 7 kinds
Weight: 4.2 oz. (120 g)
Maximum lumens: 400
Battery: 4 AAA batteries
Waterproof performance: IPX67
What we like about it: Has a large lighting range, equipped with sensor switches.
What we don't like about it: The weight could be lighter.
For those who like to challenge harsh conditions day and night, the reliable Black Diamond Storm 400 Headlamp is a great companion. With just 4 AAA batteries, it can provide users with up to 400 lumens of light. Such a design is great for mountain activities. If you have a full set of batteries, you don't have to worry about getting lost on the road.
With a rugged waterproof, dustproof housing (IPX67), it can keep fighting in extreme environments at all times. With PowerTap™ technology, the headlamp can switch between full power and dimming power, making them provide brighter light while the battery life is extended. Combined with the reliable multifaceted optical lens design, it again makes it more in line with the theme of mountain travel. In addition, the full strength in proximity, distance, dimming, strobe, red, green, and blue modes of light mode, is not to be ignored. Because these colors of light, in the mountains, have a special purpose.
The led headlamps for mountain sports should be as light as possible. But the weight of this headlamp is 4.2 oz. can be exhausting on long trips.
The Best Value For Money Headlamp:
Black Diamond Astro 300 Headlamp ($19.95)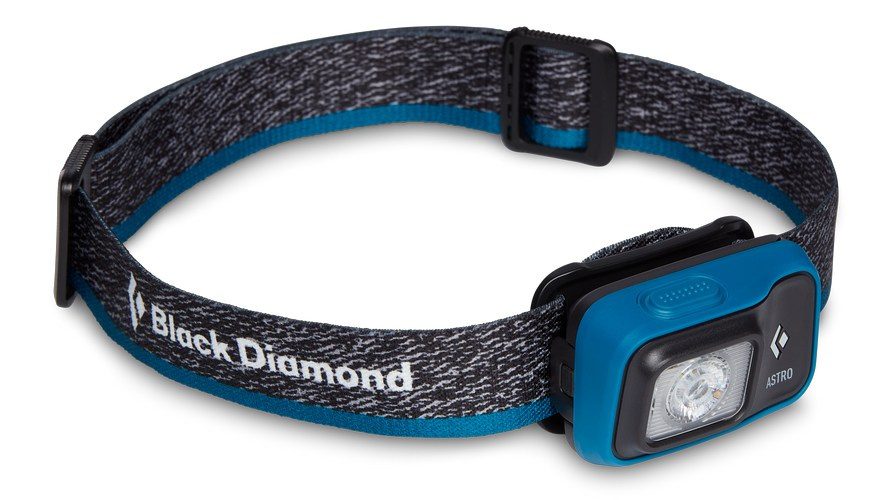 Color: Azul/Bordeaux/Graphite/Octane
Weight: 2.65 ounces (54g)
Maximum lumens: 300
Battery: 3 AAA alkaline (included); also compatible with BD 1500 mAh rechargeable (not included) Water resistance: IPX4
What we like about it: Lighter weight and cheaper price, better illumination capabilities.
What we don't like about it: Fewer brightness options.
The Black Diamond Astro 300 is so much lighter compared to the Black Diamond Storm 400 above it. At only 2.65 ounces, it doesn't make people's necks sore. Of course, it also halves in price, down to the lowest standard – less than $20. And Dual-fuel design, but also to the user more space to choose from electricity.
Although the Astro 300 Headlamp only has the maximum power of 300lumens, it can project light up to 55 meters away, which is very reliable. This makes such a device ideal for camping or hiking. Of course, it is also a good option to use it as a backup lighting tool. In addition, it also has a digital locking feature that prevents accidental power runs in your backpack or pocket.
Moreover, although the Black Diamond Astro 300 also supports full strength, dimming, and strobe options, it is difficult to use it for any other activity than as a night light due to the brightness of only 6 lumens at the lowest output. Therefore, it is available only two options.
The Headlight With The Most Output Modes:
Streamlight 61420 Enduro Pro ($23.99)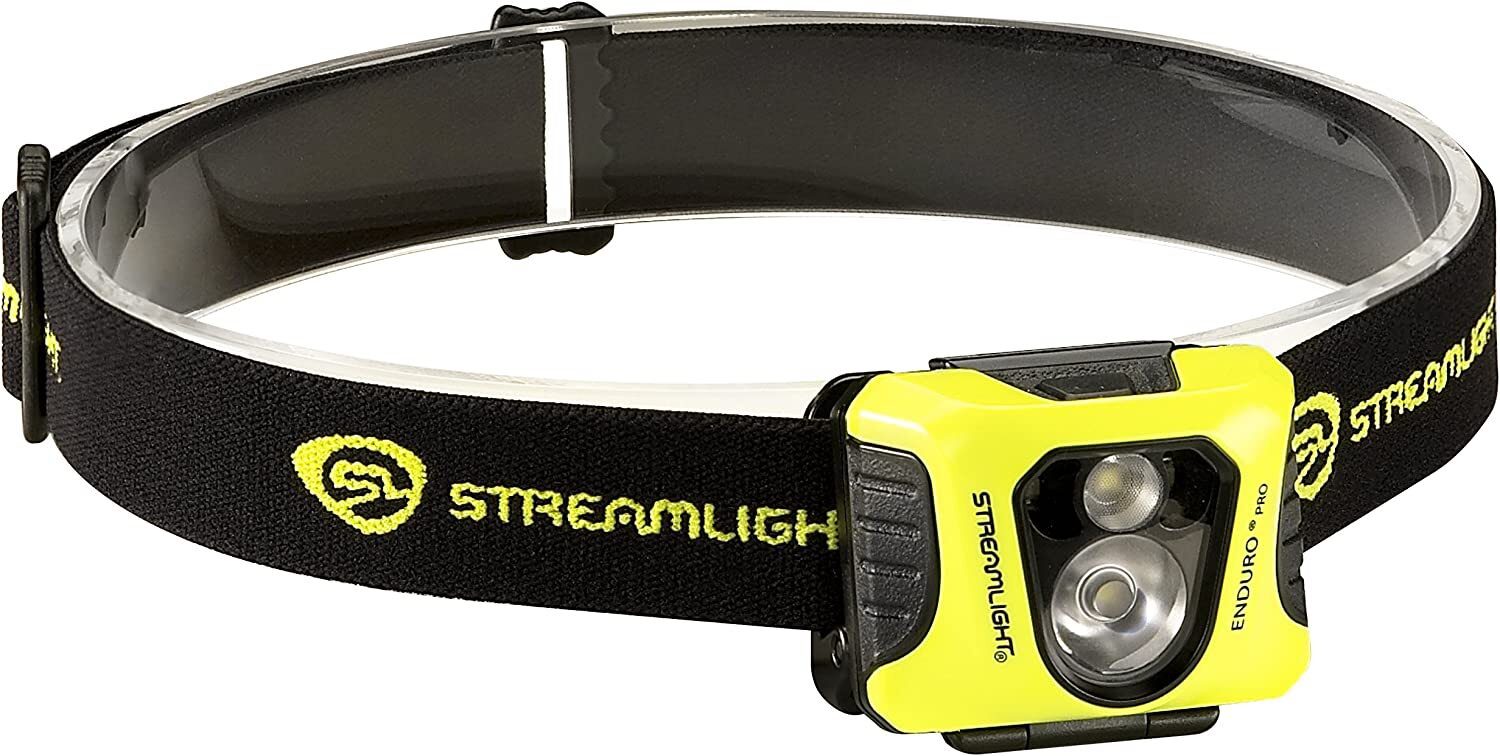 Color: Yellow/Coyote
Weight: 3.4 Ounces
Maximum lumens: 200
Batteries: 3 "AAA" alkaline batteries (included) also accepts AAA Lithium batteries
Waterproof performance: IPX4
What we like about it: Supports the use of two AAA batteries and diverse output modes.
What we don't like about it: The adjustment range is not wide enough.
There's no denying that on nights when the power goes out or in the wilderness where resources are scarce, a device that glows with AAA batteries is more attractive. And the Streamlight 61420 Enduro Pro is ready for just such a situation. Because both alkaline batteries and Lithium batteries are readily available, as long as you replace them in time, you'll never have to endure the darkness.
Although the maximum output of the Led head is only 200lumens, the light is bright enough to support the user to set up a camp, walk the dog, or hike. Because it also has two power LEDs and two red LEDs. There are also eight output modes, Three levels each for spot and flood and two for the night vision red LEDs, enough to handle all simple needs. To its credit, this lightweight headlight has a very easy-to-operate switch. Even with gloves on, you can easily switch on and off or change frequencies, and its adjustable elastic headband is soft and comfortable.
If the Streamlight 61420 Enduro Pro increased the adjustment range of its adjustable head a little more, it would be more competitive.
Best Headlamp For Work:
LUTITASD Strip Light pro headlamp – 2 Pack LED ($25.99)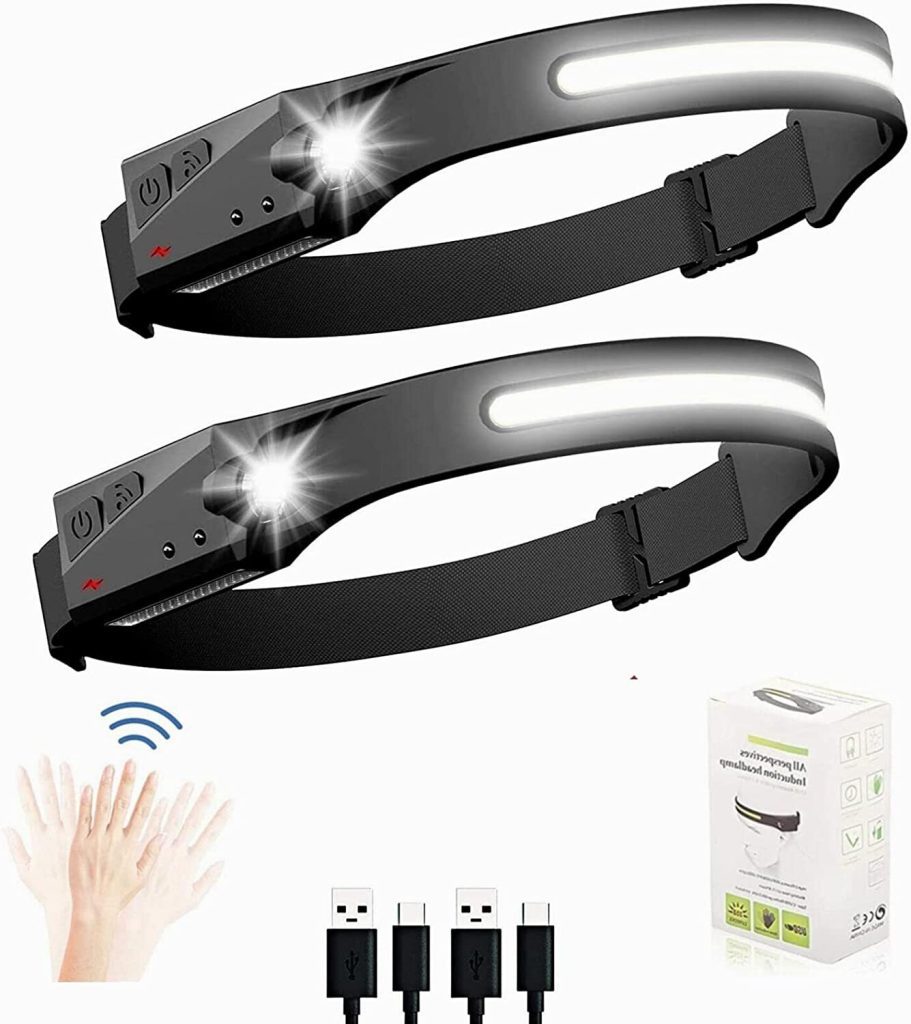 Color: Black/Gray/Red
Weight: 90g
Maximum lumens: 500
Battery: Built-in rechargeable battery
Waterproof performance: IPX4
What we like about it: Has a large lighting range, equipped with sensor switches.
What we don't like about it: The weight could be lighter.
For those who need to work in dark environments (such as car repair), this LUTITASD Strip Light pro headlamp with its 230° large range lighting pattern is friendly. Compared to those ordinary bicycle headlamps, they can illuminate the surroundings better, ensuring that people can see details while staying safe. In addition, the 350 lumens output LED light that transmits light up to 50 meters away.
To our surprise, this best headlamp for work has 5 light modes to support free switching (COB LED strip light, COB LED strip low, XPE LED light, XPE LED low, COB LED + XPE LED strobe mode). And it has a state-of-the-art sensitive motion sensor on the right side, so you can quickly turn on or off the headlamp by simply waving your hands next to the sensor, which is very convenient. Of course, this completely waterproof and shockproof headlight is also the ideal outdoor lighting tool. Because only 2 to 3 hours of charging, you can maintain up to 12 hours of lighting time.
If I had to suggest an improvement to the LUTITASD headlamp, it would probably be its weight of nearly 90g. This is not a heavyweight, but it is by no means the lightest option either.
The Cheapest Headlamps:
Curtsod Headlamp Rechargeable 2-Pack ($19.99)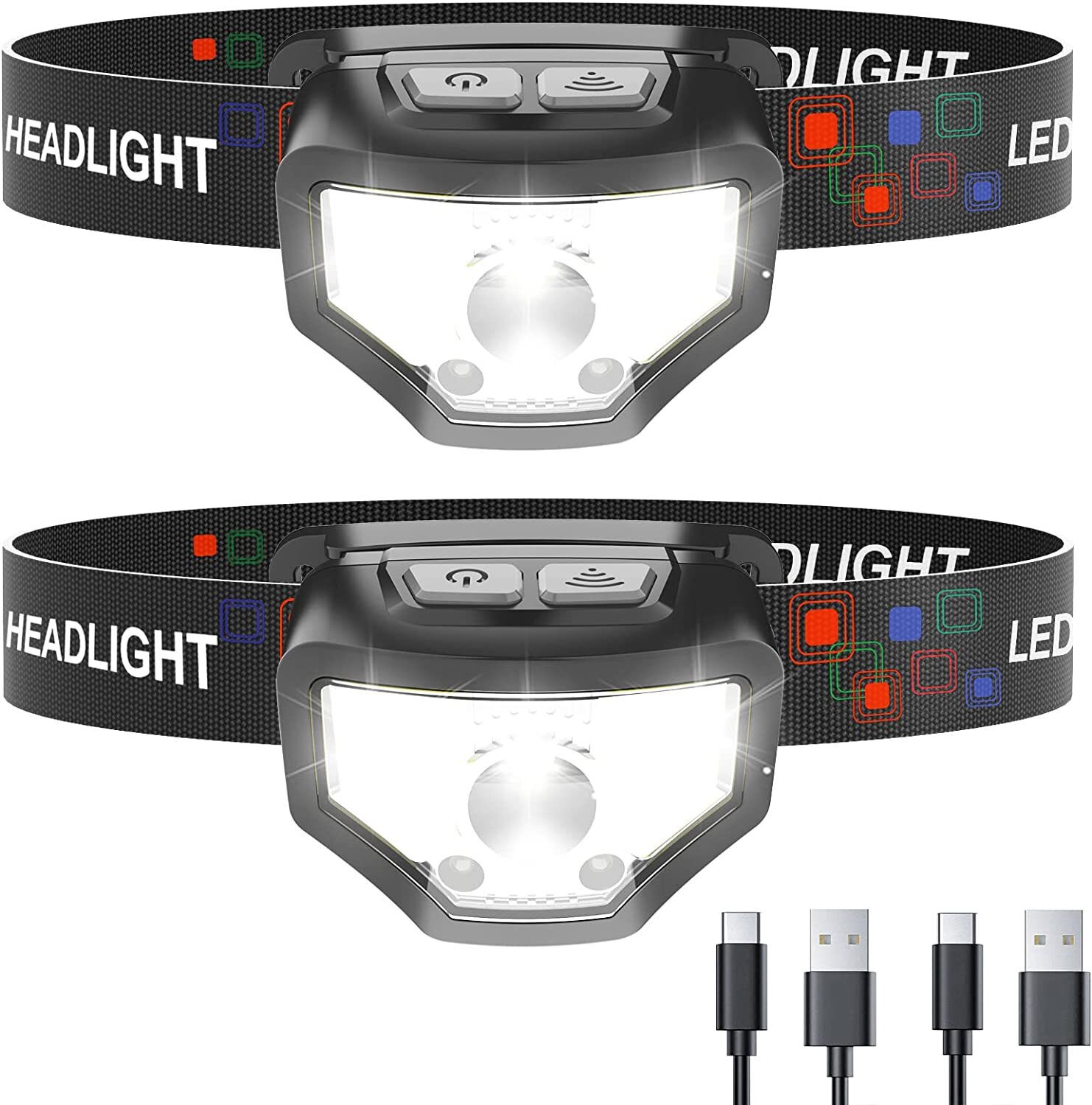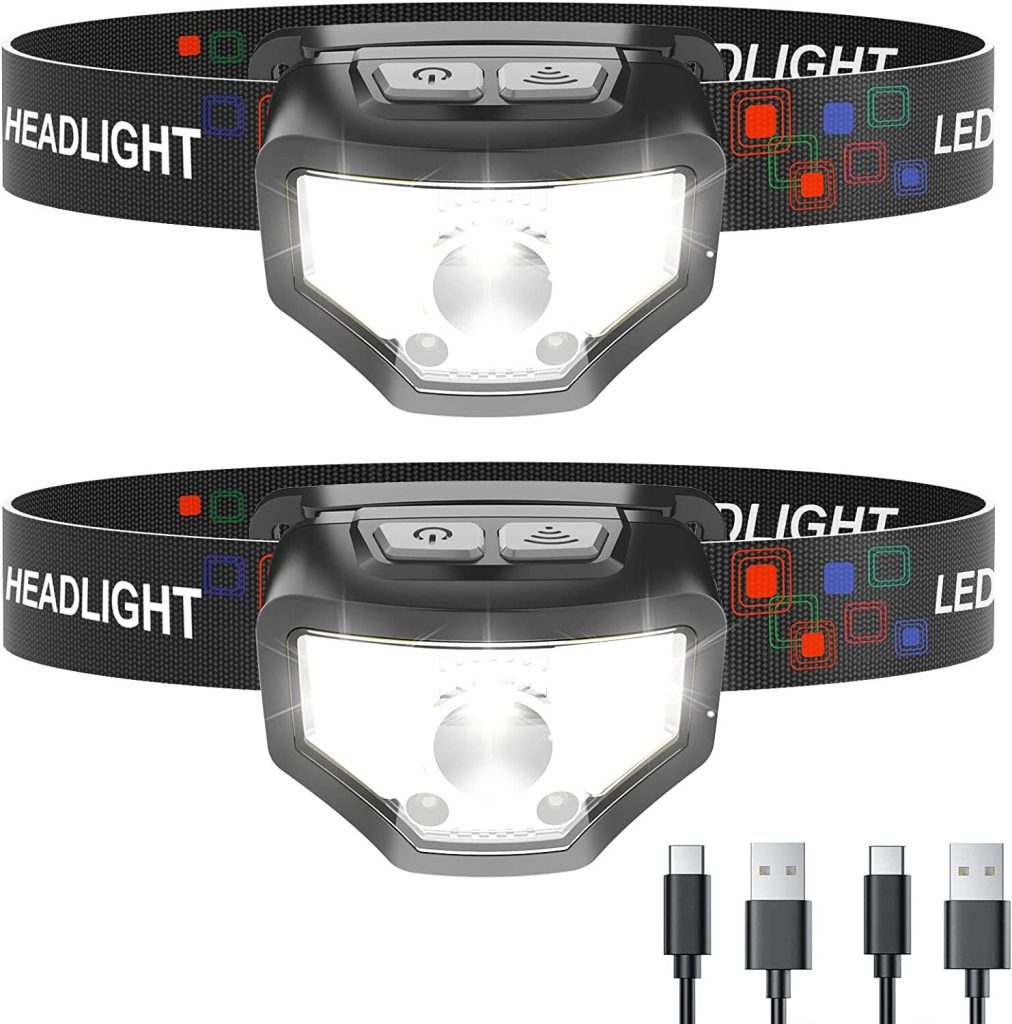 Color: Black
Weight: 2.08oz.
Maximum lumens: 1200
Battery: 1 Lithium Ion batteries required.(included) 1500mAh high capacity battery
Waterproof performance: IPX4
What we like about it: Cheap price, lightweight and versatile headlight.
What we don't like about it: The spotlighting effect is not too pronounced.
The 2-pack of rechargeable Curtsod Headlamp is another one of our gifts for the budget-conscious user. Doubling the fun of the night for less than $20 is still very much a cause for celebration. With an incredible 1200lumens beam, it lights up the campground without a hitch. While it only has two light heads, they expand the light patterns to as many as 12, enough to satisfy any need. The reliable smart sensor also adds more convenience to people's work or life, controlling the switch with just a wave of the hand.
In addition, the powerful Curtsod light head also has a memory function. When it is turned on again, it will continue the light state before it was turned off. In addition, turning off the light is also made easy, no need to cycle through all the modes, the user can easily turn off the device by simply pressing and holding the switch for three seconds. Of course, you can also adjust the angle (60 degrees) if you need to. However, it is a surprise that such a versatile headlight weighs only 2.08oz.
We don't think this inexpensive and powerful headlamp is worth complaining about. If we had to find a downside, it would probably be that it doesn't have a significant spotlight effect, so your night work is difficult to detail.
The Most Comfortable Headlamp:
Petzl IKO Core Headlamp ($78.50)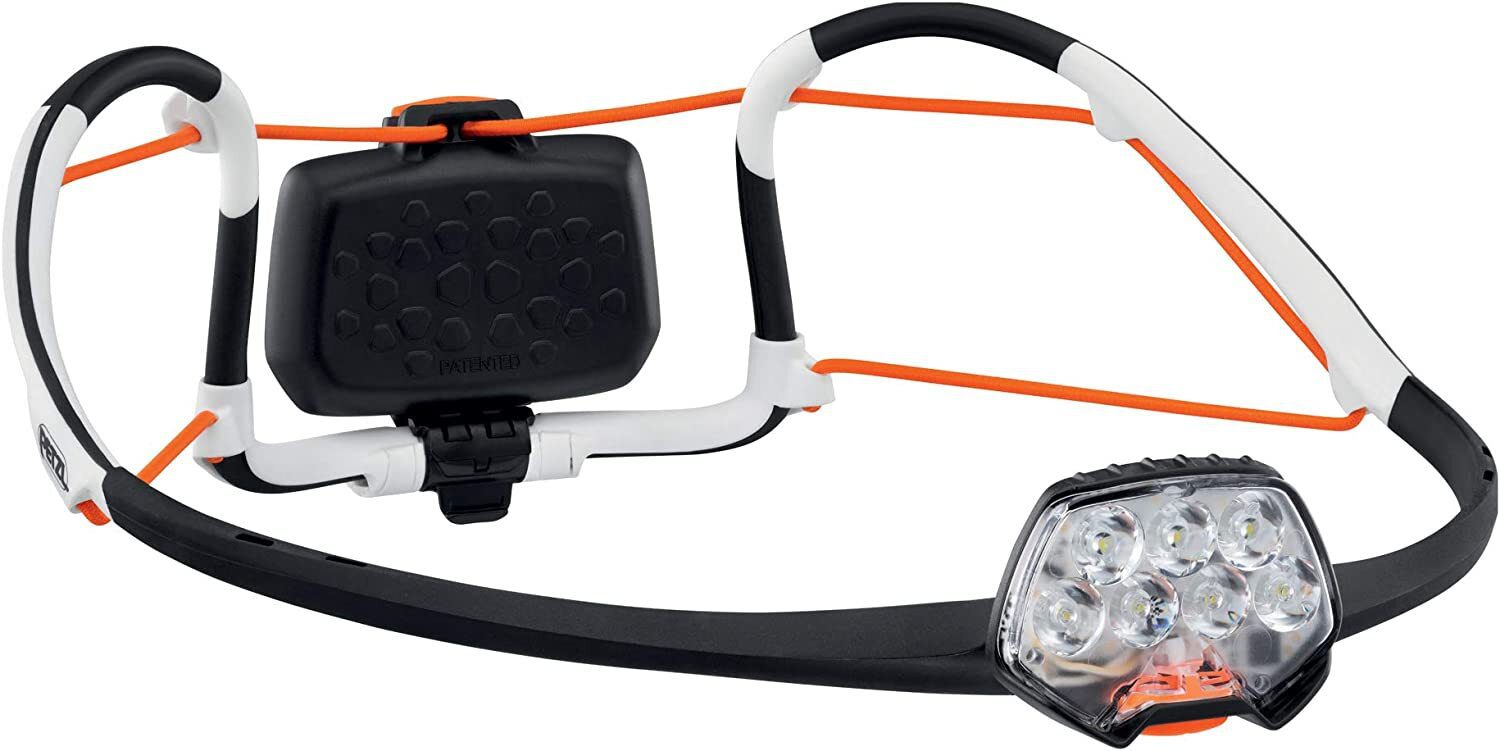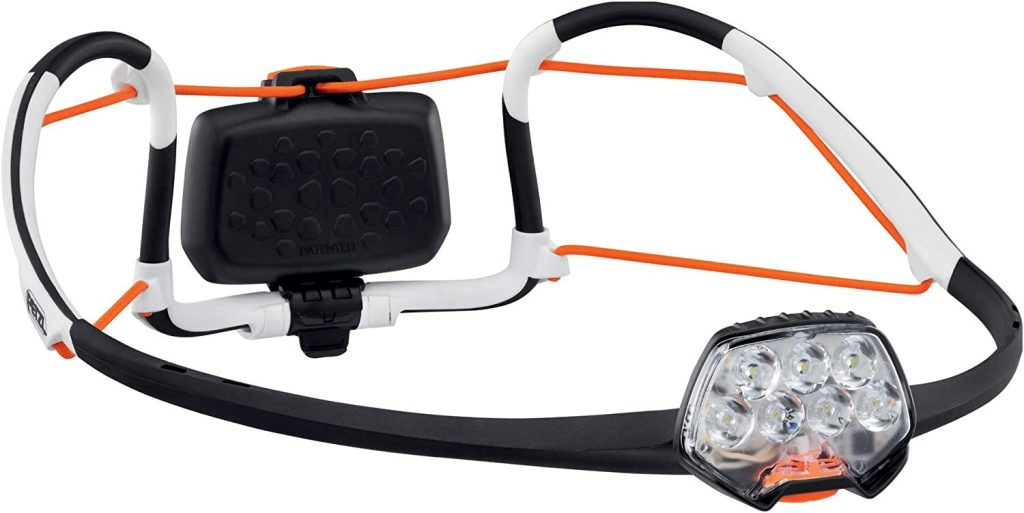 Weight: 2.8 oz.(79g)
Maximum lumens: 500
Battery: Rechargeable lithium_ion or 3 AAA batteries required. (included)
Waterproof performance: IPX4
What we like about it: Unique ergonomic headband, consistent and even light.
What we don't like about it: Not good-looking.
I'm sure some of you have read elsewhere what people are saying about the Petzl IKO Core Headlamp. With its patented, ergonomic AIRFIT headband, the Petzl IKO Core Headlamp is quickly becoming known for its comfort for those who like to participate in night running as well as camping trips. This innovative streamlined design of a semi-rigid headband and ultra-thin light body looks quirky. Moreover, it cleverly disperses the weight of the rear battery pack and light head, totaling 78g, to the entire head, making the weight of the individual parts negligible and more comfortable for people to wear.
Meanwhile, the ultra-thin hydrophobic headband greatly reduces the contact area with the scalp with its ultra-small profile, allowing for better air circulation during activities. Of course, its powerful and bright multiple LED heads are not to be overlooked, after all, 7 LED heads output consistent, even light at a maximum intensity of 500 lumens, which is attractive. This, coupled with the fact that it only requires a full charge or 3 AAA batteries to provide up to 100 hours of runtime and a distance of 100 meters, makes it suitable for all outdoor sports needs.
There is a lot of discussion about its unique shape. Some people find it "ugly" and refuse to use it because of the inconvenience of carrying it around. However, comfort and aesthetics are both very subjective things. If you feel that you can receive its appearance, why not experience its "inside"?
Best Headlamp For Hunting:
Petzl TACTIKKA + Headlamp Compact and Powerful 350 Lumen ($49.95)


Color: Black/Camo/Desert
Weight: 85g
Maximum lumens: 350
Battery: 3 AAA batteries required, also compatible with the CORE rechargeable battery
Waterproof performance: IPX4
What we like about it: Best headlamp for hunting designed for the outdoors and has a more reliable Brightness-to-Burn-Time ratio.
What we didn't like about it: It wasn't cheap.
To help those who are obsessed with nature, hunting, or fishing, this Petzl TACTIKKA + Headlamp is sure to give them a great deal of help. With the hybrid beam of 350lumens suitable for close-range and distance vision, one can observe and wait for prey to take the bait while maintaining a certain level of concealment. At the same time, the three colorways are designed to help trappers blend into their environment.
In addition, the more intuitive switch design enables easy selection of brightness or light color. Like many other Petzl, the TACTIKKA + also has a more reliable Brightness-to-Burn-Time ratio to ensure that midway lighting doesn't drop to as little as 20-30% of the original in a flash. While its three headband color designs are all very resistant to dirt, it still supports disassembly for cleaning, so you can always be the clean gentleman.
We have to admit that Petzl products are always a little more expensive than their counterparts, but we think it's worth it. Because in addition the value of the goods also depends on their material and details, and this Petzl has a higher quality than the same type of products.
The Lightest Headlight:
Black Diamond Equipment Flare Headlamp ($29.95)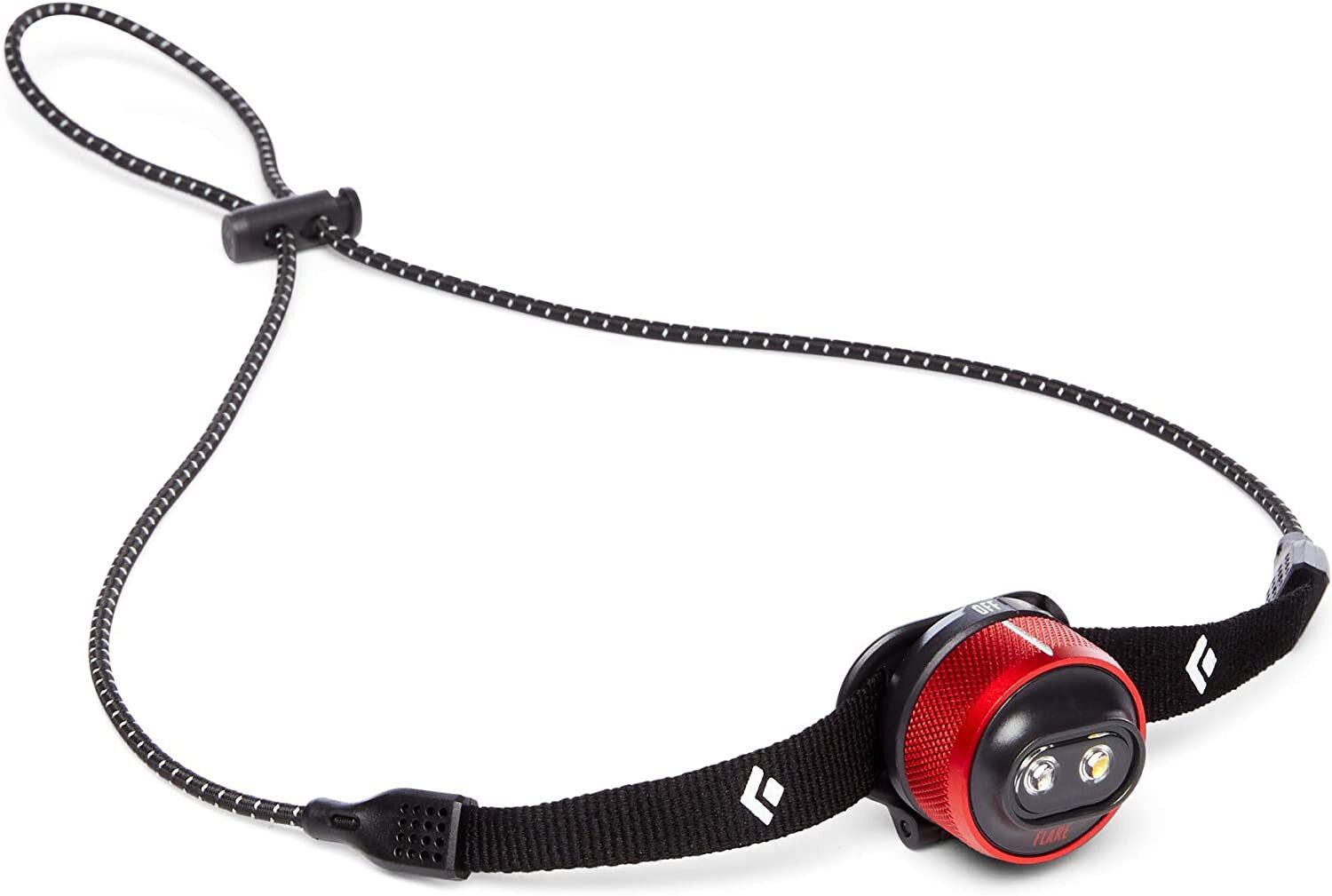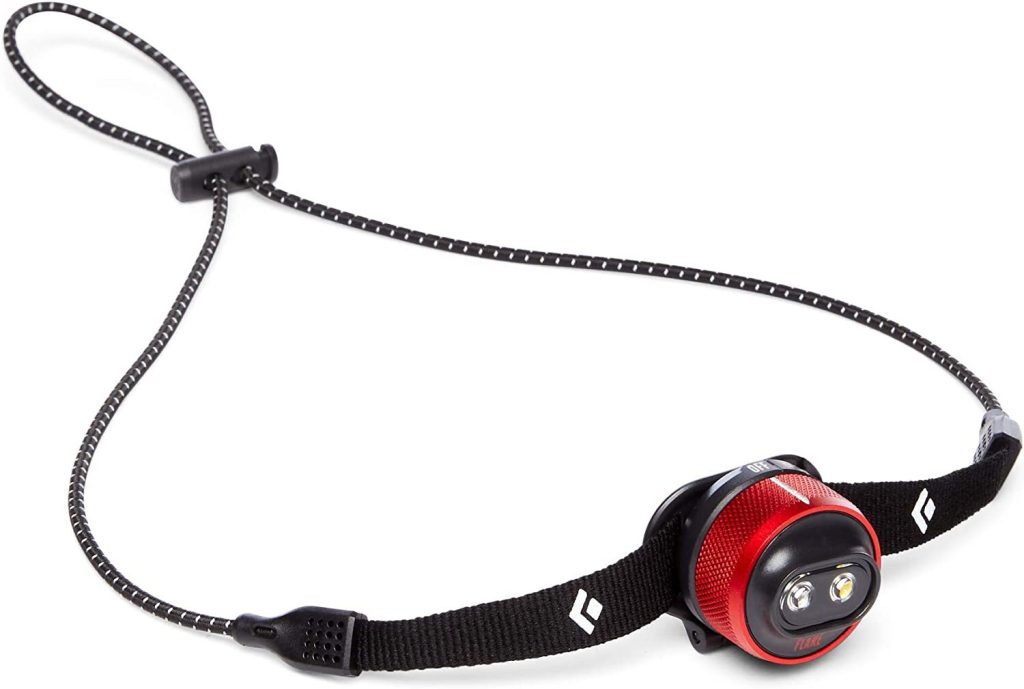 Color: Octane/Graphite
Weight: 27g
Maximum lumens: 40
Battery: 1 C battery required. (included)
Waterproof performance: IP67
What we like about it: The lightest headlight, and unparalleled performance.
What we don't like about it: Not good value for money.
All Black Diamond Equipment Flare Headlamps have said that many times they forget they ever wore a headlamp because it is so lightweight. At just 27g, it's a weight that would be ignored even if carried in the hand. With such a compact, lightweight design, there is no reason for it to be a burden. However, you also do not have to worry about forgetting it in your pants pocket to be damaged by washing. That's because its IP67 water and dust resistance are reliable. It can still operate safely for 30 minutes even when dropped underwater in 1 place.
Of course, we don't recommend that you always forget it in your shirt pocket. Its performance will satisfy you because, with the battery installed, it will have up to 10 years of standby time. Surprisingly, such a headlamp, but also has low and full-strength white, red, strobe, and SOS modes and other light modes.
Of course, if you don't mind its maximum output of 40 lumens and $29.95, you're in for a long, good time. Because such light intensity, as well as the price, is not very reasonable and not advantageous compared to those more cost-effective options in the list.
The Most Powerful Headlamp:
Victoper Rechargeable Headlamp 8 LED ($19.99)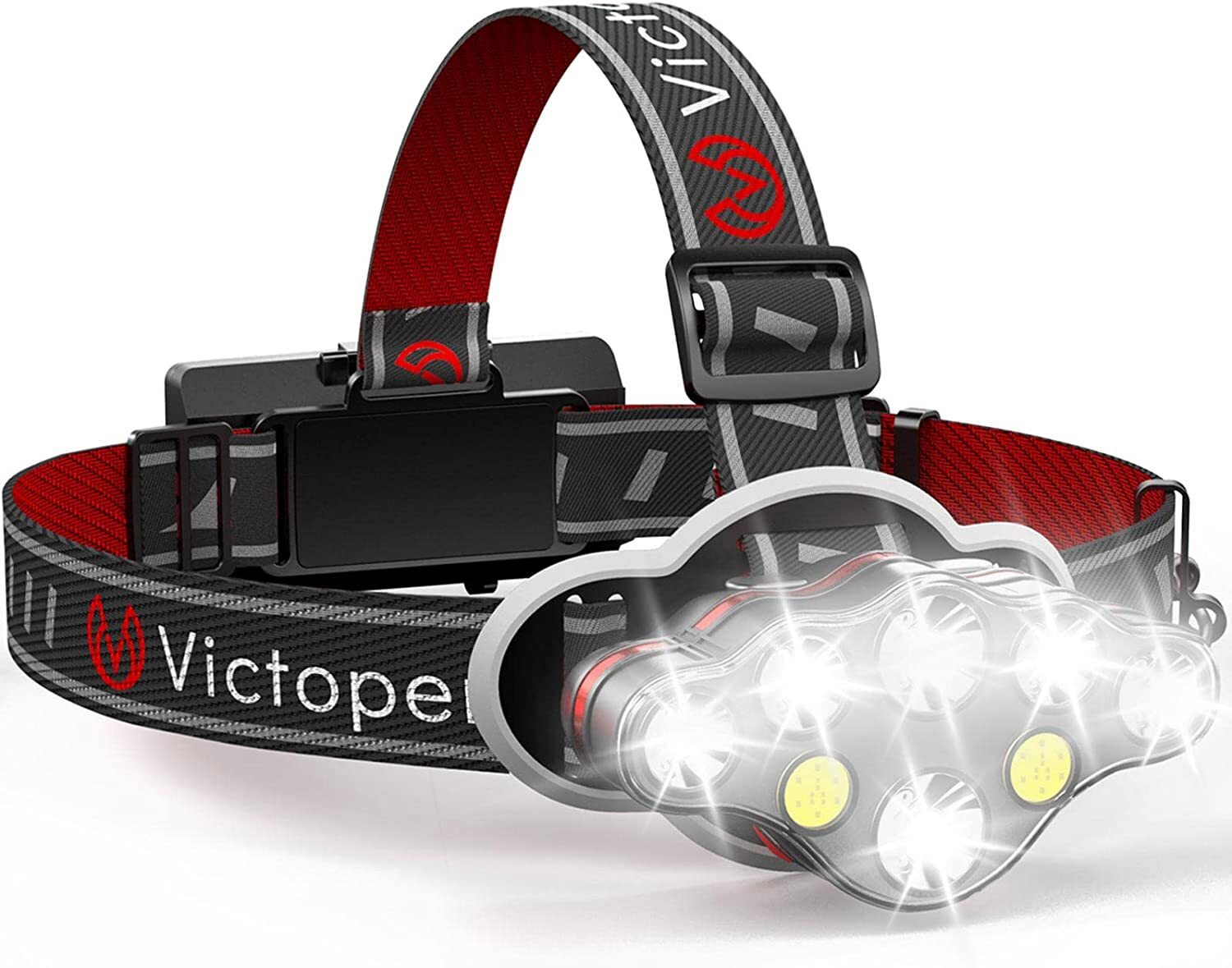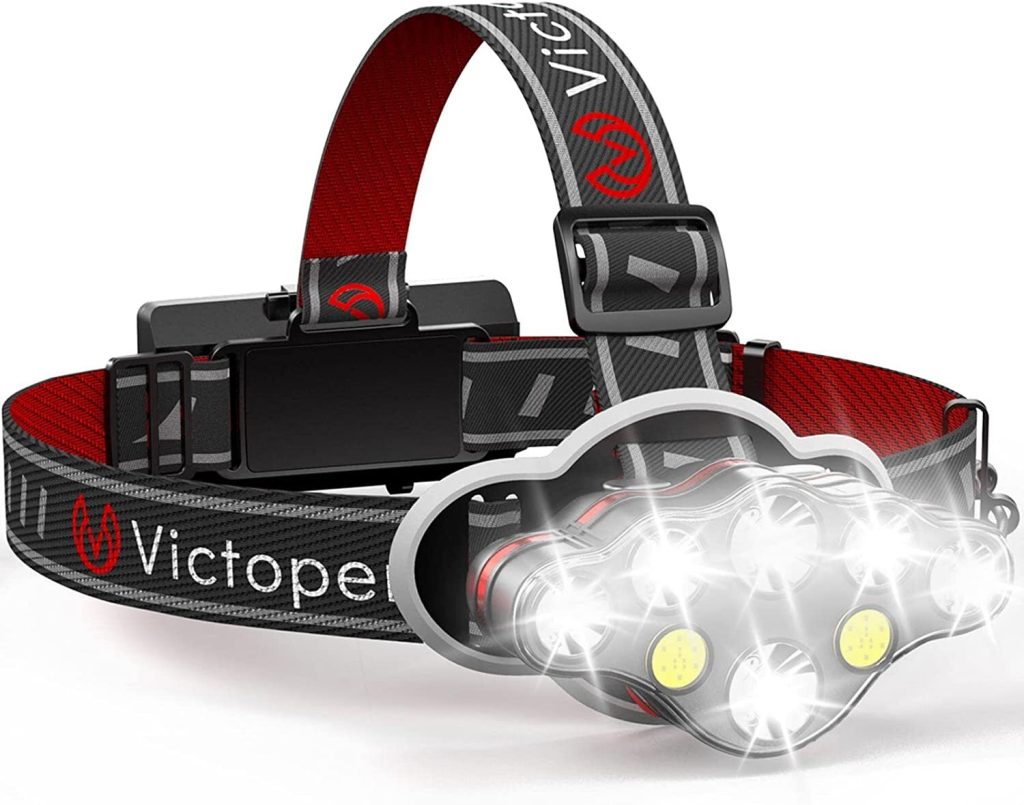 Color: Black/Bed/Yellow
Weight: 5.3oz.
Maximum lumens: 18000
Battery: 1 Lithium Polymer batteries required. (included)
Waterproof performance: IPX5
What we like about it: The cheapest and brightest lights, multiple modes of lighting.
What we don't like about it: All the light modes are very strong and power-hungry.
If you want the maximum light intensity for the least amount of money, why not consider the Victoper Headlamp? It is the best reflective presence on today's list. When I first saw it, I was attracted by its 8 eye-catching Led heads. The combination of them not only provides 18,000 lumens of light that completely illuminates the darkness but will combine lights for various scenes (strong beam, warm beam, red light, SOS red strobe, main beam, side beam, all beam, SOS strobe). Because it can be described as a multifunctional headlight. In addition, the 90° adjustable head is a great design that allows the light to be positioned more clearly and targeted simply by adjusting it.
We hope that when users complain that it only supports a maximum runtime of 6 hours, they first think about its 18,000 lumens of power. Although it has multiple light modes, they all emit more light and therefore consume more power. If your outdoor activity is a long-term project, then whether to buy Victoper Rechargeable Headlamp needs you to think twice.
The Safest Headlamp:
Fenix HM50R V2.0 Rechargeable Headlamp ($59.95)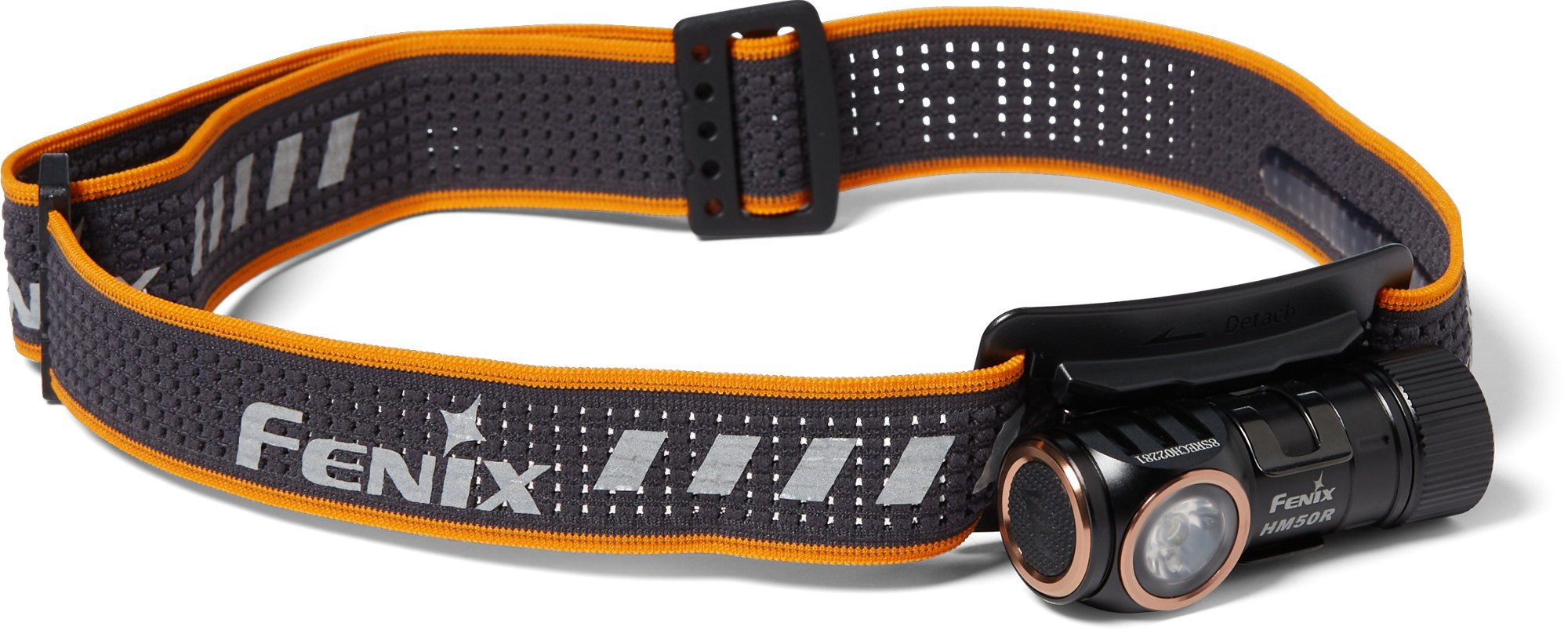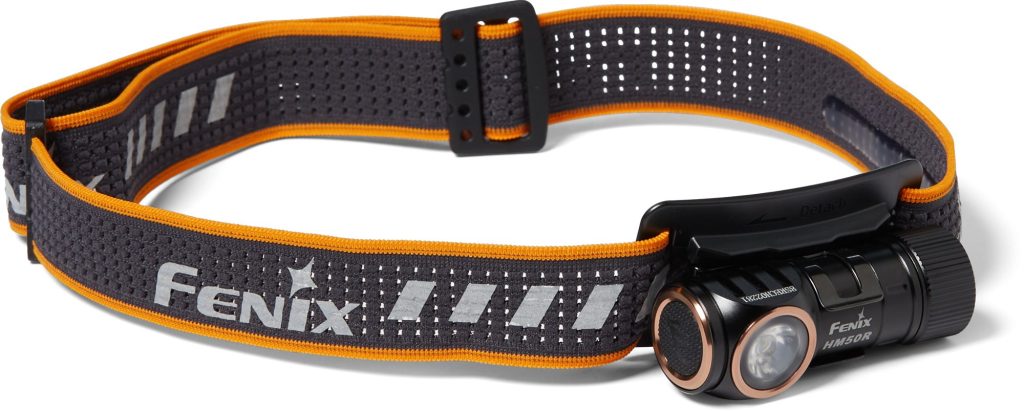 Color: Black/Orange
Weight: 2.75oz.
Maximum lumens: 700
Battery: 700 mAh rechargeable battery
Waterproof performance: IP68
What we like about it: Sturdy and waterproof headlamp, support for disassembly as a flashlight.
What we don't like about it: Average range in high lighting mode.
When you own a Fenix HM50R V2.0 Rechargeable Headlamp, you also own safer night travel. This headlamp, weighing less than 3oz., is made of a more durable and waterproof aluminum alloy material, so its waterproof rating reaches IP68. This means that even if the lamp falls into a 2m deep pit, it will remain lit. And the reliable red light and red light on-hand options also give night walkers the chance to send signals.
With the High-quality Cree LED turbo increase, 4 levels of brightness become a reality. The powerful light of up to 700 lumens will penetrate the darkness, allowing the light to travel further. Of course, you can also choose from a high mode of 400 lumens, a medium mode of 130 lumens, and a more power-efficient 30 lumens mode. In addition, if you find it difficult to control the lighting angle of the headlamp, you can also choose to remove it from the headlamp mount as a right-angle flashlight or clip it to your shirt pocket, backpack, or hat.
If you do choose to be a user of the Fenix HM50R V2.0 Rechargeable Headlamp, for safety's sake, we suggest you better prepare a spare battery before you go out. Because the headlamp in high light mode consumes power faster. Of course, you can also choose the low light mode, when it will run for 42 hours.
Frequently Asked Questions
Brightness
Battery
Weight
Waterproofness and IP rating
Brightness
We generally use lumens to describe brightness; in most people's perception, the higher the number the clearer the field of view, which is not necessarily true. Since this isn't a physics class, let's just say our conclusion. In general, we believe that judging a lamp's quality by lumens is somewhat biased, and the beam distance is more direct.
Therefore, those who are good at spreading light, such as Petzl IKO Core Headlamp and Fenix HM50R V2.0 Rechargeable Headlamp, have a more expensive price.
Battery
As you may have noticed, this article covers both rechargeable headlamps and AAA battery-fueled headlights, and of course, there are many options for both. The reason for this arrangement is to take into account the extent to which people have access to electricity resources.
There is no denying that using rechargeable headlamps is the most economical and environmentally friendly way to enjoy the light as long as they are charged on time. In some ways, they support longer running hours, as well as lighter weight. But if it is enjoying a long trip and charging is not so timely, then it can only be used as a decoration.
At this point, those headlights that support AAA batteries are more in line with the scenario. As long as you can find a store where you are, or you can prepare a little more in advance, you can extend the light time to longer, but this also means breaking the bank.
Therefore, if you can't predict the future, you can choose gear that is both rechargeable and supports AAA batteries. Such as Black Diamond Astro 300 Headlamp, Streamlight 61420 Enduro Pro, Petzl IKO Core Headlamp, etc.
Weight
Although the weight of headlamps is usually overlooked because they are too light, there are many bulky options in headlamps. It's just that we also kept a check on the weight during the selection process. Because lighter headlamps (such as Black Diamond Equipment Flare Headlamp and Curtsod Headlamp and Petzl IKO Core Headla) not only have a more comfortable wearing experience, but allow people to have more efficient work efficiency, and easy to carry a backpack.
Waterproofness and IP rating
In all outdoor activities, people take the waterproof performance of their equipment into account. Because of the unpredictability of outdoor weather, usually leads to damage and loss of use of electronics.
Fortunately, outdoor equipment such as headlamps, although small and cheap, in most cases, manufacturers are strictly designed by the IPx4 waterproof standard to ensure that when the rain comes, people can take them off in time to protect them.
But for those who need to travel in the rain, or simply can't spare their hands to soothe their headlamp, choose better waterproof equipment (such as Black Diamond Storm 400 Headlamp, Black Diamond Equipment Flare Headlamp, and Fenix HM50R V2.0 Rechargeable Headlamp, etc.), is the most important thing.
Conclusion
We must also state that there are subjective opinions about the evaluation of these best headlamps. Because each person's experience will be a little different. But they are the product of our careful selection and evaluation. They are not overpriced and serve people in a reasonable price range. Therefore, you can not worry about your wallet, or their performance is not up to par.
We sincerely hope that every reader will find the best headlamp here to safely survive the night. If you expect to learn more about rechargeable headlamps, you can take a look at the article on the best rechargeable headlamps in 2023.
Finally, if you like our content, please share it with your friends! If you find our content helpful, we appreciate your click to subscribe!