We use affiliate links and may receive a small commission on purchases.
We've selected 10 best rain jackets for your reference.
For every trekking enthusiast, conquering different mountains is their greatest pride. And in the face of bad weather, you need some proper equipment to deal with them. Don't let the rain be the factor that stops you from traveling. Choosing a proper rain jacket can keep your body warm and dry, and it can also keep your performance intact.
For this reason, we have carefully selected the 10 best rain jackets among many rain jackets and tested them in detail. Whether it's a daily drizzle or a downpour in the mountains, they can handle it all with ease. For more information, please refer to the detailed introduction below. If our content is helpful to you, welcome to like and collect, thanks for your support.
Best Rain Jackets List
1. Arc'teryx Beta LT Jacket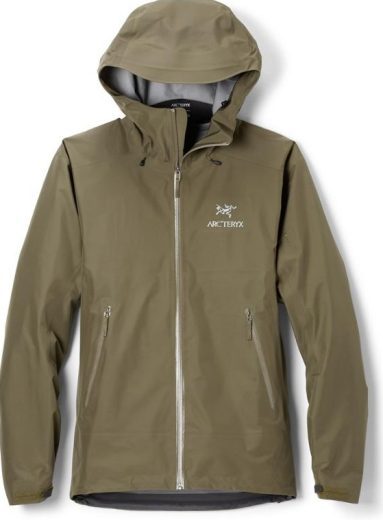 Price: $450
Fabric: Nylon
Weight: 13.9 oz.
Ventilation: Pit Zips
Hood: Yes
What we like about it: Excellent performance.
What we don't like about it: The high price.
The Arc'teryx Beta LT Jacket is one of the best of the best, as it is known for its top quality and performance. This jacket is versatile and lightweight enough to easily handle travel in all weather conditions, providing you with all-mountain performance.
Importantly, it has excellent water resistance and 3-layer GORE-TEX construction to keep the body dry in all directions. Helmet-compatible StormHood™ provides a fully adjustable fit and coverage without impeding sight lines. It has been designed with your hike in mind.
What's the downside of the Arc'teryx Beta LT Jacket? That would be the unmissable price. It's also the most expensive rain jacket on our list, at a whopping $450 it's not that easy to afford for many users. But you have to understand that price is often tied to quality, and this makes it unique for backpackers who are truly looking for the ultimate experience.
2. Patagonia Torrentshell 3L Jacket
Price: $149
Fabric: Recycled ripstop nylon
Weight: 13.9 oz.
Ventilation: Pit Zips
Hood: Yes
What we like about it: 3-layer H2No performance standard housing.
What we don't like about it: The small size style seems a little tight.
Patagonia's eco-friendly philosophy is well established, and that's why we chose this Patagonia Torrentshell 3L Jacket. Its fabric is made from recycled materials and features a 3-layer waterproof construction, making it more protective and durable compared to previous versions. Meanwhile the microfleece-lined provides comfortable protection for the neck and brings you a warmer hike.
The fit is designed with the addition of an adjustable hood with a laminated visor so that it can cope well with both rainy weather and hot, sunny days. It is worth mentioning that all the zippers of this rain jacket come with external and internal storm flaps to further enhance the waterproof performance. When you don't need it, you can also tuck it into the pocket with a carabiner clip-in loop, which is very convenient.
While Patagonia's products have always had an excellent warranty, this rain jacket we found in our actual tests to be slightly compact in its smaller size. And that was true in the feedback we received. If you don't like the design, you can choose a larger size.
3. MARMOT Men's Minimalist Jacket
Price: $199
Fabric: Polyester
Weight: 13 oz.
Ventilation: Pit Zips
Hood: Yes
What we like about it: Lifetime warranty.
What we don't like about it: It's not a good look.
Whether you're backpacking through the lush forest or heading out into the elements, the MARMOT Men's Minimalist Jacket will be your reliable choice. 2-layer Paclite construction creates a sturdy, non-bulky jacket with a rugged finish that can withstand even tougher travel. Especially for wet conditions, the excellent water resistance provides you with adequate protection from the rain. Even in the face of windy weather, its Velcro cuffs and drawstring under wrap effectively keep cold air out. This is built for you to travel outdoors and enjoy the journey. In the after-sales, you can also trust MARMOT. lifetime warranty commitment, you can go climbing and hiking with confidence.
However, as most people have the impression that MARMOT is ugly in shape, the version design of this rain jacket does not stand out. For me, it even feels like the exterior design doesn't match such great performance. If you are not a traveler who cares about appearance, then we believe this MARMOT Men's Minimalist Jacket is a perfect choice.
4. REI Co-op Rainier Rain Jacket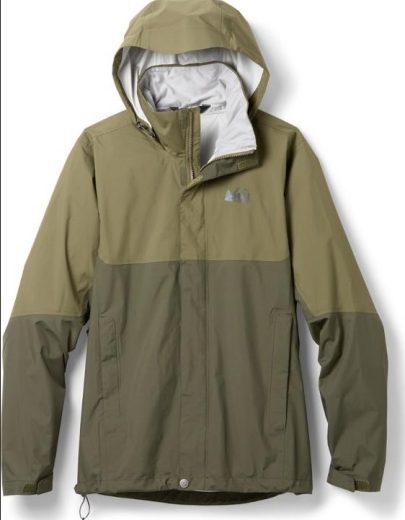 Price: $99.95
Fabric: Recycled nylon ripstop
Weight: 13 oz.
Ventilation: Pit Zips
Hood: Yes
What we like about it: The wide selection of colors.
What we don't like about it: Not suitable for long stormy trips.
For those backpackers chasing a nice cool look, you won't want to miss this REI Co-op Rainier Rain Jacket. this jacket impressed us with its wide range of color and style options, and it's truly one of the coolest on our list. Of course, the performance is just as good, with Peak 2.5-layer recycled ripstop nylon shell shielding you from light rain. sealed seams provide waterproof protection to keep you breathable and dry on the inside.
Not only that, but in the face of warm weather, pit zips let you dump excess heat. The 3-piece hood has dual adjustments for a fine-tuned fit and stows away when not needed.
It is worth noting that although this rain jacket has excellent waterproof performance, this does not mean that you can continue to move forward in heavy rain. After all, it only protects the upper half of your body. Excluding these, we think the REI Co-op Rainier Rain Jacket is a good rain jacket and worth a try.
5. Outdoor Research Foray II GORE-TEX Jacket
Price: $225
Fabric: GORE-TEX PACLITE fabric
Weight: 11.8 oz.
Ventilation: core vents
Hood: Yes
What we like about it: The lightweight.
What we didn't like about it: the not-so-impressive breathability.
The Outdoor Research Foray II GORE-TEX Jacket is a popular ultralight jacket for travelers, with a lightweight to reduce the burden on your hiking trips. In addition, the excellent all-around function is a lot of fun. The GORE-TEX PACLITE fabric is lightweight and also has excellent wind and water resistance. All SEALED seams are good for rainy weather, rain can only limit our vision, and can not stop us from moving forward.
In addition, in the detail processing, this rain jacket fully considers for the user. There are multiple pockets with zippers, so you can always place some essential items and do not have to worry about dropping them. Unlike the above rain jackets, it uses a single-separating center-front zipper, which fits your body more closely and keeps you warm.
The only complaint we have is that the Gore-Tex fabric while providing good breathability, is not as breathable as the new generation of breathable proprietary polyester-based films. After a long hike, it still feels a little stuffy. If Outdoor Research is willing to make an upgrade here, then even if it costs more the price is also acceptable.
6. Helly-Hansen Men's Moss Rain Coat
Price: $110
Fabric: Polyurethane
Weight: 22.22 comp.
Ventilation: Pit Zips
Hood: Yes
What We Like About It: Keeps hips dry.
What we don't like about it: The vertical pocket design.
Most rain jackets on the market today only keep your upper body dry, neglecting the hips and thighs. But this Helly-Hansen Men's Moss Rain Coat takes that into account. The longer size protects the hips from the rain. And it's designed to fit a wider range of body types in a very relaxed size. The stylish fit works well even when worn in everyday urban life.
In addition, the fabric is not bulky and is very comfortable, and the zippers are very well-made. The hood is deep enough for most users to keep out the rain and snow. What's more, every Helox product comes with a PU repair kit so you can fix it right away even if you get lost in the field.
What still impressed us was its vertical pocket design. Unlike the insert, this is not comfortable for some travelers. It doesn't relax your hands very much, and the opening is a little tight so that you can't reach in right away. But the advantage is that it keeps the pockets as dry as possible.
7. Rab Downpour Plus 2.0 Jacket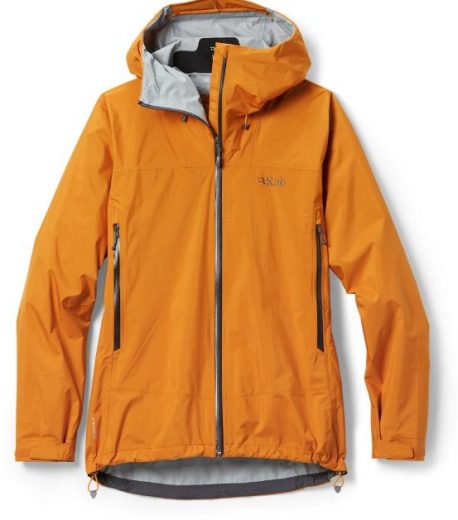 Price: $185
Fabric: Nylon
Weight: 13.2 oz.
Ventilation: Pit Zips
Hood: Yes
What we like about it: Excellent durability.
What we don't like about it: No head.
The Rab is known for its excellent technical shell because before that it was designed for climbing. Rab Downpour Plus 2.0 Jacket, however, builds on this foundation to give us an even better quality experience. In terms of material, this rain jacket is made of recycled 2.5 -layer Pertex Shield nylon fabric for reliable waterproofness. It is also lighter and softer in weight compared to 3-layer fabrics, providing you with superior comfort and breathability.
Most importantly, you can trust its quality completely. The outstanding durability gives it a longer service life. Yes, in addition to hiking, it can also be used for climbing and mountaineering and is always ready for changing weather. This rain jacket is an excellent choice for those who want a rain jacket with excellent technology.
What compromises do you need to make to choose the Rab Downpour Plus 2.0 Jacket? It does not have a chest pocket design like the above rain jackets, which is slightly inferior when it comes to storing items. It also has zippered pockets on both sides, which is not customary for some users and will take some time for you to get used to. Although these do not affect the overall performance, it is a disadvantage for daily wear.
8. Outdoor Research Motive AscentShell Jacket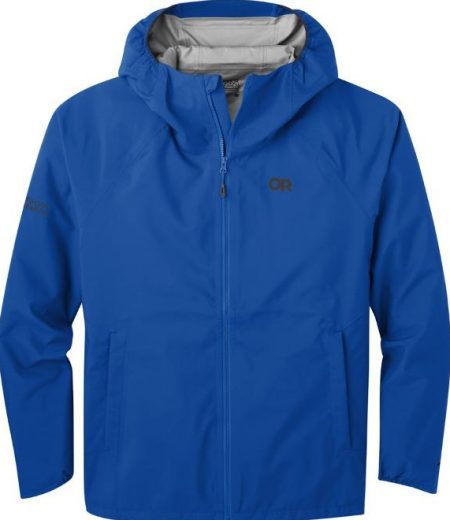 Price: $199
Fabric: polyester fiber
Weight: 10.9 oz.
Ventilation: core vents
Hood: Yes
What we like about it: It's perfect for winter.
What we don't like about it: It's not as good as it could be in terms of detailing.
Also produced by Outdoor Research, this rain jacket is a little different from the previous one in terms of performance focus. The fabric choice is an upgraded 3-layer structure that provides reliable waterproof and windproof protection. more critically, this rain jacket has excellent breathability, allowing it to breathe while exercising and ensuring that sweat evaporates. The simple streamlined design adds a touch of beauty to its appearance. trim fit means this is close-cut and designed to move with you.
What's more, it performs well even in winter. cuffs and adjustable hood use a cinched binding that creates a tight seal to keep the weather and wind out. and internal front storm flap and elastic drawcord hem help seal in warmth and dryness, allowing you to keep going in cold weather.
However, we were a little disappointed that the detailing on this rain jacket was less than satisfactory. The first is the use of a single-side waist adjuster, which makes the jacket feel a little uneven when pulled tight. The second is the pocket placement, which we wish was higher so that we could reach it when we put on the belt. Of course, even with these flaws, it doesn't take away from its great performance and is still a good choice.
9. Cotopaxi Cielo Rain Jacket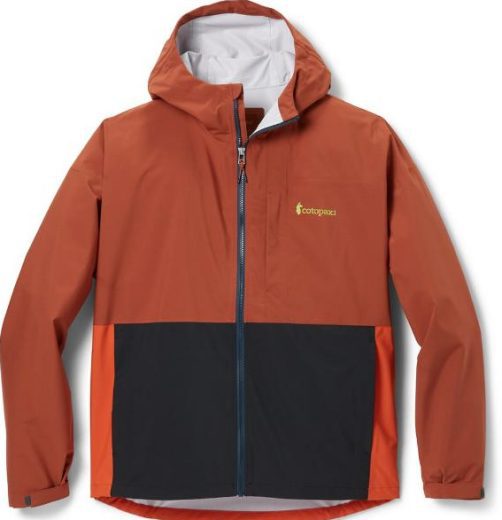 Price: $145
Fabric: Recycled polyester
Weight: 1 pound
Ventilation: core vents
Hood: Yes
What we like about it: Made with sustainable materials.
What we don't like about it: Only for light rain.
The Cotopaxi, a relatively new brand, has succeeded in gaining praise from campers for its serious craftsmanship and impressive color scheme. And this Cotopaxi Cielo Rain Jacket is one of the best. Adhering to the concept of environmental protection, this rain jacket is made of 100% recycled shell and PFC-free recycled material, with excellent fit and CO-durable waterproof surface treatment to bring more fun to your travels.
For a traditional outdoor rain jacket, this rain jacket has made out some practical modifications. One-touch hood adjustment, three pocket design, velcro adjustable cuffs, and waterproof front zipper. These little designs make your trip more enjoyable and we like them.
But let us have some complaints is that this rain jacket can only cope with some light rain. Since its waterproof rating only applies to light moisture protection, it can't do anything in the face of heavy rain. This makes it more like a casual type of jacket for those who go hiking outdoors on weekends.
10. The North Face Venture 2 Jacket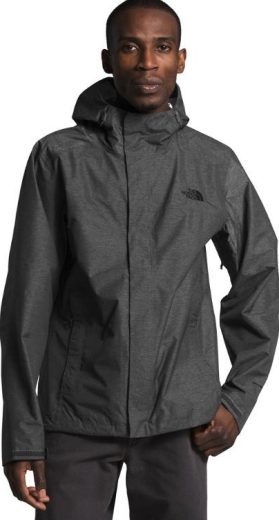 Price: $99
Fabric: Recycled ripstop nylon
Weight: 11.6 oz.
Ventilation: Pit Zips
Hood: Yes
What we like about it: The cheap price.
What we don't like about it: The thinner hood design.
If you're considering a versatile rain jacket with good performance at an affordable price, then The North Face Venture 2 Jacket is the right choice for you. This rain jacket covers the basics of everyday wear and hiking with a moderate weight. It also has excellent waterproof performance that can withstand storms in remote areas, even if the usual wear is still stylish and practical.
Pit zippers let you quickly dump excess heat, while secure zippered pockets with flaps allow for ready storage and easy carrying. The fit is also very flattering to the body, with the application of a hem band making it more fitted.
But what you need to know is that the cheap price is because it sheds something, and there is no way to balance that. The thin hood covers a small area and does not protect well from the elements. It also performs well in heavy rain and should be used to avoid such weather forward.
Learn More: Top 10 Best Travel Duffel Bags [2023] – For All Trips
Rain Jackets Buying Guide
Raincoat Category
Waterproof Performance
Soft and Hard Shells
Additional Details Included
Care and Maintenance
1. Raincoat Category
Daily Raincoat
Raincoats are an essential part of your life in everyday life. Especially for those who live in a humid climate for a long time, having a raincoat is essential. Most of these raincoats for everyday use are on the casual side. They usually have more different layers that can be accommodated, and you can carry more items with you. And they also have outstanding practical features, such as hand-warming pockets and other designs. They are usually thicker and more durable and do not take weight into account as an option.
Also, you won't often see hoods or exposed waterproof zippers in rainwear for everyday use. This is because they are usually budget oriented and not considered more versatile.
Hiking Raincoat
For those avid hikers, this rain jacket is their most common choice. It is lighter in weight than the raincoat used every day, which is also designed to reduce the burden of backpackers. In both lightweight features, it is also very convenient to carry, you can easily pack it.
In the wind and rain performance is also quite outstanding, excellent rainproof performance can let your body always keep dry, even in the rain forward also unaffected.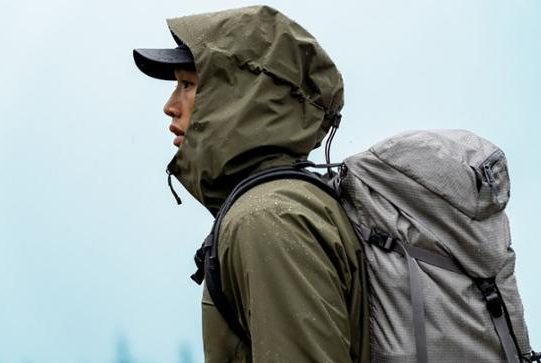 Performance Raincoat
This performance-oriented rain jacket is the first choice for those professional travelers with a tougher shell fabric that can withstand harsher conditions. It is also more waterproof and breathable, providing you with a more comfortable experience. The disadvantage is that excellent performance is often accompanied by a higher price, and you need to pay more for it. Also different from the two rain jackets mentioned above is that some of the insertion pockets will be located higher. This is to accommodate hiking straps or backpacking belts and will take you a while to get used to.
2. Waterproof Performance
For every raincoat, waterproof performance is essential. Generally speaking, raincoats in the market are referred to by the combination of fabric layers. They are divided into the following categories.
2 -layer
This is the most basic style. They usually require a mesh lining to protect the inner coating of the jacket, which is how the name was derived. 2-layer rain jackets are not as breathable and are encountered in entry-level rain jackets. They are much cheaper and are suitable for everyday casual wear.
2.5 -layer
The 2.5-layer jacket has a very thin inner fabric attached to the waterproof layer. It is called 2.5-layer because it is an addition to the 2-layer and the fabric is very thin and light. the advantage of using this design is that the mesh in the 2-layer jacket is no longer needed. This makes it more breathable and compressible, making it a popular choice for those hikers.
But they also have the disadvantage that the internal fabric is not so soft to the touch. Some users even feel a little uncomfortable.
3-layer
The 3-layer raincoat is a further improvement in waterproof and breathable performance. It includes three separate pieces of fabric, with a waterproof and breathable membrane in the middle and a stronger fabric inside. It is slightly larger than the 2.5-layer, but goes further in durability and comfort, with good moisture-wicking performance. But again, it costs more in terms of cost, which means you need to pay more. Generally speaking, high-quality raincoats are made with 3-layer construction.
3. Soft and Hard Shells
If you don't know how to choose between soft and hard shells for your rain jacket, check these out. Traditional softshell jackets have a DWR coating on the outside. However, because the seams are not taped, they are not ideal for waterproof performance. However, current softshells are now available in waterproof styles. While they can't compete with the waterproof performance of traditional rain jackets, softshells are still a better option for those looking for a breathable, waterproof outer layer.
Hard shell jackets, on the other hand, are designed for extreme environments. They offer better durability and can withstand high winds and heavy rain. But they are also bulkier as a result. The rugged shell design makes it more suitable for activities such as hiking or skiing. It is also more expensive due to the higher-end design.
4. Additional Details Included
Generally, raincoats are designed with some extra details that you can choose according to your preferences. The first is the pocket design, which is essential for most users to store some items at any time. However, for some ultra-light raincoats, pockets add weight and are therefore discarded. The location of the pockets will also vary depending on the type of raincoat. For climbers, it will be designed to have pockets higher up on the torso to avoid interfering with the waistband of the pack, which is not as convenient as it could be.
The hood design is also a consideration. When choosing one you need to determine if it is compatible with the helmet and used for added weather protection.
To make the rain jacket more snug, tightening systems are designed at the hem, and they provide you with the best seal to effectively prevent cold air from entering and a better fit.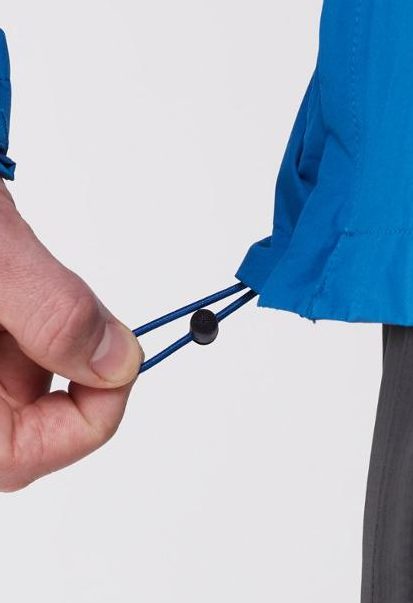 5. Cleaning and Maintenance
To have a longer usage time for your raincoat, you need to pay attention to the following when cleaning it. First, please read the instructions carefully before cleaning. Because some rain jackets don't support machine washing, as it will damage its outer waterproof coating. In general, we suggest cleaning the jacket in warm water with detergent and then doing a second rinse to remove detergent residue. Air dry is the best way.
In terms of placement, try to avoid direct sunlight, as intense UV rays can also damage the raincoat, and it's best to place it in a cool place.
Conclusion
In this test, we detail the 10 best rain jackets in 2023, they have different types, all different in focus, and you can choose according to your preferences. We also have detailed answers to what you need to know before you buy. Hope these contents can help you.
Finally, if you like our content you are welcome to share it with your friends, and if you recognize our content, you can click the email subscribe button below!