We use affiliate links and may receive a small commission on purchases.
We've selected 10 best hiking pants for your reference.
For hikers, a suitable pair of hiking pants can bring you more comfortable and unrestrained movements, allowing you to fully cope with different environments. In addition, due to the different choices of style and fabric, hiking pants also have different outstanding performances.
The variety of hiking pants on the market and the complexity of the styles bring you some trouble in picking the right pants. But don't worry, here we have listed the 10 best hiking pants in 2023 for you. We have also answered your questions about hiking pants, aiming to pick the best products for you. If our content is helpful to you, please don't forget to like and favorite, your attention is the biggest motivation for us to update.
Beat Mountaineering Pants Comparison Table
| | | | | |
| --- | --- | --- | --- | --- |
| Products | Price | Materials | Weight | Belt |
| Outdoor Research Ferrosi Pants | $89 | 87% 90 denier stretch woven ripstop nylon 14% spandex | 10.7 oz. | No |
| Arc'teryx Gamma LT Pants | $180 | Fortius DW 2.0 88% nylon 12% elastane | 12.5 oz. | Yes |
| REI Co-op Sahara Roll-Up Cargo Pants | $60 | 94% nylon, 6% elastane | 10.2 oz. | No |
| Fjallraven Vidda Pro Ventilated Trousers | $175 | 65% Polyester/35% Cotton | 1 lb. 3.7 oz. | No |
| prAna Stretch Zion Pants | $89 | 97% Nylon / 3% Spandex | 14.2 oz. | Yes |
| REI Co-op Activator 3.0 Pants | $99.95 | 63% nylon, 26% polyester, 11% spandex | 14.5 oz. | No |
| Outdoor Research Cirque II Pants | $150 | 50% nylon, 43% polyester, 7% spandex | 1 lb. 5.8 oz. | No |
| KUHL Renegade Convertible | $109 | 95% nylon, 5% spandex | 15.9 oz. | No |
| REI Co-op Sahara Convertible Pants | $79.95 | 96% nylon, 4% spandex | / | No |
| Columbia Silver Ridge Cargo | $55 | 100% Nylon | / | Yes |
1. Outdoor Research Ferrosi Pants
Price: $89
Weight: 10.7 oz.
Fabric: 87%, 90D stretch woven ripstop nylon 14% spandex
Belt included: No
What we like about it: It has excellent stretch.
What we don't like about it: There is no built-in belt.
We can confidently say that when it comes to pursuing better comfort, you can trust Outdoor Research completely and it's hard to find hiking pants that are superior to Ferrosi. This classic men's pant has been updated to provide better elasticity and recovery, performing excellently during hiking. In terms of fabric used, it blends weight and durability well, bringing you all-around flexibility.
It also performs well in temperature regulation. It is tough enough to have good waterproof and windproof performance. Even in the face of changeable weather, it still copes well. And when the temperature rises, it will also air dry quickly to keep the body dry.
Yes, as top-of-the-line hiking pants, we're holding out for a more critical eye. It's not designed with a built-in waistband, which means you have additional purchases to make, and the inner drawstring isn't too effective a solution. So you'll need to match a proper waistband yourself for tightening or loosening.
2. Arc'teryx Gamma LT Pants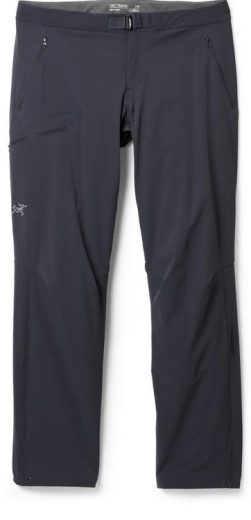 Price: $180
Weight: 12.5 oz.
Fabric: Fortius DW 2.0 88% Nylon 12% Elastane
Belt includes: Yes
What we like about it: The construction is suitable for climbing.
What we don't like about it: No back pocket design.
When you're facing tougher terrain, you need climbing pants with great performance. That's where we turn our attention to the Arc'teryx Gamma LT Pants, a distinctive softshell pant designed with mountaineering in mind, with excellent abrasion resistance to keep you off the terrain. The excellent elastic stretch even allows you to move around more freely.
To cope with the harsh terrain, the fabric is chosen to be equally windproof and waterproof, and also thoughtfully provides you with lightweight insulation for longer-distance hiking. In terms of detailing, a low-profile built-in waist belt is used for your comfort, which you can freely adjust. A zippered thigh pocket is located below the climbing harness for easy access to your belongings.
However, it is worth mentioning that in terms of pocket design, it does not consider the back pocket. This is probably because the back pocket is not used very often in hiking or climbing. But for those adventurers who carry a lot of items, the extra back pocket can store more things.
3. REI Co-op Sahara Roll-Up Cargo Pants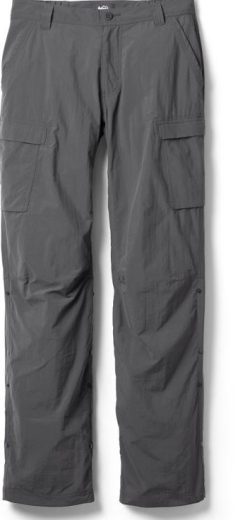 Price: $60
Weight: 10.2 oz.
Fabric: 94% nylon, 6% elastane
Belt included: No
What we like about it: The lightweight.
What we don't like about it: The slightly baggy design.
REI Co-op has always been creative in designing its products, and it always brings us a different experience. And REI Co-op Sahara Roll-Up Cargo Pants will be able to add more fun to your journey. It has two different roll-up heights, so you can choose according to the actual situation. The freedom of adjustment allows you to face any stream and will not easily fall off.
In addition to this, it has lightweight. It is compact in packaging and can reduce backpack space. The same waterproof performance is still excellent. The durable waterproof finish doesn't have to worry about wet conditions, the comfortable fabric brings you good ventilation, and wearing it can bring you a longer hike.
What makes us complain, though, is that the slightly loose fit is not designed to fit some travelers. This may make you more comfortable, but it can look a bit draggy for those with petite frames. These hiking pants are more for those seeking comfort.
4. Fjallraven Vidda Pro Ventilated Trousers
Price: $175
Weight: 1 lb 3.7 oz.
Fabric: 65% polyester/35% cotton
Belt included: No
What we like about it: A more comfortable experience.
What we don't like about it: avoiding wet environments forward.
In a market where we rarely see cotton hiking pants or other outdoor products, Fjallraven has always been a maverick. Made from durable G-1000 Eco fabric containing 35% cotton, these Fjallraven Vidda Pro Ventilated Trousers are heavier in weight than most options on the list. But it managed to grab our attention with its well-designed slim fit.
Pre-formed knee and crotch linings enhance freedom of movement and allow for more freedom of motion. And hip-to-knee vents are designed to help keep you cool. You can even count on the comfort level. The thick fabric lets you walk through the grass without worrying about scratching, and the double-layer fabric reinforcement is durable at the knees.
While we appreciate the innovative spirit of Fjallraven, it has to be said that cotton fabrics are subject to this problem. That is poor water resistance. So when you travel before you need to confirm the weather and try to avoid the rainy day before the trip.
5. prAna Stretch Zion Pants
Price: $89
Weight: 14.2 oz.
Fabric: 97% nylon / 3% spandex
Belt includes: Yes
What we like about it: The large double-entry pocket design.
What we don't like about it: It's not suitable for hot summer days.
The PrAna has been successful in gaining the love of climbers through its exquisite craftsmanship and the main idea of giving full consideration to customers. And this prAna Stretch Zion Pants is one of the best. It features a more understated look but is even better in durability. The original quick-drying Zion stretch performance fabric has excellent waterproof and quick-drying characteristics to withstand light weather.
The streamlined adjustable waistband provides a better fit. To our surprise, the pocket design uses large angled dual-entry pockets that can hold more belongings and are easy for you to access. In terms of detailing, the rolled-up leg snap and ventilated inner seam lining are ready for your climbing. It's a solid choice.
Although in terms of performance, it is comfortable enough, durable, and warm. But for hot summer hiking, we do not recommend it very much. In terms of ventilation and breathability performance, there is still room for improvement. If prAna can launch a short version, it must be a good choice for summer travel.
6. REI Co-op Activator 3.0 Pants
Price: $99.95
Weight: 14.5 oz.
Fabric: 63% nylon, 26% polyester, 11% spandex
Belt included: No
What we like about it: Excellent durability.
What we don't like about it: It's equally unsuitable for hot weather.
Also from REI Co-op, Activator 3.0 is different in focus from the one above. It's made of softshell fabric with a durable, water-resistant finish that can withstand light rain and move in 35 mph winds without compromise. The fabric is thicker and more robust than other summer pants. It can easily cope with wide open fields or dense forests, blocking sharp branches and overgrown weeds.
The details are also fully considered for the user. The drawstring adjustment at the cuffs keeps debris out, and the zippered pockets are designed to properly store travel essentials. It is an underrated hiking pant.
As with the last pant, the biggest problem with the REI Co-op Activator 3.0 Pants is still in the breathability. It is very warm and will make you feel hotter in the hot summer months. So again, we don't recommend you use it in the summer or on desert hikes; it's better suited for cooler weather driving.
7. Outdoor Research Cirque II Pants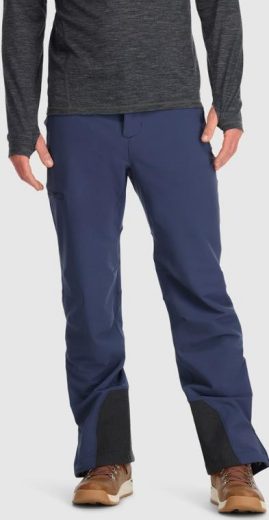 Price: $150
Weight: 1 lb 5.8 oz.
Fabric: 50% nylon, 43% polyester, 7% spandex
Belt included: No
What we like about it: It works in all seasons.
What we don't like about it: It's expensive.
The Outdoor Research Cirque II Pants impressed us with their outstanding versatility. It copes well with both warm seasons and cold weather. In terms of fabric choice, the softshell fabric is breathable, abrasion-resistant, and weather-resistant, and this is the basis of its ability to adapt to various conditions.
With ActiveTemp™ temperature regulation technology in the waistband, you'll stay cool and dry during intense workouts. And when faced with climbing mountaineering, the tough pants have a better range of motion. You don't have to worry about rocks or tree branches to keep you moving forward. As they say, they're ideal for high-energy alpine climbing, mountaineering, and ice climbing.
Outstanding performance often means a more expensive price, and that's unavoidable. At $150, a pair of hiking pants is indeed pricey. But we think it's worth it for a professional pair that works in all four seasons. If you have the budget, don't miss out.
8. KUHL Renegade Convertible Pants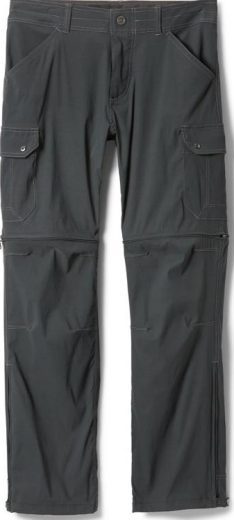 Price: $109
Weight: 15.9 oz.
Fabric: 95% nylon, 5% spandex
Belt included: No
What we like about it: Offers more storage space.
What we don't like about it: It's heavier than most of the list.
The KUHL's apparel designs are always unique, and the KUHL Renegade Convertible is a rolled-up pant with multiple ways to wear it. We particularly like the understated design and the durable softshell fabric that provides excellent performance. The breathability is also excellent, and the durable waterproof performance is better than standard nylon. Even in the summer heat, good sun protection gives you a better experience.
What surprised us the most was that even the zipper system was carefully designed. The invisible zipper system eliminates the usual fabric flap while still keeping the zipper running smoothly and efficiently. In terms of storage options, in addition to the standard two front and back pockets, there are large pockets on both sides as well as a layer of pockets inside, which gives you more storage space.
It's worth noting that this KUHL Renegade Convertible weighs more than most of the pants on our list. This may be a little uncomfortable for those seeking a lightweight traveler. But we Rang appreciate the low-profile design, so it appears on our list.
9. REI Co-op Sahara Convertible Pants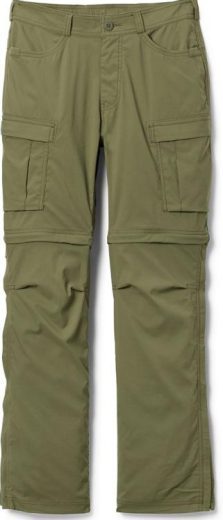 Price: $79.95
UPF grade: 50
Fabric: 96% nylon, 4% spandex
Belt included: No
What we like about it: Convertible pants with great performance.
What we don't like about it: no integrated belt.
Whether it's a cold winter day or a hot summer day, the REI Co-op Sahara Convertible Pants can handle it with ease. In cold weather, the comfortable stretch nylon fabric brings you a warmer hike. And in warmer conditions, you can simply pull down the leg to transform into hiking shorts for a cooler experience.
In addition, it does not disappoint us in terms of performance as well. The design with flat stitching not only prevents scuffing but also allows the pants to close up and be smaller. The back waistband with excellent elasticity allows you to move more freely and comfortably. The most useful thing is the design of multiple pockets, allowing you to keep some essentials at all times, and the design with zippers further reduces the possibility of dropping them.
But here's why we put the Sahara Convertible Pants in this spot. The main reason is still its slightly odd fit. It takes the regular body and flared bottom in the other direction and no longer includes a one-piece waistband. And it has a surprisingly small belt loop that only works for more narrow designs. Of course, all of this doesn't stop it from being a great hiking convertible pant that remains a good choice.
10. Columbia Silver Ridge Cargo
Price: $55
Fabric: 100% nylon
Belt includes: Yes
What we like about it: Great value for money.
What we don't like about it: The relatively thin fabric.
If you're looking for inexpensive hiking pant that offers great value for your money, then this Columbia Silver Ridge Cargo is the one for you. You'll get excellent performance for just $55. It's made of breathable and air-drying fabric that evaporates quickly so you can keep your body cool and your clothes dry. It also does a good job in sun protection treatment to stop UV rays and prevent skin damage.
In addition, there are several other convenient features. The exterior has an adjustable waistband, allowing it to fit better. And in terms of storage, an abundance of pockets have been added to make your belongings more secure and convenient.
Despite the reasonable price, it is inevitably a poorer choice of material in terms of cost. It feels relatively thin to us and offers less weather protection than the others on the list. This is why we have placed it last. Nonetheless, it is perfect for those who want great value-for-money hiking pants.
Mountaineering pants buying guide
Mountaineering pants fabric
Pockets
Need a lighter weight?
Hiking pants and hiking shorts
Convertible pants and rolled-up pants
Maintenance and Care
Mountaineering pants fabric
Nylon
Nylon material is a more common fabric that has good advantages in durability and can cope with more strenuous climbing. It also has the characteristics of fast drying. Compared with other fabrics it is relatively soft and comfortable to the touch, but in terms of price, it is usually not cheap.
Polyester
Polyester is also a durable fabric, but slightly inferior to nylon. However, it is excellent in waterproofness and can evaporate quickly, with excellent moisture absorption and sweat release performance. More importantly, the polyester fabric is not easy to pill.
Cotton
Cotton fabric has a softer texture and is preferred by those seeking comfort. But you need to be reminded that cotton fabric is absorbent, which also means that it does not cope well with wet weather. It also tends to stick to the skin when wet, causing abrasions, so we don't recommend using cotton on long hikes.
Pockets
In terms of pocket selection, our recommendation is to go for hiking pants with fewer pockets. This is because too many pockets can make your pants appear too bulky and can hinder your forward movement. For some people, pockets are a plus, which will give them more storage capacity.
Typically, hiking pants come with one or two pockets for your phone or other belongings. We think the ideal location for a pocket is on the side of the thigh. It has a large enough capacity to allow you to take it out or put it in at any time. For the front pocket, it's common in everyday life, but in climbing, we generally don't put items in it because it will interfere with your climbing. The back pocket is rarely used because it is hard to get things with a backpack. And when you sit down, the items placed inside will also affect your comfort.
Need a lighter weight?
Honestly, unlike other outdoor gear, we don't think about hiking pants in the first place. This is because the weight of the pants themselves is not outstanding and you are wearing them on your body. So whether you are hiking or climbing it does not affect you much. If you are on a long hike and carry more than one pair of pants in your backpack, then lighter hiking pants are a good choice. Of course, some hiking pants weigh more than 1 pound, which is a balance for better durability. We think it's worth it.
Mountaineering pants and shorts
When you're on a long hike in the middle of the season when there's a big difference in temperature between day and night, it's a tough choice to make – do you wear hiking pants or hiking shorts? Full-length pants can better protect you from weeds and tree branches, while shorts can both bring cooler travel.
Mountaineering pants
For hiking pants, it is generally the first choice for technical hiking and climbing. Therefore long pants are effective against mosquitoes and plants and reduce the number of scrapes on rocks or tree branches. It also helps prevent dirt and rocks from getting into your shoes. In a more wooded environment, it feels like the best choice. The downside though is that it is more difficult to regulate body temperature and they are heavier.
Hiking shorts
Generally speaking, shorts are cheaper, and they offer better freedom of movement and breathability. It is usually more comfortable than hiking in pants, and shorts are a lighter option. This is the reason why most adventurers choose shorts for hiking in the summer.
However, if you choose shorts you will have to deal with sunburn, bruises, and insect bites. This will greatly affect your enjoyment of the trip. In the season of temperature difference, you also need to match the bottom at night to fight off the cold. Also, shorts usually do not have as many useful pockets to store your belongings.
Convertible Pants and Rolled-up Pants
Convertible Pants
What we love about convertible pants is their ability to switch freely between long pants and short pants. This not only reduces your backpacking load but also brings a lot of fun to your trip. It's also a popular choice for hikers and outdoor adventurers. Comparatively speaking, open pants tend to be very loose, which can increase the rapid ventilation of the legs and bring you a more comfortable walking experience.
However, that doesn't mean that convertible pants don't have their drawbacks, and they still aren't for everyone. In addition to not standing out in terms of appearance, the extra zippers are a pain to use. And regardless of the design, they add weight and bulk, which is inevitable.
Rolled Pants
Unlike convertible pants, the great thing about them is that you don't have to worry about zippers, just a simple button and tab to secure the leg for a ventilated experience. In terms of use, it is more convenient and easily transitions from town to country trails. What's more, you also have the freedom to decide the length of the roll-up. But it also has one of the biggest drawbacks, that is, the rolled-up pant leg is not very comfortable, there is also the possibility of falling off.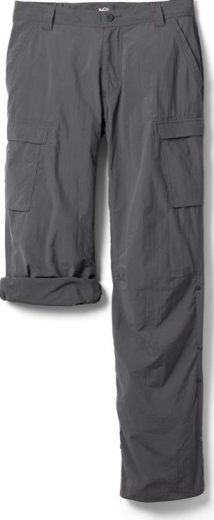 Maintenance and Care
If you want your hiking pants to have a longer life, then the usual maintenance and care are essential. First, you need to follow the washing instructions on the product label and not throw whatever clothes into the washing machine. Before that, some basic knowledge you need to know.
The first thing is that the agitator in the washing machine may snag the zipper or drawstring. So you need to make sure your zipper is up and tie the drawstring before washing to prevent fraying.
The next step is not to use fabric softener or drying paper. This is because they can deposit residue on your pants and affect overall performance.
There is also the option to hang dry whenever possible to prevent the heat and churning of the dryer from potentially damaging the fabric and destroying the performance.
What you also need to know is that most fabrics are now antibacterial and even better in terms of durability. This also means that it does not necessarily need to be washed after every trip.
Conclusion
We are glad that you can finish reading this article, where we have made a detailed review and introduction of these 10 hiking pants. They have different characteristics and performances, I believe you have a certain understanding of them. At the same time, we have made answers to what you need to know before you buy, and we hope it will help you.
Finally, if you like our content, feel free to share it with your friends! If you approve of our content, you can click the email subscribe button below!