We use affiliate links and may receive a small commission on purchases.
Were you looking for a recreational road bike? Then the Schwinn Volare 1200 road bike is an excellent choice.
When we want to buy a bike, we usually have to pay attention to the primary purpose we are purchasing the bike for? Especially if it is to be your first bike.
As a veteran cyclist, I have also owned many bikes. To review the Schwinn Volare 1200 bike. I found a biker who owns this bike and took it for a 3-day, 20-mile test ride.
So what are the features of this bike, and what are the pros and cons of the Schwinn Volare 1200? Are there other alternatives if we were to pick one? Is it worth buying?
With these questions in mind, let's get started with our official review!
Schwinn Volare 1200 Specs
| | |
| --- | --- |
| Frame size | 19″ rigid aluminum frame |
| Frame material | Lightweight aluminum frame |
| Wheel size | 28-inch wheels |
| Suspension | None |
| Crank | 3 piece alloy |
| Speed count | 21 |
| Derailleur | DNP Down Pull |
| Rear derailleur | 7-speed gearing |
| Shift Lever set | Shimano rear derailleur and EZ Fire shifter |
| Rim | 700c |
| Tire Size | 700c*28" |
| Brake | Front and rear mechanical disc type |
| Available colors | Matte blue |
| Package weight | 33.07 lb |
| Bicycle weight | 30lb |
What are the features of Schwinn Volare 1200?
Schwinn Volare 1200 minimalist appearance
The paint is a translucent matte blue. This similar jewel blue is one of the enduringly popular colors.
The welds attached to the frame are flat, and Schwinn's vintage badge is inlaid on the front as if it were an engraved marker of over 100 years of history. The whole is both stylish and vintage.
The look of the bike attracts as much attention as a premium road bike. With a gorgeous finish, this Schwinn bike stands out.
Frame
The frame material is also the main feature of the Schwinn Volare 1200. The 19″ is a rigid aluminum frame. It is made of the highest quality aluminum, which is why it weighs only 30 lbs.
The frame is welded smoothly, and the sturdiness is tested. 19″ The lightweight frame also makes riding more straightforward, and we've seen in reviews that some riders over the age of 70 can lift it with one hand.
Optimal powertrain
The Schwinn Volare 1200 is equipped with a Shimano powertrain. A total of 21 speeds are available. Throughout the test ride, the gears were also shifted in various usage situations.
The entire shifting process is smooth and easy, and the crisp sound of the Shimano EZ Fire trigger shifters is an enjoyable part of your ride.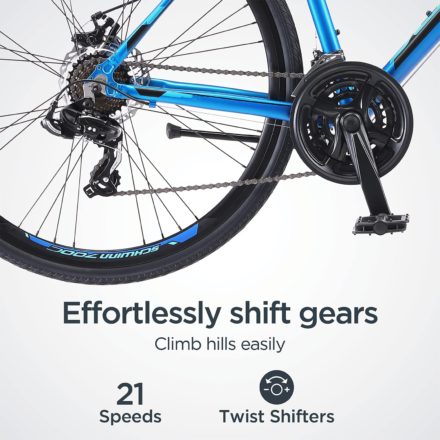 Precise braking system
Schwinn Men's Volare 1200 Bike 700c has mechanical disc brakes front and rear for precise braking. It is sturdy and durable, and the alloy pull cable is not easily damaged.
The brake line arrangement is also very reasonable and easy to maintain and care for. Let it accompany you for a longer time. The brake stroke can be adjusted, and adjusting to the correct stroke is also a way to ensure safe riding.
Slender wheels
The double alloy rims and versatile road tires work in tandem to give you a comfortable ride on road trails and asphalt. The width of the tires is only 1.4 inches (personal measurement).
But that's keeping the road bike's character, with enough grip to allow for short, high-speed rides. It can also be ridden in rainy weather, which is less effective than professional road bike tires.
The comparison of road bikes in the same price range is also not inferior at all.
Handlebar and Seat
The handlebar wrap also has some minor details, deliberately made to facilitate the grip of the grain. It is also soft enough. If you reduce the wear and tear on your hands, you can still buy a pair of bike riding gloves.
Seat
Seat for commuting use, or short-distance riding you are not too much influence. But I don't think it's soft enough when I ride.
Riding comfort level
The most troublesome thing about buying a bike online is still not knowing how comfortable it is. But I need to make it as straightforward as possible.
First is the riding position. The Schwinn Volare 1200 allows you to ride sitting up, so that's an option when going at slow speeds.
Then there is the road choice, as it has no suspension, so this is not a great experience when facing bumpy sections. Then the main thing is the uphill road surface of the road, 21-speed gears, easy to shift. It can be crossed easily.
The most exciting then is the high-speed descent of the play. Here is not recommended for newcomers to do so, the speed is fast, and accurate braking allows you to stop where you need to stop, quickly.
The original seat is on the stiff side, but my friend also replaced it, so I listened to my friend on this point.
Road riding comfort is high.
Schwinn Volare 1200 advantages and disadvantages
Advantages
Robust and durable
Very light weight
Easy to assemble
Stylish design
Smooth shifting
Precise brakes
Good warranty policy
Recommended for beginners
Disadvantages
Pedal plastic easily damaged
Original seat is hard
Related Questions
Frequently asked questions about the Schwinn Volare 1200
Who is the Schwinn Volare 1200 bike for?
The first thing is that this bike is a road bike, so it is not suitable for riders who ride a lot in the mountains. Because the design style is for men.
Originally the Schwinn Volare 1200 was also available for women, but they were not found on the major online shopping platforms. So it is still most suitable for men. But many women choose this road bike.
If you use it as a commuter, this bike is perfect, light quality. Ideal for cruising the city or park roads. For those who like the design, it is also an ideal choice.
The price is medium and won't burden you much, so if you like it, then the Schwinn Volare 1200 is the perfect recreational road bike for you.
Why do people who have already bought one like the Schwinn Volare 1200?
My personal opinion is its design. Despite the increasing number of bike styles, the bike brand that has stood the test of time is still the first choice for many cyclists. Then there is the design that is suitable for novice riders with very light quality.
Easy to assemble, my friend Tony said it took him 30 minutes to assemble, and the only tool he used was an allen key.
Last but not least, the riding experience is excellent. Tony has ridden over 200km without any damage to any parts. A quality bike like this is why many people like the Schwinn Volare 1200.
What is the weight of the bike?
The mass is about 30 pounds. The weight is relatively light.
When will the Schwinn Volare 1200 be officially released?
2018
How can I be sure I'm tall enough to ride it?
I have prepared a table of references that you can use even if you are not choosing this bike.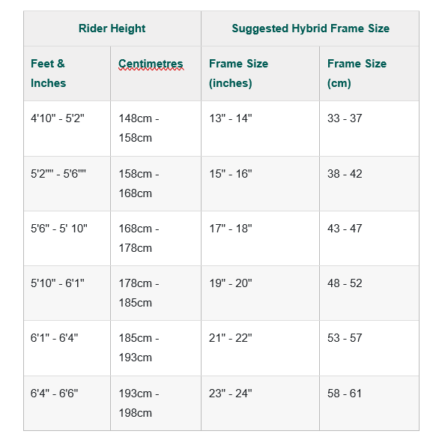 Suitable for riders of 5'10" – 6'1″ height. The height of the seat is adjustable, as well as the height of the handlebars. The height of the handlebars can be increased by adding spacers, but the increased height is also limited.
What are the precautions for purchase?
If we buy, make sure to save the warranty card and instruction manual that comes with the package. Some parts covered by the warranty will inevitably be damaged during use.
Then the warranty card can be helpful and can be sent to you by Schwinn.
Although the entire vehicle arrives with the Schwinn Volare 1200 preassembled 90% of the time, it is essential to inspect the rest of the installation.
If some areas are loose, they must be screwed in place before proceeding with the ride.
Can I give it to my child as a gift?
Of course, you can, and many boys need such gifts. It is very convenient for commuting and simple trips. The beautiful appearance is sure to surprise him.
Is schwinn a good bike brand ?
Overall, Schwinn is considered a good bike brand.
Youtube video
What bike can replace the Schwinn Volare 1200?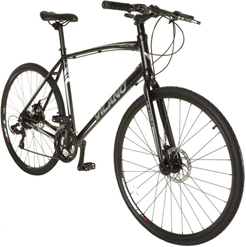 Vilano Diverse 3.0 Performance Hybrid Road Bike 24 Speed
Suppose choosing an alternative to the Schwinn Volare 1200 bike. You can also opt for the Vilano Diverse 3.0 Hybrid Road Bike, which is similar in configuration and has a relatively high number of speeds, with 24 rates. It's black all over, which is also an excellent color for men.
The height is a bit higher than the Schwinn Volare 1200, but the overall is similar.
The paramount price is not some brand premium, so it is relatively favorable.
What is the Schwinn Volare 1200 price?
Schwinn Volare 1200 price $399.99.
Summary
The Schwinn Volare 1200 is an affordable bike perfect for any beginner. A great partner for commuter cruising use. The colors are gorgeous, the outside is eye-catching, and the overall is sturdy and durable. It is a road bike worth investing in.
What more do you need to wait for? Click on the link below.