We use affiliate links and may receive a small commission on purchases.
This review focuses on an in-depth study of the Schwinn Phocus 1600. it's the higher-end version of the Schwinn Phocus 1400, a great entry-level road bike.
Suppose you divide the bikes into categories, mountain bikes, hybrid bikes, road bikes, etc. Each of these types of bikes has something for the rider to like.
Of course, we all have a lot of questions when we are shopping for a motorcycle. These are the issues that we need to know about, and they are all things that we need to know before we buy.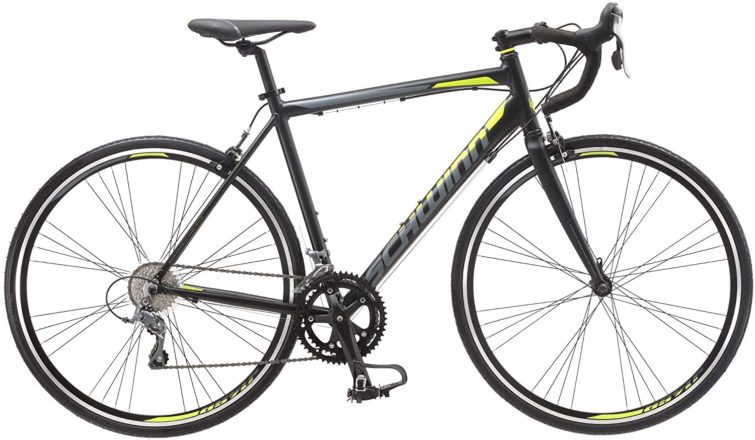 Road bikes have more than their fair share of races, such as the Tour de France. Of course, this review doesn't go that far. We have to start by shopping for a good road bike that is safe, durable, and, if it looks a little better, is very good.
For those who want to spend less on a road bike that suits them and likes them, the Schwinn Phocus 1600 is a great choice. So let me take you deeper into this great entry-level road bike!
Schwinn Phocus 1600 Specs
The first thing you need to know before buying is the Schwinn Phocus 1600 specifications so that we can explain its features one by one below. Let's get a more in-depth understanding.
| | |
| --- | --- |
| Frame | 56cm Schwinn Road Aluminum Frame |
| Fork | Schwinn Carbon Fork with Alloy Steerer |
| Crank | Alloy Road Crank 42/52T |
| Chain | KMC-Z8 |
| Bottom Bracket | Sealed w/ Ball Bottom Bracket System |
| Shifters | MicroShift Integrated Levers |
| Cog Set | 11-28t Cassette: 8-speed |
| Front Derailleur | Shimano 2300 |
| Rear Derailleur | Shimano 2300 |
| Wheel Size | 700c |
| Rims | Alloy 32h 4-spoke pattern |
| Front Hub | QR Alloy |
| Rear Hub | QR Alloy |
| Spokes | 14G |
| Tires | Kenda K-196 700x23c |
| Pedals | Resin/Alloy with Toe Cage |
| Brakes | Promax Alloy Caliper |
| Brake Levers | MicroShift Road Levers |
| Handlebar | 31.8 Road Drop Bar |
| Stem | Alloy A-head with 7-degree drop |
| Headset | Threadless 1 1/8″ |
| Seatpost | 27.2mm Alloy |
| Saddle | Schwinn Road Saddle |
Features of Schwinn Men's Phocus 1600 Road Bike
Appearance
We are usually interested in pretty things, just as we are when shopping at the grocery. The design of the Schwinn Phocus 1600 men's road bike is characteristic of a road bike.
A road bike's downward bent handlebars and black bodywork are typical. It has the allure of a road bike. Its shiny black paint was making it a one-of-a-kind showpiece.
The skinny tires are also an essential emblem of the road bike, and the primary and stylish appearance is one of the main reasons many riders prefer it.
Frame
This is the most important part of any bike. And road bikes pay more attention to it, with a frame size of 22 inches on the Schwinn Phocus 1600. The frame is made of a light aluminum alloy.
It gives the entire bike optimum movement and safety control. The aluminum frame reduces the overall weight of the body.
The body material is more important on a road bike because lighter material allows the bike to move faster.
And the Schwinn Phocus 1600 men's road bike for frame comfort experience is also to accomplish the most robust road bike in the same price range.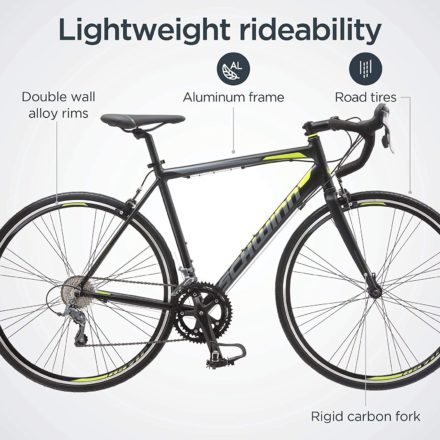 Powertrain
MicroShift Integrated Levers Shifters are also standard on the Schwinn Phocus 1600. The bike's powerplant is complete with a 16-speed transmission.
And Shimano Claris chain stays in the front and back for seamless shifting on road rides with diverse terrain.
When properly maintained, the strong SR Suntour alloy cranks are durable and solid, and they endure a long time.
Front and rear alloy caliper brakes
Alloy caliper brakes from Promax. Provide adequate protection for the Schwinn Phocus 1600 men's road bike because it has a V-brake on both the front and back.
When riding at a high level of freshness, a short braking stroke, and precision braking help you stop the bike quickly. This entry-level road bike's unrivaled handling is also what makes it more affordable.
This brake's remarkable qualities are ease of maintenance, convenience, and simplicity.
Handlebar
Although it is an entry-level road bike, the Schwinn Phocus 1600 men's road bike has the same type of handlebar as a professional-level road bike. The handlebar is comfortable and durable.
The handlebars are comfortable and durable and allow for maximum control of the bike. This type of handlebar can be used to maintain two riding positions.
If you are ready to go at high speed, you can lean forward to minimize the wind resistance, and when you are going slowly, you can ride sitting up and hold the upper part of the handlebar.
Rims and Tires
Double-wall alloy rims and Kenda K-196 700x23c Tires. Double-wall rims are strong enough to hold up to 285 lbs. even though it's a road bike. It also prepares you for high-speed rides and long-distance rides.
The tires are slim, reducing unnecessary drag, and the front wheel can be released quickly. And the original wheels are also equipped with rim tape.
But it is fragile, so it needs to be checked frequently during use. And buy spare rim tape so that it will not blow out during the ride.
Carbon fork
What attracted me to the Schwinn Phocus 1600 men's road bike was its carbon fiber fork, which is light and robust enough.
It provides extra comfort and stability. And it doesn't bounce too high when encountering potholes because of the weight of the front wheel.
Schwinn Phocus 1600 comfort
Schwinn Phocus 1600 It would be unfair to compare an entry-level road bike with a professional road bike. However, the Schwinn Phocus 1600 is comfortable enough to be compared to a road bike in its class.
The frame design, carbon fork, and powertrain allow for a smooth ride on city streets and pro tracks.
If you're looking for an entry-level road bike at this price point that's similar to the Schwinn Phocus 1600, it might be hard to find.
Schwinn Phocus 1600 Pros and Cons
Pros
Medium price
Easy to install
Lightness and quality of 6061 aluminum frame
Carbon fiber front fork
Smooth shifting
Double-walled alloy rims
Durable and stylish design
Cons
No fender eyelets available
Often out of stock
Heavy weight compared to pro-level mountain bikes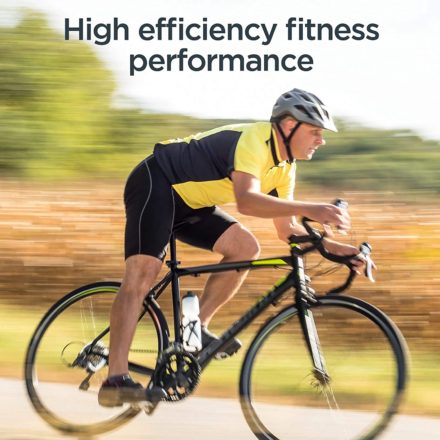 What are some frequently asked questions from users?
What is the weight of the Schwinn Phocus 1600?
If I want to change the seat, what is the size of the seat tube?
What are the Schwinn Phocus 1600 frame dimensions? And what is the appropriate height for a person to ride?
This model has a 21″ frame that fits riders 58 to 74 inches tall. The seat is adjustable and adjusts to the right height to increase the riding experience.
Do the wheels come with pre-installed rim tape?
Yes, but it is recommended to purchase some spare. Just in case your local bike dealer doesn't have them in stock.
What is the Schwinn Phocus 1600 weight limit?
The Schwinn Phocus 1600 road bike has a weight limit of 250 pounds or 113 kilograms
Summary
If you enjoy riding road bikes, then this entry-level road bike is ideal for you. Compared to other road bikes, this type of road bike may also push our riding to the next level. It can also be modified with parts so that you can keep it with you at all times in the future.
For inexperienced or casual riders. With a few changes, it fits nicely to the needs of commuting. For example, the tires are replaced with commuter tires, allowing you to ride for a long time without worrying about the comfort of your ride.
Instead of being the envy of having a road bike, you can take action to own it right away.
Video