We use affiliate links and may receive a small commission on purchases.
How can you choose a mountain bike that fits you and includes all of the components regarded as good value for money? This question has long concerned me, and I was blown away when I saw the Schwinn Moab 3 Adult Mountain Bike.
The pricing is reasonable, and all of the components are appealing to me. So, what characteristics should I look for in a mountain bike? What are the advantages and disadvantages of the Schwinn Moab 3? What alternatives are there?
As a result, I've created this in-depth evaluation of the Schwinn Moab 3 to help you better understand this mountain bike.
Schwinn Moab 3 Specs
| | |
| --- | --- |
| Frame | N LITENED 2 aluminum, 29″ mountain tuned geometry, internal cable routing, 10 mm x 135 mm dropout, replaceable hanger, 1 1/8 in headtube |
| Fork | SR Suntour XCT30 DS, 29″, steel steerer, 9 mm x 100 mm QR, 100 mm travel |
| Crank | SR Suntour XCE, 42/34/24T |
| Chain | KMC Z8.1 |
| Bottom Bracket | VP, cartridge, square taper, 68 mm |
| Shifters | Shimano EF500 EZ-FIRE, 24-speed |
| Front Derailleur | Shimano FD-TY700, 31.8 mm clamp |
| Rear Derailleur | Shimano Acera RD-M360 |
| Rims | WTB SX19, aluminum, double wall, 32H |
| Rear Hub | Schwinn mountain disc, aluminum, 10 mm x 135 mm QR, 32H, 6-bolt |
| Spokes | 14G, stainless steel |
| Tires | Schwinn mountain, nylon |
| Brakes | Shimano BR-MT200, hydraulic disc, aluminum, 160 mm rotor |
| Handlebar | Schwinn, aluminum, 680 mm width, 25 mm rise, 31.8 mm clamp |
| Stem | Schwinn, aluminum, threadless, 7° rise, 31.8 mm clamp |
| Headset | Threadless, ZS44, semi-cartridge bearings |
| Seat Post | Aluminum, 350 mm, 15 mm offset, 27.2 mm |
| Saddle | Schwinn mountain, steel rails |
| Grips | Schwinn mountain Kraton |
| Pedals | Schwinn mountain, nylon |
What are the features of Schwinn Moab 3?
Appearance Design
The frame construction is a traditional mountain bike construction in matte black with a solid and crisp appearance, a mountain bike that fulfills the needs of mountain biking.
The product is 59 x 31 x 9 inches in size and is securely wrapped for transportation with plenty of padding to prevent breakage. When you open the package, it's difficult to see the wear and tear and scratches.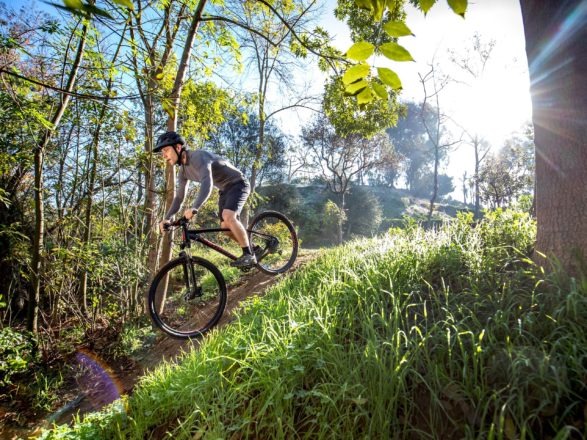 Schwinn Moab Aluminum Frame
Because of the different frame choices in the face of different heights. So the Schwinn Moab 3 is available in 3 frame sizes, small frame16″,medium-frame-18″,large-frame 20″.N LITENED 2 aluminum frame.
Lightweight and durable is also our frequent choice of mountain bike frame material. Still, Moab 3 frame design is more in line with mountain sports, providing a lightweight and responsive riding experience.
Suspension
The Schwinn Moab 3 is an XC hardtail bike with a single front suspension and SR Suntour XCT30 DS suspension. The travel distance is 100mm. Its suspension has an adjustable knob. When transitioning from mountain to flat riding, you may correctly adjust the suspension for the ideal riding conditions.
There is also a connected component of the suspension for the stability of the suspension to avoid any little bending that may occur throughout the ride.
Unlike other mountain bikes, the Schwinn Moab 3 is more durable and remains with you for a more extended period of time.
With such high travel, how does it then perform in the mountains? The 100mm adjustable suspension rides smoothly when encountering bumpy sections and is hard to bottom out, especially when straddling small rocks.
Soft and stiff, if the front suspension still needs to be upgraded, I don't think it's necessary. This suspension is already perfect.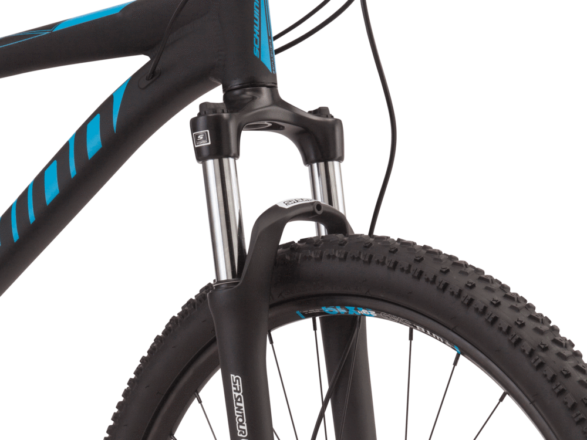 Powertrain
The Schwinn Moab 3 comes with a Shimano EF500 EZ-FIRE with a 24-speed shifter, Shimano FD-TY700 with 31.8 mm clip-on front derailleur, and Shimano Acera RD-M360 rear derailleur. a KMC Z8.1 chain and finally an SR Suntour XCE alloy crank. Such a setup is costly when purchased separately.
But the Schwinn Moab 3 puts the best of this combination on the same mountain bike. And at an affordable price, it's well worth the money for riders looking to buy a mountain bike with this configuration.
You'll hardly feel a problem shifting on this MTB throughout the ride, which is an essential feature for its quick and precise gear changes.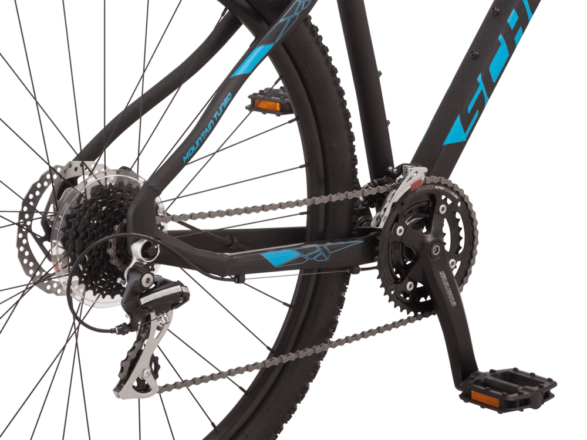 Wheels and Tires
WTB SX19, aluminum double-wall rims. Strong and durable yet lightweight, the handling will be less if a mountain bike has more wheel weight. The Schwinn Moab 3 is made of aluminum for better mountain handling. Let you want to keep improving your skills. You can have more room to play.
They have a tire size of 27.5 in x 2.25 in for the WTB Transition sport tires. But I see that they are currently only available on the website, and they are still out of stock at the time of release. If you are willing to wait for their long production and shipping time, you can pre-order.
Such a configuration of wheels and tires. Can conquer all-terrain, Aluminum double-wall rims add lightweight durability, while 2.25-inch wide knobby mountain tires add off-road traction, creating a more stable ride. Let more mountain bikers like it.
Easy to install
The Schwinn Moab 3 mountain bike, which you can buy online, comes 85% pre-installed and can be easily installed by following the instructions or the official instructional video. If you are not very skilled, chances are you will need to spend more than 1 hour to install it thoroughly.
Installation Notes
You need to evaluate your own hands-on power before installation, if you don't feel competent. It is recommended to go to a nearby bike store and let a professional installer help you install it, which of course will cost you a fortune.
If you finish the installation manually by yourself, please check if the components of the pre-installed part are secure, which will not only enhance the riding experience, but also make your ride safer.
Pros and Cons of Schwinn Moab 3 Mountain Bike
Pros
Affordable price
Medium to high end configuration
Lightweight and durable
Smooth gear changes
Great maneuverability
Tackles a variety of terrain with ease
Cons
Stiff seat
Plastic footrests are easily damaged
For the above shortcomings of the improvement ideas
Seats. If there is still a budget, it is possible to replace the seat with a better and softer one. Here are the recommendations of other riders.
Despite improvements, some consumers continue to complain that Schwinn's pedals are of poor quality. Here's one that I think you'll like.
Regarding the Schwinn Moab 3 being hard to come by, what bike is there to replace it?
Maybe it's a good value, so Schwinn has a very limited supply, and some regions are always out of stock. So it's a pretty "scarce" mountain bike on the market.
However, it can be purchased through the Schwinn Signature independent bike store. However, you will need to consult your local mountain bike store for pricing.
If your local Schwinn Signature independent bike store doesn't have it in stock, then it can be pre-ordered from them. Of course, if you can't wait that long, what's the alternative to a mountain bike?
Schwinn S29 – Men's Schwinn Mountain Bike
The configuration is somewhat similar, the price is similar, the frame is all aluminum, and we've prepared an in-depth review of the Schwinn S29 Men's Mountain Bike. You can take these two bikes and compare them.
You can also check out: Schwinn 29 Mountain Bike In-Depth Review
Of course, you can check out the bike's features directly on Amazon or buy it.
Schwinn Moab 3 Mountain Bike Related Questions
Does the Schwinn Moab 3 weigh?
At 29 lbs, it is very light.
How much weight can the Schwinn Moab 3 handle?
No information is available, but some users weighing 290 pounds can still ride smoothly.
How tall is it for people?
53 in-64 in, up to 6'8″ if you're tall and like the Schwinn Moab 3.
Summary
The scarce but highly configurable and moderately priced Schwinn Moab 3 mountain bike is one of the best choices for many entry-level mountain bike riders. With it you can take mountain biking seriously.
Take your skills to the next level or take it to urban races. It performs very well on a wide range of terrain, climbing steep hills with ease and braking fast when speeding down. This is a perfect match, and we think it's probably the best mountain bike under $1000.
Click on the links below to see more deals.
Schwinn Moab 3 Mountain Bike Featured Videos