We use affiliate links and may receive a small commission on purchases.
Fashion is like a cycle, and so is a bicycle's appearance. The ever-changing design of a bicycle does not affect our fixed view of it.
The bike I'm evaluating today is a commuter bike called the Schwinn wayfarer hybrid bicycle.
So, what is it about this bike that makes it so popular? What are its qualities, and is it a good buy? Can males ride a Schwinn 700c wayfarer bike? What are its benefits and drawbacks?
Then I'll go over the Schwinn wayfarer review.
Schwinn Wayfarer Bike Specs
Technical Specifications
| | | | |
| --- | --- | --- | --- |
| Frame | Steel, Rigid, Hybrid, 18″ | Fork | Schwinn, Steel, Rigid |
| Crank | Steel one-piece | Chain | Steel |
| Bottom Bracket | Steel | Shifters | Shimano 7 speed |
| Rear Derailleur | Shimano, Tourney, RDTZ3 | Rims | Alloy single wall rims |
| Rear Hub | Alloy bolt-on | Spokes | Steel |
| Tires | Black, 35c | Pedals | Resin platform pedals w/reflectors |
| Brakes | Alloy, Linear pull | Handlebar | Steel Riser |
| Stem | Quill, alloy | Headset | Steel, threaded |
| Seat Post | Steel | Saddle | Schwinn vinyl comfort |
| Grips | Stitched synthetic | Sizes | 700c |
What are the features of Schwinn wayfarer?
Retro design
I don't know when it started, but the retro design is becoming more and more popular among riders. Schwinn wayfarer has a variety of styles to choose from, which of course, are based on our taste.
So, first of all, Schwinn wayfarer women's bike.
Women's 7-speed retro-style city bike Schwinn Wayfarer mint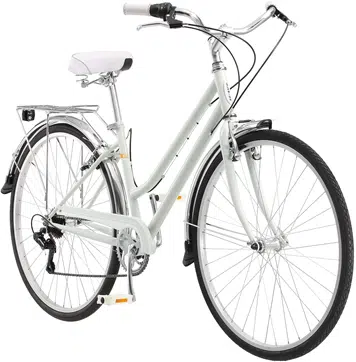 Schwinn wayfarer women's bike white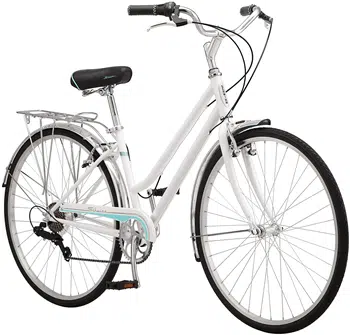 Schwinn wayfarer women's bike yellow
The above 3 styles are usually trendy bike styles for girls.
Here we are looking at Schwinn men's wayfarer together. There are a total of two to choose from.
Schwinn wayfarer hybrid 700c wheel bicycle black 18 medium
Schwinn men's wayfare hybrid bike blue
Each style of color reveals a vintage-inspired design. The vintage look of the women's Wayfarer is considered "absolutely gorgeous." The men's version is classic 70's style.
Sturdy frame
The Schwinn Wayfarer Bike has a steel frame and is not very light in overall weight. But the main feature of this frame is its sturdiness and durability.
And for the frame, Schwinn has a lifetime warranty policy. The proportions of the structure are comfortable, allowing you to ride with less effort and more speed.
Schwinn Wayfarer Smooth and efficient powertrain
The entire line is 7-speed bikes. Shimano powertrain accessories. Both the Schwinn wayfarer women's and Schwinn wayfarer men's bikes are the same power setup.
Shimano TZ31 rear chainstays for 7-SRAM torsion shifter. Allows you to cruise the neighborhood, bike path, or go out for a leisurely ride smoothly. And such a powertrain is enough for our daily use.
And there are a lot of use-expenses that have purchased the ladies style, and they like the configuration, they can shift smoothly, and the 7-speed is not so complicated, which allows them to adapt to this bike faster.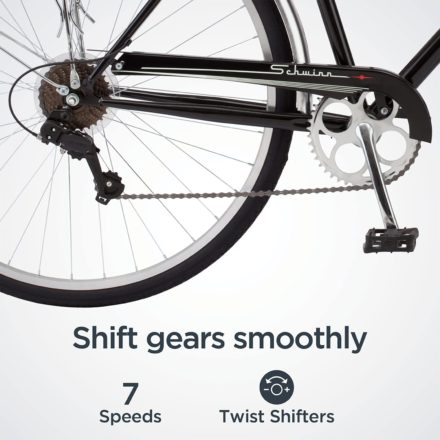 Schwinn Wayfarer Have Best Rims And Tires
The rims are made of double-walled alloy, and both the Schwinn Wayfarer women's and men's bikes are equipped with a pair of 700c tires. The bike's tires have excellent grip and stability when riding.
When the road conditions are good, they can quickly go up and down hills with the Shimano drivetrain.
And they also perform very well in the rain, especially on city streets and on park trails. This is what makes it ideal for our city cruising and commuting to work.
The 700c tires are also the most common type of tire, so if you want to replace them after a period of riding, you can easily buy them at a bike store near your home or online.
Comfortable Handlebars And Saddle
The Schwinn wayfarer women's and men's hybrid bikes may be ridden in an upright riding position.
This is what puts us in the proper aerobic position and maintains the health of our cervical and lumbar spines.
The handlebars are built in such a way that we can ride quite effortlessly and not get fatigued during the entire journey.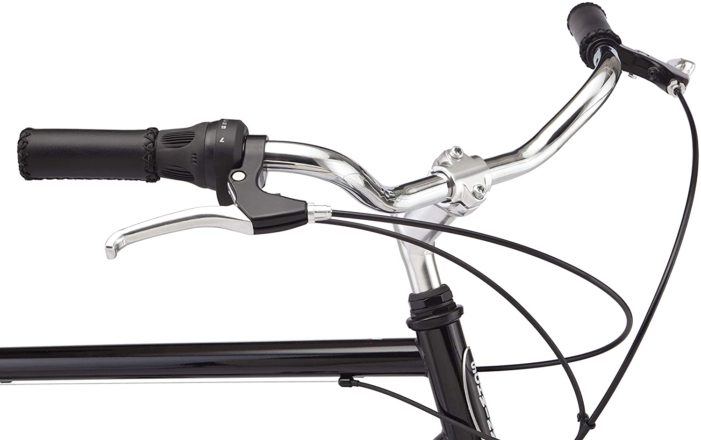 And the seat intentionally increased the soft padding and elastic spring so that the body is not jarred when driving on a bumpy route.
The seat's height can be adjusted at any time to suit your height or how you feel while riding. Both of these components are intended to improve the bike's comfort.
Precision Brakes
The Schwinn wayfarer men's 700c hybrid bike and the Schwinn wayfarer women's 700c bike have front and rear V-alloy linear-pull brakes for short braking distance and precision stopping.
This form of brake, of course, matches the retro aesthetic. The design is intended to resemble a 1970s motorcycle.
Rear frame And Mountable Basket
The Schwinn Wayfarer women's and men's bikes are equipped with rear racks that make it easy to carry your belongings without the hassle of other types of bikes.
Suppose a woman has more things to carry, then a basket can be installed on the front of the bike to make it easier to carry her belongings and look more stylish. Most of all, it's convenient.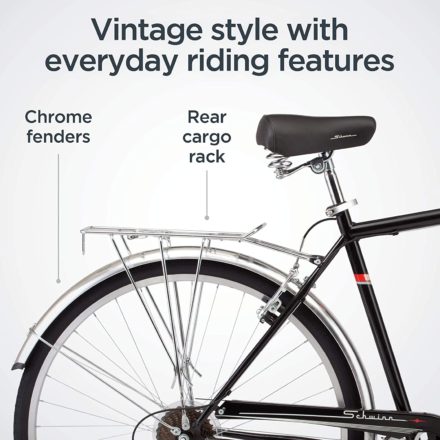 Front and rear fenders
Fully wrapped fenders provide extra style and ease of riding in all weather conditions and help keep you clean and dry, and the included rear luggage rack makes it easy to carry your belongings.
Easy to assemble
Schwinn bikes purchased online come preassembled at 85% or more. Schwinn Wayfarer bikes come preassembled at 90%. And it can be installed according to the instructions after purchase.
If you are a lady, you can ask your very good friend to help, and most of them can be installed within 30 minutes.
But please note that after installation, you also need to check how secure the pre-installed parts are so that you can ensure a safer ride.
Who is Schwinn wayfarer for?
Before you choose it, you still have to determine if you need it? What is your use?
The Schwinn wayfarer retro style hybrid bike is officially defined as a commuter or excursion bike. It is also a great choice if you want to use it for fitness.
What are the height requirements?
There are two options available.
The 16-inch frame is suitable for riders 58-70 inches tall. And 18 inches requires 61 inches – 74 inches height. Of course the men's and women's bikes defined here are just names. If a lady especially likes schwinn wayfarer hybrid 700c wheel bicycle black 18 medium this style of bike, can she buy it? Of course she can, and according to our research, many women buy the men's version.
Can I ride it to the mountains?
Our answer to this one is no, because it doesn't have suspension, so it's not suitable for bumpy mountain roads. schwinn wayfarer's best riding roads are flat city roads, not rugged mountain roads.
So the Schwinn wayfarer is suitable for commuting to and from work, or for weekend excursions. It is also suitable for riders who are 58-74 inches tall and like the look of the bike.
What are the advantages and disadvantages of Schwinn wayfarer?
Advantages
Retro look
7-speed system for easy and smooth gear changes
Saddle and handlebars allow for comfort
Equipped with a rear rack
Fenders to keep out dirt, mud and water
Low price
Reliable entry bike choice for the daily commuter
Offers a limited lifetime warranty
Disadvantages
Not a cool light weight at 42 pounds
Needs proper storage and care; wheels may rust if not used for a long time
Frequently asked questions from users
What is the weight of the Schwinn wayfarer?
What height is it suitable for riding?
The 16″ frame is suitable for riders 58″ – 70″ tall. While 18 inch requires 61 inch-74 inch height.
Hi, Do you know how much weight can support the rear rack?
The rear rack would probably support 15 to 20 lbs. It would not support 260 lbs as the previous answer suggests.
Can you remove the rear rack?
Yes, it looks like you can remove the rack on the back. You just have to undo 4 bolts/screws. 2 require a Phillips head screwdriver and 2 require an Allen wrench. Hope this helps! I love this bike :):)

Summary
If you choose a commuter bike, I expect it will be hard to find a bike comparable to the Schwinn wayfare. As I post this review, it has become the best seller of commuter bikes, and what does that say about the Schwinn wayfarer bike?
Especially with its limited lifetime warranty, seven-speed gearing, and beautiful vintage frame and design, you can't go wrong with this bike.
Priced at under $500, it is also one of the best bikes to find both a brand that is well-rated at this time. Cruise rides are also great for exercise.
So what do you need to wait for? You can click on the link below to see the latest discounted price, or you can own it now.