We use affiliate links and may receive a small commission on purchases.
When it comes to the eve of the holiday season, children always look forward to a one-of-a-kind gift. This is something that adults have a harder time appreciating.
But how do you do it in a practical way that also makes the children happy? My suggestion is that you give a mountain bike. This is a thorough review of the Trek mt 220, and we will explain what the Trek 220 has to offer, including the pros and cons, step by step.
Because this bike is not available in all areas, I will also provide alternatives to assist parents who are purchasing mountain bikes for their children.
Features of Trek mt 220
Alpha Aluminum Frame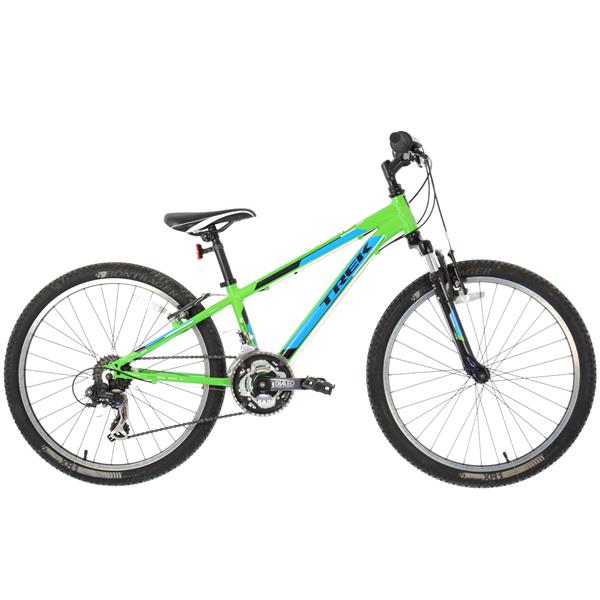 The Trek MT 220 is available in two frame styles: MT 220 Boys and MT 220 Girls. The new models available today are the Trek mt 220, which was produced between 2014 and 2015, and both frames come in a variety of great colorways.
The Trek MT 220 Boy's frame has a triangular shape and a quick-release rear fork, making assembly and maintenance simple for hands-on parents.
3X7 drivetrain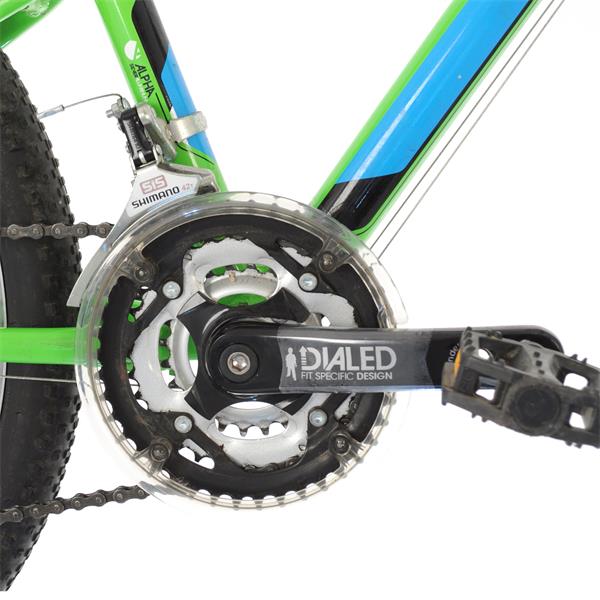 The Shimano Tourney is a low-cost accessory, but as a regular mountain bike, parents will not allow their children to go on dangerous mountain rides, and with 21 gears, it's a good way to get kids comfortable with mountain biking.
When compared to the same price point of children's mountain bikes, it still has a number of advantages in the drive train. When you take your child on outings, they will naturally learn how to be most comfortable with the gearing and may be able to ride more difficult racing mountain bikes in the future.
Dialed suspension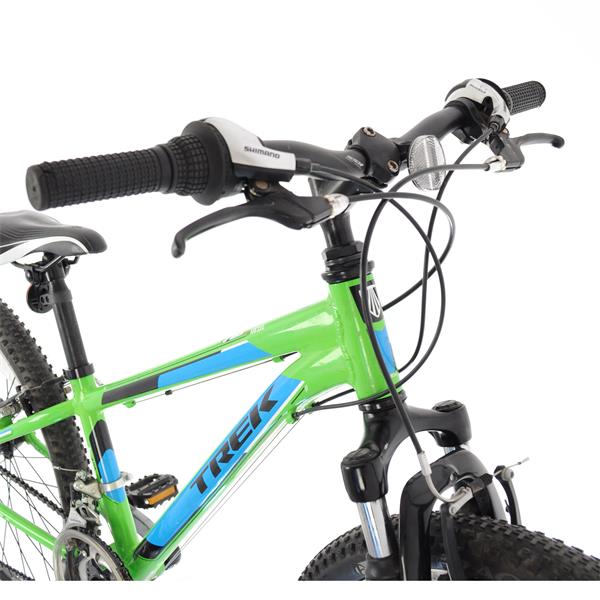 The Trek mt 220 is outfitted with a Dialed suspension with 45mm travel. We can't compare it to an adult mountain bike, but the damping effect reduces the impact of rough roads and allows for riding on cobblestone roads in the park. Because it has a 24-inch rim, it can only have a shock fork with so much travel, which is a reasonable design.
A mountain bike like the Trek mt 220 provides more peace of mind for growing boys and girls who are always curious when riding terrain they haven't ridden before.
Alloy linear-pull brakes
The extremely simple Alloy linear-pull brakes can reduce the weight of the body and at the same time, the Trek mt 220 brakes have good braking power in general terrain, which is again different from adult mountain bikes. A great kids mountain bike will give your child more confidence riding over rough terrain, and the Trek mt 220 brakes do just that.
24×1.85″ Tires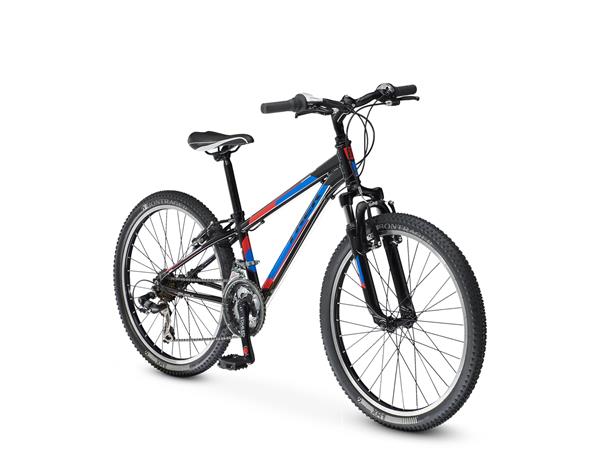 The small 24″ inch tires are able to roll smoothly over rough ground. And the 1.85″ wide mountain tires also have great grip and are more responsive, with nimble steering and easier riding that kids love to ride. XR1 tires are perfect for kids to provide plenty of off-road traction while offering low rolling resistance, making it easy for kids to keep up with the sidewalk.
Adjustable cranks
The adjustable crank length of 127mm – 152mm is a modification designed to help smaller children who can't reach the pedals while riding. Because it is adjustable, the height at which it can be ridden can be increased, making the Trek 220 a more cost-effective option.
Trek mt 220 specs
Frameset
| | |
| --- | --- |
| Frame | 24″ Dialed frame size, Alpha Aluminum |
| Fork | Dialed suspension, 45mm travel |
Wheels
| | |
| --- | --- |
| Front hub | Alloy |
| Rear hub | Alloy |
| Rims | 32-hole alloy |
| Tires | Bontrager XR1, 24×1.85″ |
Drivetrain
| | |
| --- | --- |
| Shifters | Shimano Tourney, 7-speed twist |
| Front derailleur | Shimano Tourney |
| Rear derailleur | Shimano Tourney TX35 |
| Crank | Dialed adjustable length 127mm – 152mm, 42/34/24 |
| Cassette | SunRun freewheel, 14-28, 7 speed |
| Chain | KMC HV500 |
| Pedals | Dialed 9/16″, platform |
Components
| | |
| --- | --- |
| Saddle | Dialed 24″ size, padded |
| Seatpost | Steel, 27.2mm |
| Handlebar | Bontrager Low Riser, 25.4mm, 25mm rise |
| Grips | Dialed, Kraton |
| Stem | Dialed, 25.4mm, 25 degree |
| Headset | Adjustable ball bearing |
| Brakeset | Alloy linear-pull brakes, Dialed alloy levers |
FAQ
What is the weight of the Trek mt 220?
About 27.3 pounds, which is one of the lightest mountain bikes in the same price range for kids.
How much weight can the Trek mt 220 handle?
The Trek mt 220 has a weight limit of 160 lbs.
What body colors does the Trek mt 220 come in?
Trek MT 220 Girl's: Rage Red, Seeglass Trek Black/Flaming Ro
Trek MT 220 Boy's: Trek Black, Lime Green
How much is the Trek mt 220 worth?
Current used Trek mt 220's are selling for $68 when in relatively good condition.
What we like about the Trek mt 220
The aluminum frame is very light in weight
Available in both male and female frame types and in a variety of paint colors
3X7 drivetrain allows kids to learn everything about mountain biking
Adjustable cranks to accommodate small riders of all heights
Easy and convenient Alloy linear-pull brakes allow kids to ride with more confidence on the mountain
What we didn't like about it
The paint job is not very strong
Alloy rims need to be maintained so that they don't rust and become unusable
Plastic pedals, easily damaged
Comparison Table
Comparison
Trek Wahoo 24 vs Trek mt 220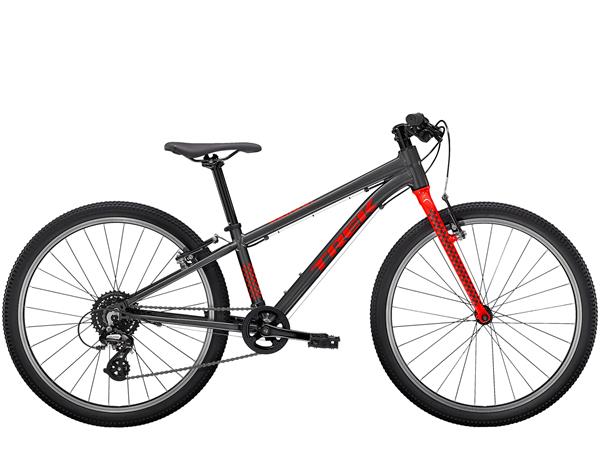 The Trek Wahoo 24 is the most formidable rival to the Trek 220. It has an Alpha Silver Aluminum frame, the most popular 1X8-speed drivetrain, and 1.95-inch wider mountain tires.
However, it lacks a shock-front fork. As a result, it's a compromise to use a lighter aluminum frame at the same price point. If you live in an urban area, the lightweight Trek Wahoo 24 would be an excellent mountain bike for your child's first foray into mountain biking.
Despite the fact that it is, by definition, a hybrid bike, it is unaffected by minor road imperfections. It also has a very light weight of 20.11 lbs. It's simple for kids to gain confidence while riding the Trek Wahoo 24, and they can still commute on a versatile kids' bike.
Mongoose Argus ST vs Trek mt 220
Mongoose is well-known for their Fat Tire Mountain Bike, as well as their children's mountain bikes. As a result, the quality of Mongoose Argus ST is also very high. In addition, the 24 x 4 inch knobby mountain fat tires offer excellent stopping power and traction in sand and snow.
Furthermore, the Trek mt 220 tires are only 1.85″ wide. A mountain bike that can be ridden in the snow and still get you around in the winter. The maximum load capacity is 250 lb. This is a colossal figure for other children's mountain bikes. However, it is not the ideal child's mountain bike; it is heavy, and this is something that many parents complain about.
Allow your child to ride the Mongoose Argus ST Youth Fat Tire Mountain Bike if you want him to lose weight by riding a mountain bike.
Learn more: 2021 Mongoose Kong Fat Tire Mountain Bike Review – Best Kids MTB
CLEARY Meerkat Kids' Bike vs Trek mt 220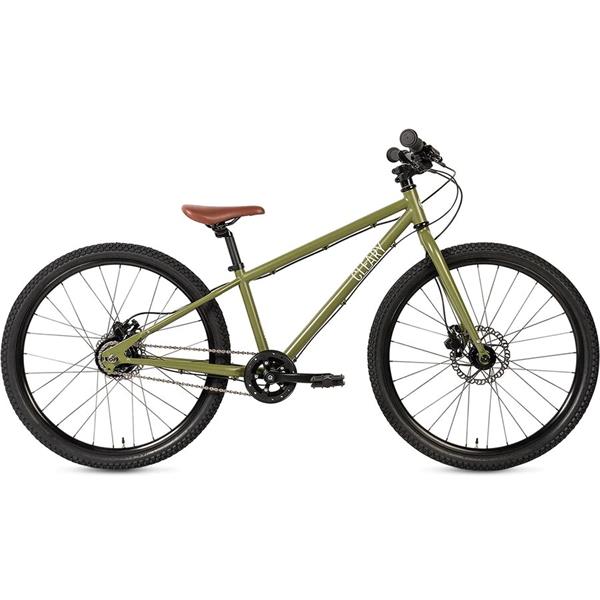 Known for its sturdiness and safety, the CLEARY Meerkat Kids' Bike is more about its durability and the use of brakes. No matter which bike you choose for your child this is something to consider. With the CLEARY Meerkat Kids' Bike, you get: 1020 alloy steel frame, sturdy alloy 3-piece Crankset, Sturmey Archer DLC-50 Trigger shifter shifters, hydraulic disc brakes.
Because of these well-known in high-end accessories, this children's bike is not in the low price range. But, to my surprise, it's not cheap: just under $600 to get the job done. When compared to the Trek mt 220, the 5-speed is easier to grasp and provides the child with more riding confidence.
Despite the steel frame, the overall weight is very light at only 25lb 3oz. Finally, the high-quality brakes make for a more secure ride. Try the CLEARY Meerkat Kids' Bike if you want your child to have a better riding experience.
Diamondback Cobra 20 vs Trek mt 220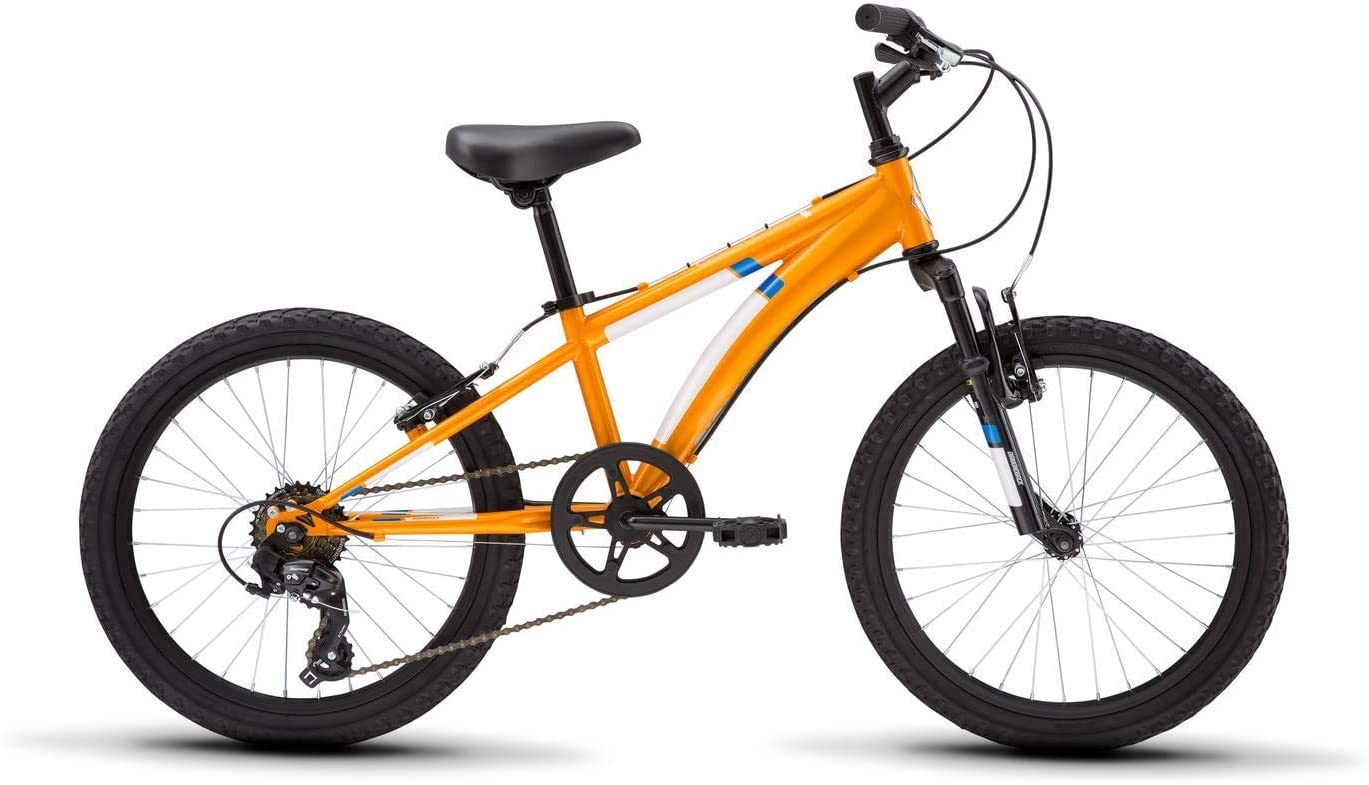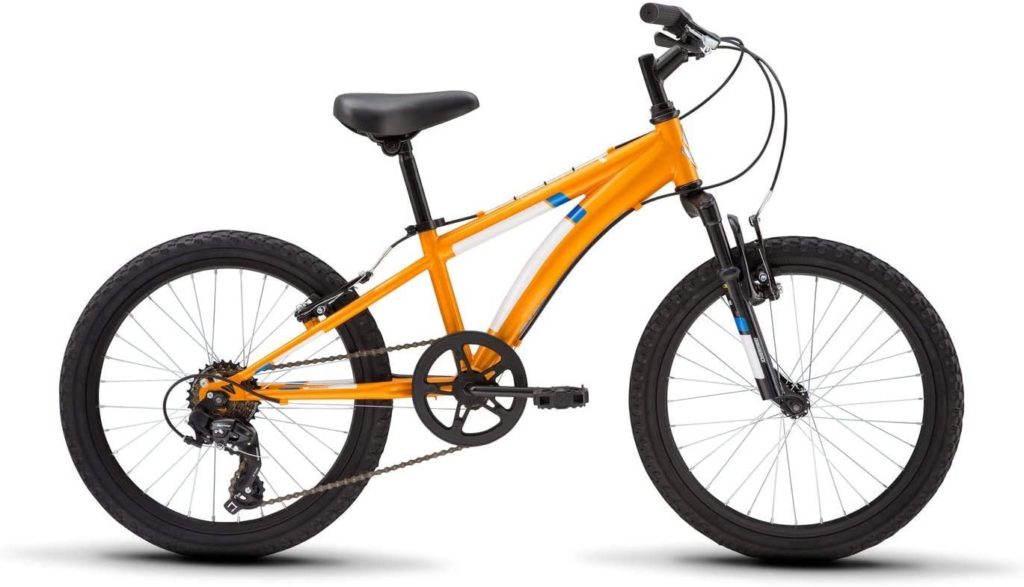 Can my child ride a mountain bike if he is younger?
Yes, the Diamondback Cobra 20 is appropriate for young riders ranging in height from 44″ to 54″ and ages 4 to 9. And the Diamondback Cobra 20 comes with a popular accessory package that will delight boys looking for a high-quality mountain bike.
You will receive: DB Shimano 6-speed drivetrain, HL Zoom 40mm travel fork, Hi-Ten steel frame powerful brakes, and 6-speed transmission will get your child started exploring the neighborhood range. There is 5mm less fork travel than on the Trek mt 220, but this isn't the most noticeable difference.
Your child will quickly learn how to use the trigger shifter with 1X6 speed numbers. If you're looking for the perfect gift for your child, the Diamondback Cobra 20 is also a great mountain bike worth checking out.
Learn more: Best 20-Inch Bikes For 6-13 Years Old Kids Bikes (With Gears)
Final Verdict (4.5/5)
Whether it's a boy or a girl, following their parents on a ride to an outing would be a wonderful picture. And the Trek mt 220 is a very good mountain bike with a sturdy body structure and low stand-up height, simple and easy to grasp frame geometry that will quickly increase your little one's riding confidence. We ended up giving the Trek mt 220 a rating of 4.5/5.
In my experience, the Trek MT220 24 bike is a dependable option for kids in search of a reliable and durable mountain bike.
Learn more
Is Huffy Spiderman Bike A Good Kids Bike?
Is the huffy 20 Rock It Boys Bike Worth Buying? [Review] 2021
Schwinn Ranger 24" And 26" Boys Mountain Bike Reviews – 2021