We use affiliate links and may receive a small commission on purchases.
Cannondale Trail 4 SE 29
Price: $1,175.
Suspension: 120mm (front).
Tires: 29×2.3"(Front)29×2.25"(Rear).
Gears: 1 x 10.
What we like: Sturdy frame, easy climbing geometry, and great performance on rough trails.
What we don't: A package just getting into medium technical terrain, not suitable for more difficult singletrack or off-road terrain.
Rating: (4.6/5).
As one of the best bicycle brands, Cannondale offers top of the line bikes, including the Trail series, a line that has piqued the interest of entry level and intermediate riders.
The Cannondale Trail line of mountain bikes has many models to choose from, and they're all known for good prices, high-quality builds, and a variety of options for entry-level to intermediate-level cyclists.
To that end, we tested the Cannondale Trail 4 SE 29, which is mid-priced and well-known of the series.
More importantly, it's the fast off-road capability and excellent performance on rough trails. Others consider it a seriously underrated mountain bike.
So we break down the Cannondale Trail SE 4's descending and climbing performance, key features, components, and specs, as well as a comparison of the other versions in the series.
If you're looking to learn more about similarly priced mountain bikes, we've also got you covered with the Best Mountain Bikes Under $1,500.
Descending
When I learned about the components of the Cannondale Trail 4, I was more looking forward to its performance on the descents.
Its front and rear tires are 29 inches, but the front and rear widths are slightly different, with 2.3 inches in the front and 2.25 inches in the rear. It's a quick descent configuration.
At the same time, its front fork travel is 120mm, although it is a coil front fork, but this is also a very reasonable front fork configuration.
All of the above allows us to descend quickly on gravel downhill roads, in the middle of which you will feel a little sore in your arms due to the stiffer fork of the spring.
Smooth trail descents make you feel happier.
Not wide front and rear tires can make your descending acceleration faster, enough Shimano MT200 hydraulic disc brakes can make you stop quickly.
Descending on soft trails will be a bit of a hassle, after all, I prefer 2.5-inch tires to descend on trails like this.
On gravel descents or hard terrain trails, the Cannondale Trail 4 is agile and quick to descend even with big bends. My only complaint is the lack of a dropper post, which forced me to slightly stand riding style so my hips don't suffer.
Having said that, the Trail 4 is a good choice for smooth off-road terrain, and for longer descents, as long as it's not too steep, it's a good choice.
Climbing
Although the Cannondale Trail 4 is a $1000+ mountain bike, its climbing ability is one of the best mountain bikes I've had in a sub-$1500 mountain bike.
It's not the type for comfortable climbing, also due to its relatively steep head tube angle and relatively flat seat tube angle. It also has fast-rolling tires and a lightweight aluminum frame.
Plus it has a lockout coil fork, as you know it doesn't have a remote lockout feature, so when it comes to climbing rough and steep trails, he can do it without any difficulty.
We found that the Shimano Deore 1×10 drivetrain also offers ample gear range.
The rear wheel WTB Trail Boss tires can sense the pedaling power provided by the rider very quickly, but because it is only 2.25 inches wide, it has some difficulty on soft uphill roads, which is also what it lacks when climbing.
Also, its tires are not tubeless tires, light tubeless tires are more suitable for fast climbing, so this makes the climbing efficiency of the Cannondale Trail 4 at a discount.
Taken together, the Trail 4 can be technically climbed, but it also has limitations on steep slopes and can adapt to 80% of the climbing terrain.
General Terrain
Technical singletrack or trails with little undulations are one of the terrains the Trail 4 excels at, and you can always be ready to ride it fast or slow.
Smooth and rough gravel terrain doesn't hold you back on the Cannondale Trail 4 either, and the 29-inch tires will keep you up to speed on fast-paced singletrack.
An all-rounder for off-road and woodland, the Cannondale Trail 4 is a mountain bike that easily converts into a commuter bike. It's also a good exercise bike, with a 120mm suspension front fork that can easily eat up curb steps and protruding gravel.
Learn more: Is the Cannondale Trail SE 2 Worth Buying? [Cannondale Trail 2 Review]
Main Features
Framework (4.8/5)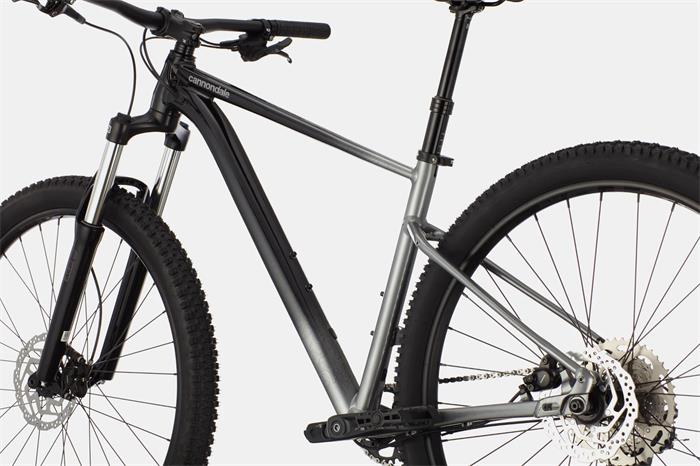 Cannondale frames have always been a well-known product in the industry, so most riders looking to get a Cannondale Trail 4 have high praise for the Smartform C2 Alloy frame used on the Trail 4.
The 4 car paint colors for the 2021 model are mainly gray and black. The logo on the body is smaller on the top tube.
This design style of the frame is very simple, the welding places are very flat, and there are not too many strange places.
The clean internal wiring holds the coils firmly in the frame, and I didn't notice much noise throughout the test.
There are two water bottle holders on the frame, allowing you to stock up on water for more than 50 miles of rides, which can support a short trip.
Frame sizes are very standard and easy to upgrade. Compatible with 27.2mm dropper posts, for example.
What we like about the Trail 4 is the lighter weight, reinforced downtube that will last you 10+ years.
Geometry
The body geometry of Trail 4 isn't as advanced, which is why Cannondale has always been more conservative. But we found that this geometric design is very reasonable after actual testing. The 66.5-degree head angle, which is an intermediate angle between steepness and slack, gives you confidence on moderate descents and helps you zip through ultra-short ascents without stopping .
With a seat tube angle of 72.5 degrees and a frame reach of 415 mm (for example, a medium frame), it is not as small as you think, but it is very suitable for riders with longer legs.
We were surprised to find that the Fork Offset is 51mm. This is also a traditional mountain bike offset.
All in all, this is a more traditional mountain bike.
Components and Specifications
Shimano Deore drivetrain (4.3/5)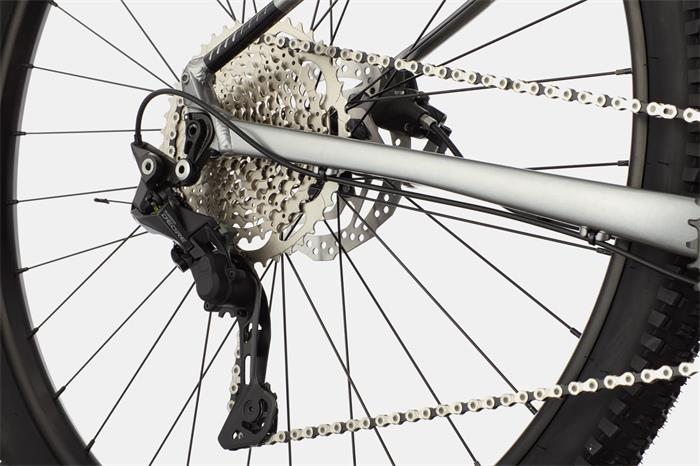 The Cannondale Trail 4 uses a Shimano Deore 1×10 drivetrain.
As a price-oriented mountain bike, the Trail 4's drivetrain isn't overly impressive, so there's a decent range of gears, but that's limited to entry-level or intermediate riders.
The Shimano Deore drivetrain offers plenty of range for steep climbs and fast-paced descents.
One of our complaints about the drivetrain is that it's a bit loud, as the chain doesn't stay taut for long on fast rides, hits the rear downtube, and makes some noise when it rebounds a bit. We hope to add a simple guard in the next version to keep its noise from affecting the off-road mood.
Shimano MT200 brakes (4.5/5)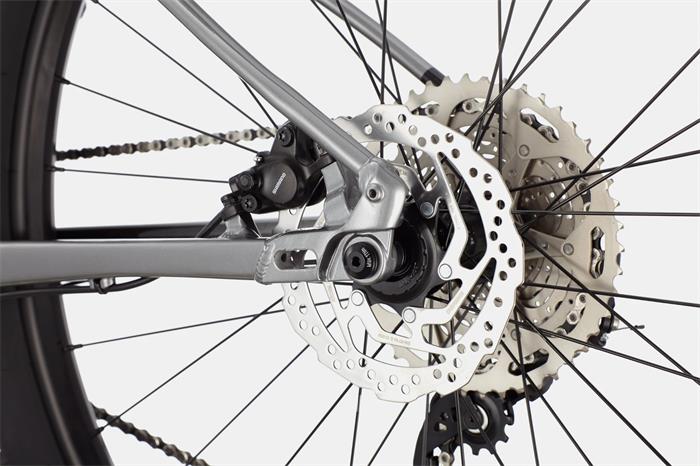 In our high-end models, with such a brake system, we would consider it to be on the soft side.
But consider the Cannondale Trail 4's rideable terrain, and its price.
This is a very compliant braking system.
The front tire has a 180mm rotor, which can provide strong braking power in the process of rapid descent. Moreover, the Shimano MT200 does not make any noise after running in, and the hydraulic disc brake does not require too much force to brake. It is a braking system with full control.
SR Suntour XCR Suspension Fork (4.7/5)
The SR Suntour XCR Suspension Fork is the most common fork on mountain bikes for around $1100.
The 120mm stroke is just right for off-road needs. It's not as responsive as an air fork for fine-gravel impacts, but it's a gravel-upgradeable component that won't be considered insufficient for a mid-level rider.
With a locking function, it helps to efficiently convert pedaling power into fast climbing power when climbing.
Tires & Wheels (4.5/5)
The Trail 4 comes with WTB STX i25 rims that are tubeless ready, a nice upgradeable component.
But its original is a tire with a tube, so increase the wheel weight. The 25mm wheels have no way of accommodating the wider 2.6-inch tires, which is a bit of a shame for me.
The front and rear tires use tires of different widths, and the difference in width is very small, only 5mm. The front-wheel WTB Breakout, 2.3 inches, can keep rolling fast on downhill roads, and the rear wheel WTB Trail Boss, 2.25 inches, can have more power conversion.
I think the WTB is a good tire for the price, and it didn't exceed our expectations on the Trail 4.
Other versions of the Cannondale Trail 4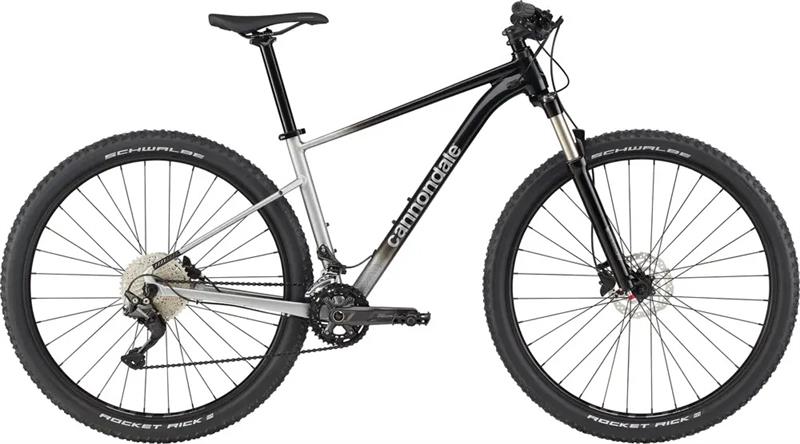 Cannondale will produce different versions of the same frame mountain bike for riders in different consumption ranges. This also greatly reduces the cost of purchasing more expensive components when the rider chooses to upgrade components.
This review is for the Cannondale Trail SE 4, and the regular Trail 4 2021 costs only $1000, but the fork has only 100mm of travel.
If you're looking to buy a women's mountain bike, the Cannondale Trail Women's 4 sells for $1150. It's the same as the SE 4. The frame's top tube construction has been tweaked a bit to keep the strength the same, but the drivetrain has been compromised a little bit. Downgraded Shimano Alivio, Altus, 2×9 drivetrain, and the fork only has 100mm of travel. If you spend a little more money you can get an upgraded Cannondale Trail Women's SL 4 with a Shimano Deore 1×11 drivetrain.
Taken together, the Cannondale Trail SE 4 is the best value for money of all versions.
As with many of Cannondale's product lines, there are several Trail models to choose from. I tested Trail 6, which is the second cheapest in the series at $825. The Trail 7 is the price leader at $720, though it comes with a slightly downgraded drivetrain and you lose the remote lockout feature on the fork. If none of these features appeal to you, the Trail 7 is a solid choice. On the other hand, you have Cannondale's Trail 2, which includes significantly better drivetrain and suspension components. At $1,575, Trail 2 may be worth the investment if you expect to spend most of your time on the actual trails (and less time on the gravel and paved bike paths).
Cannondale Trail 4 Specs
Frame
All-New, Smartform C2 Alloy, SAVE dropped seat stays, tapered headtube, post mount disc, StraightShot internal cable routing, dropper post compatible BSA 73, 12mm thru-axle, Boost 148
Fork
SR Suntour XCR, 120mm, coil, 15×110 thru-axle, 46mm offset
Rims
WTB STX i25 TCS, 32h, tubeless-ready
Hubs
Shimano MT400, 15x110mm thru-axle
Spokes
Stainless Steel, 14g
Tires
F: WTB Breakout 29 x 2.3″
R: WTB Trail Boss 29 x 2.25″
Crank
FSA Alpha Drive, 30T
Bottom Bracket
Sealed Bearing Cartridge, square taper
Chain
KMC X10, 10-speed
Rear Cogs
Shimano Deore M4100, 11-46, 10-speed
Rear Derailleur
Shimano Deore M4100
Shifters
Shimano Deore M4100, 10-speed
Handlebar
FSA Alloy Riser, 15mm rise, 760mm
Grips
Cannondale Dual-Density
Stem
Cannondale 3, 6061 Alloy, 31.8, 0°
Headset
Integrated Sealed Bearing, Tapered
Brakes
Tektro M275 hydraulic disc, 180/160mm rotors
Brake Levers
Tektro hydraulic disc
Saddle
Cannondale Ergo XC
Seatpost
Cannondale C3, 6061 Alloy, 27.2 x 350mm (S), 400mm (M-XL)
FAQ
Is Cannondale Trail 4 a quick release from wheel?
Yes, I can confirm I just pulled the front off this morning without any tool. The through axel on the front anyway simply unlocks and slides out.
What is the seatpost clamp diameter?
The seatpost clamp diameter on this bike is 27.2mm.
What is the maximum clearance for the Trail 4 tires?
The max tire clearance is 29″ x 2.4″ measured (depending on the construction and tread of the tire).
What do we like about it?
Affordable price that translates into a commuter bike.
Lightweight aluminum frame with guaranteed lifetime maintenance.
Premium Shimano components deliver years of riding.
The shock-absorbing front fork with 120mm travel ensures sufficient shock absorption capacity and enables off-road riding on more terrains.
Fast-rolling tires and nimble handling for country trails and singletrack.
What do we not like about it?
Noisy mountain bikes aren't necessarily everyone's type
The lack of a dropper assembly makes gravel descents a little uncomfortable
Comparison Table
Competition
Trek Marlin 8 vs Cannondale Trail 4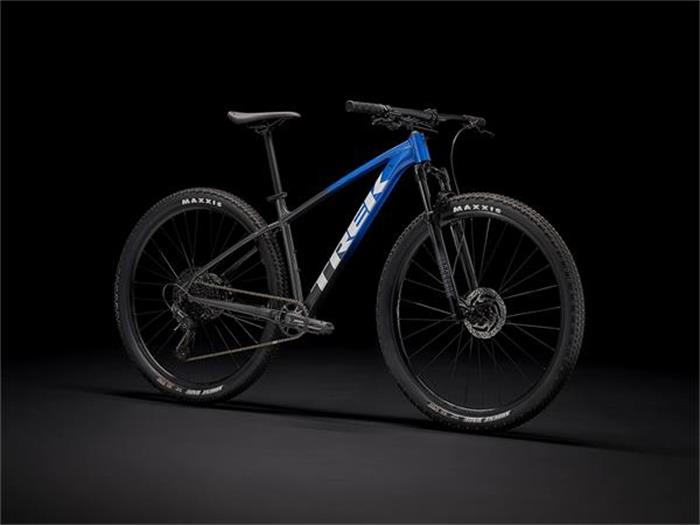 The Trek Marlin 8 2022 has a unique charm for its affordable price and great ride comfort.
It leans more towards the fast off-road end of the spectrum and costs $180 more than the Trail SE 4, but its components have been upgraded quite a bit, giving riders willing to spend a little more choice.
We found that the Trek Marlin 8 doesn't have as much travel as the Cannondale Trail 4, but it uses a RockShox Judy Silver air fork that can be adjusted differently depending on your weight for bumpy terrain.
The smallest XXS, with 26×2.40″ tires, is perfect for the teenage rider. At the same time, it also has 27.5in and 29in tires to choose from, which is a bike with a very large age span.
Tubeless tires are lighter and have improved climbing and descending performance.
The range of transmission gears is also wider, SRAM SX, 1×12 speed, although it is a low-end product of SRAM, it is also very pleasant to see it in Marlin 8.
We really like the handling flexibility of the Cannondale Trail 4, which is slightly less of a Marlin 8.
Two very similar mountain bikes, each with their own characteristics, the Cannondale Trail 4 pays more attention to uniform component quality and is good at trail riding. The Trek Marlin 8 can be used for off-road mountain biking at low altitudes. The technical terrain has some limitations because it also has no dropper, and the maximum travel of the front fork is only 100mm.
Of course, when the budget is more abundant, the Trek Marlin 8 will be more cost-effective.
Salsa Rangefinder Advent X vs Cannondale Trail 4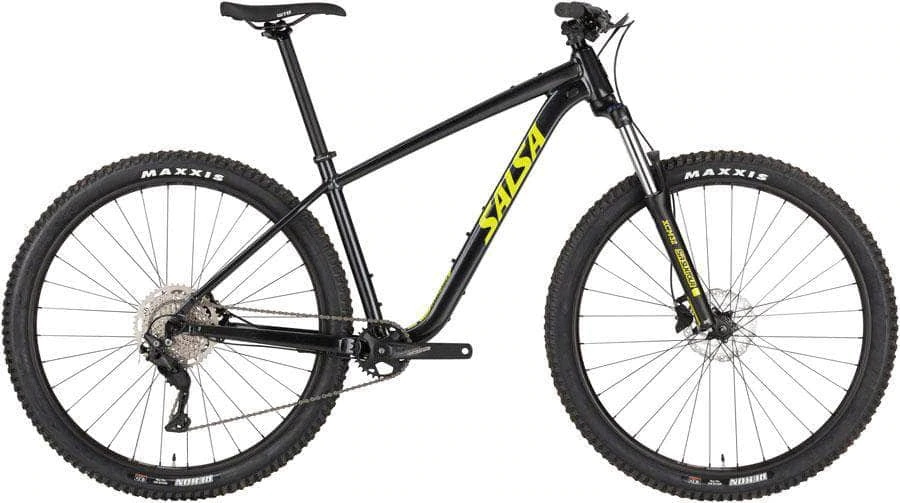 The Salsa Rangefinder series has a lot of variants, they have high quality or medium quality components in the components, so that you want to buy the right mountain bike, you have a lot of choices.
The frame quality of both mountain bikes is equally good, and they cost $50 less for the Salsa Rangefinder Advent X, but that requires accepting a slightly downgraded MicroSHIFT Advent X, 1×10 drivetrain.
From a climbing standpoint, I really like the 27.5×2.8″/29×2.6″ tires on the Salsa Rangefinder Advent X, which makes it easier to climb rough trails or technical singletrack.
The Salsa Rangefinder Advent X is not as fast off-road as the Cannondale Trail 4.
But the compatibility of the Salsa Rangefinder Advent X is very good, allowing riders to choose 27.5+ or 29 tires without having to struggle.
If you like aggressive off-road climbing, the Salsa Rangefinder Advent X is a great choice with more climbing geometry and more tire traction.
Learn more: Is the Salsa Rangefinder Worth Buying? [Salsa Rangefinder Review]
GT Avalanche Elite Hardtail Bike vs Cannondale Trail 4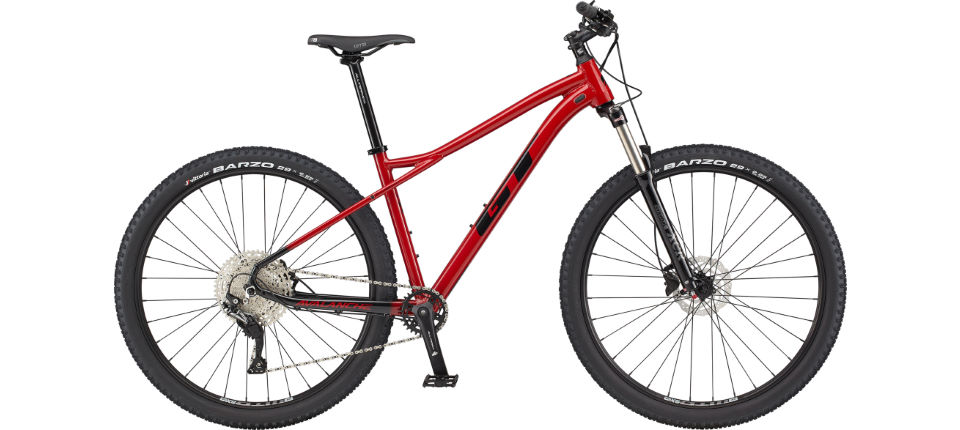 The GT Avalanche Elite Hardtail Bike with nearly the same price-performance ratio is a very competitive competitor to the Cannondale Trail 4. Both bikes use a sturdy 6061 aluminum frame, and they both have decent tire compatibility.
But the GT Avalanche Elite Hardtail Bike has a steeper head angle of 68°.
At the same price, they all have good value for money.
The geometry of the two mountain bikes is also very similar, but the GT Avalanche Elite Hardtail Bike has a wider gear range and uses a Shimano Deore 1×11 Drivetrain.
But the braking system has made some compromises, the front wheel rotor is only 160mm, which does not affect the overall fast off-road riding.
This also means that when one of these is out of stock, you can choose any mountain bike.
NINER AIR 9 vs Cannondale Trail 4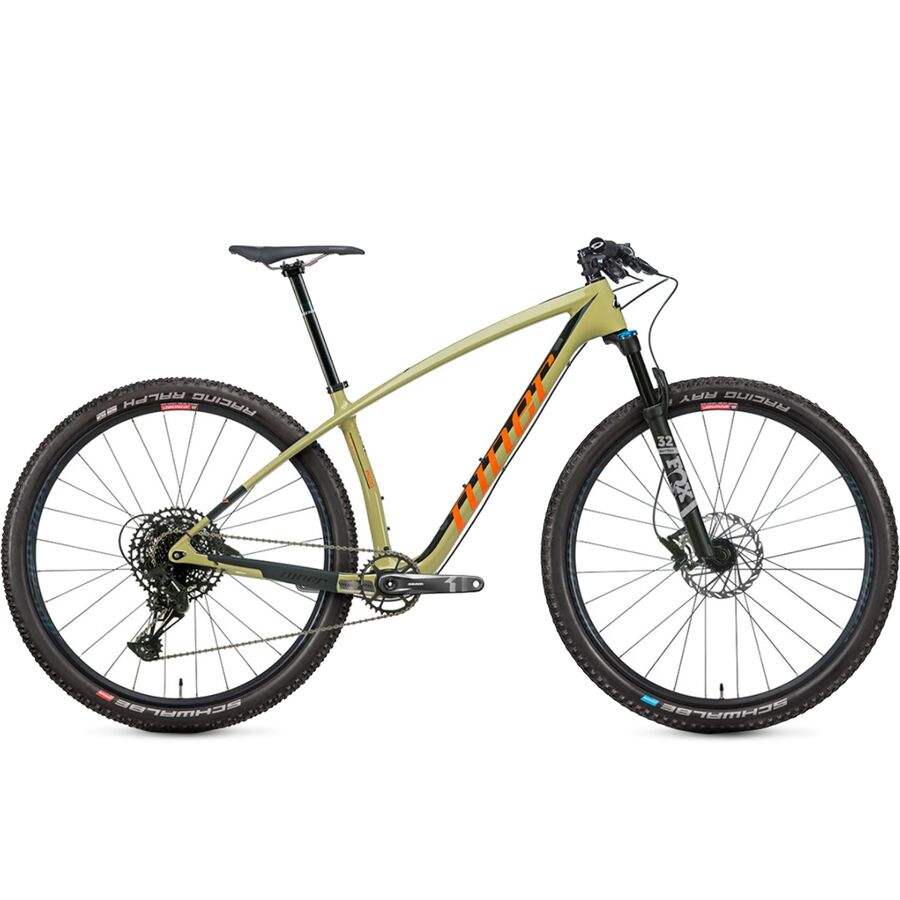 When your budget is more abundant, you may consider the NINER AIR 9 RDO 2-Star SX Eagle Mountain Bike.
This is also a fast off-road hardtail mountain bike with an affordable carbon fiber frame.
Lighter weight, tubeless tires front and rear, and additional puncture and abrasion resistance.
In the meantime, if you have it, you can race short singletrack cyclocross, Winning doesn't have to cost a fortune though thanks to the SX Eagle drivetrain and 100mm FOX fork that gives you equal performance as higher-end builds while leaving enough cash in your pocket for race entry fees or road trips to epic riding destinations.
The Cannondale Trail 4 weighs a lot compared to the NINER AIR 9 and has more difficulty to climb.
Of course, the NINER AIR 9 also has the disadvantage that there is no dropper component, so it lacks comfort.
The NINER AIR 9 RDO 2-Star SX Eagle Mountain Bike is a relatively high-end Blistering rocketship for XC racing and riding.
Final Evaluation (4.6/5)
The Cannondale Trail SE 4 has decent handling and agility, making it a good entry-level mountain bike.
Super high-cost performance, more balanced component matching, and easy-to-upgrade related components are high-quality mountain bikes that can accompany riders for many years.
The lack of a dropper post on the Trail SE 4 and its 1×10 gearing make it a little lacking, so we ended up giving it a 4.6 rating, making it a fast off-road mountain bike worth buying.
If you are looking for the best beginner mountain bike, in my personal experience, the Cannondale Trail 4 could be a good one to try.