We use affiliate links and may receive a small commission on purchases.
Liv Embolden 2
Price: $1719.99
Suspension: 130mm (front), 120mm (rear)
Tires: 27.5 x 2.6 in.
Gears: 1 x 12
What we like: Affordable full-suspension cross-country mountain bike for women trail riding, well-equipped, and the best entry-level trail bike for women.
What we don't: Does not come with a dropper.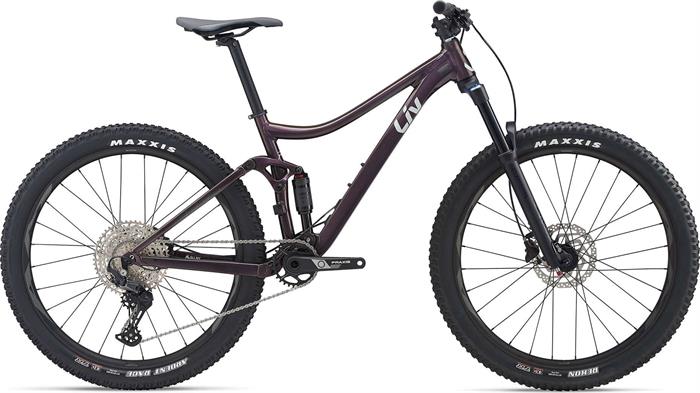 In the male-oriented, full-suspension cross-country mountain bike segment, Liv has still designed an affordable, powerful model.
Today's review of the Liv Embolden 2, a 2021 version, is priced at $1719.99 on the website.
It's an all-mountain type of trail bike, and because it's a full-suspension model, it can be ridden freely on rugged, rocky trails.
Here's an in-depth review of the Liv Embolden 2's descending and climbing performance, key features, components, and specs.
At the end of the article, we also compare it to some other mountain bikes in the same price range to give riders who want a proper full-suspension cross-country mountain bike a better idea: whether the Liv Embolden 2 is worth the money.
Related Reading: Best Mountain Bikes Under $2000-[2022]
Descending
We have to admit that the Liv Embolden 2's frame design has a great fit for women.
The lower head tube makes it easier to ride from the start. Its descent through rough trails with its 2.6-inch tires allowed me to nail solidly on flat pavement.
Even when the pavement was rocky, throwing it up high like this allowed me to hold onto the grip firmly without losing control of it.
This is of course the technical terrain of the drops and a great test for the Liv Embolden 2. It's a bit unfortunate that there is still no dropper design, which makes the ride a lot less comfortable.
Smooth and steep descents can also be accurately controlled by the Shimano MT200 hydraulic discs to keep the tires rolling.
Since its front brake disc is 180mm wide, this provides more braking power than a 160mm hydraulic disc, and more braking power on steep descents provides more control.
I was also happy riding on long downhill roads, it wouldn't be fast, but the flowing path around big rocky blocks had my adrenaline pumping and I even wanted to scream it out.
As a fair mountain bike reviewer, we're happy with the Liv Embolden 2's descending performance, but it lacks the necessary hardware to excite riders who've never experienced a full-suspension mountain bike before.
Still, we'd like to see the dropper added to increase the trail experience on downhill roads.
Climbing
A smooth descent is bound to be followed by a breathtaking climb. the Liv Embolden 2 doesn't climb as badly as one might expect, but it still falls a little short of hardtails in its price range.
It doesn't have a remote locking feature on the fork, requiring it to be locked manually before climbing again, even if the process doesn't require me to get off the bike. Then there is the suspension which is not lockable.
Of course, if you expect so many comfort features for such a price point, it's quite an unreasonable claim.
The climb is steep and not very fast, but not very slow either. Locking the forks ahead of time and climbing the entire steep trail with relative ease with the 1X12 speed drivetrain in tow.
And with its 27.5-inch tires, it's also extremely easy to steer through winding and narrow trails. 2.6-inch tires mean you'll climb more efficiently, even on looser woodland ascents, without much hindrance.
The relatively steep 67.5° head tube angle will allow you to climb with renewed confidence. Of course, it must also be mentioned here that its Maxxis Rekon vacuum tires, which reduce the weight of the body while the steep climbs do not require much effort.
The climbing performance of the Liv Embolden 2 is still commendable, and less aggressive female riders, in particular, will really enjoy this mountain bike.
General Roads
Flat and low-tech off-road roads take up 70% of the ride. In between we don't have much to nitpick about the Liv Embolden 2's performance.
It also provides great traction on smooth single track roads, allowing you to ride longer and farther. Keep the trail riding at an even pace and adjust your breathing and it will be an enjoyable off-road touring experience.
In fact, its wide tires are a hindrance to riding speed in flat mountainous terrain. But that's a side effect of its powerful climbing and descending.
If you prefer to ride on low-tech single-track or two-track terrain, then the Liv Embolden 2 is a bit of a waste, with its 1X12 drivetrain, which is more than adequate in such terrain, and its dual front and rear suspension.
Flat roads with small gravel will not perform its full function.
Main Features
Frame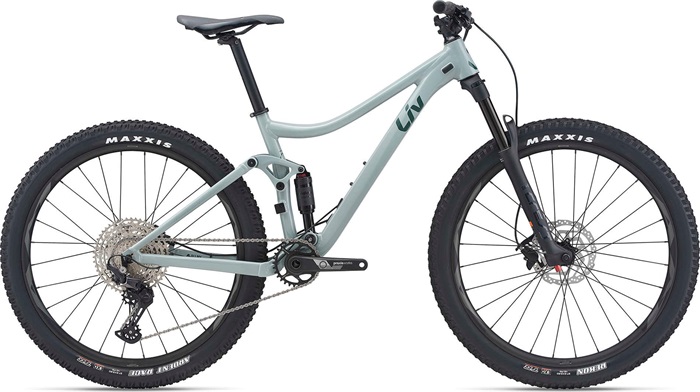 The Embolden 2 frame design is based on a single-pivot Flexpoint platform with female-specific geometry. And it's an ALUXX grade aluminum frame.
Clean and tidy internal alignment that won't run back and forth on intense trail rides. There is also the Slate Grey paint color that women like a lot.
Because it's so good-looking, sales will be higher and only the Liv Embolden 2 in Rosewood color is left at the time of our release.
The middle of the frame features a vertically placed rear shock absorber, a design that will increase the functional efficiency of the rear shock, but also brings the characteristic of easy wear and tear.
The design of the head tube, bent downward, reduces the height of the body, but does not affect the performance of the body, which is convenient for ladies to ride and will be very friendly for small female riders.
Of course, my minor issue with the frame is that it doesn't have a chain guard installed on the rear downtube.
Although most mountain bikes don't have them installed, this will make the sound of the chain knocking against the frame possible when shifting at high speeds.
Geometry
The standing height of the XS frame on the Liv Embolden 2 is only 690mm, which isn't a particularly low number, but there is a significant reduction in the STACK.
The REACH is S frame is 418mm, which is also very short REACH. this is also the reason why this bike is more tailored to the female rider in terms of geometry design.
Of course, if we keep obsessing about what design is best for me, there will be no way to make a choice, and frankly, we're not experts at designing trail bikes.
But this design will help with steep climbs and will do something to balance performance on descents. And with the enhanced maneuverability, it's a bonus that makes riding on moderately technical terrain the best.
Components and specifications
Shimano Deore, 12 speed
The Shimano Deore is used heavily in $1500-$2000 trail mountain bikes, it's not a low-end accessory, and it's a drivetrain that's been proven countless times. It's an important component that helps us ride in off-road terrain.
The transmission is more efficient and not as expensive compared to SRAM's drivetrain, but the overall performance, in other words, it's more cost effective.
If it has disadvantages, then riders who have not risen to the competition level will not feel the gap.
If you prefer a sturdier drivetrain, then the recommendation is the SRAM GX series drivetrain, which will give some lift to the ride and is only in more extreme off-road terrain that you will notice the difference.
Giant Crest 34 RCL Fork
The performance of this fork is comparable to that of the RockShox Recon Silver RL, and the fact that it is also an air fork without the brand premium is the main reason why the Liv Embolden 2 is relatively affordable.
The Giant Crest 34 RCL has 130mm of travel, which is a 10mm rise from the most basic 120mm on the trail, and a smaller offset that will greatly improve the efficiency of the ride.
As we described earlier, it doesn't have a remote locking feature and requires some manual adjustment to make it easier to ride on steep mountain climbs.
Nonetheless, Giant Crest 34 RCL Fork damping performance, already working efficiently are worthy of recognition.
Shimano MT200 hydraulic disc brake
Although the rear disc still uses 160mm discs have some taste of budget saving. But the front disc 180mm brake disc, but still can provide stronger braking power.
Compared with hardtail mountain bikes around $1500 still do some upgrading.
Rough trails still have a very high demand for trail braking power, and comparing it to higher priced brakes, the Shimano MT200 is also a cost effective choice.
I would love to have brakes like these on my trail bike.
Maxxis Rekon Tires
The 27.5-inch mid-size tires are not the first choice for fast trails, but they are still enjoyable on rough trails.
Especially since the Liv Embolden 2 is a women's specific trail mountain bike. But it also presents a problem that can't be ignored: its chain is a little less far from the ground, and when breaking through large rocks, there's a risk of the chain hitting the rock slab, which is also a problem with this category of medium-sized tires, and I haven't found a proven solution yet.
Of course, we can't always see the disadvantages of this design, it has the same obvious advantages of being able to ride freely through rough trails, and also riding fast in smooth singletrack.
The 2.6-inch wide-size tires provide more traction for riding, and the tubeless design reduces weight and enhances the speed of the ride. And these are especially evident in the Liv Embolden 2 equipped with Maxxis Rekon tires.
What we like about it
Affordable price
Full-suspension mountain bike for small women trail riding
Solid and durable front shock fork
120mm travel rear shock fork
1X12 drivetrain
Puncture-resistant vacuum tires
What we don't like about it
Lack of dropper, need to upgrade
Liv Embolden 2 Specs
| | |
| --- | --- |
| FRAME | ALUXX-Grade Aluminum, 120mm FlexPoint Suspension |
| REAR SHOCK | Suntour Raidon R, 184/44, custom tuned for Giant |
| FORK | Giant Crest 34 RCL, 130mm, Boost 15×110, custom tuned for Giant |
| HANDLEBARS | Giant Connect Trail |
| STEM | Giant Contact |
| GRIPS | N/A |
| FRONT BRAKE | Shimano MT200 hydraulic, 180mm |
| REAR BRAKE | Shimano MT200 hydraulic, 160mm |
| SHIFT LEVERS | Shimano Deore |
| CASSETTE | Shimano Deore, 12-speed, 10×51 |
| REAR DERAILLEUR | Shimano Deore, Shadow+ |
| CHAIN | Shimano Deore |
| CRANKSET | Praxis Cadet Boost, 30t |
| CHAINRINGS | 30T |
| BOTTOM BRACKET | Praxis, press fit |
| RIMS | Giant AM 27.5 wheelset, alloy, 30mm inner |
| FRONT HUB | Giant Performance Tracker, Boost 15×110, sealed bearing |
| REAR HUB | Giant Sport Tracker, QR Boost 141, loose ball |
| SPOKES | Sapim |
| FRONT TIRE | FMaxxis Rekon 27.5×2.6 WT, EXO, TR, tubeless |
| REAR TIRE | Maxxis Ardent Race 27.5×2.6 WT, EXO, TR, tubeless |
| INNER TUBES | N/A |
| SADDLE | Liv Sylvia |
| SEATPOST | Giant Connect, 30.9 |
Comparison Table
Competition
Marin Rift Zone 27.5 1 vs Liv Embolden 2
For the Marin Rift Zone 27.5 1 review, we also have a detailed review for you.
Here is a brief comparison. To be precise the Marin Rift Zone 1 is also suitable for female riders, but in regards to its design doesn't indicate too much about this and from the looks of it the Marin Rift Zone 1 will be a bit more gorgeous and stylish.
With the same clean internal alignment and aluminum frame, it's hard to tell which frame is stronger, but the Marin Rift Zone 1 has a lower profile geometry and will be inferior to the Liv Embolden 2 in terms of climbing performance.
This is due to the Marin Rift Zone 1's Shimano Deore, 11-Speed drivetrain, which doesn't have as much gear range as the Liv Embolden 2.
But the Marin Rift Zone 1 uses the better known RockShox Recon air fork and X-Fusion O2 rear suspension. The price will be a bit higher, and if you are competing for damping, I personally feel that the Marin Rift Zone 1 will be a bit better.
Overall, these two mountain bikes are both high performance full shock mountain bikes.
Learn more: Is Marin Rift Zone 27.5 1 Worth Buying? [Marin Rift Zone 1 Review]
Giant Stance 29 2 vs Liv Embolden 2
The Giant Stance 29 2 is priced almost exactly the same as the Liv Embolden 2. So the comparison in terms of components is also not much different.
On the Giant Stance 29 2, there are 29-inch wheels. The width is not as wide as the Liv Embolden 2's 2.6″, but only 2.35″, which allows the Giant Stance 29 2 to be oriented towards the fast off-road end of the spectrum.
The other components are also almost identical. So for the manufacturer and the brand, this configuration makes both the rider and the business happy.
If you prefer fast trail riding and aren't willing to pay more than your budget, the Giant Stance 29 2 is a very good choice.
But you're more into the rough trail of rugged trails, the Liv Embolden 2 will better suit your needs.
Learn more: Is Giant Stance 29 2 Worth Buying? [Giant Stance 29 2 Review]
Salsa Timberjack SLX 27.5+ vs Liv Embolden 2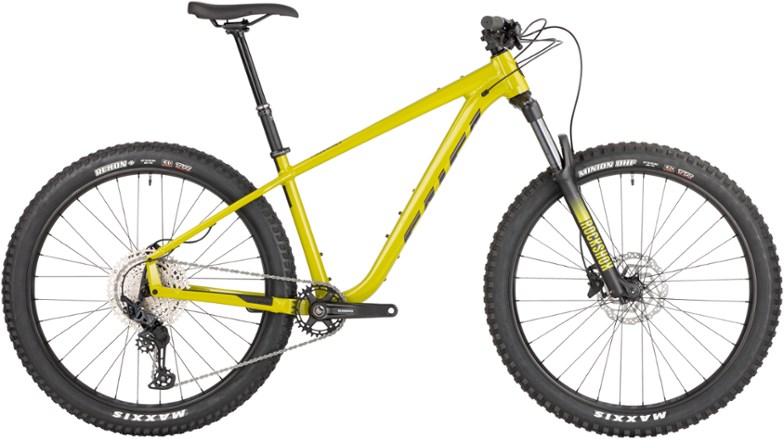 The Salsa Timberjack SLX is a well-built hardtail mountain bike.
Compared to the Liv Embolden 2 it is missing the rear shock fork as a component. You get a more robust 6061-T6 aluminum frame, Shimano SLX M7100 shifters, Shimano MT401 hydraulic disc brakes, Maxxis 27.5 x 2.8-inch tires, and TranzX mid-to the high-end dropper.
If you're willing to sacrifice some of the performance on steep downhill roads, you'll get a refined hardtail mountain bike.
That said, I prefer the off-road experience that comes with a full-suspension mountain bike, even if, as in the Liv Embolden 2, some parts have been downgraded.
Learn more: Is The Salsa Timberjack SLX 27.5+ A Good Mountain Bike? [Review]
SANTA CRUZ Megatower vs Liv Embolden 2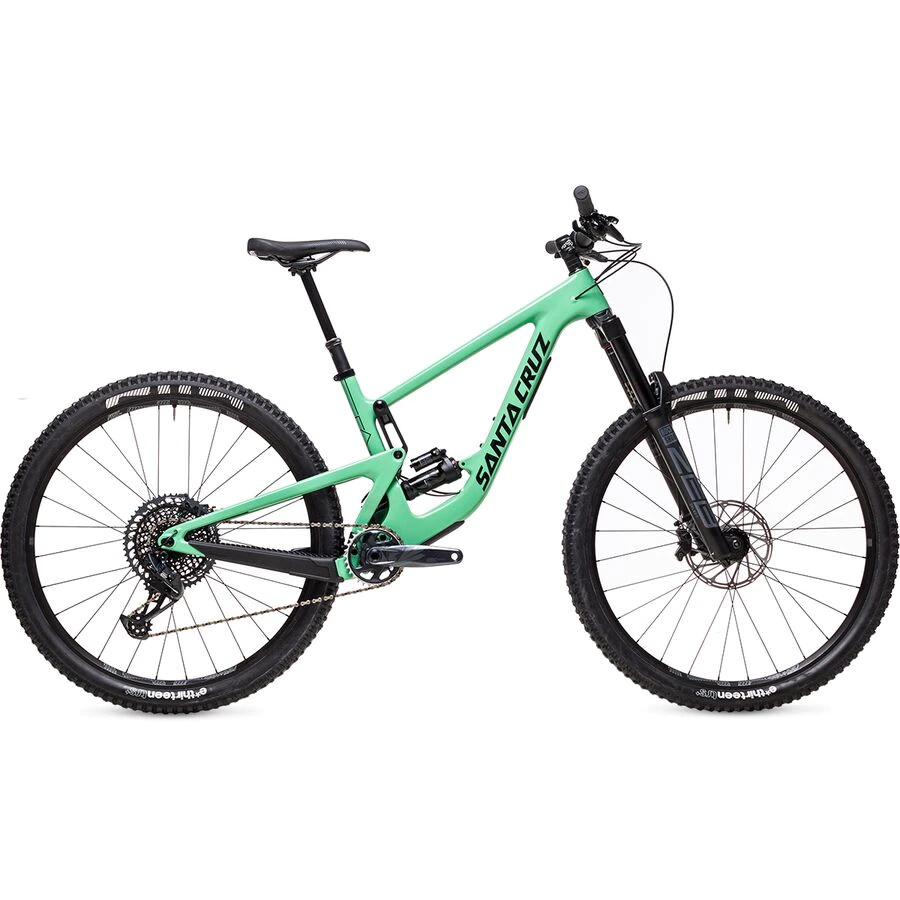 Comparing the SANTA CRUZ Megatower to the Liv Embolden 2 would be like comparing a $500 full-suspension bike to the Liv Embolden 2, the difference would be huge.
The comparison here is to give the rider an idea of what top-of-the-line setup you would get if you were willing to pay 1.5 times more.
The SANTA CRUZ Megatower comes with a Carbon C frame, 160mm travel top suspension: VPP, 160mm Rear Travel RockShox Zeb Select, SRAM GX Eagle, 12-speed drivetrain, Crank Brothers Highline 3 Dropper, and more.
These advanced configurations allow you to not be limited to moderately technically difficult off-road terrain, but to challenge yourself with more difficult climbs and descents.
If you are interested in competition off-road vehicles, you can also click [SANTA CRUZ Megatower] to learn more.
Overall Rating (4.7/5)
From our detailed review, and our experience riding on a variety of terrain, the Liv Embolden 2 is indeed a well-made and value-for-money full-suspension cross-country mountain bike that is well worth the price.
Also, as a full shock bike, the Liv Embolden weight did not become a hindrance, in my case it made me feel more stable and gave me more confidence in my riding
In particular, its women's trail-focused frame will appeal to price-oriented female riders.
We ended up giving the Liv Embolden 2 a rating of 4.7 out of 5. If you like our content, you can share it with your friends to help you co-advise on the models you need to buy.