We use affiliate links and may receive a small commission on purchases.
Giant Fathom 1 Review
MSRP: $1,850
Frame: Aluminium
Wheels: 27.5″ × 2.6″
Drivetrain: 1× 12
What we like about it: High-quality trail riding at a superb price point.
What we don't like about it: The geometry is a bit aggressive.
Rating (4.8/5)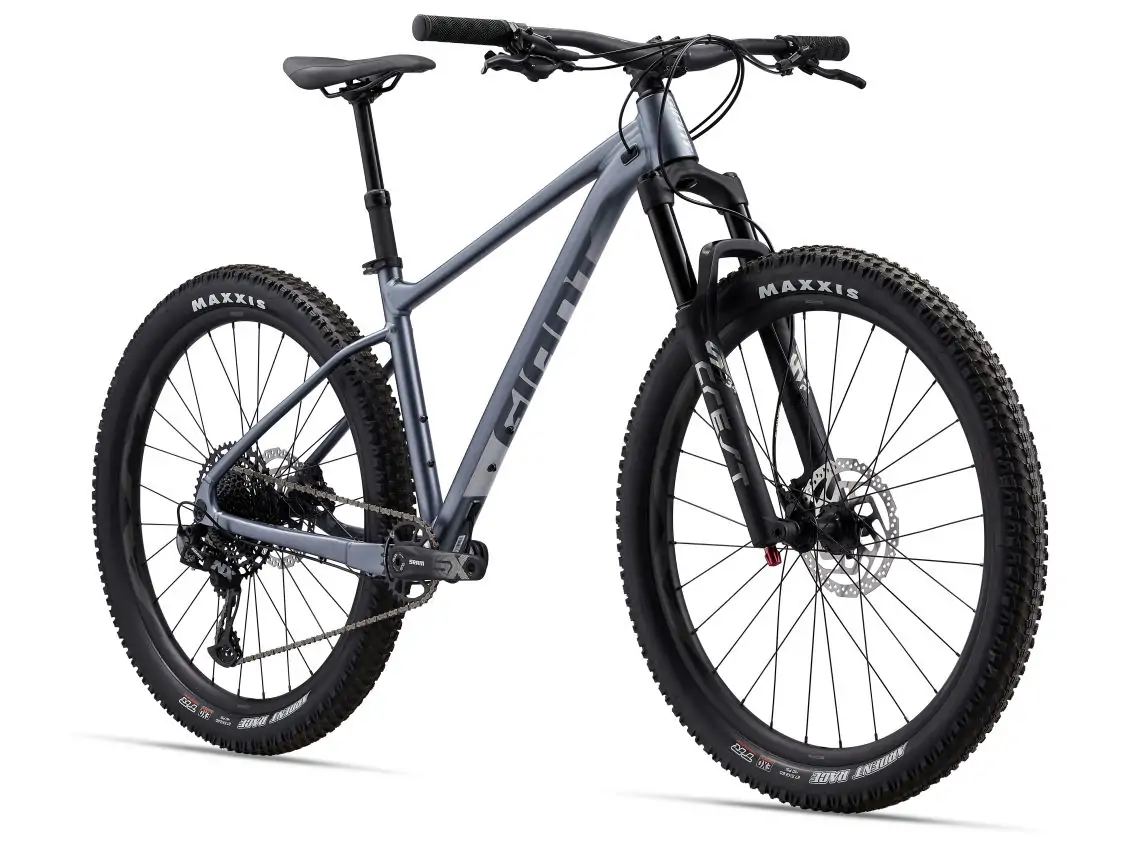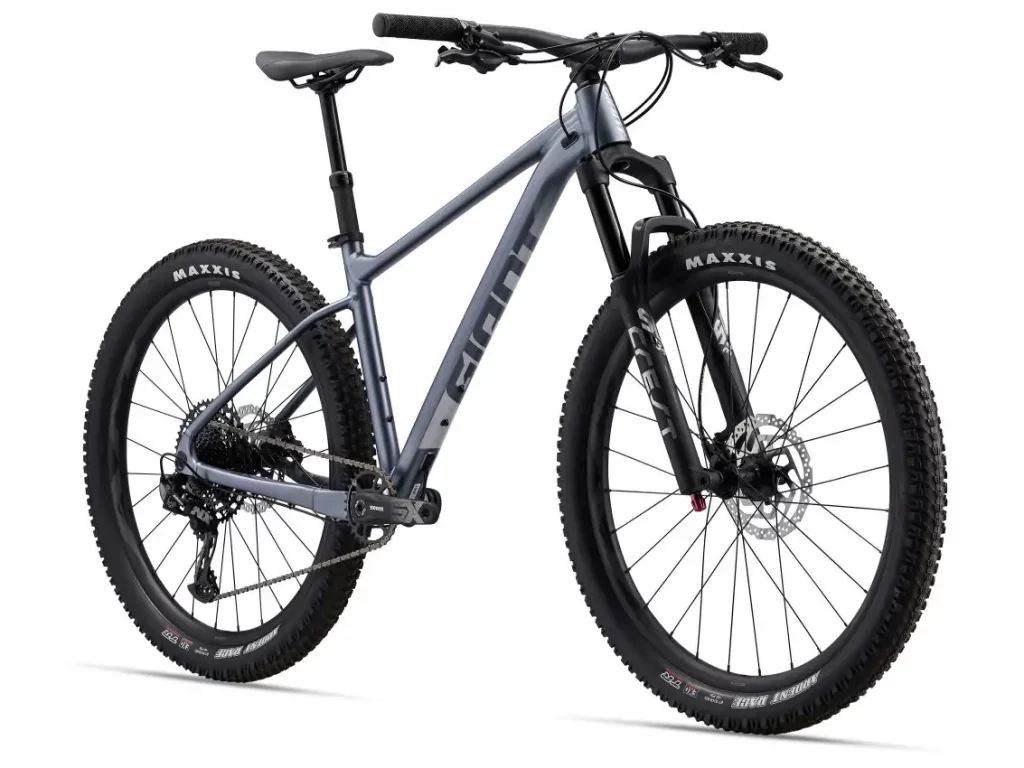 This hardtail trail bike with an ALUXX SL-class aluminum frame is known for its responsive handling and smooth level of control.
Reliable and durable SRAM NX Eagle SX Eagle components create an amazing 1×12 speed conventional system combined with the excellent Shimano BR-MT420/410, hydraulic. this illustrates excellence with the bike's superb performance.
One cannot have such a hardtail bike for all riding experience, capable of conquering climbs or shredding hills, for a cheaper price.
Here we analyze the 2023 Giant Fathom 1's riding experience, spec features, and other versions. If you want more bike reviews, you can follow us.
Off-Road Riding
I look back on moments spent with the Giant Fathom 1 in bike parks and the hills of my town with great joy. Because the bike was able to jump very naturally and easily in those high and low dirt tracks.
Ride Quality
To be honest, I enjoyed riding the Giant Fathom 1 on the mountain tracks. Although the Stack/Reach Ratio (LG) of 1.34 seems a bit aggressive, it is very good for control of the bike in the mountains.
I feel very comfortable every time I sit on the GIANT Romero saddle. The long saddle makes me feel that all my weight is evenly distributed on it.
When I hold the extra-long 780mm Handlebar with both hands, I feel like the bike is made for a "wide" rider like me. Not only does this length give me more room to move my hands, but I can always find a grip that allows me to breathe easily during the ride.
When I pedaled, I understood the seemingly aggressive geometry even better. The steeper 75° seat tube angle with the looser 66° head tube angle allowed me to be in a strong pedaling position at all times and to maintain balance on the technical downhill sections.
The 130mm long travel Giant Crest 34 SL RCL fork ensures that the front end of the bike is stable enough over bumps. It always managed to defuse the vibrations caused by the drop, leaving my hands, hips, and internal organs unharmed.
Climbing and Descending
Based on the excellent SRAM GX Eagle, NX Eagle 12-speed drivetrain, and wide Maxxis Ardent Race tires, the Giant Fathom 1 is perfect for climbing. As I dialed in the shifter, pedaling uphill became easier. The powerful power delivery made it easier for me to control the speed and pace of the bike. As long as I pedaled normally on the climbs, the 27.5×2.6-inch tires, with their great passability, always made it easier for me to finish the climbs.
When the tires came to the downhill section, I was even more impressed with the powerful Giant Contact Switch dropper seatpost. With the touch of a switch and the downward force of my hips, the seatpost was easily pressed to the bottom. I was then able to easily shift my weight back and enjoy the fast downhill ride.
Of course, for safety reasons, I also kept the Shimano BR-MT420/410 hydraulic brakes on at all times to mitigate the impact of sudden puddles or boulders on my arms. After finishing our bike ride, I easily booked accommodation on IHG Hotels & Resorts. I can finally relax and rest well.
Needless to say, the Giant Crest 34 SL RCL fork also played a huge role at all times, and it was very reliable. It didn't bottom out unless I hit a rocky drop when I was distracted. My body was always moving up and down with the fork arms in a regular manner, which was very interesting.
Reliable Design
My satisfaction with the Giant Fathom 1 is inextricably linked to its overall design.
With the lightweight ALUXX SL aluminum frame, the bike has agile acceleration and maneuverability. I was always able to make quick turns or climbs in the woodlands.
And the grippy Maxxis Ardent Race tires feel like they were custom-made for mountain adventures. Its small, sloping center tread allows it to grip the road firmly in the corners to keep the bike in a safe balance. With the Giant Tubeless System, there are fewer air leaks and will keep the wheels firm on the mountain for long, efficient, and smooth rotation.
For mountain riding, resource replenishment is also essential. So I'll be taking full advantage of the water bottle holder mounting holes on the Giant Fathom 1 down tube and mid tube to keep my lips and throat moisturized at all times.
Specifications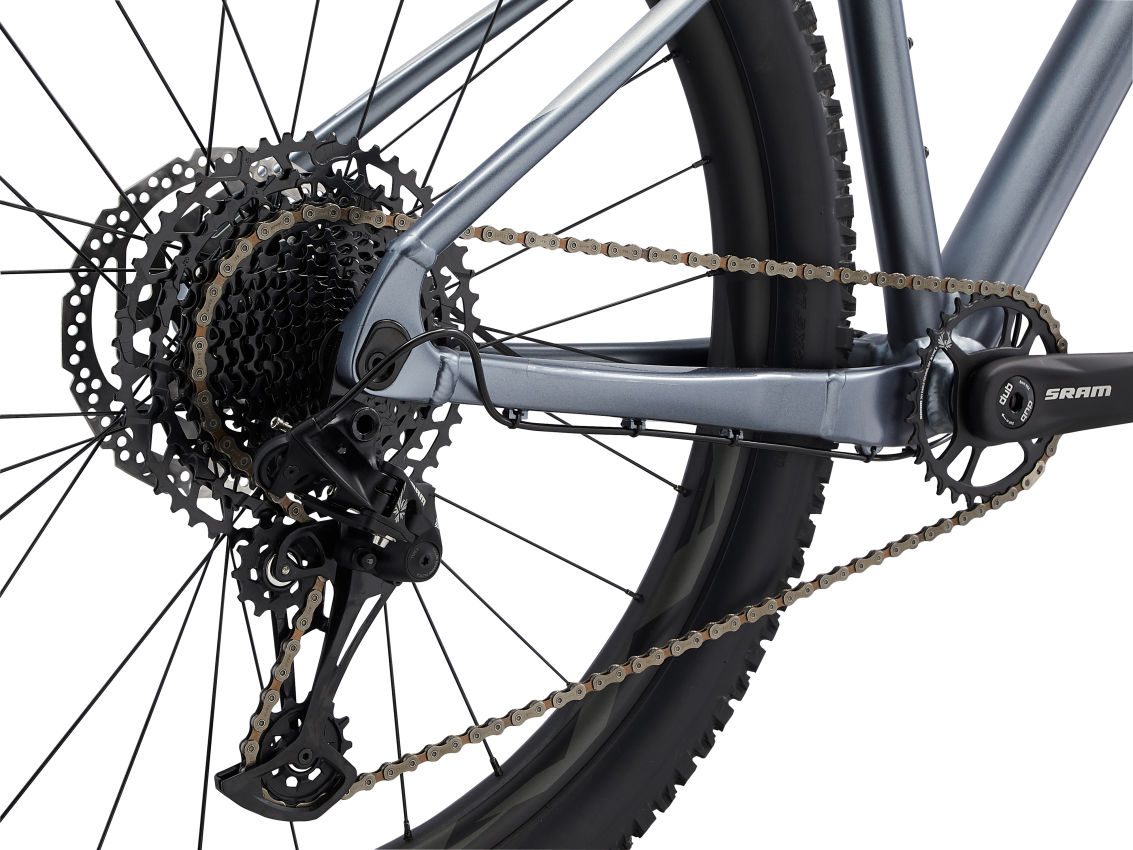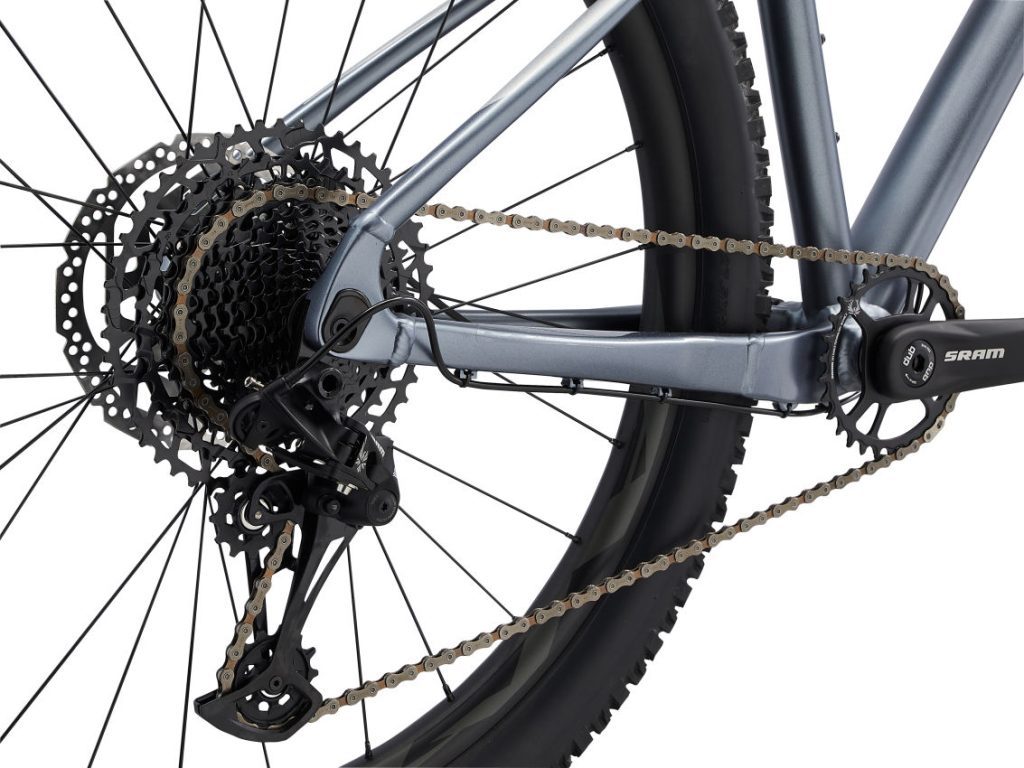 I believe the Giant Fathom 1's unique welded ALUXX SL-Grade Aluminum frame is responsible for giving the rider a high-performance ride. The geometry that facilitates pedaling and technical handling also allows Giant Fathom 1 users to enjoy more off-road fun.
The SRAM NX Eagle SX Eagle components with their rugged characteristics, together with the rapid braking Shimano BR-MT420/410 hydraulic, support users to completely unleash their off-road passion.
With the reliable 130mm Giant Crest 34 SL RCL and wide Maxxis Ardent Race tires, the bike can completely "filter" the vibration during the off-road process for a comfortable and easy off-road journey.
Other versions of the Giant Fathom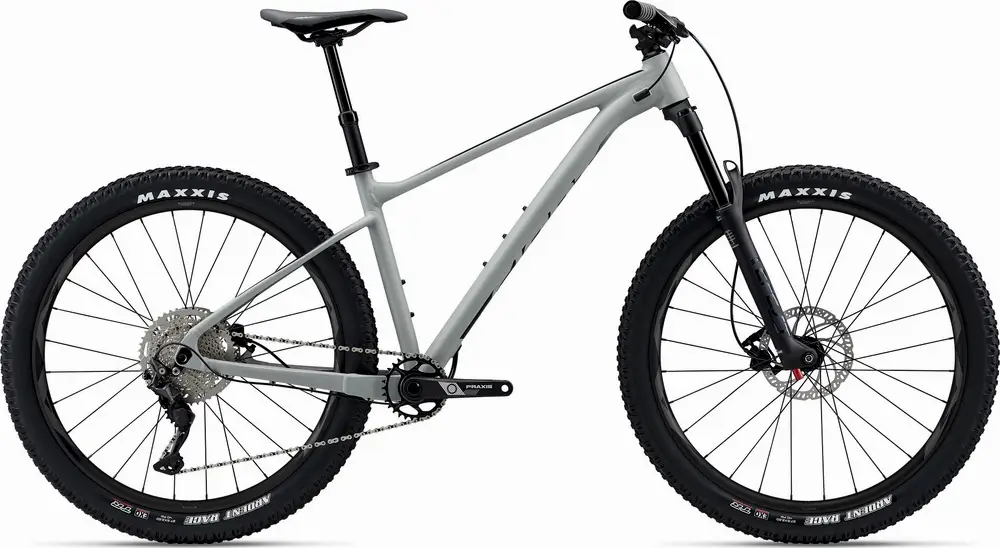 For those on a budget, Giant also offers the less expensive 2023 Giant Fathom 2.
If you carefully compare the Giant Fathom 1 to the Fathom 2, you'll see that this Giant Fathom 1 has a much better price/performance ratio.
Although the two are very similar in terms of the aluminum frame, Giant Crest 34 RCL fork, and geometry. But the Fathom 2 uses a lower version of the Shimano Deore M-4100 1×10 speed in the drivetrain, making it necessary for the rider to put out more pedaling power during climbs to gain the same ascent speed as the Fathom 1.
Also in the braking system, the Fathom 1's Shimano BR-MT401 hydraulic disc brakes have better, faster, and more consistent braking than the Tektro HDM 275 hydraulic.
Overall, if you're expecting more advanced handling components, and more effortless uphill power, the Giant Fathom 1 will be more your speed. For riders who are willing to give up handling for a cheaper budget, the Giant Fathom 2 seems a much better fit.
Follow us to learn more.
What do we like about it?
A high-performance hardtail mountain bike that's suitable for everyone with great value.
The lightweight ALUXX SL aluminum frame offers agile responsiveness and durability.
The balanced geometry designed specifically for mountain biking makes both climbing and descending attractive.
The extra-long travel Giant Crest 34 SL RCL fork absorbs ground vibrations and gives riders more confidence.
The practical SRAM NX Eagle, SX Eagle 12-speed drivetrain system works in harmony with Shimano BR-MT420/410 hydraulic brakes, ensuring safe and stable mountain riding.
Reliable puncture-resistant tires provide noticeable comfort and shock absorption.
What don't we like about it?
The riding position is a bit "aggressive."
FAQs
How can I purchase the 2023 Giant Fathom 1?
You can buy it on the Giant official website or go to a local Giant authorized dealer.
How much does the Giant Fathom 1 weigh?
The Giant Fathom 1, which features a lightweight aluminum frame, is also a lightweight hardtail mountain bike, weighing 28.52 pounds.
What size 2022 Giant Fathom 2 should I get?
Here is the sizing chart I found on the official website, which you can use as a reference. However, I cannot guarantee that it will be a perfect fit for you, so I suggest going to a Giant authorized dealer for a test ride.
| | | |
| --- | --- | --- |
| Rider Height (cm) | Rider Height (in) | Frame Size |
| 163cm – 172cm | 5'4″ -5'8″ | S |
| 171cm – 180cm | 5'7″ -5'11" | M |
| 179cm – 188cm | 5'10" -6'2″ | L |
| 187cm – 198cm | 6'2″ – 6'6″ | XL |
2023 Giant Fathom 1 Specs
Build
| | |
| --- | --- |
| Frame | ALUXX SL-Grade AluminumTire Clearance: 2.6″Color: Knight Shield |
| Fork | Giant Crest 34 SL RCL, 130mm, 44mm offset, Boost 15×110 |
| Rear Shock | N/A |
| Bottom Bracket | SRAM DUB, press fit |
| Stem | Giant Contact SL 35 S:40mm, M:40mm, L:50mm, XL:50mm |
| Handlebar | Giant Contact TR35, 780x35mm |
| Saddle | Giant Romero |
| Seatpost | Giant Contact Switch dropper, remote S: 125mm travel / 30.9 x 395mm M: 125mm travel / 30.9 x 395mm L: 150mm travel / 30.9 x 440mm XL: 170mm travel / 30.9 x 450mm |
| Pedals | platform [GC, GT] |
| Grips | Giant Sole-O |
Groupset
| | |
| --- | --- |
| Rear Derailleur | SRAM NX Eagle |
| Front Derailleur | N/A |
| Crank | SRAM SX Eagle, 30t S:165mm, M:170mm, L:170mm, XL:170mm |
| Shifters | SRAM SX Eagle, 1×12 |
| Cassette | SRAM SX Eagle, 11×50 |
| Chain | SRAM SX Eagle |
| Brakes | Shimano BR-MT420/410, hydraulic, Shimano RT-26 rotors [F]180mm, [R]180mm |
| Brake Levers | Shimano BR-MT401 |
Wheels
| | |
| --- | --- |
| Rims | Giant AM 27.5, tubeless-ready sleeve-joint rim, 30mm inner width |
| Spokes | stainless |
| Front Hub | alloy, sealed |
| Rear Hub | alloy, sealed |
| Tires | Maxxis Ardent Race 27.5×2.6, folding, TR |
Video
Comparison Table
2023 Giant Fathom 1 VS 2022 Trek Roscoe 8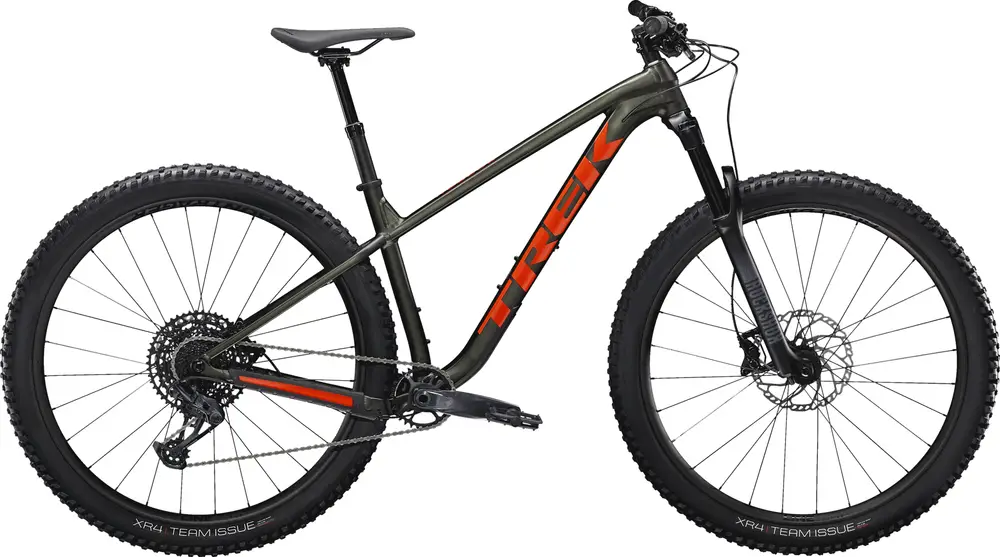 If you're familiar with the $2,329 Trek Roscoe 8, you'll be amazed by the similar and more affordable 2023 Giant Fathom 1.
Although both feature aluminum frames and similar SRAM GX Eagle NX Eagle components, the 2022 Trek Roscoe 8, weighing 13.5kg, is not as lightweight as the Giant Fathom 1. Although the difference is small, it still means riders need to expend more energy during the ride.
The 12-speed SRAM drivetrain system offers similar speed and operational performance for both bikes. However, Trek Roscoe 8's Shimano 4-piston hydraulic disc brake system performs better than the Shimano BR-MT420/410 hydraulic discs on the Fathom 1.
Moreover, the Trek Roscoe 8's 140mm RockShox 35 Gold RL fork provides smoother and more natural shock absorption than the Giant Crest 34 SL RCL.
However, these advantages are built on a $479 price difference, which seems unreasonable. Such a price difference could support upgrading to higher-level traditional system kits, not just making simple adjustments to the fork and brakes.
Therefore, the overall value of the Giant Fathom 1 is better than that of the Trek Roscoe 8.
2023 Giant Fathom 1 VS 2023 Norco Fluid HT 1 29
When I rode the 2023 Norco Fluid HT 1 29, my first reaction was that its geometry seemed like a copy-paste of the Giant Fathom 1.
The identical 1.34 stack/reach ratio and similar seat tube and head tube angles give both bikes an extremely similar riding position and pedaling efficiency. However, the Norco Fluid HT 1 29 has a higher BB height (320mm), which gives it better ground clearance on harsh terrain. On the other hand, the Giant Fathom 1 has a lower BB height (295mm), which provides a lower center of gravity, making it feel more nimble and stable when pedaling.
The Giant Fathom 1's more detailed design also gives it a more comfortable ride experience. For example, the 780mm Giant Contact TR35 handlebar is more attractive to larger riders than the 750mm X6 Alloy handlebar on the Norco Fluid HT 1 29. Similarly, the Giant Romero saddle on the Fathom 1 offers a more comfortable weight distribution ratio and softer padding design than the Norco XC saddle on the Norco Fluid HT 1 29.
If you prioritize comfort, the cheaper Giant Fathom 1 is sufficient for your riding needs. However, if your riding route is more challenging, the Norco Fluid HT 1 29 with its higher BB height will be safer.
Learn more : Is 2023 Norco Revolver HT 1 120 Splendid? – [2023 Norco Revolver HT 1 120 Review]
2023 Giant Fathom 1 VS 2023 Marin Pine Mountain 1
To be honest, I don't think the 2023 Marin Pine Mountain 1 is worth the $1,499 price tag.
Firstly, the steel frame is not as reliable as an aluminum frame in terms of weight and durability. Once exposed to wet weather, it is more susceptible to oxidation, while aluminum frames don't have this issue.
Secondly, I'm not entirely satisfied with its Shimano Deore 11-speed drivetrain system. For mountain biking, more gears mean easier uphill climbs, giving users more confidence to challenge peaks. Conversely, fewer gears make the journey more challenging and can dampen enthusiasm.
Lastly, in terms of fork travel, the 120mm RockShox Recon RL doesn't have a clear advantage over the 130mm Giant Crest 34 SL RCL. Their performance is average on both regular and complex terrain.
Overall, for its price, the 2023 Marin Pine Mountain 1 falls short in terms of material, drivetrain, and fork travel.
Learn more :Is 2023 Marin Pine Mountain 2 A Perfect Selection? – [2023 Marin Pine Mountain 2 Review]
2023 Giant Fathom 1 VS Canyon Stoic 4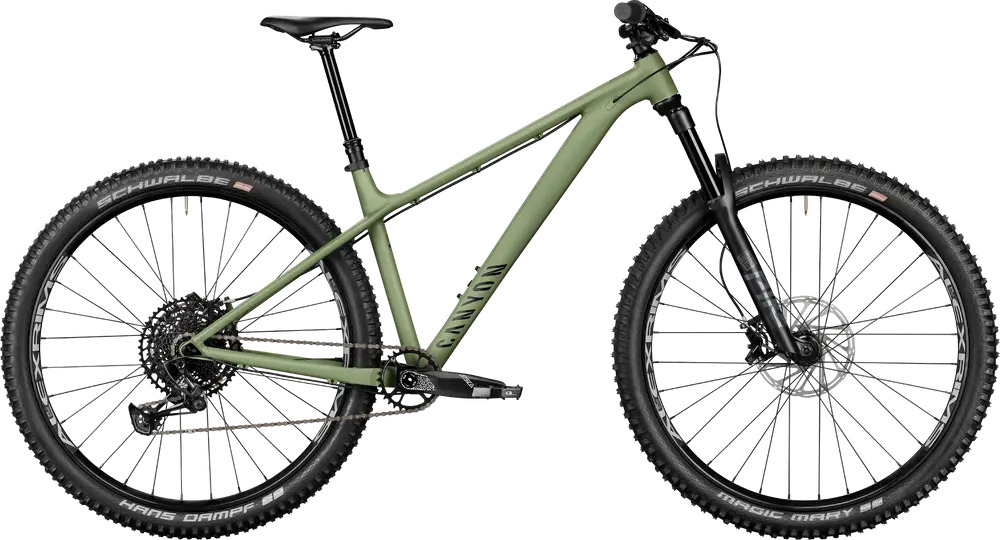 Although the 2022 Canyon Stoic 4 meets the standards for its price range in terms of fork and component configuration, there is still room for significant improvement.
If you're looking for a lightweight hardtail bike, the 14.1kg Canyon Stoic 4 is not a suitable choice. However, its biggest problem is its 2.35″ tires, which are not compatible with many of its components.
On the one hand, the high-quality 140mm RockShox Pike Select fork is generally used to handle more complex terrain. However, the 2.35″ width of the Schwalbe Hans Dampf tires limits the bike's ground clearance to some extent, making it difficult for the fork to perform at its best.
On the other hand, the SRAM NX Eagle 12s drivetrain and the excellent SRAM Guide T Hydraulic Disc brake system are more suitable for wider tires to meet the needs of high-level riders to demonstrate their skills.
Therefore, if the Canyon Stoic 4 upgrades its tire selection, it will become more attractive. The current specifications of the Giant Fathom 1 are satisfactory.
Summary
If you are looking for a high-quality hardtail bike to improve your mountain biking skills, the 2023 Giant Fathom 1 is a good start.
The lightweight and durable aluminum frame, combined with the shock-absorbing front fork, ensure riders have the speed and confidence to tackle steep climbs and intense descents.
The reliable SRAM drivetrain and excellent Shimano brake system, while not top-of-the-line, are practical and ensure the rider's safety while reducing their pedaling burden.
These reliable components come together to create a highly cost-effective off-road bike, giving more riders interested in mountain biking a chance to succeed.
Finally, if you like our content, please share it with your friends! If our content has been helpful to you, you can click the email subscription button below!