We use affiliate links and may receive a small commission on purchases.
Ibis Ripley GX Review
Price: $5899
Category: Full Shock Absorbing forest road Bicycle
Drivetrain: 1×12
Travel: 130mm (front) 120mm (rear)
What we like about it: The use of high-end components for the ultimate riding experience, the sturdy body mass that gives it the possibility to ride in rough terrain, and the excellent geometry design that gives you a comfortable ride.
What we don't like about it: Expensive price, need to equip yourself with pedals.
Rating (4.8/5)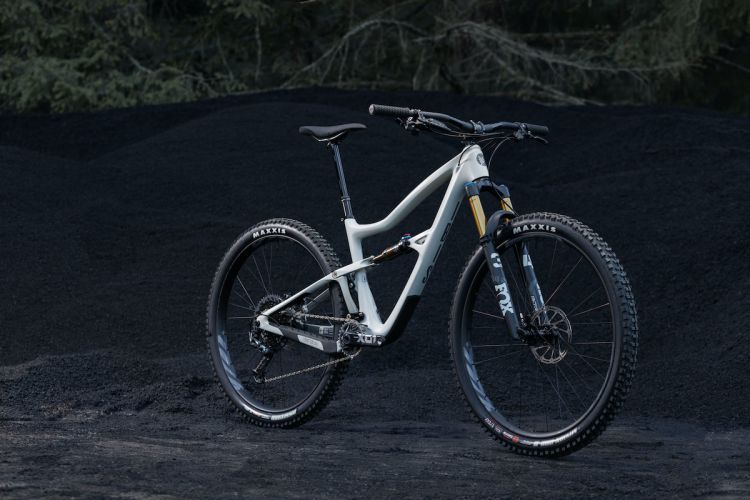 As a cycling enthusiast, I have always had a special love for cycling. I love to chase the rising sun on the vast highway, and I love to go off-road on forest trails, so I have extra requirements for my bike.
The 2022 Ibis Ripley GX is a full-suspension forest road bike with very good performance, bringing you unlimited riding fun.
First of all, the application of a carbon frame gives you the possibility to jump in the woods. There is also the excellent quality that gives it a good performance even in some rough terrain. Secondly, the Fox Factory Float 34 is set up to make it even more comfortable to enjoy in terms of shock absorption. In addition, the 29-inch tires bring a smooth ride even more. This is a full-suspension bike that you will fall in love with once you ride it.
So let's take a closer look at the Ibis Ripley GX, which I will introduce in terms of its descent, climbing, main components, and key features.
If you want to know more about its other content, welcome to follow us.
Ibis Ripley GX Descending
As a full-suspension bike with high-end components, I've been looking forward to how it would perform on the descent. This allowed me to do just that, and for that, we made a special trip to Trestle Bike Park. There were enough routes to choose from that I could get a good idea of its performance. By the way, it's essential to book accommodation in advance. And for this trip, I booked through IHG Hotels & Resorts again because I'm familiar with it and it gives me peace of mind.
As I drove on the dry ground, the wide tires rustled over the gravel. Instead of annoying me, this was a bit enjoyable.
The Fox Factory Float 34 fork made a huge difference during the descent, and the 130mm travel gave me a good cushion on the jumps, greatly reducing the vibration of the ride. And the rear shock with 120mm travel is also effective in reducing bumps from the road.
Of course, what surprised me more is its dropper design, which further enhances its shock absorption performance. Needless to say, the comfortable ride made me want to stop. But the road is not always the same, and when I need to slow down when I encounter a sharp curve, the Shimano SLX M7100 hydraulic disc brake comes into play.
The strong braking performance was able to slow me down quickly, giving me more reaction time to face the corner. As I braked sharply and the bike slid past the curve, chants from my buddies rang out all around me. It was so awesome that I was still reminiscing about that scene at the dinner table at night.
Ibis Ripley GX Climbing
In addition to the bike's excellent performance on the descents, it did not disappoint me on the climbs as well.
As soon as I got on it, I felt the surprise. The carbon frame is set up so that the body weight is only 25.5 pounds, which makes my climbing much easier and less stressful. And it is also strong enough in quality that even if I accidentally fall, I don't have to worry about the frame being damaged.
Not only that, but the 29-inch tires can handle well and nicely when facing steep inclines. There is also a wide tire surface that allows it to provide enough grip and traction to allow me to climb better.
Of course, the 1×12 drivetrain is also a great help in riding. In addition, enough shifting options allow me to make changes at any time when facing roads with different gradients. And the fast shift speed even enhances my riding experience.
The fun of climbing is when I reach the top of the road after spending a lot of energy. When I looked back, the tire tracks on the road were proof that I had conquered it, and a sense of accomplishment was born.
Main Features
Frame Group
I have to say that Ibis always captures the hearts of its customers when it comes to frame design. This is the case with the Ripley GX, which has captivated me with its appearance.
The solid paint color makes it look clean and tidy, not to mention that its cable runs are hidden in the downtube. The design of internal cable routing further enhances its overall aesthetics.
At the same time, the application of a carbon frame, the use of the bike as a whole in the quality of protection, strong frame so that it can deal with more difficult terrain. And in the weight is also light enough, greatly saving your riding strength.
In addition, the same design of the water bottle mounting holes on its downtube, which brings great convenience for your wilderness riding, you can carry drinking water with you, without worrying about drinking water.
Geometry
When it comes to geometry, even the same geometry can feel different to different riders. The geometry of the Ibis Ripley GX fits my needs perfectly.
The first thing is the 1207mm wheelbase, which is the right length to make it more stable. And I like the standing height, 742mm is just right for me, and my feet are just on the ground. This allows me to hold the bike very well and steadily both in the descent and when I stop.
Secondly, the steep head tube angle (66.5°) brings the front tire closer to the rider. This provides fast and responsive steering ability, effectively helping you corner quickly.
The equally steep seat tube angle (76°) puts you in a proper riding position, keeping your center of gravity stable and making pedaling more efficient.
This ergonomic geometric design will allow you to ride with less effort and have a faster speed.
Components and Specifications
Fox Factory Float 34 Front Fork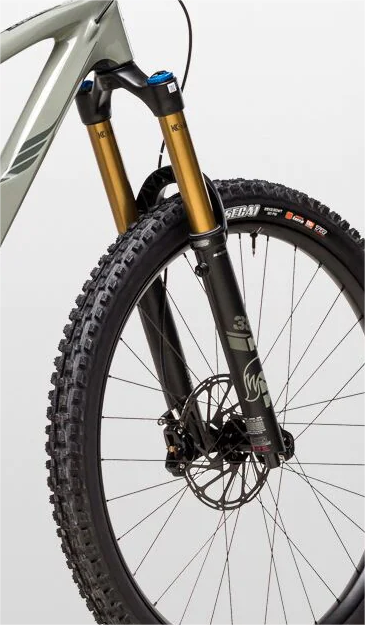 The choice of this fork can be described as very high-end. It provides enough shock absorption while riding, always guaranteeing you a comfortable ride. There is also the EVOL air spring set up to give you a good cushion when jumping. The GRIP2 dampers are also used to provide unparalleled ride quality, and it uses variable valve control technology to allow for external fine-tuning of suspension performance.
In addition, there are guarantees of quality, and enough sturdy performance to ensure your off-road riding requirements. At the same time, the weight is also reduced as much as possible, without increasing your riding burden.
Maxxis Tires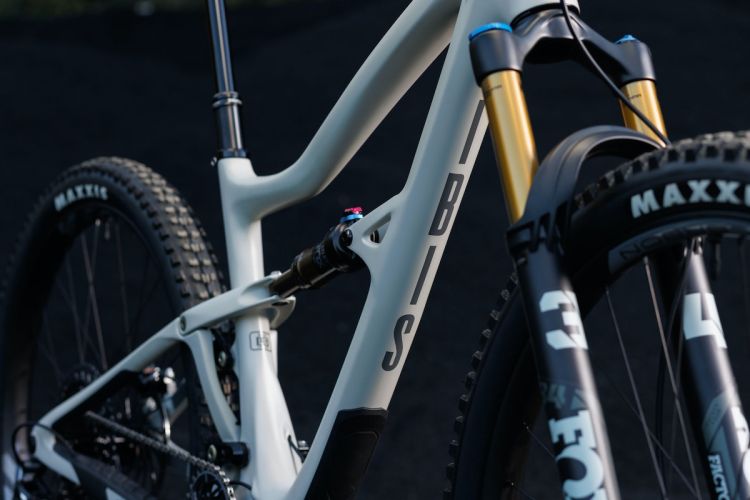 In terms of tire choice, this bike chose Maxxis tires. Although the front and rear tires use different models of Maxxis, they are both 29″ x 2.4″ in size. The wide tires give it good passability, and the raised tread pattern on the surface brings enough grip and traction to make your ride easier.
Also in terms of quality, this tire is equally excellent. The soft tread makes your ride more comfortable, and also has good wear resistance when facing some rough terrain.
Shimano SLX M7100 Brakes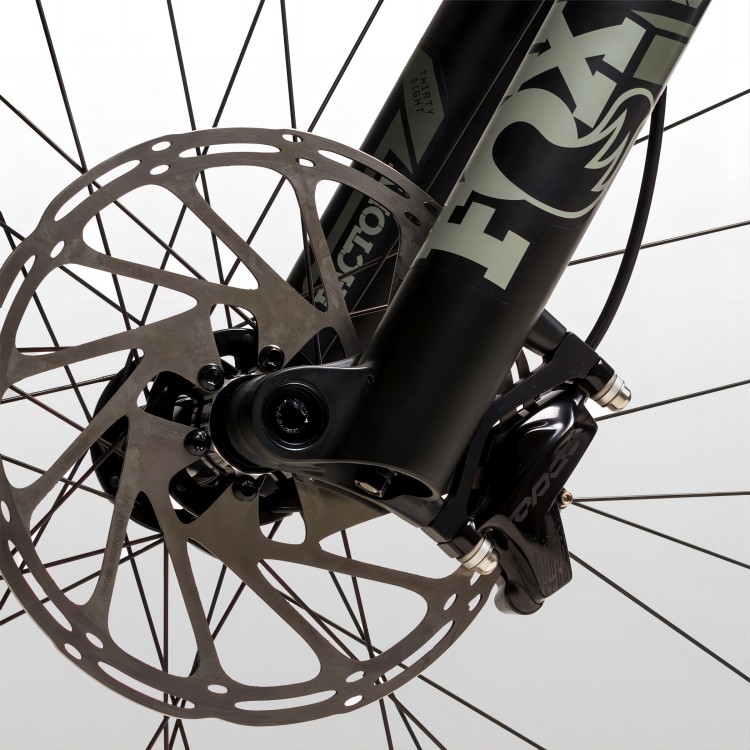 For brakes, besides needing them to have strong braking performance, what else do you need? I'll tell you, you need a fast response. And this brake is a combination of both.
A big part of what I love about descending on this bike is its braking ability. It keeps me safe at all times. The quick reflexes give me more time to turn when facing sharp corners, and the strong braking allows me to slow down effectively when riding fast.
Other versions of Ibis Ripley
There are many Ibis Ripley series, and the one we introduce today is only one of them. And to give you a more comprehensive understanding, we also did a review of other versions of it, hope it will help you.
2022 Ibis Ripley AF Deore
This bike is arguably an affordable alternative to the Ibis Ripley GX. First of all, it is cheaper in terms of price, which is because Ibis has introduced it to cater to a wider range of riders.
Of course, since it is much cheaper, it is a little less well-equipped. Unlike the Ibis Ripley GX carbon frame, this bike uses aluminum, which makes it a bit heavier in weight.
And of Groupset's choices, the Ripley GX uses a higher-end SRAM product, while this bike uses a Shimano model.
Apart from that, the geometry of both bikes is the same, as well as the same choice of the fork. This makes this Ibis Ripley AF Deore a good value for money.
If you have the budget and are looking for something better, then consider this Ibis Ripley GX. I'm sure this bike will surprise you.
Learn More: Ibis Ripley AF Deore Review [2022]- Do You Need Carbon Fiber?
What we like about it
The application of a carbon frame makes the body light enough.
Enough sizes, there is always one for you.
Excellent geometric design for a comfortable ride.
High-end components that give the bike excellent performance.
Powerful vibration damping effect, can fully absorb the vibration from the road.
What we don't like about it
Not everyone can afford it in terms of price.
FAQs
2022 How much does the Ibis Ripley GX weigh?
The 2022 Ibis Ripley GX has a body weight of 25.5 lbs.
2022 What is the fork of the Ibis Ripley GX?
The fork on the 2022 Ibis Ripley GX is a Fox Factory Float 34.
2022 What is the maximum sprocket installed on the Ibis Ripley GX?
The maximum sprocket installed on the 2022 Ibis Ripley GX is 34T.
Size Chart for 2022 Ibis Ripley GX
| | |
| --- | --- |
| size | Rider height |
| S | 152 CM – 165 CM |
| M | 163 CM -175 CM |
| L | 173 CM – 185 CM |
| XL | 183 CM -198 CM |
2022 Ibis Ripley GX Specs
Build
| | |
| --- | --- |
| Frame | carbon Monocoque BB Standard: BSA, 73mm, Threaded Colors: Matte Braaap; Blue Steel |
| Fork | Fox Float 34 Factory Series 130mm, 29″, 110×15 |
| Rear Shock | Fox Float Factory DPS with EVOL, 190×45 S/M: Light Tune, L/XL: Standard Tune |
| Bottom Bracket | Threaded (73mm English threaded) |
| Headset | zs44 upper / zs56 lower |
| Stem | Ibis 31.8mm (40, 50, 60, 70, 80, 90mm) |
| Handlebar | Ibis 800mm Hi Fi Bar |
| Saddle | WTB Silverado 142 |
| Seatpost | Bike Yoke Revive Dropper S: 125mm, M: 160mm, L/XL: 185mm. Note there is a 250lb rider weight limit on this post. |
| Grips | Lizard Skin Charger |
Groupset
| | |
| --- | --- |
| Rear Derailleur | SRAM GX Eagle |
| Crank | SRAM Descendant Alloy 175, DUB spindle, 32t Alloy Ring (170mm for S/M, 175mm for L/XL) |
| Shifters | SRAM GX Eagle |
| Cassette | SRAM XG 1275 10-50 12 speed |
| Chain | SRAM GX Eagle |
| Brakes | Shimano SLX M7100, 2 Piston |
Wheels
| | |
| --- | --- |
| Rims | Ibis S35 Aluminum / 29″ / Ibis Hubs |
| Tires | Maxxis DHR2 29″ x 2.4″ Exo TR (front), Maxxis Dissector 29″ x 2.4″ Exo TR (rear) |
| Disk Rotors | Shimano SM-RT66, 180mm |
Video
Comparison Table
2022 Ibis Ripley GX VS 2023 BMC Fourstroke LT ONE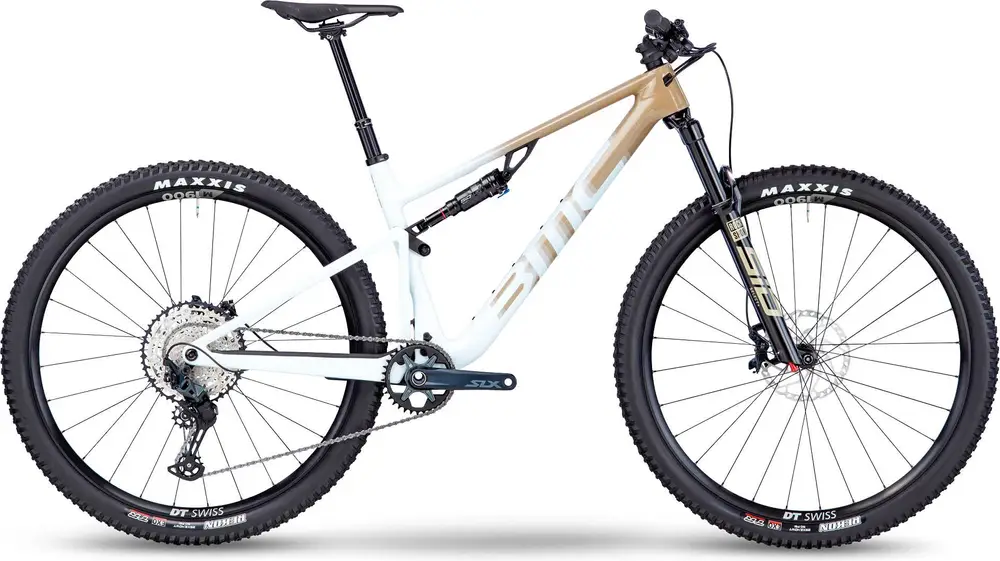 As a fully shocked forest road bike, the BMC Fourstroke LT ONE is praiseworthy for its performance on the trail. The excellent damping performance makes your ride more comfortable, and with the dropper design, it brings a comfortable ride. I can feel the damping effect of 120mm travel in the actual riding. And with the hydraulic disc brake, let your off-road unhindered.
But if you've ridden the Ibis Ripley GX, you'll be equally impressed with its performance. The damping is as good as that of the BMC Fourstroke LT ONE, and the 130mm fork travel is even better, absorbing vibrations and providing good cushioning. The brakes are also excellent, even under high-intensity use, and still, play stable.
Learn More: BMC Fourstroke 01 LT TWO Review [2022]- The Ultimate Enjoyment For Your Mountain Riding
2022 Ibis Ripley GX vs 2022 Santa Cruz 5010 S / Carbon C / 27.5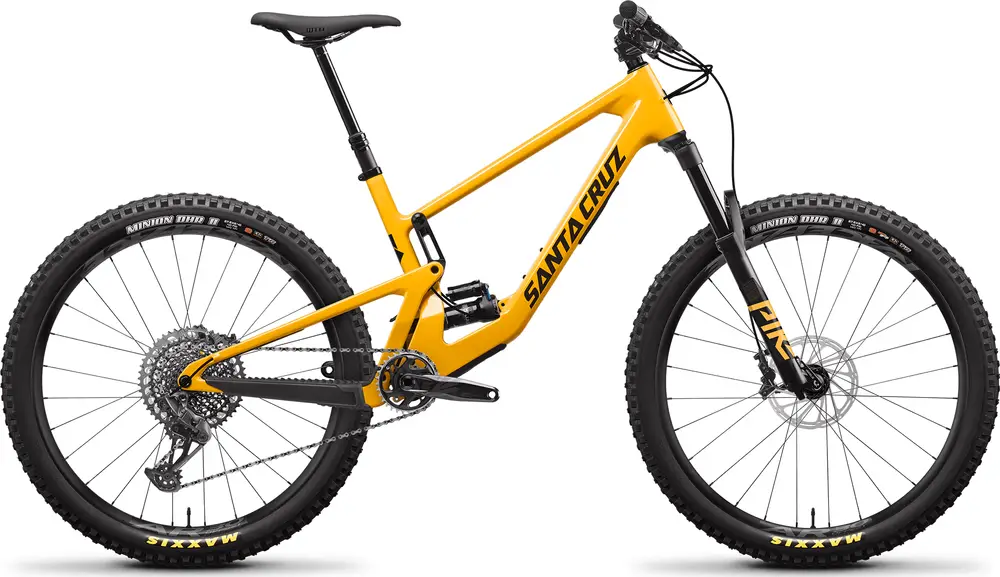 Both bikes use a 1×12 drivetrain for shifting, and the excellent drivetrain makes them perform well against different terrain. I like the feel of their shifting, and it doesn't take much effort on my part to get them to respond immediately with just a flick of a switch during the ride. The quick responsiveness kept my ride safe.
But as its name says, this Santa Cruz 5010 S / Carbon C / 27.5 has 27.5-inch tires. For me, I prefer the smoothness of the Ibis Ripley GX with its 29-inch tires. This is because the larger-size tires have better passing power when facing rough roads.
If you're like me and like big tires, then this Ibis Ripley GX might be a good choice.
Learn More: Santa Cruz 5010 X01 Review [2022]- Napoleon's Heroism
2022 Ibis Ripley GX vs 2023 Orbea OIZ M10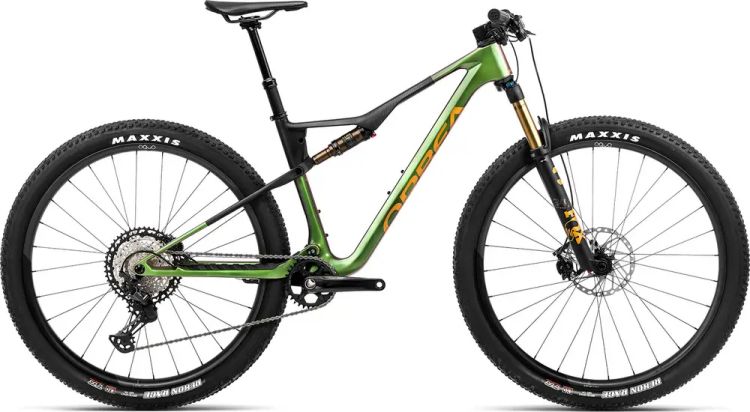 The geometry of this Orbea OIZ M10 is more aggressive compared to the Ibis Ripley GX. First of all, it has a shorter wheelbase, which makes it slightly less stable but faster in terms of handling.
Secondly, the longer seat tube length allows you to bend more when riding. And, both the seat tube angle and the head tube angle are a bit larger than the Ibis Ripley GX.
The radical geometry gives it a fast ride, but it is also less stable than the Ibis Ripley GX. The choice depends on your usual riding habits. If you don't like this kind of aggressive riding, then you might want to consider the Ibis Ripley GX, which will give you a good experience.
Learn more : Is 2023 Orbea OIZ M-TEAM Splendid? – [2023 Orbea OIZ M-TEAM Review]
2022 Ibis Ripley GX vs 2022 Giant Trance Advanced, Pro 29 2
As a Giant full-suspension bike, this Giant Trance Advanced, Pro 29 2 also performs very well on the bike.
As with this Ibis Ripley GX, the same carbon frame is used in the frame, giving them the possibility to ride in extreme terrain. And, the sturdy frame is undamaged even in the face of violent impacts. In addition, the light weight makes your ride easier.
Also, in the choice of fork, both choose the same style. As we all know, this is how high-end components are recognized by major brands.
And the 130mm fork travel gives these two bikes great shock absorption in the face of steep roads. At the same time, the design of the dropper is even easier to make your ride.
For both choices, I can only say that Ibis Ripley GX is cheaper in terms of price. Therefore, would be my choice as far as cost-effectiveness is concerned.
Learn More: Giant Trance X Advanced Pro 29 3 Review [2022]- Is It Your Ideal Full-Suspension Bike?