We use affiliate links and may receive a small commission on purchases.
GT Pro Performer 29 Super CakeBoy Review
MSRP: $1,010
Frame: Full Cr-Mo Steel
Fork: Full Cr-Mo 2pc Steel
Tires: 29″ Aluminum
Brakes: Rim
What we like about it: A solid ride that lets you have fun safely.
What we don't like about it: Not everyone can appreciate a design that is too retro.
Rating (4.7/5)
As we all know, GT Bicycles has been immersed in developing bikes for all types of riders for more than 50 years since 1972, and pure fun, plain and simple is their original design intention.
Since the debut of BMX bicycle racing at the Beijing Olympics in 2008, BMX street culture has entered the hearts of more people who love bicycle culture. And the 2020 Tokyo Olympics has made Freestyle BMX a resident sport in the Olympics.
In this context, the 2022 GT Pro Performer 29 Super CakeBoy was also born. Many people may wonder, what is the meaning of Super CakeBoy?
Super CakeBoy is thanks to its beautiful and interesting appearance, a bit retro, but beautiful. Imagine a delicious gloss brown base color iced with hits of red and blue components, reminiscent of a delicious chocolate cake.
As a performance bike, the Super CakeBoy is off the beaten track. The huge 29″ tires allow the rider to focus on faster and more stable technical maneuvers. Because of the great passing and stability, it gives the rider great confidence.
If you are interested in bikes, please remember to follow us. We will keep updating more real bike reviews.
GT Pro Performer 29 Super CakeBoy Venue Performance
Although I am also a newbie in Freestyle BMX, since I got the Super CakeBoy, I always let it accompany me to spend a wonderful day in the arena during my free time in the holidays. Before setting off, I also booked accommodation through IHG Hotels & Resorts to give myself ample space to rest and prepare.
I have to say that the steerer between the forks is great. Because I like to do Tailwhip as well as barspin strokes on the flat, it always allows me to turn very fast and not get stuck.
Especially the barspin action, Super CakeBoy's standover is also more convenient for me to operate.
As long as my hands are fast enough, I can always turn the handlebars around before the front tire hits the ground.
I'm not that proficient at 360° Tailwhip yet, but 180° is a breeze. I think that's very cool.
Although the geometry of Super CakeBoy makes it not so silky smooth when doing the Nose manual, it doesn't mean it can't be.
Performance Feeling
I try Nose manual a lot and I enjoy the wide tires. Although I don't stay at the head of the tire to look at it for very long, the action is stable and I don't feel wobbly or unstable.
I believe many people are also concerned about its manual performance, and Super CakeBoy is not a problem with such actions. While the tires were running, I slowly lifted my butt and squatted slightly toward the rear tire position.
At the same time, the front tire pulled up with a little force from both hands. As I kept pedaling, the rear tire spun happily.
I have to say, the handlebar is very cool because it has a slightly bent back angle, so my hands don't feel very hard. And the GT Super Soft 155mm Single Compound Grips The grip is also great and very comfortable.
I could feel the high efficiency of the GT Power Series Alloy 3pc Crank while practicing the handsome double pegs action.
As I pedaled faster, I was able to fasten the tires quickly and steadily. As a result, the sprint moments were very easy and I found it exciting and interesting when the tires went up in the air.
I've also been trying to practice the crooked grind with a large height span recently, but the good thing is that the full Cr-Mo frame is very light and lifts the whole bike easily. Plus the forks are also very shock absorbing, so my hands don't feel much vibration.
GT Pro Performer 29 Super CakeBoy Street Riding
Although the Super CakeBoy is set up to perform showmanship, the fact that it comes with the Promax P-1 Aluminum V-Brake brakes also gives it the right to move on the street.
I always used to try bunny hopping when I encountered shorter stairs. 13.27 feet BB height, which made me feel quite easy to power up, while I did not appear to collide with the cassette.
And the wide tires and the full Cr-Mo frame both make the effect of landing vibrations less pronounced.
Most of all, the Super CakeBoy's speed is also more competitive with other bikes in its class. That's because when I was racing against a friend on a GT Pro Performer 26, I was always able to leave him far behind.
Main Features
Frame Group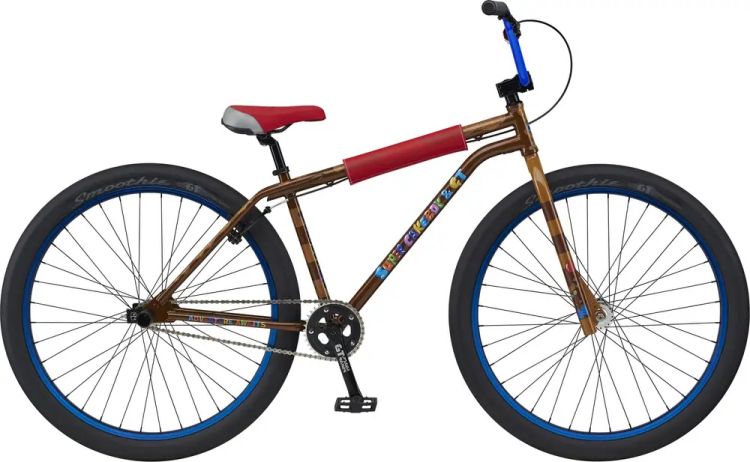 Chromium-molybdenum steel is lighter, stronger, and more sensitive than ordinary steel or carbon steel. In addition, it is also very durable.
Therefore, it was also chosen as the material for the GT Pro Performer 29 Super CakeBoy frame and fork. And the retro 86′ Performer design is a tribute to the classic GT Freestyle.
Plus with the use of a lot of Hand Illustrated Style Super CakeBoy Graphics, it makes it look very beautiful and fun. But it may not be so friendly for the trendy rider.
Commendable is the Cherry on Top Reflective Red Saddle and Alloy Micro Adjust Seatpost with excellent, very strong, durable, and very non-slip, so the butt does not easily slip off.
In addition, the full Cr-Mo GT Performer Cheat Code 2pc handlebar with GT super soft 155mm single compound grips also gives the rider the comfort of a more relaxed tailored version.
Geometry
From the geometric design of Super CakeBoy, it seems that they are more eager for riders to enjoy freestyle BMX fun steadily than radical showy operation.
First, the 72.0° seat tube angle is a common BMX angle, but the 71° head tube angle is more relaxed. This angle also allows the rider to have a more consistent speed experience, so it's easier to do both traverses and leaps.
Needless to say, the 23.5-foot top tube actual is also among the longer sizes. This is also an extra layer of stability for the rider, it gives the rider more confidence to try to show off because the bike is stable enough.
The design of the large frame makes the bike have a longer standover, plus a higher saddle, making it easier to barspin this kind of action.
In addition, the 13.27-foot BB height makes it easier for the rider to make power and less likely to cut into the discs during double pegs or crooked grind, or other moves.
Meanwhile, the 17.4-foot chainstay length and 43.91-foot wheelbase indicate that the bike is stable enough.
Components and Specifications
GT Power Series Alloy 3pc Crank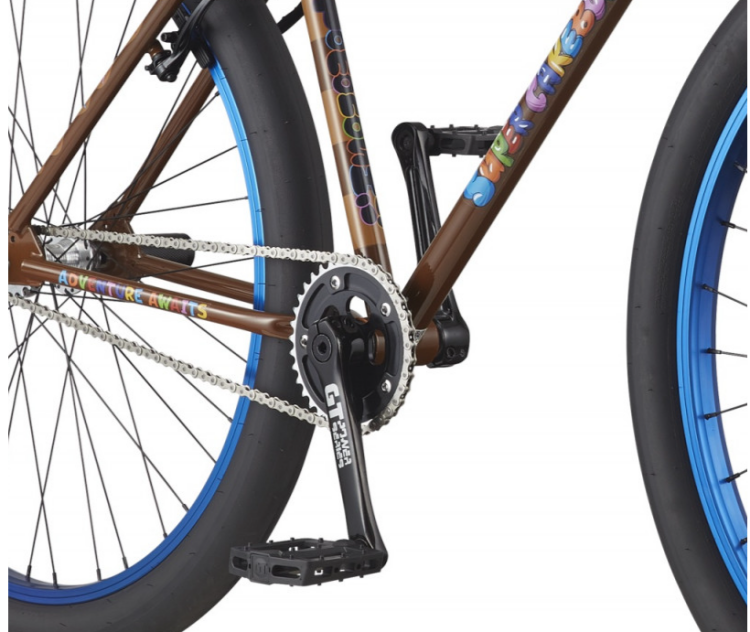 GT not only restored the favorite style of the 80s and 90s in the frame but also adopted the GT Power series alloy 3-piece crankset with a 22mm spindle in the Crank.
In addition, the forged 175 mm aluminum arms have drilled holes and steel pedal inserts suitable for RHD or LHD use, which work perfectly with the GT Low Profile FS Platform Design pedals.
In addition, the 22mm chromoly spindle has a superb weight-bearing capacity, so the rider can boldly perform a variety of maneuvers.
Promax P-1 Aluminum V-Brake Brake
Although it is a single-speed drivetrain design, the 29″ tires are very fast, so the brakes are also very necessary. And the lightest V-Brake is the best choice.
Riders can use different horsepower grips to control speed according to their braking needs.
In addition, the Soft Compound Pad not only makes the braking process faster and quieter but also effectively protects the tire rim while extending the life of the wheelset and brakes.
GT Wheelsets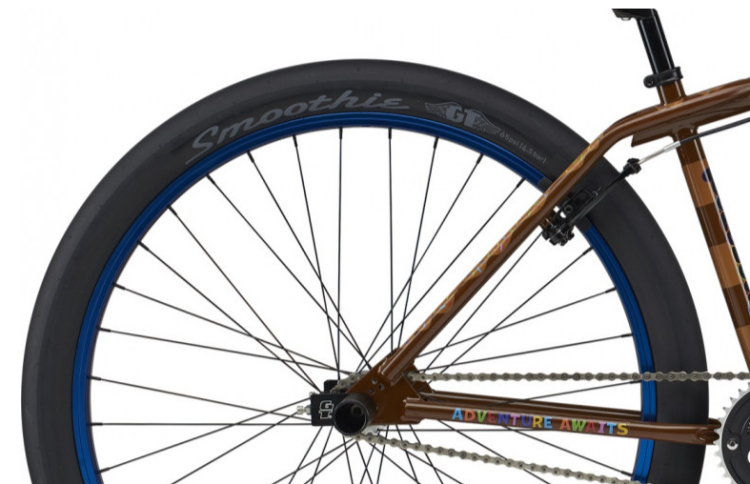 The GT Smoothie tire is just as its name suggests, with a smooth surface for the naked eye and an all-black, all-gloss tire that looks very high-end.
With extremely sticky material and smooth tread, it will provide excellent performance on the road. And the fast-rolling tread enables to make the tires to achieve fast rolling. And the micro-texture in the corner provides additional traction, so the stability of the bike can be maintained during the cornering.
It is praiseworthy that the generous size of 29×2.5″ will not only bring high-speed riding speed but also have stronger stability and greater ability to absorb bumps and vibrations, giving riders a faster and more comfortable riding experience.
In addition, the vintage-style GT superlace high hubs are very strong and reliable and are very good at achieving rolling, and they will serve as the perfect complement to the tires.
Other versions of GT Pro Performer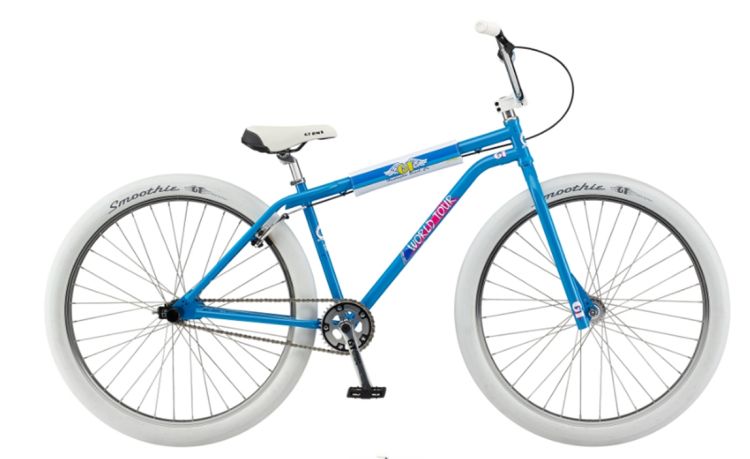 While the Super CakeBoy is good, that doesn't mean it's necessarily suitable for all riders of all heights, or riding styles. After all, making moves on a 29″ frame is no easy task.
Therefore, GT also introduced the 2022 GT Pro Performer 26 as well as the 2022 GT Pro Performer 20, which have smaller size tires.
At the same time, considering those who want a big-wheeled BMX but prefer a stylish style, GT has also prepared the super stylish 2022 GT Pro Performer 29.
The different sizes of tires also allow them to vary in geometry. But in general, they are all focused on giving the rider a stable, confident ride.
In addition, they all have their characteristics in terms of color configuration, ranging from color to solid color. Therefore, riders can choose to buy according to their needs as well as preferences.
If you are interested in the other bikes mentioned above, remember to follow us. We will keep updating more bikes with actual reviews.
What we like about it
The Chromium-molybdenum steel frame and fork are not only lightweight but also very strong and reliable, giving it a superior ride quality.
The retro style of the 80s is impressive.
The 29-inch geometry is more stable and comfortable, and riders can choose to show off their skills boldly.
GT Power Series Alloy Crank Combo The Promax P-1 Aluminum V-Brake is easier and faster to drive and brake.
The wide GT 29 x 2.5″ Smoothie tires are unquestionable for both passing and shock absorption.
Both the Handlebar (including Grips) and Seatpost (Saddle) are very reasonably designed to make showing off simple and riding more comfortable.
What we don't like about it
Its Super CakeBoy Graphics style is not for all riders.
FAQs
How much is the bike selling for now?
The GT website now shows a price of $1,010, which is quite good value for money.
What is the quality of GT bikes?
GT being one of the biggest bike factories, their quality is very reliable, not only do they have a wide range of sizes, they all come with a warranty and we can easily find spare parts for it.
YES. Although it is a single-speed design, the wide tires and oversized gear ratios of the Crank make it more competitive than similar bikes.
Does Super CakeBoy come with Pedals and Grips?
Yes, all the necessary equipment should be equipped.
2022 GT Pro Performer 29 Super CakeBoy Specs
Build
| | |
| --- | --- |
| Frame | GT 86′ Performer Design, Full Cr-Mo, DT Gusset, MID BB, Inverted Seat Stay V-Brake, Integrated 1-1/8″ H/T w/ Removable Rotor Tabs, 2.5″ Tire Clearance |
| Fork | GT 86′ Pro Performer Design, 100% Cr-Mo 2pc. Steerer, 31.8 O.D. Blades, 3/8″ Axle Dropouts |
| Bottom Bracket | MID Sealed Bearing |
| Headset | 1 1/8″ Integrated Design, 45X45 Degree Sealed Bearings |
| Stem | GT Mallet 100% CNC Front Load, 1-1/8″, 19mm Rise, 43mm |
| Handlebar | GT Performer Cheat Code 2pc. 100% Cr-Mo, 7.875 "H x 31.5 "W, 5° Up, 9° Back |
| Saddle | GT Cheat Code Railed |
| Seatpost | Alloy Micro Adjust 25.4 x 300mm |
| Pedals | GT Low Profile FS Platform Design |
| Grips | GT Super Soft 155mm Single Compound w/o Flange w/ GT Removable Plug |
Wheels
| | |
| --- | --- |
| Rims | Alloy Double Wall, 36h |
| Spokes | Stainless Steel, 14g |
| Front Hub | GT Superlace High, Alloy CNC Body, Sealed Bearings, 36h, 3/8″ x 17mm Female Bolt |
| Rear Hub | GT Superlace High Cassette, Alloy CNC body, 5 Sealed Bearings, 3 Pawl Cassette, 36h, 3/8″ x 17mm Female Bolts |
| Tires | GT Smoothie 29 x 2.5″ |
Groupset
| | |
| --- | --- |
| Crank | GT Power Series Alloy 3pc. 175mm Arms, 22mm Square Cr-Mo Spindle, GT 5mm 36T 86′ Performer Design Alloy Chainwheel |
| Cassette | 16T Cog |
| Chain | KMC Z1 Wide |
| Brakes | Promax P-1 Aluminum V-Brake w/ Soft Compound Pad |
| Brake Levers | Alloy, 2 Finger |
Video
Comparison Table
| | | | | | |
| --- | --- | --- | --- | --- | --- |
| Bicycles | Price | Frame | Crank | Brakes | Click view |
| 2023 Haro Blackout | $1,249 | Aluminum | 2-pc Hollow Forged Alloy | Promax DSK-300 Mechanical Disc Brake | Click view |
| Verde Vex XL | $799 | Steel | Verde Regent, tubular chromoly 3-piece | Rim | Click view |
| Polygon RAZOR ELITE | $999 | Aluminum | SAMOX TAF15-144A-PI 44T, 175MM | Rim | Click view |
| Bulls Barbar | $570 | Aluminum | one piece 39T | mechanical rim brake | Click view |
2023 Haro Blackout vs 2022 GT Pro Performer 29 Super CakeBoy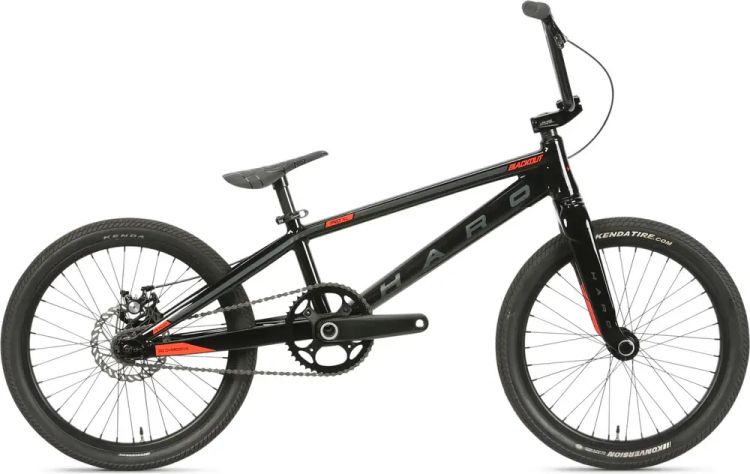 The biggest advantage of the 2023 Haro Blackout, besides its aluminum frame, is the Mechanical Disc brake, which is not commonly found on a bunch of BMX bikes.
I have to admit that disc braking is much faster and simpler. But then there is also the weight of the bike has been increased.
In addition, the geometry of the Haro Blackout is also on the lively side rather than the stable side, as illustrated by the 533mm top tube length.
If you are new to the sport and not very good at fancy moves, I don't recommend you choose the Haro Blackout. because of its instability, it may make you fall.
Learn more : Is 2023 Haro Leucadia DLX Worth Buying?-[2023 Haro Leucadia DLX Review]
2022 Verde Vex XL vs 2022 GT Pro Performer 29 Super CakeBoy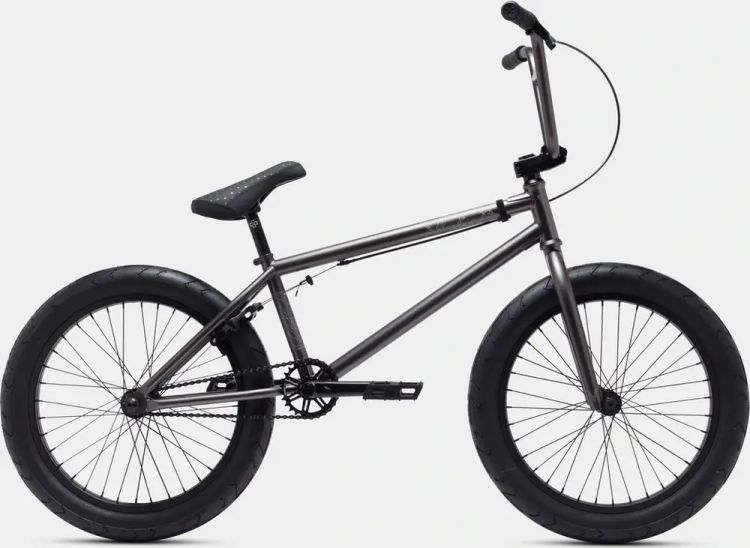 Although the Verde Vex XL also features a steel frame and smaller tires, its weight doesn't make it any easier on the rider.
This is not so friendly to riders who need to perform in the air, which means they have to spend more effort to lift the bike in the air. As a result, the amount of energy allocated to doing the maneuver will be reduced.
If your show is mostly flat, the Verde Vex XL is indeed a good choice. But if you are used to taking off or landing handsomely in the venue and are used to spreading your energy to showing off, the lighter Super CakeBoy might be a better fit.
2022 Polygon RAZOR ELITE vs 2022 GT Pro Performer 29 Super CakeBoy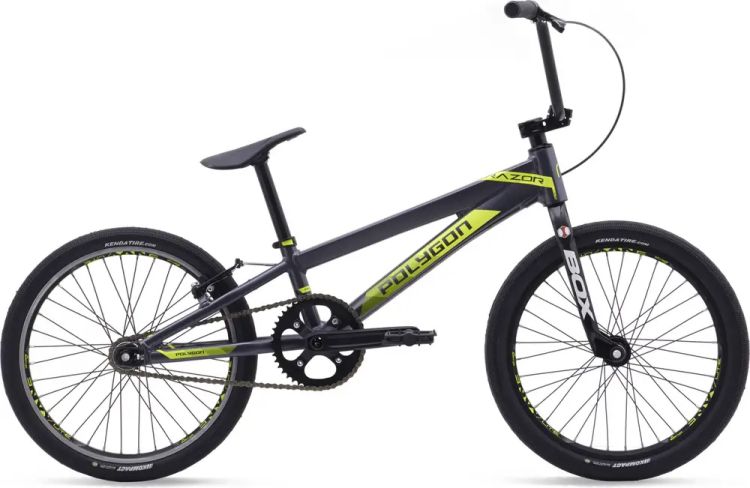 The flexible 2022 Polygon RAZOR ELITE, although not as fast as the Super CakeBoy, appears to be superior in allowing riders to show off their skills in operation.
Because its 74° head tube angle and 562m top tube length geometry will allow the rider to have a more flexible means of handling.
Unfortunately, the tires on this compact bike are a bit narrow, and although it comes with a carbon fork, the damping effect is not very noticeable. Therefore, Polygon RAZOR ELITE users should always be prepared to fight against bumps.
If you're looking for comfort and speed, the Super CakeBoy's 29 x 2.5″ tires and direct body contact saddle and grip won't let you down.
2022 Bulls Barbar vs 2022 GT Pro Performer 29 Super CakeBoy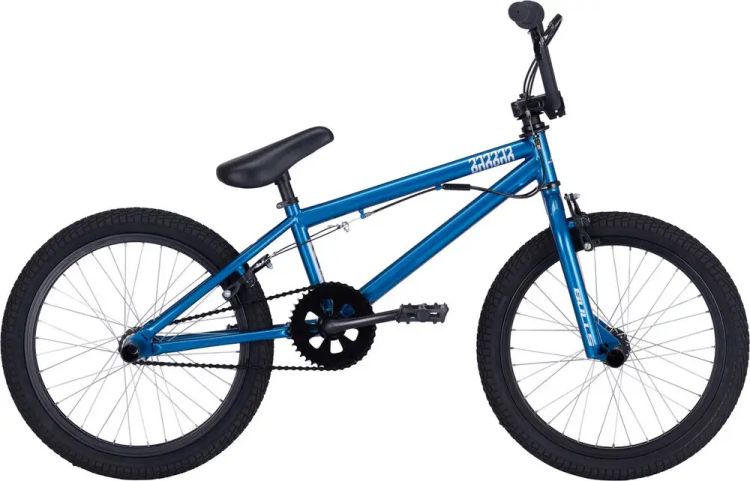 The 2022 Bulls Barbar from Minimalism not only has a friendly price, but also a very cool design appearance.
But the straitened appearance fee, so that it has to have a low cost of components. Therefore, whether in the choice of the crank, tire selection, saddle, or pedals, it seems to care less about the user's feelings.
As a result, Bulls Barbar users may feel that its overall feel is not so high-end and does not allow for better play when doing moves.
Although the Super CakeBoy is more expensive, the ride quality that comes with it has improved. Because from the cranks and tires to the seat post and grips, the GT is designed with cost in mind.