We use affiliate links and may receive a small commission on purchases.
We've selected the Top 10 Best Hardtail Mountain Bikes from over 171 Hardtail Mountain Bikes.
Hardtail bikes have long been one of the most popular pieces of equipment for mountain trail riders. Whether they are inexpensive or expensive, they are designed to allow you to experience the joy of "leapfrogging" better.
The hardtail is part of the mountain bike, and in its structural setup, it does not use a bulky rear suspension, making it lighter in weight than full suspension mountain bikes.
Therefore, the hardtail mountain bikes will be the perfect choice for riders who desire to go fast on demanding mountains or rugged trails.
To help those who want to find the best hardtail mountain bike for themselves, we have carefully prepared the best hardtail cross-country bikes with aluminum frames at various price points, including over $2000, under $2000, and $1000, for entry-level riders or experienced riders.
For specific information about the best hardtail mountain bikes, please refer to our recommendation table and purchase advice below.
Recommended Lists
Exceptional Quality $2000+ Hardtail MTB
For users with a relatively adequate budget, the higher price also brings a superior riding experience. Whether it is the handling feeling, riding experience, or off-road performance, it is impeccable.
Best Aggressive Hardtail Mountain Bike:
2022 Marin San Quentin 3 ($2,239)
Fork: 130mm
Wheels: 27.5 x 2.5″
Drivetrain: 1×12
What we like about it: The ability to do bounce shows on demanding terrain and the high-end components that allow you to enjoy the thrill.
What we don't like about it: The aggressive riding position is not for everyone.
The Marin San Quentin 3 is arguably the best mountain bike for jumping in the $2,000+ price range. Because it has a RockShox Revelation RC fork with 130mm of travel that effortlessly absorbs the smallest of bumps on the trail, taking any bumps out of the way and making bouncing a breeze. It is also equipped with a Shimano Deore 6100 12-speed drivetrain with wide gear ratios, plus a lift bar and powerful Shimano MT420 4-piston brakes. If you want to experience the thrill of speed riding, you only need to toggle the controls by hand to more easily shift your body weight back and experience the adrenaline rush while keeping your safety intact.
This San Quentin 3 may seem like a tailor-made fit for aggressive riders, but it's a bit too aggressive for riders who prefer to enjoy a relaxed sitting position. On steep trails filled with rocks and roots, the next Trek Roscoe 7 is certainly a more suitable choice. It has a more upright riding position, and at a cheaper $340, it's still a very pleasant surprise for beginners and intermediates.
Commodity Links:
Best Mountain Bikes Under $2000
The bike at this price point, although not too high-end groupset, based on its excellent handling performance and excellent ride quality, has become the favorite of many novices or intermediate and advanced off-road players with sufficient budget.
Super Comfortable Hardtail Mountain Bike:
2022 Trek Roscoe 7 ($1,899)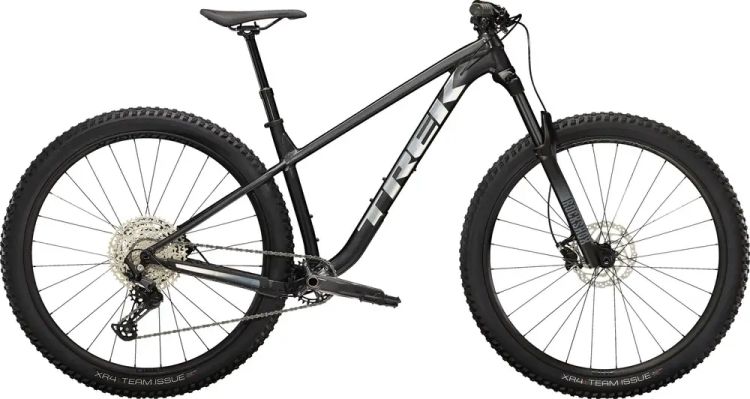 Fork: 140mm
Wheels: 29 or 27.5×2.60"
Drivetrain: 1×12
What we like about it: Deluxe fork with lots of gears.
What we don't like about it: The lack of hydraulic disc presence.
Learn More: Is Trek Roscoe 7 Worth Buying? [Trek Roscoe 7 Review]
Trek has always been at the top of the bike brands, and this Trek Roscoe 7 is designed to be fun to ride whether you're a mature rider or not. With a wide range of Shimano 1×12 drivetrains, you can focus more on enjoying the road ahead without having to think about the complexity of changing speeds. With the extra-long travel, RockShox Recon fork with fork lock and 2.6″ Bontrager XR4 Team Issue tires for extra grip, even the most experienced rippers will be smiling.
The extra long fork travel of 140mm will absorb more vibration. But it will cause some obstruction in climbing and cause a loss of your pedaling efficiency. However, this fork has a locking function to reduce this aspect of the trouble.
Some may think its brakes are not that desirable. However, if you have enough budget, the Trek Roscoe 6 with 4-piston Shimano M6120 will surprise you with its performance. Of course, for that, you need to spend $830 more.
Fortunately, even if you prefer climbing on rugged and steep rocky trails and want better value for money, the cheaper Trek Roscoe 9 is, in my opinion, a great fit. First of all, the fork with 120mm of travel has relatively strong damping while reducing kinetic energy loss, and the hydraulic disc brake won't let you down.
Commodity Links:
Best Hardtail Mountain Bike Under $1500:
2022 Giant Fathom 2 ($1,500)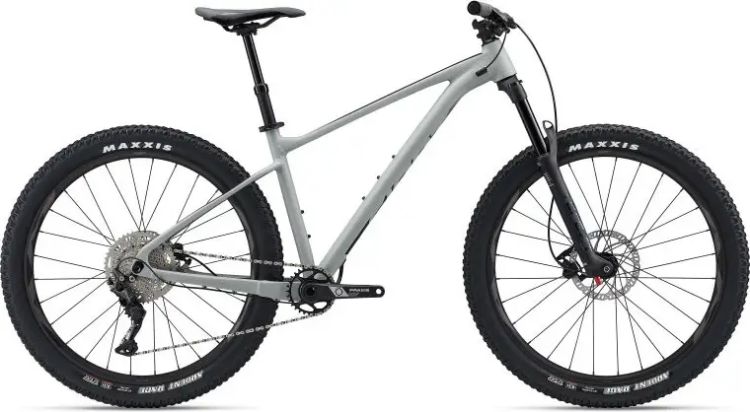 Fork: 130mm
Wheels: 27.5 x 2.6″
Drivetrain: 1×10
What we like about it: Lightweight ALUXX SL aluminum hardtail frame for an efficient and comfortable ride, complete with components for smooth control.
What we don't like about it: A slight compromise on speed.
Learn More: Giant Fathom 2 Review [2022] – Does It Impress You Who Want A Hardtail Bike?
We've been reviewing a variety of hardtail mountain bikes and it's really hard to find a hardtail bike that is more cost-effective than the Giant Fathom 2. This bike, like the other Giant hardtails, features their proud ALUXX SL aluminum technology and will give the rider a premium ride.
The flexible and unstable geometry allows the rider to be in a strong pedaling position at all times. Moreover, the 130mm long travel fork with 2.6″ wide tires makes it especially outstanding in off-road performance.
However, in terms of speed performance, I find it slightly average compared to other bikes in its class. But that doesn't stop me from recommending it. Because the components and details of the affordable Fathom 2 are trending towards higher-end hardtail mountain bikes, without the need for too many upgrades. So, the Giant Fathom 2 is equally friendly to newbies and veterans who don't want to "fly" in the mountains but are looking forward to a quality ride on rough roads. Of course, for riders looking for speed, you can consider the Trek Roscoe 7 above, or the Salsa Rangefinder Advent X 29 below, which will perform even better in terms of speed.
Commodity Links.
The Most Popular Hardtail Mountain Bike For Junior Riders:
2022 Salsa Rangefinder Advent X 29 ($1,199)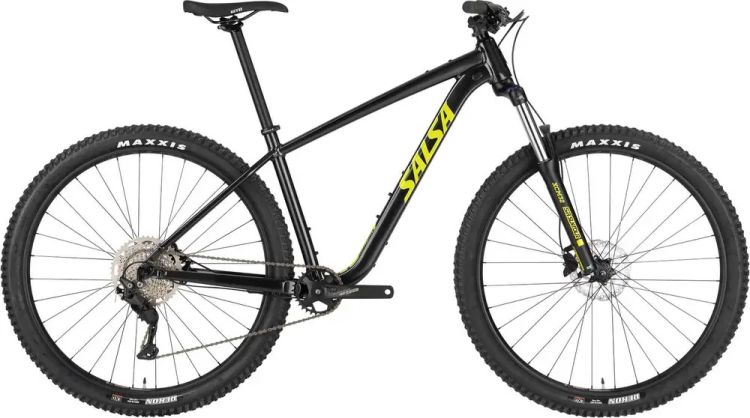 Fork: 120mm
Wheels: 29 x 2.6″
Drivetrain: 1×10
What we like about it: It can handle all kinds of dirt or rocky terrain, with great comfort and control.
What we don't like about it: The 14.7 kg weight makes it uncompetitive at this price point.
Salsa, one of the world's premier mountain bike manufacturers, built the Rangefinder Advent X 29 to prove itself as the best cross-country mountain bike with strength.
In terms of drivetrain, Salsa chose to team up with the difficult off-road-ready microSHIFT Advent X. It will provide smooth shifting action and evenly distributed drivetrain performance for precise shifting on both descending dirt trails and climbing rocky terrain.
The SR Suntour XCM32 Boost fork with 120mm shock travel and the wide 2.6″ Maxxis Rekon tires will fight against all kinds of bumps and vibrations on the road and provide comfort to the rider.
As a result, the Salsa Rangefinder Advent X 29 has become one of the most popular hardtails for beginner and intermediate riders who desire a more comfortable grip on dirt or rocky terrain.
But if you mind its weight, it may not be very friendly to you. It's not "slim" compared to other bikes in the same price range. But the microSHIFT Advent 10-speed cassette is friendly enough to drive the bike with ease.
Of course, if you want a lightweight and comfortable bike, the Cannondale Trail 5 below might be a good choice. It's also about 2.20Ibs lighter in weight and cheaper.
Commodity Links:
Best Hardtail Mountain Bikes Under $1000
It is worth stating that cheap mountain bikes are not necessarily incomplete compared to more expensive bikes. They can provide plenty of off-road performance for riders who prefer an easy route without too many obstacles.
Best Cannondale Hardtail Mountain Bikes For Newbies:
2022 Cannondale Trail 5 ($960)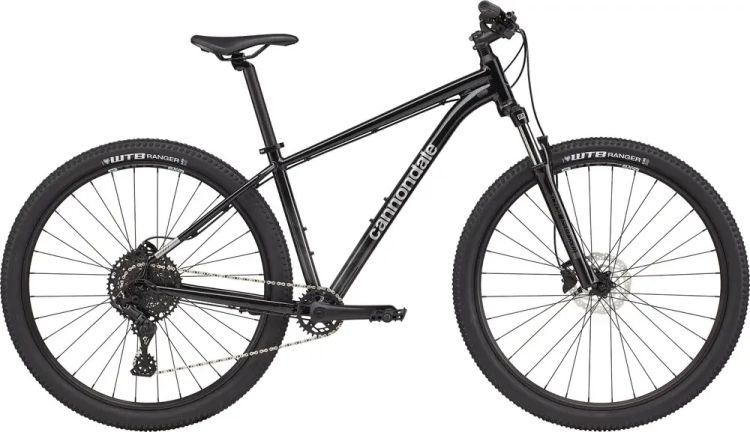 Fork: 100mm
Wheels: 27.5 or 29 x 2.25″
Drivetrain: 1×10
What we like: The most comfortable riding feeling, killer gravel trails.
What we don't like: Not good at handling ground that is too rough.
Learn More: Cannondale Trail 5 Review [2022]-The Best Entry-Level Off-Road Bike
When it comes to aluminum frames, Cannondale is the "king of aluminum frames", and the lightweight and durable SmartForm C3 alloy MTB hardtail frameset, combined with the shock-absorbing SAVE "Micro-Suspension" design, makes the Trail 5 the best entry-level hardtail under 1000. The Trail 5 is the professional entry-level best hardtail under 1000.
The traditional XC-like geometry gives Trail 5 users exceptionally stable handling. With its reliable and durable microSHIFT Advent X 10-speed drivetrain, it shifts efficiently whether on low-challenge trails in the mountains gravel trails, or the road.
Not only that, but the SR Suntour XCM fork with 100mm of travel, designed for comfort, and the Cannondale Stage 3 Saddle and Cannondale Dual-Density Grips make all Trail 5 users smile on gravel trails.
Unfortunately, with 2.25″ tires, the Trail 5 doesn't have the guts to be a "regular" on rocky or rooty roads. But understandably, it's a gift for riders who expect to be comfortable on low-impact trails or gravel roads. If you're looking for a good ride on rough terrain, the Giant Fathom 2 and Salsa Rangefinder Advent X 29 upfront might be more your speed, but that means you'll pay more money.
Commodity Links:
Best Specialized Hardtail Mountain Bike:
2022 Specialized Rockhopper Sport 29 ($750)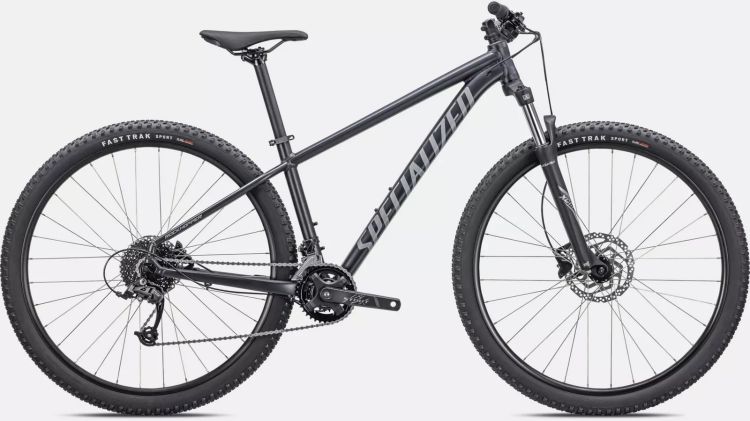 Fork: 100mm
Wheels: 29 x 2.35″
Drivetrain: 2×9
What we like: more affordable, comfortable, and relaxed riding experience.
What we don't like: The conservative geometry limits its upgrade potential.
If you want a comfortable and relaxing ride at a fraction of the price, consider the Rockhopper Sport 29.
The Rockhopper's frame is built with lightweight and durable Specialized A1 premium butted alloy, giving it a balance of low weight and high strength, and it's dropper-post compatible. In addition, the locking SR Suntour XC fork with 100mm of travel is confident that riders will find it hard to feel the bumps on trails or gravel roads.
To its credit, the Specialized Rockhopper Sport 29 is equipped with the Shimano BR-MT200 hydraulic disc, which is not commonly found at this price point, and it brakes precisely and intuitively.
And the durable 2×MicroSHIFT drivetrain is proficient at shifting and will provide plenty of range, making mountain or road climbs easier and simpler to face for rugged trail riding.
If you're not looking to upgrade your bike gear, the Rockhopper Sport 29's geometry is a no-brainer for you. Despite Specialized's claims, the 73.5° Seat Tube Angle with 97mm trail rider can easily handle steep, twisty trails. But in our opinion, a 68.5° head tube angle with 440mm reach is still not bold enough. Because it will make it difficult for the rider to stretch when pedaling, which reduces the need for Rockhopper Sport upgrades.
Commodity Links:
Best Affordable Hardtail Mountain Bikes:
2022 GT Aggressor Comp ($685)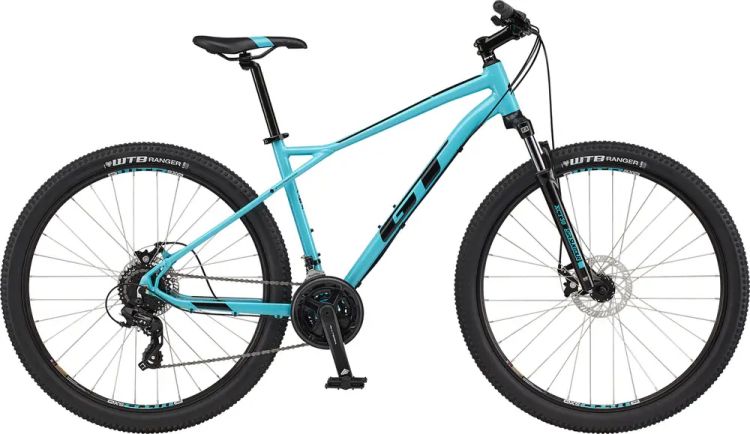 Fork: 80mm
Wheels: 29 x 2.6″
Drivetrain: 3×7
Brakes: Mechanical Disc
What we like about it: A friendly, fun-filled ride for laid-back trail riders on a budget.
What we don't like about it: The 3× drivetrain is slightly outdated.
Learn More: GT Aggressor Comp Review [2022] – Could It Be More Your First Hardtail Bike?
Perhaps, you may also wonder what makes the GT Aggressor Comp with 80mm of travel fork into the recommended list. But perhaps you understand if you notice its Triple Triangle Design. This unique design is effective in reducing the feeling of bumps, which will enhance the rider's comfort and add fun to the ride at the same time.
Riders will also be pleasantly surprised by the excellent braking effect of the Tektro Mech disc brakes compared to the more common rim brakes at this price point when it comes to wet weather such as rain and snow. The WTB Ranger Comp tires are also extra durable with the help of SG2 puncture protection.
Although the 3×7 drivetrain may seem bulky for hardtail mountain bikes, such Shimano Tourney has more gear ratios to support more outdoor exploration while also helping lovers of mountain touring on a budget to achieve easier and faster climbs, although this gear has some backwardness.
All in all, an affordable price of $685 for everyone. And being able to buy such a versatile bike makes it a great value for me. If you want to experience the fun of riding on flat trails, or casual off-road trails, the GT Aggressor Comp is always the right bike for the job. Of course, if you feel the 80mm of travel, is a lack of security, then you can learn about the Diamondback Hatch 1 below which has 100mm of travel.
Commodity Links:
Best Budget Hardtail Mountain Bike:
2022 Diamondback Hatch 1 ($575)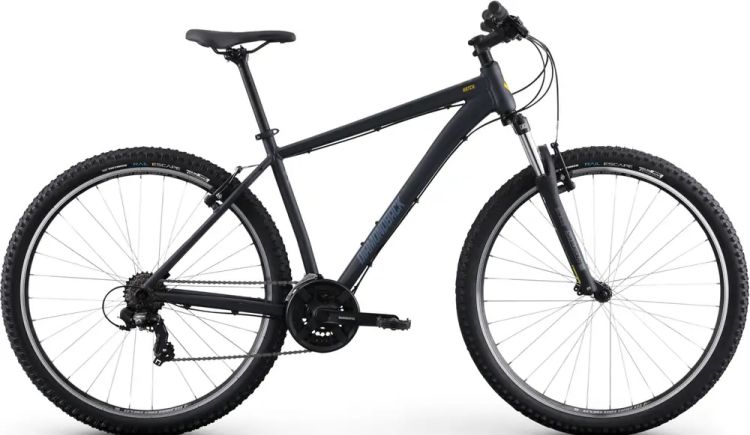 Fork: 100mm
Wheels: 27.5 or 29 x 2.25″
Drivetrain: 3 × 7
What we like about it: Super affordable price is very cost-effective, not losing the price of more expensive hardtail mountain bikes off-road performance.
What we don't like about it: Not everyone is comfortable with V-Brake.
The fully equipped Diamondback Hatch 1 is the best beginner mountain bike and its aluminum hardtail frame makes it very competitive with a host of steel hardtail mountain bikes under the $600 price point.
With its proven SR Suntour XCE-28 fork with 100mm of travel and Vee Tire Co. Rubber Rail Escape tires, it has plenty of confidence to take on loose dirt and gravel.
The 7-speed drivetrain is also an familiar friend of the cheap hardtail mountain bike. And the Shimano Tourney shifting system opens the door to the world of shifting cross-country for newbies with its nimble, simple shifting, allowing them to always find the most comfortable pedaling speed among 21 gear ratios.
The Diamondback Hatch 1 is complete enough off-road performance for the out-and-back class that isn't great at showing off its handling in tough terrain.
Unfortunately, the Tektro 855AL V-Brake makes the Hatch 1's braking effect not as fast and effortless as disc brakes. Although V-Brake is suitable for novices, if Diamondback is willing to spare the cost and equip users with disc brakes, it will make this bike more competitive.
To its credit, Diamondback has upgraded its sibling version – equipping the Hatch 2 with mechanical discs suitable for letting loose in wet weather, while the Hatch 3's hydraulic discs make its braking more precise.
Commodity Links:
Mountain Bike Buying Advice
Frame material – aluminum
Wheel size: 29″ and 27.5″
Drive train and gears
Braking System
Is a drip seat post necessary?
The more expensive the bike, the better?
Frame Material – Aluminum
The reason why we only recommend aluminum frames here is that the popular aluminum structure has lightweight, strong and durable characteristics.
Aluminum frames are budget-friendly compared to lighter carbon fiber structures, and they are strong and durable enough to handle the rigors of the outdoors, such as uneven or destructive terrain.
The framework of less budget also allows bike manufacturers to put more effort into groupset or detail accessories that can directly affect users' riding experience to give them better riding quality.
Most of the bike frames we gave above are made from high-end aluminum, such as the 2022 Cannondale Trail 5, and 2022 Giant Fathom 2. They are even lighter and stronger than low-end carbon frames.
Compared to the cheaper steel material, aluminum is lighter and less prone to oxidation. And it very good at coping with wet and complex riding environments.
When most riders choose a hardtail mountain bike, they prefer a lighter-weight bike frame (including aluminum and carbon). This is because a lighter frame ensures that they can get out without picking the weather while consuming less of their stamina pack. Therefore, within a reasonable budget, our handpicked aluminum frame bikes are worth your pick.
Wheel sizes: 29 and 27.5er
I believe most of our readers will have noticed that the bikes we recommend to you are both 29in. and 27.5in. in size.
On the one hand, they are the most popular wheelset option today. On the other hand, these two sizes are also the ones that cover most people's height options.
Learn More: What Size Mountain Bike Do I Need? [2022]
29er
If you're a taller rider, 29er tires will suit you better. The taller frame allows you to stretch your legs more. And the MTB 29er hardtail has wider tires for better performance in terms of speed and terrain passage over rocks and roots.
27.5er
The 27.5er hardtail bike is more appealing to smaller riders. The medium frame gives the rider better handling, and the 27.5er bike is less likely to roll over in the mountains, making it better at making fast turns in the woods.
Therefore, riders can choose from many of our recommended models according to their riding style and height.
To their credit, the 2022 Trek Roscoe 7, 2022 Cannondale Trail 5, and 2022 Diamondback Hatch 1 all feature both of these wheel sizes. This is good news for riders who are not of medium height, as they can choose a size that better suits their riding style.
Drivetrain and Gears
For most newcomers to cycling, it may be a mistake to assume that more gears are a good thing.
Because of the larger numbers, it is always taken for granted that it has more performance. Is a 21-speed (3-speed front derailleur with a 7-speed rear derailleur) necessarily better than a 10-speed? Of course not. These numbers are far less intuitive than the real feel of the ride.
I believe that those who often ride mountain bikes know that a multi-disc configuration front shifting system is not very useful during the ride. Because too many gears mean more complicated operations, more of your energy is used to deal with surveying the terrain rather than shifting gears during the trail.
The choice between simple and more rear dials becomes key. As a simple shifting operation allows the rider to get the maximum gear ratio and more favorable pedaling power during the climb.
This is the reason why most of the higher-priced bikes we choose are 1× systems.
Our recommendations
If you're on a budget, we'd also recommend getting a 1× system with more cassettes (like the 2022 Marin San Quentin 3 and 2022 Trek Roscoe 7). Because that means you'll have an easier gear ratio to ride on the climbs to ease the pain of pedaling up hills.
The 3× systems (e.g. 2022 GT Aggressor Comp, 2022 Diamondback Hatch 1) are the cheapest gears on the market today. But they are no less adjustable on complex trails, allowing even low-budget racers to have a more relaxed climbing or descending stance.
The 2× system, on the other hand, exists somewhere in between the above two, giving riders more reliable gear ratios to handle the ride while staying on budget. Therefore, the 2022 Specialized Rockhopper Sport 29 is the best mountain bike out there.
Shimano and microSHIFT
I believe that those of you who are observant have noticed that the s we recommend tend to be Shimano and microSHIFT drivetrains. This is because they have a higher price/performance ratio, allowing you to enjoy a quality-shifting feel without breaking the bank.
Take the Cannondale Trail 5's microSHIFT Advent X 10-speed drivetrain, which provides smooth shifting action and an evenly distributed drivetrain for more precise shifting, whether descending dirt trails or climbing rocky surfaces.
The higher price also means better-made shifting systems, which give the rider a better experience in terms of shifting performance and handling.
Braking System
Hydraulic Disc Brake
As part of the drivetrain, the braking system configuration is also a part that is widely concerned by riders.
Generally speaking, hydraulic disc brakes are much more effortless to use, allowing the rider to focus on the road ahead rather than the brakes themselves.
We must also be honest that higher-priced hydraulic disc brakes also mean faster and more precise braking performance. But at the same time, they also require more careful maintenance costs for the rider. Shimano MT420 4-piston brakes, such as the Marin San Quentin 3, offer a dramatic increase in braking power and wear resistance compared to 2-piston brakes, allowing the rider to stop on a dime, whether it's a steep uphill or an aggressive downhill.
Mechanical Disc Brake
The cheaper mechanical disc brakes, though not as fast as the hydraulic discs, are also commendable in braking performance. Take the 2022 GT Aggressor Comp's Tektro Mech Disc Brakes, which always stop as quickly as the rider wants them to and are also better at braking than rim brakes in wet, rainy, and snowy weather forces.
Rim Brake
And the rim brake, which most people don't like much, actually has its share of excesses – cheaper cost as well as lighter quality. Therefore, it is the closest friend of most cheap bikes. Admittedly, it's not as good in emergency braking or wet conditions.
If you expect easier, less effort and fast and more precise braking performance, the more expensive hydraulic disc braking system will undoubtedly make your braking easier.
If you have a limited budget, you can also be slightly more appropriate in the operating feel and braking speed, mechanical brake discs, and rim braking are not without merit.
Is a dropper post necessary?
Benefits of the dropper post
The dropper seat post can help riders find the right seat height setting for themselves, allowing them to maintain the correct riding position and have good pedaling efficiency. This also applies to mountain bikes.
Especially in the face of downhill sections, if the rider takes an offensive stance, the higher seat height will affect the rider's center of gravity shift, not only is there a risk of tipping, but it also makes the rider less in control of the bike.
Therefore, lifting the seat post is very necessary, the rider does not have to get off to break open the quick release or unscrew the seat post clip to tediously adjust the seat height. Simply operate the controller, and you can complete the seat height adjustment during the ride, to achieve the effect of high pedaling efficiency uphill and large space for movement downhill.
The dropper seat post is an addictive presence on winding, sustained climbs or shifting mountain descents.
If you're riding on more complicated trails, the bikes we recommend above for $1,500 and up all come with dropper seat posts. Whether it's the ultra-high-end Marin San Quentin 3's X-Fusion Manic or the less competitive Giant Fathom 2's Giant Contact Switch dropper, they're all keen to keep you pedaling efficiently all the time and able to stand up, squat back, or sit down at any time for safety and fun.
Of course, if the purpose of the purchase is to relax on flat trails, and not need to descend or climb, there is no need to break the pursuit of lifting the sitting bar.
How to choose
If you're on a budget and can't decide, the 2022 Specialized Rockhopper Sport 29 we mentioned earlier might be the answer to your worries. It's cheap and dropper-post compatible, and if you feel the shortcomings of the rigid seat post on your mountain trip, you can also upgrade to a more convenient elevated seat post.
Is the more expensive bike better?
There is no equivalence between expensive and good, because different people may refer to different aspects of "good".
If you are only looking for speed, it is not necessarily the case that the more expensive bikes are faster, as there are also cheaper bikes that have faster performance than the more expensive ones.
The 2022 Giant Fathom 2, for example, is no faster than most cheaper bikes, but its handling and comfort will make riders happy to pay for it.
Therefore, expensive bikes may choose to spend their costs on frames or groupsets and small accessories to improve the durability of the bike and the quality of the ride for the user. It may also be that the cost is spent on finer gearing options, tires, and speed-related parts to provide a faster ride.
In general, the more expensive the price, the more expensive production materials will be used to make the bike in performance, comfort, and speed more balanced, giving riders a more comfortable riding experience.
Summary
The vast majority of hardtail bikes are intended for mountain or woodland terrain that is not overly demanding. Without a rear shock, hardtail bikes are simpler and lighter in weight, making them the "best playmate" for the mountain-loving rider. By the way, if you want to go riding in well-known terrain or special terrain, you can book your accommodation on IHG Hotels & Resorts. It is not only rich in variety but also easy to operate.
Based on our years of riding experience, we've also selected hardtail bikes for all budgets in our recommendation list. The list includes mid- to high-end pro hardtails for tough terrain climbing and endurance ridings, such as the Marin San Quentin 3 and Trek Roscoe 7. They have a higher-end groupset and longer shock travel, giving users a better experience in terms of both handling and comfort.
Of course, we also have entry-level hardtail mountain bikes for gentle trails or normal gravel trails, such as the 2022 Diamondback Hatch 1 and the 2022 GT Aggressor Comp, which are definitely within the means of riders on a budget.
The 2022 Salsa Rangefinder Advent X 29 and the Specialized Rockhopper Sport 29 are both frame hogs, and they come with varying degrees of warranty, which makes them more friendly to riders who need to hone their skills in the mountains over time.
For the matter of buying a bike, what is expensive is not necessarily the best, but what is suitable must be the best.
If you like our content, feel free to share it with your friends. And If our content is helpful to you, you can click the email subscribe button below, thanks for your support!