We use affiliate links and may receive a small commission on purchases.
GT Palomar Review
Price: $580
Frame: Steel
Tires: 27.5″
Gear: 3×7
What we like about it: The 27.5 size and the sturdy, stable frame for beginners.
What we don't like about it: It probably doesn't ride very fast.
Rating (4.7/5)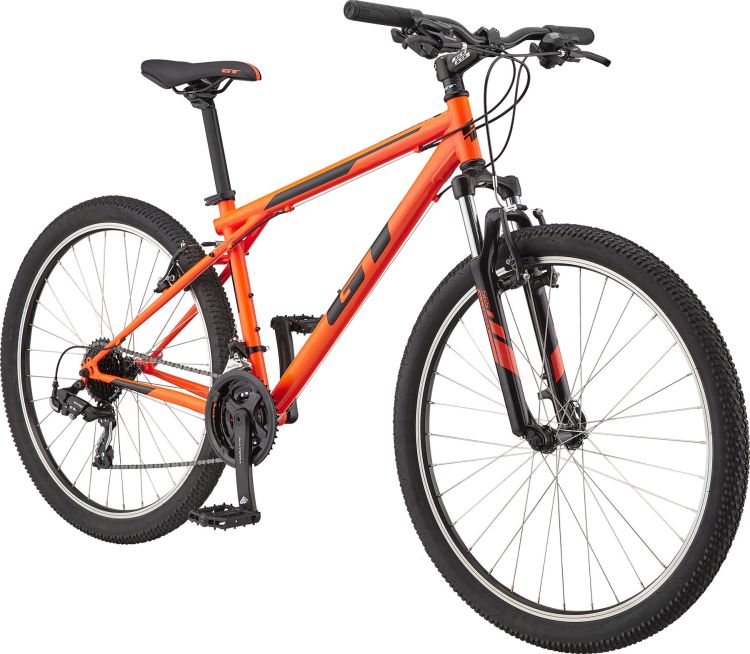 The GT Palomar is a steel cross-country mountain bike with a 27.5″ aluminum wheelset that retails for just $580. This bike is from GT's Palomar series. It's perfect for riding on bike trails and surrounding dirt roads as well as some light mountain riding.
Are you ready to embark on a serious ride? Needless to say, the GT Palomar is the perfect bike to explore your abilities. It comes from the bike company GT and was designed with balance and control in mind. So make sure your first ride is one you'll love.
Below we analyze the climbing performance, descent performance, key features, components, and specifications of the GT Palomar, as well as other versions.
If you want to know more about bike reviews, you can follow us.
GT Palomar City Riding
This GT Palomar uses smaller 27.5″ tires, perfect for newbies and people like me who are not very tall. I felt more control than ever on it, and they weren't as bulky as the 29″ mountain bikes I've ridden before.
On top of that, the 80mm cushioned fork handles the rough stuff very well. All in all, it's a perfect starter mountain bike.
This was my first bike and I was happy to finally get to ride it around the city. After all, driving all the time does make me miss a lot of scenery.
Mind you, this bike frame is very strong and made of high-strength steel. So I don't need to take special care of it, and the paint on the outside of the frame makes it less likely to rust. I lock the bike in the open yard of my house at the end of each day's ride, and it doesn't get damaged much by rain or other conditions.
I ride it around the neighborhood almost every day, and it works very well as a substitute for my feet. When I need to buy some daily necessities in the neighborhood stores, it is too much of a hassle to drive the bike. It's worth mentioning that the GT was built with the core values of the series in mind very well. Comfort and sturdiness is its primary goal, and I found that to be exactly what I needed. So the price is worth it for me.
GT Palomar Mountain Riding
As a mountain bike with a shock system, it has a mission that goes beyond city streets. I often go on weekend outings with friends in the surrounding mountains, which is a great time for me to work on my biking skills.
To be honest, I'm not very good at controlling the bike. But the GT Palomar is stable, and the wide tires and extended handlebars allow me to keep a firm grip on the bike.
When passing through some forest trails, the roots of trees everywhere on the ground are not reassuring. But the 80mm cushioned fork came in handy here. I could just pedal through these obstacles with ease, and the comfortable saddle allowed me to ride for long periods without getting my butt hurt from the bumps.
As for control as well as stability, the GT Palomar is equipped with medium-sized tires. And this size is very popular among mountain bikers. This size improves balance, handling, and agility by reducing rolling resistance. After all, a larger tire usually hits an obstacle at a smaller angle, allowing for less drag.
In addition, this tire size provides more tire tread contact with the ground, increasing stability and traction. Especially for young riders and riders like me who are not very tall. After finishing our bike ride, I easily booked accommodation on IHG Hotels & Resorts. I can finally relax and rest well.
This bike with an excellent balance is designed to help beginners maintain a comfortable, upright, and controlled riding position while exploring new terrain and trails. All in all, it's a pretty good bike, isn't it?
Main Features
Frame Group
The bike's frame is made of high-strength steel, and while it may be a bit heavy, it's guaranteed to be durable. And the Seat Stay is attached to the bottom of the Top Tube through the center tube, with the signature triangular design providing extra strength to the frame.
If you look closely enough, you'll see that the center of the frame is equipped with two mounting holes for the water bottle cage, where you can also choose to mount a tool kit. The Seat Stay is also equipped with mounting holes for the rear rack at the top and bottom, allowing more room for modifications to the bike. In addition, the cable eliminates the rubber wrapping in the linear part, which is more concise and also reduces the weight of the frame. The frame is also equipped with mounting holes for disc brakes, giving the rider the option of using disc brakes or the existing rim brakes.
Geometry
The frame has a solid geometry with the Seat Stay running through the mid tube directly to the Top Tube. And, the loose head tube angle (69.5°) makes the forward direction easy to maneuver and makes the whole body more stable. The relaxed seat tube angle (72.7°) also allows the rider to pedal more comfortably. For the most part, I don't think I needed to get out of the saddle to do most of the uphill.
The frame is also equipped with an extended rear lower fork, even almost half of the wheelbase. This setup makes the whole bike very stable and smooth when riding in a seated position, while it will get a good fighting stance when riding in a standing position.
Components and Specifications
Microshift TS38 3×7 Drivetrain
The drivetrain uses the Prowheel Alloy 3-speed crankset, 42/34/24. Coupled with the 7-speed cassette 14-34 speed, it offers riders a choice of gear ratios up to 21 speeds. A gear ratio of up to 24:34 allows the rider to climb almost any hill with ease.
Also, the 42:14 cassette can get good speed on flat roads with it. It can get the right commuting speed on flat roads, but it doesn't seem to be very suitable for racing.
Tektro CSL-36A Rim Brake
For the brakes, a traditional rim brake system is used, which provides a nice reduction in overall weight. And it seems a bit excessive to use expensive disc brakes on this beginner bike. In my two-month-long ride, I think such brakes are also very reliable and do not rub the discs.
But if you need it, the frame is equipped with disc brake mounting holes so you can always upgrade your brakes.
Kenda 27.5×2.10 Tires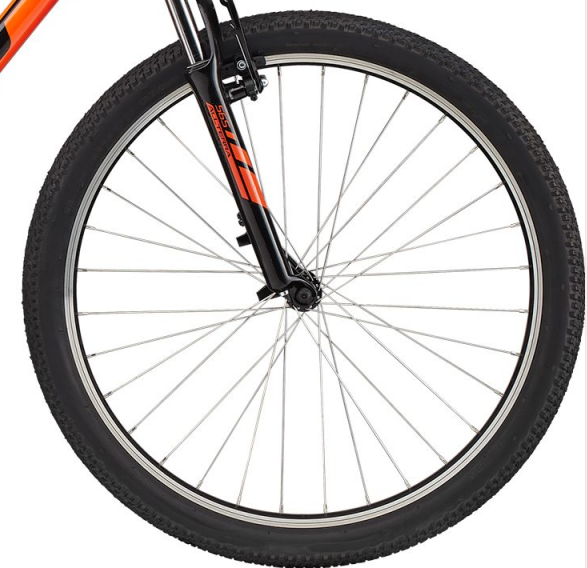 The tires don't look flashy in the numbers, but they played in testing. I think the main reason for this is that the 27.5-inch gearing is very popular with riders. Although this tire doesn't have a very deep grooved surface like common mountain bikes, it takes into account the road commute.
This tire size improves balance handling and agility by reducing rolling resistance. This size tire also has good passability, which is perfect for novice and young riders.
Other versions of GT Palomar
In this test, we put the GT Palomar to the test, a bike that can be shuttled around for mountain and road commuting at will. The sturdy and durable frame is perfect for novice riders. If you need a bike to replace your feet, or if you're someone who wants to start getting in shape by riding, this bike is perfect for you.
The GT Palomar Ladies has almost the same component specifications, with the only difference being the frame geometry. In addition, the GT Palomar Ladies has a sunken top tube, making it easier for women to get on and off the bike. The shorter Reach also takes better care of the proportional structure of the female figure, thus allowing the body to be more upright.
In short, if you are a newbie, this is a good value-for-money option.
What we like about it
Sturdy and stable frame.
Shimano shifting system combines durability and performance.
27.5-inch tires for youth and smaller riders.
Easy-to-repair accessories.
Comfortable saddle.
What we don't like about it
FAQs
What kind of component mix does GT Palomar use?
This bike uses the Microshift TS38 shifting system with Tektro CSL-36A brakes, which is arguably the best choice for the price. And, this design also makes the whole bike very easy to use for novices.
What brand of tires are they for the GT Palomar? What are the sizes?
The tires are Kenda 27.5 x 2.10 width, the right size to allow it to handle mountain roads as well as most road commuting rides.
What heights does the GT Palomar fit?
The size chart for the GT Palomar is as follows.
(These sizes are only a general guide, the true fit may vary from person to person and the easiest way to find your size is best to go for a test ride.)
| | |
| --- | --- |
| Rider height (cm) | Frame size |
| 155cm – 166cm | XS |
| 163cm – 172cm | SM |
| 169cm – 179cm | MD |
| 176cm – 186cm | LG |
| 183cm – 193cm | XL |
GT Palomar Specs
Build
| | |
| --- | --- |
| Frame | Hi-Tensile Steel Triple Triangle™ Frame, w/ 1 1/8″ Head Tube |
| Fork | All Terra CH-565, 80mm, Coil |
| Bottom Bracket | Cartridge Sealed |
| Headset | 1 1/8″ Ahead Type |
| Stem | Alloy Ahead type |
| Handlebar | Steel Riser, 20mm Rise, 6° Rise, 620mm Width |
| Saddle | GT MTB |
| Seatpost | Alloy 27.2 x 300mm |
| Pedals | GT Slim Line Flat Pedal |
| Grips | GT Statement |
Groupset
| | |
| --- | --- |
| Rear Derailleur | Microshift RD M-26L |
| Front Derailleur | Microshift FD-M20M |
| Crank | Prowheel Alloy, 42/34/24 |
| Shifters | Microshift TS38 |
| Cassette | Sunrace, 14-34, 7-speed |
| Chain | KMC Z7, 7-speed |
| Brakes | V-Brake |
| Brake Levers | Tektro CSL-36A |
Wheels
| | |
| --- | --- |
| Rims | All Terra Double Wall, 32h |
| Spokes | Stainless Steel, 14g |
| Front Hub | Alloy, QR |
| Rear Hub | Alloy Freewheel, QR |
| Tires | Kenda 27.5×2.10 |
Video
Comparison Table
2022 GT Palomar vs 2023 Trek Marlin 6 Gen 2
First of all, I have to say that these two bikes have up to double the price difference.
Secondly, regarding the components, the GT Palomar uses an uncommon steel frame. This makes the whole bike very durable to ride, and also makes it much more rigid when powering up. As for the Trek Marlin 6 Gen 2, it uses an aluminum fork with a Suntour XCT fork, making the whole frame comfortable and lightweight. This is a good design.
In addition, microSHIFT gives the GT Palomar quick and efficient shifting and is very durable and inexpensive. This is what commuters want to see. The Trek Marlin 6 Gen 2 uses the more advanced Shimano 10-speed components, which are almost always used on pro-level bikes. Indeed, the lighter weight results in a cleaner and more practical shifting.
Overall, if you want a better experience, you need to pay more money to upgrade. But if your goal is just weekend mountain riding and weekday mobility, the GT Palomar will be your best choice.
Learn More: Is Trek Marlin 6 Worth Buying? [Trek Marlin 6 Review] 2022
2022 GT Palomar vs 2022 Bianchi Duel – 29s – Alivio
The two bikes can be seen in the comparison down to the same frame design using external alignment for both bikes. However, the GT Palomar is made of a steel frame, which is more durable. The Bianchi Duel-29s – Alivio uses an aluminum frame, which is lighter in comparison.
In terms of components, the GT Palomar uses brakes in the form of rim brakes for this bike, while the latter uses mechanical disc brakes. Needless to say, both have their advantages and disadvantages. However, the GT Palomar significantly reduces the weight of the bodywork as well as maintenance costs, while the Bianchi Duel – 29s – Alivio will be more focused on efficiency and not too concerned with the weight aspect.
In addition, the Bianchi Duel – 29s – Alivio is equipped with a 36/22T crankset with 11-36T gears, offering a wide choice of gear ratios for riding. And the minimum 1:1 gear ratio also allows the rider to climb steep grades more easily. The GT Palomar, on the other hand, uses a 42/34/24T three-speed crankset with 14-34T 7-speed gears with a minimum gear ratio of 24:34 or even greater than 1, which is perfect for riding some steep hills. Unfortunately, it does not have a large maximum gear ratio, so it may struggle when dealing with some fast sections.
2022 GT Palomar vs 2022 Giant Talon 4
Unexpectedly, the Giant Talon 4 uses an uncommon 1×8 speed shifting system. Although 1× is a popular gearing, the 8-speed cassette is not enough for the 1-speed crankset. In my experience, the 30T crankset only seemed to be able to handle uphill sections, and it was difficult to ride it fast on flat roads. The GT Palomar's 3×7 speed gears can provide a rich riding experience for the rider.
The GT Palomar uses smaller tires with a slimmer 2.1 tire width, making the bike more agile and faster, allowing it to move quickly through wooded roads and streets. The Giant Talon 4, on the other hand, uses larger 29-inch tires with a wider 2.2 tire width, allowing you to ride through the mountains with greater confidence.
Learn More: Giant Talon 4 Review [2022]- Taking You To The Door Of The Off-Road World
2022 GT Palomar vs 2022 Scott Aspect 970
I have to say that the first thing that struck me about the Scott Aspect 970 after I got on it was that it was like a tank, very thick and heavy at 15kg.
As far as components are concerned, the Scott Aspect 970 features a higher travel cushioned fork and larger tires. The bike is perfect for off-roading in the mountains, and the chunky build allows it to crush through most unevenness. The GT Palomar, on the other hand, looks more like a bike for beginners in the mountains, making a very good trade-off between city commuting and mountainous woodland riding. This also better positions the two bikes for different audiences.
So, if you're a cycling enthusiast eager to pound the mountains to explore, sprint quickly through forest roads, and climb up some steep dirt slopes, you can choose the Scott Aspect 970.
However, if you're a beginner cyclist who wants it to simply replace your feet and allow for a more enjoyable ride on forest roads on the weekends, we recommend the GT Palomar.
Learn more : Is the Scott Scale 940 A Great Value Hardtail Bike? [2023 Scott Scale 940 Review]