We use affiliate links and may receive a small commission on purchases.
GT Aggressor Comp Review
MSRP: $685
Frame: Aluminum
Fork: Suntour XCT 80mm Travel
Tires: 27.5″ x 2.25″ (29″ x 2.25″ bikes are also available, this article is only about the 27.5″)
Drivetrain: 3×7
What we like about it: It will allow casual off-roaders who are on a budget to fully enjoy their outdoor adventures.
What we don't like about it: It's not suitable for too extreme terrain.
Rating (4.7/5)
The rugged GT Aggressor Comp can be said to be the SUV of the GT world.
At first glance, many people are so attracted to the highly cushioning Triple Triangle Design that they overlook its lightweight, sturdy 6061 T6 Aluminum Frame and the time-tested Shimano Tourney's groupset.
However, all of these components are an integral part of what allows the Aggressor Comp to flaunt the city or venture into the mountains.
Here's a breakdown of the 2022 GT Aggressor Comp's ride, key features, components, and specs, as well as other versions.
If you want to know more, please remember to follow us, we will keep updating the real reviews of the bikes.
GT Aggressor Comp Mountain Riding
Being a normal person, I, like most new hardtail trail bike owners, would choose to take the GT Aggressor Comp for a ride in rugged enough mountains to test if it was as good as the internet presented it to be. It proved to be a worthwhile shopping experience for what was missing.
While the Aggressor Comp did not ride in an overly upright position, the slight bending motion did not make me feel hard either.
The path in the mountain forest is steep, and it took a lot of effort to pedal, but thankfully the design of the Floating Seat Stays and the soft saddle didn't make me feel too many bumps. At least, I didn't feel any pain when I was going up and down the hill.
The Shimano Tourney's shifting system kicked in when we hit an uphill climb. I easily pivoted the derailleur and the chain had the good sense to loop the small wheel at the front and the big freewheel at the back. In an instant, I could feel the bike becoming powerful. After successfully making it to the top of the hill, I became more confident and was looking forward to the next steep hill.
And on the way down, the Tektro Mech Disc Brakes gave me great comfort. It was a little more strenuous, but it still gave me a good sense of control.
Because when I need to accelerate, will just need to loosen the fingers to slow down, and it can meet me. Also when decelerating I increase my grip on it, very simple.
Considering my habit of shifting my weight back when going downhill, I plan to replace the seat post of the GT All Terra Two Bolt Alloy with an elevated seat post to make this movement more convenient.
Equally important, if you want to take plenty of water and food with you on your trip, the water bottle holder has mounting holes on the frame so the setup will satisfy you.
Main Features
Frame Group
The tried-and-true GT 6061 T6 Aluminum Frame is extremely rugged and durable, making it the perfect partner for outdoor exploration. However, with the help of Triple Triangle Design, the frame's shock absorption is even more amazing.
First of all, the latest Triple Triangle Design cleverly separates the rear fork from the seat tube, and the length of the rear fork ending with the top tube has been lengthened. As a result, it can more effectively disperse the impact and reduce the sense of vibration.
Secondly, the curved shape of the top tube fulfills the mountain biker's desire to ride standing up. It will provide a lower stance, which not only increases the bike's maneuverability but also makes it easier for riders to stretch their limbs.
So whether you're off-roading in the mountains or strolling around town, this will be a treat.
In addition, the curved chain lower fork design increases the chain's range of motion. Even if the chain becomes wild, it is difficult to collide with the frame.
One final note: While there is no hidden internal cable routing, X Guides has plenty of confidence to limit cable bounce. So you can venture into adventurous activities in the mountains.
Geometry
While the geometry of the Aggressor Comp isn't too distinctive, it's not useless.
First of all, the slack 68° head tube angles guarantee enough stability for the rider to have a safer descent without losing the agile steering performance.
Secondly, the normal range of seat tube angle (73.5°) is also considered a normal angle for mountain bikes. It puts the saddle directly on the bottom bracket, making pedaling easier and more efficient.
At the same time, the rider's center of gravity is further forward, so the climbing motion will be much easier.
In addition, the standard 440mm Chainstay Length makes the bike flexible while not lacking in stability. This undoubtedly reveals the designer's original intention that it can do more exploration of the outdoors.
Components and Specifications
Shimano Tourney 3×7 Drivetrain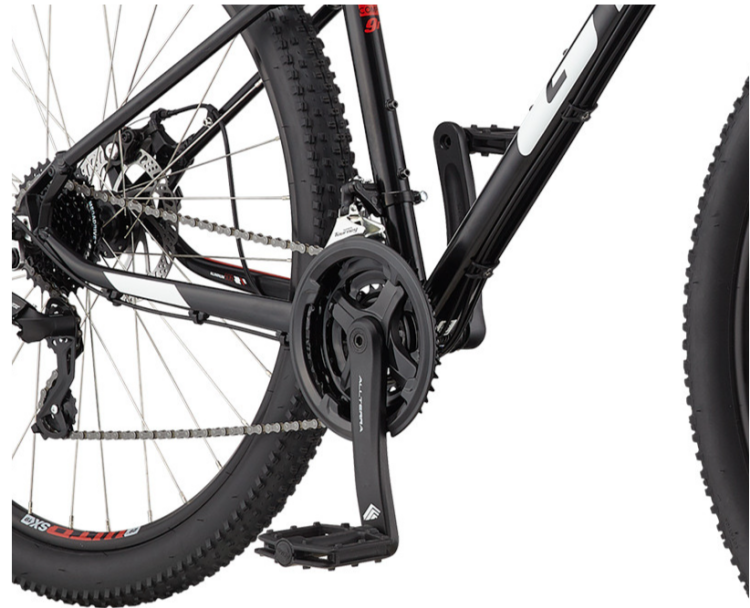 Perhaps the 3×7 speed drivetrain may seem unwieldy for a mountain bike, but it's necessary for the Aggressor Comp.
Because the designers have positioned it to support more outdoor exploration. Therefore more gear ratios will help those riders who are keen on mountain touring to climb more easily and quickly.
In addition, the Shimano ST-EF505 shifter is constructed with strong and durable components for precise and smooth shifting. And, a visible optical gear display allows entry-level riders to stay in control of their gears at all times.
Therefore, Shimano Tourney is undoubtedly the best partner for Comp users.
Tektro Mech Disc Brakes
Although they are mechanical brakes, Tektro Mech Disc Brakes have a lightweight and fast braking effect.
Especially in the face of wet weather like rain and snow, Tektro Mech Disc Brakes have superior braking than the rim brakes that come with mountain bikes at this price point. And yes, it doesn't slip.
In addition, Tektro Mech Disc Brakes are not only durable, but they are also very easy to maintain for novice users. Even if they do get damaged, they don't empty the user's wallet.
WTB Ranger Comp Tires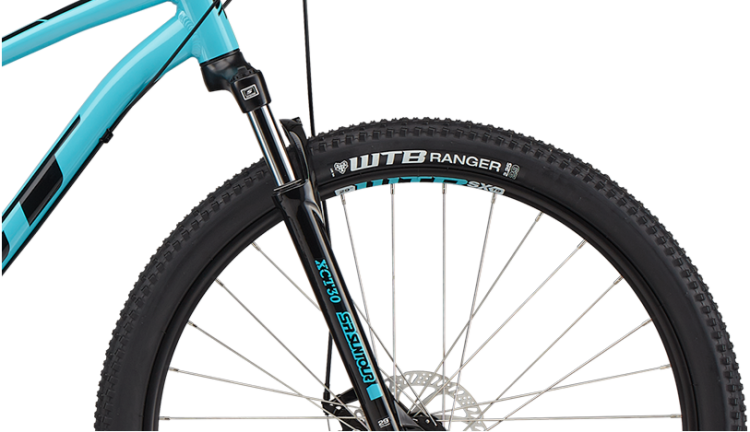 Tires' direct contact with the ground components and their selection of materials is also critical.
Fortunately, WTB Ranger Comp tires use TriTec, a blend of three rubber compounds, as the material. Did you know? Not only are they durable, but they also provide different levels of grip and traction depending on wheel movement and terrain needs.
In addition, the SG2 puncture protection is made of a lightweight nylon ply that is light yet soft and will protect all areas of the tire. Likewise, it not only provides additional puncture and blast protection but also improves tire sidewall stability increasing the support of the entire wheelset.
To its credit, the WTB Ranger Comp tire's wide body (29″ x 2.25″) is not only passable but also effective in absorbing vibrations to give the rider the most comfortable riding experience.
However, it has to be mentioned that after all, the price of the bike is obvious, and if you insist on feeling the fun of single-track riding, I still suggest you upgrade your tires first.
Because when you turn sharply at a fairly fast speed, its performance is not very perfect.
Other versions of GT Aggressor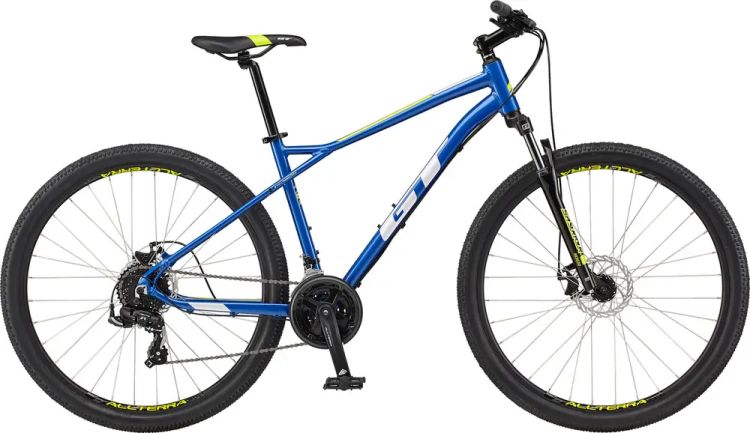 The GT Aggressor series are all hardtail trail bikes, only the different model's groupset and fork travel have changed.
As an intermediate model, the Comp not only has the same length 80mm travel fork as the Expert, but also has a similar, but more advanced 3×7 drivetrain as the Sport. Therefore, both in terms of comfort and speed, Comp is qualified.
But I have to admit that the Aggressor Expert does have a more comfortable riding experience and handling than its two "brothers". The Aggressor Sport is also inferior to its two "brothers" in this respect.
If you have enough budget, we suggest you to feel the charm of Aggressor Expert. However, if you wish to lower your budget, Aggressor Sport is also a good choice.
If you are also interested in the bikes mentioned above, you can follow us. We will keep updating other models as well as more interesting bikes for real-life testing.
What we like about it
The price at your fingertips is very affordable and extremely friendly to newcomers to the mountains.
The lightweight GT 6061 T6 Aluminum Frame is strong and durable. Combined with the simple and atmospheric cable internal alignment style, it makes the bike very stylish and beautiful.
Triple Triangle design is not only new and cool but also has a strong shock absorption effect.
The 80mm Suntour shock fork will absorb bumps and allow you to enjoy mountain travel in comfort, ignoring obstacles.
Shimano's 21-speed thumb system shifts smoothly and finely, and Tektro mechanical disc brakes are quick, so you can ride with abandon on both rugged mountain and flat city roads.
WTB Ranger Comp tires are ready to travel regardless of weather and terrain.
What we don't like about it
On extremely tough terrain, it may let you down, a common problem with bikes at this price.
FAQs
What is the drivetrain of the 2022 GT Aggressor Comp?
The 2022 GT Aggressor Comp's drivetrain is a Shimano Tourney 3×7-speed drivetrain.
What are the tire sizes for the 2022 GT Aggressor Comp?
The 2022 GT Aggressor Comp has a 27.5″ x 2.25″ tire size. Of course, there is also a 29″ x 2.25″ bike, but this article focuses on the 27.5″ bike.
If you want to go riding in well-known terrain or special terrain, where is the most convenient place to stay?
You can book your accommodation on IHG Hotels & Resorts, which is not only rich in variety but also easy to operate.
Can the 2022 GT Aggressor Comp handle extreme off-road mountain trails?
Yes, you can, but I don't recommend it. Because it is a hardtail bike, although the suspension seat design also has a damping effect, there will still be significant bumps in the face of extremely harsh road surfaces.
2022 GT Aggressor Comp Specs
Build
| | |
| --- | --- |
| Frame | GT 6061 T6 Aluminum Frame, Triple Triangle w/ Floating Seat Stays, Forged Drop-outs w/ Disc Brake Mounts, Zero Stack 1 1/8″ Head Tube, 27.5/29″ Wheels |
| Fork | SR Suntour XCT, 80mm, Coil |
| Bottom Bracket | Cartridge, Square Taper |
| Headset | Semi-integrated, Sealed Cartridge |
| Stem | GT All Terra, 6061 Alloy, 31.8, 8° |
| Handlebar | GT All Terra Alloy Riser, 25mm Rise, 8° Sweep, 6° Rise, 720mm Width |
| Saddle | GT MTB |
| Seatpost | GT All Terra Two Bolt Alloy |
| Pedals | GT Slim Line Flat Pedal |
| Grips | GT Statement |
Wheels
| | |
| --- | --- |
| Rims | WTB SX19, 32h |
| Spokes | Stainless Steel, 14g |
| Front Hub | Alloy Disc, QR |
| Rear Hub | Sealed Alloy Disc, QR |
| Tires | WTB Ranger Comp, 27.5/29 x 2.25″, DNA Compound |
Groupset
| | |
| --- | --- |
| Rear Derailleur | Shimano Tourney |
| Front Derailleur | Shimano Tourney, 31.8 Clamp |
| Crank | Prowheel Alloy, 42/34/24 |
| Shifters | Shimano EF505 EZ Fire, 3×7 |
| Cassette | Sunrace, 14-34, 7-speed |
| Chain | KMC Z7, 7-speed |
| Brakes | Tektro Mech Disc Brakes, 160/160mm Rotors |
| Brake Levers | Alloy V-type |
Video
Comparison Table
2022 Giant Talon 4 vs 2022 GT Aggressor Comp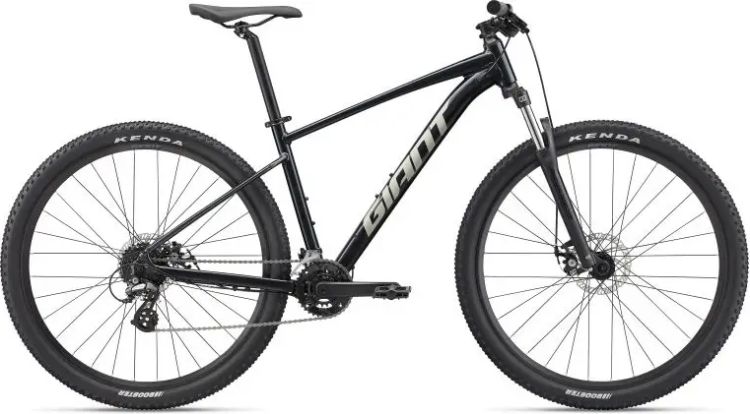 Although the 2022 Giant Talon 4 is also inexpensive, the 1×8 drivetrain makes the rider more passive in the climbing movement. Yes, it can't reach its destination with ease and speed.
However, for off-roaders, being able to ride the bike easily and quickly will give them more confidence to go on adventures. This makes the GT Aggressor Comp a little more cost-effective.
Although one might think that the GT Aggressor Comp 3×7 drivetrain would be a bit complicated, in my actual riding, I still maintained a relatively smooth operation. And the wider range of speed options allows me to choose a more energy-efficient gear ratio when doing trail riding. If you're more into multi-speed, you can try out the GT Aggressor Comp.
Learn More: Giant Talon 4 Review [2022]- Taking You To The Door Of The Off-Road World
2022 Bianchi Duel – 29s – Alivio vs 2022 GT Aggressor Comp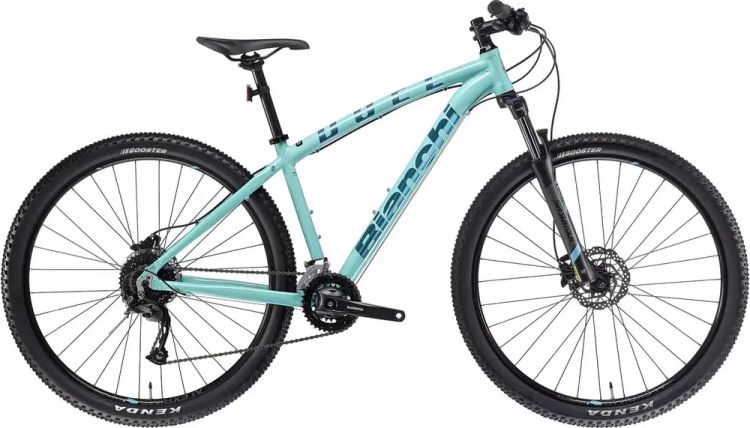 I have to admit that the 2022 Bianchi Duel – 29s – Alivio does have a fast performance for a mountain bike in this price range. I can't criticize either the drivetrain or the braking mechanism.
However, its 2.20″ tires are not very effective on rough trails, both in terms of passing and shock absorption. Therefore, if you want to go to more challenging mountain roads, it may make you feel the strain.
Of course, the relatively compact GT Aggressor Comp's tires aren't much wider. But the relatively flexible feel of the handling may make your ride a little easier.
2023 Trek Marlin 6 Gen 2 vs 2022 GT Aggressor Comp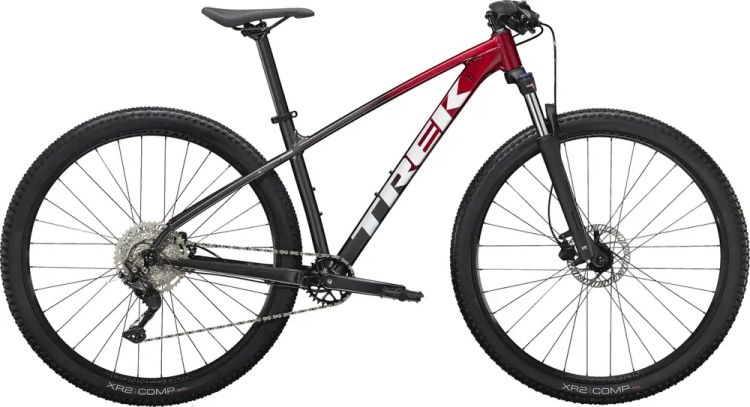 The biggest feeling I get from the Trek Marlin 6 Gen 2 is that it's not good enough for the money. Because it not only has no speed advantage, but the geometry is also more aggressive. At the same time, the 1.39 Stack/Reach Ratio is not friendly for riders who like to ride upright actually.
Secondly, it doesn't come with Pedals and doesn't work out of the box, which makes me think it's not sincere enough. But the Shimano Deore drivetrain still deserves praise.
If you don't mind Tourney's inferior gearing, the GT Aggressor Comp is better value for money.
Learn More: Is Trek Marlin 6 Worth Buying? [Trek Marlin 6 Review] 2022
2022 Fuji Nevada 27.5 1.7 vs 2022 GT Aggressor Comp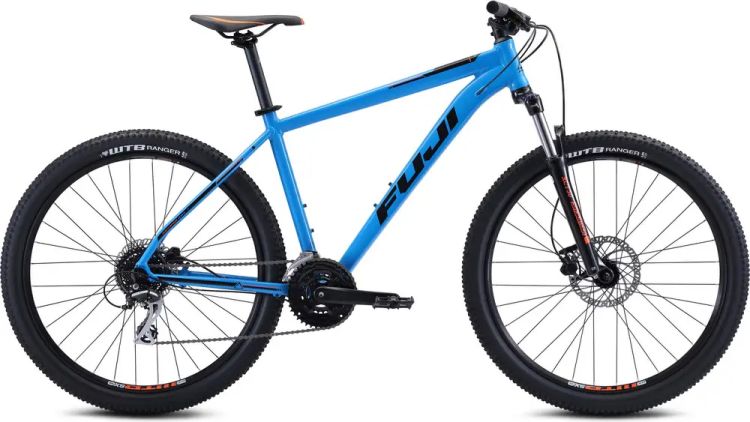 I believe the Shimano 3×8 drivetrain gives the 2022 Fuji Nevada 27.5 1.7 a great deal of help. That's what makes it able to ride in the mountains and have a huge advantage in speed as well.
But in terms of real riding experience, the 2022 Fuji Nevada is not as comfortable as the Aggressor Comp in terms of comfort. Although the 100mm travel is longer, the butt still suffers occasional bumps during the ride due to the hardtail design. The Floating Seat Stays, on the other hand, save the user's buttocks.
So, if you want a more comfortable ride, the Aggressor Comp is more than worth it
In addition, Tektro Mech Disc Brakes are not only durable, but they are also very easy to maintain for novice users. Even if they do get damaged, they don't empty the user's wallet.