We use affiliate links and may receive a small commission on purchases.
Giant Fathom 2 Review
MSRP: $1,500
Frame: Aluminum
Fork: Giant Crest 34 RCL 130mm Travel
Tires: 27.5×2.6″, plus a Giant Fathom 29 2 version with 29×2.5″ tires.
Drivetrain: 1×10
Brakes: Hydraulic Disc
Seatpost: Dropper
What we like about it: A true balance of speed, comfort, and fun in a $1,500 trail bike.
What we don't like about it: Its geometry is always considered too aggressive, which is a problem with similar bikes.
Rating (4.75/5)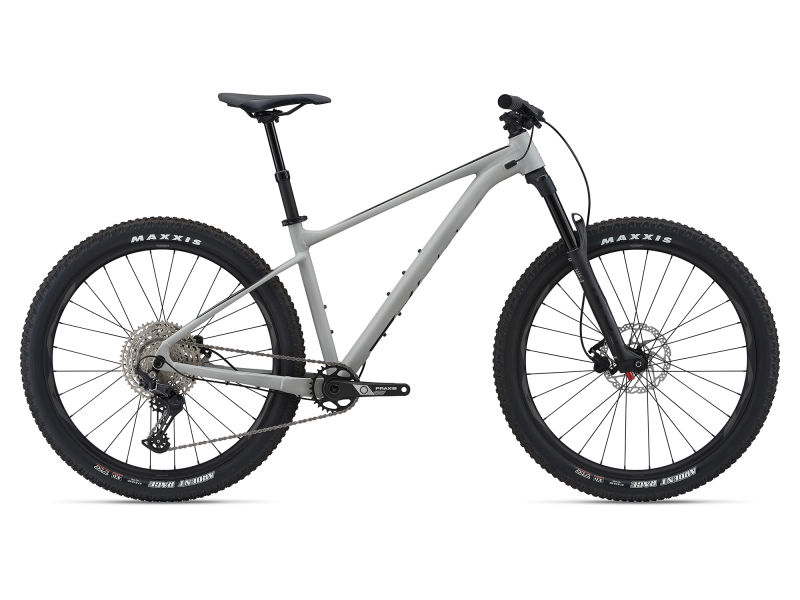 The Giant Fathom series is another attempt made by Giant for the hardtail trail board. Both the Fathom 1 and the Fathom 2, which I will talk about today, can be Giant's masterpieces for mountain cross country. In today's booming economy, they have been best sellers.
Our protagonist today, the powerful and well-specified Giant Fathom 2, is the perfect choice for riders who want to pursue speed, comfort, and fun in the mountains.
First of all, the lightweight ALUXX SL aluminum hardtail frame with a 130mm fork makes it strong enough while giving the rider more confidence to climb at high speeds or shred the hills.
Secondly, the more distinctive geometry than the average mountain bike will help put the rider in a powerful pedaling position and a more agile, maneuverable position, giving them plenty of confidence to face challenging terrain.
Finally, the wide tires with great grip and the liftable Dropper seat post make trail riding more comfortable and fun.
Here we break down the ride, key features, components, and specifications of the 2022 Giant Fathom 2, as well as other versions.
If you are interested in off-road bikes, please remember to follow us. We will keep updating more real bike reviews.
Giant Fathom 2 Off-Road Riding
To be honest, whenever I own a hardtail trail bike, I always make a habit of taking it to Snowmass Bike Park, which is not very far from home, to test its mountain riding performance.
And Giant Fathom 2 gives me the feeling that although it is not the best, it is the most flexible and fun.
When I first got on the Fathom 2, I was amazed by its extra-long 780mm Handlebar. This length not only increased the range of motion of my hands, allowing me to easily find the most suitable and comfortable grasp position but also made me feel more comfortable breathing.
Although when I sat down, I felt that the geometry posture was not so upright, it was good for me. Because this posture is more suitable for me to accelerate and show off my skills.
Moreover, in the mountains, I don't intend to ride endurance, just enjoy the fun, so it's not uncomfortable.
In addition, Giant's Romero Saddle is very soft and comfortable, while the long-nose design is interesting. I can feel a support force on my inner thighs, which is good for pedaling.
Giant Fathom 2 Off-Road Performance
When the tires turn up and encounter debris, the wide 27.5×2.6″ tires have great passing power and grind over them without mercy.
At the same time, I felt my arms moving up and down in a methodical manner. This brings me to its Giant Crest 34 RCL 130mm fork, which not only eases off the bumps from the vibration very effectively but also makes me feel funny.
In the blink of an eye, I was on the dirt track and ready to hit the steep hill. I quickly dialed in the drivetrain and the chain didn't drag, and I was soon on the big gear side. Then, the bike went over the hill without moving.
When going downhill, I toggle the switch to lift the seat post and press the seat post down. Then it was easy to tilt the body backward. At the same time, with a little force to toggle the Tektro hydraulic brake lever, the bike glides up not too fast but not too slow. After finishing my bike ride, I easily booked accommodation on IHG Hotels & Resorts. I can finally relax and rest well.
Main Features
Frame Group
Giant has a long history of building bikes, and to ensure that the Giant Fathom 2 is capable of challenging tough terrain, it has chosen the tried and tested ALUXX SL-Grade Aluminum frame, combined with unique welding technology to give the rider high-performance ride quality.
It is commendable that the hidden frame's internal alignment of the body is very beautiful and stylish with either Concrete or Phantom Green.
In addition, the rear upper fork is not moved down much, but this design still improves the damping ability of the bike to some extent. The rider's hips can feel fewer bumps, as well as more stability.
Finally, Giant's proud OverDriver – oversized fork steerer tube technology – is also applied to the Fathom 2, giving it extremely flexible steering performance.
Geometry
While the Giant Fathom 2's geometry is always considered too aggressive, it's a problem with all bikes of its type. Admittedly, its main focus is not comfort but aims to give the rider a more off-road experience.
First of all, the 75°Seat Tube Angle helps the rider to be in a strong pedaling position, so climbing becomes easier. At the same time, the more relaxed 66°Head Tube Angle gives the rider the advantage of a more technical downhill road.
Secondly, the long chainstay length (435mm, LG) and wheelbase (1203mm, LG) both guarantee the stability of the bike on rough roads. So the rider can explore the jungle with confidence.
Finally, the 113mm trail is moderate. It not only provides agile and fast steering, and superb ability to keep a straight line, but the bike also can correct steering tendencies during high speed.
Components and Specifications
Shimano Deore M-4100 1×10 Drivetrain
I have to admit that the Shimano Deore drivetrain is reliable.
On the one hand, Shimano Deore M-4100's Shifters handle lightly and are simple to operate. Not only does it have three gear shifting means, but it is also equipped with OPTICAL GEAR DISPLAY, which makes the gear information clear at a glance.
On the other hand, the tried and tested SHIMANO DEORE M5120 Rear Derailleur is designed with SHIMANO SHADOW RD+. As a result, it allows the rider to have stable shifting performance even when facing rough terrain.
Secondly, the low profile design is not afraid of stone impact.
Finally, SHIMANO's chain stabilization technology stabilizes the chain while making the shifting or riding process much quieter.
Tektro M275 Hydro Disc Brake System
After the great performance of the drivetrain, the Giant Fathom 2's braking system should not be overlooked as well.
While the Tektro M275 Hydro Disc is not high-end, it can brake anywhere, anytime, regardless of terrain, season, or weather.
In addition, it is not only a single oil circuit design, the cylinder cover is also sealed. Therefore, it is very clean and easy to clean.
Maxxis Ardent Race Tires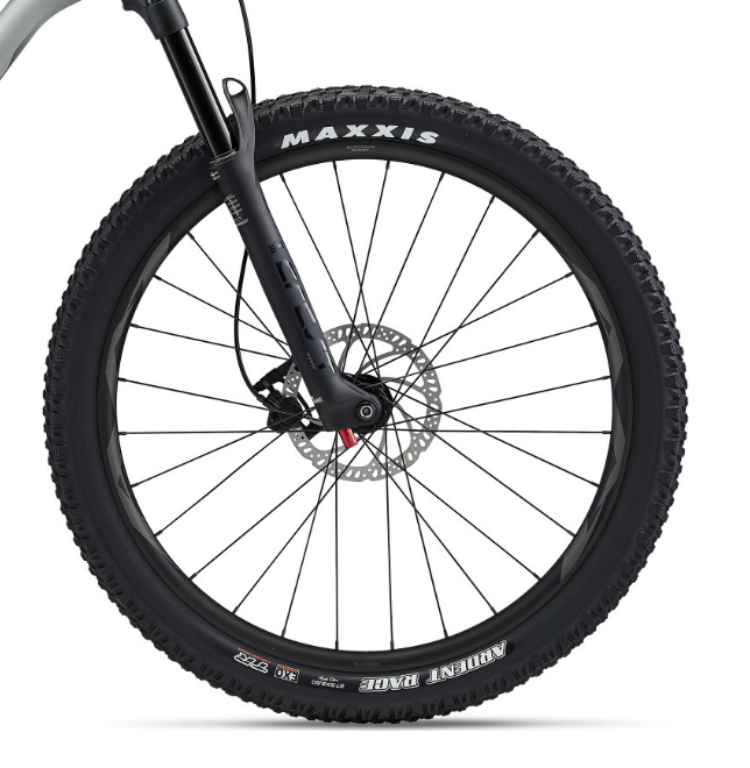 The acclaimed Maxxis Ardent vacuum tires are also an indispensable and optimal complement to the Giant Fathom.
First of all, the Maxx Speed compound not only reduces rolling resistance but allows the tire to have a faster-rolling speed. And EXO's special cut and abrasion-resistant material, which is very soft, ensures that the tire's performance is not compromised in the face of rocks, aggression, and technical roads.
Secondly, being an MTB tire, the Maxxis Ardent Race shares the same characteristics as the Ikon – a small, sloping center tread. So there is a small rolling resistance in the center of the tread, while the side knobs of different heights do not lack grip and will grip the road firmly at the corners of
Finally, Giant's Tubeless System means that the tires will have less potential for air leakage. The tires will perform smooth and fast rotation for a long time and efficiently.
In addition, vacuum tire support allows you to run with lower pressure. So you can reduce the weight of the tire while increasing comfort.
Other versions of Giant Fathom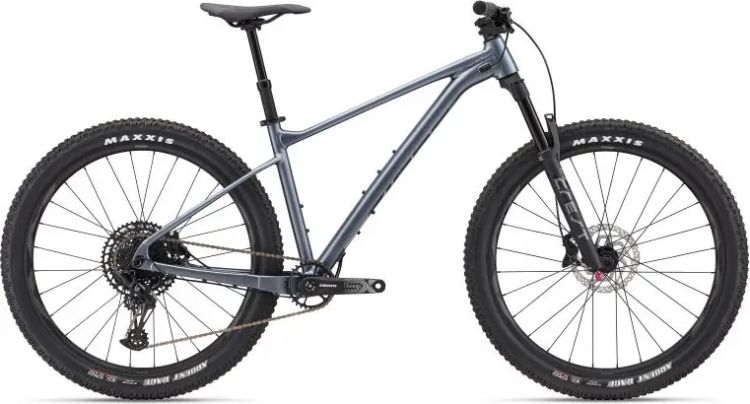 As mentioned before, in addition to the Giant Fathom 2, its "older brother", the 2022 Giant Fathom 1, is even more impressive than its performance.
For those who like SRAM operating logic, the more advanced SRAM NX Eagle, and SX Eagle groupset will not let you down. First of all, the 1×12 drivetrain with Shimano BR-MT420 hydraulic is very simple and easy for both climbing and speed descending.
Secondly, both bikes come in a 29″ size for riders who prefer larger tires.
If you like the feel of SRAM, the Fathom 1 will take you on a different kind of mountain trail ride. And if you're not averse to Shimano, the Fathom 2 will save you $350.
If you are also interested in other models mentioned above, you can follow us. We will continue to update more interesting bicycle real-life tests.
What we like about it
The frame with the advanced ALUXX SL Aluminum technology is not only lightweight but also very strong.
The Stem with the OverDriver technology will ensure a more flexible steering function.
Shimano Deore's power drivetrain and braking system give the rider plenty of confidence to be active on the mountain.
The standard but characteristic geometry design allows the rider to have a faster speed as well as responsive handling to feel the joy of riding.
The design of the internal alignment is very simple and beautiful, and also makes the riding process have fewer tangles.
Remote switch with Giant Contact dropper, making climbing or descending easier.
What we don't like about it
Riders who prefer an upright riding position may be disappointed with it.
FAQs
What is the drivetrain of the 2022 Giant Fathom 2?
The 2022 Giant Fathom 2's drivetrain is a Shimano Deore M-4100 1×10 speed.
What are the tire sizes for the 2022 Giant Fathom 2?
The 2022 Giant Fathom 2 has 27.5×2.6″ tires. But in addition, there is the 2022 Giant Fathom 29 2 for riders who prefer 29 x 2.5″ tires.
How to buy the 2022 Giant Fathom 2?
I purchased mine from Giant's official website, which is very convenient. You can also go to a local authorized dealer.
What size of 2022 Giant Fathom 2 should I get?
This is the size chart I found on the official website, you can refer. I can't guarantee it will fit. I suggest you go to Giant special authorized dealers for a test ride.
| | | |
| --- | --- | --- |
| Rider Height (cm) | Rider Height (in) | Frame Size |
| 163cm – 172cm | 5'4″ -5'8″ | S |
| 171cm – 180cm | 5'7″ -5'11" | M |
| 179cm – 188cm | 5'10" -6'2″ | L |
| 187cm – 198cm | 6'2″ – 6'6″ | XL |
2022 Giant Fathom 2 Specs
Build
| | |
| --- | --- |
| Frame | ALUXX SL-Grade Aluminum Colors: Concrete; Phantom Green |
| Fork | Giant Crest 34 RCL, 130mm, 44mm offset, Boost 15×110 |
| Rear Shock | N/A |
| Bottom Bracket | Praxis, press fit |
| Stem | Giant Contact SL 35 S:40mm, M:40mm, L:50mm, XL:50mm |
| Handlebar | Giant Contact TR35, 780x35mm |
| Saddle | Giant Romero |
| Seatpost | Giant Contact Switch dropper, remote S: 125mm travel / 30.9 x 395mm M: 125mm travel / 30.9 x 395mm L: 150mm travel / 30.9 x 440mm XL: 170mm travel / 30.9 x 450mm |
| Pedals | Platform |
| Grips | Giant Sole-O |
Wheels
| | |
| --- | --- |
| Rims | Giant AM 27.5, tubeless ready sleeve-joint rim, 30mm inner width |
| Spokes | stainless |
| Front Hub | alloy, sealed |
| Rear Hub | alloy, sealed |
| Tires | Maxxis Ardent Race 27.5×2.6, folding, TR |
Groupset
| | |
| --- | --- |
| Rear Derailleur | Shimano Deore M-5120 |
| Front Derailleur | N/A |
| Crank | Praxis Cadet M24, 30t S:165mm, M:170mm, L:170mm, XL:170mm |
| Shifters | Shimano Deore M-4100, 1×10 |
| Cassette | Shimano Deore M4100, 11×46 |
| Chain | KMC X10 |
| Brakes | Tektro HDM 275, hydraulic, Tektro rotors [F]180mm, [R]180mm |
| Brake Levers | Tektro HDM 275 |
Video
Comparison Table
2023 Trek Roscoe 7 vs 2022 Giant Fathom 2
I have to admit that the 2023 Trek Roscoe 7 is indeed impressively fast. But its performance in the mountains lacks agility, as its 131mm trail doesn't lie.
Therefore, you can't expect it to be responsive even at the moment when you want to operate and show off your skills.
In other words, if you're an ambitious runner who wants to perform, the Fathom 2 might be a better fit. But if you just want to challenge your speed, the 2023 Trek Roscoe 7 is fine.
Learn More: Is Trek Roscoe 7 Worth Buying? [Trek Roscoe 7 Review]
2022 Marin San Quentin 2 vs 2022 Giant Fathom 2
Many people think that the 2022 Marin San Quentin 2 and Giant Fathom 2 are similar because they have the same size tires and fork travel.
Marin San Quentin has a more aggressive geometry, as the Stack/Reach Ratio of 1.29 speaks for itself.
So, if you think Giant Fathom 2 is aggressive, you may not be able to straighten your back if you ride the 2022 Marin San Quentin 2.
So between the two, I'd be more partial to the Giant Fathom 2.
Learn More: Is MARIN SAN QUENTIN 2 Worth Buying?
2022 Canyon Stoic 4 vs 2022 Giant Fathom 2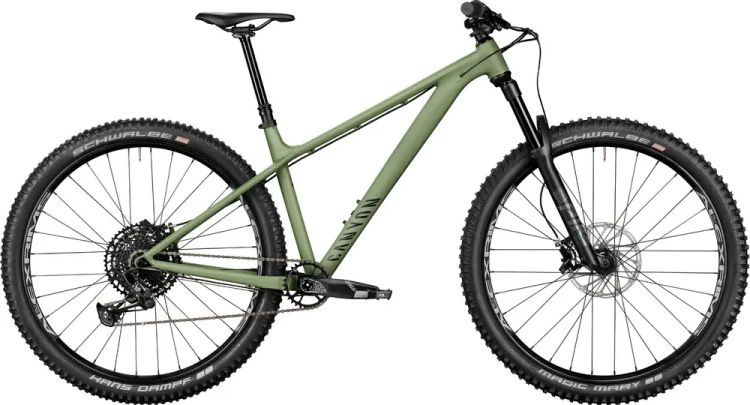 Although the 2022 Canyon Stoic 4 has impeccable speed as well as groupset, it has a fatal flaw. That is, Proposition 65 Warning contains cancer-causing chemicals, so most users steer clear of it.
I understand that. After all, there are plenty of reliable and fun bikes like the Giant Fathom 2 to choose from, so why get hung up on one with a harmful composition? However, if you're worried, the Giant Fathom 2 might be an option for you.
Learn More: Is Canyon Stoic 4 Worth Buying? [Canyon Stoic 4 Review]
2022 Kona Honzo vs 2022 Giant Fathom 2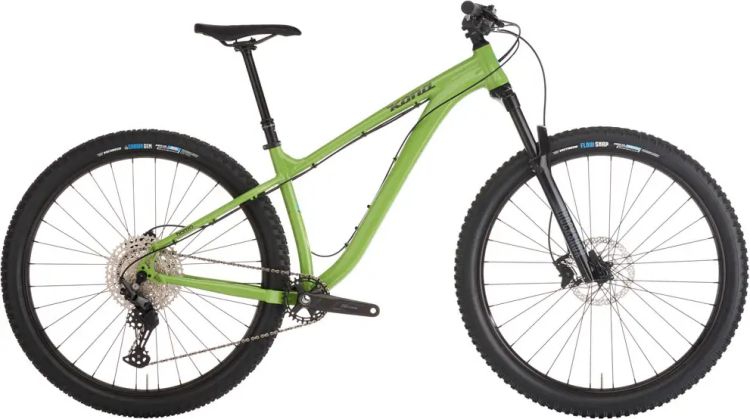 The 2022 Kona Honzo has a more expensive price than the Giant Fathom 1, but it doesn't have an advantage over the Fathom 1 in terms of the groupset.
Because the same 130mm travel fork with Deore's 1×11 speed powerplant makes me think it's not worth the price.
So why not consider the Giant Fathom 1 for riders attracted by the Kona Honzo? It has a more advanced drivetrain not to mention. And with wider tires, offers improved passability and comfort.
Learn more : Is Kona Cinder Cone Worth Buying? – [2023 Kona Cinder Cone Review]