We use affiliate links and may receive a small commission on purchases.
2023 Kona Cinder Cone Review
Price: $1199
Frame: Aluminum
Wheels: 27.5″
Gear: 1×11
What we like about it: Lightweight and durable frame with the versatility of a hardtail trail bike.
What we don't like about it: The suspension system with limited effect.
Rating: (4.7/5)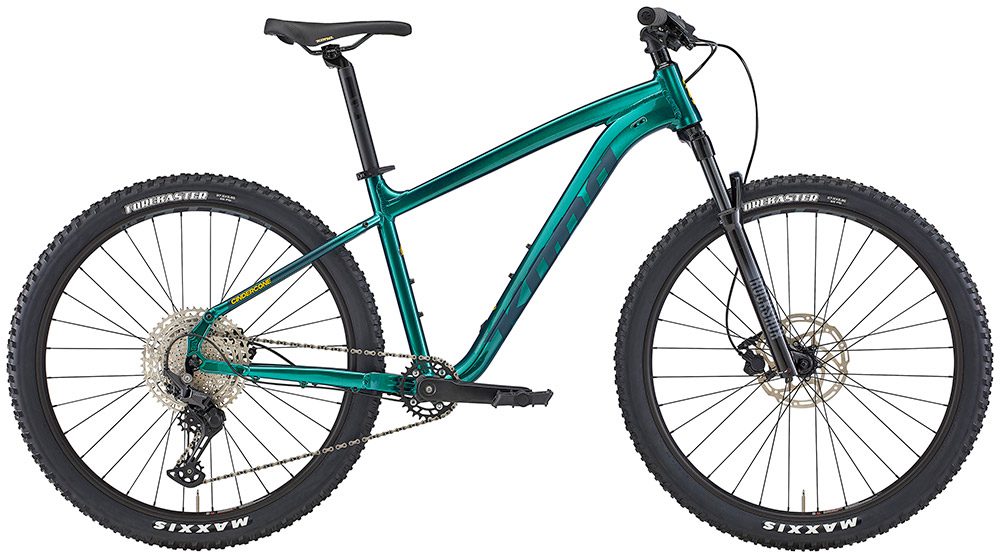 Kona is a US-based bicycle company that was founded in 1988 and has offices in Ferndale, Washington and Vancouver, British Columbia. It is a brand that is committed to creating high-performance mountain, road, and urban bicycles.
Kona bicycles are known for their excellent design and manufacturing, high-quality products, and good reputation, and they perform exceptionally well in different types of riding.
The Cinder Cone, a hardtail mountain bike launched by Kona, has been a popular choice for mountain bike enthusiasts for many years.
With its outstanding performance and versatile design, it can handle various terrains and riding styles, providing riders with the best riding experience.
In this article, we will analyze the riding experience, specifications, and other versions of the Kona Cinder Cone. If you want to learn more about bicycle reviews, you can follow us.
Riding Experience
This Kona Cinder Cone has been with me for the past year. It has led me through all kinds of complicated terrain, conquering one rough road after another. I have to say, this bike is even better than I thought it would be, it's my soul mate.
Before I started this trip, I booked accommodation with TrustedHousesitters. As you know, it made me very familiar and comfortable, and pets are allowed.
Climbing
This time we selected a challenging road called Phil's Trailhead in Bend, Oregon. Here we will encounter more challenges and more interesting rides. So we chose a path that began with a steep climb, winding through a dense forest.
There were protruding rocks and ancient tree roots scattered on the road. This foreshadowed the challenges we were about to face, but I still had confidence in the Kona Cinder Cone.
I switched to the lowest gear and started the long and slow ascent. This process was very difficult, and sweat dripped down my face.
Although it was hard, when I pushed myself higher and higher, I felt an uplifting feeling. The Shimano Deore 11-speed drivetrain also played an important role in this process, with its quick response capability providing great assistance.
As I continued to climb, the surrounding trees became fewer, and I saw more charming scenery. When I reached the top, my heart was pounding, and I was covered in sweat.
But I felt a sense of pride and accomplishment, and with the wind blowing, we stopped and shouted. I knew that the Kona Cinder Cone did not disappoint me, and once again, I conquered a new road.
Descending
At the top, we took a brief rest and began our journey downhill because I knew there were more scenic views waiting for us. Unlike climbing, the downhill road was fast.
With the slope turning, it became more dangerous and required more attention from us. In the middle of this road, there were technical difficulties, steep drops, and narrow turns that required quick reactions and precise operations.
But the Kona Cinder Cone could handle this challenge well. The use of RockShox Judy Silver TK Solo Air 100mm front suspension fork effectively absorbed the bumps and shocks on the road.
Thanks to its excellent geometry design, I could easily handle these twists and turns.
As I continued riding, the terrain began to change, and my vision widened. Exposed rocks began to appear on the road, testing the stability of the bike.
The Maxxis Forekaster 27.5×2.35″ tires performed satisfactorily in this regard, providing enough grip and traction to ensure my smooth ride. Paired with the Alhonga HT472 Hydraulic brake system, it ensured my riding safety.
The outstanding performance of the Kona Cinder Cone impressed me and gave me enough confidence to push myself to the limit.
When I jumped into the air and thundered through the guardrail, my body and bike worked perfectly together. My heart was pounding, and my hands were shaking, but there was pure joy and satisfaction. I had tested myself and my bike to the limit, and we had won.
Specification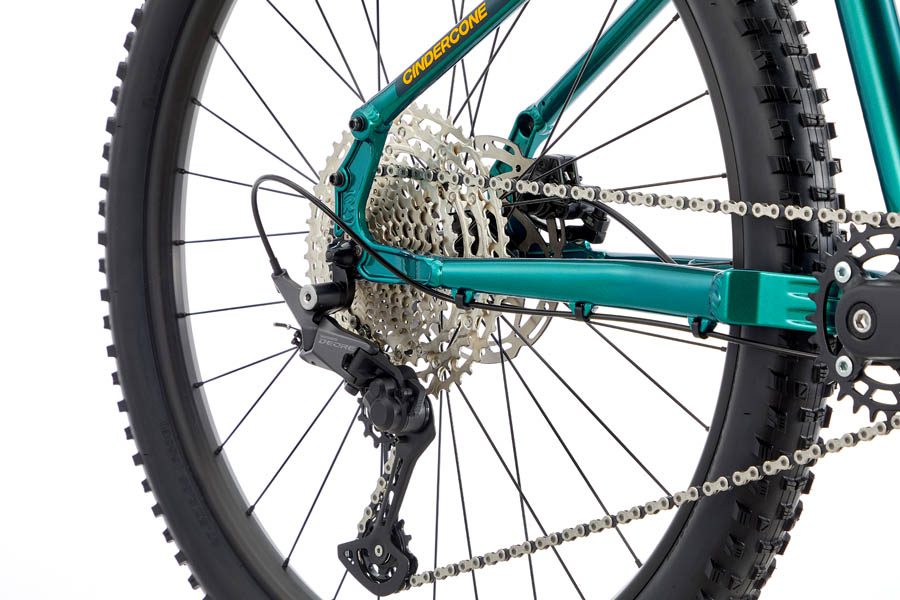 This Cinder Cone continues the Kona style with the usual 6061 aluminum frame.
This excellent material is very light and durable. This makes the Cinder Cone able to withstand the rigors of trail riding without burdening the rider.
It is worth mentioning that its geometric design is also excellent. It has a relatively slack head angle and a low bottom bracket height.
This gives you a more comfortable and responsive ride. This combination helps to provide stability at higher speeds and has great handling especially when facing technical terrain.
For components, a RockShox Judy Silver TK Solo Air fork is used, with 100mm of travel to help absorb shock and smooth out rough terrain.
For the drivetrain, the Shimano Deore 11-speed system is used, providing you with reliable gear changes and a wide range of gears for steep climbs and fast descents.
The Alhonga HT472 Hydraulic braking system and the Maxxis Forekaster 27.5×2.35″ tires are used. Together, these components provide a reliable and versatile bike for a wide range of trail riding applications.
What do we like about it?
Versatility: This is a bike with the versatility to handle a variety of terrain types and riding styles, with excellent performance whether climbing or descending.
Lightweight bicycle: with a lightweight and durable aluminum frame, it has more flexible handling and agility.
Responsive handling: The geometry is designed to provide a responsive and agile ride, which helps the rider navigate technical terrain with ease.
Comfortable ride: 100mm of travel can effectively cope with the impact on the road, bringing a smoother and more comfortable ride.
What don't we like about it?
Limited suspension: May not be as comfortable in rough terrain or on long rides.
FAQ
What type of riding is Kona Cinder Cone suitable for?
As a hardtail bike, it is suitable for riding on singletrack trails, cross-country trails, and other off-road terrain. It can handle a variety of riding styles, from fast downhill to technical climbs, but is not designed for downhill racing or extreme freeriding.
What size tires does the Kona Cinder Cone come with?
The Kona Cinder Cone is on 27.5-inch wheels with 2.3-inch wide tires.
Is Kona Cinder Cone suitable for beginners?
Certainly a great choice as a versatile hardtail trail bike for the beginning rider who is looking for a reliable and quality bike to learn on.
How to choose the right size?
Here we have provided you with a size chart. Of course, it doesn't have to be according to this standard, and the best way to find the most suitable size is to test ride.
| | |
| --- | --- |
| Rider height | SIZE |
| 152cm – 171cm | SM |
| 157cm – 183cm | MD |
| 175cm – 196cm | LG |
| 180cm – 196cm | XL |
Specs
Build
| | |
| --- | --- |
| Frame | Kona Race Light 6061 Aluminum ButtedColor: Gloss Metallic Green w/ Matte Black Forest & Indicator Yellow Decals |
| Fork | RockShox Judy Silver TK Solo Air 100mm |
| Rear Shock | n/a |
| Bottom Bracket | FSA BB7420 73mm |
| Headset | Feimen HP-H868B |
| Stem | Kona XC |
| Handlebar | Kona XC/BC Riser |
| Saddle | Kona XC |
| Seatpost | Kona Thumb 31.6mm |
| Pedals | Kona JS2 |
| Grips | Kona Key Grip Slip on |
Groupset
| | |
| --- | --- |
| Rear Derailleur | Shimano Deore |
| Front Derailleur | n/a |
| Crank | Prowheel 11spd, 28t |
| Shifters | Shimano Deore |
| Cassette | Shimano Deore 11-51t 11spd |
| Chain | KMC X11 |
| Chain Guide | n/a |
| Brakes | Alhonga HT472 Hydraulic |
| Brake Levers | Alhongo HT472 Hydraulic |
Wheels
| | |
| --- | --- |
| Rims | WTB ST i27 TCS 2.0 |
| Spokes | Stainless Black 14g |
| Front Hub | Formula 100x9mm (centerlock) |
| Rear Hub | Shimano 135x10mm (centerlock) |
| Tires | Maxxis Forekaster 27.5×2.35″ |
| Disk Rotors | Alhonga 180mm (centerlock) |
Video
Comparison Table
| | | | | |
| --- | --- | --- | --- | --- |
| Bicycles | Click View | Drivetrain | Frame material | Groupset |
| 2023 Cannondale Trail 8 | Click View | 2 × 7 | Aluminum | microSHIFT |
| Trek X-Caliber 9 | Click View | 1 × 12 | Aluminum | Shimano XT, SLX |
| Specialized Rockhopper 26 | Click View | 2 × 8 | Aluminum | microSHIFT Mezzo, microSHIFT Marvo |
| Giant Talon 4 | Click View | 1 × 8 | Aluminum | microSHIFT Advent |
Kona Cinder Cone vs 2023 Cannondale Trail 8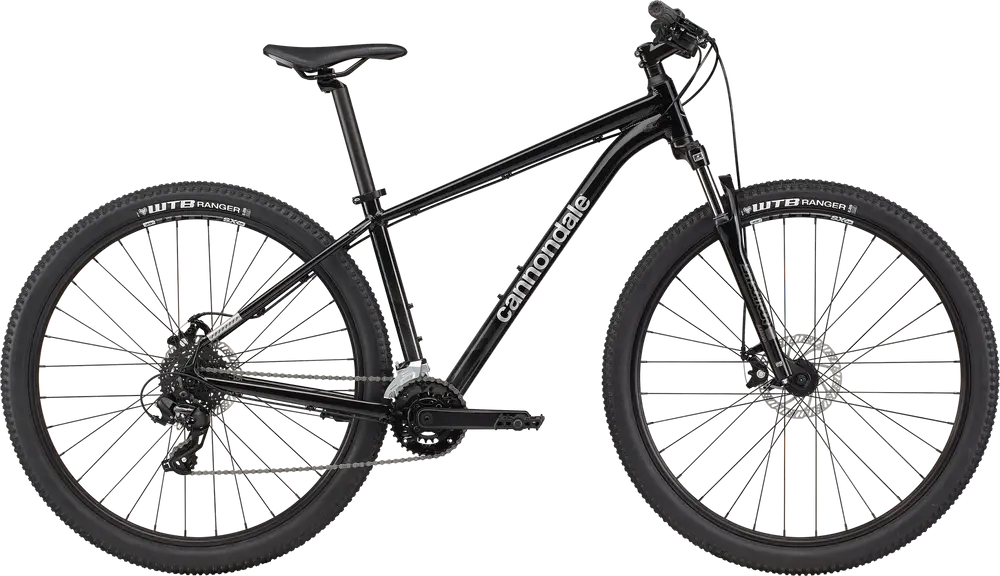 The Cannondale Trail 8 is a mountain bike designed to improve your racing skills and inspire your passion for mountain trails.
It is specifically designed for mountainous regions and is always ready to handle any situation. It features a lightweight and durable SmartForm C3 alloy frame and a 7-speed drivetrain that provides a better riding experience.
Two different wheel sizes provide the best fit, speed, and fun for each rider.
However, if you frequently encounter steeper and more challenging terrain, the Cannondale Trail 8 may struggle.
The Kona Cinder Cone, on the other hand, with its Shimano Deore 11-speed system, provides reliable shifting and a wide range of gears to handle steep climbs and fast descents.
Paired with a durable aluminum frame, it can handle more complex terrain and is the top choice for riders who pursue thrilling rides.
Learn More: Is Cannondale Trail 8 Worth Buying? [2022 Cannondale Trail 8 Review]
Kona Cinder Cone vs Trek X-Caliber 9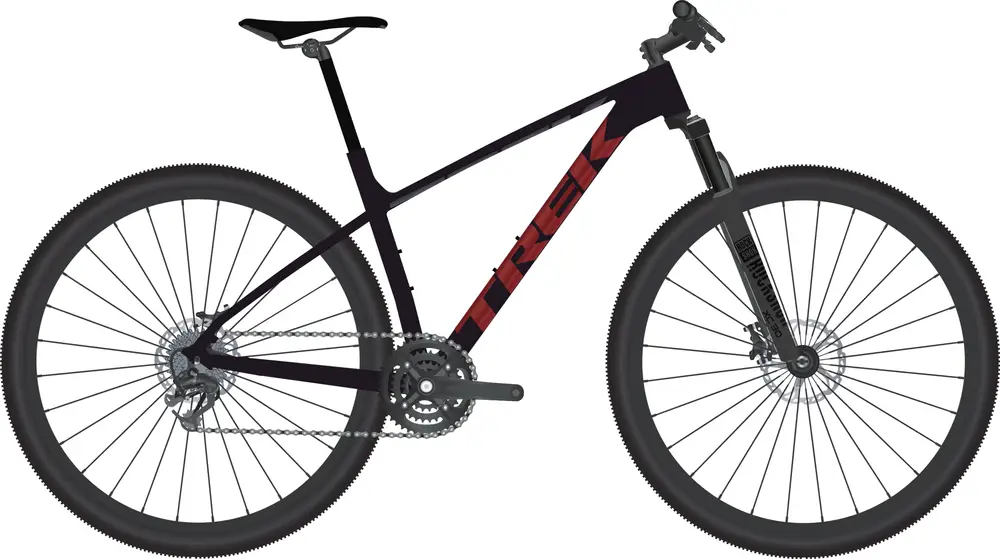 The Trek X-Caliber 9 is the high-end model of the X-Caliber series, a cross-country mountain bike designed for racing with components specifically designed for competition.
The RockShox Recon fork, 1×12 Shimano XT/SLX drivetrain, and wide-range freewheel make it an excellent choice for fast singletrack riders. It is an excellent hardtail bike for out-of-the-box use.
In contrast, the Kona Cinder Cone is a perfect choice for those who want to ride off-road or cruise on remote bike trails.
With an air fork with 100mm of travel, a reliable 11-speed drivetrain, and disc brakes, it can easily handle complex terrain whether you're climbing or descending. If you're looking for versatility and more fun riding, then the Kona Cinder Cone may be a better choice.
Learn More: Is Trek X-Caliber 9 Worth Buying? [Trek X-Caliber 9]
Kona Cinder Cone vs Specialized Rockhopper 26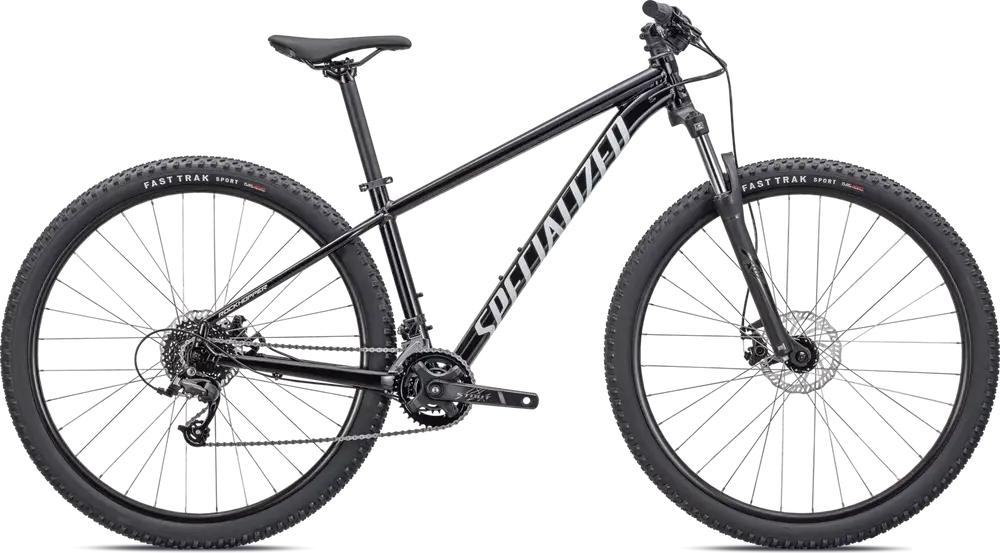 As an entry-level hardtail bike series created by Specialized, this Rockhopper 26 has done everything possible to bring more possibilities to riders within a limited budget.
Shimano and MicroSHIFT collaborated on a powerful 2×8 drivetrain system that can handle any problems you encounter. The confident braking of the Radius CX7 mechanical disc brakes lays the foundation for the century deal.
However, when faced with more complex terrain, these components may not perform as well as expected. If the Rockhopper 26 is designed for beginners, then the Kona Cinder Cone can be considered an advanced choice.
With the Shimano Deore 11-speed drivetrain system, Alhonga HT472 hydraulic brakes, and Maxxis Forekaster 27.5×2.35″ tires, it provides a reliable, versatile bike for a wider range of off-road riding.
Kona Cinder Cone vs Giant Talon 4
The Giant Talon 4 is an excellent choice for XC and off-road riding, with a lightweight ALUXX aluminum frame, classic hardtail design, and larger 29-inch or 27.5-inch wheels.
Its professional geometry design combined with an SR Suntour XCE 80mm front fork performs well in handling vibrations, bringing you a more confident ride, and is particularly suitable for riders who want to take their off-road skills to a new level.
However, if you're looking for even more, consider the Kona Cinder Cone. It has a wider range of gears and a larger travel, which means it can handle more complex terrains.
The application of hydraulic disc brakes also brings more secure riding protection, making it a perfect companion for those seeking more excitement and challenge.
Learn More: Is Giant Talon 4 Worth Buying? [2022 Giant Talon 4 Review]
Summary
To sum up, the Kona Cinder Cone is a carefully designed hardtail mountain bike that has achieved a good balance between performance, durability, and value. Whether you are a beginner or an experienced rider, this bike is a great choice for tackling various off-road terrains.
If you're interested in trying out more high-end hardtail bikes, please check out our related tests.
Finally, if you like our content, feel free to share it with your friends! If our content has been helpful to you, you can click on the subscribe button below to subscribe to our newsletter. Thank you for your support!