We use affiliate links and may receive a small commission on purchases.
Decathlon Triban Abyss RC100 Review – A Must-see Road bike For Newbies
MSRP: $599.00
Frame: Aluminum
Wheels: 700 x 32c
Drivetrain: 1×7
What we like about it: Cheap, practical, and powerful entry-level road bike.
What we don't like about it: Rim brake is slightly outdated.
Rating (4.7/5)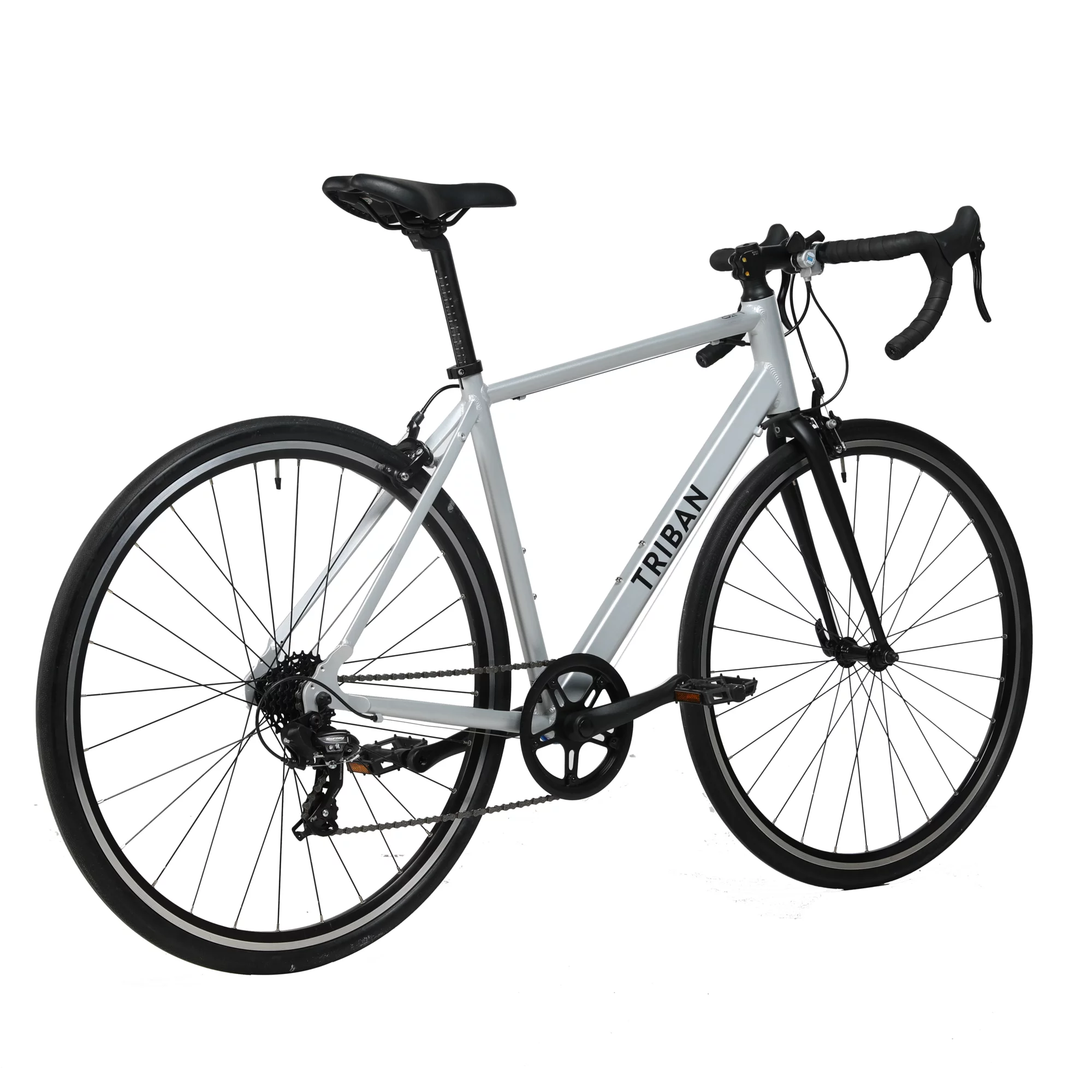 We have to admit that the Decathlon Triban Abyss RC100 is a great opportunity for budget-limited beginner riders to get into road cycling.
With a lightweight and durable aluminum frame, a 7-speed Shimano A050 single-disc shifting system, and a Tektro RL 340 brake, this bike will exude its charm on flat or mildly hilly terrain.
Although the Triban Abyss RC100 doesn't look high-end, it has also been designed with details that allow the user to enjoy as much comfort as possible. The more upright riding position is friendly and familiar to entry-level riders. The comfortable and practical handlebars, pedals, seat, and other configurations not only ensure the user's comfort but also make the bike truly usable out of the box, without the need for the newbie party to consider other accessories.
Here we analyze the riding experience, frame features, components, and specifications of the Decathlon Triban Abyss RC100 and other versions.
If you want to learn more about bicycles, please remember to follow us.
General Riding
The Triban Abyss RC100 with 700 x 32c tires is tailor-made for urban road riding. Since this tire size is also very close to a typical endurance road bike, I often ride it to and from work and around the block.
With its very comfortable geometry, this bike has a near-upright seating position, which gives me an inexplicable sense of relaxation after sitting in the office for a long time. Likewise, such a position is comfortable for newcomers to ride. Because from the waist, shoulders, neck, arms, and legs are stretched and relaxed.
I like its curved handlebar with speed control gearshift. On the one hand, it always provides a more comfortable grip position after a long time, so the fatigue of my hands can be relieved. On the other hand, it's very convenient for me to control the gears as well as the brake switch, and when I encounter a road that needs to slow down or stop, I just need to grip the brake lever slowly to achieve the desired effect.
The bike is also equipped with a water bottle holder mounting hole, which I took full advantage of, and will put supplies there on the weekend and head out. Unfortunately, the fender mounting holes do not support full-size fenders, so I hope the next version of the Decathlon Triban Abyss RC100 will make improvements to this issue. By the way, if you want to go riding in well-known terrain or special terrain, you can book your accommodation on IHG Hotels & Resorts. It is not only rich in variety but also easy to operate.
Gravel Riding
While the Decathlon Triban Abyss RC100 is more road-ready, its versatile tires said it was more than happy to be tested on gravel rides as well. So we also took the bike for an unusual ride on the flatter gravel roads of the town's countryside.
What impressed me was its Hybrid road/trail tires, which were not wide enough, but its double-headed bolts on the sides had a strong grip on this gravel road and made me feel safe.
As I pedaled, the wheels ruthlessly crushed the small stones beneath and I started to relax. To add, the bike had no suspension system whatsoever, nor the tires type to absorb the shocks, but the B'Twin Sport aluminum seat post combined with the Sport 100 Black seat foam with high cushioning, gave me a feeling of security. Facing bad roads, they massaged me like they do, making me feel comfortable.
When I encountered an uphill section, I also tried to dial in the shifting to reduce pedaling pressure. Although the Shimano A050 shifting system only has a 7-speed shift option, the operation is easy enough to handle such mild hills with no problem at all. However, if faced with a steep slope, the rider still needs to exert more energy.
Main Feature
Frame Group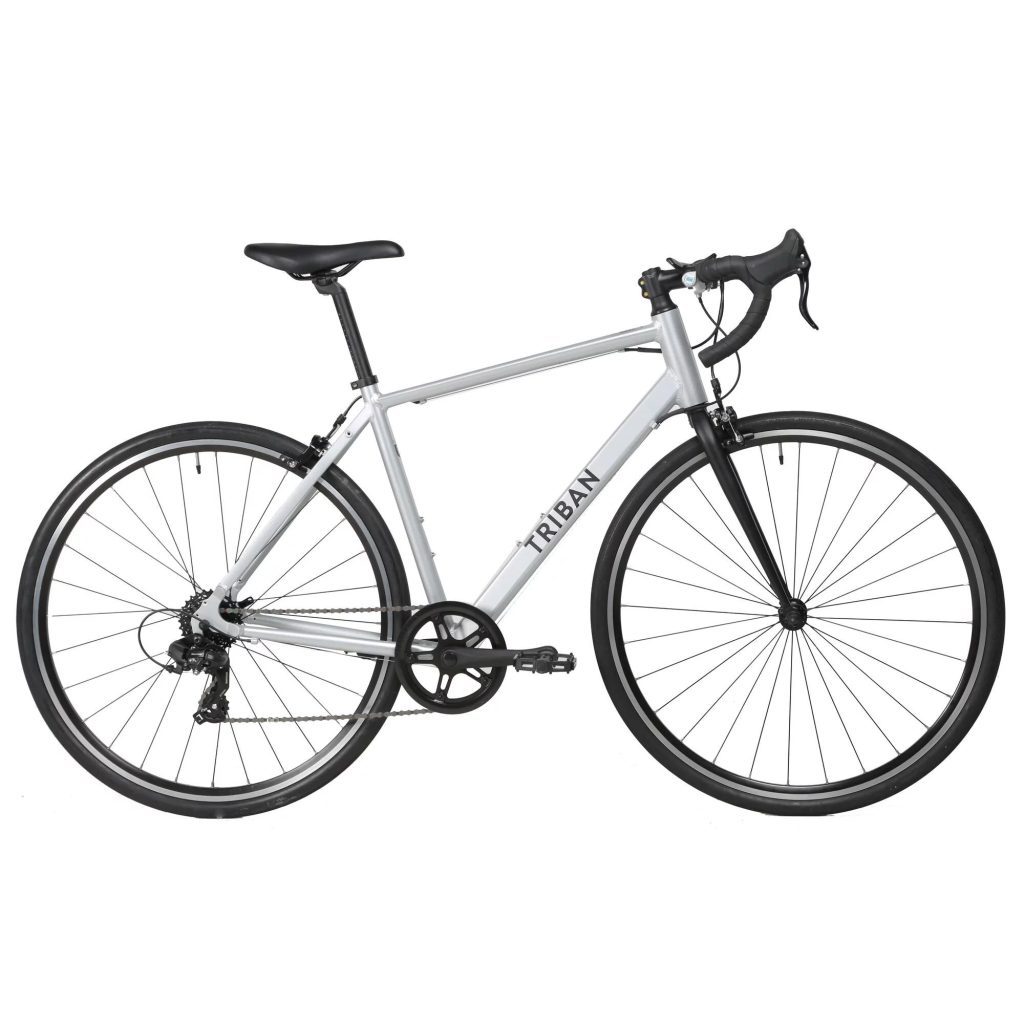 The reliable aluminum frame with the comfortable and durable straight steel fork is designed to provide Triban Abyss RC100 users with more comfort and wash away the tiredness of the journey. With a higher steering socket and a shorter top tube, the bike is to some extent more upright than the classic road frame. Therefore, the user gets an improved feeling of both sitting comfort and handling performance.
To our surprise, the less-than-$600 Triban Abyss RC100 doesn't give up on the pursuit of exteriors either. Although there is no hidden internal alignment design, the designer has put the effort into fixing and coloring the important alignment – with the alignment closely fitting the top and bottom pipes and in line with the body color, which adds to the aesthetic appeal. And the silver and white paint job makes the bike look clean and tidy while being very stylish.
In addition, the curved handlebars of the aluminum B'Twin Sport not only provide the rider with more comfortable control positions but also look very professional and beautiful.
It is commendable that Decathlon officially stated clearly that it will provide a lifetime warranty commitment for the frame, handlebars, stem, and fork of this bike.
Components and Specifications
Shimano A050 1×7 speed Drivetrain
The single chainring is more popular than the bulky and less practical multi-disc drive system. They not only reduce the burden for the rider but also simplify the operation steps, more convenient to use.
To allow beginners to better adapt to the shifting system, the Triban Abyss RC100 was chosen to be paired with the easy-to-operate Shimano A050 7-speed gearshift to complete the journey.
The gearshift is not only comfortable and more ergonomic to hold, but it is also easily activated by the rider's thumb or index finger without the need to loosen the top of the handlebars, and the shifting is very fast and precise.
Of course, we must also admit that a 7-speed drivetrain system or a 10-speed system is too common and seems a bit ordinary.
It can't help people reach the top easily on steeper slopes though. But it is the most economical and practical drivetrain that can optimize the rider's way of getting around in general life scenarios.
Tektro RL 340 Brake System
While rim brakes don't seem to be as popular these days, they are still common on many rides that are looking for a lighter, more economical ride. And the Tektro RL340 brake levers used on the Triban Abyss RC100 are perfect for those hard-working riders.
This ergonomically designed, lightweight pneumatic brake lever is very easy to use. The brake lever has a quick-release mechanism for releasing tension on the brake cable. With just a toggle of the rider's lever, the road bike caliper will bite tightly into the tire, driven by the durable cable, slowing its rotation frequency.
While the braking is not as effective and precise as those disc brakes, they never fail and are very reliable. Of course, players on a budget can also choose to upgrade their brake equipment, as the Tektro RL340 Aero brakes also support disc bites.
B'Twin Sport 700 X 32c Hybrid Tires
The reason why we also made the Decathlon Triban Abyss RC100 for gravel road review is because of its B'Twin Sport hybrid tires.
These tires also feel like they are tailor-made for road and trail training. 32c width is light on the road, but facing gravel may mean one loses some comfort.
The designers designed small studs on the surface of the tires to improve performance, while the sides of the tires have larger double-ended studs to provide grip. So the wheels can stand firm at all times on hard or loose ground and gravel roads.
Of course, to cater to a wide range of riding styles, the tires also support people on wet surfaces with beads on the surface that do not allow dangerous behaviors such as wheels sliding sideways.
In addition, the tires are also made with puncture protection, so it is very durable and wear-resistant as long as it is not dealing with complex gravel roads and general city roads.
What do we like about it?
The super affordable price gives all out riders a reliable choice.
The lightweight, durable aluminum frame is comfort-oriented and comforting to the rider.
The upright riding position makes riding easier.
Complete details of the configuration, not only make the comfort more three-dimensional, and let the bike do out of the box.
The simple but practical drivetrain and brake lever system allow speed control at your fingertips.
With the B'Twin Sport 700×32c hybrid tire, both road and gravel riding is supported.
The merchant promises to provide a lifetime warranty against manufacturing defects in the frame, fork, handlebars, and handlebars to protect the rights and interests of consumers.
What don't we like about it?
Rim braking is a bit outdated.
Full-size fender placement is less convenient.
FAQs
What is the tire size of the Decathlon Triban Abyss RC100?
The tire size is 700 x 32c and the B'Twin Sport hybrid tires support both road and gravel trail riding.
What is the drivetrain of the Decathlon Triban Abyss RC100 like?
The bike's drivetrain features an ergonomically designed Shimano A050 1×7 speed that is very easy to operate.
What are the Decathlon Triban Abyss RC100 brakes like?
The brakes on this bike may be complained about, but the fact is that the Tektro RL 340 brake grips have good grip, and braking is made easy.
What are the dimensions of the Decathlon Triban Abyss RC100?
This is the size chart we found on Decathlon's official website, you can use it as a reference. However, it may not fit everyone, and we recommend you to go to your local authorized dealer store to test ride the specific size.
| | |
| --- | --- |
| Rider Height (in) | Frame Size |
| 5'1″ -5'5″ | XS |
| 5'5″ -5'8″ | S |
| 5'8″ -5'11" | M |
| 5'11" – 6'2″ | L |
| 6'2″ – 6'7″ | XL |
Decathlon Triban Abyss RC100 Specs
Bike Frame
100% Aluminium 6061
Fork
Straight steel fork for greater comfort and precision. 1″1/8 aheadset pivot that ensures improved durability and rigidity of the steering
Handlebar / stem / steering
Aluminum B'Twin Sport handlebar – Handlebar width (axle-axle): 420 mm B'Twin Sport aluminum stem Length: XS: 90 mm S: 90 mm M: 90 mm L: 110 mm XL: 110 mm
Drivetrain
Indexed speed changes using 7-speed Shimano A050 shifter on the handlebar. Ergonomic and very comfortable: change speeds without letting go of the top part of the handlebar. This ergonomically-shaped lever fits the palm of your hand perfectly.
Crankset / cassette
Single chainring is easier to use and reduces weight significantly: 44 teeth.Cranks: 170 mm. Cassette: Microshift 12 x 28
Brakes
Tektro RL 340 brake levers with a good grip and excellent rigidity Cartridge brakes
Wheels
B'Twin 700 double-walled sport wheels. Quick-release mounting (9 mm) to facilitate transport and handling
Tires
The tread has small studs for increased performance. The sides of the tires have larger studs for better grip in bends on The sides of the tires have larger studs for better grip in bends on consolidated or loose ground and on gravel.
Saddle / seat post
B'Twin Sport 100 Black saddle B'Twin Sport aluminum seat post. Diameter: 27.2 mm for added comfort thanks to its flexibility Length: 250 mm on XS / S 350 mm on M / L / XL
Pedals
Versatile platform pedals for good grip when using on paths
Weight
24.9 lbs in size M, without pedals
Storage instructions
Store the bike in a cool, dry place away from sunlight. If riding or storing your bike in a salty environment, be sure to wash your bike after each use.
Guarantee
On this bike: Lifetime guarantee on the frame, handlebar, stem and fork. details on btwin.com.
Video
Comparison Table
Schwinn Sporterra Adventure Adult Gravel Bike vs Decathlon Triban Abyss RC100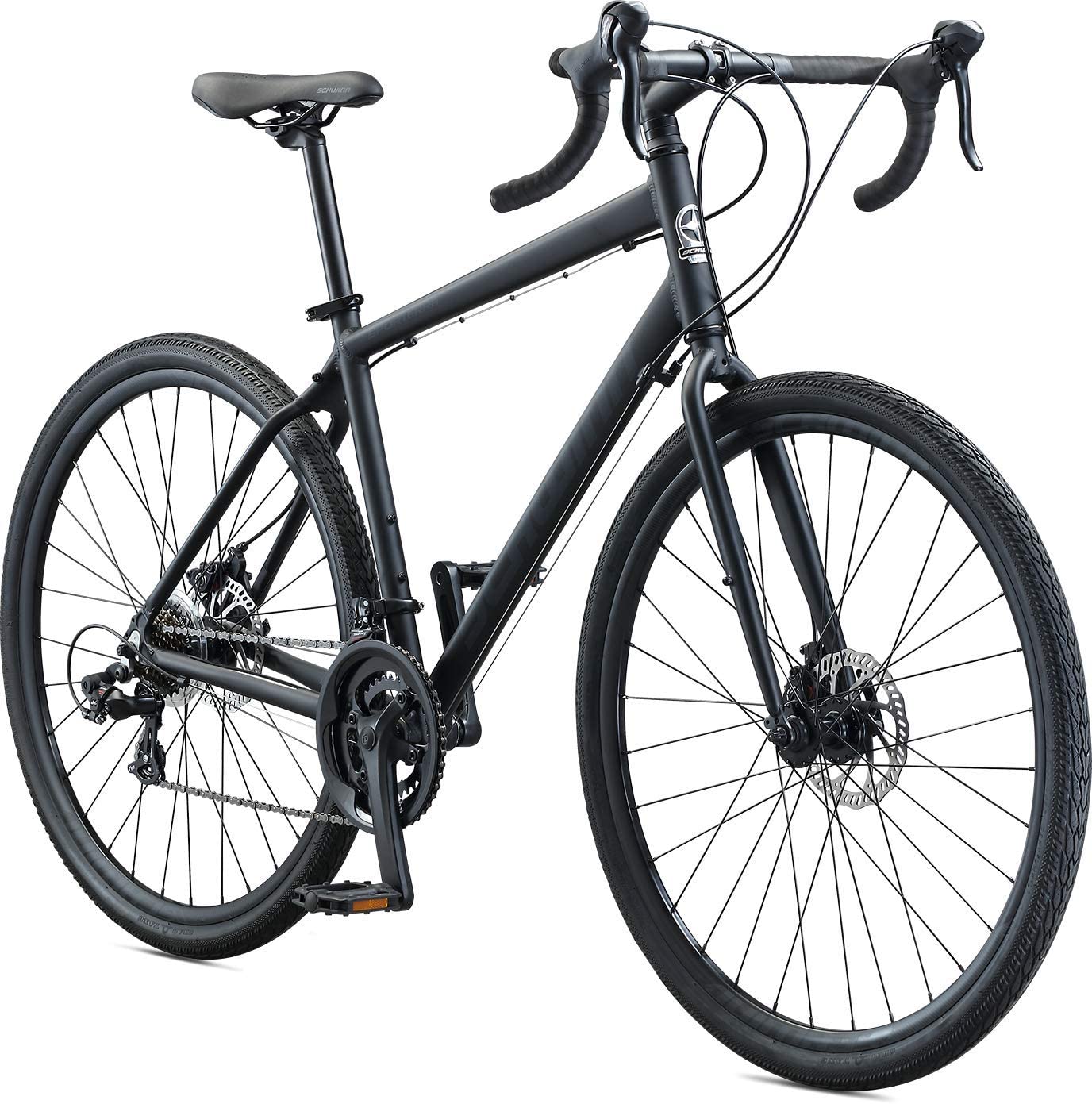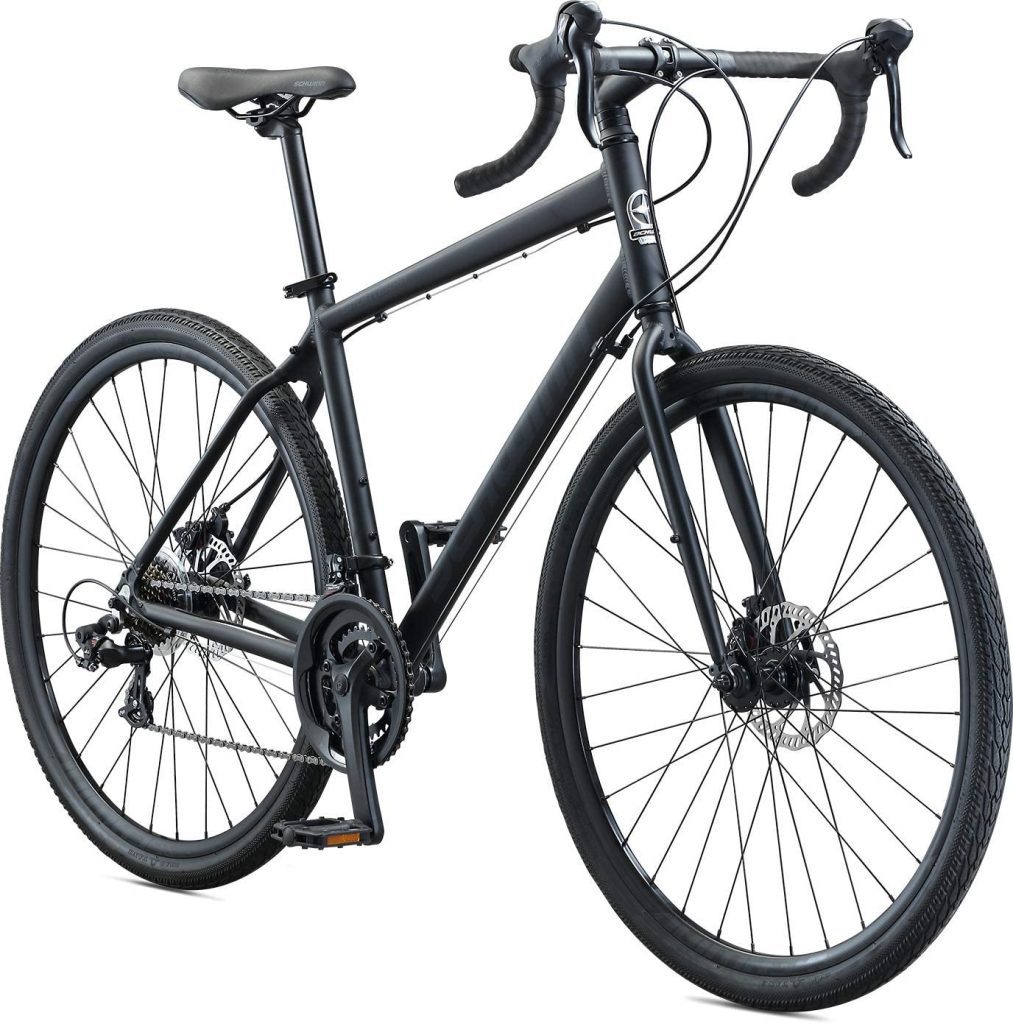 The Schwinn Sporterra Adventure Adult Gravel Bike is a more versatile bike than the Decathlon Triban Abyss RC100 bike.
The wider size 700×38c multi-terrain tires make the Sporterra more inclined to challenge off-road, gravel roads, and even some light mountain terrain. But similar to the Triban Abyss RC100, the Sporterra also uses a lightweight aluminum frame with a rigid fork, so its damping effect is not necessarily better than the Triban Abyss RC100.
Of course, it has alloy mechanical disc brakes that have more appeal to many riders who look forward to going out in all kinds of weather.
However, we must also recognize that Decathlon is positioning the Triban Abyss RC100 as a road bike, so comparing the two may not make sense. The bottom line is that the Triban Abyss RC100 is priced more friendly for most people, and it's available in a wider range of sizes, while the Schwinn Sporterra Adventure only fits riders between 5'4″ and 6'2″ tall.
Tommaso Fascino Sport Performance Aluminum Road Bike vs Decathlon Triban Abyss RC100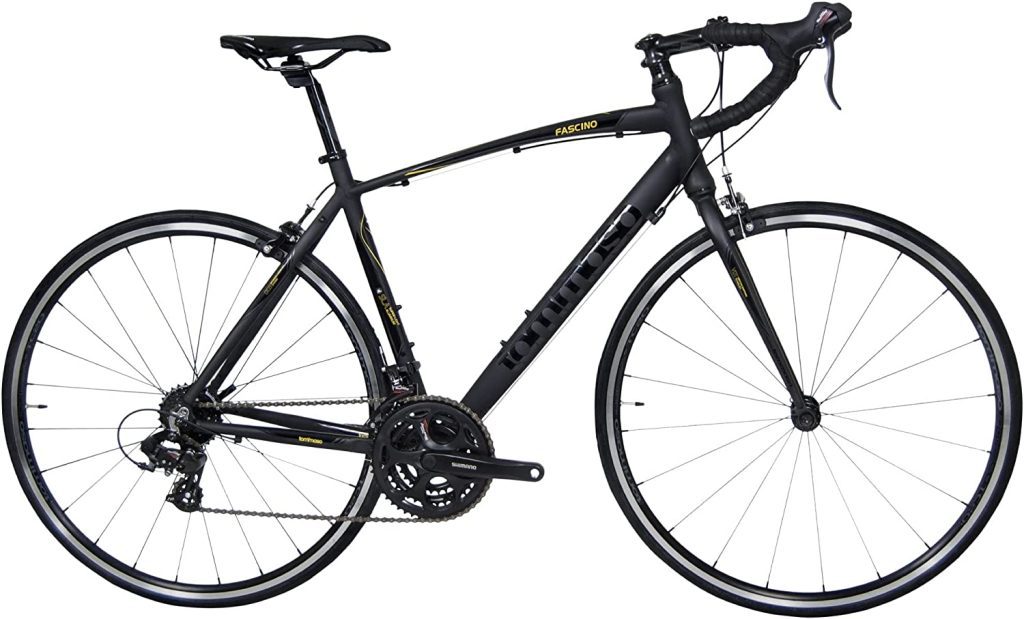 For riders with limited riding experience, the Tommaso Fascino Sport Performance Aluminum Road Bike with its 3×7 gear ratios appears to be more high-end at first glance.
But the truth is, experienced riders will tell you that there are not many advantages to a multi-disc drivetrain. Just like many higher-end 10-speed, 11-speed, and even 12-speed bikes, we hardly see their multi-disc structure, which is even a bit "outdated".
They are bulky and not very practical. Most importantly, for new riders, complex gear-shifting structures are not suitable for speedy roads.
Although the Tommaso Fascino Sport Performance is just as good on the road as the Decathlon Triban Abyss RC100, the price is friendly to entry-level riders as well. But the former is bulkier and doesn't have particularly bright details, so I can only say that it does what a road bike should do. The Decathlon Triban Abyss RC100 not only does its "job" but is lighter and easier to pedal.
Motobecane Gravel Super Road Bike vs Decathlon Triban Abyss RC100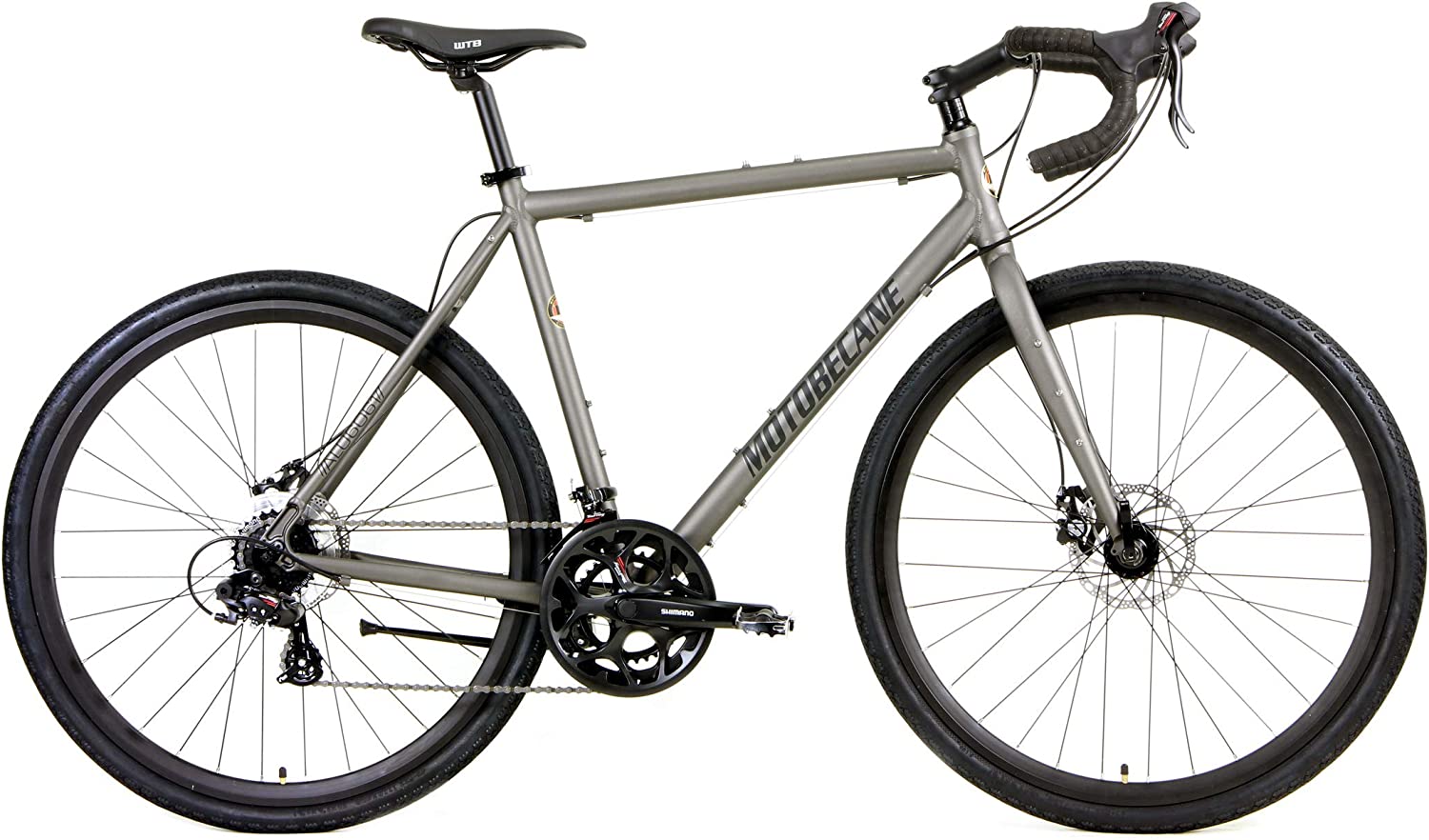 Compared with the gravel road bike Motobecane Gravel Super Road Bike in the same price range, Triban Abyss RC100 still has good competitiveness.
In terms of geometry, the Triban Abyss RC100 is close to an upright riding position and will not leave the user with a sore back at any time. The Motobecane Gravel Super Road Bike, on the other hand, has a more aggressive connotation and is not suitable for too long an endurance ride, especially for those older riders.
In addition, in the driving operation details, Triban Abyss RC100's comfortable grip with speed control gearshift curved handlebars with soft and comfortable B'Twin Sport 100 seat, always allows users to enjoy the trip. And Motobecane Gravel Super Road Bike chose to spend the money on the wheelset. As a result, we can't fault its speed performance, but comfort gets sacrificed.
If you're just expecting a fast bike, the Motobecane Gravel Super Road Bike is a great choice. But if you want to enjoy touring the Decathlon Triban Abyss RC100 is even better.
Giordano Libero Aluminum Road Bike vs Decathlon Triban Abyss RC100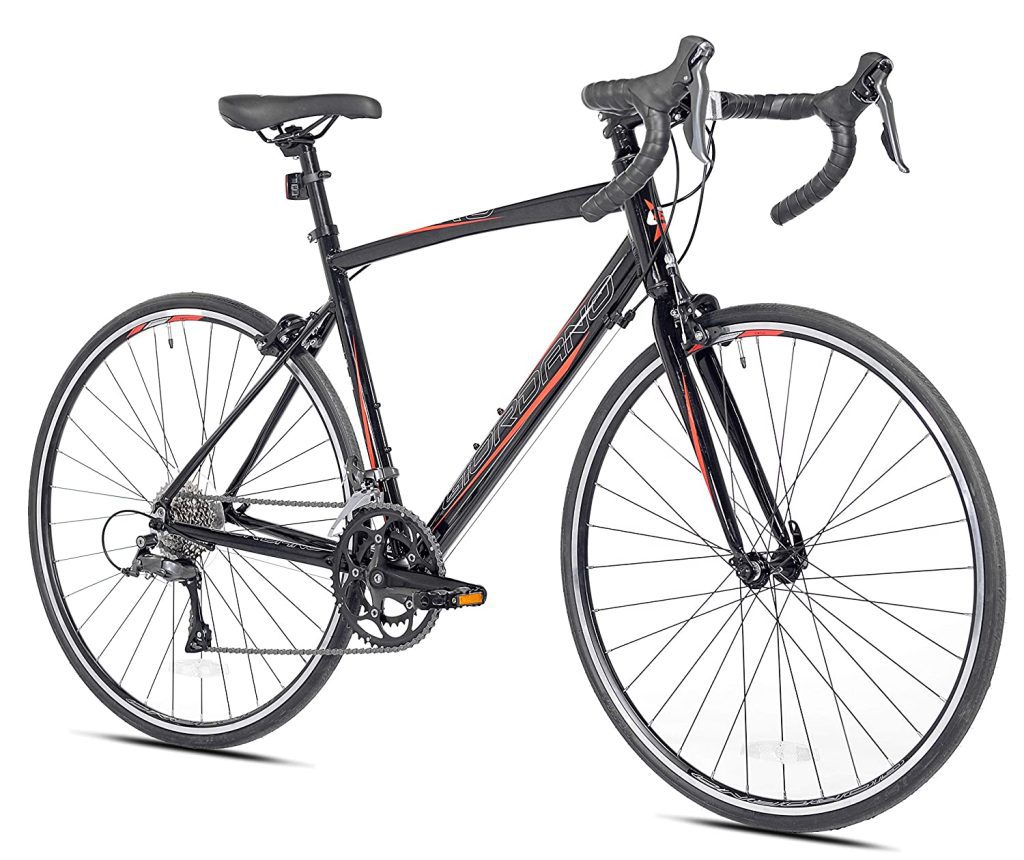 I have to admit that the Giordano Libero Aluminum Road Bike is also a quality road bike. It reveals many similarities with the Decathlon Triban Abyss RC100, whether it's the aluminum frame with rigid forks or the Alloy Dual Pivot Brakes.
But their differences are also obvious. The most exciting thing about the Giordano Libero is its 2×8-speed drivetrain. Such a unit makes going up and down hills much easier. However, it has thinner and narrower tires (only 25mm), so both grip and passability can be a concern for users. Most of all, such a tire configuration can easily make the rider's hips and arms feel hard for small changes in the ground. Therefore, it is more suitable for flat roads.
The Decathlon Triban Abyss RC100, equipped with B'Twin Sport 700 X 32 hybrid tires, is not picky about roads, even unpaved ones, and it is brave enough to take on the challenge.
Conclusion
In any case, the Triban Abyss RC100 is Decathlon's most valuable gift to those beginner riders on a budget. Indeed, it doesn't have high-end, sophisticated component configurations, but it's comfortable and practical enough to meet people's daily urban trips.
If you're thinking about having a comfortable ride or choosing transportation for your commute, consider this Decathlon Triban Abyss RC100 road bike. Or, you can get to know the Decathlon Triban GRVL120 of the same brand.
Finally, if you are interested in bicycles and cycling, you can follow us, we will continue to update more practical reviews of bicycles and bike parts.