We use affiliate links and may receive a small commission on purchases.
Electra Townie 7D Step-Over Or Step-Thru
Price: $629.99
Gear: 1×7
Frame: Townie 6061-T6 Aluminum w/Patent Flat Foot Technology®
Tires: 26×2.00″
What we like about it: America's best-selling bike is the perfect mix of style, simplicity, and fun The recreational bike.
What we don't like about it: Some people think the inability to turn the handlebar shifters is a hindrance.
Rating: (4.6/5)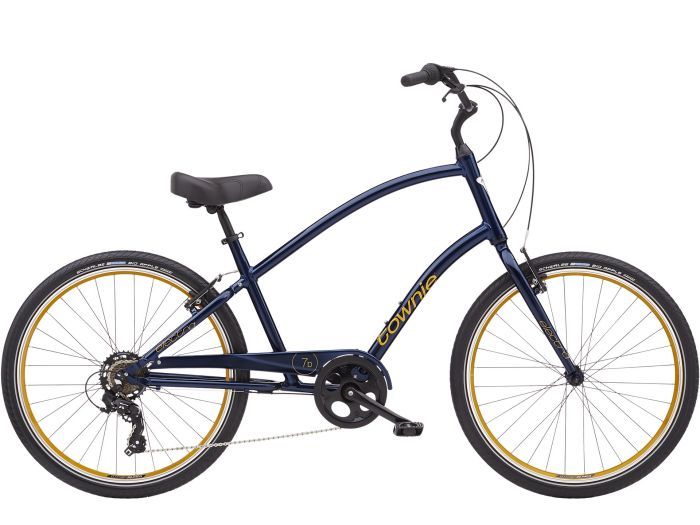 The 2023 Electra Townie 7D has a streamlined look that feels like a lady at first glance. We are confident in its casual performance.
At the end of a busy workday, we want a bike that brings us joy in our free time. Townie 7D This bike looks like a 1×7 drivetrain with a small speed range, but in fact, the Shimano Revo 7 will give you unexpected ease of shifting.
With non-slip pedals, easy-to-use and low-maintenance alloy wire-pull brakes, and a comfortable saddle. The Townie 7D is pleasantly surprised by its performance on quiet park trails, sea-breezy seaside roads, and commuting from getting off work.
After three months of evaluation, this car accompanied me to spend a leisurely rest time, enjoying the caress of the sea breeze, listening to the chirping of insects and birds in the forest, and going to a picnic with friends.
Not only did we feel the pleasure that this bike brought us on a leisurely basis, but I was also impressed by its rideability. That's right, the Townie 7D rides like it blends in with my leisurely days, and it just got me hooked.
Below we break down the recreational riding, ride performance, key features, components, and specs of the Electra Townie 7D, as well as the rest of the range.
If you want more stories about the bike, you can check out our review.
Recreational Riding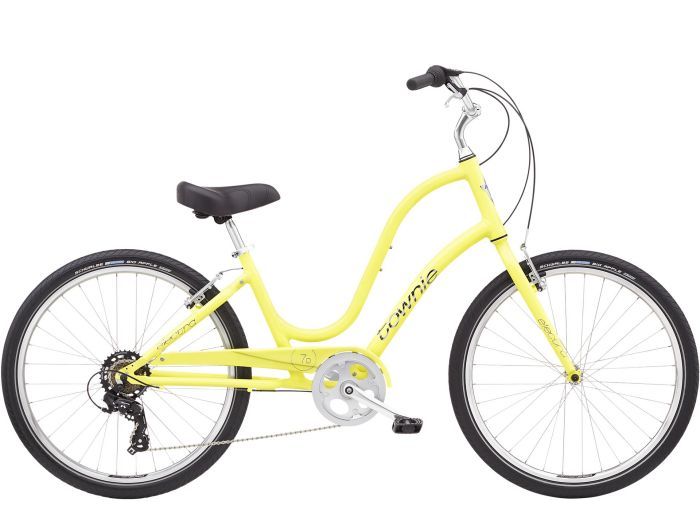 In fact, I have very little exposure to recreational bikes, and I don't think they give me the kind of riding that excites me. Never thought that one day, I would fall in love with recreational bicycles.
As we all know, the Electra Townie 7D may not be able to match the beast-like mountain bikes on the climbs and the blade-like road bikes on the speed. But if you're talking about comfort, I have to say that at the same price point the Electra is nothing they can match.
This bike performs well on most surfaces. Based on the Townie 7D's Bontrager E6 26″ tires, along with its patented Flat Foot Technology, comfortable saddle, and alloy cable-pull brakes, it's capable of giving even less casual riding. During the ride, you'll feel relaxed and comfortable.
Plus, the Electra Townie 7D's Shimano Revo shifter allows you to shift easily and accurately in the 1×7 range without worrying about shifting your riding belt to get in the way. We noticed that the Townie 7D does not have shock absorbers, so we were worried that it would not have a noticeable vibration when driving on not-so-smooth and smooth roads.
Road Test
For this purpose, we found a nearby trail in the park with lots of cobblestones, and the riding experience told me that our concerns were a bit redundant. The comfy saddle dampened the vibration, and the special geometry cut some of it.
But on that technical pro terrain, the Townie 7D cannot be compared with professional bikes, after all, you know that the Electra Townie 7D bike is a "lady."
Overall, the Electra Townie 7D stands out in terms of comfort performance. Whether you are watching the sunset, admiring the falling leaves, or watching the sunrise, it will be the best companion for your leisure riding.
Riding Performance
If road bicycles focus on expressing their speed on the road, then off-road bicycles show their climbing and descending style on technical roads. What stands out about the Electra Townie 7D , you might ask?
I'll answer you in the affirmative, it can't match the road on speed, and it probably can't match off-road on climbs and descents, but its comfort and versatility will be what you want.
First of all, the shape of the 2023 Electra Townie 7D bike is different from traditional bikes, and the paint color is bolder and more trendy. Second, when we tossed the Townie 7D on gravel trails it wasn't great, it didn't perform as well as a professional Gravel bike.
But the wear resistance of the tires has been fully demonstrated, not only that, but the comfortable pedals also give plenty of power.
In the end, we rode on the boulevards of the campus, and the Townie 7D attracted a lot of attention just for its shape, not to mention its graceful rolling over the fallen leaves on the road. On a professional track, I don't think the Townie 7D can be compared to a professional race car.
If you want a car that's good enough for casual, comfortable fun, I think I'm in love with the Electra Townie 7D.
Main Feature
Electra Townie 7D Frameset
Eye-catching is the frame design of the Electra Townie 7D, which is streamlined like a water pattern. There is a big difference from the traditional triangular frame, this is an innovation.
There may have been doubts and even ridicules of this design in the past, but not anymore, it has entered the trend and fashion, and more importantly, it allows more people to show laughter on it. At the same time, the paint color of the Townie 7D is also worthy of our attention.
Five paint colors, bold and edgy, give you more options. In addition, we can also see the clean internal wiring of the Townie 7D. This is a good thing for me, after all, no one wants to see a bunch of wires and cables tangled on the bike, so I think the wiring hidden in the frame is necessary.
Not only that, the design of the kettle mounting hole also provides convenience for your leisure trip. If you can use Electra accessories to make your ride even more special. You can use fenders, baskets, or bells if you need them and it will all bring unexpected joy to your ride.
Geometry
The biggest feature of the geometric design of the 2023 Electra Townie 7D is that it is comfortable enough. We can see that the Townie 7D has a slack head tube angle (69°) and a relatively flat seat tube angle (67°).
This allows you to maintain a comfortable and relaxed riding position. When your seat tube length is optimal, you can keep your feet flat on the ground and balance in any situation.
Plus the comfortable Frame reach (29.7cm) allows for a more relaxed arm position and less stress on your back and wrists, as well as giving you better visibility while riding. The scientific and close-fitting geometric design can make the rider more comfortable.
I approve of the geometric design of the Electra Townie 7D, and it made me fall in love with this casual ride.
Components and Specifications
Shimano 1×7 Drivetrain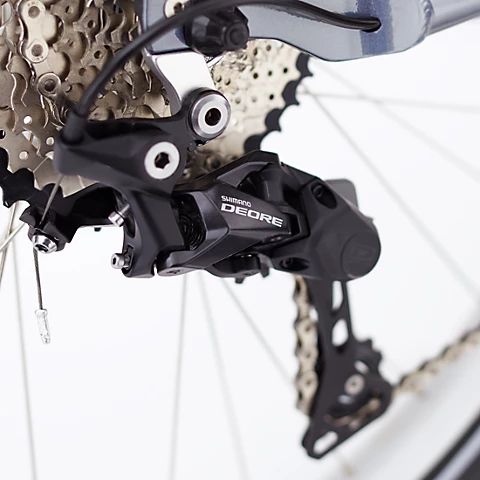 From a lot of bikes I've worked with, the 1×7 range is relatively small and rare. That doesn't mean the 1×7 is bad for shifting, on the contrary, the 1×7 wheelset saves weight, and it's definitely more than adequate on the Electra Townie 7D.
I have to mention that the Shimano Revo torsion shift lever, which provides the 7-speed shifting, is very smooth during your shifting process. The shift lever is very easy to use, just twist it with your thumb and forefinger while keeping your hands on the handlebars.
For beginners and ordinary riders alike, such simple and reliable shifting is very beneficial.
Cold-forged Alloy Linear-pull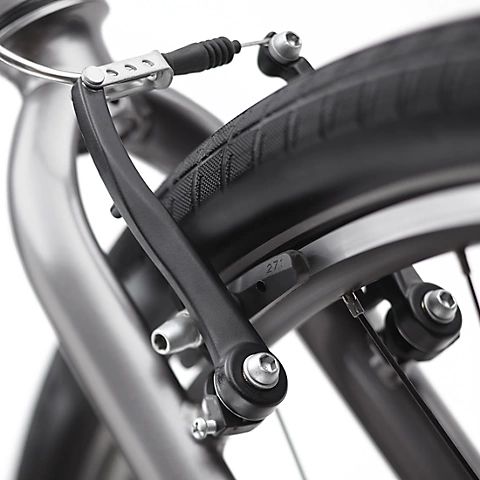 I personally prefer hydraulic disc brakes, but the Electra Townie 7D surprised me with the alloy wire-pull brakes. Line-pull brakes are lighter, and they won't let you down when it comes to deceleration.
The operation is simple, just press the controller to slow the bike to a stop by squeezing the friction of the brake lever and the rim. The braking principle is simple and maintenance is low, so I think at this price, I can totally accept and love it.
Bontrager E6 Tires
Straight to the point, the 26×2.00″ Bontrager E6 tires for the Townie 7D are e-bike tires whose smooth-rolling properties are unquestionable. In addition, it can provide reliable traction and long-lasting performance even at fast driving, and can better show its ability in the city and on the pavement.
Not only that but the Bontrager E6 tires are designed with reflective sidewall strips that allow you to stand out and increase visibility even in dim conditions. Plus the rugged Hard-Case Lite puncture protection comes with 1mm Kevlar shattering straps, which allows the Townie 7D to handle more situations, even on average gravel paths.
I must say The Electra Townie 7D isn't meant for intense trails, so for the sake of the "lady's" perfection, I'll just let it accompany me through leisurely rides.
Saddle and Grip
On bikes (other than kids' bikes) I rarely pay attention to the saddle and handlebars. At one point I thought these were just extra "accessories," but the Townie 7D contradicts me.
I have to say that the saddle of the Electra Townie 7D is ergonomic, it fits your body very well, it will make you feel very relaxed, just like doing it on the sofa at home, but it is not It will sink completely and hold your body firmly.
In addition, this saddle is designed with shock-absorbing elastomers, so you can keep a smile even in the face of bumps. 2023 Electra Townie 7D Electra Hand Sewn Grips, I would have thought it might be more expensive when I didn't look at the price, but the Townie 7D is less than $700 which surprises me.
All in all, I think the Electra Townie 7D is the #1 recreational bike I want.
Other Versions of Electra Townie
Electra Townie is very popular in the United States, thanks to the comfort of the Electra Townie series, as well as its versatility, and the cost-effective and unique fashion design that has been admitted.
We did a real review of the Electra Townie 7D's transmission, brakes, tires, and other components, but for a more comprehensive look, we reviewed the Townie 7D EQ Stepper, Townie 7D Step-Thru, Townie 7D EQ A data collection is performed.
We found them to be comparable in price, and each of their colors was enough to grab my attention. In terms of comfort, they all have their own advantages, if you want to see a more detailed review, you can follow us.
What do we like about it?
Streamlined frame design, more fashionable and comfortable.
A comfortable saddle makes you reluctant to get down.
Simple and fast shifting makes it easier for you.
Alloy cable-pull brakes are easy to maintain.
Bontrager E6 tires will take you on most surfaces.
What do we not like about it?
It may not be able to catch up with professional "speed players" road bikes in terms of speed.
Technical track, its performance may not satisfy you.
FAQs
What is the frame material of the Electra Townie 7D?
The frame material of the Electra Townie 7D is Townie 6061-T6 aluminum.
What are the tire sizes for the Electra Townie 7D?
The tire size for the Electra Townie 7D is 26×2.00″.
What is the shifter for the 2023 Electra Townie 7D?
The shifter for the 2023 Electra Townie 7D is a Shimano Revo 7.
Electra Townie 7D Specs
Frameset
| | |
| --- | --- |
| Frame | Townie 6061-T6 aluminum w/patented Flat Foot Technology |
| Fork | High-tensile steel unicrown, straight/tapered leg |
Wheels
| | |
| --- | --- |
| Front hub | Alloy low-flange 32h w/QR |
| Rear hub | Alloy low flange 32h w/QR |
| Rims | Double-wall alloy 26″x32h painted w/machined sidewalls (select models) |
| Tires | Bontrager E6 Hard-Case Lite 26×2.00″ w/reflective stripe |
Drivetrain
| | |
| --- | --- |
| Shifters | Shimano Revo 7-speed twist w/optical gear display |
| Rear derailleur | Shimano Tourney TX-35 7-speed |
| Crank | Forged alloy 170mm w/steel 44t chainring w/double chainguards |
| Bottom bracket | Sealed cartridge 68mm/118mm |
| Cassette | 7-speed 14-34t |
| Chain | KMC Z7 nickel plated |
| Pedals | Resin platform w/non-slip tread |
Components
| | |
| --- | --- |
| Saddle | Ergonomic w/shock-absorbing elastomers |
| Seatpost | Alloy 27.2x350mm |
| Handlebar | Alloy custom bend 25.9″ width/4″ rise |
| Grips | Electra hand-stitched |
| Stem | Forged alloy 25.4mm quill, 80mm extension |
| Headset | 1 1/8″ steel threaded, semi-integrated |
| Brakeset | Front/rear: cold-forged alloy linear-pull |
Accessories
| | |
| --- | --- |
| Extras | Internal cable routing, painted chainguard, and stainless steel and anti-rust hardware |
Weight
| | |
| --- | --- |
| Weight | 14.51 kg / 32 lbs |
| Weight limit | This bike has a maximum total weight limit (combined weight of bicycle, rider, and cargo) of 300 pounds (136 kg). |
Comparison Chart
2023 Electra Townie 7D vs 2023 Specialized Roll 2.0
First, we look at the price, the 2023 Electra Townie 7D is $170.1 cheaper than the 2023 Specialized Roll 2.0. In terms of paint color options, the Electra Townie has a wider range of options.
Also, I saw the 2023 Specialized Roll 2.0 use mechanical disc brakes. When it comes to brakes, some might argue that the Townie 7D is a little underwhelming. I would like to talk about my experience.
At a relatively cheap price, the Electra Townie 7D is very outstanding. Although it is the same 1×7 transmission as the Townie 7D, Shimano The Revo Torsion Shifter is minimalist when it comes to shifting.
If you want to experience simple and smooth shifting or want more value for money, you can try the 2023 Electra Townie 7D.
2022 KHS BRENTWOOD vs Electra Townie 7D
The paint color of the 2022 KHS BRENTWOOD also appealed to me, but I was a little surprised by its 3×7 range, which only costs $509. Its frame is TIG-welded high-strength steel, and if you use it as a recreational bike, its weight will be a bit heavyweight.
Also, let's take a look at the Electra Townie 7D, which features a Townie 6061-T6 aluminum frame with Patented Flat Leg Technology®, a streamlined frame design, and a 33Ibs weight. The 1×7 shifting range you might think is a bit too small, but if you want easy, quick, and smooth shifting, you've definitely noticed its Shimano Revo torsion shifter, which you'll enjoy Comfortable and fast shifting.
I wish I could get a recreational bike that's comfortable with smooth shifting and a decent weight, so I'll pay for the Townie 7D bike. If the Electra Townie 7D has piqued your interest, don't miss it.
Electra Townie 7D vs Verve 1 Disc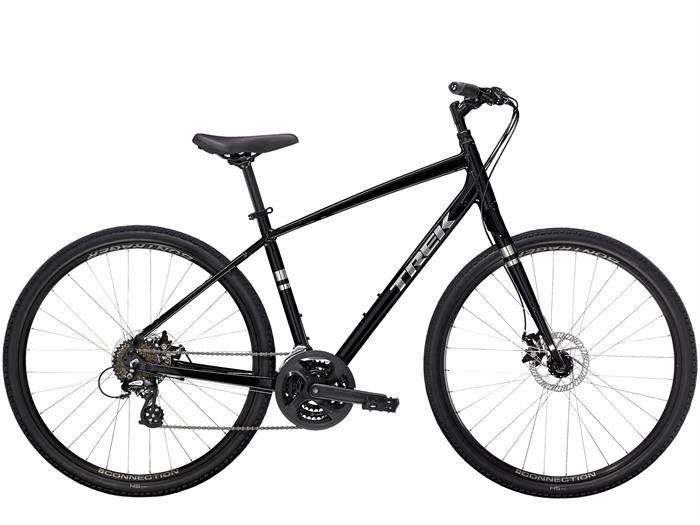 To be honest, I noticed the mechanical disc brakes on the 2022 Trek Verve 1 Disc at first sight, which means it provides stable braking even in the rain. The 2022 Trek Verve 1 Disc weighs 1.92Ibs less than the Electra Townie 7D.
However, the 3×7 transmission makes me think that for beginners, it may be difficult to change gears. The slightly cheaper $50 2023 Electra Townie 7D does a job that I can't fault with the frame design, the water-bend on the top tube, and the drivetrain.
The variety of paint colors for the Townie 7D gives me more options. If you want more paint color options, or if you want more convenient shifting, you can try the Electra Townie 7D.
Learn more: Is The Trek Verve 1 Disc Worth Buying? [Trek Verve 1 Disc Review]
Electra Townie 7D vs 2021 Jamis HUDSON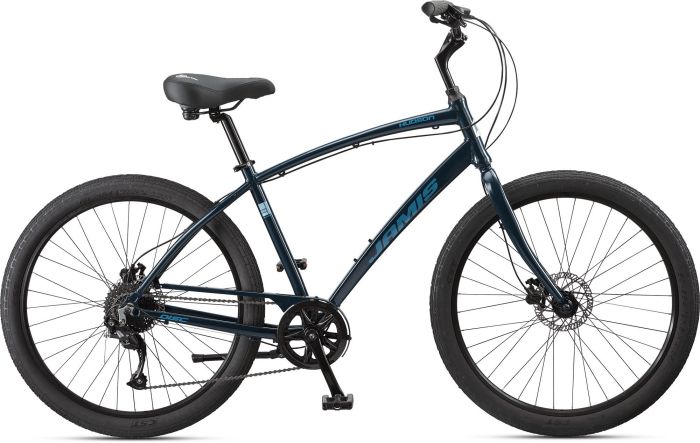 From the frame design, we can clearly feel that the Electra Townie 7D and the 2021 Jamis HUDSON are relatively similar, and both are 1×7 transmissions.
I can honestly say, though, that I prefer the Shimano Revo torsion shifter for the Townie 7D. It gives me plenty of conveniences when I shift gears, and the Townie 7D is $19.01 cheaper, and the same wire-pull brakes keep maintenance costs down.
In fact, both bikes have their strengths, but when it comes to saddle comfort, I'd be more than willing to pay for the Electra Townie 7D.
If you want smoother shifting, you can try the Electra Townie 7D and it will surprise you.
In case, the comments above are helpful to you, please remember to share the subscription. Have a nice day!
Video