We use affiliate links and may receive a small commission on purchases.
Trek 720
Price: $1889
Weight:10.4 Kg
Frame: Aluminium
Wheels: 700c
Drivetrain: 2 × 11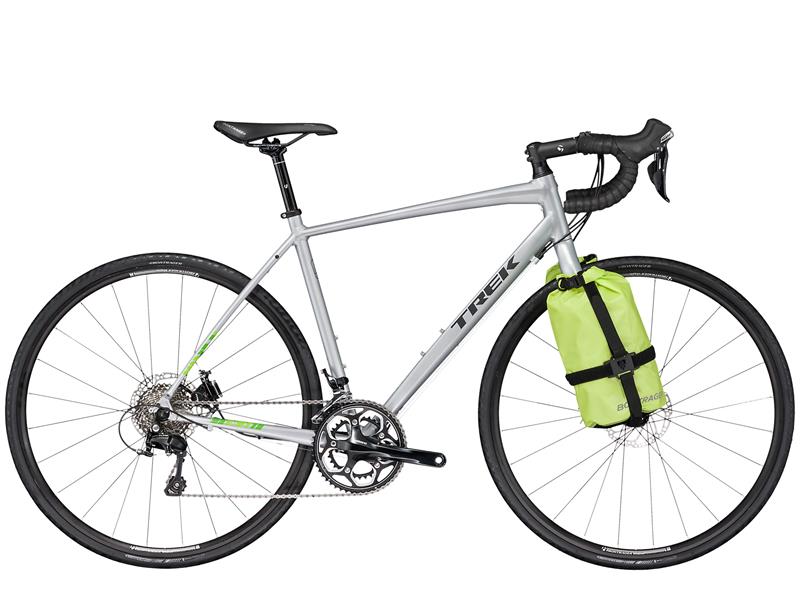 Why we love it: The Trek 720 is a great bike for commuting, group rides, and riding singletrack as long as there aren't too many rocks. More clearance allows you to mount fenders and 32mm wide (or wider) tires. Despite not being the lightest bike, the Trek 720 is lighter than most adventure bikes.
What we don't like about it: Double panniers on Trek bikes run the risk of slipping off brackets. However, the material emits a bad odor that can seep into your belongings through the bags on either side of the front wheel.
Introduction
If you've come up with the perfect escape plan to escape the hustle and bustle of city life, take a light credit card tour. I suggest you choose the brand new Trek 720 as your travel tool. It has the geometry of a traditional road bike, a lightweight frame, and a minimalist front carry system.
The Trek 720 is a high-performance touring bike for the rider who prefers to sit in the saddle and enjoy the scenery, not aggressive realism. Like other expedition bikes, the Trek 720 can go a long way, but what sets this bike apart is how quickly it gets from point A to point B. Riders who love the Trek 720 will see it as part of their touring life.
The Trek 720 features Trek enduro road geometry, a 100-series Alpha aluminum frame, and carbon forks. The Trek 720 has the responsiveness, lightness, and agility of a race bike. With so many compliments, you can't wait to learn about it, so let's get to know the Trek 720 with our testers.
Learn more: What Makes The Trek 520 Such A Powerful Gravel Road Bike
Main Features
Fork-Pack
Have you ever longed to cycle around the island or travel long distances by bicycle? But delaying action due to the need to carry a heavy backpack?
The Trek 720 comes with an ultra-light front carry system that won't drop when you're racing. It can be easily installed on the Trek 720 without additional racks or parts, making it more convenient and practical than previous bicycle saddle bags, and greatly reducing the impact on riding control, allowing you to travel light!
The low-mounted quick-release fork waterproof bag is perfect for carrying essentials without compromising ride quality. The package will not hinder you from getting to your destination quickly.
Let our testers introduce this roll-sealed waterproof front fork bag, which is made of high-strength nylon fabric and is specially designed for gravel bicycles. In addition to ensuring dustproof and waterproof performance, it is lighter and softer than similar products.
Especially in cold weather, it is still tough, maintains consistent high tear resistance and durability, and further strengthens the protection of storage.
The conspicuous yellow appearance makes it visible from a distance. With the quick release system QLS (Quick-Lock S adapter system) and the special fixed seat for the front fork, it can be used as a set.
The fork bag and specially designed special mounts allow for quick removal and operation with just one hand. The unilateral front fork bag can provide a maximum load weight of 3KG.
With the roll opening design, you can adjust the capacity of the tail bag according to actual needs. The single-sided front fork bag can provide up to 8L of storage space, and the total of both sides is 16L. The roll-up design can ensure waterproof performance while being convenient to open and close.
Frame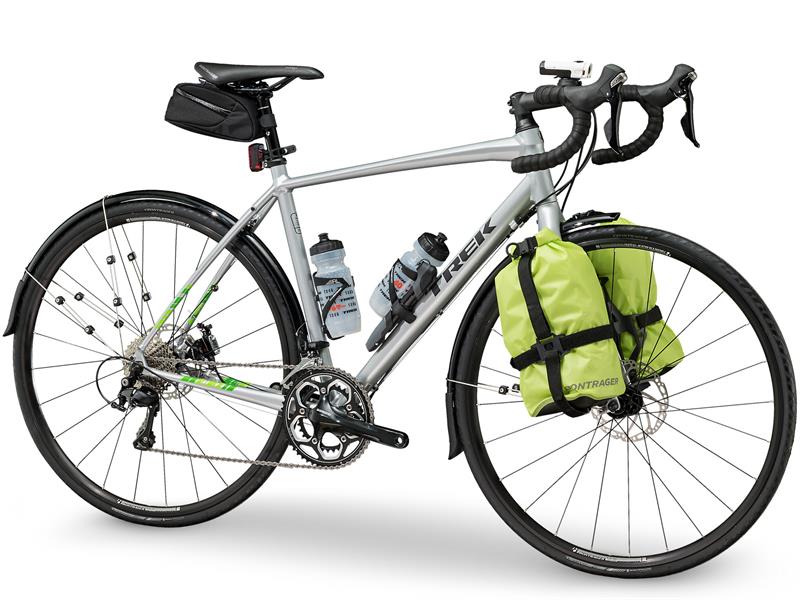 The Trek 720 comes with hidden fender mounts and inboard disc mounts. Front and rear fender mounts are compatible, allowing riders to ride in a variety of climates. The Trek 720 is smooth and stable on the road, giving riders more confidence. Endurance Geometry brings stability to the body, giving the rider greater control.
A more upright riding position for all-weather comfort for more types of riders. The frame is made of Trek's 100 Series Alpha aluminum alloy for a more dynamic look and a better ride with good performance.
Geometry
Frame geomeFrame geometry is a very complex subject. We've reviewed so many bikes before, and you must be aware of it. The Trek 720 is an endurance bike with a less aggressive geometry, larger stack, and smaller reach to provide a more upright riding position, a wider angle, and a longer head tube.
It not only improves the stability of the handling, but also makes some improvements for the comfort.
Although the Trek 720 is an endurance bike, the rear triangle is designed to be very compact, and the length of the chainstays is only 426mm, which is very helpful for improving the transmission efficiency at high output.
Components and Specs
Drivetrain
The Trek 720 uses a Shimano 105 groupset drivetrain with Shimano RS 500 compact cranks.
Shifters
Trek 720 shifters feature Shimano 105 Brake/Shift Lever, ST-5800, 11sp. Amid the economic downturn, the Shimano105 ST-5800 still delivers uncompromising 11-speed road performance to the budget-minded rider.
Building on the success of Dura-Ace and Ultegra, the Shimano105 ST-5800 is a workhorse that rivals the best in the industry.
Powerful improvements across the range deliver optimised drivetrain and braking performance that will instantly take your riding to a whole new level.
There are plenty of flashy, rider-distracting contenders in the industry, but if the quality is your main takeaway, the Shimano105 ST-5800 has you covered.
The Shimano105 ST-5800 11-speed shifter borrows in many places from its siblings and ilk. From the Dura-Ace to the Ultegra, the 105 series has found its own way of lightweight shifting.
Featuring an ergonomically compact lever shape and responsive shift action, the ST-5800 shifter offers crisp, responsive shifting that feels good at the touch of a finger.
Front and Rear Derailleurs
Our testers found the Trek 720 with a Shimano 105, RD-5800 GS 11sp, Black rear derailleur, and Shimano 105, FD-5800 11sp, 31.8mm Black front derailleur.
Not only did Shimano redesign the FD-5800 front derailleur to increase the gear ratio range, but they also redesigned the pull arm, and spring mechanism, and lowered the trim position to prevent the chain from dropping.
These design upgrades have resulted in lighter action, and improved shifting accuracy, as well as the overall feel of the response. Until now, there has never been a front derailleur with 11 speeds that are so affordable.
Shimano 105, RD-5800 rear derailleur provides crisp road performance to the 11-speed drivetrain.
The Shimano 105, RD-5800 rear derailleur has a new spring mechanism and cable spacing that provides great adjustability for perfect alignment. Shifting action feels light and almost effortless, even under heavy loads.
The wide outer link design provides ultra-rigid, smooth, and precise shifting, while the medium cage design is compatible with the 32T rear gear for climbing and endurance riding.
The Shimano 105 is the exact same design as the Ultegra and Dura Ace, just built with different/lighter materials.
More expensive models won't have better shifting, so save your money. Unless you can't accept that your friend has more expensive gear than you, then it's up to you.
Crankset, Crank, Bottom Bracket
The length of the crank depends on personal riding habits. A longer crank should be used if the legs have a significant amount of strength.
Cycling experts recommend using a shorter crank based on pedaling frequency. A 172.5mm or 175mm crank is most commonly used for daily riding.
The Trek 720 cranks are Shimano FC-RS500, 50/34 170mm 11sp, Black. 170mm can be described as a short-leg benefit!
Shimano FC-RS500 uses Hollowtech II technology to provide smooth, precise shifting. With a 5-arm crank grip, it ensures the stability of the crankset and is durable.
Crank strength is enhanced by cold-forged aluminum alloy, suitable for various harsh riding environments. The crankset is made of high-strength alloy material, and the sandblasting oxidation process is used to effectively protect the main body from rusting and oxidation on the surface.
The flywheel is carefully polished by CNC precision machine tools to ensure neat symmetry, high overlap with the chain, and firm and stable engagement.
Shimano Hollowtech II bottom brackets with BSA threads provide long-lasting performance and long life. With better sealing and rotation, the bottom bracket provides high riding efficiency.
Chain
The Shimano 105 chain is made of lightweight composite metal with an electroplated silver process for smooth transmission. The surface of the chain is rust-proof for better durability.
And after quenching treatment, the wear resistance is enhanced. When installing the Shimano 105 chain, keep in mind that the side with the Shimano logo is facing outward, that is, to the right side of the bike. In this way, the shifting can be made smoother, which is in line with the design of the Shimano 105 itself.
Let's take a look at the details of the Shimano 105 chain. Shimano 105 waist chamfer design, which will make the chain drive more smoothly, and the bite is stable and precise.
The Shimano 105 chain is narrow and light in weight. With the KMC magic buckle, the overall weight is greater than 310g.
Front Fork
Have you ever encountered the following situations on bumpy roads: bad shock absorption caused serious damage to the tires, or wrist pain after a long ride due to poor shock absorption?
The 720 Touring, Carbon Blade, and Silver front forks are made of carbon fiber, which effectively relieves the impact and rebound of the road. The suspension travel is 100 mm, and the stroke response is smoother and smoother. The unique I-shaped bridge arch is stronger and more stable.
Smooth surface with desilting effect. The left side is equipped with a detachable wire clip for easy fixing. A-pillar disc mounts with Brake Front TRP HY/RD Disc, w/ 160mm Rotor and IS Adapter.
Headset
The headset is a bearing assembly located at the head tube, which is used to connect the faucet handlebar and the front fork upper tube, and enable it to rotate, achieve steering and balance, and other control purposes.
Threadless designs are now more common, and the Trek 720 uses a 1-1/8″ threadless design with sealed bearings.
This threadless design is simpler and arguably superior. Its repairs are quicker and easier and can be done with standard tools.
Wheelset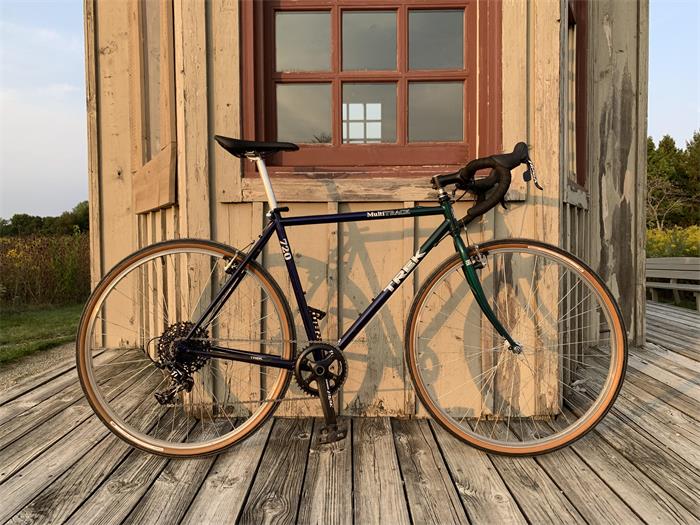 Trek 720 rims feature Bontrager alloy center lock discs that can be paired with tubeless tires. Bontrager alloy center lock disc high-quality components and complete accessories are always rider-oriented, and quality is never compromised!
Bontrager alloy center lock disc wheels effectively balance the material's performance in terms of weight, stiffness, and durability.
It is said that Bontrager alloy center lock disc front and rear hub internal parts are proven to have 18-point meshing, are more stable, and can achieve a smooth and fast rolling experience.
Bontrager alloy center lock disc can be adapted to tubeless rims (accessories include: TLR rim strips, TLR extensions, valve core removal tools, and traditional rim strips, allowing riders to convert to tubeless tire systems quickly and easily).
The Bontrager AW1 Hard-Case Lite, 700x28c tires ride smoothly and have good traction. Low rolling resistance, Hard-Case Lite puncture protection, and the grippy Bontrager AW1 Hard-Case Lite provide a lightweight tire for enthusiasts looking to ride all year round.
It was quiet on the road during testing and provided good mileage, and it was easy to roll.
Trek 720 Spece
| | |
| --- | --- |
| Frame | 100 Series Alpha Aluminum w/rack & fender mounts, inboard disc mounts |
| Fork | Trek touring carbon disc |
Wheels
| | |
| --- | --- |
| Hub front | Bontrager alloy centerlock disc |
| Hub rear | Bontrager alloy centerlock disc |
| Rim | Bontrager Tubeless Ready |
| Tire | Bontrager AW1 Hard-Case Lite, 700x28c |
Drivetrain
| | |
| --- | --- |
| Shifters | Shimano 105, 11 speed |
| Front Derailleur | Shimano 105 |
| Rear Derailleur | Shimano 105 |
| Crank | Shimano RS500, 50/34 (compact) |
| Cassette | Shimano 105, 11-32, 11 speed |
| Pedals | Not included |
| Chain | Shimano 105 |
Components
| | |
| --- | --- |
| Saddle | Bontrager Paradigm 1 |
| Seatpost | Bontrager alloy, 2-bolt head, 27.2mm, 8mm offset |
| Handlebar | Bontrager Race Lite IsoZone, VR-CF, 31.8mm |
| Stem | Bontrager Elite, 31.8mm, 7 degree, Blendr compatible |
| Headset | VP 1-1/8″ integrated, sealed semi-cartridge bearings |
| Brakeset | TRP HY/RD cable/hydro disc, 160mm rotors |
Weight
| | |
| --- | --- |
| Weight | 56cm – 10.41 kg / 22.95 lbs |
| Weight limit | This bike has a maximum total weight limit (combined weight of bicycle, rider, and cargo) of 275 pounds (125 kg). |
FAQs
1. What is the weight of a Trek 720?
According to the Trek catalog, the fully equipped 720 would weigh under 25 pounds.
2. What are the features of the Trek 720?
One of the features of the 720 is that, using road geometry and components, it rides like a road bike: very comfortable on longer rides and moderate hills.
3. I have heard comments from riders who have observed spoke failures. trek acknowledges the problem, yes?
Yes, and earlier posted a recall on the 720 for a replacement wheel, which included a $100 coupon to encourage people to send it in. Search for "720 recall" on Trek's website. Repairs can be done in a few hours.
Comparison Chart
Compare
Trek 720 Disc vs Trek Checkpoint ALR 5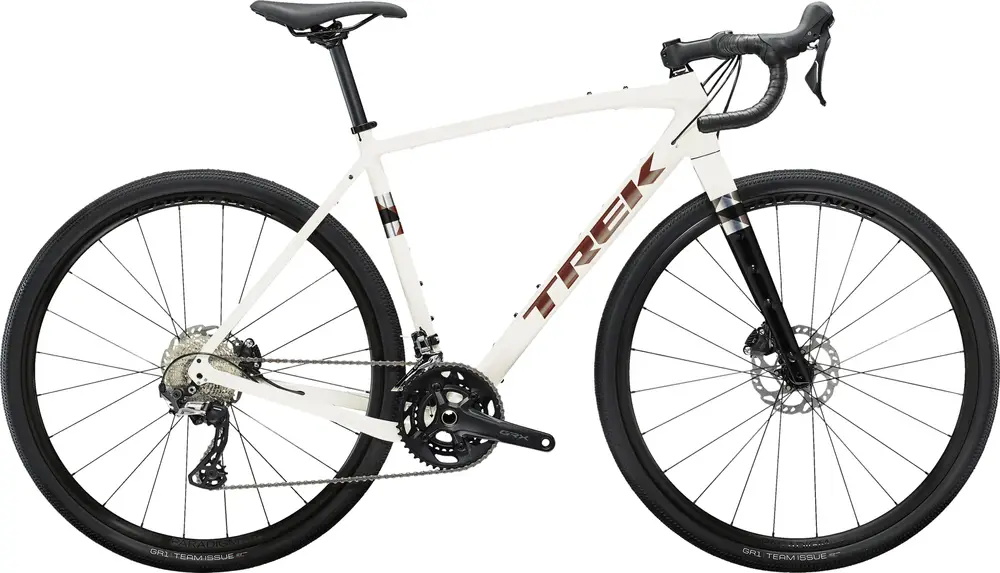 Next, we'll see the Trek Checkpoint ALR 5 in 2021. This is the highest-level version of Trek's Checkpoint line of aluminum frames and is their high-performance gravel bike. In this text, we'll go over some of the 2021 Trek ALR 5's features and design, and our testers will find out the exact weight of the car.
Geometry
When our testers checked out this bike the Trek Checkpoint ALR 5 was definitely a good looking bike so it's been in the Trek line for quite some time now basically this bike is their performance version gravel car.
It's worth mentioning that in the Trek lineup, they already have the Trek Domane, which is their enduro bike, but it still has quite a bit of off-road capability, with tire clearance up to 38c.
So to further improve off-road capability, Trek made the Checkpoint line, which comes with 40c tires, but you can even upgrade to the 700 wheel size with 45c tires.
This bike also has a slightly longer reach and a slightly lower stack than the Domane, so it puts you in a better position.
If you're looking for a bike capable of gravel racing, the Trek Checkpoint ALR 5 is a great option, and it's not so aggressive that you can't do long road rides by swapping in some thinner tires.
Frame
Now on to the Trek Checkpoint ALR 5 bike. The ALR 5 is an aluminum frame. It has internal cable routing and the smooth welds make it look really nice.
The Trek Checkpoint ALR 5 uses what Trek calls Alpha 300 series aluminum.
The 300 series aluminum frame features a tapered head tube and 1-1/8" top headset.
The Trek Checkpoint ALR 5 also has a carbon fiber fork, so this will help remove some road vibrations, plus it has racks and fenders installed as well.
With the Trek Checkpoint ALR 5, you have the option of carrying a variety of gear.
The Trek Checkpoint ALR 5 has a top tube bag with frame bags, water bottle cages, and rear rack and fender mounts on the down tube.
The Trek Checkpoint ALR 5 has a sliding frame, which is where the axles go through the frame. It slides forward and backward, which allows you to adjust the geometry of the bike as you change tire size.
So for a smaller tire, you can tuck it forward to make the bike handle a little faster, or if you want it to be more stable, you can slip it back and fit the 45mm 700c wheel in the frame.
Another thing worth mentioning is that this frame has a total load capacity of 275 pounds, so that means allowing the rider to carry quite a bit of gear with you on the go.
Specification
Let's jump to some specs on the Trek Checkpoint ALR 5 bike next.
The ALR 5 is equipped with Shimano's GRX 11-speed drivetrain.
It has a Shimano GRX RX 810 rear derailleur which is a clutched rear derailleur meaning when you open the clutch it will help keep the chain tension tighter so you don't get noise or rattle when you walk on on the trail.
It runs up to a 34-tooth Cassette, which is exactly the 11-34-tooth range cassette that the bike comes with.
Then, the Trek Checkpoint ALR 5 uses a GRX RX 600 crankset, which will have a 46/30 chainring combination, which means it's a tight cog.
But it makes sense, as this would allow the car to have good traction on loose and slippery climbs.
Since the tires are thicker and have a slightly larger outer diameter, you don't need that tall gear.
On the handlebars, the Trek Checkpoint ALR 5 will still use 11-speed GRX Shifters.
Now Shifters are RX 600s, which means they will operate hydraulic dual-piston calipers, and they feel pretty good with a great lever fit.
The Hood size isn't super large, which is a nice upgrade from Shimano's newer 11-speed offering.
The inside button will get you into harder gears, while the entire lever will get you into easier gears.
Front and Rear Hubs and Handlebars
The front hub is a 100 x 12 mm thru-axle, and the rear hub of the Trek Checkpoint ALR 5 is a 142 x 12 mm Sliding Dropout, which moves the hub axle back and forth to support the chain.
By the way, I always feel that there is nothing to move the rear wheel position, it is unstable and not very reliable.
Moreover, moving the rear wheel will also affect the racks and fenders to varying degrees, and the brakes also need to be adjusted accordingly.
Disc brakes are more troublesome, and the calipers need to be moved.
Alright, back to the point, the cockpit uses the Bontrager Elite IsoZone handlebar, VR-CF shape, and the stem provides more speed.
Tests have shown that it can increase speed by 23 seconds per hour compared to a conventional round stem. The Trek Checkpoint ALR 5 reaches a new level of aerodynamics with aluminum profiles and internal wiring.
The variable radius, and compact camber (VR-CF) profile increases wrist clearance for a more ergonomic position. That means there is 93mm of distance from the handlebar to the shifter.
The Bontrager Elite IsoZone handlebar has a 123mm drop. It has a spot that allows you to mount an LED bicycle headlight or something.
I recommend choosing one of those computer-controlled cycling lights with built-in ambient lighting sensors.
This enables automatic brightness control. It's better to have brackets, you can freely choose to install it on the handlebar or body, and it is easy to install.
Saddles and Tires
Speaking of the saddle, this is a Bontrager Montrose saddle, the P3 version of the steel rails, mounted on an aluminum 2072 seatpost.
Bontrager GR1 Comp tires, 700×40c width, so they are wide tires, unfortunately, they are not tubeless, but luckily you can upgrade these tires because the rims on the Trek Checkpoint ALR 5 are Bontrager tubeless, with 28 holes.
You can go tubeless on the wheels, so all you need is a new set of tires, some sealant, and valving, and you can upgrade this bike.
Weight
The actual weight of this Trek Checkpoint ALR 5 54cm will be 22.24 lbs.
Here's what our testers measured outdoors.
2023 Trek Checkpoint ALR 5 Review – The King Of The Adventure
Trek 720 Disc vs Canyon Grail 7
Canyons has never been afraid to innovate, and the 2018 carbon Grail CF gravel bike proudly showcases that with its quirky dual-layer Hover composite handlebar.
That kind of weird-looking thing does its job, but it's a concept defined in a sense. This all-terrain road bike from direct-to-consumer company Canyon earned a rare perfect five.
The score is based on a strong aluminum frame, and its 40mm tire clearance provides great versatility, and at this price, the dual-disc Shimano GRX all-terrain road bike kit is a great value for money.
Combined with DT Swiss's vacuum wheelset, there's hardly any downside to be found on the Grail.
The Canyon Grail 7 weighs as much as you'd expect from a similarly priced road model.
It can only be paired with Canyon's own fenders, and it's like the go-to of any drop-bar bike with no flaws.
Handlebar
The Canyon Grail 7 has a traditional handlebar, but Canyon is smart and they put compliance in this car for comfortable and fast off-roading.
So, what did Canyon do to Grail? They have taken the best elements, bringing in a lot from bikes like indoor racing. So what we end up with is a bike with geometry that's slightly smoother than a road bike, so it's really stable when you're off-road.
It has great extra tire clearance, the aluminum frame is really super thin and tough, and then you can use some house brand components.
Front fork
Canyon Grail 7 uses Canyon FK0070 CF Disc. This fork has a wide shape and it has plenty of tire clearance or plenty of mud clearance.
The slightly curved design and the way they use carbon fiber means the Canyon Grail 7 has a slightly sportier character.
If you hit a pothole, it's a smooth ride through that kind of bump, because the fork works so well with the oversized tires.
As is usual with Canyon, they built a lot of value for money into this car — you'll have really good components.
components
Shimano GRX RX810 GS rear derailleur with adjustable chain stabilizer to prevent chain flapping and chain drop.
Shimano GRX RX810 front derailleur, with the lighter operation and easier setup thanks to the new link construction and integrated cable tensioner.
With Shimano GRX RX600, you'll get a 2-speed shifter ergonomically designed for enhanced comfort, as well as a textured anti-skid brake lever, which makes it easier to control even on bumpy terrain.
In the cockpit, the stem is a Canyon V13, high-quality aluminum handlebar with a square section profile. A new handlebar clip design increases torsional stiffness by up to 40 percent.
Handlebar clamp diameter: 31.8 mm. Head tube diameter: 1 1/4″. Handlebar straps in Canyon Ergospeed Gel, handlebar straps with a mix of EVA foam and elastic gel for optimum comfort.
On the saddle On the side, the Canyon Grail 7 uses the Fizik Argo Tempo R5, an endurance saddle with a pressure-relieving short nose design.
It has a carbon-reinforced nylon shell and robust S-alloy rails as required.
The Canyon Grail 7 is really very high-spec, and its specs aren't even close to many of its competitors. Not only is it a superbly-handling off-road vehicle, but it also has very good characteristics on the road. The canyon is very smart here.
They gave it three sets of bottle cages so you can use it as a commuter car. It has a rack so you can fill it up and go exploring.
Canyon Grail 7 Review [2022]- A good Companion To The Adventure
Trek 720 Disc vs Scott Speedster 20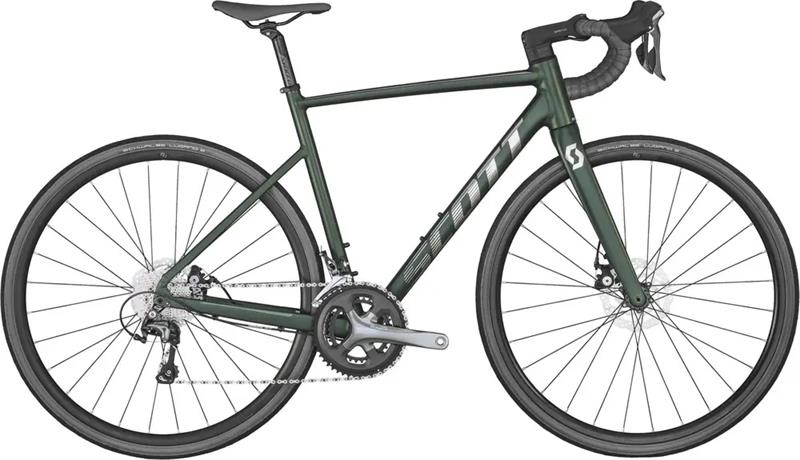 The 2022 Scott Speedster 20 measured 10.36kg. Here our testers bring you this all-new 2022 Scott Speedster 20 aluminum bike that sells for $1899.
color
Our testers especially liked their colors. The Scott Speedster 20 has a fine coating and a family-style coating design style.
The line design is applied to the LOGO to increase the sense of movement. Matte dark green spliced ​​with metallic primary colors for a strong contrast. From the looks of it, the Scott Speedster 20 starts to show an ambitious side.
The grey tire sidewall matches the grey handlebar and handlebar tape, love the color coordination. The top tube of the frame is treated with a metal wire drawing process, which highlights the unique luster of the metal. The marked SPEEDSTER also has a classic font.
And this part of the treatment has formed a bright and dark contrast effect with the matte dark green.
It looks so cool that most people will probably take a look at the Scott Speedster 20 and buy this bike without even reading the reviews on my blog.
Full internal wiring design
This bike uses a fully internal cable routing design, which has become the development direction of the industry. Scott applied it to this aluminum car. The cords and tubes are tucked up by tailor-made sets, leaving Virgo speechless.
front fork
In order to make Speedster 20 also have excellent wind breaking performance, Speedster found inspiration from Foil, the top wind breaking series of the same door.
In response to the problem that the wind resistance of ordinary round pipes is too large, and the traditional teardrop-shaped pipes are insufficient in strength, the SCOTT aerodynamics team Based on the aircraft wing tube type data, the F01 tube type with relatively balanced rigidity, weight and wind resistance was selected to manufacture this entry-level road bike.
The Scott Speedster 20 fork is made of HMF carbon fiber, which reduces the overall weight of the bike and can filter more vibrations from the ground.
In the actual riding process, the wind resistance can be reduced by 20%, which is equivalent to saving 5% of the riding power output.
Disc brakes provide better braking capability for the entire vehicle and are easy to control.
geometry
The Scott Speedster 20 is designed with endurance geometry, which is sufficient for commuting exercise and long-distance riding. The more comfortable setting is more acceptable to the riders who are just entering the pit.
Front and rear derailleurs and shifters
The Scott Speedster 20 front and rear derailleurs and shifters use a Shimano Tiagra 4700 groupset, a challenging road groupset for pro riders.
Whether you are commuting or traveling for fun, you can feel it from the Tiagra kit.
In terms of rear derailleurs, the 4700-SS long-leg rear derailleur supports a maximum 34T flywheel, and the three-piece crankset makes rough road conditions extremely easy, while the GS short-leg rear derailleur can get better riding in urban commuting speed.
The upgrade of the shifter is the biggest highlight of the Tiagra 4700. If it weren't for the Tiagra logo, it would be difficult for ordinary people to tell that this is just an entry-level shifter.
In addition to the changes in mechanical design, the Tiagra 4700 shifter has also improved ergonomic design.
After a test ride, you will find that this shifter is very smooth. It has a lot in common with the new 105 kit released before, and both have good Performance.
For the first time, the Tiagra 4700 kit adopts an internal wiring design, which brings a more concise and professional appearance to the road car.
The only "regret" is that the 4700 is still 10-speed and has not been upgraded to 11-speed.
Trek 720 Disc vs Ridley Kanzo Fast Rival1
The aggressive-looking Kanzo Fast might be the only bike you'll ever need on and off-road, and the Fast in its name isn't something to be called casually.
It looks a lot like Ridley's Noah Fast aero bike, and it really is a bike designed to be fast.
Compared to the brand's road bikes, the Kanzo has a slightly taller and shorter geometry, but it's still very aggressive, reinforced by its super stiffness, as well as its aerodynamic design.
Sure, there are plenty of models out there that outshine it when it comes to smoothness or off-roading, but when it comes to speed, it's nowhere near the top.
The Ridley Kanzo Fast Rival1's overall frame and fork are made of carbon fiber, which makes it a high price of $3299.
Ridley Kanzo Fast Rival1 With an SRAM Rival1 groupset throughout, the Rival 1× really made me a faster and smoother rider.
SRAM Rival 1
Let's talk about the SRAM Rival 1× groupset.
What is 1×? The 1× refers to the single chainring at the front and the 11-speed cassette at the rear.
We have an extensive mountain bike review background and have had the pleasure of using 1× systems over the past few years, which means evaluating SRAM Rival 1× systems is a breeze. So, why use a 1× system?
It makes shifting gears a breeze. The Rival system allows you to focus on shifting one derailleur instead of shifting the front and rear at the same time.
The most obvious example of this is when you go from a fast pace and a hard gear to a very sudden incline, the close-in chainring provides an extremely smooth and usable gear jump from one chainring to the next. Allows you to easily maintain your cadence.
The drop chain is gone, and the combination of X Inc chainring technology with a clutch mechanism rear derailleur virtually eliminates chain drop.
For those new to this stuff, the X-Sync technology means the ring teeth are alternated from wide to narrow, which better engages the chain with the chainrings.
The clutch mechanism keeps the chain on top on rough roads and hills.
In one fell swoop, it eliminates chain drop and chain noise. Since our tester started riding the Rival more than two months ago, he hasn't had a single drop in the chain, not to mention that San Luis Obispo is a rocky place.
It's almost impossible to deny the beauty of the 1× system.
Learn more:Top 10 Best Road Bikes Under $1000 [2023] – Great Value For Money
Overview
The Trek 720 is cheap and affordable compared to the 4 bikes above, with an aluminum frame with mid-range components and mechanical disc brakes. The overall frame and components are of good quality and a very good gravel bike. Fork-Pack with Trek 720, we think it is a highlight. Not everyone has a restless heart, and riders who like the Trek 720 still tend to ride it and watch the scenery along the way. And Trek 720 will not let you down. Under the premise of heavy load, it reflects the value of the Trek brand.
Related Reading
Schwinn Phocus 1600 Review – Best Schwinn Entry Level Road Bikes
Is The Trek 2000 A Good Road Bike?
References
https://www.reddit.com/r/gravelcycling/comments/l1c9kh/trek_720_gravel_build/