We use affiliate links and may receive a small commission on purchases.
Marin San Anselmo DS2
Price: $799
Stroke: 63mm front
Wheels: 700cx40mm
Drivetrain: 2 x 8
What we like about it: a hybrid bike with higher-end components, exploring more unknown terrain.
What we don't like about it: it can't challenge professional competition riding, although it is more adapted to a wide range of complex conditions.
Rating :(4.7/5)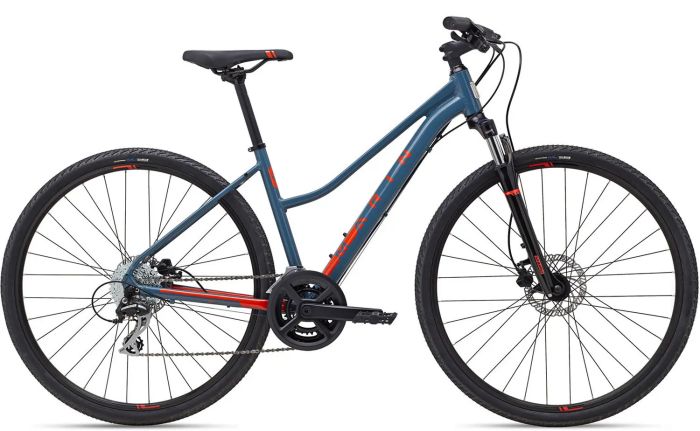 If you were to ask me which is more fun to ride, you'll probably find the answer after you start riding the 2023 Marin San Anselmo DS2. Unconventionally sharp for mountain biking and more suited to outdoor adventure or fitness sports than regular roads, the Marin San Anselmo DS2 Hybrid is never defined.
Longer fork damping aids more demanding outdoor pursuits, allowing you to enjoy your ride for longer. Taller wheel tire sizes for leaps of speed, lighter weight to be able to start riding when you want to, less restraint, more freedom.
For female riders, the narrower handlebars, friendlier seats, and suitable cross-height design are all poured into the idea of customization. Whether you are entering the world of cycling for the first time or need a solid and reliable companion to take you through thick and thin, the Marin San Anselmo DS2 is perfect for the job.
Road Performance
As soon as you start your cycling journey with the Marin San Anselmo DS2, you're impressed by how efficient it feels to ride. I chose the more congested pavement at the start of the test and the taller 700cx40mm tires rolled faster in the face of the oncoming traffic and I didn't reflect the lag at all.
The Shimano Altus SL-M315 2×8 speed drivetrain gives you a quicker start and smoother gear changes in the face of changing urban roads. Passing through an urban park in late autumn, the leaves that had fallen to the ground became heavy and sticky and put a lot of control pressure on my ride.
The Clark's Clout hydraulic disc brakes were responsive and the tall, tread patterned tires had a strong grind, shredding the leaves like a paper shredder and opening up new lanes for my progress.
Feelings of mine
This Marin San Anselmo DS2 is more height friendly and easier to park for women. Even when I was not slowing down at all, it provided me with more than enough confidence. Also, in terms of the geometry of the body, I think it is more spacious.
I often don't know what to choose when faced with many of the increasingly constricted designs these days, especially when I'm wearing a skirt, but I have to say that the Marin San Anselmo DS2 does a good job of giving me plenty of room for my skirt support.
I'm a romantic woman and I prefer the scenery of the city berm. It's a long, long ride over brickwork, and the longer damped fork is much kinder to my riding as it reduces the jolt of bumps as I pass over the brickwork.
I have also tried many models and I clearly feel the greater cornering steering ability that this bike gives me.
General Riding
I know that all along for women's riding, many people would think that we prefer to press the road, but the truth is that we women are no less adventurous when it comes to the spirit of adventure. I prefer to yearn for the freedom of the outdoors during my free time on weekends.
Instead, I prefer to be accompanied by an all-rounder, like the Marin San Anselmo DS2. It doesn't have a full carbon fiber body due to cost control. This would have reduced the weight further, but the lighter-weight aluminum is more adaptable for the outdoors.
Rural Rides
As I crossed the city into the countryside, I would face some gravel sections, woodland trails, and even some low-level mountain riding. The Shimano Altus SL-M315 2×8 speed also gives me a boost of acceleration when I want to get through a smooth start at the beginning.
The 63mm of effective fork travel added to the ride by absorbing vibrations from the ground when hitting some bumpy upward sections. As I passed through a section of forest road, the winding roots of trees exposed on the ground, and the loose dirt, gave more than fair testimony to my overall assessment.
At first, I would have thought the Vee Tire 700cx40mm was slightly old-fashioned, after all, many models now take smaller wheels. Although it rolls faster, it's not enough to match the 700c in terms of lapping force, and the taller wheels would give me more support.
With passionate climbing comes the thrill of the descent, and control of the descent is a greater test of the rider's reflexes. I wanted a more efficient and agile braking system, and the Hydraulic Disc provides responsive braking performance.
Combined with good fork damping, I had no fear of worrying even when I encountered some brief patches of rocky terrain. Even if you're a novice looking for an adventurous challenge, you'll gain a lot of confidence because of the efficiency of the brakes.
Key Features
Frame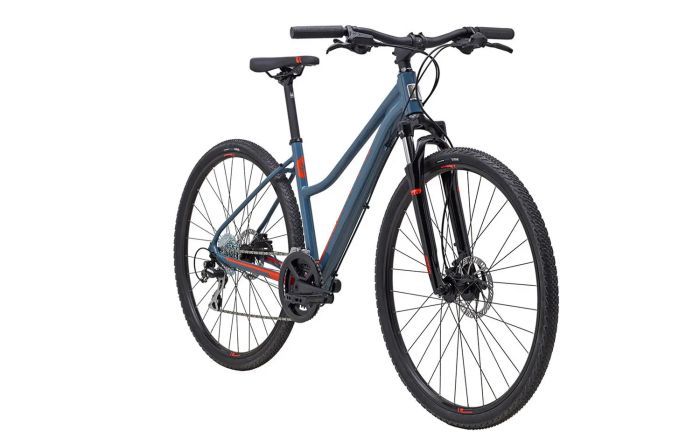 Despite my obsession with carbon fiber materials, not all bikes are suitable for carbon fiber. If you are after a more versatile bike that not only traverses city roads but also takes on some adventurous outdoor challenges, then aluminum is cheaper to maintain. For the uninitiated, aluminum frames are more flexible and easier to handle.
For women, the narrow handlebars suit women's narrower shoulder widths, and the friendly Marin Women's Fitness Plush is designed to be more suitable for longer rides. Needless to say, the Marin San Anselmo DS2 shows the designer's dedication.
In terms of paint color, I think the classic clash of blue and red reflects a more jumpy texture. But if there was a little more room for choice, I think I would have liked it better. The fact that I will be surprised when I get this car is a testament to its high-quality saturation and smooth bodywork.
In addition, the design of the internal alignment remains the same, which is efficient and simple. You certainly don't need the lines being flung around when accelerating and ruining the concentration of the ride. The internal alignment will also reduce wear and tear on the lines if you encounter extremely bad weather.
A more spacious ride for a highly free-flowing body. This is good news for women in skirts who have to say that you can easily combine the frame and fenders. For city commuters, this takes a lot of the burden out of riding.
Geometry
The 106.3cm wheelbase makes the body stretchy enough for women, even if you usually like to wear casual clothes. It doesn't feel too loose compared to the GM models, making it difficult to control when you ride. When you start riding the bike, it's much more free and easy to control. For female riders, nothing is more important than comfort.
The near upright seat tube angle of 73.5 degrees is very important for riding comfort. If you can't settle into your saddle for the start of a long-awaited ride, it's a disaster. That's why a more sprint-friendly plank position has been adopted for the short-distance racing pro models. The more fully positioned Marin San Anselmo DS2 will be more relaxed to ride, which is more suitable for novices who have difficulty controlling their power.
For a model without a rear gut, we could easily classify it as a hardtail model, with more speed and less mass. With a 73.0° head tube angle, it is very advantageous against some descents that want to be adventurous, although this requires more control.
Formation and Specifications
SR Suntour NEX Front Fork, Hydraulic Locking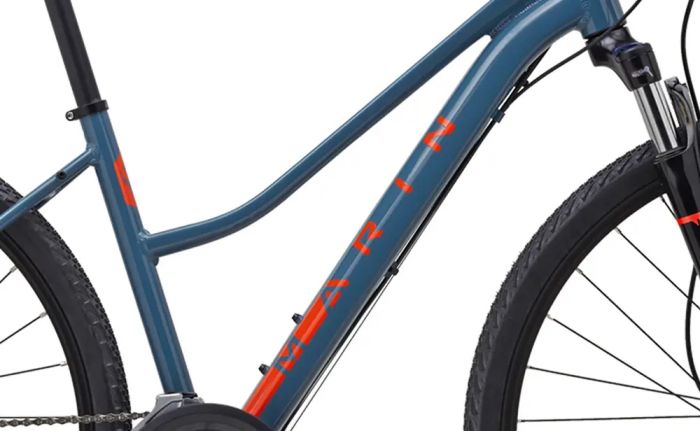 If I need to navigate more terrain and am looking for a speed boost, then I definitely need a shock fork with longer effective travel. When testing the Marin San Anselmo DS2 outdoors, I found that the 63mm travel performed well for me through terrain that wasn't difficult, even though it tends to be more of a hardtail model in terms of model. The lack of rear damping also meant that it would perform well when accelerating the ride.
If you're facing a relatively gentle section of the road, then you can take the locking fork and accelerate. If you're climbing a small bumpy uphill section, the 63mm of efficient dampening travel also helps to improve the ride nicely, without the letdown of a soft tail.
Tires
For hybrids that require more terrain, tires have to be more compatible, and the Marin San Anselmo DS2 uses 700cx40mm steel wire beads that provide enough friction in the rough outdoors as well as being able to grind brick floors in urban commuting terrain.
But there's no denying that if you're in an area with high altitude, it can be particularly taxing to face a lot of upward climbing.
Shimano 2×8 Speed Drivetrain
When it comes to commuter racing in the city, it's rather backward to not have a well-performing drivetrain on board. If you saw me blazing through the city on the Marin San Anselmo DS2, you'd be amazed at how efficient and smooth the transmission is.
In terms of the range of speed options, there are only 16 ranges, but they are also adequate for most city commutes. Of course, there's no denying that this figure is a mid-range performer these days.
The twin discs seem somewhat retro in the face of the trend towards 1x drivetrains for the most part, despite their greater stability compared to single disc drives.
Tektro Hydraulic Disc Brakes
If you follow the bike data of the vast majority of all-rounders, you will find that some will opt for the more cost-effective mechanical brakes on brakes. This is also fairly common for models under $1000.
I have to say that I was also surprised that the Marin San Anselmo DS2 uses liquid discs when cost control is so tight. This means a further reduction in body weight, although it will be more expensive to maintain than mechanical discs.
But it is undeniable that with speed comes braking ability for cycling, and without responsive and efficient braking, I don't think the majority of riders would be able to engage in adventurous riding.
Other Versions of the Marin San Anselmo DS2
Compared to the 2023 Marin San Anselmo DS1 model, it is about $100 less in price, but in terms of performance, as I said, the brakes are more economical with mechanical discs based on cost control. This is very friendly for maintenance costs. Admittedly, braking power, it can make you a little squeamish if you're driving at high speeds, or in more adventurous terrain.
In terms of drivetrain, the 2023 Marin San Anselmo DS1 is powered by a SunRace 2×7 speed, with a much smaller range of speed options. In terms of tire configuration, there are still tall 700Cx40mm tires, which are helpful for picking up speed for city commuting. The same choice of more economical aluminum is used for the body materials. All in all, the 2023 Marin San Anselmo DS2 is made with a fair share of upgrades.
When I saw that the 2020 Marin San Anselmo DS2 used the SunRace 3×8 drivetrain commonly used in mountain biking, I was surprised by the design concept. While this is good for steeper climbs or higher speeds, I think the 3x drivetrain might not easily be able to exert better power for a combination where other components have not been upgraded at the same time and remain mid-range.
The taller 700x40c tires will perform with speedy effectiveness in urban weaving, as well as being more powerful in terms of crushing power and not having to worry about the risk of drifting when weaving on wet surfaces. It is not as agile in steering compared to the smaller wheels.
What do we like about it?
Designed to be more intimate for women, the model is superior to the GM model in terms of riding comfort.
The longer travel-dampened fork resists the stress of bumps and allows you to ride further.
Freely framed combination fender racks enable more friendly commuting.
The stable Shimano 2×8-speed drivetrain makes it easier to accelerate and more efficient to start your ride.
The tall wheel size of the 700x40c is necessary for the increase in speed.
Simple internal routing and easy maintenance.
What don't we like about it?
There is not much choice of colors.
Unable to match the challenging terrain of professional competition models.
FAQs
What is the tire size of the 2023 Marin San Anselmo DS2?
The 2023 Marin San Anselmo DS2 tyre size is 700x40c.
What is the 2023 Marin San Anselmo DS2 drivetrain?
The 2023 Marin San Anselmo DS2 drivetrain is a Shimano Altus SL-M315 2×8 drivetrain.
2023 What is the suspension travel of the Marin San Anselmo DS2?
2023 Marin San Anselmo DS2 front suspension travel is 63mm.
Specs
| | |
| --- | --- |
| Model Name | 2022 San Anselmo DS2 |
| Frame | Series 2 Dual Sport, 6061 Aluminum, 700C Wheels, Women's Fit Geometry, Step Through Design, Disc Brake |
| Fork | SR Suntour NEX, 63mm Travel, Preload Adjustment |
| Handlebar | Marin Alloy Riser |
| Stem | Marin Alloy, 31.8mm Clamp |
| Headset | FSA No.10-P |
| Saddle | Marin Women's Fitness Plush |
| Seatpost | Marin Alloy, 27.2mm |
| Crankset | Forged Alloy Crank, 46/30T, Ring Guard |
| Bottom Bracket | Sealed Cartridge Bearings, Square Taper |
| Chain | KMC Z8 |
| Cassette Sprocket | SunRace 8-Speed, 11-34T |
| Front Derailleur | Shimano FD-TY710 |
| Rear Derailleur | Shimano Acera 8-Speed |
| Shifting Lever | Shimano Altus 2×8-Speed |
| Brakes | Tektro HD-M275 Hydraulic Disc, 160mm Rotor |
| Tire | Vee Tire, Rail, 700cx40mm, Wire Bead |
| Wheelset | Marin Aluminum Double Wall Rims, Disc Forged Alu Centerlock Disc, 32H |
| Pedals | Dual Sport Platform |
| Kickstand | Sold separately, center mount compatible. |
| Color | Gray |
| Weight | 30.9lbs (M) |
Comparison Table
2022 Schwinn Sierra Step-Thru vs 2023 Marin San Anselmo DS2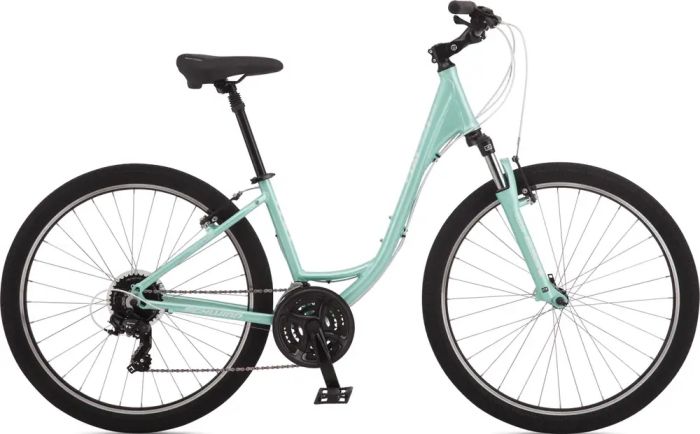 Compared to the cheaper 2022 Schwinn Sierra Step-thru, the 2023 Marin San Anselmo DS2's assembly frame is more gentle and suitable for women's free riding. The Schwinn Sierra Step-thru has an 80mm front fork, which means it absorbs better force in terms of shock absorption.
It's also a constraint for the difficulty of the climb. Although it takes a 21speed range on the powertrain to give you a smoother acceleration ride。
Different approaches have been taken to brake selection, with the Marin San Anselmo DS2 using a more solid liquid disc, while the Schwinn Sierra Step-Thru takes a line brake that is more friendly for extra-long rides. In terms of braking effectiveness, I think the liquid disc brakes have the edge.
2022 Schwinn Sierra Review – A Hybrid Bike Loved by Youth
2023 Marin San Rafael DS2 vs 2023 Marin San Anselmo DS2
For reasons of the diversity of choice, I rarely make comparisons between cars of the same make, but the 2023 Marin San Rafael DS2 has a high call, so I will analyze it from the following points.
First of all, if you are a fan of wider geometric frames, then the 2023 Marin San Rafael DS2 will suit you better. The 2023 Marin San Anselmo DS2 has a more ergonomic design for women, such as saddle or handlebars.
Secondly, at almost the same price, the two use almost identical tires, as well as hydraulic disc brakes and even a 2×8 speed drivetrain in the acceleration package.
Being almost a tie between the two models, if you're a female driver with little experience, I might think the 2023 Marin San Anselmo DS2 would be more suitable as your first hybrid.
2022 Bulls Street Flyer Diamond vs 2023 Marin San Anselmo DS2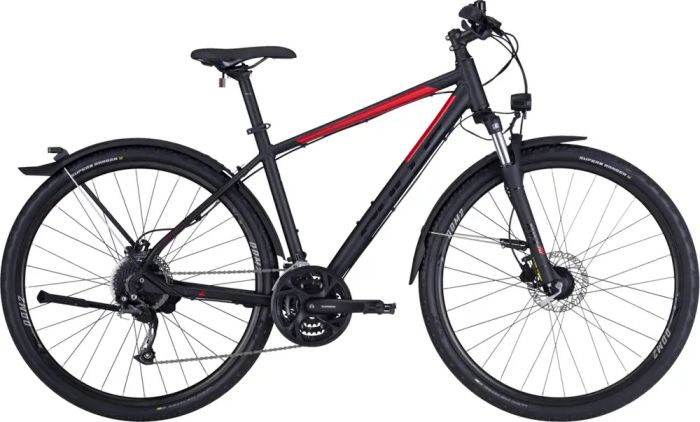 Being more aggressive in geometry and more expensive in price, the 2022 Bulls Street Flyer Diamond features a 3x drivetrain in the bodywork that appears on mountain bikes, which is very friendly for a lot of mountain climbing. It also means losing the simplicity and ease of 1x, and as a novice, I think you can start with a single disc 1x drive and upgrade to more mountain bike components when you get more experienced.
Of course, there's no denying that the 2022 Bulls Street Flyer Diamond's 75mm of front travel will be more effective at absorbing bumps and helping you ride further. Some details of the design, such as the self-contained mudguards will be more friendly to city commuters, and the price does bump up by about $200.
In terms of brake choice, a more responsive liquid disc was also chosen. The only thing I think I'd be picky about is that the 2023 Marin San Rafael DS2 is better suited to a woman's body structure in terms of the people it's aimed at and the comfort of the ride feels better.
Learn more : Is 2023 Marin San Rafael DS2 A Perfect Selection? – [2023 Marin San Rafael DS2 Review]
2022 Liv Rove 4 Disc vs 2023 Marin San Anselmo DS2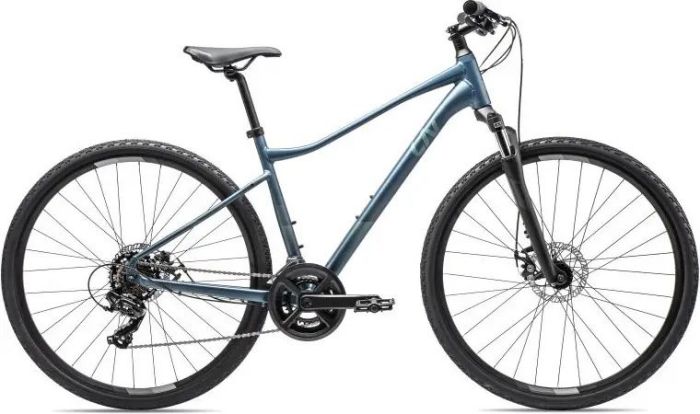 The 2022 Liv Rove 4 Disc, which has the same 65mm fork travel, is essentially the same in terms of damping efficiency. The braking options are also more responsive with the use of liquid discs. However, in terms of tire size, the 2022 Liv Rove 4 Disc has wider 700x42c tires, which means that it will be more powerful in the grind than the Marin San Anselmo DS2's 700x40c, although this will have some drag on climbing acceleration.
In addition, the Marin San Anselmo DS2 will have a wider range of speed options than the 2 X 7 speeds used in the Liv Rove 4 Disc.X7 speed, which is good news for those who want to get more power on the uphill.
Both are very attentive to women's details, such as the comfort of the saddle, which is very important for women's riding.
In case, the above comments are helpful to you, please remember to share the subscription. Have a great day!
Learn More: 2022 Liv Rove 4 Disc – Do You Want To Experience The Fun Of Hybrid Riding?