We use affiliate links and may receive a small commission on purchases.
2022 Giant Talon 1 Review
Price: $980
Stroke: Front 80mm/100mm
Frame: Aluminum Alloy
Tires: 27.5″ / 29″
Gear: 1×10
What we like about it: The clever water bottle placement, easily adjustable cockpit.
What we don't like about it: It's a little heavy for professional riders.
Rating (4.6/5)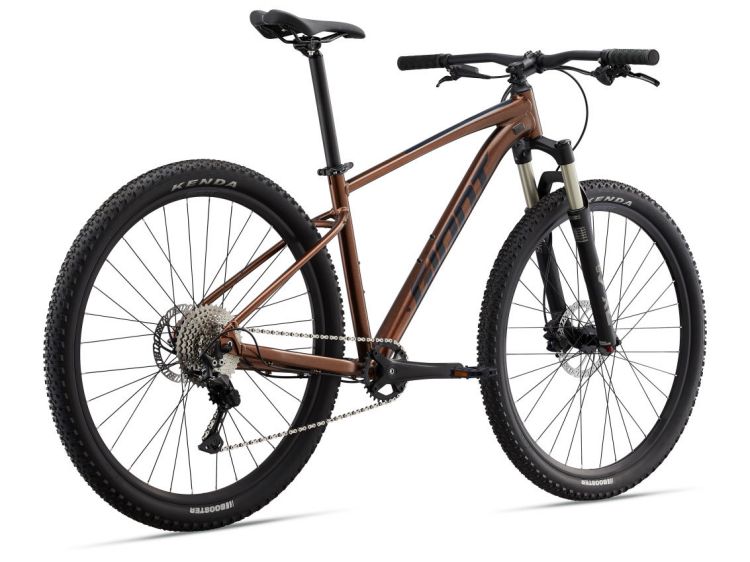 Giant has improved its Talon hardtail mountain bike for 2022. This bike is Giant's main flagship model and has been praised by cyclists for its excellent quality and low price.
You may not imagine that you can reap the benefits of a very good quality bike by paying just a small price. Yes, this can be considered the cheapest way to buy a proper mountain bike from the brand.
The Giant Talon 1 is the most advanced series in the Talon line with the highest level of configuration. The durable frame and easy-to-maintain components will keep it with you for a long time, and the 1×10 drivetrain gives me a fast and advanced shifting experience.
It is worth mentioning that the Giant Talon series offers different sizes for riders of different heights along with smaller custom tires exclusively for smaller frames. This allows riders of shorter stature to have the same geometry experience.
Below we break down the Giant Talon 1's climbing performance, descent performance, key features, components, specifications, and other versions.
If you want to know more about bike reviews, you can follow us.
Giant Talon 1 Climbing Performance
Even though it's not an expensive hardtail crossover, it still doesn't lack the hardtail climbing gene.
Over the weekend, I took my new Giant Talon 1 to Whistler Mountain Bike Park, which was a great ride on the South Side trails. Before setting off, I also booked accommodation through IHG Hotels & Resorts to give myself ample space to rest and prepare.
My team and I climbed up the Cheakamus River and it was steeper than I thought it would be, but my bike was really strong. I turned off the cushioning on the fork and set the gear ratio to a minimum, which allowed me to have a more appropriate pedaling frequency to climb the hill more easily.
There were trees and grass all around and the road didn't seem completely level. There were also some raised rocks and roots on the road, and the wet woods made them look very slippery, so I wasn't sure if I could ride up. But my fears were unnecessary and I climbed up very easily. This was because the Kenda tires had very good traction and could easily grip the ground to get me up.
With its nice geometry, the Giant Talon 1 falls right in between fun and high-speed stability, with a balanced seat position to suit the tastes of most riders. I felt strong and fast responsiveness on the climbs, and its frame was very sturdy, allowing me to climb the less steep hills quickly.
It's a confident ride, perfect for ambitious riders who want to take their off-road skills to the next level.
Giant Talon 1 Downhill Performance
Pick up the pace on the climbs and relax on the descents. I was able to feel this Giant Talon 1 while riding off-road through balanced, confident handling, and a comfortable shock fork.
Before descending I must say that it can't sprint down a hill like a softtail DH mountain bike because it doesn't have a rear shock. It's a different way to play. But to my surprise, it does perform well on descents, so it could be considered a great choice for XC trail riding.
Standing on a boulder, I began my day's descent. The strong grip made the tires seem to grip the moss on the rock face, and as soon as I released my brakes, the bike began to descend quickly. In this way, I was able to control my brakes precisely to keep the descent rate steady, and the dexterity of the handlebar allowed me to access my chosen route with precision and speed. I leaped down several sections of the trail, which was very exciting and greatly boosted my self-confidence. And up to 100mm of cushioning allowed me to land the front end very smoothly, and I didn't feel any numbness in my hands throughout the landing.
When I reached the end of the Fineline Bike Shop, I had to buy a beer to reward myself for the day.
Main Features
Frame Group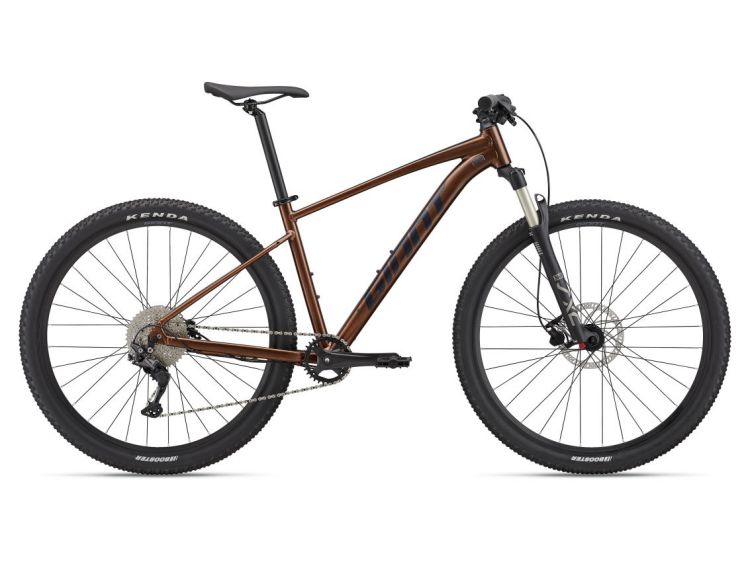 The Giant Talon 1 offers a smooth ride for hardtail bikes, thanks to a lowered rear upper fork that provides good compliance for the overall frame. This absorbs some of the vibrations from bumpy roads.
The off-road-oriented frame design provides it with smooth handling, allowing me to ride confidently on the trail. And all cables are routed internally, allowing you to install droppers for it if you wish to make upgrades.
It is worth mentioning that the frame has a water bottle holder placed on the mid-tube as well as the top tube. This allows me to keep myself well-hydrated while doing a trail ride.
Geometry
The Giant Talon 1 is a more aggressive riding experience when it comes to trail riding. The reason for this is having a steeper seat tube angle (73.5°), which allows me to power the pedals more comfortably. And it also allows for better cranking up hills in the face of steep inclines. The head tube angle is also relatively steep, so I felt the direction was very responsive while riding. This helped me a lot on the descent to get into the intended route accurately.
Not only that, but the Giant Talon 1 is designed with a shorter Reach (425mm) and a taller Stack (598mm). This allows me to get a more upright position while riding and be more comfortable facing less aggressive trails.
Components and Specifications
Shimano Deore M4100 1×10 Drivetrain
This version uses a 1×10 speed drivetrain. And before the ride, I was very skeptical that this would have the kind of experience that a 2×8 drivetrain brings with more options, and I was proven wrong.
There is no doubt that it not only gives me the same experience as a 16-speed drivetrain (or even beyond), but it makes shifting much easier. So I only have to adjust the rear derailleur to do all the shifting.
And the elimination of the front derailleur makes the frame lighter and reduces the difficulty of maintaining the drivetrain.
Tektro HDC M275 Hydraulic Disc Brake
The brake on the HDC M275 is the latest model from Tektro. I can fairly say that I only need to pull the lever gently and it stops very reliably and quickly.
Maybe it lacks supple adjustment and fine control, so do I have to replace it with a more expensive controller? No, I don't think that's necessary. What I need are brakes that are responsive and efficient when riding fast.
The Tektro HDC M275 hydraulic disc does this very well. And I've gotten used to the feel of it and don't need much fine-tuning, that would be redundant.
Kenda Booster 27.5 or 29×2.4″ Tires
The Kenda is known for its excellent value for money and has a very strong grip and good passing power, making it easy to climb gravelly streets on uphill climbs. Giant offers riders a choice of 27.5 and 29 tires.
In addition, 27.5 inches allows riders to be more agile when riding and have better control in the face of winding mountain roads. And with 29-inch tires, you can get better passability, filter out some small bumps, and have faster speed.
All sizes are available in your preferred size, except for the two smallest sizes, which are only available in 27.5 inches.
Suntour Raidon Fork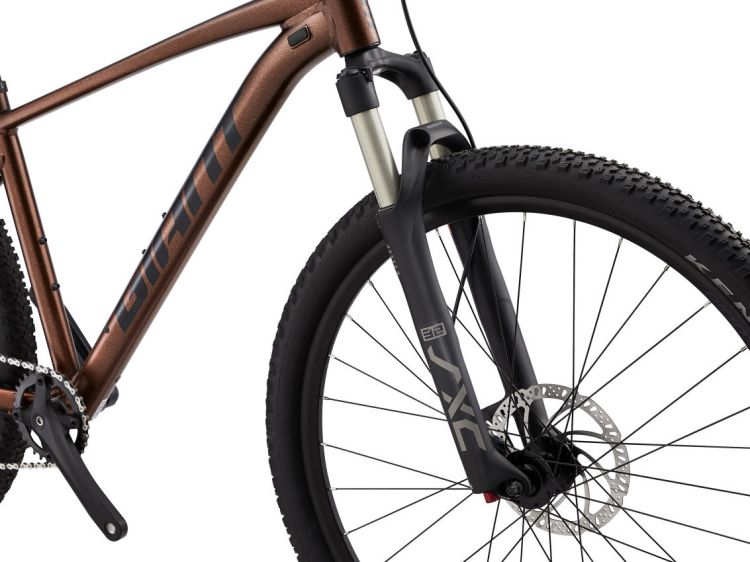 Although I don't see the RockShox or Fox logo on the fork, it is still a very good performer. I felt it was very soft at the start of the ride, absorbing even small vibrations, unlike the cheap forks that act purely as shock absorbers.
In addition, the shock fork on this top model is Giant's design, which has an easily adjustable air spring and a hydraulic damping feel that provides comfort. It's very usable and easy to maintain.
After all, I'm just a cycling enthusiast and don't maintain my bike as regularly as those professional riders do. I just hope it will never be damaged.
Other versions of Giant Talon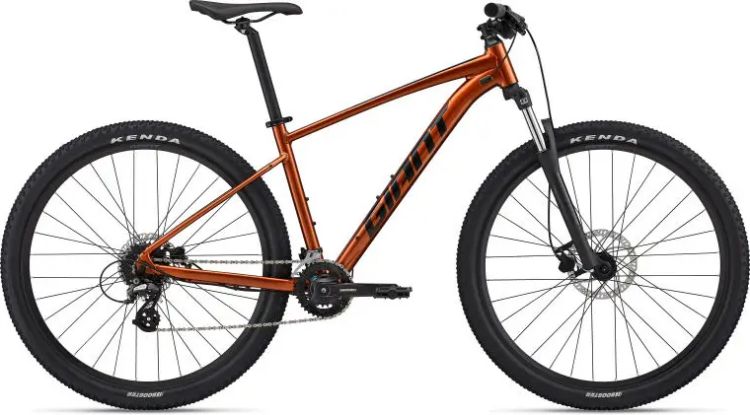 In this review, we reviewed the Giant Talon 1. This is the next top version of the Talon series, with the same fork and components as the top, just with two fewer gears. And, the top-of-the-line ALUXX grade aluminum frame allows me to push the limits in corners and downhill.
For this reason, we also looked at the Giant Talon 3. It's cheaper and uses almost all of the accessories except for the frame geometry, but the performance isn't too bad. If you're on a budget, I'd certainly recommend the Giant Talon 1, but the Giant Talon 3 is also a good choice for those on a budget.
If you want to know more versions of it, welcome to follow us.
Learn more: 2022 Giant Talon 3 Review – Bringing Comfort To Your Off-Road Riding
What we like about it
Soft and stiff fork cushioning.
Super efficient pedaling feeling.
Excellent cornering performance.
Reliable braking system.
Available tire sizes.
The 1× drive is more advanced and convenient.
What we don't like about it
1、For professional riders may be a little heavy.
FAQs
Can the Giant Talon 1 be ridden on the road?
It is an XC mountain bike that focuses on light off-road as well as gravel riding. As soon as you turn on the fork lock, you can immediately ride it through the road.
What frame is used in the Giant Talon 1?
The Giant Talon 1 uses Giant's exclusive ALUXX grade high-end aluminum frame, which is lightweight while increasing the rigidity of the frame. This is very advanced technology.
What heights does the Giant Talon 1 suit?
The size chart for Giant Talon 1 is as follows.
(These sizes are only a general guide, the true fit may vary from person to person and the easiest way to find your size is best to go for a test ride.)
| | |
| --- | --- |
| Rider height (cm) | Frame size |
| 155cm – 166cm | XS |
| 163cm – 172cm | SM |
| 169cm – 179cm | MD |
| 176cm – 186cm | LG |
| 183cm – 193cm | XL |
2022 Giant Talon 1 Specs
Build
| | |
| --- | --- |
| Frame | ALUXX-Grade Aluminum, disc Colors: Black; Hematite |
| Fork | SXC32-2 RL, air spring, QR, alloy steerer XS: 80mm travel (27.5) S: 80mm travel (27.5) / 100mm travel (29) M: 100mm travel (27.5) / 100mm travel (29) L: 100mm travel (27.5) / 100mm travel (29) XL: 100mm travel (29) XXL: 100mm travel (29) |
| Rear Shock | N/A |
| Bottom Bracket | cartridge |
| Stem | Giant Sport, 7-degree XS: 40mm (27.5) S: 50mm (27.5) / 50mm (29) M: 60mm (27.5) / 60mm (29) L: 70mm (27.5) / 70mm (29) XL: 80mm (29) XXL: 90mm (29) |
| Handlebar | Giant Connect Trail, 31.8mm XS: 730mm (27.5) S: 780mm (27.5) / 780mm (29) M: 780mm (27.5) / 780mm (29) L: 780mm (27.5) / 780mm (29) XL: 780mm (29) XXL: 780mm (29) |
| Saddle | Giant custom |
| Seatpost | Giant Sport, 30.9 XS: 300mm (27.5) S: 300mm (27.5) / 375mm (29) M: 375mm (27.5) / 375mm (29) L: 375mm (27.5) / 375mm (29) XL: 375mm (29) XXL: 375mm (29) |
| Pedals | MTB caged |
| Grips | Giant Sole-O |
Groupset
| | |
| --- | --- |
| Rear Derailleur | Shimano Deore M5120 |
| Front Derailleur | N/A |
| Crank | ProWheel Charm, 30t (27.5) or 32t (29) XS: 165mm (27.5) S: 170mm (27.5) / 170mm (29) M: 170mm (27.5) / 175mm (29) L: 175mm (27.5) / 175mm (29) XL: 175mm (29) XXL: 175mm (29) |
| Shifters | Shimano Deore M4100, 1×10 |
| Cassette | Shimano Deore M4100, 11×42 |
| Chain | KMC X10 |
| Brakes | Tektro HDC M275, hydraulic, Tektro rotors [F]180mm, [R]160mm |
| Brake Levers | Tektro HDC M275 |
Wheels
| | |
| --- | --- |
| Rims | Giant GX03V 29 or 27.5, alloy, double wall, 21mm inner width |
| Spokes | stainless, 14g |
| Front Hub | alloy, ball bearing |
| Rear Hub | alloy, ball bearing |
| Tires | Kenda Booster 27.5 or 29×2.4″, wire bead |
Video
Comparison Table
2022 Giant Talon 1 vs 2023 Trek Marlin 6 Gen 2
In terms of configuration, both bikes have the same drivetrain components and the same brake system. The Giant Talon 1 uses a better homemade fork.
As mentioned earlier, the Trek Marlin 6 Gen 2 has a higher seat tube angle than the Giant Talon 1. This means it has a more aggressive riding position, which makes it ideal for fast travel on the trail. But the aggressive angle makes it less suitable for longer rides. For beginners, this is not friendly as it is likely to cause them to lose riding confidence.
For the Giant Talon 1, while the head tube and seat tube are equally aggressive, Giant uses a taller Stack and shorter Reach to keep the rider sitting upright. This is a wise decision.
Learn More: Is Trek Marlin 6 Worth Buying? [Trek Marlin 6 Review] 2022
2022 Giant Talon 1 vs 2022 Bianchi Duel – 27s – Alivio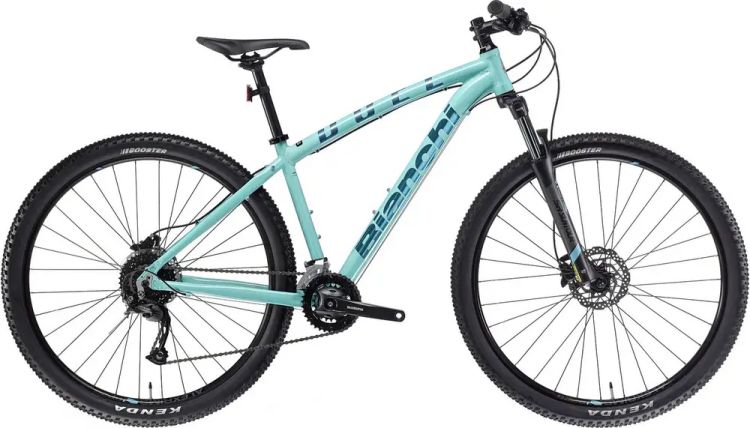 Regarding the configuration, the forks are made of cost-effective forks from two manufacturers respectively, but the Giant Talon 1 uses a single-disc 10-speed kit for the drivetrain. The 2022 Bianchi Duel – 27s – Alivio uses a 2×9 speed kit.
In my experience, I think the 10-speed component gives me smoother shifting and quicker response, while the 2×9-speed system will give me a greater range of options for more terrain. My advice on exactly how to choose is that you choose based on your riding preferences.
2022 Giant Talon 1 vs 2022 Scott Aspect 950
The two bikes don't look too comparable. Because the Giant Talon 1 has a higher-end fork, higher-end derailleur, and even a better built-in cable frame. So there is a big difference in the riding experience.
Geometrically, the Scott Aspect 950 geometry is wider and has a higher rear fork height as well as stance height, which makes the frame more stable to ride. However, the Giant Talon 1's frame is more compact and compressed, which provides a more direct power experience and is more forgiving to riders who are not very tall.
2022 Giant Talon 1 vs 2022 Fuji Nevada 27.5 1.7 SRAM
Regarding components, the Giant Talon 1 uses a better in-house fork and the component configuration is in the same class of gearing. However, the Giant Talon 1 is a 1×10 speed, while the Fuji Nevada 27.5 1.7 SRAM uses a 3×8 speed shifting system.
I think the 3×8 speed gearing system is outdated, although it has a wide range of gear ratios, the complex front and rear gearing is dazzling. And in my observation, most of the 3×8 speed users still have some of the gears brand new after many years of using the bike, and they can't use so many speeds. In contrast, the 1×10 speed is more appropriate and allows me to quickly and accurately change to the right gear.
In case, the above comments are helpful to you, please remember to share the subscription. Have a great day!