We use affiliate links and may receive a small commission on purchases.
2022 Giant Talon 4 Review
Price: $600
Category: Hardtail trail bike
Tires: 27.5″/ 29″
Drivetrain: 1×8
What we like about it: Better entry-level trail bikes, very cost-effective price, gives you a good riding experience.
What we don't like about it: Too few colors to choose from.
Rating (4.6/5)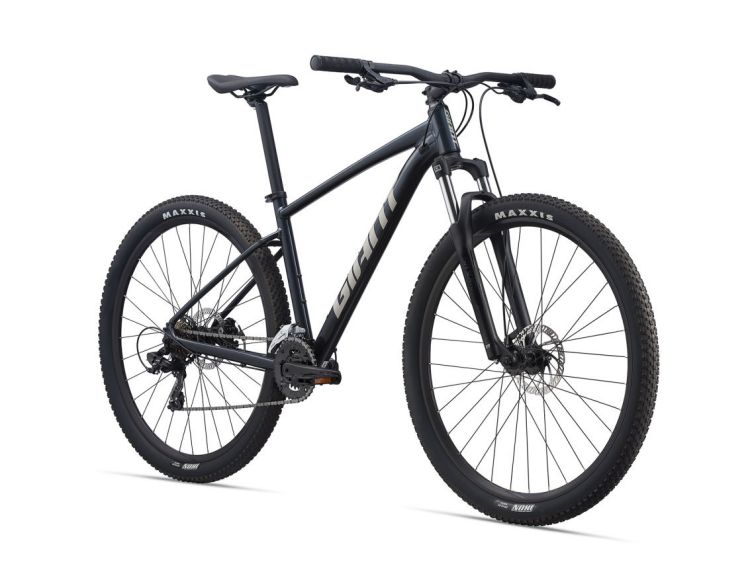 For all cyclists, off-road seems to have a unique charm for them. But since off-road not only tests the rider's skills but also has certain requirements for the bike's performance.
The 2022 Giant Talon 4 we present today is just the thing to fulfill your mountain trail fantasies. Whether it's the cost-effective price, the SR Suntour XCE shock fork, or the microSHIFT RD-M619 derailleur, it's in the upper echelon of entry-level hardtail trail bikes.
Next, let me introduce you to this bike in detail. We will start with its climbing, descending, main features, and main components, as well as other versions.
If you want to know more about this bike, welcome to follow us, we will keep updating.
Giant Talon 4 Climbing
For an entry-level hardtail trail bike, excellent climbing performance is indispensable. For this reason, I am looking forward to the Giant Talon 4's performance on the climbs.
The road we chose for this test was a trail in the countryside. Since no one had ridden it for too long, the trees and flowers around the road became very lush, which greatly enhanced the difficulty of our ride. But the Giant Talon 4 proved itself with real performance.
First of all, the weight of the Giant Talon is the same as the entire Giant Talon series, and the Giant Talon 4 still uses ALUXX-grade aluminum in the frame. This makes it easier for me to ride and stiff enough to cope with some rough roads.
Some of the weeds on both sides of the road even grew into the middle, but the Kenda Booster tires made it still as flat on this terrain. And at 29″, they provide plenty of traction. I could feel the smoothness of the tread-patterned tires as they drove over the gravel road.
Of course, the climb was also without steep slopes. Many people might think that the 1×8 drivetrain would struggle with such climbs, but my experience tells me otherwise. Both its gearing response and the speed of the climb gave me a very enjoyable ride.
Overall, this Giant Talon 4 is a bike for newbies.
Giant Talon 4 Descending
In most people's minds, hardtail bikes are not as good at descending as speed bikes in the same price range. I have to admit that, but I was pleasantly surprised by the Giant Talon 4 in this review.
As I rode down from the top of the hill, my speed peaked under the influence of gravitational acceleration. I crossed the small dirt hill in front of me and the bike flew high into the air, with the Suntour XCE28 fork playing an important role in the landing. That's right, the 100mm of travel effectively absorbs the vibration generated while riding, giving me a smoother cushion.
In addition to facing the flying sections, it also had a great riding experience on some bumpy roads. This is probably due to Giant's custom saddle, which effectively protected my hips while I was riding, allowing me to ride more comfortably.
It is worth mentioning that the Giant Talon 4 uses mechanical disc brakes for its brake options. Some people may not be used to using mechanical disc brakes, but I would like to say that in actual riding, this RS360A brake is still able to respond quickly and sensitively. Although it is not as light in weight as the hydraulic discs, it is much easier to maintain and is suitable for novices.
Again, thanks to its excellent braking ability, I was able to reach the finish line safely during this descent. I can say that it gave me a great feeling on this ride.
Main Features
Frame Group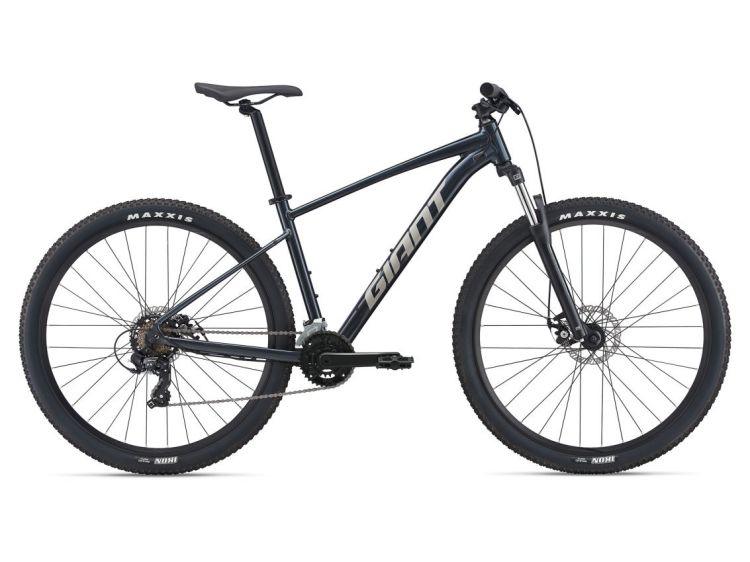 When I first saw this Giant Talon 4 bike, I was attracted by its appearance. The metallic black paint color makes it look more understated and restrained overall. However, I have to say that there are very few options to choose from.
At the same time, the design of the internal alignment is to make the body looks very clean and tidy. Not only that, but it also protects the cable from being damaged. This is very important for people who are often outdoors off-road.
And in the material of this bike using a lightweight ALUXX aluminum frame, reducing the weight of the body at the same time there is enough sturdiness, to bring you a better riding experience.
If you often do outdoor riding, you can easily install luggage racks or fenders at the rear upper fork and rear lower fork, which is greatly convenient for your riding. And at its seat tube and down tube, the same water bottle mounting holes are set up, so you can ride in the wild without the trouble of not having drinking water.
Geometry
For a hardtail trail bike, this Giant Talon 4 has a geometry that I am more than happy with.
First of all, the standing height of 748mm is just right for me. I can use my feet to hold the body steady while I'm parked and waiting instead of just getting out of the bike.
Secondly, its slightly steeper head tube angle (67.5°) brings the front tire closer to the rider, giving you a more responsive and quicker response when steering.
Finally, the 74° seat tube angle allows you to lean more forward, which is more aerodynamic and ensures your pedaling efficiency.
The aggressive geometry design gives it a faster speed when riding. And the ergonomic design makes your ride more comfortable.
Components and Specifications
Kenda Booster Tires
This Kenda Booster tire, with its new tread design and superb traction, is one of the fastest and lightest XC tires on the market.
A newly developed compound is used in the material, which makes it very tough. It has excellent grip, especially on some rough and rocky roads.
And this bike offers different choices in tire sizes, so you can choose the right one for you according to your riding preferences.
TKB-172 Brake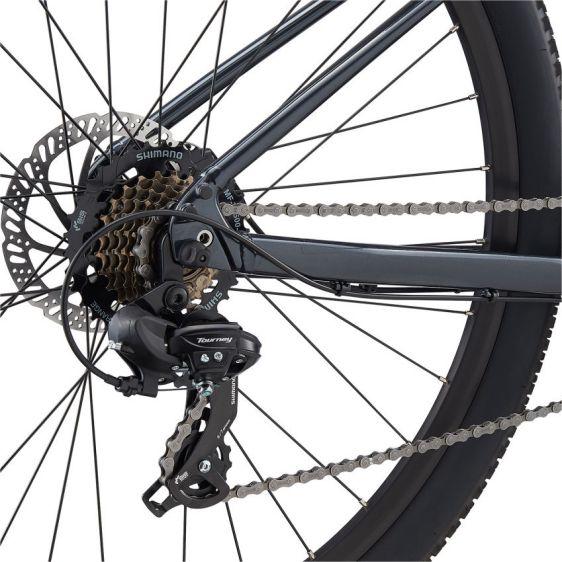 When it comes to brakes, people have their preferences for both mechanical and hydraulic discs, and I would say that this TKB-172 mechanical disc brake is excellent in terms of braking effect. It has the same sensitive responsiveness, and at the same time is much easier to install in terms of maintenance.
Even though it is a mechanical disc brake, it still gives me a full sense of security in my actual riding. Yes, the excellent braking ability keeps me steady and stable.
Suntour XCE28 Front Fork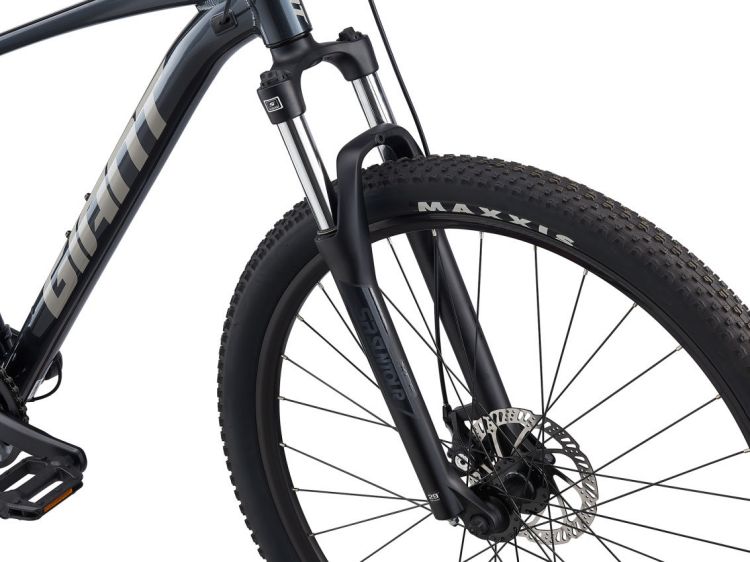 On the front fork, Giant Talon 4 uses a Suntour XCE28 fork. The 100mm of travel is effective in absorbing the vibrations brought by riding. It also has 80mm of travel, but this is equipped in a smaller size.
Made of aluminum alloy, it is light enough in weight and has guaranteed stiffness. So you can use it with confidence and ride on steep roads.
Other versions of Giant Talon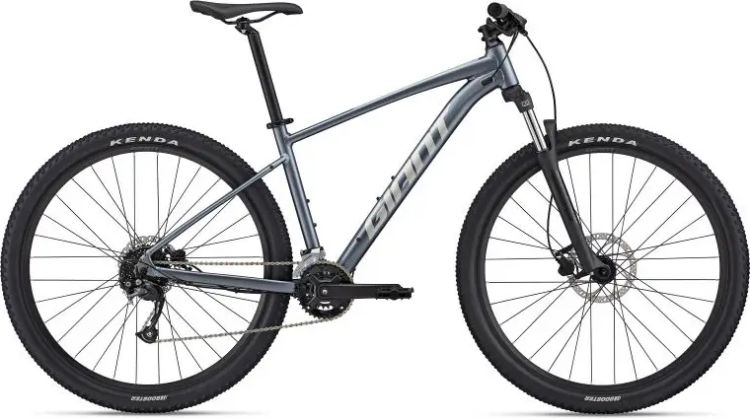 In this test, we reviewed other versions of the Giant Talon. The Giant Talon 2 is an upgrade to the Giant Talon 4, and it uses hydraulic disc brakes, which are lighter in weight. The Giant Talon 2 has also been upgraded in terms of drivetrain, although there is only one more gear change.
These component upgrades also make it a bit more expensive. But honestly, when it comes to actual riding, both give me a similar feeling. If you're on a budget, then I'd recommend the Giant Talon 4.
Learn More: 2022 Giant Talon 2 Review- A Great Companion For Your Into The Mountains
What we like about it
Suntour XCE28 fork brings the damping effect.
TKB-172 brake has excellent braking ability.
Excellent grip and traction with Kenda Booster tires.
ALUXX grade aluminum frame, strong enough.
What we don't like about it
Too few color styles to choose from.
FAQs
What are the tires on the 2022 Giant Talon 4?
The tires on the 2022 Giant Talon 4 are Kenda Booster tires.
What is the fork of the 2022 Giant Talon 4e?
The fork of the 2022 Giant Talon 4 is the Suntour XCE28 fork.
What are the brakes on the 2022 Giant Talon 4?
The brakes on the 2022 Giant Talon 4 are TKB-172 mechanical disc brakes.
If you want to go riding in well-known terrain or special terrain, where is the most convenient place to stay?
You can book your accommodation on IHG Hotels & Resorts, which is not only rich in variety but also easy to operate.
2022 Giant Talon 4 size chart
| | |
| --- | --- |
| Size | Rider height |
| XS | 5'1″ – 5'6″ |
| SM | 5'4″ – 5'8″ |
| MD | 5'6″ – 5'11" |
| LG | 5'9″ – 6'2″ |
| XL | 6'0″ – 6'4″ |
2022 Giant Talon 4 Specs
Build
| | |
| --- | --- |
| Frame | ALUXX-Grade Aluminum, disc Colors: Metallic Black; Metal |
| Fork | SR Suntour XCE, steel steerer XS: 80mm travel (27.5) S: 80mm travel (27.5) / 100mm travel (29) |
| Rear Shock | N/A |
| Bottom Bracket | cartridge |
| Stem | Giant Sport, 7-degree XS: 40mm (27.5) S: 50mm (27.5) / 50mm (29) M: 60mm (27.5) / 60mm (29) L: 70mm (27.5) / 70mm (29) XL: 80mm (29) XXL: 90mm (29) |
| Handlebar | Giant Connect Trail, 31.8mm XS: 730mm (27.5) S: 780mm (27.5) / 780mm (29) M: 780mm (27.5) / 780mm (29) L: 780mm (27.5) / 780mm (29) XL: 780mm (29) XXL: 780mm (29) |
| Saddle | Giant custom |
| Seatpost | Giant Sport, 30.9 XS: 300mm (27.5) S: 300mm (27.5) / 375mm (29) M: 375mm (27.5) / 375mm (29) L: 375mm (27.5) / 375mm (29) XL: 375mm (29) XXL: 375mm (29) |
| Pedals | MTB caged |
| Grips | Giant Sole-O |
Groupset
| | |
| --- | --- |
| Rear Derailleur | microSHIFT RD-M619 |
| Front Derailleur | N/A |
| Crank | ProWheel A10XPP, 30t (27.5) or 32t (29) XS: 165mm (27.5) S: 170mm (27.5) / 170mm (29) M: 170mm (27.5) / 175mm (29) L: 175mm (27.5) / 175mm (29) XL: 175mm (29) XXL: 175mm (29) |
| Shifters | microSHIFT SL-M718, 1×8 |
| Cassette | microSHIFT CS-H083, 12-46 |
| Chain | KMC 8.3 |
| Brakes | TKB-172, mechanical [F]160mm, [R]160mm rotors |
| Brake Levers | RS360A, mechanical |
Wheels
| | |
| --- | --- |
| Rims | Giant GX03V 29 or 27.5, alloy, double wall, 21mm inner width |
| Spokes | stainless, 14g |
| Front Hub | alloy, ball bearing |
| Rear Hub | alloy, ball bearing |
| Tires | Kenda Booster 27.5 or 29×2.2″, wire bead |
Video
Comparison Table
2022 Giant Talon 4 vs 2022 Giant Talon 3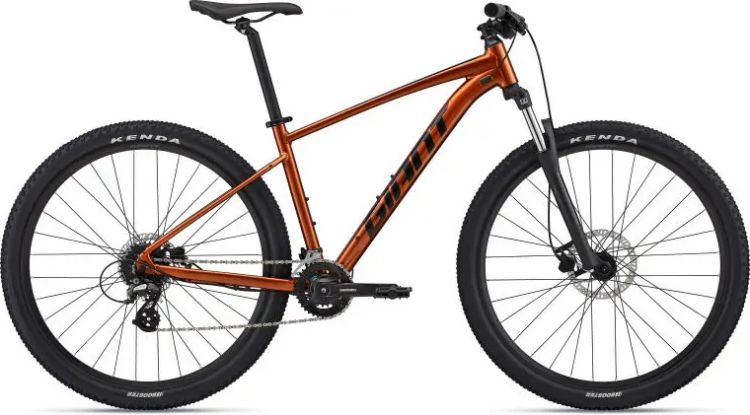 As a hardtail trail bike in the same series as the Giant Talon 4, the Giant Talon 3 has only made changes to the drivetrain and brakes compared to it.
First of all, in terms of drivetrain, Giant Talon 3 uses a 2×8 drivetrain system, which will have more options in terms of shifting, but also increases the difficulty of operation. In the actual riding, Giant Talon 4 brings me an experience that is not worse than Giant Talon 3. The 1×8 drivetrain is enough for newbies.
As for the brakes, whether they are hydraulic or mechanical discs, they both have the good braking ability. In actual use, they have their advantages and disadvantages, depending on your preference.
For me, if I were to make changes in just those two points, but at a price that is $200 higher, then I would prefer the Giant Talon 4.
Learn More: 2022 Giant Talon 3 Review – Bringing Comfort To Your Off-Road Riding
2022 Giant Talon 4 vs 2022 Bianchi Duel – 27s – Alivio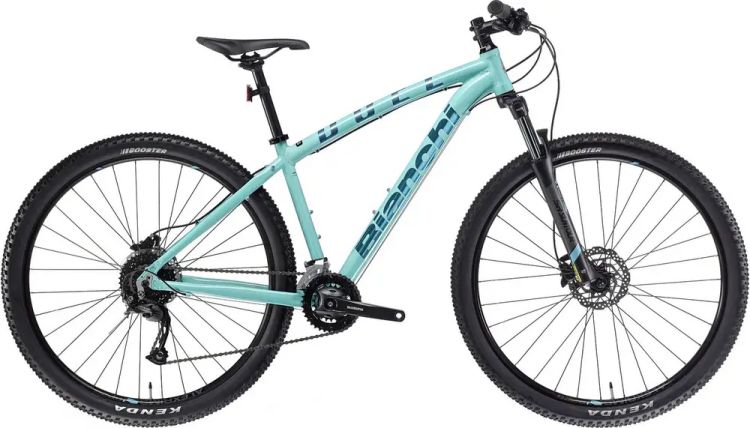 This 2022 Bianchi Duel – 27s – Alivio is similar in price to the Giant Talon 4, but it has an exposed cable. This can leave you vulnerable to damage while riding and is not conducive to routine maintenance.
Also, in terms of tire size, the Giant Talon 4 has more and bigger size options than the Bianchi Duel – 27s – Alivio. If you prefer larger tires, then the Giant Talon 4 may be a good choice.
2022 Giant Talon 4 vs 2023 Silverback Spyke 26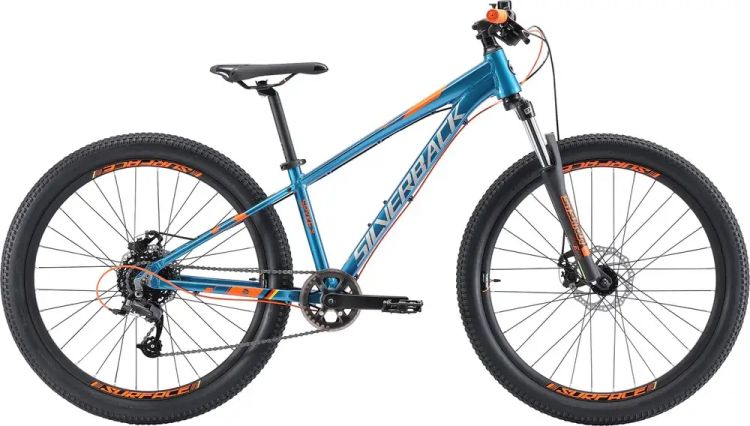 To be honest, the design of the 2023 Silverback Spyke 26 is not to my liking. The blue paint mixed with the orange handlebars and logo is a bit too flashy in my opinion.
And it must be mentioned that the cable is exposed outside the body. This makes it look less clean and tidy, and also more troublesome in maintenance. Because this design will make the cable easily damaged.
Based on this, I would prefer the Giant Talon 4. Whether it's the internal alignment design or the choice of paint color, this is what attracts me to the bike.
2022 Giant Talon 4 vs 2022 Specialized Rockhopper 26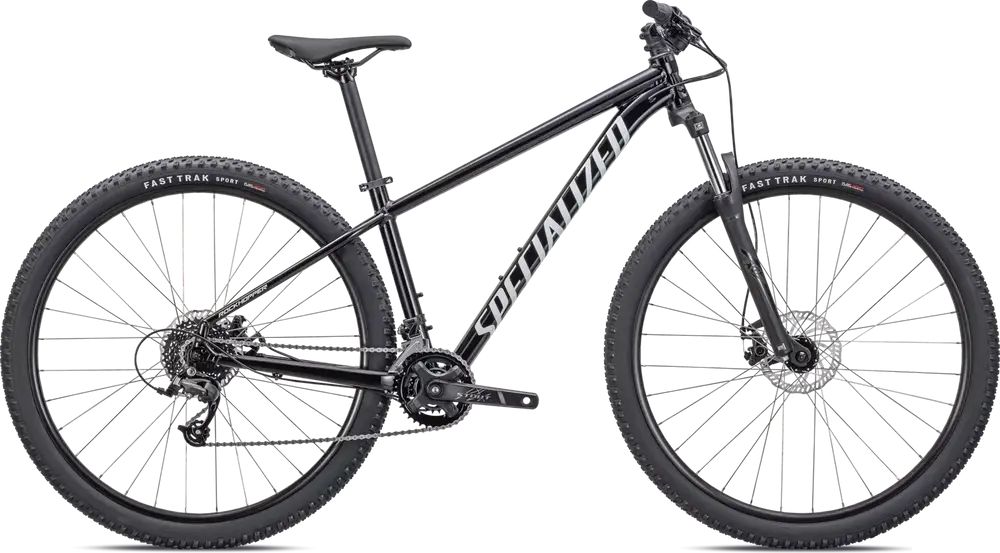 In terms of size selection, this 2022 Specialized Rockhopper 26 only comes in one size, which may not be for everyone. The Giant Talon 4, on the other hand, comes in five sizes, so you can choose according to your height.
Also, the Specialized Rockhopper 26 has a 26-inch tire size. This will make it a little less stable when riding.
In addition, the Specialized Rockhopper 26 has a wider range of speed options when it comes to shifting. However, the 2× shifting I think might be more suitable for riders with some experience. And with the 1× Giant Talon 4, it would be more suitable for novice riders in my opinion.
And overall, this Specialized Rockhopper 26 is more compact than the Giant Talon 4. If you have a height of 1.8m like me, then the Giant Talon 4 may be more suitable for you.
In case, the above comments are helpful to you, please remember to share the subscription. Have a great day!
Learn more : Top 8 Best Hardtail Mountain Bikes Under $1000