We use affiliate links and may receive a small commission on purchases.
2022 Colnago C64 Disc Corsa Pro Bike
Price: $12200
Frame: Sleeve Carbon
Tires: 700c×25 Carbon
Gear: 2×12 Electronic
What we like about it: The exquisite handmade frame, and the long cultural heritage of the royal brand.
What we don't like about it: The relatively less-than-impressive price/performance ratio.
Rating (4.9/5)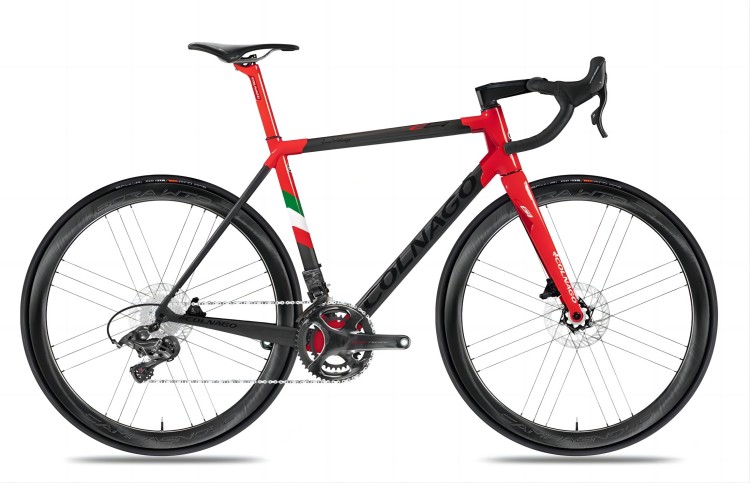 The C64 was built on Colnago's legendary hand-built Italian carbon frameset that began with the C40, the first carbon bike to win the Paris-Roubaix race in 1995.
From that moment on, Colnago introduced a new version of their iconic lugged carbon frame, all hand-built in their Italian factory.
The new C64 inherits almost all the advantages of the C60 while adding aerodynamic details, an improved power drivetrain, and a more comfortable riding experience. It's called the C64 and in honor of Colnago's 64th anniversary, it even skips the 61, 62, and 63 designations and goes straight to the C64. In addition, the new C64 tubing is wider, lighter, and stronger than before.
Below we break down the Colnago C64 Disc Corsa Pro Bike regarding road riding, climbing ability, key features, components and specifications, and other versions.
If you want to know more about bike reviews, you can follow us.
Colnago C64 Disc Corsa Pro Bike Road Riding
For anyone who loves road riding, there is no doubt that the Colnago C64 Disc Corsa Pro Bike will be the center of attention for everyone. Obviously, it's not just the big logo on the downtube, it's the advanced carbon material combined with the original casing technology that makes up the frame, which is the result of pure craftsmanship. It is also as expected, a fast ride focused on race design.
I would call it a work of art bike rather than a race bike, the exquisite design makes me feel the refinement of the handiwork and the craftsmanship of the craftsmen. For this test, we chose Lanzarote, a very windy place with very little vegetation. It started with a ride along the coast, followed by an unforgettable climb, which was long and hard.
I felt a palpable thrill when I sat on it, and like its predecessor, it has an exceptionally strong and lively frame, and no more design will affect the sturdiness of the lugged frame itself.
We continued along the undulating route, followed by a rapid descent, not only I even passers-by were surprised at such a fast speed "wow, It's too fast!"
Its excellent Campagnolo Super Record brakes allowed me to go through these corners with confidence and speed. Besides, combined with the excellent 3 Diamante braking surface of the Bora tires, it provides support for shifting downhill.
After finishing the descent we hit the road along the coastline, the slightly rough tarmac gave me good vibration feedback through the frame, which I would say was very comfortable. I'm very glad the Colnago C64 Disc Corsa Pro Bike is equipped with a low-frame wheelset, otherwise, I would have been blown away by the side winds. I experienced some of the strongest side winds ever and the team with the high-frame cruiser wheelset had to be left far behind.
Colnago C64 Disc Corsa Pro Bike Climbing Ability
The frame weighs just over 900g, which I feel comfortable with. And it is significantly lighter than the C60 (1050g), with a full 7.12kg weight equipped with bottom-frame tires, making it feel very light on climbing sections.
Although the latest research shows that aerodynamics has a significant gain in climbing, the C64 does not make much of a design for it. However, the design of the seat tube shows that they have this concept.
It's hard to evaluate the aerodynamic benefits of a bike outside of wind tunnel testing, but in my experience, it felt like it held its speed well and felt fast while riding.
When we faced a long hill, the bike was an absolute rocket, with a powerful power delivery system and low weight providing it with a true "climber" title. I felt very smooth on the uphill, and that's where the bike shines. In addition, the Campagnolo's unique control logic allows it to shift gears accurately and I can quickly find the right gear ratio for the grade, which is very important in a race.
And, the Colnago C64 Disc Corsa Pro Bike is very stiff when riding fast. While it may not be able to compete with aero bikes with huge, overbuilt bottom bracket shells, the lug design makes the entire frame extremely stiff and allows me to climb off the saddle for long periods. This could be attributed to the ThreadFit 82.5 center column. After finishing my bike ride, I easily booked accommodation on IHG Hotels & Resorts. I can finally relax and rest well.
Main Features
Frame Group
The Colnago C64 Disc Corsa Pro Bike features a lugged frame that nests hand-made carbon tubes into equally hand-made lugs. This mirrors Colnago's classic steel road bike design, which was used by a host of figures such as Eddy Merckx in his glory days.
This construction allows for a wider range of sizes and a custom top tube inclination. And Colnago claims that the new generation C64 has a lighter tube (205g lighter than the C60) and is more robust than the C60.
Overall the Colnago C64 Disc Corsa Pro Bike is an iconic bike that represents its 64 years of dedication and relentless pursuit. Its attention to detail for the frame ranks among the top all-bike brands.
Geometry
Colnago offers 14 stock sizes as well as fully customizable sizes with little to no compromise, it fits all heights. And Colnago offers the C64 in nine tilt (regular) and five high geometric shapes, as well as a customization option.
My frame is a size 52, and it feels like it has a more spacious geometry overall when riding, due to its lower Stack (565mm) and longer Reach (384mm). Because it comes in so many sizes, there is a lot of variation in seat tube and head tube angle. Mainly, the tires are the same size, and the smaller the size the more aggressive it will be comparatively. This can be seen from the 70.8° head tube angle of the smallest size to the 73.3° head tube angle of the largest size, and the 75.5° seat tube angle of the smallest size to the 72.8° seat tube angle of the largest size.
Components and Specifications
Campagnolo Super Record 2×12 Drivetrain
The Campagnolo Record features a 12-speed shifting system that allows for smaller gears and a wider range. Yes, with the top-of-the-line shifting system, the ergonomic hand adjustment system has been completely changed and features a machine gun style shift adjustment logic that allows you to downshift five gears at once by simply pressing the downshift button to the bottom. And break the upshift paddle, you can also upgrade three gears at once.
The whole component is made of full carbon and compliant materials, making this component exceptionally lightweight, and it is not too much to call it the top-of-the-road bike component. It is as delicate as a piece of art.
Campagnolo Super Record Hydraulic Disc Brake
I've always been one of the biggest fans of disc brakes and I think Campagnolo's are among the most powerful brakes on the market. Also, the flush-mounted calipers are very reliable and ensure powerful modular braking for my bike in all conditions. It optimizes the return action of the brake pistons so that the pads can quickly return to their positions once braking is complete.
When I was doing long descents, the previous clamp-on brakes often worried me because the overheated rims would degrade the braking performance. But this hydraulic brake makes me very relieved that it does not degrade the braking performance due to heat decay even when making long descents.
Schwalbe Pro One EVO V-Guard Addix Race Super Rac Tires
Rather than the slimmer 25c or even 23c tires used on regular climbing bikes or general racing bikes, the Colnago uses the 28c tires used on most endurance bikes. This design ensures that the rider can ride further and more comfortably, which is probably the original intention of the Colnago, as the wider tires can accompany the rider over more roads.
I pumped up the tire pressure to a relatively high value while riding, which made it very smooth and solid through flat surfaces. The ride gave a solid feel, it was composed and comfortable, not light and fluffy like similar extremely lightweight bikes.
Other versions of Colnago C
In this review, we have reviewed the Colnago C64 Disc Corsa Pro Bike, a royal road bike brand with a long history. They have always insisted on hand-made frames, so they can only produce a mere 12 frames per day. The exquisite frame makes it look like a work of art.
For this, we also found the Colnago C60, which is an earlier version of the frame, and they are just as refined. But the older frame has more lugs, which makes it heavier and may not be as rigid as the newer version.
If you want to follow more versions of the Colnago C series, feel free to follow us.
Learn More: 2022 Colnago C68 Disc Dura-Ace Di2 Bike Review- A Fine Italian Handicraft
What we like about it
Exquisite handmade frame.
Top quality full carbon, composite fiber exquisite components.
Lightweight whole vehicle without losing high rigidity.
Comfortable riding geometry.
A long cultural heritage.
What we don't like about it
1, some people may think that relatively speaking the cost is not too high.
FAQs
1、 What type of rider is the Colnago C64 Disc Corsa Pro Bike suitable for?
The Colnago C64 Disc Corsa Pro Bike is for riders seeking culture and sophistication, with Colnago's long-standing royal brand culture and hand-crafted frame being very appealing.
2、 What kind of tires does the Colnago C64 Disc Corsa Pro Bike use?
Featuring Schwalbe Pro One EVO V-Guard Addix Race Super Race, vacuum tire design.
3、 Colnago C64 Disc Corsa Pro Bike is suitable for which height people?
The Colnago C64 Disc Corsa Pro Bike is available in up to 14 sizes and can be custom sized for buyers. They say the Colnago fits riders of all heights.
Colnago C64 Disc Corsa Pro Bike Specs
Build
| | |
| --- | --- |
| Frame | High Modulus Carbon |
| Fork | Colnago C64, 1 1/4″-1 1/8″, Internal Cable Routing |
| Bottom Bracket | CeramicSpeed Ceramic Race |
| Stem | Deda Alanera DCR |
| Handlebar | Deda Alanera DCR |
| Saddle | Selle Italia SLR Boost Superflow |
| Seatpost | Colnago C64 Carbon |
| Pedals | Not Included |
Groupset
| | |
| --- | --- |
| Rear Derailleur | Campagnolo Super Record EPS |
| Front Derailleur | Campagnolo Super Record EPS |
| Crank | Campagnolo Super Record |
| Shifters | Campagnolo Super Record EPS |
| Cassette | Campagnolo Super Record, 12s |
| Chain | Campagnolo Super Record, 12s |
| Brakes | Campagnolo Super Record Hydraulic |
Wheels
| | |
| --- | --- |
| Rims | Campagnolo Bora WTO 45 |
| Tires | Schwalbe Pro One EVO V-Guard Addix Race Super Race Tubeless |
| Disk Rotors | Campagnolo AFS03 |
Video
Comparison Table
2022 Colnago C64 Disc Corsa Pro Bike VS 2023 Trek Emonda SLR 9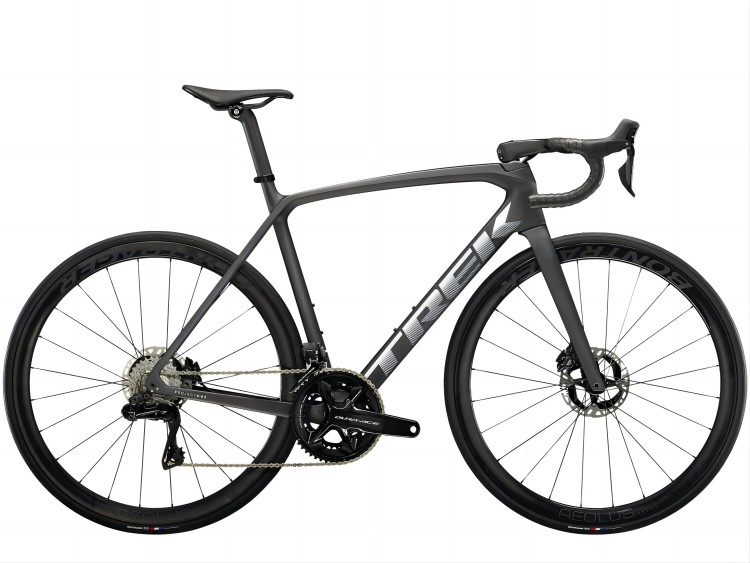 The two bikes have very similar geometry, but in terms of components, they use different brands of top-of-the-line components. While the Trek Emonda SLR 9 uses Shimano components with electronic shifting, the Colnago C64 Disc Corsa Pro Bike uses CAMPAGNOLO components that are not produced with electronic shifting, but with more cost on the materials used in the components. Most of the components are made of carbon, and a small amount of synthetic fiber, which makes the components very lightweight overall.
There is also a big difference in the overall price, but the Colnago C64 Disc Corsa Pro Bike has even better handcrafted craftsmanship and a lug design not found on any other brand, which are advantages worth choosing.
Learn more : Is Trek Emonda ALR 5 Worth Buying? [2022 Trek Emonda ALR 5 Review]
2022 Colnago C64 Disc Corsa Pro Bike VS 2023 Canyon Ultimate CFR eTap
There is not much difference in the configuration of the two bikes, but there is a price difference of up to $6000. In my opinion, this may be a significant advantage of the Colnago brand culture. The long history of this royal brand is still shining even after decades of changes.
The Canyon Ultimate CFR eTap also features SRAM's top-of-the-line Red component, which is electronically shifted to make it more responsive, but the CAMPAGNOLO component has a machine-gun-like, distinctive feel. Everyone's preference is different, whether it's delicate or fast, you can choose according to your preference.
Learn more : Is Canyon Ultimate CF SL 8 Aero Worth Buying? [2023 Canyon Ultimate CF SL 8 Aero Review]
2022 Colnago C64 Disc Corsa Pro Bike VS 2022 BMC Teammachine SLR01 TEAM P2P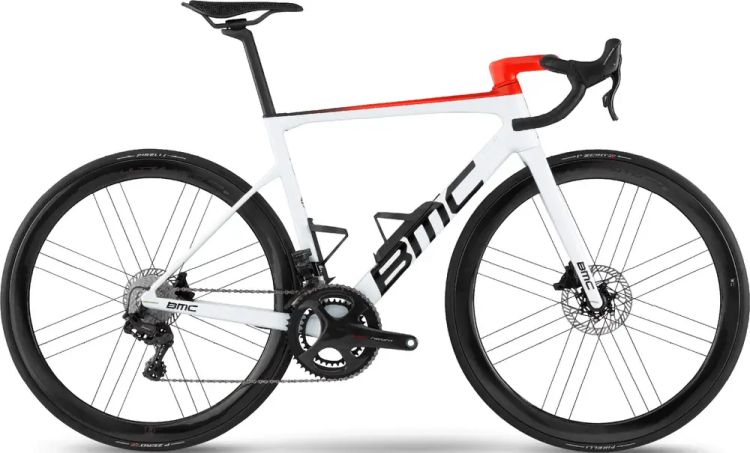 The BMC Teammachine SLR01 TEAM P2P looks more like an aero bike than the other frames on the table. The pure flat top tube as well as the flat tubing prove this very well.
The frame of the Colnago C64 Disc Corsa Pro Bike is made of hand-made tubing. And it is assembled through a nesting process, and many people like this unique design.
This is a unique consideration for the brand. They don't seem to like cold, machine-made, uniform frames, and the small selection of frames doesn't make it easy to choose the right size. Colnago, on the other hand, offers its customers up to 14 sizes and additional customization services.
learn more:BMC Teammachine SLR ONE Review [2022]- A Very Professional Road Bike
2022 Colnago C64 Disc Corsa Pro Bike VS 2022 Scott Addict RC Ultimate
The Scott Addict RC Ultimate has a very forward-thinking design, and its all-carbon construction makes it look as mysterious as Darth Vader. With Sram's top-of-the-line components, it is even more indestructible.
In contrast, the Colnago C64 Disc Corsa Pro Bike has the same top-notch drivetrain but seems to lack the electronic shifting and power meter. To me, however, the Colnago C64 Disc Corsa Pro Bike seems to have a more artisanal feel to it. It has a handmade frame, assembly lugs, and powerful self-developed sub-assemblies not found on ordinary bikes, and almost everything but the CAMPAGNOLO components is made by the original Colnago factory.
If you want to experience this kind of whole bike customization, I think this Colnago C64 Disc Corsa Pro Bike may satisfy your idea.
In case, the above comments are helpful to you, please remember to share the subscription. Have a great day!