We use affiliate links and may receive a small commission on purchases.
2022 Cervelo Caledonia 105 Review
MSRP: $3,200
Frame: Carbon
Tires: 700c×30c, the widest compatible 35mm tires.
Groupset: Shimano 105 R7000
Drivetrain: 2×11
What we like about it: As a bike that combines durability, lightness, and aerodynamics with a comfortable geometry that allows it to meet the multiple needs of riders participating in long-distance endurance races as well as recreational riding.
What we don't like about it: If riding on rough terrain, it's a good idea to upgrade your Handlebar to bring a more comfortable ride.
Rating (4.75/5)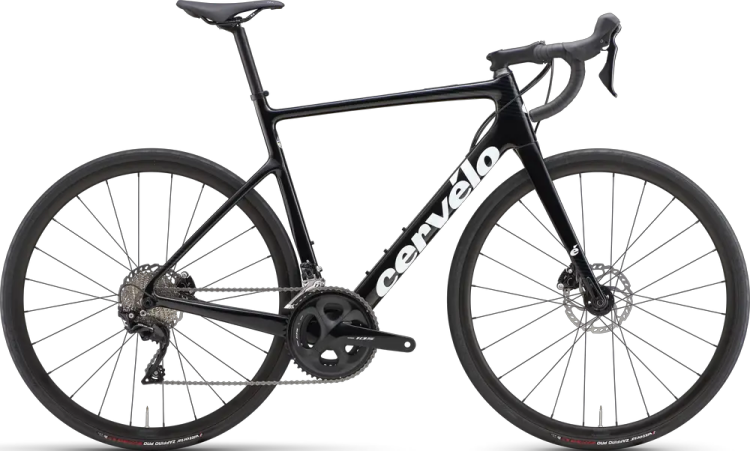 Caledonia may have impressed the members of Cervelo's "Thursday Night Ride" enough as a poorly maintained road. That's what made them sit down and look at how to balance performance, comfort, and speed. In my opinion, the 2022 Cervelo Caledonia 105 is a satisfying answer.
Yes, it's the Cervelo Caledonia 105, which incorporates the "fast" philosophy of the Cervelo Aspero series, with a premium carbon frame, the standard road-ready Shimano 105 groupset, and an aerodynamic design that makes it It's not just a race bike, it's a versatile bike.
Here we break down the ride, key features, components, specs, and other versions of the 2022 Cervelo Caledonia 105.
If you want to know more, please remember to follow us.
Cervelo Caledonia 105 Endurance Riding
To feel the endurance of the Cervelo Caledonia 105 and do a real review, I let it accompany me on the "Overseas Highway", a journey of nearly 100 miles.
Considering the uncertainty of the terrain over long distances, I chose the 700×30c Zaffiro Pro tires that came with the bike. They are durable and have a good grip, which gives me a sense of security. In addition, I also upgraded the Stem and carbon Handlebar to reduce the feeling of bumps.
I have to say that the Cervelo Road Saddle that came with it made my ride much more comfortable and allowed my butt to endure a long ride of almost 7 hours.
In addition, the near-erect riding position was extremely comfortable for my back and shoulders and gave me more confidence to keep going on this ride. I pedaled almost the entire time at an even pace, not specifically choosing to accelerate, so I enjoyed the ride quite a bit.
Experience
Of course, occasionally, when I meet other friends on the road, my desire to win is aroused and I want to compete with them. And they often think the same way as me and give me their best shot. However, the Shimano 105 R7000's powerplant always helps me at these times, and I can feel that my front end is always ahead of the other guy when I sprint.
Even when I was unfortunate enough to encounter unpaved roads, the bike didn't let me down. Because the tires are wide enough and have excellent grip, I rarely felt any instability or tire slip, and I still pedaled with ease.
However, if the carbon frame is not replaced, it is estimated that the hands will still have a lot of vibration. So if Cervelo is a little more generous and takes this into account in the next version of the Caledonia 105, I believe they will attract more fans.
Cervelo Caledonia 105 General Riding
To say that you only think of the Cervelo Caledonia 105 as an enduro bike is to underestimate it, the Shimano 105 groupset and the comfortable geometry give it more versatility. I enjoyed my time riding it to work out on the road not far from home.
At this point, I usually switch to narrower 700 x 26c tires to meet my ultimate quest for speed.
The Cervelo Caledonia 105 also puts its strengths to good use on city roads with complex road conditions. Following in the footsteps of the Cervelo Aspero, the Cervelo Caledonia 105 not only inherits the speed of its predecessor but also learns from its responsive handling.
And the lower trail makes me very happy. When waiting for a traffic light, I can always maneuver it into a crowded caravan with ease, and it's a great feeling to get ahead of the pack.
In addition, the Shimano 105 7020 Hydraulic Disc always allows me to stop in time in the face of unexpected situations. It gives me a sense of security that I can stop when I want to.
To tell you the truth, occasionally I meet guys on motorcycles on the road and I even try to compete with them. You might think it's humiliating, but the Cervelo Caledonia 105 didn't lose me too badly either.
Main Features
Frame Group
As we all know, lightweight, strong, high-quality carbon frames have long been considered a standard for road bikes. Cervelo Caledonia is no exception. Its carbon laminate tuned frame is exceptionally strong to match the stiffness of the Aspero in the gravel category.
It is also shock absorbing, although it may not be as noticeable on real gravel roads. To its credit, Cervelo promises a lifetime frame warranty.
In addition, the standard round handlebar, stem, and seat post, as well as two Saddles, the Cervelo Road Saddle and Selle Italia MODEL X Superflow FeC Alloy allow riders to personalize their ride as they wish.
Also, there are integrated accessory mounts, hidden fender mounts, and hidden alignment. These are enough to ensure the rider has a clean and comfortable ride every time.
Geometry
Cervelo Caledonia, with its race pedigree, does not believe that being too comfortable necessarily means losing faster performance, but rather they believe that comfortable geometry gives the rider more confidence to deliver faster speeds.
On the one hand, the lowered rear fork not only gives the rider more comfort but also improves the compliance of the body. Also, the larger Stack (580mm, 56cm yards) and shorter Reach (387mm, 56cm yards) ensure a more relaxed geometry. As a result, the rider not only has a more comfortable riding position that is close to upright but also has a wider field of vision. This makes the Cervelo Caledonia very friendly on complex trails.
On the other hand, the lower BB Height (262mm, 56cm code) lowers the center of gravity of the whole bike, making the bike comfortable without losing stability. The front fork trail is fixed at 60mm, ensuring stability and sensitivity.
Components and Specifications
Shimano 105 R7000 11-speed Drivetrain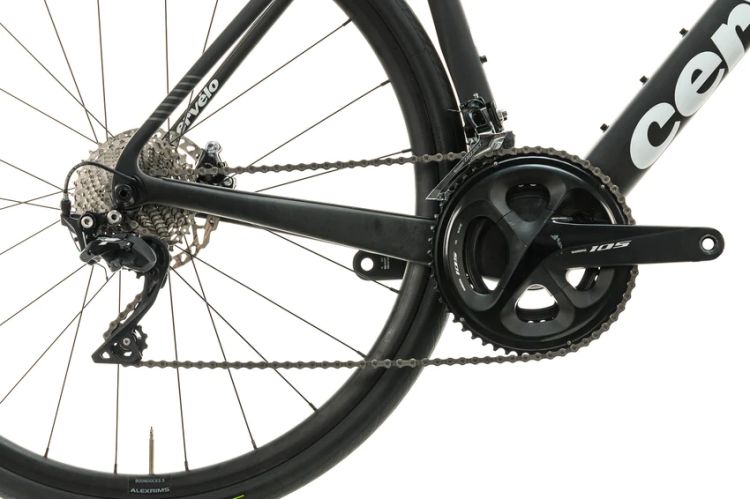 I believe you are not unfamiliar with the Shimano 105 R7000, which is the preferred kit for many riders with high-cost performance.
First, the Shimano 105 R7000, which follows the latest technology and design of the high-end model's Dura-Ace R9100 series and Ultegra R8000 series. It has neither a trim mechanism nor any noise, making the Cervelo Caledonia have a more comfortable operating experience. Just like manual shifting in a bike, you will find it fun to shift gears as you wish on your bike.
Secondly, the 2×11 speed shifting system of the Cassette supports up to 34T. So riders can choose lighter gears for climbing and higher gears for descending or sprinting, feeling faster and more comfortable than ever before. This is very friendly to both competition riders who want to come out on top, and riders who just want to enjoy the feeling of riding.
Top-notch experience, friendly price, and super high-cost performance make every rider who has felt the Shimano 105 R7000, is attracted to it.
To its credit, the Cervelo Caledonia removable FDM not only facilitates the replacement of the front derailleur chainstay but also caters to riders who want to opt for a 1× system. So you can simply remove the bracket and enjoy a lighter-grade shifting system.
Shimano 105 7020 Hydraulic Disc Brakes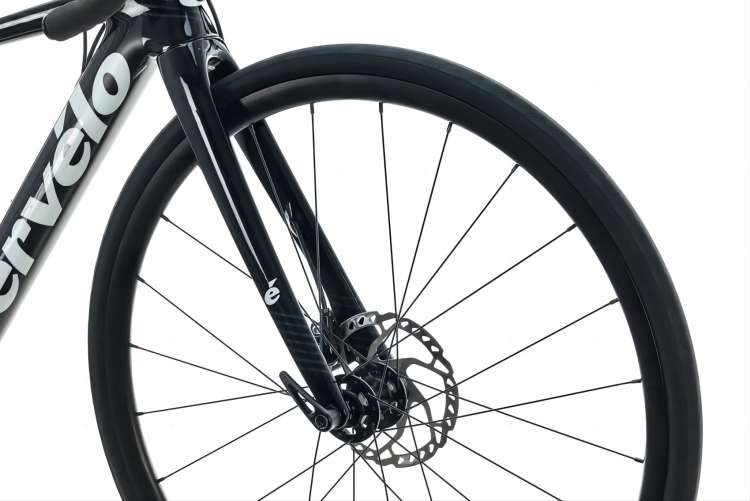 In terms of functionality, there is no bigger topic than the appearance of the first hydraulic disc brakes in the 105 series. Disc brakes not only affect the bike with faster braking but also give the rider a more relaxed operating experience as well as a more comfortable ride.
In particular, the newly designed brake calipers, which take into account aerodynamics, feel crisper with increased rigidity. Even when a lot of braking power is needed, the calipers hardly lose tire spin and feel like softness.
In addition, the ergonomic deformed handlebar design not only improves user comfort, but the textured, non-slip design increases the rider's control over the bike on bumpy terrain. This means you don't have to worry about your hands slipping and losing control.
As a result, every Cervelo Caledonia 105 user can run with impunity. Because the Shimano 105 7020 Hydraulic Disc allows you to stop instantly, whenever you want to.
Vittoria Zaffiro Pro V Folding G2.0 30c Tires
The "Zaffiro Pro" is comparable to higher-end tires in terms of ride comfort, grip, and lightness. This is because Vittoria uses its tread design pattern and the "Graphene 2.0" compound to make the balance between high grip and low rolling resistance a reality.
Secondly, the hybrid tread design makes the wheelset suitable for all terrains and can be used in all directions. And, the functional Graphene 2.0 compound not only improves the overall strength of the tread, but the double puncture protection layer increases the durability of the tire.
Thus the Vittoria Zaffiro Pro V Folding G2.0 is a functional tire that implements performance improvements in all aspects of speed, grip, comfort, durability, and puncture resistance.
It is worth mentioning that Alexrims Boondocks-5D rims support tubeless tires, so users can choose according to their needs.
In addition, the Cervelo Caledonia 105's lower Bottom Bracket and frame clearance support the installation of 34mm wide tires. Of course, I've seen people force it to go with 35mm tires, and it's been very competitive in cooperating. This means you have more options and enjoy more interesting riding styles.
Other versions of Cervelo Caledonia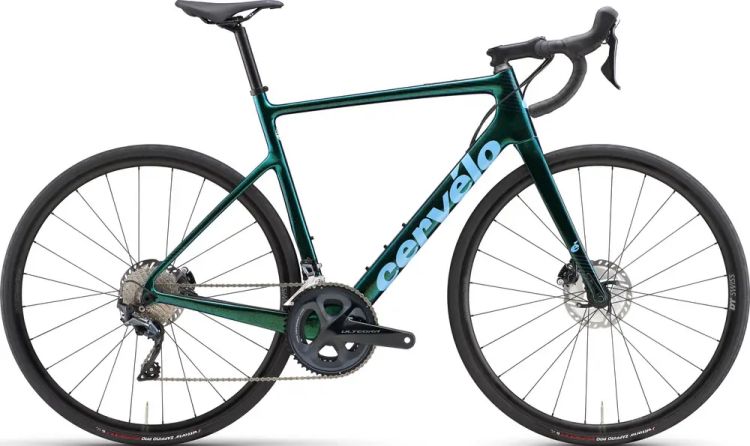 If you want to experience a more advanced cable or wireless electronic shifting system, the 2022 Cervelo Caledonia has you covered too.
The 2022 Cervelo Caledonia Ultegra and 2022 Caledonia Ultegra Di2 and 2022 Cervelo Caledonia Rival eTap AXS all feature a higher-end groupset for riders seeking a more advanced handling feel.
Shimano Ultegra supports mechanical (cable) shifting, so you'll have faster and smoother shifting. And those who prefer wireless electronic shifting can choose between Shimano Ultegra Di2 and SRAM Rival eTap AXS for smoother, more reliable shifting. In addition, the Shimano Ultegra Di2 enjoys a longer battery life than the SRAM Rival eTap AXS. It's also worth mentioning that they both have the technically upgraded DT Swiss E1850 23-Spline rims. But I must also tell you that these more comfortable experiences require you to pay more bills.
If you want to know the specific performance of other bikes in the 2022 Cervelo Caledonia series, you can follow us and we will keep updating more practical reviews of the bikes.
Learn More: 2022 Cervelo Caledonia-5 Ultegra Di2 Review – Endurance Riding Starts From This Moment
What we like about it
Lightweight and strong carbon frame with lifetime warranty support riders to make more daring attempts.
Balancing performance, comfort, and speed, Caledonia will give users a long-distance, high-speed, unrestricted, and not lacking fun riding experience.
Alexrims Boondocks-5D rims and lower Bottom Bracket support riders with a wider range of wheelset options while enhancing the bike's practicality.
The super cost-effective Shimano 105 road groupset, is truly a blend of performance and experience, giving full rider comfort.
The removable FDM not only makes it easier to change the front derailleur chain stay but also supports the rider's choice of 1× shifting system.
The integrated accessory holder not only gives the rider the right to use electronic devices but also gives the bike a cleaner look.
Aero's cable management allows the bike to reduce wind resistance without sacrificing performance.
● Compared with similar bikes, it has a great speed advantage, whether it is uphill, flat riding, or sprinting.
What we don't like about it.
It might not be wise to give the fully functional Cervelo Caledonia 105 with an alloy Handlebar, but if you only ride on flat surfaces, you can overlook this flaw.
FAQs
1. What is the tire size of the 2022 Cervelo Caledonia 105?
The 2022 Cervelo Caledonia 105 has a tire size of 700x30c, the widest compatible 35mm tire.
2. What does the 2022 Cervelo Caledonia 105 drivetrain look like?
The 2022 Cervelo Caledonia 105's drivetrain is a Shimano 105 R7000, 2 × 11 speed.
3. What do the 2022 Cervelo Caledonia 105 brakes look like?
The 2022 Cervelo Caledonia 105 Brakes Shimano 105 7020 Hydraulic Disc.
2022 Cervelo Caledonia 105 Specs
Build
| | |
| --- | --- |
| Frame | carbon BB Standard: BB86/BB92, Press Fit Colors: Oasis; Gloss Black |
| Fork | Cervélo All-Carbon, Tapered Caledonia Fork |
| Bottom Bracket | JY-BB 24 |
| Headset | FSA IS2 1-1/8 x 1-1/2 |
| Stem | Cervélo Alloy |
| Handlebar | Cervélo Alloy |
| Saddle | Cervelo Road Saddle OR Selle Italia MODEL X Superflow FeC Alloy |
| Seatpost | Cervélo 27.2 Alloy |
Wheels
| | |
| --- | --- |
| Rims | Alexrims Boondocks-5D, 28h (F), 28h (R), 21mm IW, 6-Bolt, Tubeless Ready |
| Tires | Vittoria Zaffiro Pro V Folding G2.0 30c |
Groupset
| | |
| --- | --- |
| Rear Derailleur | Shimano 105 R7000, 11 spd |
| Front Derailleur | Shimano 105 R7000, 11 spd |
| Crank | Shimano 105 R7000 52/36 |
| Shifters | Shimano 105 R7020, 11 spd |
| Cassette | Shimano 105 R7000, 11 spd, 11-34 |
| Chain | Shimano CN-HG601, 11 spd |
| Brakes | Shimano 105 7020 Hydraulic Disc |
Video
Comparison Table
2022 Giant Defy Advanced 2 vs 2022 Cervelo Caledonia 105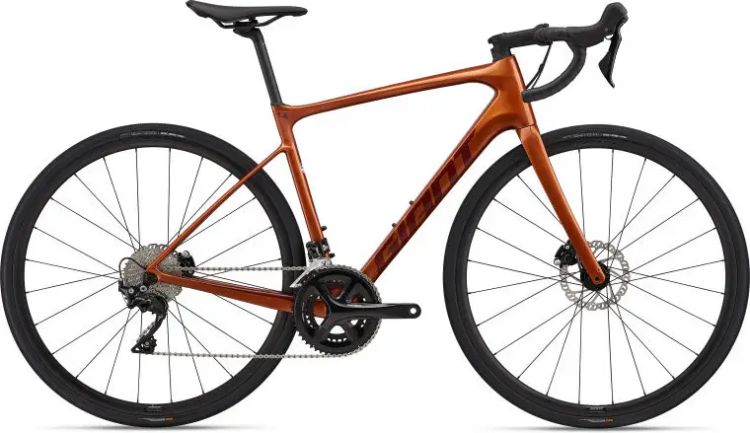 Although the price of the 2022 Giant Defy, Advanced 2 was really attractive to me, its speed and handling were a bit dissuasive. As well as when it was unable to face the rough gravel road, I had to give up the idea of buying it.
Everyone chooses a bike according to their riding needs. If you want to feel the Shimano 105 hydraulic at a cheaper price, the 2022 Giant Defy, Advanced 2 is good. But I suggest you spend $400 more and get the better handling Cervelo Caledonia 105.
Learn More: Giant Defy Advanced 2 Review [2022]- Fast Enduro Star
2022 Liv Avail Advanced 1 vs 2022 Cervelo Caledonia 105
I have to admit that the geometry of the 2022 Liv Avail, the Advanced 1, and the Shimano Ultegra kit are all impeccable.
But in terms of real-world riding experience, the Cervelo Caledonia 105 impresses me more in terms of speed and comfort. The ability to accommodate wider tires also makes the Cervelo Caledonia more versatile, allowing me to ride one bike for endurance and recreational fitness.
So the latter is more cost-effective and made me give up on 2022 Liv Avail, Advanced 1.
2022 Canyon Endurace WMN CF SL Disc 8.0 Di2 vs 2022 Cervelo Caledonia 105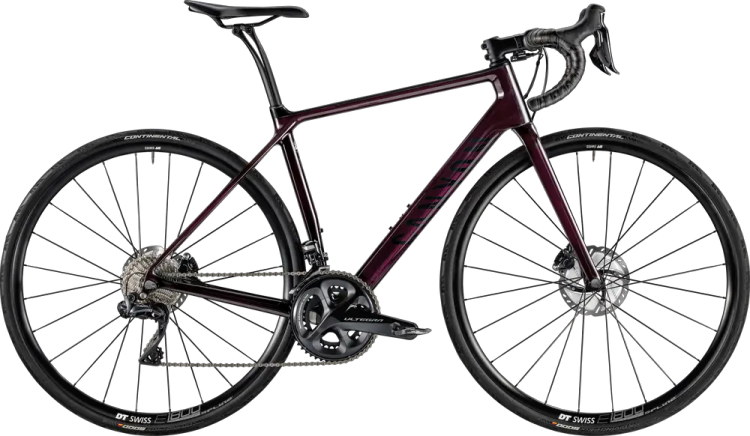 Perhaps the 2022 Canyon Endurace WMN CF SL Disc 8.0 Di2, which has been officially announced to be discontinued, has also been in your sight. I have to admit, it also has a comfortable geometry, and the premium Shimano Ultegra Di2 R8070 kit that is very appealing.
But if I told you that it also possesses chemicals known to the State of California to cause cancer and birth defects or other reproductive harm, you might not be so excited. In addition, the longer trail (75mm) makes it lose too much sensitivity. If you're a highly maneuverable player, it will take more time to get used to it.
So if you want a combination of speed, comfort, and performance, the Cervelo Caledonia 105 might be for you.
Learn more : Is Canyon Endurance 8 Disc Worth Buying? [2023 Canyon Endurance 8 Disc Review]
2022 Specialized Roubaix Sport vs 2022 Cervelo Caledonia 105
Although the 2022 Specialized Roubaix Sport also uses the Shimano 105 groupset, the Cervelo Caledonia 105 is probably faster due to the use of a different Chain. Maybe it's because the 2022 Specialized Roubaix Sport traded speed for speed, so it couldn't catch up with the Cervelo Caledonia 105 users.
The 2022 Specialized Roubaix Sport is a bit disappointing to me, I must say, as the higher price tag does not translate into faster speed. Because for endurance cycling competition, a faster speed is more advantageous.
In case, the above comments are helpful to you, please remember to share the subscription. Have a great day!