We use affiliate links and may receive a small commission on purchases.
Installing any extra accessories on your bike, other than the necessary water bottle cage, would make you cringe as a speed-seeking rider. But imagine you are in a full sprint and a group of people appears in front of you, this time a loud city bike bell will make your front clean and ensure your smooth sprint.
Some people indeed think that installing bells on bicycle handlebars will make the handlebars confusing, so we have selected 10 small and lightweight bells from the many bells we reviewed.
If it is helpful for you to choose the bell, you can share it with your friends.
Learn More: 2023 Top 10 Mountain Bike Bell
Recommended List
1. Mirrycle Incredibell Original Bike Bell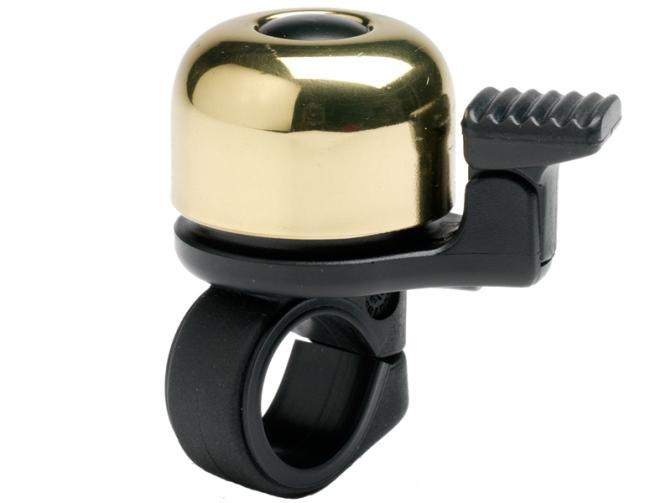 A favorite of road and trail riders.
$12.00 (as tested)
Compatible with 21.7 – 26mm diameter handlebars.
Lightweight and compact.
This bell is available in three colors, and although they are all solid colors each is a classic color. It has a traditional bell-shaped design, simple and elegant.
In experience, this bell comes with a rotatable dinger and dual-size clamps and is easy to install.
Not only that, the compact size allows for an attention-grabbing sound. You can always have it ringing on your bike to ensure a smooth ride.
2. Mirrycle Incredibell Striker Bike Bell
Whether it is commuting or leisure, it is a good partner.
$15.00 (as tested)
Unimaginably lightweight.
High-quality brass.
Unlike ordinary installation, this bell saves more valuable handlebar space and does not limit your operating range.
Not only that but this bell can also be easily integrated into the top cover of the bike's threadless 1-1/8″ headset. This design also avoids too much clutter at the handlebars during the ride.
In our ringing test, the crisp ringing could be heard by pedestrians without any problem.
If you are in desperate need of a city bike bell right now, you can try this one. And it's now available on Amazon for a much more affordable price.
3. PRO BIKE TOOL Bicycle Bell
Clear long tone ringing.
$13.99 (as tested)
Suitable for handlebar sizes from 19.2 to 31.8 mm.
Precise and durable construction.
PRO BIKE TOOL was born in 2015 and has been dedicated to making all riders have a better and safer ride. This bell is a traditional bell housing design, but this classic shape is still very popular in the present time. And the small and lightweight qualities are perfect for both road and mountain bikes.
In addition, it can also be installed a rubber band, this type of installation is more friendly for handlebars. It is important to know that our review of the bell is not only about its shape and material, but also about the sound it makes. In our actual review, the powerful bell of 79 decibels made it easy to be noticed in a crowded neighborhood. This is a city bike bell that will ensure a clear path ahead.
4. Thousand Pennant Bike Bell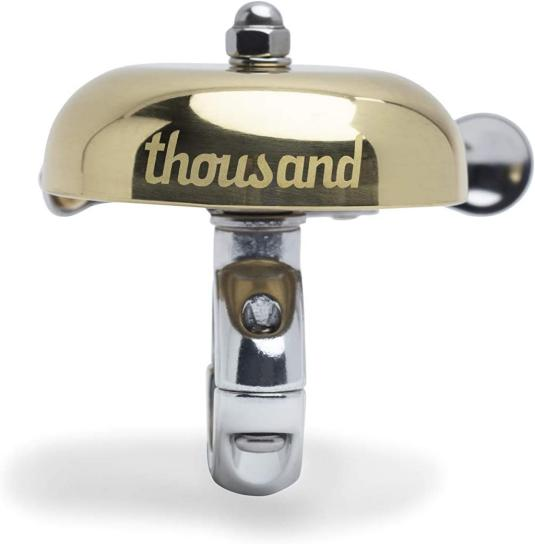 A better quality experience at a relatively high price.
$19.00 (as tested)
Fits most standard city, mountain, and road bike handlebars (22.2 mm-23.8 mm).
Stainless steel of high-quality material.
As we all know, many quality metal materials exposed to moisture will always encounter rust or corrosion. Therefore, we always hope to find a high-quality rust-proof bell in this review.
Of course what attracted us to this bell at first was not its material, but its relatively high price. We were curious as to why it was sold at such a high price. After we used and reviewed it, we all felt it was worth every penny.
With the stainless steel material of this city bike bell, even in the rain, you do not have to worry about it being damaged. And even in the crackling rain, this bell can also make a clear and loud sound, so that pedestrians notice your arrival.
If you don't mind the price, this will be a great value-for-money city bike bell.
5. Greallthy Bike Bell
A wide selection of colors.
$14.95 (as tested)
Suitable for bicycle handlebar tubes with an outside diameter of 22.2 – 25.4 mm (0.87 – 1.0 in.).
Exquisite appearance design.
We promise 30 days money back and 12 months warranty, 100% replacement or refund for all quality-related issues.
I have to say, the color selection of this bell is really rich, I think most people can find their favorite color here.
In the actual review, its protective pads are designed so that you will not slip even when passing over bumpy roads and can reduce the wear and tear on the handlebars. Moreover, even in busy streets, the crisp and loud sound will attract the attention of pedestrians and make your ride safer.
Not only that, made of high-quality brass that is rust and aging-resistant, it is durable and corrosion-resistant without any worries at all.
In addition, they promise a 30-day money-back and a 12-month warranty with 100% replacement or refund for all quality-related issues, and with that alone, feel free to try it out.
6. Accmor Classic Bike Bell
Adjustable straps for a wider range of handlebar sizes
$6.99 (as tested)
Made of high-quality copper and engineering plastic materials.
Easy to install.
In our actual review, the bell was more suited to flat handlebars, although it performed okay on road handlebars as well.
But honestly, at such a cheap price, we don't expect much from it. Moreover, the sound from this bell is clear enough to attract attention and ensure a smooth ride. In addition, the relatively excellent material also has a long service life.
If, however, you want to save some money to upgrade other components, this city bike bell is worth a try.
7. Mudder 2 Pieces Bike Bell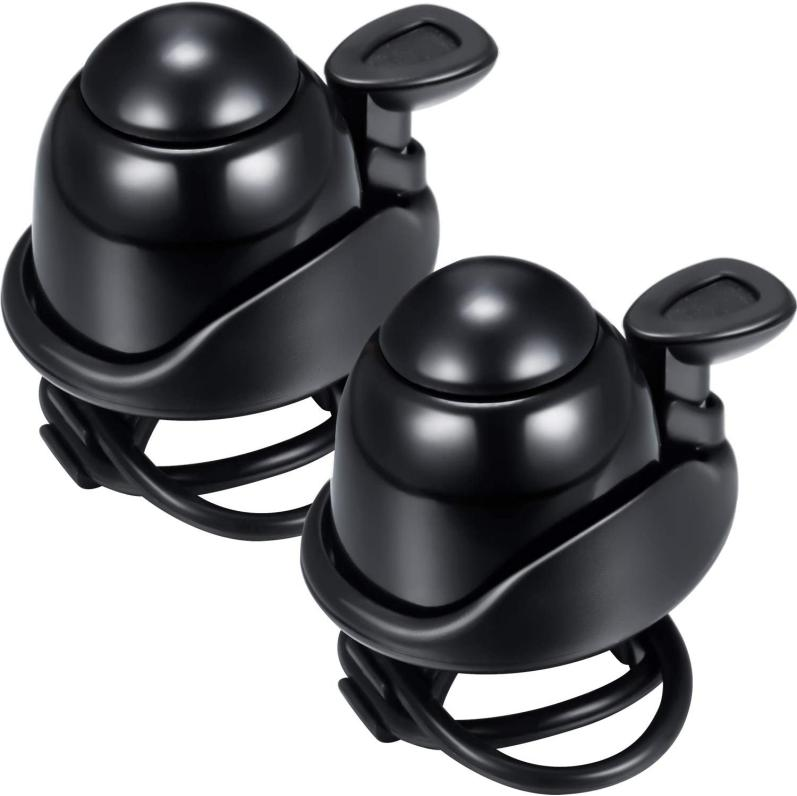 Small stature, big sound.
$8.99 (as tested)
Fits most bicycle handlebars with a diameter of 2.2-3.5 cm (0.87-1.38 in.).
You will receive 2 bicycle bells for your replacement and spare.
The sound of this bell can reach 90-100 decibels, which can be heard by pedestrians during actual riding. And it is made of high-quality ABS and rubber pad, which makes the bell can be used for a long time. And you will receive 2 bicycle bells at the same time, which can be easily replaced and spared for you.
In addition, it comes with two leather straps for different sizes of bicycle handlebars.
Although, some people think that this bell is mostly made of plastic and have doubts about its durability. But in our review for so long, its performance is worthy of praise.
Not to mention that at such a low price, it's worth a try in my opinion.
8. Crane Bike Bell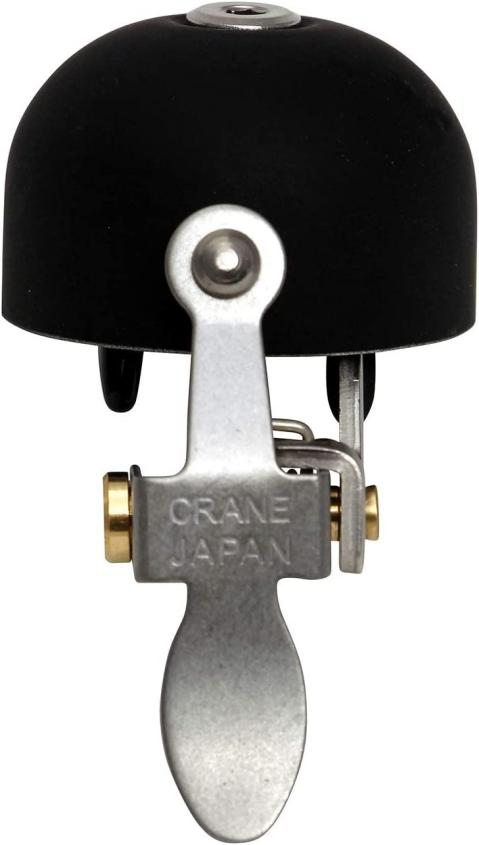 Premium compact bike bell.
$26.95 (as tested)
No plastic parts.
Fits 22.2-31.8 mm OD rods.
We noticed it at a glance among many bicycle bells not only because of its relatively expensive price but also because of its eye-catching enough appearance design. Although it seems a bit expensive to us, after actually using it, we have no objection to its price at all.
First of all, it is made in Japan and is made of all metal. There is no compromise in any part, so its durability is not a concern at all.
Secondly, the compact design can be placed in front of the handlebars to get a more aerodynamic profile and make your road ride faster.
Moreover, when we tested the ringer, it made a clearer and louder sound that lasted longer.
9. KNOG OI BELL LARGE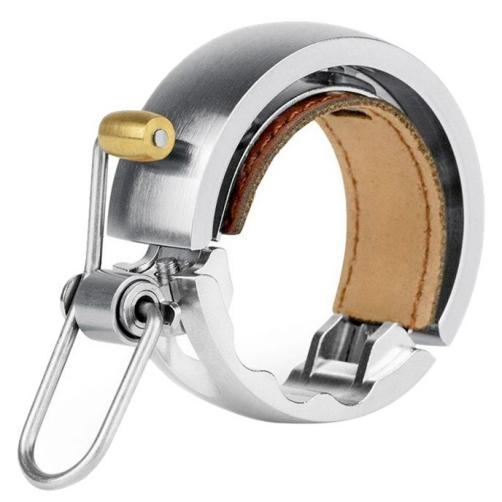 Low-profile and secretive ring design.
$31.94 (as tested)
Fits handlebars 23.8 mm – 31.8 mm.
Fashionable bike bell with a beautiful tone.
In my opinion, ring-style bells are better for road bikes because there is no excess resistance, but of course, that is just my personal feeling. This Oi Luxe bell has a low-profile ring-style design that fits very well on the handlebars of the bike during actual riding. If you don't look closely, you won't notice it at all.
In addition, the internal padding of the ring avoids wear and tear on the handlebar. It should be noted that it is more suitable to be installed close to the handlebar.
It is worth mentioning that it has a very beautiful bell. If you want nice clean sounds to accompany you all the time on your riding trips, this Knog Oi Luxe Bell may be the right choice for you.
10. Spurcycle Original Bike Bell – Raw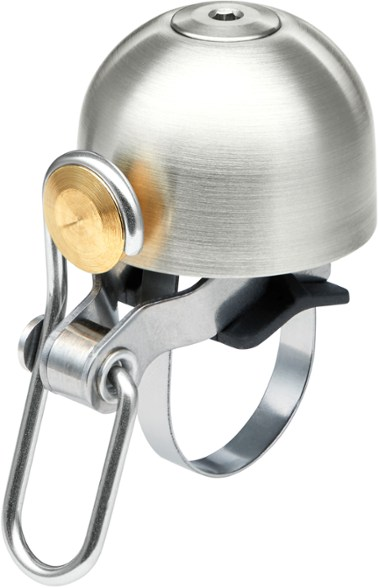 Expensive bike bell.
$59.00 (as tested)
Longer ringing.
2.5 mm hexagonal tool required for installation.
At first, this bell was not among our options, but because many fans wanted to see on what grounds this bell was sold so expensive. We also got curious, so we reviewed this bell.
To be honest, this is indeed a quality bike bell. But in my opinion, the price is still a bit high.
In real-world testing, the Spurcycle bell rang strong and lasted longer. The wind did not interfere with our ability to hear it as we accelerated forward.
If you don't care about the price, you can choose it. But you need to read the installation instructions carefully when you install it.
Summary
For safety reasons, it is essential to install a bell on your bike, especially in a busy city neighborhood. Some people may think that a bell will confuse the handlebars, but a properly fitted bell will not cause you such problems. Instead, it will alert pedestrians more clearly and politely, ensuring your smooth ride and the safety of others.
Not only that, the right bell will make your riding trip more interesting, so choose a bell that suits you!