We use affiliate links and may receive a small commission on purchases.
2022 Cannondale Treadwell 2 Review
Price: $950
Frame: SmartForm C3 alloy
Tires: 650b x 47c
Drivetrain: 1 × 9
What we like about it: The cute look, the variety of colors, the new SmartForm C3 alloy frame, the easy and comfortable riding position, the extremely satisfying saddle and grips, the great friction pedals, and the many thoughtful details that are there to make every ride a pleasure for me.
What we don't like about it: It's probably not for people who are too athletic if I have to say so.
Rating(4.7/5)
Introduction
Each bike has its adapted scenario. You'll be able to experience the best ride within the right scenario, otherwise not only will you struggle as a rider, but the bike will be more prone to damage. Today I'll introduce you to a model that's perfect for hanging out on city streets, going to parties, or Sunday fun days – the 2022 Cannondale Treadwell 2.
Below I break down the Cannondale Treadwell 2's, city commuting, cycling fitness, key features, components and specs, and other versions for you.
Cannondale Treadwell 2 Urban Commuting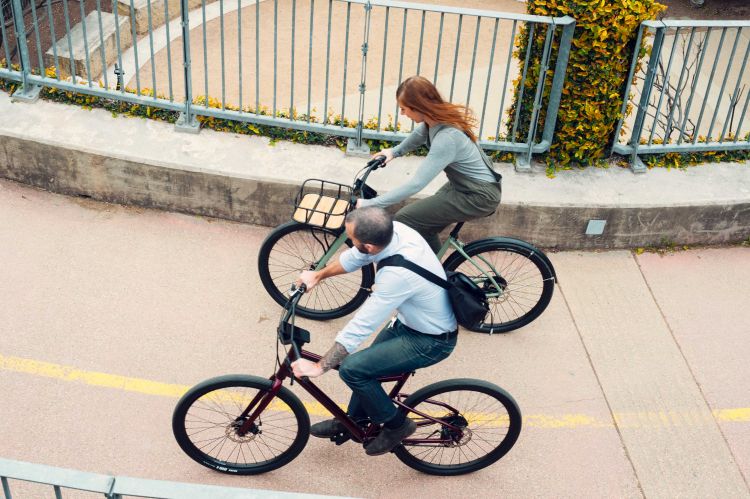 I think urban commuting is the most elegant use case for the Cannondale Treadwell 2.
First: The Appearance Of Color
From the first moment I touched the Cannondale Treadwell 2, I found it very easy to control. Unlike some of the more specialized models, it has a reachable grip and the saddle is at a very easy height to get on and off. This means that even if you're wearing a pair of skinny jeans, you can easily lift your legs or put your feet down. The just-right angle allows me to ride for hours without getting fatigued. There are also a variety of colors to choose from, and a cute profile that makes everyone who sees the Cannondale Treadwell 2 want to go for a ride.
Second: The Small Accessories Make Me Feel Thoughtful
When I started riding on the street, the comfort of the quilted saddle reminded me of my couch at home. Unlike the usual silicone saddles, the suede material is breathable, soft, and has a lot of friction, so I don't slip no matter what material I'm wearing. More praiseworthy are the pedals. The rubber tread has great friction, whether I'm wearing formal leather shoes, sneakers, flip-flops, or holey shoes, so my pedal will not slip.
Another sweet little detail about the Cannondale Treadwell 2 is that it has an Urban Armor bumper that helps protect it from scuffs during everyday riding and it protects the frame from dents from impacts. I own multiple bikes and many of them have a lot of tiny scratches and scuffs on the frame. It doesn't affect the ride, but who doesn't want their beloved bike's paintwork to always look like new?
Third: The Cooperation Of Related Components
First of all, riding the Cannondale Treadwell 2 makes me ignore the fact that I'm riding it because it's so comfortable. microSHIFT Advent 1×9 is not a very lightweight derailleur, but the weight gives it great durability.
And in the months I've been riding it, there hasn't been a single dropped chain. Because it shifts gently and responsively. It's also worth noting that this bike has wide 650b x 47c tires. Theoretically, the thicker the tire the more drag it will have when riding, but the thicker tires will also provide more stable support and grip, as well as better vibration filtering ability.
As long as you inflate the tires with the right air pressure, it will still be light and fast when riding. In my riding, I have been through all kinds of surfaces and I am very satisfied with the strong grip and the shock-absorbing comfort of the rear tire.
Secondly, this bike is equipped with Tektro HD-R280 brakes. These brakes were developed for city roads, so they are very easy to install, adjust and maintain. On my first day of riding, I felt the brakes were a bit too sensitive as I am not a fan of hard braking. I prefer to slow down by judging the road conditions and gently squeezing the brake, so I spent a few minutes adjusting the brake to make it more in line with my usage habits. It also has low-noise resin pads, which are very quiet and soft during braking, with strong braking power.
Fourth: Accessory Extension.
It is reserved for fender mounts, which is very useful when there is standing water on the road. No one wants to get their pant legs and the inside of their pants wet from splashing water. It also has a basket mount, so I don't have to stuff my water bottle in my shirt pocket. And I'll often ride it to the convenience store for groceries without the need to carry a huge backpack. Generally, , I'd choose the Cannondale Treadwell 2 for street riding except for training rides and races.
Cannondale Treadwell 2 Cycling Fitness
A scenario that is also perfect for Cannondale Treadwell 2 is fitness cycling.
First: Stronger Frame
The Cannondale Treadwell 2's more friendly frame design allows it to fit many people. This includes teenagers, ladies, overweight people, and seniors who can get on and off the bike with ease.
Second: A High Degree Of Intelligence
Built-in phone holders and tire sensors, in fitness cycling time to monitor their exercise status, are cool. Now overweight people are very much, compared to running, I recommend cycling for aerobic exercise.
The reason is very simple, most overweight people do not have too strong athletic ability, and a heavy body will bring several times the weight of the knee pressure. I have personally experienced knee injuries from running with large weights, so I would sincerely recommend the Cannondale Treadwell 2 as an exercise tool for overweight people who want to lose weight.
Because our weight is carried by the sturdy SmartForm C3 alloy during the ride, the knees will be much safer without the kind of ground-pounding behavior of running during the exercise. It's for this reason that I highly recommend getting on the Cannondale Treadwell 2 to change yourself. Use Cannondale's app to record yourself every time you exercise, stick with it, and true effort will not fail you.
Third: Good Riding Posture
The time required in a fitness ride is generally long, so the saddle, grips, and pedals on the bike that is in direct contact with our bodies must be true. These have been depicted in more detail in my previous sharing. The handlebars are also worth mentioning. The Cannondale cruise control riser, with its 15° rearward leaning handlebars, kept my arms and shoulders in a relatively relaxed position during my rides. Certainly, this gives me enough strength in both arms to control the direction even on long rides. Besides, the headtube length is relatively long, I chose the MD for my size and the headtube length comes to 165mm, which makes my arms as comfortable as riding a Harley cruiser.
Main Features
Frame
With the sturdy SmartForm C3 alloy frame, even big-weight people don't have to worry about its support. The easy-to-ride low stand-up geometry makes getting on and off the bike easy and safe every time. The thoughtful Urban Armor frame bumper better protects the frame from wear and tear or knocks.
Geometry
First of all, the 71° seat tube angle and 450mm seat tube length give me a low center of gravity. Combined with the 165mm head tube length, this allows me to ride with my center of gravity further back and lower. This allows my arms to be raised higher and reduces fatigue in my arms. (Size MD for example).
Components and Specifications
MicroSHIFT Advent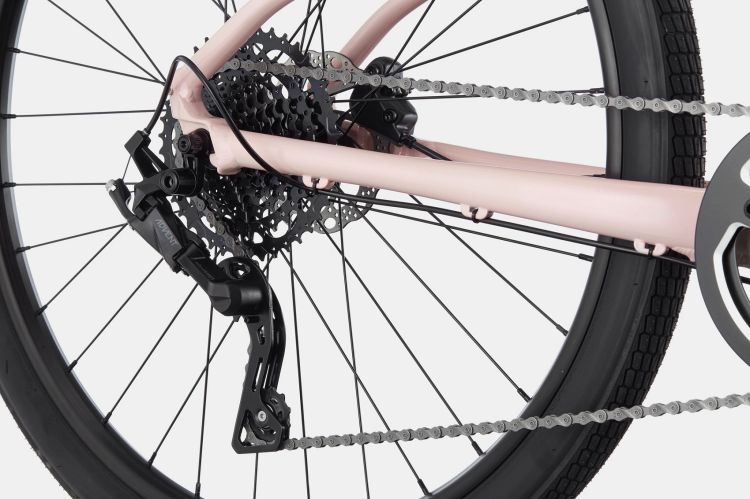 This is a durable and convenient derailleur where weight is not an advantage. 1×9 shifting range is perfectly adequate in Cannondale Treadwell 2 scenarios, and shifting is light and responsive. And in the few months, I've been riding it, I haven't lost a chain, which is a very trustworthy and consistent quality.
Tektro HD-R280
The brakes are dry and powerful, it has 160/160mm rotors and is relatively easy to adjust. You can adjust the brake travel and strength according to your riding habits. Also, the resin pads can reduce heat and low noise. And easy to replace.
Maxxis DTR-1, 650b x 47c
First of all, it is a high-capacity casing, dual compound rubber tire. 60TPI makes it more durable and the rather rough tread pattern gives it a good grip.
Secondly, this is a very coarse tire that provides good shock absorption performance when there are seams or gravel on the road. Also, the larger contact area with the ground makes the ride more stable and easy for me to control.
Other versions
Since the difference in price between the Cannondale Treadwell 2 series is so large, it would be unfair to compare models that differ by a factor of one or two together. So I'm comparing the Cannondale Treadwell 2 Ltd with the Cannondale Treadwell 2. The Cannondale Treadwell 2 Ltd is $50 more expensive than the Cannondale Treadwell 2. Their hardware numbers are identical, the only difference is the color. The Cannondale Treadwell 2 is available in five solid color options.
And Cannondale Treadwell 2 Ltd has an even more special lavender gradient color in addition to a solid color that is very cute. If I were to give it to my girlfriend, then I would be more than happy to spend the extra $50.
What we like about it
The sturdy SmartForm C3 alloy frame provides sturdy support even for large-weight people.
The microSHIFT Advent 1×9 drivetrain is durable and sturdy with responsive shifting.
The Ride-Easy low-standing geometry structure makes my ride more casual and relaxed, and I don't get fatigued on long rides.
The unique Urban Armor frame bumper prevents cuts and dents from daily riding and impacts
Can be installed fenders, baskets, cell phone bracket
Free Cannondale app connects integrated tire sensors
Ergonomic grip and saddle
What we don't like about it
The drivetrain is still a bit sluggish during high-intensity, fast fitness rides
FAQ
What are the scenarios for Cannondale Treadwell 2?
Urban road riding, moderate-intensity aerobic fitness riding, light gravel roads.
What is the Cannondale Treadwell 2 drivetrain?
The Cannondale Treadwell 2 drivetrain is microSHIFT Advent.
What are Cannondale Treadwell 2 brakes?
The Cannondale Treadwell 2 brakes are Tektro HD-R280.
How do I choose the Cannondale Treadwell 2 Specs size?
| | |
| --- | --- |
| Size | Rider height |
| SM | 149cm-168cm |
| MD | 162cm – 183cm |
| LG | 177cm – 196cm |
2022 Cannondale Treadwell 2 Specs
Build
| | |
| --- | --- |
| Frame | SmartForm C3 Alloy, Ride-Easy low-standover geometry, Straight shot hidden cable routing, Urban Armor frame bumpers, flat mount disc, rack/fender mounts Colors: Destiny Pink; Deep Teal; Mango; Midnight Blue; Stealth Grey |
| Fork | SmartForm C3 Alloy blades, 1-1/8″ steerer, OutFront offset, flat mount disc, mid-blade rack/fender mounts |
| Bottom Bracket | Cartridge, square taper |
| Headset | Semi-Integrated |
| Stem | Cannondale 3 with Intellimount, Alloy, 31.8mm clamp |
| Handlebar | Cannondale Cruise Control riser, 6061 Alloy, 31.8mm, 15° back, 740mm |
| Saddle | Cannondale Treadwell, 170mm, steel rails |
| Seatpost | 6061 Alloy, 31.6 x 350mm |
| Pedals | Cannondale Comfort |
| Grips | Cannondale Comfort |
Groupset
| | |
| --- | --- |
| Rear Derailleur | microSHIFT Advent |
| Crank | Prowheel, 38T |
| Shifters | microSHIFT Advent, 9-speed |
| Cassette | microSHIFT, 11-42, 9-speed |
| Chain | KMC X9, 9-speed |
| Brakes | Tektro HD-R280 hydraulic disc, 160/160mm rotors |
| Brake Levers | Tektro hydraulic disc |
Wheels
| | |
| --- | --- |
| Rims | Cannondale, double wall, 32h |
| Spokes | Stainless Steel, 14g |
| Front Hub | Sealed Alloy Disc, 5mm Hex Security QR |
| Rear Hub | Sealed Alloy Disc, 5mm Hex Security QR |
| Tires | Maxxis DTR-1, 650b x 47c |
Video
Comparison Table
2022 Cannondale Treadwell 2 vs 2023 Trek FX 3 Disc
First of all, Cannondale Treadwell 2 is $100 cheaper than the FX 3 Disc, the specific configuration of the FX 3 Disc is equipped with a drivetrain, Shimano Deore M5120 1×10, and brakes are Shimano MT201. no doubt, these aspects are the hardware is Trek FX 3 Disc better, but in the actual riding experience feels very little. But the actual riding experience feels very little.
The Cannondale Treadwell 2, on the other hand, with its relatively long wheelbase, long seat tube, and Ride-Easy low stand geometry makes my ride easier. So my advice is that if you have more budget and more fast daily rides, go for the FX 3 Disc. if you want a more relaxed ride, the Cannondale Treadwell 2 is better for you.
Learn More: How Good Is The Trek FX 3 Disc Road Bike? – Trek FX 3 Review
2022 Cannondale Treadwell 2 vs 2022 Giant Roam Disc 2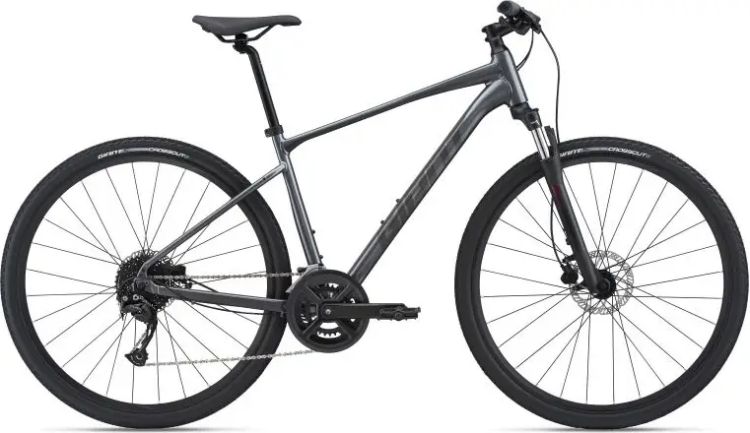 Both of these cars are priced at $950. But the difference is also very obvious and I can give you very reasonable advice.
Firstly, the Giant Roam Disc 2 is taller, with a standing height of nearly 80mm higher than the Cannondale Treadwell 2. Secondly, it comes with the SR Suntour NEX HLO 700C, a 63mm front shock. So it is suitable for normal forest roads and gravel roads in addition to city commuting. So if you also often go outdoor riding, there is no problem to choose Roam Disc 2, although it is not as comfortable to ride as Cannondale Treadwell 2.
2022 Cannondale Treadwell 2 vs 2022 Specialized Crossroads 3.0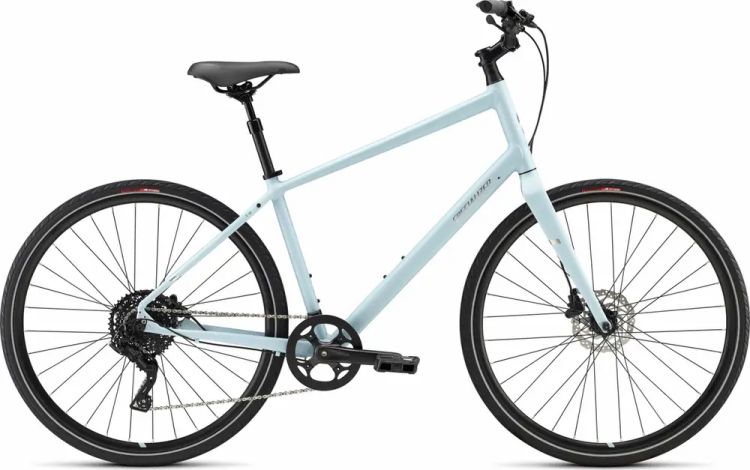 First of all, the Specialized Crossroads 3.0 is also a very crisp-looking bike that costs $100 more than the Cannondale Treadwell 2. The big difference is that it has a Crossroads carbon disc brake fork, while the Cannondale Treadwell 2 is aluminum. So obviously we can see that Crossroads 3.0 is faster, which is consistent with my experience. The rest of the configuration is the same level, and I did not experience any different feelings due to the configuration in my riding.
But for fitness, I would choose Cannondale Treadwell 2. Because it is not only a more comfortable riding position, but the phone holder, and application experience also have a lot of points. And these are the Crossroads 3.0 lacks. So how to choose, you should be very clear about it.
2022 Cannondale Treadwell 2 vs 2022 Diamondback Metric 3
First of all, I also like Diamondback Metric 3. Carbon disc brake road bike with carbon steerer tube, also equipped with Shimano Alivio M3100SGS 3×9 drivetrain. Does all this already surprise you a bit? Best of all, it's now only $780, a $195 discount off the original price! In my riding, the Diamondback Metric 3 is a much better bike for fast rides on city roads. But it still lacks the expandable accessories of the Cannondale Treadwell 2, except that the $195 savings will allow me to buy additional equipment. However, to be honest, the color of Diamondback Metric 3 is not really pretty.
So my advice is, if you want a bike that is fully functional, easy to ride, and doesn't cost extra to add accessories, get the Cannondale Treadwell 2, and it has a great paint job and color. If you want a faster more powerful ride and don't want to spend too much money, who else but the Metric 3?
In case, the above comments are helpful to you, please remember to share the subscription. Have a great day!
Learn more : Is Diamondback Haanjo 2 Worth Buying? [2022 Diamondback Haanjo 2 Review]