We use affiliate links and may receive a small commission on purchases.
2022 Diamondback Haanjo 2 Review
Price: $925
Frame: Aluminum Alloy
Tires: 700×38C
Gear: 2×8
What we like about it: Higher configuration in its price range.
What we don't like about it: The not-so-comfortable saddle.
Rating (4.6/5)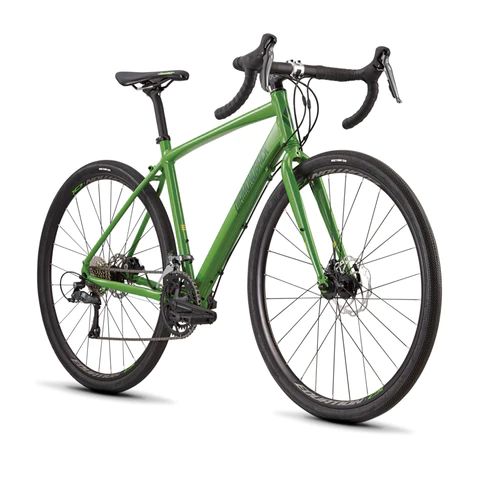 The last few years have seen a rapid rise in the popularity of bikes designed to be ridden on gravel roads. With this trend, more affordable products have come to the forefront, and the Diamondback Haanjo 2 is one of them. The Diamondback Haanjo 2 is one of these bikes. It has been well received by buyers for its excellent components and configuration, and its price of only $925.
As far as I know, Hannjo is a word in the Sindhi language meaning "havoc", more specifically "violent and needless disturbance". I found the gravel road bike to be stable enough to avoid unnecessary disturbance on rough roads compared to regular road bikes, which I think is probably what the name means.
In this test, we put the Diamondback Haanjo 2 to the test. About gravel riding, long-distance touring, main features, components, specifications, and other versions.
If you want to know more about bike reviews, you can follow us.
Diamondback Haanjo 2 Gravel Riding
The Diamondback Haanjo 2 is a bike that exceeds expectations. It has many features that make it very versatile and suitable for any conditions. Specifically, it is a hybrid of a mountain bike and a road bike, taking the best of both worlds and allowing me to use it however I want.
The first time I picked it up I headed to the high mountains behind the city, the roads were littered with rough riding as well as commuting. Most people wouldn't use a road bike to ride these kinds of roads, but a gravel road bike is a different story. Before setting off, I also booked accommodation through Skyscanner to give myself ample space to rest and prepare.
I can ride on bumpy roads easily and the all-alloy design of the frame makes it perfect for riding on bumpy roads. So I don't have to worry about stones splashing up and knocking my frame. This doesn't affect them too much, and it also makes the whole bike very easy to maintain. The wide tires gave me a lot of confidence that I could ride with abandon on the winding mountain trails. It doesn't have the ultra-frictional outer tires of a mountain bike, but it's not as slick as a road bike either. The moderate tires allow for fast descents and the easy-to-roll large-diameter tires are very fast. At the same time, the toothed tires provide good traction, and I like this mix of designs too much.
Diamondback Haanjo 2 Long-distance Riding
I have to say that it far exceeded my expectations for this price point. We started in St. Augustine and headed mainly south on SR A1A, alternating the route between coastal towns and suburbs. In this way, we wound our way through many lakes and sinkholes, often seeing large trucks loaded with oranges on the way. Further south, there is more muddy terrain, farms, and orange groves.
No different than my regular rides, it rides well on almost all surfaces. Unless you want to ride it down a hill, it's the best-balanced choice. Also, the excellent disc brakes handle braking well in any bad weather including mud, rain, and snow, allowing me to ride with peace of mind.
There is an extensive network of bicycle facilities in FL, but most of the time it is very confusing. And I often ride on 2-foot bike lanes or even sidewalks because it's much better suited for riding on sidewalks. However, in other areas sidewalks are for pedestrians only, and I guarantee that no regular skinny-tire road bike would be able to happily navigate its way down this road, but the Diamondback Haanjo 2 is perfectly capable of such a ride.
Riding in the city made it seem like a road bike again to me. This is because the complete lack of a shock system in the front and rear allows me to be more direct with my power, and the thickened tires don't seem to give me much-rolling resistance. As a result, I can travel on the gravel brick roads in the city in a way that is difficult to do with a road bike.
Main Features
Frame Group
The frame is made of aluminum with a steel fork, which puts the center of gravity more towards the front of the bike and increases my stability when going uphill. And the frame is so sturdy that I feel it will allow me to ride it for a long time without having to do too much maintenance on it.
In addition, the frame is equipped with front and rear rack mounting holes, which allows you to install more racks for me to install bike bags. Also, you can choose to install fenders on it so that you can face mud as well as rain.
Geometry
Diamondback describes the Haanjo as an "endurance geometry" design. Although it seems to refer to long-distance comfort rather than endurance racing per se. Because I feel it has a consistent ride and efficient pedaling.
Analysis of the data shows that it has a long wheelbase (1041mm) and a looser head tube angle (70°) common to gravel road bikes, while paired with a steeper seat tube angle (73°). This allows for a stable and comfortable ride with an efficient pedaling experience.
Components and Specifications
Shimano Claris RD-2400 2×8 Components
The drivetrain is so robust that gear changes are easily made with the flick of a finger. Even on steep climbs, you can jump from low to high gears quickly without rubbing or slipping. And the 16-speed offers a wide ratio, allowing me to pedal efficiently and easily on almost any grade with the right gear ratio.
Surprisingly, the Tektro mechanical brakes also provide plenty of power to make the bike brake quickly and effortlessly, even on gravel roads. In addition, the transmission and braking components greatly exceeded my expectations, mostly from the careful mix-and-match choices. They didn't go with the most expensive shifter paddles and brakes, but chose a more suitable mix and match. Some of the performance is simply heavier than the high-end version, otherwise, there is no difference.
Stem And Handlebar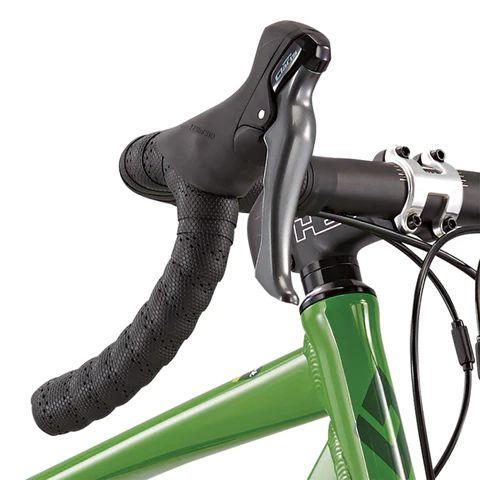 The handlebar set is all made of HED aluminum. The use of such a high-end brand at this price point is surprising to me, after all, most of the bikes in the same price range use unknown brands.
In addition, the shorter Stem provides more responsive steering and allows for a more upright and comfortable seating position while riding. The handlebar also features an 8° flared handlebar. Also, the wider lower handlebar provides more stability and comfort on long rides.
What is not easily noticed is that the Diamondback Haanjo 2 comes stock with footpegs, something that most bike manufacturers don't do. And the pedals are very wide for trail riding and also have good friction.
Speedster 700×40c Tires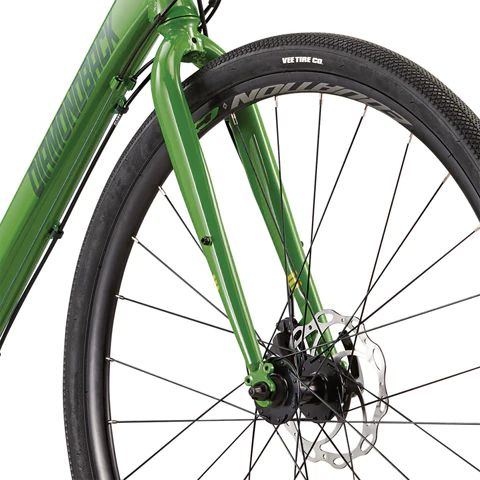 The tires on a gravel bike are often the key to it, and great tires make it better able to face rough and bumpy roads. The wide 40c tires can pass quickly like a mountain bike, whether it is facing dirt, mud, or gravel, or even some relatively flat mountain trails.
In addition, the lower psi helps a lot with this, and I can filter out a lot of the small vibrations on the road. Whereas aero road bikes tend to need higher psi to provide minimal rolling resistance as well as a noticeable road feel.
Other versions of Diamondback Haanjo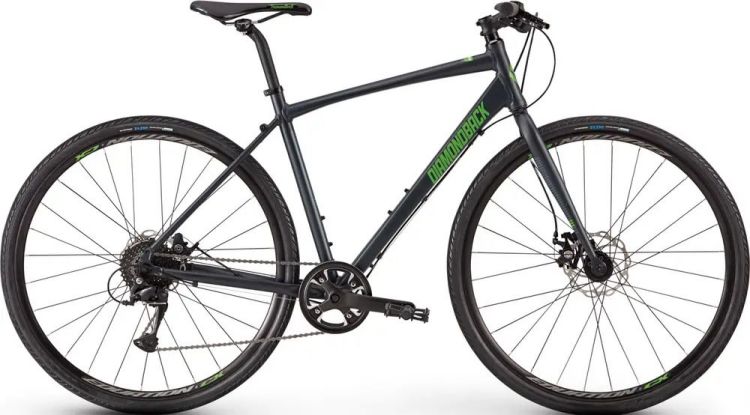 In this review, we tested the 2022 Diamondback Haanjo 2, a gravel road bike with a comfortable riding position that allows enthusiasts to experience the joy of a gravel road bike at a low price. And the durable frame makes it easy to maintain and ride for a long time. As you can imagine, it seems to have unlimited potential.
At the same time, the 2022 Diamondback Haanjo 1 was also launched, with a flat handle and a simpler design in all positions, making it more suitable for work and weekday commuting. Both are good choices for different use cases. If you want to know more about Diamondback Haanjo, please follow us.
Learn more: Diamondback Haanjo 3 review
Learn more: Diamondback Haanjo 4 review
What we like about it
High strength and low maintenance frame.
Abundant shelf mounting holes.
Comfortable riding position with a long wheelbase.
Efficient brakes with high traction outside tires.
Flared bend handlebar with flexible short handlebar.
Higher cost performance.
What we don't like about it
FAQs
Can I assemble the bike I received myself?
If you don't know, there is no need to worry. Because the brand's website contains videos that you can use to figure out how to assemble your bike. Or you can visit your local bike store and they will be happy to do it for you for a small fee.
What kind of tires are used on the 2022 Diamondback Haanjo 2?
2022 Diamondback Haanjo 2 on Schwalbe G-One Allround tires, 700 x 38c.
The 2022 Diamondback Haanjo 2 is suitable for which height people?
The size chart for 2022 Diamondback Haanjo 2 is as follows.
(These sizes are only a general guide, the true fit may vary from person to person and the easiest way to find your size is best to go for a test ride.)
| | |
| --- | --- |
| Rider height (inch) | Frame size |
| 156cm – 166cm | XS |
| 163cm – 174cm | SM |
| 171cm – 182cm | MD |
| 179cm-189cm | LG |
| 185cm-195cm | XL |
Diamondback Haanjo 2 Specs
Build
| | |
| --- | --- |
| Frame | DB Alternative Road, Disc Brake, Endurance Geometry, Relaxed Head Tube Angle, Fully Butted 6061-T6 Aluminum Formed Top Tube, 1 1/8″ Headtube, Replaceable Hanger |
| Fork | DB Steel Gravel Disc, 1-1/8″ Steerer Tube, w/ Fender Mounts/ Low Rider Mounts |
| Bottom Bracket | Steel Cartridge |
| Headset | FSA IS-3/ No.11 Integrated Style |
| Stem | HED, 6061 Aluminum 3D Forged, +/-7° Rise, 31.8 Bar Bore |
| Handlebar | HED, 7050 Aluminum 8 Degree Flare, 31.8mm Bar Bore |
| Saddle | Diamondback Performance Gravel Road |
| Seatpost | HED, 6061 Aluminum 27.2mm |
| Pedals | DB4L Aluminum Platform |
| Grips | Diamondback Endurance Tape |
Groupset
| | |
| --- | --- |
| Rear Derailleur | Shimano Claris RD-2400, 8 Speed |
| Front Derailleur | Shimano Claris FD-2400, 31.8mm Band Clamp |
| Crank | Aluminum Cross Compact, 46/34T w/ Aluminum Big Ring |
| Shifters | Shimano Claris ST-2400 STI, 2×8 Speed |
| Cassette | Shimano HG50 Cassette, 8 Speed, 11-32T |
| Chain | KMC Z82, 8 Speed |
| Brakes | Tektro Lyra Flat Mount Mechanical Disc, w/ 160mm Front / 140mm Rear Rotors |
| Brake Levers | Shimano Claris ST-2400 |
Wheels
| | |
| --- | --- |
| Rims | Diamondback Equation, 28h, Doublewall, Tubeless Compatible Rim, Not Taped |
| Spokes | 14g Stainless Steel |
| Front Hub | 28h Aluminum Quick Release |
| Rear Hub | 28h Aluminum Quick Release, Cassette |
| Tires | Vee Rubber, Speedster, Wire Bead, 700x40c, Non Tubeless Tire |
Video
Comparison Table
2022 Diamondback Haanjo 2 vs 2023 Marin Nicasio+
During the comparison ride, we found that the Marin Nicasio+ uses all steel for the frame and fork, which makes it a very bulky bike. But the good thing is that the bike is very durable, even in the face of some minor bumps and bruises. Because if it is a carbon frame, it can not withstand these.
The Diamondback Haanjo 2, on the other hand, uses an aluminum frame with a carbon fork, which is a smart design. This is because it not only reduces the overall weight of the bike but also enhances the durability of the frame. I always thought it was unwise to use a carbon frame in a gravel bike.
As for the transmission, the Diamondback Haanjo 2 uses road bike components which gives it a good range of shifting. But the Marin Nicasio+ uses microSHIFT Advent components with an FSA cassette, and although this is also a road component, this mix-and-match setup seems to make it look like a gravel road bike component, it's so interesting. Also, the small tires on the 650b make it more nimble when riding, both bikes are very fun bikes to ride.
Learn more : Top 8 Best Gravel Bikes Under $2000 [2023]
2022 Diamondback Haanjo 2 vs 2022 Kona Rove AL 700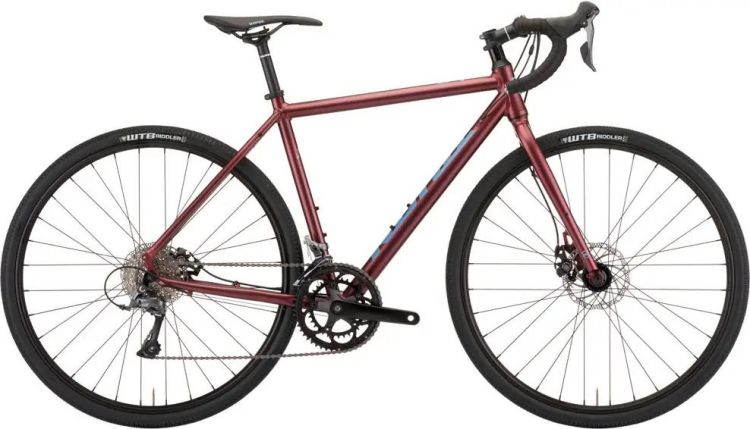 In contrast, the all-aluminum frame of the Kona Rove AL 700 gives it a lighter overall weight. But this will undoubtedly increase the cost, so it will also have a higher price.
In terms of geometry, the Kona Rove AL 700 frame is very wide and has a high standover height. This makes it more comfortable to ride, but it seems less friendly to smaller people.
Conversely, the Diamondback Haanjo 2 has a relatively balanced frame and is, therefore, able to accommodate a comfortable long-distance riding position at normal standing heights. This is made possible by its less steep head tube angle (70°).
As for the tires, the Diamondback Haanjo 2 uses wide 40C tires to provide plenty of grips and a stable ride. The Kona Rove AL 700's 37C outer tire, on the other hand, seems a bit undersized, at least in my opinion.
2022 Diamondback Haanjo 2 VS 2022 Salsa Journeyer Flat Bar Acolyte 700c
The Salsa Journeyer Flat Bar Acolyte 700c is one of the more cost-effective gravel road bikes on the table. It has an abundance of water bottle mounting holes, and the aluminum frame with a carbon fork provides a good balance of cushioning, lightness, and durability.
Unfortunately, the Salsa Journeyer Flat Bar Acolyte 700c has a straight handlebar design, which is not comfortable for long-distance touring. Generally speaking, it is mostly used on mountain bikes as well as commuter road bikes, as the grip position with only one handlebar makes it difficult to handle long-distance riding.
As for the Diamondback Haanjo 2, although it does not have the advantage of a carbon fork, the curved handlebar design and the brake shifter integrated shifter undoubtedly require more cost. This is where the Salsa Journeyer Flat Bar Acolyte 700c saves money. Also, the 2×8 speed shifting system allows it to handle more surfaces. Although most gravel road bikes use the single-speed option, for me, I prefer the dual-cog design.
Salsa Journeyman Sora 700 Review – Novice Riders' First Gravel Bike?
2022 Diamondback Haanjo 2 VS 2022 CUBE NUROAD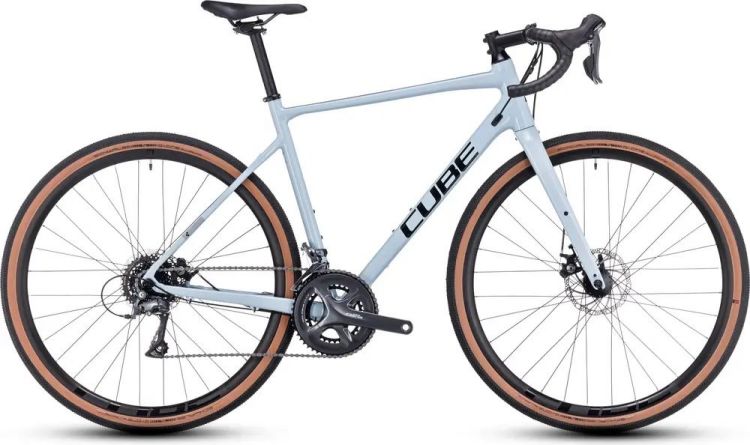 CUBE NUROAD, which is a bike I mentioned in my previous test, has a very high-cost performance. This is primarily an aluminum frame with a carbon fork paired with a full set of road components. Although this is not very suitable for gravel road riding, as there is not much cassette to climb slightly steep hills. But it still gives a good experience on normal gravel roads.
As you can see, the downside is that the water bottle cage mounting holes are so small that I couldn't add a lot of bags to it. So it looks more like an integrated road bike with thick tires.
The Diamondback Haanjo 2, on the other hand, is more in line with the gravel road bike's approach. The sturdy frame allows it to handle bumpy roads with ease, while the abundant front and rear rack mounting holes and water bottle cage mounting holes allow for more modifications.
The alloy parts all over the bike also make it easier to maintain. And the very cheap price is also one of the main motives for me to buy it.
In case, the above comments are helpful to you, please remember to share the subscription. Have a great day!
learn more:CUBE NUROAD C:62 PRO Review [2022]- What Makes It Master The Traffic Code?