We use affiliate links and may receive a small commission on purchases.
2022 Cannondale Habit 4
Price: $3,025
Category: Mountain Bikes
Frame: Aluminum
Gears: 1 x 12
Tires: 29 x 2.5″
What we like about it: The complete shock system with the SRAM SX Eagle 1×12 speed drivetrain maximizes our speed experience.
What we don't like about it: The slightly heavier body.
Rating (4.7/5.0)
Introduction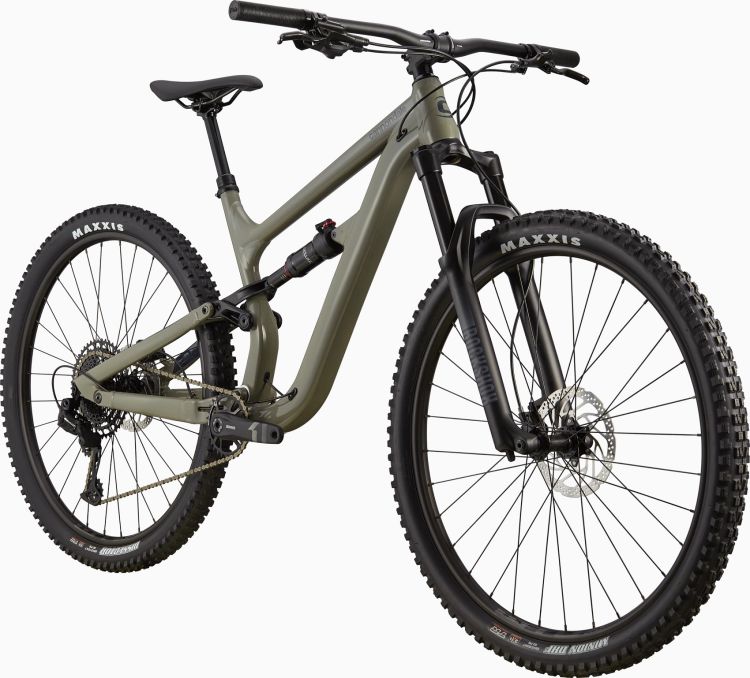 During this time, after I tracked the data of this product in all aspects, I found that this Cannondale Habit 4 is at the top of several best sellers in Cannondale Mountain Bikes The Cannondale Habit 4 is at the top of the list and is very popular.
First, not only is it affordable, but it also comes with RockShox 35 RL Gold shocks front and rear and RockShox Deluxe Select+ rear shocks respectively. On top of that, it adds the TranzX dropper design. This is exactly what everyone expects from a full shock bike and takes full account of the needs of riders who value riding stability and comfort. Second, it also has a proportionally responsive design. The actual suspension layout can be customized for the rider based on the different sizes of the bike so that each rider can get the best traction, smoothness, and control. Third, the Ai Offset Drivetrain helps us to easily open the rear triangle for greater tire clearance and compatibility with different tire sizes.
And of course, it has looks that can't be ignored. The eye-catching colors and clean, progressive geometry make it stand out from the rest of the series. It breaks all the traditional models and sets a new standard in mountain biking.
Cannondale Habit 4 Off-Road Review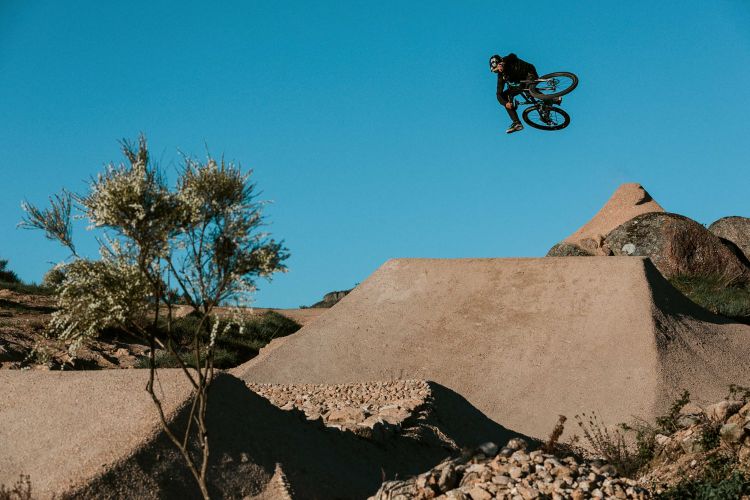 To have a richer and more varied review of the bike, my partner and I went out on the local trail.
The lane was certainly popular, and it was clear from the various widths of ruts in the road that many riders had come here. Also, both the narrow single-track setup and the various weeds and fallen leaves put some hindrance on our ride. Surprisingly, we were quite pleased with the performance of this bike and therefore consider it to be the most recommended in its price range.
First of all, the RockShox shock set has minimized the shock feeling. It gave me a more comfortable feeling on the descent than I had ever ridden before. That's because the long enough fork and rear fork allowed me to press through the gravel easily and rebound quickly to continue at an efficient pace. Of course, this also has an important connection with its tires. The large, relatively wide 40c tires grip the ground firmly as I pedal over bumpy gravel roads.
In addition, its unique EXO+ anti-puncture protection layer allows us to crush all kinds of sharp stones. Even when I encountered muddy sections during the ride, I didn't slow down or lose my balance at all because of it.
Cannondale Habit 4 General Riding Review
We all understand that in general riding, we need to focus more on the speed and endurance of the bike. In our tests, we found Cannondale Habit 4 to be well-suited for general riding as well.
As I said before, the two shocks paired with the powerful tires gave me a smoothness on steep roads like never before. Moreover, the SRAM SX Eagle's drivetrain with Shimano's MT200 hydraulic disc brake indicates a simple and flexible shift operation and responsive and stable brakes that allow us to shift easily on the road. The reliable braking system doesn't make me worry about accidents even if I stop at any time.
This bike is a worthy choice for both its excellent performance in off-road riding and its performance in various daily rides.
Main Features
Frame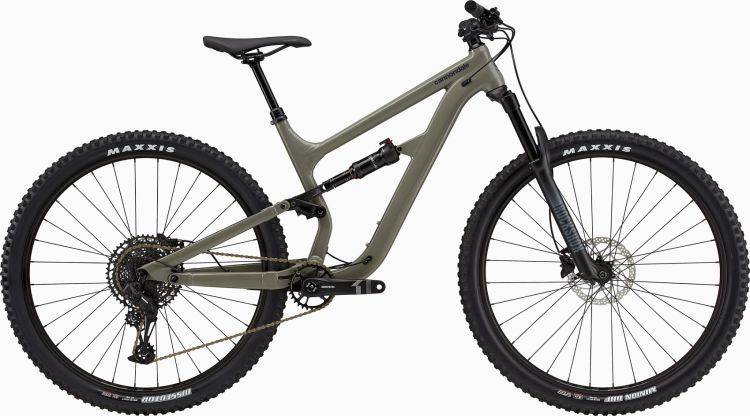 The Cannondale Habit 4 is a full shock bike that puts a lot of effort into frame innovation. Its use of sturdy aluminum with a Slate Gray color, coupled with progressive geometry is enough to capture everyone's heart at first glance.
I want to commend this bike for the clear protective sticker it offers us. This is a unique feature that you won't find on any other model. These stickers are fixed to the chain as well as the seat spacer. It helps us to reduce the small scratches and impact of heel rub for a smooth ride. This is something that other brands should learn from.
Not only that, its simple internal cable routing design makes it easier for us to maintain the line. Moreover, Cannondale Habit 4 takes into account our frequent need for hydration along the way by reserving a water bottle mounting hole for us.
Geometry
Cannondale's geometry on Habit 4 is very impressive, with a 74.5° seat tube angle that allows the rider to accelerate without the discomfort of high speeds.
Not only that, but the 66° head tube angle also gives us enough confidence to adapt to different forest trails. What's more, it ensures that we feel stable when riding. This is necessary for every rider.
What's more, just the right height of the five-way (339mm) allows us to balance our center of gravity with the bike, reducing unnecessary trouble for us while riding.
Components and Specifications
SRAM SX Eagle 1×12 Drivetrain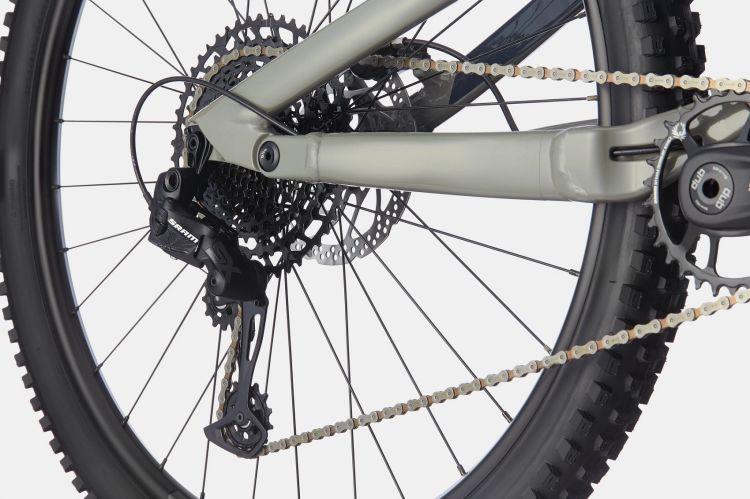 The SRAM SX Eagle drivetrain was chosen for this bike. The new rear derailleur incorporates the SRAM family's proven X-HORIZON design, as well as a 1×12 speed range and flexibility for easy operation. This allows us to face all kinds of terrain with ease.
At the same time, Eagle pulley technology provides higher efficiency, sharper shifting, and quieter operation. The simple design makes the Eagle drivetrain lighter and easier to maintain. And, with the quality of the SRAM family, we don't have to worry at all about whether or not we'll have a dropped chain.
On top of that, the latest optimization achieves an impressive 520% gear range, allowing us to get maximum acceleration even on downhill or long straights.
Shimano MT200 Hydraulic Disc Brake
This Cannondale Habit 4 features Shimano MT200 hydraulic disc brakes, providing reliable safety during our rides.
With the Shimano MT 200 hydraulic disc brake, we can flexibly avoid obstacles on the road. Even at high speeds, its stable performance will help us deal with unexpected situations, and its quality cooling performance will keep it running properly.
If you're worried about whether it can still perform so well on muddy roads, its two-piston design can keep us going steadily.
Of course, Shimano MT200 hydraulic disc brake has good performance but also has a quality that we can rest assured of. Super high wear resistance and less noise will be the icing on the cake for your ride.
Maxxis Minion DHF Tires
The Maxxis tires have always been known for their great grip, and it was a smart decision to go with them for the Cannondale Habit 4.
Maxxis Minion DHF tubeless tires offer many benefits to the rider. First, the ability to run at a lower air pressure results in improved traction. Secondly, the rolling resistance is lower compared to tubular tires.
In this way, we can ride smoothly no matter what kind of terrain we are on. You may think I'm exaggerating a bit, but it's true. Because this tire also has Maxxis' EXO+ puncture protection, the large 29-inch tire will no longer be afraid of any gravel obstruction with its protective layer.
Finally, the Maxxis Downhill tire is made of two layers of durable 60 TPI outer material and large butyl rubber inserts that extend from each bead to the sidewall. The butyl inserts help prevent flattening, protect the rim from impact and provide additional sidewall stability.
RockShox Deluxe Select+ Rear Shock Absorber
The RockShox Deluxe Select+ configuration on this Habit 4 bike is a match made in heaven, lightweight, and highly effective against vibration.
It is made with a lightweight and height-adjustable Debonair air spring. It performs consistently wherever you go on the ride, effortlessly absorbing even the smallest impact and tracking the slightest change in terrain. Paired with 130mm of travel, it minimizes the vibrations transmitted to us as the tires rub against the ground. At the same time, the Maxima Plus Fluid that comes with it protects our suspension from wear and tear, eliminating damper noise and improving smoothness.
I can't pick any problems with such a complete and comprehensive rear shock configuration, and I can't think of a more finely tuned shock than it.
RockShox 35 Gold RL Front Fork Shocks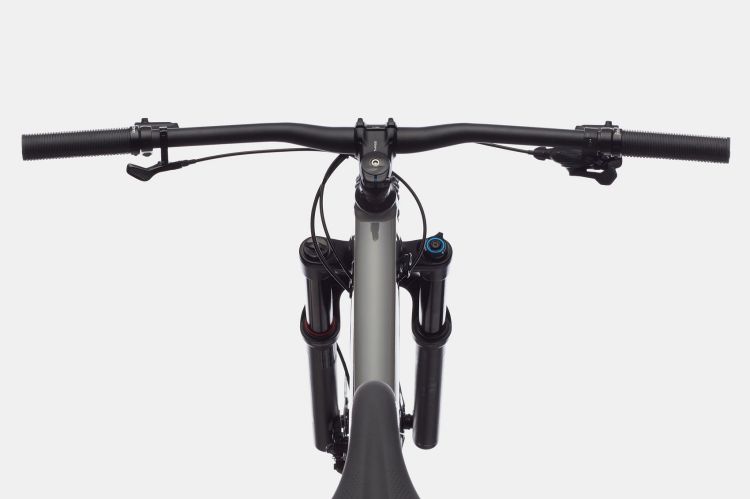 With the RockShox 35 Gold RL shock, Cannondale Habit 4 can perform exceptionally well in the twists and turns of the forest.
The RockShox 35 Gold fork is a great way to get the most out of your bike, whether it's some sharp rocks or a sharp drop to the ground, it absorbs the shock very quickly so we can have consistent stability. That's a big reason why this bike is so well-received by riders. Also, this version has the option of short fenders or full fenders. All in all, I think this Habit 4 impresses me deeply.
Other versions of Cannondale Habit
We've taken a comprehensive look at Cannondale Habit 4, which is a great bike, but Cannondale has also given us other bikes in the lineup. They differ in various ways in terms of components and price. So we've also done a review together, so stay tuned if you want to learn more.
Learn more: Habit Carbon 1 review
What we like about it
The Smart Form C1 alloy frame provides lightweight, responsive handling.
RockShox Deluxe Select+ Shock Absorber
TranZ Dropper
SRAM SX Eagle 1×12 drivetrain
Transparent stickers fixed on the chain and the seat brace
Maxxis Minion DHF Tubeless Tire
What we don't like about it
No variety of color options
Slightly heavier frame
FAQ
What is the price of the Cannondale Habit 4?
The Cannondale Habit 4 is $3,025.
What is the drivetrain of the Cannondale Habit 4?
The drivetrain of the Cannondale Habit 4 is the SRAM SX Eagle.
What is the body material of the Cannondale Habit 4?
The Cannondale Habit 4's body material is SmartForm C1 Alloy.
What sizes does Cannondale Habit 4 come in?
| | | | | |
| --- | --- | --- | --- | --- |
| Size | S | M | L | XL |
| Rider height | 5′2" – 5'5″ | 5′5" – 5′10" | 5′7" – 6'1" | 6'0" – 6′6" |
Cannondale Habit 4 Specs
Build
| | |
| --- | --- |
| Frame | 130mm travel, SmartForm C1 Alloy, Proportional Response Tuned, Ai offset drivetrain, ISCG05, BSA 83, post mount brake, tapered headtube BB Standard: BSA, 83mm, Threaded Color: Slate Gray |
| Fork | RockShox 35 Gold RL, 140mm, DebonAir, 15x110mm thru-axle, tapered steerer, 51mm offset |
| Rear Shock | RockShox Deluxe Select+, DebonAir, 2-Pos mode adjust, adjustable rebound |
| Bottom Bracket | SRAM DUB BSA MTB83 |
| Headset | Integrated, 1-1/8 to 1.5″, sealed angular contact bearings |
| Stem | Cannondale 3, 6061 Alloy, 31.8, 0° |
| Handlebar | Cannondale 3 Riser, 6061 Alloy, 15mm rise, 8° sweep, 4° rise, 780mm |
| Saddle | Cannondale Ergo XC |
| Seatpost | TranzX dropper, internal routing, 31.6, 125mm (S), 150mm (M-XL) |
| Pedals | Not included |
| Grips | Fabric FunGuy |
Groupset
| | |
| --- | --- |
| Rear Derailleur | SRAM SX Eagle |
| Crank | SRAM X1-1000 Eagle DUB, 30T, Ai offset |
| Shifters | SRAM SX Eagle, 12-speed |
| Cassette | SRAM SX Eagle, 11-50, 12-speed |
| Chain | SRAM SX Eagle, 12-speed |
| Brakes | Shimano MT200 hydraulic disc, 180/180mm RT30 rotors |
| Brake Levers | Shimano MT200 hydraulic disc |
Wheels
| | |
| --- | --- |
| Rims | WTB STX i23 TCS, 32h, tubeless ready |
| Spokes | Stainless Steel, 14g |
| Front Hub | Shimano MT400, 15x110mm thru-axle |
| Rear Hub | Shimano MT400 12×148 |
| Tires | (F) Maxxis Minion DHF, 29 x 2.5″, EXO casing, tubeless-ready (R) Maxxis Dissector, 29 x 2.4″, EXO casing, tubeless ready |
Video
Comparison Table
2022 Cannondale Habit 4 vs 2023 TrekTop Fuel 7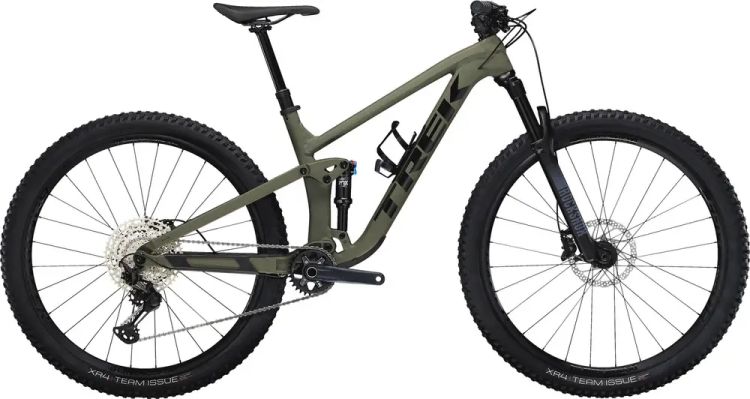 The 2023 Trek Top Fuel 7 uses the Shimano XT M8100 drivetrain with Shimano hydraulic discs. In my opinion, the Cannondale Habit 4 equipped with SRAM SX Eagle is comparable to the Shimano XT M8100. In addition, they both have large 29-inch tires and aluminum frames.
However, the Cannondale Habit 4 is equipped with Maxxis Minion DHF tires that do have better grip and are more resistant to wear and tear on rough terrain.
Although the frame is made of the same material, Cannondale Habit 4 is a little lighter. This may be important for some riders.
If it were me, I probably wouldn't choose the TrekTop Fuel 7. After all, who wouldn't want a cheaper full-suspension bike that can take the rough stuff?
learn more :Trek Top Fuel 8 Review [2022]- How Will It Perform In The Face Of Tough Terrain?
2022 Cannondale Habit 4 vs 2022 Marin Rift Zone 27.5 3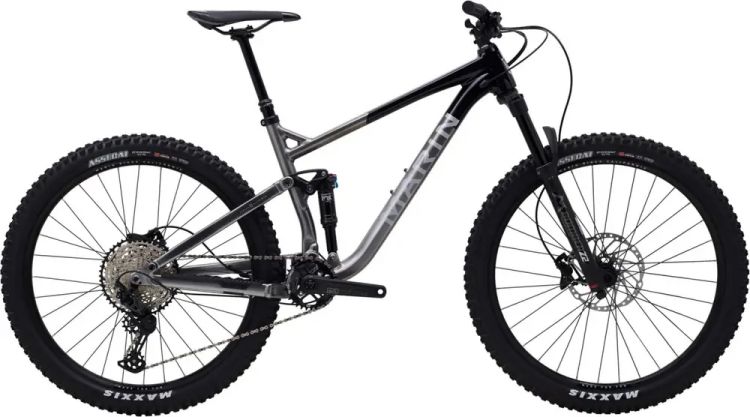 Usually, bikes in the same price range don't have much difference in performance, even if they use different accessories. However, after my comparison review, I was pleasantly surprised by Cannondale Habit 4.
Its RockShox 35 Gold fork is significantly more responsive than the Marin Rift Zone 27.5 3's fork. Paired with its drivetrain, it exerts a smoother strength than the Marin Rift Zone 27.5 3 when descending. At the highest speed, there will be much less obstruction.
Although the Marin Rift Zone 27.5 3 is cheaper, the ride that the Habit 4 gives me makes me willing to pay for it.
learn more : Is Marin Rift Zone 27.5 1 Worth Buying? [Marin Rift Zone 1 Review]
2022 Cannondale Habit 4 vs 2022 Canyon Spectral 6 WMN
The 2022 Canyon Spectral 6 WMN is equipped with suspension developed for women riders and a lightweight aluminum frame. The Cannondale Habit 4 is not as light as it could be.
The optional FOX Float DPS Performance 3-position EVOL LV Rear Shock can react quickly when the rider encounters an obstacle to prevent accidents.
However, the Cannondale Habit 4 is capable of faster speed and traction on daily rides and speed descents, and the Habit 4 is equipped with two shock absorbers that are perfectly adequate.
I think the 2022 Canyon Spectral 6 WMN would be more suitable for a female novice to master the balance on the ride. But for those who want to have a more enjoyable riding experience, the Cannondale Habit 4 would be more suitable.
learn more : Canyon Spectral 29 CF 7 Review [2022]- A Tank-Like, Composed All-Rounder
2022 Cannondale Habit 4 vs 2022 Specialized Stumpjumper Alloy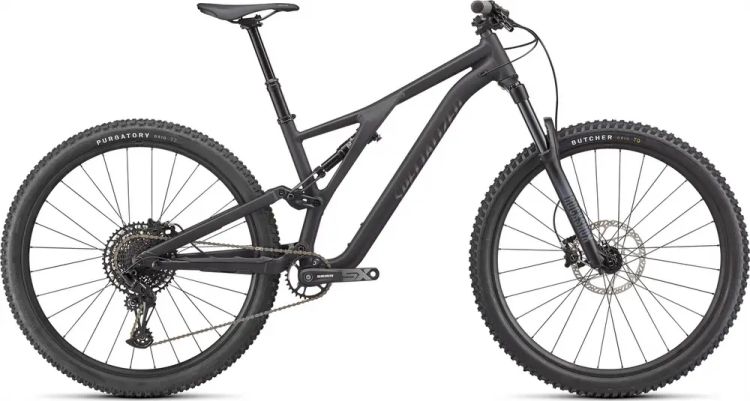 Like the Cannondale Habit 4, the 2022 Specialized Stumpjumper Alloy has an additional dropper design for the bike. This reduces the discomfort of getting in the way of our ride.
The Tektro Gemini Comp hydraulic disc brakes chosen by Specialized Stumpjumper Alloy are also great.
However, I found that the tires chosen for the Specialized Stumpjumper Alloy were not vacuumed tires. This made it less relaxed on rough trails than the Cannondale Habit 4 and not as easy for us to maintain.
If you have a very limited budget, you can also try the latter.
In case, the above comments are helpful to you, please remember to share the subscription. Have a great day!