We use affiliate links and may receive a small commission on purchases.
2023 BMC Timemachine ROAD 01 THREE Review
Price: $6,999
Frame: Carbon
Tires: 700×25C
Gear: 2×12
What we like about it: The powerful all-around capability, the ultimate pursuit of aerodynamic feel while maintaining a comfortable riding position.
What we don't like about it: The high price.
Rating (4.8/5)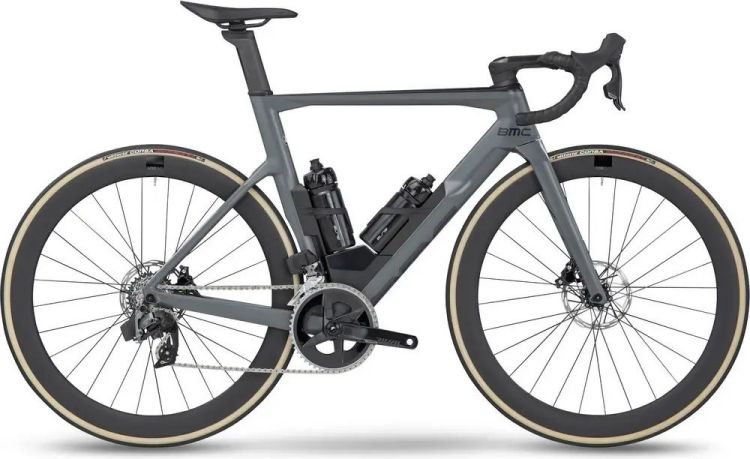 Introduction
The carbon material is different from aluminum alloy, it can be well used to create shaped frames. So major manufacturers can use their imagination to create all kinds of aerodynamic-shaped frames. With no compromise on speed, aero road bikes are quickly becoming the bike of choice for those who want to go fast.
The BMC Timemachine ROAD 01 THREE is a monster built on this. The aerodynamic design is combined with a striking tubular shape and even a miniature deflector at the front disc brake caliper, which is used to reduce drag and further optimize airflow. Needless to say, this integrated design makes it clean and smooth. This is the beauty that comes with modern technology.
Below we break down the BMC Timemachine ROAD 01 THREE about road riding, racing events, key features, components, specifications, and other versions.
If you want to know more about bike reviews, you can follow us.
BMC Timemachine ROAD 01 THREE Road Riding Review
The BMC Timemachine ROAD 01 THREE's dominant shape highlights its appeal for speed, and the shaped tubing is one of the reasons I bought it, which makes it look more technological.
Needless to say, it's perfect for riding on flat roads, which will give it the speed advantage it needs to get the most out of it. When the test team and I headed out to the straight roads of North Dakota, the venue for this test, I thought it would be perfect for it.
The road was completely flat and straight, I couldn't even see where it turned, which is so good for an aero bike to ride. At the start, I felt that the bike was not easy, and I could even say it was heavy. But the flat, straight tarmac road gave me the desire to accelerate for impact.
The aerodynamic bike's requirements for geometry and frame shape force it to sacrifice a bit of weight. But this does not affect its advantage on the flat road in any way. When I increased the speed to 30km/h, its advantages were greatly demonstrated. In addition, the high frame (50mm) carbon wheelset was able to give me good forward inertia when riding at high speeds, and I watched the meadows around me go so fast that they blurred as if time and space had been torn apart.
When I need to increase speed, I can easily do so by flicking the shift adjuster in my hand. It doesn't take much effort, thanks to the improved feel of the electronic shifting (SRAM RIVAL 2*12), which makes it more precise and responsive. It may not be the right bike for me to ride up hilly sections, but who cares? On straight roads, it's a "time machine".
BMC Timemachine ROAD 01 THREE Race Review
The quality of the bike has made it a major event, and I decided to use it after just a short practice session from the first test drive to the actual triathlon. I was shocked at how well the BMC Timemachine ROAD 01 THREE absorbed shock and had a clear "road feel", even with the thinner 25mm tires, it threw a good "road feel". This is like a precise tool for the rider to perceive the road in real-life riding.
Finally, the day of the race came. For the past few weeks, I hadn't used it to ride long distances at a time because I didn't know if I could ride it well. So I put on a secondary handlebar in front of the handlebars for the race. However, the course was a bit rough in places and it was raining lightly today, which was a big test for us (me and BMC Timemachine ROAD 01 THREE).
First of all, it's comfortable, making it not like an aero bike, at some point, it's like an enduro racer. When a certain speed is reached, it is smooth as if it is stopped in place.
Secondly, I've never mentioned it before. The CRD-501 carbon wheelset adds lateral stiffness to the whole bike while still having a strong speed aesthetic! When I got on it after a long swim, it gave me a great experience. It immediately made me forget about the fatigue I just had (swimming is not good for me).
I finished the race and had a good time. It broke my previous Ironman record, thanks in large part to the speedy experience of the BMC Timemachine ROAD 01 THREE. The bike ride greatly made up for the time I lost on the swim.
Main Features
Frame Group
This is a frame that seeks the ultimate in aerodynamics, as evidenced by the pure flat top tube and downshifted rear upper fork design. It is very much in pursuit of detail as evidenced by the air fairing on the front caliper.
There is an aerodynamic module above the height of the bottom bracket, which sounds like a gimmick. But closer inspection reveals that it's a water bottle holder and storage box made of carbon and plastic. It provides a seamless look to the connection between the downtube and seat tube.
And, this integrated design was added to the wind tunnel design, something that the vast majority of bike manufacturers ignore. Unfortunately, the additional drag caused by the water bottle cage offsets the aerodynamic gains of realistic conditions.
Geometry
In terms of numbers, we tested the 54-size frame, which has a 100.3cm wheelbase and 41cm rear fork length. While riding I felt it was very stable (as mentioned before it was like stopping in place at high speed) and I think this was thanks to the fact that it lifted its modest BB height (just 6cm).
Also, it's not sloppy on the speed front. The shorter head tube (14.6cm) has good forwardness and I can get my body parallel enough to the ground for the best aerodynamic position.
The seat tube angle is also relatively steep (73.5°) and offers front-to-back adjustment (0mm, 15mm, and 30mm), with a wide range of adjustments to optimize the riding position. Not only that but the BMC Timemachine ROAD 01 THREE also creatively offers a seat tube reversal function. This can directly change the entire geometry of the vehicle to suit triathlon riding.
Components and Specifications
SRAM Rival eTap AXS Kit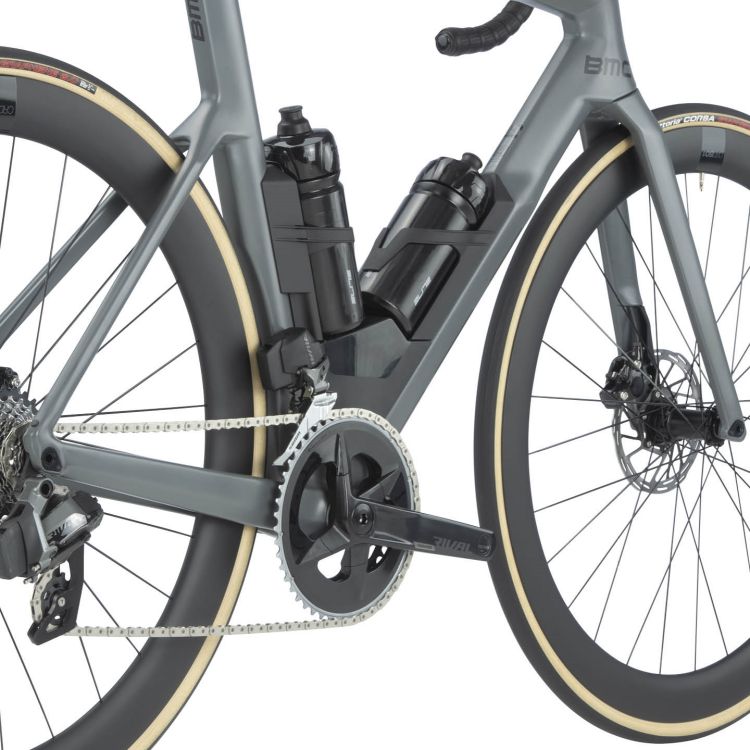 On the package, the bike is equipped with SRAM's electronic shifting kit. Compared to the wired shifting kit, the electronic shifting has more a sensitive speed adjustment. And the elimination of cables will also make the entire frame more simple and easy to maintain.
Meanwhile, the SRAM brakes are very powerful and can be controlled by a light lever feel and comfortable hood shape. But no power meter is included on it, although this is forgivable as it is already a good setup within this price.
Fizik Argo Vento R5 Saddle
This is one of the few components on the bike that is not part of BMC's factory. The saddle is made of Fizik Argo Vento R5, which is the more popular modern short nose shape with a wide cutout in the middle.
In fact, in our research, we found that the majority of triathletes have the saddle adjusted to the very front end of the adjustment. So in this regard, the BMC Timemachine ROAD 01 THREE not only uses a short nose saddle but also uses a reversible seat tube to achieve this. In triathlon, a near-vertical riding position with a seat tube can certainly improve pedaling efficiency and be more aerodynamic.
CRD-501 Carbon wheelset with Vittoria Corsa – 25mm Tires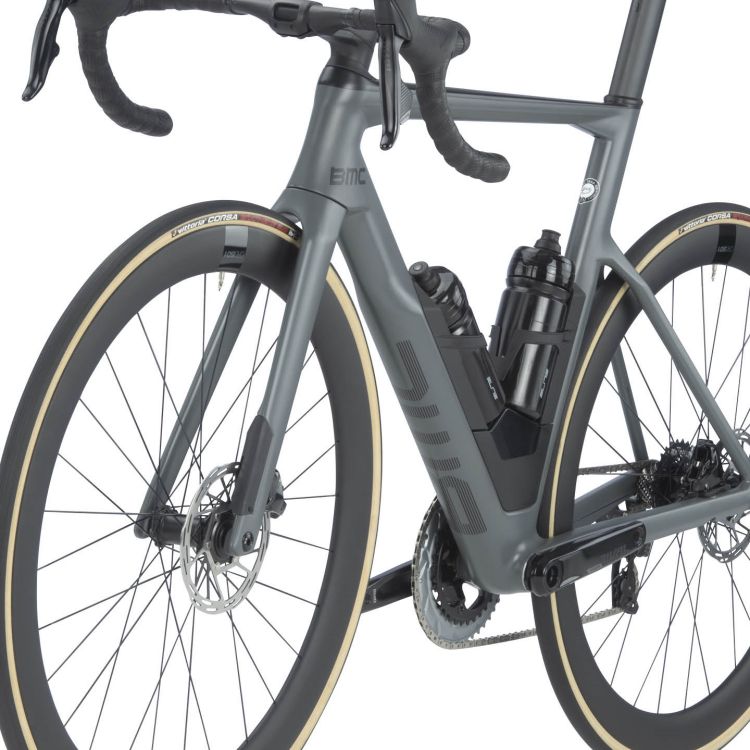 First of all, the whole bike has a higher frame height CRD-501 carbon wheelset, which can reduce the weight of the whole bike very well. Throughout the race, I also found that it could give us excellent cruising performance. This depends on the wider frame height (50mm) to give inertia support during high-speed riding.
Secondly, the bike is also equipped with Vittoria Corsa – 25mm. very slim tires that allow the whole bike to have a smaller contact area relative to the ground, reducing the resistance to the ground. This is a good reflection of the improved speed.
Although while riding I often felt that this set of tires was too thin to get through some bumpy gravel roads. If you just ride the road normally, you can also replace the tires with slightly wider ones. But for triathlon events, this width is the best choice.
Other versions of BMC Timemachine ROAD 01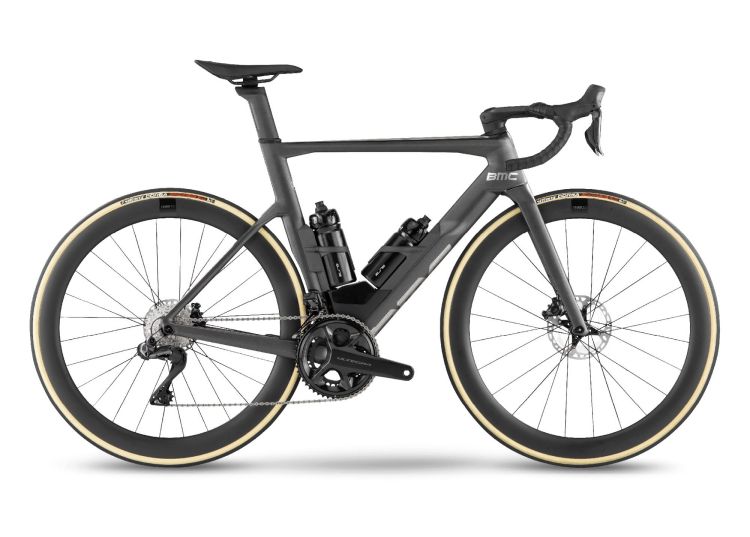 In this review, we have reviewed the BMC Timemachine ROAD 01 THREE, an aerodynamic bike for cruising, to pursue higher speeds and maintain them. The various details of the design also show that this is a bike that aims to tear through the air and break through obstacles in pursuit of speed.
It's a very good bike, but it's only the lowest end of the range from BMC. The BMC Timemachine ROAD 01 TWO is an upgraded version of the lighter and better Shimano Ultegra Di2 kit, and they are identical in terms of frame, except for the upgraded kit and small accessories such as the saddle.
It is worth noting that there is an $800 price difference between them. So if you want to get a better riding experience, I think it is perfectly acceptable to spend a little more money.
What we like about it
The wide range of adjustability allows the rider to make the right fine adjustments for a more suitable ride.
Amazing speed and cruising ability with a good level of comfort.
Excellent aerodynamic construction, such as integrated calipers and water bottle cages.
Absorbs road vibration very well and provides the rider with some road feel.
The reversible seat tube design allows it to even be capable of competing in Ironman events.
What we don't like about it
High price.
Narrower tire clearance.
FAQ
1, What are the areas that the 2023 BMC Timemachine ROAD 01 THREE can be fine-tuned?
This includes integrated handlebars (+/-9°) as well as seat posts (0mm, 15mm, and 30mm).
2、What do I need to do with the bike to participate in the Ironman event?
The basic modification we think is to install the vice grip position, as well as reverse mount the seat tube to make it more suitable for the iron three riding positions.
3、2023 BMC Timemachine ROAD 01 THREE is suitable for which height people?
The size chart for 2023 BMC Timemachine ROAD 01 THREE is as follows.
(These sizes are just a general guide, the real right size may vary from person to person, and the easiest way to find your size is the best way to go for a test ride.)
| | |
| --- | --- |
| Rider height | SIZE |
| 153cm – 167cm | 47 |
| 165cm – 174cm | 51 |
| 172cm – 180cm | 54 |
| 178cm – 186cm | 56 |
| 184cm – 192cm | 58 |
| 190cm+ | 61 |
2023 BMC Timemachine ROAD 01 THREE Specs
Build
| | |
| --- | --- |
| Frame | Timemachine Road 01 Premium Carbon with Aero Module Tuned Compliance Concept Speed, ICS Aero Technology Stealth Cable Routing, PF86 Bottom Bracket, Flat Mount Disc, 12x142mm Thru-Axle BB Standard: BB86/BB92, Press Fit Tire Clearance: 28c |
| Fork | Timemachine Road 01 Premium Carbon with Integrated Aero Cover Tuned Compliance Concept Speed, ICS Technology Stealth Cable Routing, Flat Mount Disc, 12x100mm Thru-Axle |
| Bottom Bracket | BB86/BB92, press-fit |
| Stem | BMC ICS Aero- Integrated Aero Cockpit Design |
| Handlebar | BMC ICS Aero – Aero Top Shape – Compact Bend |
| Saddle | Fizik Argo Vento R3 (140mm) |
| Seatpost | Timemachine Road 01 Premium Carbon Aero Seatpost, 0, 15, 30mm Adjustable Offset |
Groupset
| | |
| --- | --- |
| Rear Derailleur | SRAM RIVAL eTap AXS |
| Crank | SRAM RIVAL AXS 48-35T |
| Shifters | SRAM RIVAL eTAP AXS HRD |
| Cassette | SRAM FORCE XG-1270 10-30T |
| Chain | SRAM RIVAL 12 Speed |
| Brakes | SRAM Rival eTap AXS HRD – Paceline Rotors (160/160) |
Wheels
| | |
| --- | --- |
| Rims | CRD-501 Carbon – Tubeless Ready – 50mm |
| Front Hub | CRD-501 |
| Rear Hub | CRD-501 |
| Tires | Vittoria Corsa – 25mm |
Video
Comparison Table
2023 BMC Timemachine ROAD 01 THREE VS 2023 Trek Speed Concept SLR 6 eTap
Compared to the BMC Timemachine ROAD 01 THREE, the Trek Speed Concept SLR 6 eTap could well be called a triathlon bike. It eliminates the corner handlebars for sprinting and instead uses the secondary handlebars for TT time trials and a pair of bullhorn handlebars, which seems more logical. And it's equipped with a power meter to better understand its condition during the race.
But the BMC Timemachine ROAD 01 THREE can be used not only in triathlon but also in other races, where the sunken handlebars give it the ability to sprint. In other races, it can be called the top cruising road bike. You could say it's more versatile. Not only do I need to do triathlons, but I also need to do some road bike racing. That's why the 2023 BMC Timemachine ROAD 01 THREE is a more suitable model for me.
2023 BMC Timemachine ROAD 01 THREE VS 2022 Canyon Speedmax CF SLX 7 Disc eTap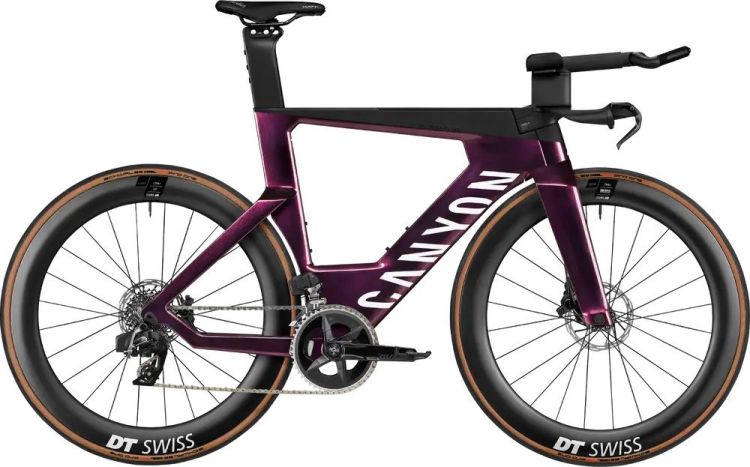 A comparison of the geometry shows that the Canyon Speedmax CF SLX 7 Disc eTap has a lower Stack and a higher Reach, which means it will have a more aggressive stance on the ride, as evidenced by the high 80.5° seat tube angle. The extremely high pedaling efficiency was evident to me while riding, allowing me to better maintain my pedaling frequency. Also, being equipped with a power meter gives me a better idea of my output.
Compared to the former, the geometry of the BMC Timemachine ROAD 01 THREE is much looser. This makes it a comfortable triathlon bike as it is not very uncomfortable when riding long distances. But for speed, it is obvious that comfort is contrary to it.
learn more:Canyon Speedmax CF SLX 8 WMN Disc Di2 Review [2022]- A Racing Machine Designed For Women
2023 BMC Timemachine ROAD 01 THREE vs 2021 Scott Plasma RC
It's an 11-speed triathlon road bike, which is rarely seen on such a top-of-the-line bike. There may be some riding disadvantages compared to the 12-speed, but the extreme aero geometry design allows this to be completely overlooked. And it doesn't come with a power meter, which is all too rare.
The upturned handlebars allow it to design the frame short enough to reduce weight while also reducing aerodynamics. This is a very good design.
Next, take a look at the BMC Timemachine ROAD 01 THREE. compared to having a more comfortable geometry, I could feel its comfort when riding. It's not just a triathlon, it's more like an aero road bike and has a more civilian price.
2023 BMC Timemachine ROAD 01 THREE VS 2022 Cervelo P-Series Ultegra Di2
I have to say that the Cervelo P-Series Ultegra Di2 has a very beautiful color and I was attracted by the gradient purple color at the first sight of it. It has a much softer look than other bikes.
But you can't be fooled by its appearance. Because during the test ride and the comparison of the data, I found that it still has an aggressive geometry. The extra-long top tube and head tube allowed me to stretch my body fully while riding.
On the contrary, the geometry of the BMC Timemachine ROAD 01 THREE is relatively contracted. But I think I can change direction better and do things like swinging and sprinting while riding, which the other four bikes don't have.
Overall, the BMC Timemachine ROAD 01 THREE will be more integrated in terms of riding experience. The other four bikes are complete triathlon racers.
In case, the above comments are helpful to you, please remember to share the subscription. Have a great day!
Learn more : Is Cervelo P5 Ultegra Di2 Worth Buying? [2022 Cervelo P5 Ultegra Di2 Review]