We use affiliate links and may receive a small commission on purchases.
2016 Trek 8.3 DS
Price: $660
Category: Hybrid Bicycle
Frame: Aluminum
Gear: 3×8
Tires: 700x38c
What we like about it: Shimano drivetrains give maximum traction to help you conquer rough, gravel roads.
What we don't like about it: The rarer color options.
Rating (4.5/5)
Introduction
Do you have a recent trip planned? Are you planning to ride your favorite bike with friends and enjoy the peace and beauty of the countryside? If your answer is yes, then you can't miss our main character today – Trek 8.3 DS.
The Trek 8.3 DS is equipped with an alpha aluminum body that is not as bulky as you might expect, and you can easily lift it over muddy roadblocks. The Bontrager LT2 tires are slim and 700x38c to keep you stable while moving fast. Meanwhile, the Shimano 8-speed adjustable gears give you smooth pedaling power to conquer bumpy gravel roads.
To make the results more informative for you, here we elaborate on the performance of the Trek 8.3 DS while riding, key features, components, and specifications, as well as other versions of the series. If you would like to learn more about other versions of the Trek 8.3 DS, please refer to our review.
Trek 8.3 DS Commuter Riding
As a hybrid bike, it continues to surprise on its home turf – the road – where the Trek 8.3 DS performs.
It's hard not to notice its drivetrain, the Shimano Acera M360, 8-speed. This is its secret weapon. The powerful drivetrain keeps it on the commuter road. In addition, the Alpha Gold Aluminum frame stays extremely resilient and dynamic.
We chose a five-kilometer commute to Back Mountain Park to test the performance of the Trek 8.3 DS. The Bontrager Low Riser is based on a high-quality steel handlebar with a rubber grip that absorbs the bumps caused by body vibration.
In addition, the 620mm width is the right configuration for an average-sized person like me. So I can let my arms swing to a proper angle, which greatly reduces the stiffness.
At the same time, the Wellgo nylon body cage pedals are undeniably ergonomically designed. I don't feel too much backlash when accelerating on flat, smooth surfaces. And the proper Reach allows me to bend to a proper angle to face the curvy uphill surfaces.
The Tektro Novela mechanical disc is perhaps also worth mentioning. It is quiet, stable, and able to maintain a relatively rapid brake. Of course, it is undeniable that more options on the market today are still hydraulic disc brakes. It will have a more powerful braking ability, even in the face of slippery mossy roads, and can quickly maintain the emergency brake. But that doesn't stop me from liking Tektro Novela mechanical discs. The lighter weight and lower maintenance cost are one of the reasons why I love it. However, if needed, you can try other versions of the Trek 8.3 DS, such as the 2016 Trek 8.6 DS. It may impress you.
Trek 8.3 DS Gravel Road Riding
Obviously, the Trek 8.3 DS ended up performing satisfactorily, even though I was facing a thorny gravel flow trail, I was still able to get big at a faster speed. In real-world measurements, the Trek 8.3 DS was able to reach 61km/h. This is definitely the speed leader for other hybrid bikes.
With the Bontrager LT2 tires playing a crucial role in gravel riding, the aramid beads protruding from the surface will embed deep into the gravel land to maintain ultimate stability. Also, another factor is the slim 700x38c tires it comes with, which enables it to remain fast on the bumpy country roads of Yellowstone.
We encountered muddier roads and were often splattered with mud in the midst of fast travel. Therefore, I will install a fender bracket at the back of the body to prevent the rain and mud from attacking my whole body. In my slow driving, unlike other road bikes that twist to change gears, the Shimano Acera M360 uses a shift mechanism that is indeed tough, but also really troublesome. Since the 3x is not as easy to shift as the 1x, I need to switch between my left and right hands to reach a satisfactory speed. But this is a must-have for those who love riding.
Main Features
Frame
This bike is made of the most popular aluminum alloy on the market. Therefore it will look tougher and stronger. In addition, the black and blue stripes covering between Trek 8.3 DS will look cooler.
First, the brakes, tires, pedals, and other components make up a clean, simple body structure. And, the internal wiring is complete without excessive tangling. GM's internal management system combines shift, brake, and other control lines in any combination across the frame, presenting a clean and fresh body structure.
Of course, as jack suggested, it would be better if they added Flame Red. After all, the current Trek 8.3 DS presents too few colors, only Trek Black and Trek Cyan Volt Green.
Components and Specifications
Drivetrain: Shimano HG31, 11-32, 8 speed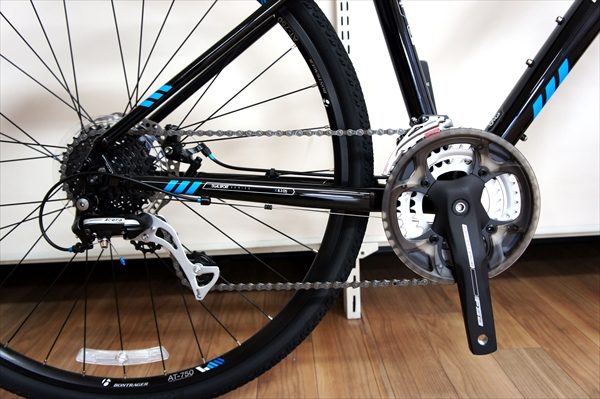 This is a cassette setup that you need to install yourself, and it's easy to do so as long as you have a Shimano cassette tool. Also, you can switch from the lowest gear to a higher gear very smoothly.
However, the 3x system may still present a minor speed adjustment obstacle for me. After all, the overly complicated gear selection is still a problem for my travel. But considering the price point of the Shimano HG31, 11-32, 8-speed, I can live with it. I have to be honest, the chain started to wobble a bit during the speed change, but after I made some simple adjustments, it didn't happen.
Tektro Novela Mechanical Disc Brake
Tektro Novela mechanical discs with 160mm rotors front and rear were perhaps a big surprise for me in terms of braking. The cable-driven mechanical disc brake for linear pulling of the brake lever (sold separately) is able to fit both front and rear brakes.
The lightweight is its own biggest advantage, the 176g caliper does not add extra weight to the Trek 8.3 DS, so it can maintain relatively high stability. Even if you encounter some unexpected events on a muddy gravel road, when you hold the brakes tightly, you will immediately brake quickly without too much inertia due to the slippery road. This is one of the most impressive experiences I've had on a ride.
Bontrager LT2 Tires
As Trek's ace setup, the Bontrager series of tires has always been a favorite among cyclists. The Bontrager LT2 is a heavy-looking but lightweight trail tire, ready for sidewalks and trails without the worry of rocks or debris causing flats.
The annual cost of tire maintenance can be a major concern, but you don't have to worry about that with the Bontrager LT2. Although the 700x38c tires are slim, they are tough enough to maintain a stable stance while maintaining high speeds.
Other versions of Trek 8.3 DS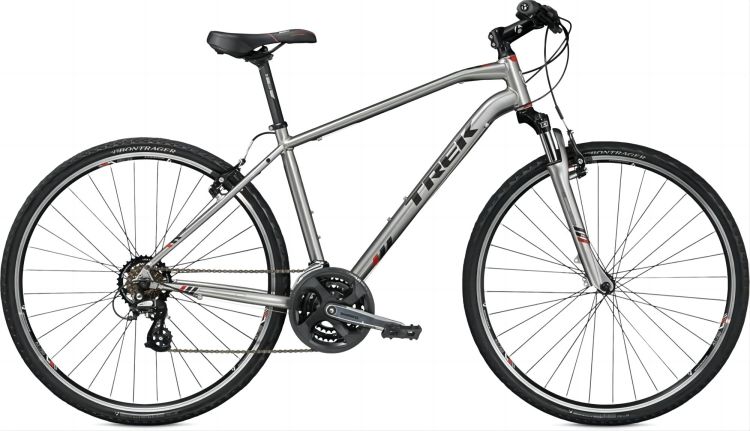 Of course, our review is not limited to Trek 8.3 DS, we also measured other Trek 8.3 DS versions. As a comparison experiment, we compared some of their component specifications to give you a better choice. This includes the 2016 Trek 8.2 DS.
In terms of body construction, there are no substantial differences between the two. The same aluminum body allows them to maintain the same weight, and the 700c tires allow them to maintain a relatively stable speed. However, it is clear that the Bontrager LT2 has a tougher surface and faster driving speed than the Bontrager LT1 on the 2016 Trek 8.2 DS.
We found the Trek 8.3 DS to be much faster than the 2016 Trek 8.2 DS (61km/h for the Trek 8.3 DS and 48km/h for the Trek 8.2 DS). Overall, if you need a more cost-effective vehicle for your daily travels, then I would recommend the Trek 8.3 DS.
FAQs
What is the price of the Trek 8.3 DS?
The price of the Trek 8.3 DS is $660.
What is the drivetrain of the Trek 8.3 DS?
The Trek 8.3 DS's drivetrain is Shimano HG31, 11-32, 8 speed.
What is the tire size of the Trek 8.3 DS?
The tire size of the Trek 8.3 DS is 700x38c.
What we like about it
The lightweight aluminum body ensures unobstructed access to sidewalks and highway trails.
The 700c's slim tires keep it fast while having more speed.
Tektro Novela's high-speed braking ensures emergency braking on muddy roads.
Shimano brand powerful and efficient speed shifting.
What we don't like about it
Too sparse a selection of colors.
Lack of responsive shock absorbers.
Trek 8.3 DS Specs
Build
| | |
| --- | --- |
| Frame | Alpha Gold Aluminum, DuoTrap S compatible, rack & fender mounts |
| Headset | 1-1/8″ threadless, sealed cartridge bearings |
| Stem | Bontrager alloy, 25.4mm, 25 degree |
| Handlebar | Bontrager Low Riser alloy, 25.4mm, 15mm rise |
| Saddle | Bontrager H1 |
| Seatpost | Bontrager SSR, 2-bolt head, 27.2mm, 12mm offset |
| Pedals | Wellgo nylon body w/alloy cage |
Groupset
| | |
| --- | --- |
| Rear Derailleur | Shimano Acera M360 |
| Front Derailleur | Shimano Altus |
| Crank | FSA Dyna Drive 48/38/28 w/chainguard |
| Shifters | Shimano Acera M360, 8 speed |
| Cassette | Shimano HG31, 11-32, 8 speed |
| Brakes | Tektro Novela mechanical disc, 160mm rotors, Tektro adjustable-reach alloy levers |
Wheels
| | |
| --- | --- |
| Rims | Formula alloy hubs, Bontrager AT-750 alloy rims |
| Tires | Bontrager LT2, 700x38c |
Video
Comparison Table
2016 Trek 8.3 DS vs 2023 Marin Stinson ST 1
I have to admit that the 2023 Marin Stinson ST 1 is a slight upgrade to the Trek 8.3, mainly due to the addition of a fork, so it will have better damping in real-world riding. You don't have to worry about it having big bumps and discomfort on gravel paths. However, if we're just talking about fork damping, this Trek 8.3 DS has it as well. In real-world riding, even when we took on the harsher gravel roads, it didn't make us feel unbearably bumpy.
However, the Marin Stinson ST 1 uses the more popular 1x in its drivetrain, so it has a cleaner and faster speed setting, requiring only a flick of the left hand to make quick shifts. However, in terms of speed range the Trek 8.3 DS has a wider choice of 3×8 speeds, so if you prefer more shifting the Trek 8.3 DS would be a good choice.
Learn more : Is 2023 Marin Gestalt X10 Worth Buying? – [2023 Marin Gestalt X10 Review]
2016 Trek 8.3 DS vs 2022 Schwinn Voyageur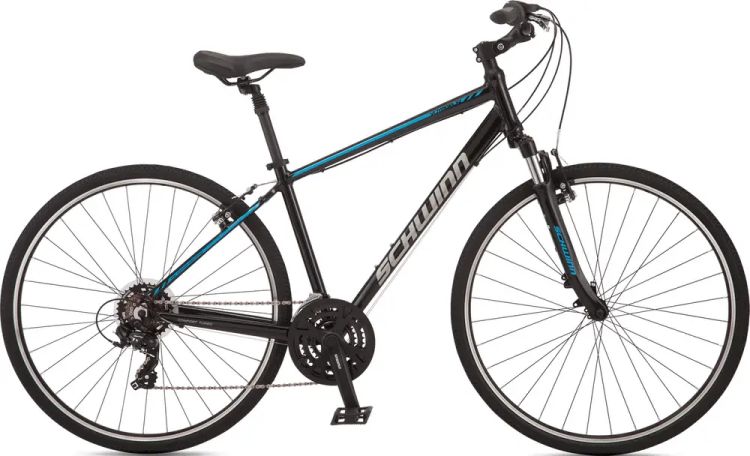 Among hybrid bikes, Schwinn is definitely one of the best bangs for your buck. The steel fork, which we measured at 63mm, means you can take on sidewalks, gravel roads, or muddy gravel with the ultimate shock absorption. This largely eliminates the soreness and numbness you experience while riding. Of course, the Trek 8.3 DS's Bontrager LT2 38c tires can also take you to such terrain. Its fork damping also makes your ride more comfortable.
Although the Schwinn Voyageur will have a good amount of traction with its 3x drive, it will honestly take a lot of time in terms of speed selection. And it's relatively heavy on the entire drivetrain. So if you want to have more speed options and a relatively lightweight drivetrain, I personally would prefer the Trek 8.3 DS.
Learn more : Is Schwinn Sierra Worth Buying?[2022 Schwinn Sierra Review ]
2016 Trek 8.3 DS vs 2022 Voodoo Marasa Mens Hybrid Bike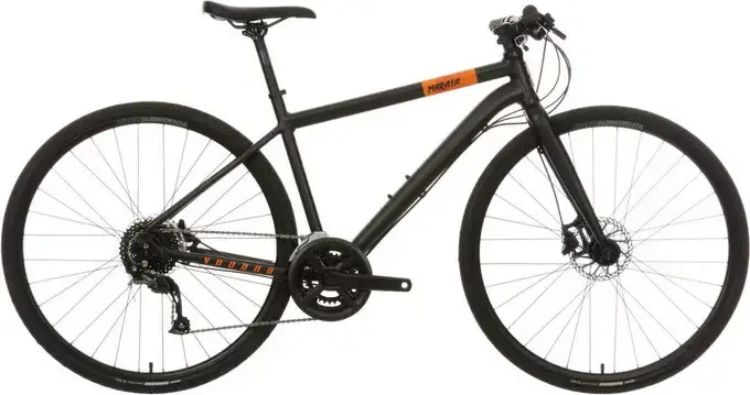 The 2022 Voodoo Marasa Mens Hybrid Bike makes a small upgrade in the choice of fork, switching from the usual rigid material to a more stable and high-quality aluminum alloy. Aluminum alloy has a stronger toughness as well as a longer service life. For the bike, not only the purchase price is included, but also the subsequent maintenance cost. So the original parts, if good enough, will save a lot of worries.
In terms of drivetrain, the Voodoo Marasa Mens Hybrid Bike uses the same advanced 2x system. This also means that you will spend less effort and time reaching the proper gear. However, if you prefer more speed options, the Trek 8.3 DS's 3×8 speed range is more suitable.
The 3× shifting isn't as hard as you might think, but instead, it exercises your coordination skills. In addition, the Trek 8.3 DS's mechanical disc brakes allow you to get relatively stable braking power without having to worry about high maintenance costs later on. So if you do not want to spend more energy and money on maintenance, this Trek 8.3 DS will be a good choice.
Learn more : Is Voodoo BIZANGO A Good Choice? -[Voodoo BIZANGO Review]
2016 Trek 8.3 DS vs 2022 Giant Roam Disc 4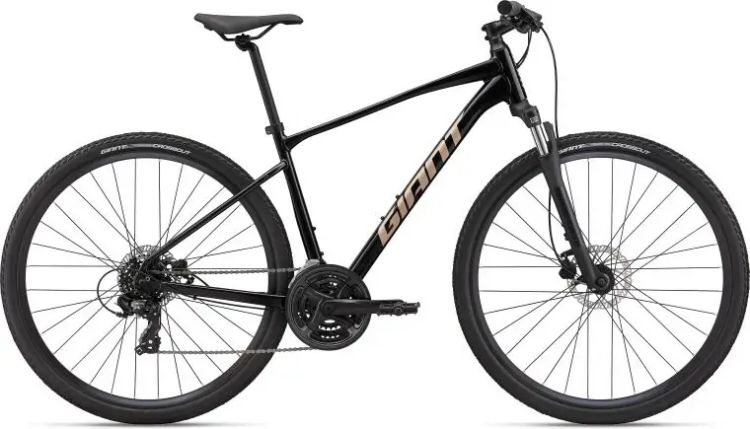 In our opinion, the Giant Roam Disc 4 has a much tougher ride. Even if you're facing wet, windy roads or gravel-spreading flowing single-track trails, it can handle it all. This is also due to the Giant Roam Disc 4's exclusive Giant CrossCut tires, which have a unique anti-puncture system to ensure it is stable enough.
Yes, the new Giant Roam Disc 4 is relatively good enough in terms of components and configuration. But the older 2016 Trek 8.3 DS isn't much less impressive. Whether it's the wide speed range of the 3×8 or the fork damping, I would prefer to ride further on the Trek 8.3 DS than on the new Giant Roam Disc 4 in real-world riding.
The geometry of the Trek 8.3 DS also fits well and makes me feel more comfortable when riding. Of course, if you prefer to follow the latest model, the Giant Roam Disc 4 is the bike for you. If you'd rather try an older bike and want to experience the difference between the 2016 Trek and the newer version, this Trek 8.3 DS is the one for you.
In case, the above comments are helpful to you, please remember to share the subscription. Have a great day!