We use affiliate links and may receive a small commission on purchases.
Trek Precaliber 24 8-speed
Price: $439.99
Category: Leisure
Age range: 8 to 12 years old
Weight: 24.60 lbs
What we like about it: The excellent design style, extremely high riding performance, and superb durability to meet children's usual leisure needs.
What we don't like about it: The color selection may be slightly lacking.
Rating (4.6/5)
Introduction
As a classic kid's bike, the Trek Precaliber 24 8-Speed is truly child-friendly. My son, who is also the rider of this child, spoke highly of and appreciated it.
The unique design style, superior premium performance, and amazing longevity make it especially stand out in comparison to the same model. In addition, the simplicity and intuitive twist shift of the 8-speed drivetrain are perfect for children aged 8-12 to master quickly. It ensures a safe ride while maintaining a relatively stable speed.
Even for novices who have no previous riding experience, it still has a strong appeal and safety guarantee. It is equipped with its own aluminum frame structure that can withstand the roughest of novices. And on top of that has the excellent feature of easy maintenance.
To make the results more informative for you, below we elaborate on the performance, key features, components, and specifications of the Trek Precaliber 24 while riding, as well as other versions of the series. If you want to learn more about the Trek Precalibe version, please refer to our review.
Park Riding
First of all, I would like to say that I am especially grateful to my son peter for conveying the feeling of using the device to me in many experiments. It is also because of him that I really got the real riding feeling from the base of the accessory unit. Compared to other children's bikes of the same type, the Trek Precaliber 24 8-speed uses an alpha aluminum frame, and some people may not be fond of such a material as the bike's own frame. But it has to be admitted that aluminum is a popular material used to make bicycle frames. Because it is light, strong, and affordable.
Not only that, but it also provides good stiffness, which can effectively deal with the bike while riding problems. However, it does not absorb road vibrations, as well as carbon, does. In real-life riding, peter was able to steadily drive the bike and move forward in an organized manner.
The park has three kilometers of smooth trails, which may be a good choice for children to practice cycling. There is no need for complicated gear shifting, you can choose the right speed to travel smoothly. You just need to carry out the finger toggle, you can smoothly shift the operation, peter very much likes this operation.
The Trek Precaliber 24 8-speed brakes are a lot of fun, and Peter can brake just by pushing back on the pedals. He found the brakes to be very stable and did not let his lack of strength prevent him from braking in time.
Competition Riding
If your child likes to take on challenges on a variety of trails or compete with other kids, then the Trek Precaliber 24 8-speed really does have quality riding to offer. Whether it's a flat park trail or a relatively rough and bumpy road, it still performs well.
Like other Precaliber bikes, the Trek Precaliber 24 8-speed is designed to fit the size of a small child. The relatively low frame makes it easy for kids to get on the bike and stay on their feet. I rarely worry about Peter falling over on the Trek Precaliber 24 8-speed because it is really strong enough to hold my son's entire weight.
The body doesn't wobble even when the legs are leaning on the top shelf to tie the laces. In fact, my kids actually did this. Not only that, but I replaced the saddle's integrated handle with an integrated light mount to handle nighttime travel. What are the benefits of doing this? It improves the brightness of night travel and provides brighter visibility. Even if there will be an emergency, the subtle handbrake it comes with fits a child's riding setup.
The Shimano 1×8's drivetrain is capable of bursting with drive, and the uncomplicated tuning structure is quick to grasp and addictive to small children. Peter will mischievously spin his hand shaft to get a new and exciting feeling again and again. "It's a lot of fun, and I enjoy the stable feeling of it!" This is the most intuitive comment from peter about the Trek Precaliber 24.
Needless to say, the Trek Precaliber 24 8-speed performs satisfactorily in all aspects.
Main Features
Frame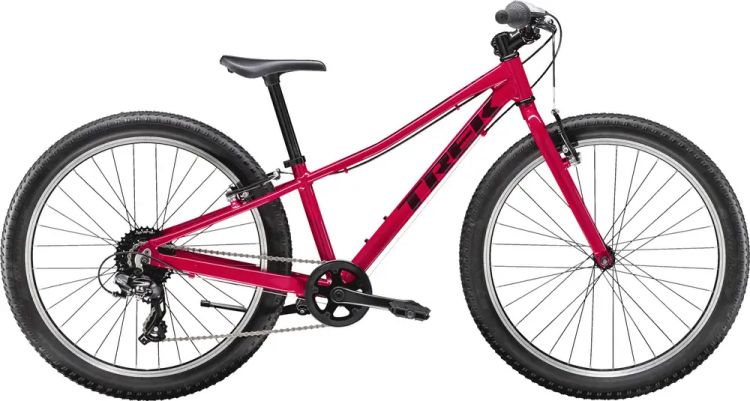 Alpha aluminum bracket is a popular material used to build bike frames because of its lightweight. In my kid's case, he was able to lift the Trek Precaliber 24 8-speed with both hands. It was a bit of a struggle, but he managed to lift it. Not only that it offers good stiffness, but it has the advantage of being strong and easy to maintain at an affordable price.
At the beginning of the ride, peter may use more force to pedal to get faster speed. So I would worry that too much impulse would cause damage to the body. From the result, it seems that my worry may be unnecessary.
In addition, he may not be very happy with the red color scheme. If Trek can produce other colors, I believe I will pay for them.
Of course, safety remains the first guarantee as opposed to a child's car. While ordering online, I then ordered the auxiliary tire so that he can protect my son's safety. It turns out that my decision was right, and with its help, he learns the bike to come quickly.
Of course, you can also install other devices such as fenders, adaptive lights, and small water bottles to deal with complex roads and complex weather according to the needs of your child.
Geometry
The 70° head tube angle is just right for children aged 8-12 years old, and the right head tube angle can make them maintain a more comfortable sitting position during the ride. At the same time, the more relaxed angle can make children can keep a relatively sensitive steering force on the way.
Not only that, the 98.4cm wheelbase is on the long side compared to other bikes of the same type.
All other things being equal, longer bikes are more stable in terms of speed.
It is important to understand that the longer the wheelbase, the less a child's weight distribution is affected by braking, changes in gradient, or rough terrain. In this sense, a longer wheelbase increases stability. The Trek Precaliber 24 8-speed's relatively long wheelbase better protects Peter. I think this is a great setup.
Components and Specifications
Bontrager XR1 Tires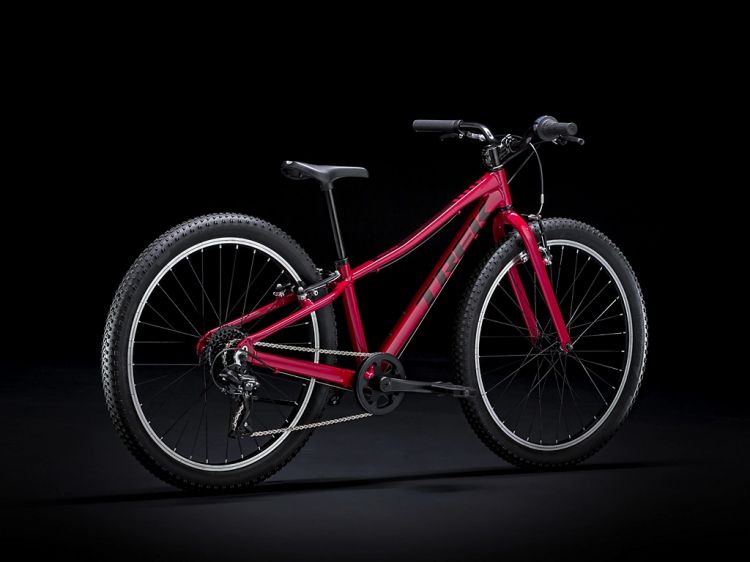 I have to admit that the Bontrager XR1 tire has a very child-friendly riding profile. It is able to maintain a relatively stable body under sharp rollers. It's not just for flat commuter roads. Even on relatively bumpy gravel roads, it still provides a very stable speed.
The Bontrager XR1 tire has an exceptionally strong casing. This also ensures that it can handle different surfaces without damaging itself. Also, thanks to the wire bead (27tpi, 24×2.25"), it is able to drive smoothly and powerfully, even under rainy and smooth surfaces, thanks to its relatively firm grip.
And it has a high-strength casing made of lightweight nylon inserts. Therefore, it can provide strong and soft sidewall protection, thus increasing the durability of the tire.
Not only in terms of money and time, but the excellent wear resistance also allows me to spend much less on tires. The last bike I had was a bike that I often struggled with because of the unstable tires.
Steel Front Fork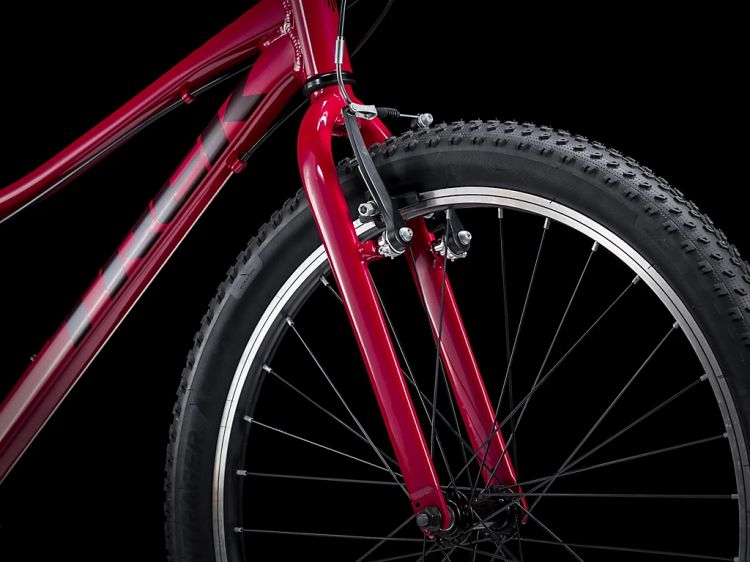 I have to admit that the fork made of steel may not be as light compared to the carbon fork. But considering that this is a bike for kids, the relatively low price makes me accept the setup.
During the time when the child was just learning to ride, I would be worried about whether the material would have a greater impact on his own riding. But surprisingly, my son was very satisfied with the ride. The steel fork can fully satisfy the kid's daily needs because there are not too bumpy roads for commuting on the bike.
At the same time, because the steel fork is inexpensive and well maintained, in daily riding, as long as you are not ho cross to fall off a cliff. Then the effect it presents is also able to be quite satisfying.
Shimano Tourney1x8 Drivetrain
Shimano Tourney is still the best choice on the market. After all, it allows for better power transfer and still maintains plenty of power even on forestry trails in the mountains. In addition, the 8-speed drivetrain is simple and easy to operate, and I don't intend to introduce too many flywheel teeth.
The reason is mainly that I don't think children need to have too much shift speed, 8 speed should be able to travel this far to the back of the park. The second is the price, too much flywheel will also bring a too high a price. This is also a factor you must consider.
Not only that, the intuitive shift function can be changed to different speeds by finger adjustment. So for children is also very simple and easy to use.
Alloy Linear-Pull Brake
One of the most notable and important aspects of riding for children is emergency braking in case of danger. The Trek Precaliber 24 8-speed continues to perform very well in this regard.
First, it has integrated handlebars under the saddle, what does this do? It allows children to learn how to ride a bike with the help of adults. When my child first practiced bicycling, I kept my hand on the handlebars to prevent it from falling off the bike. This proved to be a very thoughtful design.
Secondly, the use of helper tires increases the balance of the bike. So it can keep the bike in a stable state by supporting the force on both sides. And due to the shorter body, the emergency brake can be applied through the contact between the bottom of the foot and the ground. The alloy brakes we mentioned also take into account the children's prep for braking, and they can easily stop the bike with their own fingers.
Other versions Of Trek Precaliber
We also tested another version of the Trek Precaliber, the Trek Precaliber 20 7-speed, which is also a kid's bike and is extremely similar in terms of frame, tires, and brake type. However, the Trek Precaliber 20 7-speed is lighter in weight than the Trek Precaliber 24 8-speed, making it more suitable for younger children.
The difference is that the Precaliber 24 8-speed has 24″ tires and a 1×8 drivetrain that offers a wider range of gears. The Precaliber 20 7-speed has 20″ tires. Of course, it has a cheaper price compared to the Trek Precaliber 24 8-speed. If price is not a factor you have to consider, then the Trek Precaliber 24 8-speed will be more suitable for you.
Learn More: 2022 Trek Precaliber 20 Kids Bike Review – Parent-Child Activity Tools
FAQ
What is the Trek Precaliber 24 8-speed material?
The Trek Precaliber 24 8-speed is made of aluminum.
What is the price of the Trek Precaliber 24 8-speed?
The Trek Precaliber 24 8-speed is priced at $279.
What is the Trek Precaliber 24 8-speed age-appropriate range?
Trek Precaliber 24 8-speed Age appropriate range is 8-12 years old.
What we like about it
Simple and easy to operate gear shifting.
Safe and reliable braking device.
The lower frame is easy to stand in and get on.
Relatively lightweight body, so that children can more easily control
What we don't like about it
Uncomfortable seat design
Heavier body structure
Outdated pedal design
Trek Precaliber 24 8-speed Specs
Frameset
| | |
| --- | --- |
| Frame | Alpha Silver aluminum, rack and kickstand mounts, replaceable derailleur hanger, 135x5mm QR |
| Fork | Steel, 24", threadless 1-1/8" steerer |
Wheels
| | |
| --- | --- |
| Hub front | Steel, 100mm bolt-on |
| Hub rear | Steel, 8-speed, 135mm bolt-on |
| Rim | 24" 32-hole alloy |
| Tire | Bontrager XR1, wire bead, 27tpi, 24×2.25" |
Drivetrain
| | |
| --- | --- |
| Shifter | Shimano Tourney RS45, 8 speet twist |
| Rear derailleur | Shimano Tourney TX80 |
| Crank | ProWheel alloy, 32T steel ring w/double guard, 152mm length |
| Bottom bracket | Square taper, 68mm, sealed cartridge |
| Cassette | SunRace MFM56l, 13-34, 8 speed |
| Chain | KMC Z8.3 |
| Pedal | Kids' Satellite, 9/16 thread |
Components
| | |
| --- | --- |
| Saddle | Kids' 24" size, padded |
| Seatpost | Steel, 27.2mm, 300mm length |
| Handlebar | Kids' steel, 25.4mm clamp, 40mm rise, 560mm width |
| Grips | Kids' grip, 125mm width |
| Stem | Bontrager Approved alloy, 25.4mm clamp, 15 degree rise, 60mm |
| Headset | Adjustable ball bearing, threadless |
| Brake | Alloy linear-pull |
| Brake lever | Kids', alloy |
Accessories
Weight
| | |
| --- | --- |
| Weight | 11.22 kg / 24.73 lbs |
| Weight limit | This bike has a maximum total weight limit (combined weight of bicycle, rider, and cargo) of 175 pounds (80 kg). |
Comparison Table
Trek Precaliber 24 8-speed vs Liv Enchant 24 Lite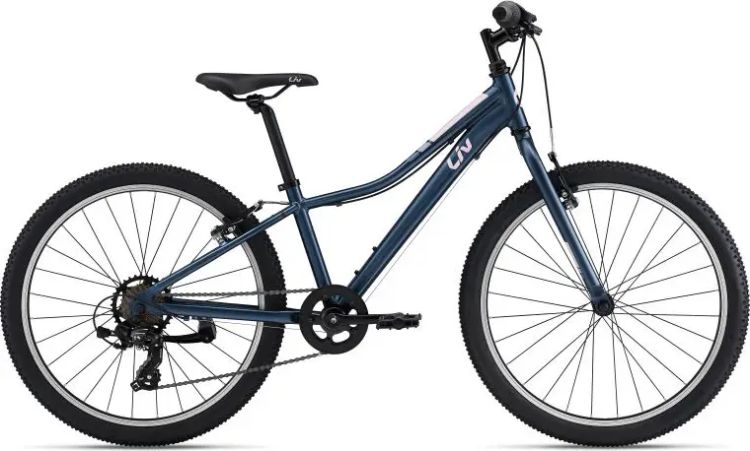 Featuring an average youth bike with a 24-inch aluminum frame with modest components and rim brakes, the Liv Enchant 24 Lite still scores well in comparable comparisons. The comfortable, lightweight ALUXX grade aluminum frame is designed to maintain a more stable body. The off-road tires are also equipped for steady progress on both muddy country roads and pedestrian streets.
In most respects, it is very similar to the Trek Precaliber 24 8-speed. But in terms of gear shifting, the Liv Enchant 24 Lite has a 1×7 flywheel tooth count, which may be less useful in the pursuit of speed variation. Maybe you can consider whether to buy it according to the actual situation.
Trek Precaliber 24 8-speed vs Trek Wahoo 24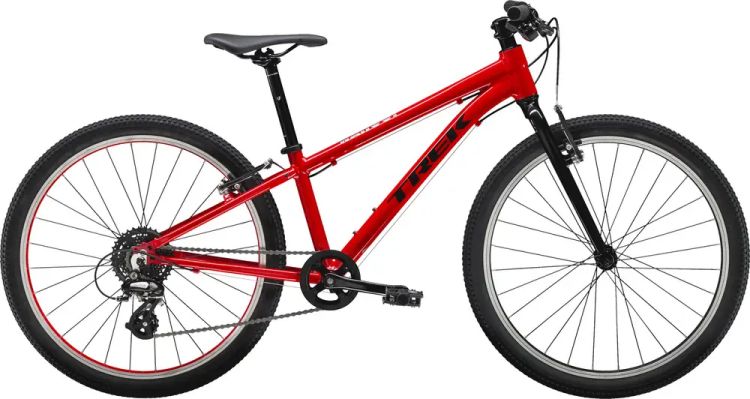 The Trek Wahoo 24, also constructed of aluminum, is lighter and easier to operate. Whether you're preparing for a family ride or a child's daily commute to school, it will give you a great performance time and time again. It's also fun to ride as a versatile kid's bike.
As with the Trek Precaliber 24 8-speed, it still has the 1×8 operating configuration chosen for its power drivetrain system. This allows it to adapt to different roads and meet the choice of children for gear speed.
At the same time, we should also note that the lighter appearance will have a more expensive price. Compared to the Trek Precaliber 24 8-speed, it has a price tag of nearly $500. This may not be good news for the price party.
Precaliber 24 8-speed vs Cannondale Kids Quick 24 Boy's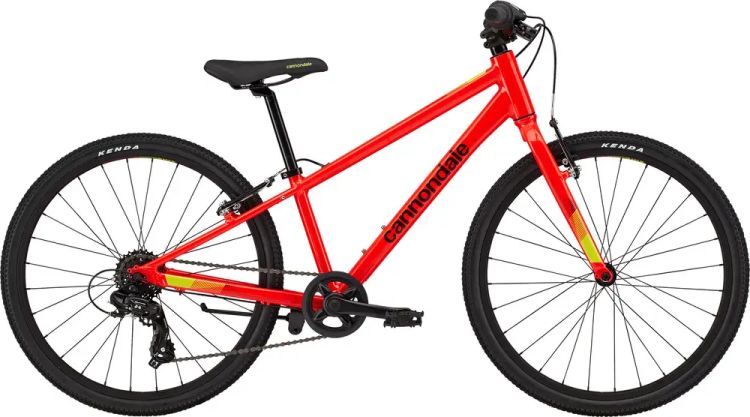 Under the same aluminum shell, Cannondale Kids Quick 24 Boy's has a more advanced configuration. This makes it a popular choice for comparisons in the same category of the competition. The clean, neat appearance and smooth alignment make it a great value.
Not only that, but the fast-rolling tires, extensive drivetrain, and confidence, stable handling allow it to adapt to the terrain of different roads as well. And the Kenda Small Block 8 tires (24×1.5″) have a very strong grip even on muddy roads and maintain a relatively stable driving speed.
At $500, the Precaliber 24 8-speed is perhaps a little on the expensive side. If price is not an essential factor, then you can give it a try. If you just want to get your kids started with riding, the Precaliber 24 8-speed may be more appropriate.
Learn more : Is Cannondale Kids Trail Plus 24 A Good Bike? [2022 Cannondale Kids Trail Plus 24 Review]
Trek Precaliber 24 8-speed vs Schwinn High Timber ALX 24in Step-Thru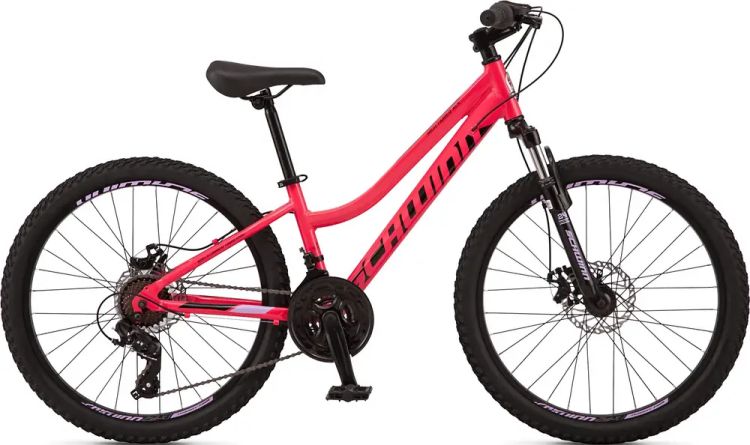 If your child has a strong interest in mountain and trail riding, then the Schwinn High Timber ALX 24in Step-Thru might be something to try.
The Schwinn it comes with is perhaps the better choice for mountain riding. Even on winding and bumpy roads, the Schwinn shock fork absorbs extreme bumps in the road, reducing the impact between your child and the ground. Not only that but the front and rear mechanical disc brakes allow you to take on a variety of surfaces.
The special tires for off-road mountain trails will hold tight to the ground, keeping the body stable while maintaining a high travel speed and keeping your child safe. If you want to develop your child's love for off-road riding, the Schwinn High Timber ALX 24in Step-Thru may suit your expectations. But you'll have to pay $30 more for it than the Trek Precaliber 24 8-speed. Therefore, the Trek Precaliber 24 8-speed is still a cost-effective option.
In case, the above comments are helpful to you, please remember to share the subscription. Have a great day!
Learn more : Is Schwinn High Timber A Good Mountain Bike?[Review]-2022