We use affiliate links and may receive a small commission on purchases.
2022 Cannondale Quick 6
Price: $660
Category: Fitness bikes
Frame: Aluminum
Gear: 3×7
Tires: 29×2.25″
What we like about it: Lightweight and sturdy aluminum frame with SAVE micro-suspension, 360° reflective trim, stable and safe.
What we don't like about it: Fewer color options.
Rating (4.7/5.0)
Introduction
In the wake of the new crown epidemic, people seem more than happy to find things they can do outdoors, and biking will be the first choice for many.
Commuting by bike is healthier, greener, and less expensive than driving. And it's also a great way for us to get some exercise. If you're interested in commuting by bike, you may be wondering how to pick out a reliable bike.
To help you solve this dilemma, we have selected a cost-effective urban fitness bike through our review – the 2022 Cannondale Quick 6. Its agility and comfort will meet your requirements for urban cycling.
We tested this 2022 Cannondale Quick 6 for commuter riding and fitness riding, its key features, components, and comparisons. Please remember to follow us if you are interested.
Cannondale Quick 6 Commuter Review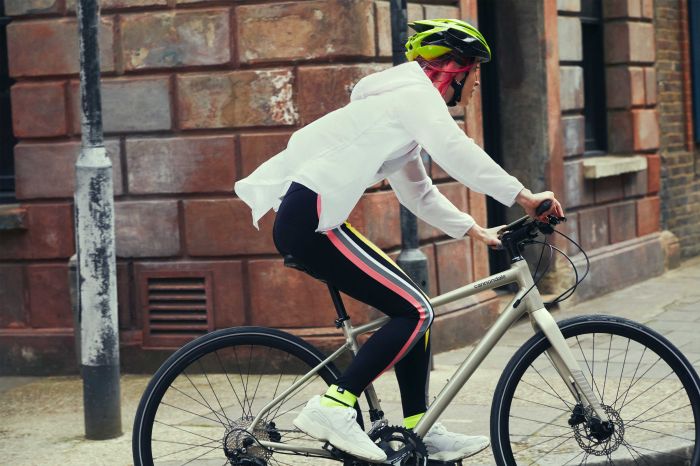 There are many factors we need to consider when choosing a commuter bike for ourselves. Such as distance, terrain, where you live, and your taste in bikes. Through a three-month review, the 2022 Cannondale Quick 6 has received unanimous praise from us.
We learned that some people live in the country not far from the city, passing through narrow city alleys, crowded streets, and trails with small gray stones, and can take about half an hour to an hour or more. Routes like this with compound terrain became our first choice for evaluation.
On some mildly steep surfaces, the 2022 Cannondale Quick 6 didn't exhibit a bumpy feel. This is largely due to its Kenda Kourier 700c tires. This tire is the perfect size for a bike in this class, and it handled these gravel trails perfectly.
Sometimes, foggy weather can cause riders a lot of trouble, and with a very limited visibility range, we can easily get into a collision. But luckily the 360° reflective device of Cannondale Quick 6 gives us added security and we don't have to worry about it.
When we reached the city streets, we measured the ride during both rush hour and rush hour. The hustle and bustle of the crowds and the stray puppies that might appear everywhere became our main obstacle and we had to squeeze the brakes every now and then. The V-brake did not disappoint, however, and its responsive nature helped us stop in time.
There are just some times when the brakes are too sharp and the tires make a slight scraping sound against the ground. But in a lively city, this is obviously nothing compared to the dripping car horn.
Cannondale Quick 6 Fitness Review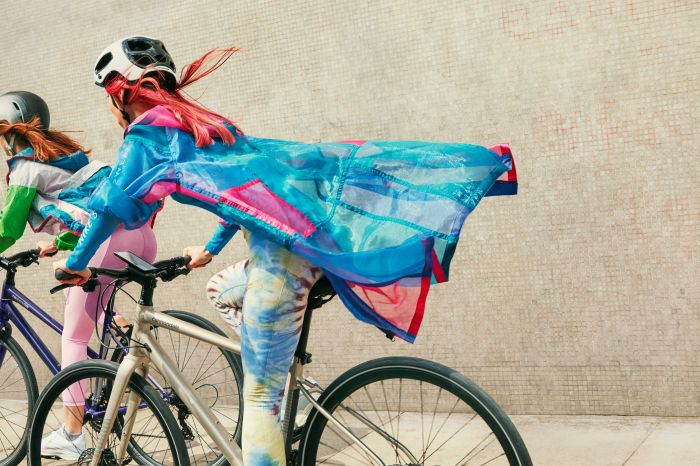 Cycling is not only a low-carbon way to get around, but it's also a sport worth trying for everyone. Oxford University once spent five years leading a study that ultimately found that the most cost-effective personal sport for all people was cycling. As a cycling veteran, I'm happy to share my hobby with you.
We usually work out on city roads, bike parks, or suburban areas, and the routes are a little longer. If you are new to the sport, then we would recommend taking your time and warming up well.
Experience
During these review days, we have taken Cannondale Quick 6 to many cityscapes. Different cultures create different characteristics and allow me to see the wonders of the world over and over again. This is what has always attracted me to cycling.
The Cannondale Quick 6 has a 3×7 speed shift range, which saved me a lot of time figuring out the speed on the ride and I quickly got used to it. Once we got out of the block with the more resistant gears, we started to accelerate. Not too fast though, as there are bike speed limits in the city. You might also want to learn a little about the traffic rules in your city, otherwise getting pulled over by the police is not a good thing to deal with.
Of course, if you are keen to experience the feeling of flying in the wind, then the bike park is the safest place to go. Not only are there dedicated bike paths, but there is also beautiful natural scenery to create a physically and mentally enjoyable cycling experience for you.
However, as a commuter bike, the Cannondale Quick 6 is suitable for riding on some flatter terrain. It provides us with a mount for our phone on the frame, and we can connect to the Cannondale Sports App to keep track of our speed, mileage, etc. This is a thoughtful design for fitness enthusiasts.
And, we need to pay attention to our own smoothness when riding at high speed. 700c's tires make us experience speed while providing us with good grip and comfort. We can trust it completely.
Main Features
Frame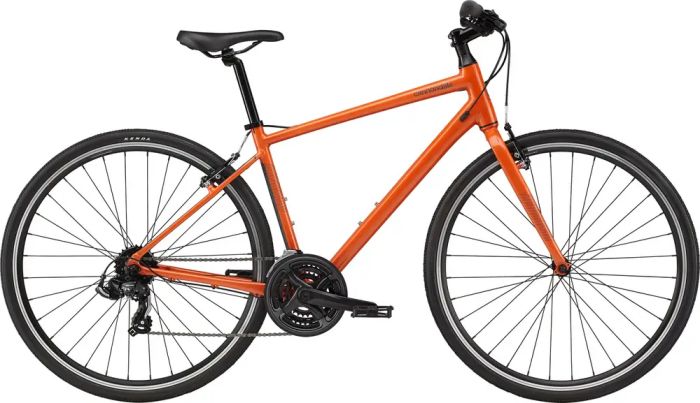 The 2022 Cannondale Quick 6 is an urban commuter bike with Cannondale's highest quality SmartForm C3 alloy chosen for the frame. It ensures that every part of the bike's structure is weighted just right for a smoother ride on slightly rougher roads.
And the SAVE micro-suspension senses subtle obstructions on the ground, which can effectively reduce vibration. We can also move forward to gain efficient speed when we maintain an upright riding position in order to improve our visibility.
It has Straight shot hidden alignment so that we do not have to worry about line damage even when riding in the rain. Not only that, the 360° reflective decoration can shine in the low-light environments to protect our safety.
Geometry
Different kinds of bikes have different geometry designs because they offer different functions. The geometry of this 2022 Cannondale Quick 6 is designed with the problems we often encounter on commuter rides in mind. Its 71.8° head tube angle helps us to flexibly turn directions and avoid obstacles even on crowded streets.
Unlike forest roads, in the city, we encounter obstacles of various heights, which is where we need a high enough view to control our direction. Therefore, the 2022 Cannondale Quick 6 is designed with a relatively steep seat tube angle of 73.8°, providing us with a riding position that allows us to ride upright. In addition, we were able to come forward to gain acceleration.
Components and Specifications
MicroSHIFT M26L Drivetrain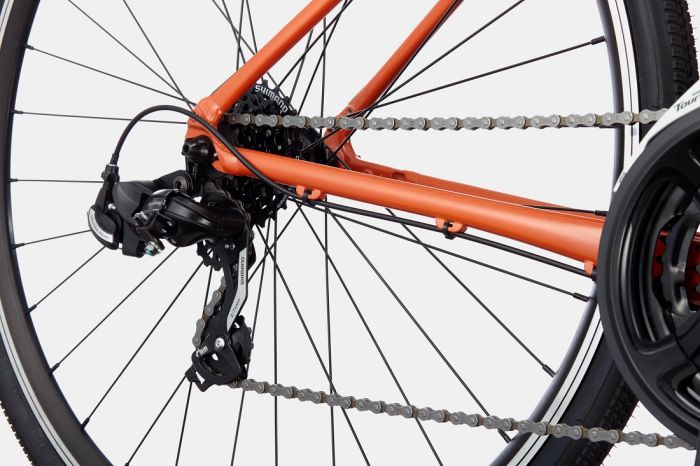 Our review team, after reviewing this microSHIFT M26L over a long period of time, commented that "its multiple ranges of gears and chainstays will make you feel like a more expensive bike".
Although the road shape in the city is relatively flat, we will also encounter congestion and speed limits during the ride. We also need to adjust the gears accordingly to adapt to the road conditions.
The 2022 Cannondale Quick 6 has a 3×7 speed range, which means we can have a wide range of speed options. It is flexible enough to help us cope with a variety of situations.
Some may think it will be more complicated to operate, but I think we have enough reaction time to adjust our speed in our daily commute. I also don't suggest you use it to have an off-road adventure in a crowd.
KENDA Kourier Tires
The Cannondale Quick 6 uses 700c tires, which are the same size as those found on road bikes. This means we can ride fast and efficiently.
And the Kenda Kourier tire is bigger than a narrow road tire but thinner and smoother than a mountain tire. As a result, it has become the perfect hybrid commuter tire in the minds of many riders.
If I had to sum up the Cannondale Quick 6 tire in one sentence, I would say, "It combines speed and comfort to provide a complete experience for our ride.
V-brake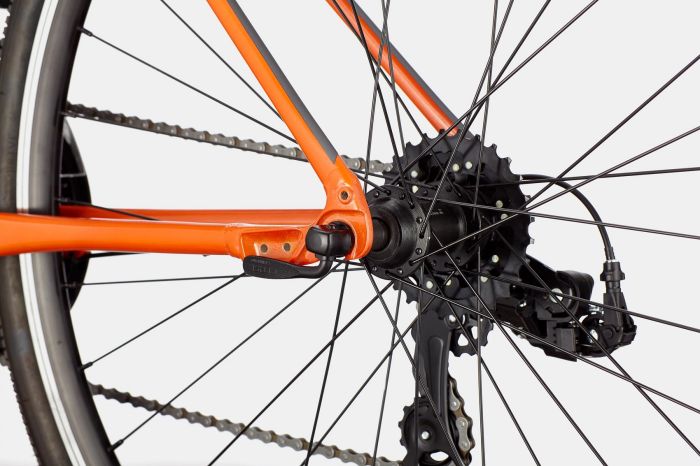 V-brakes are known to be more advanced and easier to use than cantilever brakes. Their leverage helps V-brakes provide excellent braking power.
In densely populated cities, you'll usually be braking suddenly more often, and the V-brake's powerful braking force handles this well. Even in wet conditions, the V-brake will perform well.
On top of that, V-brakes are relatively easy to adjust and maintain compared to cantilever brakes. Caliper brakes are not the best, but in flat areas, I don't think disc brakes have a very prominent advantage. This is because it is heavier than V-brakes.
Other versions of Cannondale Quick
Have you made up your mind about the Cannondale Quick 6 from my analysis of it? If you think you need to touch a few more bikes and weigh them up, no problem, I've found a few other versions for you to look at. They are the 2022 Cannondale Quick Women's 6 Remixte and the 2022 Cannondale Quick Neo SL 2 Remixte, hope you find them helpful.
Cannondale Quick Women's 6 Remixte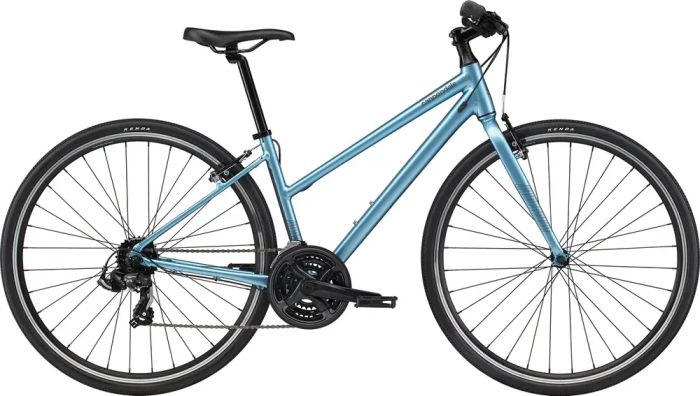 In the past, we would rarely research women's bikes. However, with the development of our technology now, we will do more fine research on users. So that we can design a more suitable bike for users and have a very pleasant riding experience for every rider.
This Cannondale Quick Women's 6 Remixte is a commuter bike made specifically for women. Not only is it priced no differently than the Cannondale Quick 6, at $660. It is also identical in terms of components.
The biggest difference between the two is the color and the frame, the Cannondale Quick Women's 6 Remixte is painted in Alpine, making it more lively. Accordingly, the frame is made of Low-step, SmartForm C3 alloy, designed for women to have a more comfortable ride. If you don't like the color of the Cannondale Quick 6, or if you think the size of the Cannondale Quick 6 doesn't suit you, then you can consider this Cannondale Quick Women's 6 Remix.
2022 Cannondale Quick Neo SL 2 Remixte
We chose this bike to compare with the Cannondale Quick 6 because it is an electric bike. Such a commuter bike is very energy efficient when riding and it is faster than its traditional counterpart.
The 2022 Cannondale Quick Neo SL 2 Remixte has a 250-watt rear hub motor and a hidden 250-watt battery, so you can effortlessly parade around the town on it. Meanwhile, you can mount your phone to the smart stem it carries to keep tabs on your speed, mileage, and more.
Of course, its price is also will be much higher than Cannondale Quick 6, more suitable for friends with a budget.
We also reviewed other versions of Cannondale Quick 6, if you want to learn more.
What we like about it
Lightweight and durable SmartForm C3 alloy frame
360° reflective decoration
The microSHIFT M26L
SAVE Micro-Suspension
StraightShot internal cable routing
Rack/fender mounts
What we don't like about it
Fewer color options
Brakes that are not suitable enough for some people
FAQ
What is the frame material of the Cannondale Quick 6?
The Cannondale Quick 6's frame material is SmartForm C3 Alloy.
What is the drivetrain of the Cannondale Quick 6?
The Cannondale Quick 6's drivetrain is the microSHIFT M26L.
What sizes are available for Cannondale Quick 6?
| | | | | | |
| --- | --- | --- | --- | --- | --- |
| Size | XS | S | M | L | XL |
| Rider height | 157cm – 171cm | 165cm – 178cm | 175cm – 188cm | 182cm – 196cm | 193cm – 206cm |
2022 Cannondale Quick 6 Specs
Build
| | |
| --- | --- |
| Frame | SmartForm C3 Alloy, SAVE, tapered head tube, Straight shot hidden cable routing, rack/fender mounts, 360° reflectivity Colors: Saber; Black |
| Fork | Chromoly, 1-1/8″ steerer, OutFront offset, mid-blade mounts |
| Bottom Bracket | Cartridge, square taper |
| Headset | Semi-Integrated, cage retainer, 1-1/8″ |
| Stem | 6061 Alloy, 31.8, 8° |
| Handlebar | 6061 Alloy Double-butted, 25mm rise, 8° sweep, 6° rise, 640mm |
| Saddle | Cannondale Fitness Ergo Double Density |
| Seatpost | 6061 Alloy, 27.2 x 350mm |
| Pedals | Cannondale Fitness |
| Grips | Cannondale Ergo Fitness |
Groupset
| | |
| --- | --- |
| Rear Derailleur | microSHIFT M26L |
| Front Derailleur | microSHIFT Dual Pull Compact, Band Clamp |
| Crank | Prowheel, 48/38/28 |
| Shifters | microSHIFT, 3×7-speed |
| Cassette | Shimano HG200, 12-28, 7-speed |
| Chain | KMC Z7, 7-speed |
| Brakes | V-Brake |
| Brake Levers | Promax XL-102 |
Wheels
| | |
| --- | --- |
| Rims | Cannondale Disc, double wall w/eyelet, 32h |
| Spokes | Stainless Steel, 14g |
| Front Hub | Shimano, Alloy, Sealed, QR |
| Rear Hub | Shimano, Alloy, Sealed, QR |
| Tires | Kenda Kourier, 700 x 35c |
Video
Comparison Table
2022 Cannondale Quick 6 vs 2023 Marin Kentfield 2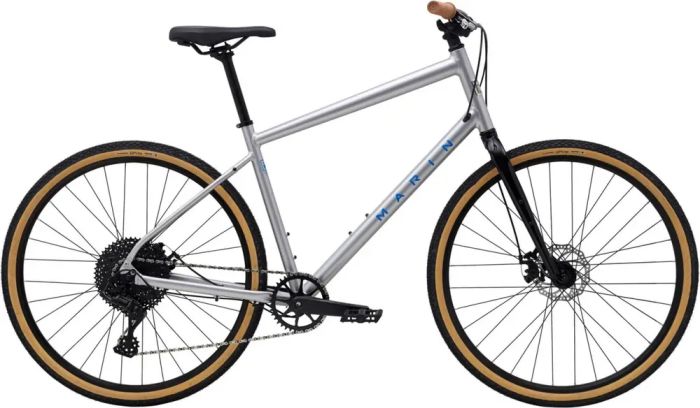 This 2023 Marin Kentfield 2 is a disc brake commuter bike. It uses an upright hybrid geometry that combines the upright position of a mountain bike with the efficiency of a road bike, much like the 2022 Cannondale Quick 6. It's gearing, however, is the MicroSHIFT Advent X 1×10 drivetrain of choice, offering a wide enough range of gears.
But other reviewers on our team felt that in city riding, the 2022 Cannondale Quick 6's drivetrain gave him finer speed options, though the 2023 Marin Kentfield 2's disc brakes were a bit better.
learn more:2023 Marin Kentfield 1 Review–Will It Be Your Idea Of A Value-For-Money Exercise Bike?
2022 Cannondale Quick 6 vs 2022 Schwinn Super Sport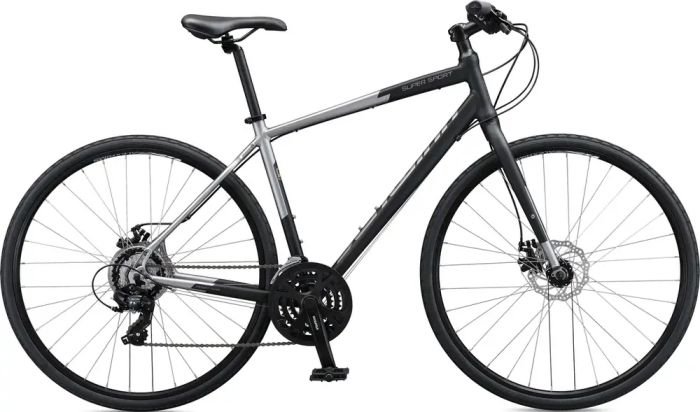 After reviewing the 2022 Schwinn Super Sport, we feel it is also a good commuter bike. The 2022 Schwinn Super Sport also offers a 3×7 speed drivetrain that is smooth and fast. And the alloy frame provides lightweight durability and the steel fork provides precise steering. The performance of these components is comparable to that of the 2022 Cannondale Quick 6.
However, the 2022 Schwinn Super Sport opts for mechanical disc brakes, which are more stable. But in terms of size, the 2022 Cannondale Quick 6 is designed to be a little more precise, which is important in my opinion.
Learn more : Is Schwinn Sierra Worth Buying?[2022 Schwinn Sierra Review ]
2022 Cannondale Quick 6 vs 2023 Marin Larkspur 2
The 2023 Marin Larkspur 2 is an adventure-oriented hybrid bike. It uses a Shimano Deore 1x 11-speed wide-range drivetrain with Shimano Deore hydraulic disc brakes. Such a package is certainly suitable for you to go off-road around the city. Moreover, it is fitted with a Tranz dropper post.
If you are not satisfied with daily riding and want to try some simple off-road, then I think this bike will impress you.
The 2022 Cannondale Quick 6 doesn't have this kind of off-road performance, but please don't overlook the fact that it is a commuter bike. At this price point, I still find it to be a cost-effective choice.
Learn more : Is Marin Kentfield 1 A Good Bike?[2023 Marin Kentfield 1 Review]
2022 Cannondale Quick 6 vs 2022 Felt Verza Speed 50 Mid-Step
The 2022 Felt Verza Speed 50 Mid-Step also has a lightweight frame, a comfortable seat, and a drivetrain that can reach up to 56 km/h.
I think the difference between commuter bikes and other performance bikes is that it is very simple in function and not too complicated. So there is no big difference between these two brands of bikes in terms of riding experience.
However, the 2022 Felt Verza Speed 50 Mid-Step features a Kenda Kadence tire. It utilizes K-Shield puncture protection technology to make our tires more durable.
Moreover, it uses reflective strips on the tires, which is an indispensable safety measure for our urban rides. Of course, the 2022 Cannondale Quick 6 also has 360° reflective devices and tires that combine speed and comfort.
They all have their characteristics in terms of appearance, and you can choose according to your preference.
In case, the above comments are helpful to you, please remember to share the subscription. Have a great day!
Learn more : Is 2023 Felt Verza Speed 50 Worth Buying? – [2023 Felt Verza Speed 50 Review]