We use affiliate links and may receive a small commission on purchases.
We've selected the 10 best trekking poles for your reference.
Trekking poles offer many benefits to hikers and backpackers. Not only do they add stability and balance on rough trails, but they also reduce wear and tear on the knees and hips. Also on uphill and downhill, some poles are adjustable in length with a clip-on lever lock adjustment system rather than a knob lock. This is because they are more robust, reliable, and easy to secure.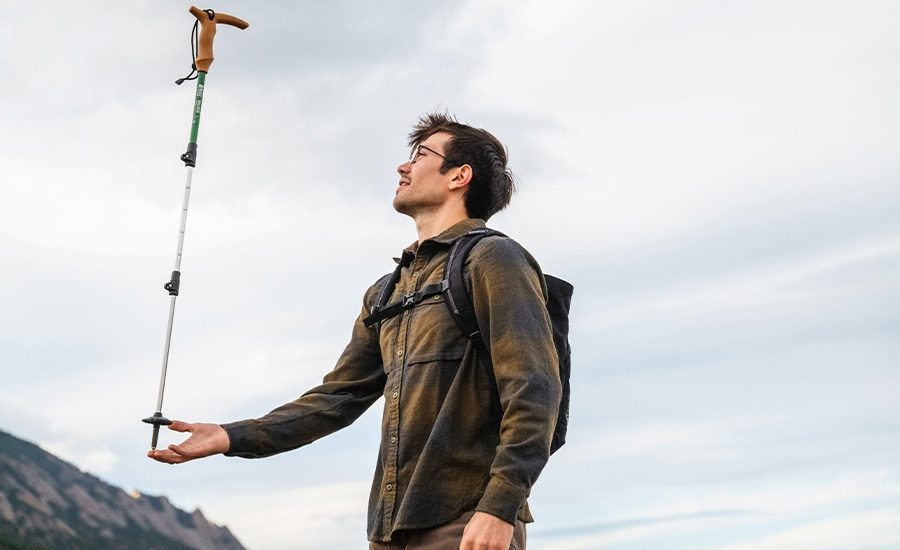 In the recent past, carbon fiber trekking poles have become increasingly popular and outperformed aluminum poles in terms of weight and strength. This trend is driven by competition from low-cost manufacturers. This is really good news for beginners and beginner travel backpackers. And it offers a great way to try trekking poles without emptying your wallet.
It is worth mentioning that we focused on the sturdiness, durability, and weight portability of the trekking poles and even made extra features on some brands. In this article, we searched for the best trekking poles in 2023 that can be used to make it your legs during your trekking journey and make it easier for you to complete the whole journey. If you like our articles, feel free to subscribe so we can get the most up-to-date information on new reviews!
2023 Best Trekking Poles List
1. REI Co-op Trailbreak ($70)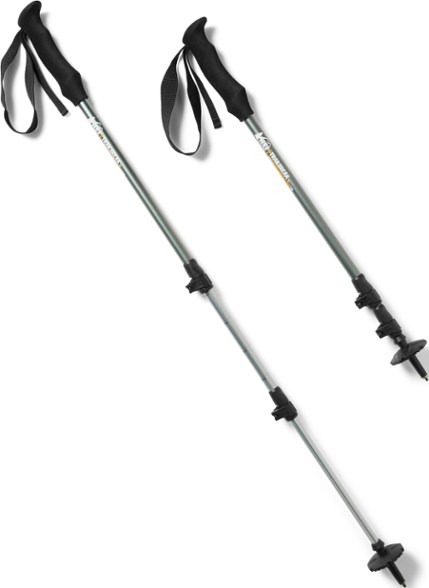 Type: Telescopic
Lock: Lever lock
Weight: 1lb 1oz.
Shaft: Aluminum
Grip: Rubber
Length: 41 – 55 inches
What we like about it: Affordable and suitable for almost all introductory beginners.
What we don't like about it: Compromises in robustness.
This trekking pole is aimed at the low to mid-market segment of the population. It has almost all the gear needed for the entry beginner as well as the infrequent hiker. The aluminum construction of the pole and telescoping design and rubber grip is what you have, and while there is nothing very high quality about it, it is all about a no-fault setup. The length can be adjusted between 41 – 55 inches. At this price of $70, there's no one to beat.
Sturdiness is a big compromise, there is no way it can be as tough as those carbon fiber trekking poles. If you need to use it in tough terrain, we recommend checking out the Black Diamond Alpine Carbon Cork below, which will solve almost all of your problems if you're only doing occasional scenic hikes or simple trekking trips. But those serious professional hikers and backpackers may want to purchase a more high-end model.
2. Black Diamond Alpine Carbon Cork ($200)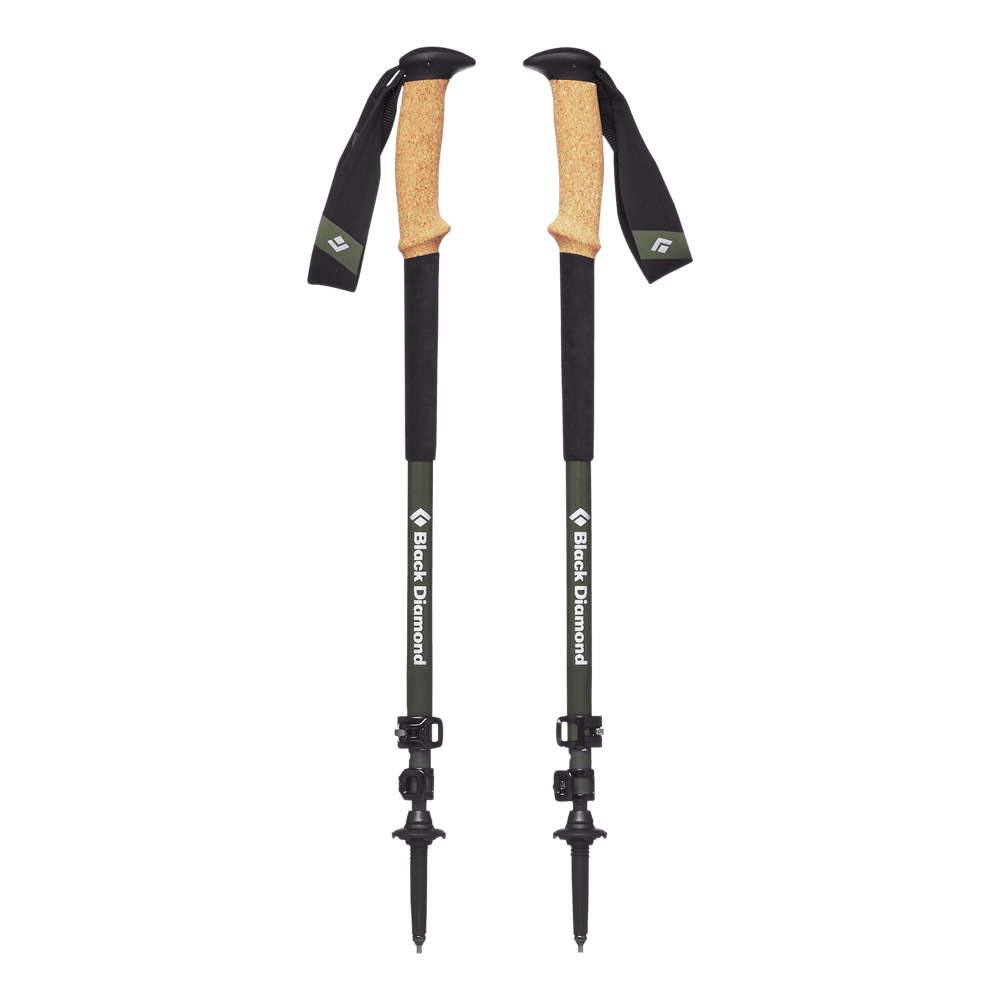 Type: Telescopic
Lock: Lever lock
Weight: 1lb 1.1oz.
Shaft: Carbon Fiber
Grip: Cork
Length: 24 inches
What we like about it: All-season use, adaptable camera mount, and tent compatibility.
What we don't like about it: The large size after storage.
For those who want a trekking pole for all seasons, whether it's for hot backpacking in the summer or thick snow trails in the winter, the Black Diamond Alpine Carbon Cork is well suited for the job. The carbon fiber tent pole gives it very high strength, and the reinforced construction won't bend easily even under heavy stress. Trusted metal lever locks and quality cork handles and a complete three-piece carbon fiber construction.
The structure of the pole makes it impossible to store up small enough. It's not a great option for those of you who want to carry your trekking poles in your pack through the bush. Perhaps you could look at the TSL Connect Carbon 5 Trekking Poles. it's also sold in a WR version that can be fitted with a camera adapter as well as being compatible with the ultra-light Distance tent.
3. Kelty Upslope 2.0 ($44.95)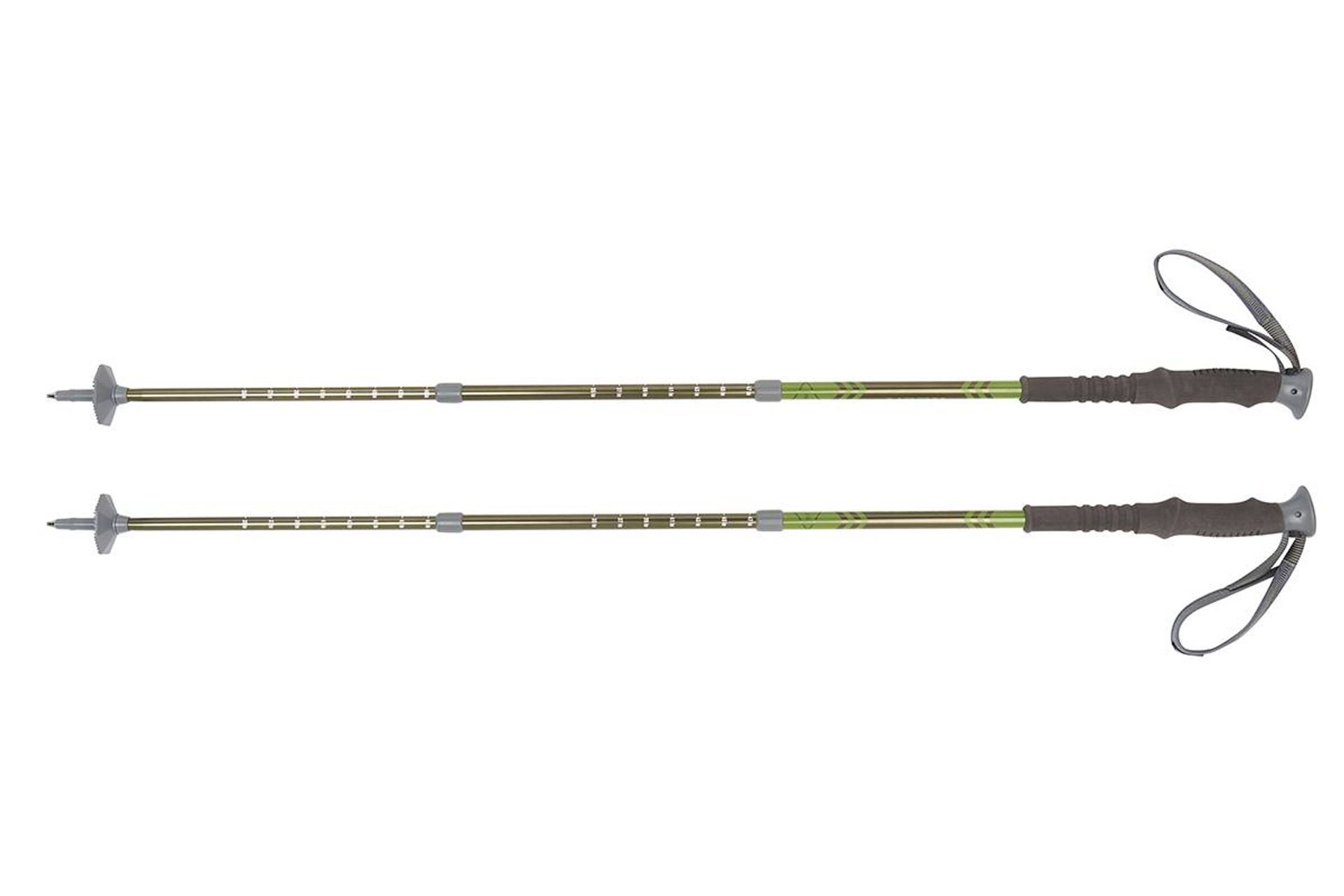 Type: Telescopic
Lock: Twist
Weight: 20 oz.
Shaft: Aluminum
Grip: Rubber
Length: 35 inches
What we like about it: Comfortable and reliable, affordable and lightweight.
What we don't like about it: The rotation-lock mode life is not very long.
This trekking pole is a comfortable and reliable, adjustable pole that doesn't cost much either. At just 10 oz. each, there are no outstanding features, but no one can resist its price. Tested on a long hike, the foam grip is comfortable and the adjustable wrist strap provides support while ensuring safety. The hard alloy tip is perfect for tackling any terrain on the trails.
Rotary locking is not the best form of locking. In our experience, this form of locking tends to wear out faster leading to failure. Although he didn't experience any failures in our use if you want another form of locking take a look at the Black Diamond Alpine Carbon Cork above, which impressed all climbers and our testers with their overall comfort and adjustability.
4. Black Diamond Distance Carbon Running Poles ($151.96)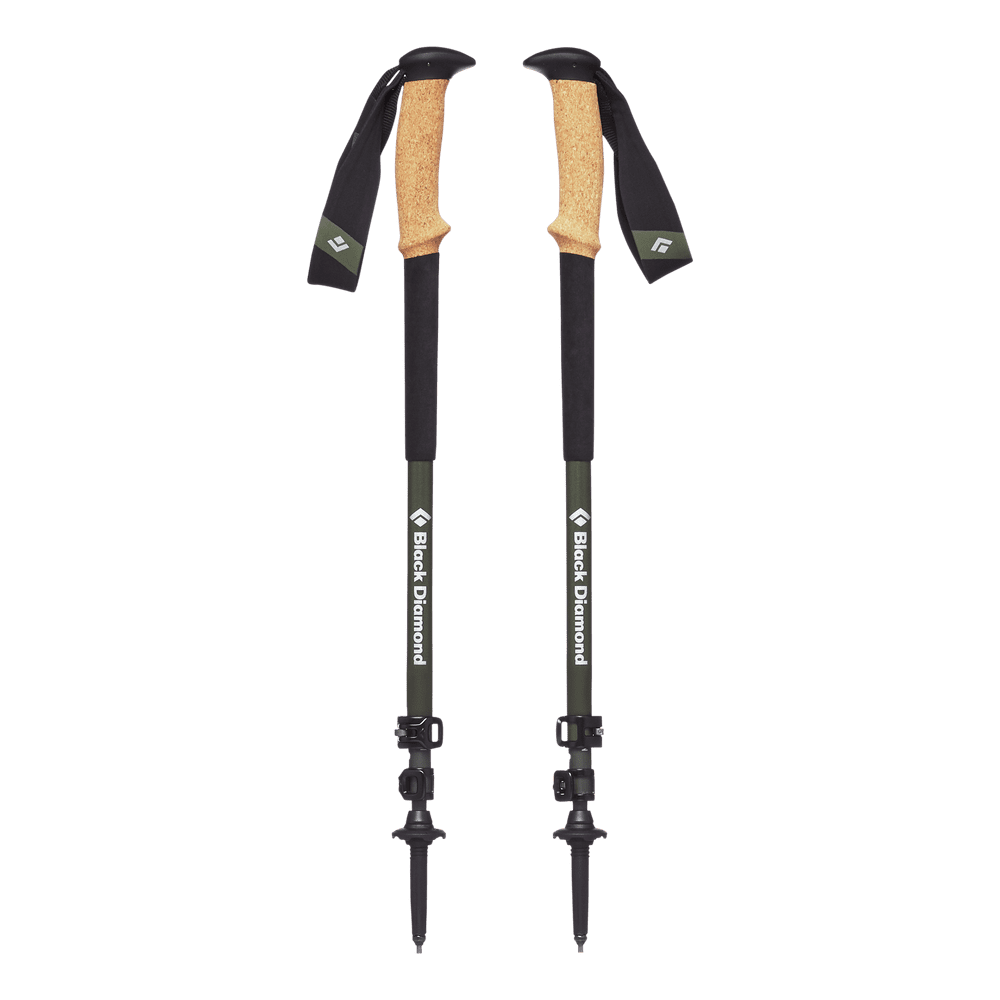 Type: Fixed
Lock:/
Weight: 6.7oz.
Shaft: Carbon Fiber
Grip: Rubber
Length: 100-130cm
What we like about it: Lightweight design, ergonomics.
What we don't like about it: The inability to fold.
A simple and surprisingly simple three-section design is unique to this running-specific trekking pole. The quick deployment system allows it to expand quickly and efficiently, and the foam grip reduces weight. The ergonomic design of the hand gives it a very surprising level of comfort, perfect for those professional trail runners. Of course, if you're big on weight, you can also use this ultra-light trekking pole for hiking.
But it is not easy to store. For lightweight design and mountain running preparation, it has almost no folding design. That means you can't put it away in your bag. If you need a trekking pole that is compact and easy to carry when folded, check out the TSL Connect Carbon 5 Trekking Poles. but if you are a trail runner in the mountains, this pair of poles will help you in your good times.
5. REI Co-op Traverse ($110)
Type: Telescopic
Lock: Lever lock
Weight: 1lb 3.5oz.
Shaft: Aluminum
Grip: Cork
Length: 25 inches
What we like about it: Comfortable and sturdy all-aluminum material, cork handle, and foam padding underneath.
What we don't like about it: The weight doesn't seem to be as good as it should be.
Compared to the last REI budget product, this one is a more expensive performance product. It has a sturdy aluminum construction with cork handles to provide a better hand experience when hiking long distances. The foam section under the cork works well in the face of rugged climbs. The updated and upgraded cam-type lever lock provides a more reliable locking effect instead of the traditional lever lock that loosens after a period of use.
But the weight doesn't seem to be satisfactory. The three-stage telescoping design and the all-aluminum alloy cover give it 1 lb. 3.5 oz. If you're hoping for something a little lighter, be sure to check out the LEKI MCT. But with the heavier weight comes absolute durability and sturdiness, while the aluminum alloy can withstand a certain level of lateral impact. All in all, this is one of the more well-rounded options in the mid-range price range, and for the money spent it's worth it.
6. Mountainsmith Dolomite OLS ($30)
Type: Telescopic
Lock: Lever lock
Weight: /
Shaft: Aluminum
Grip: cork/foam
Length: 25 inches
What we like about it: The design that can be sold individually, the value-for-money all-aluminum design, and the cork handle.
What we didn't like about it: Not for the toughest of trekkers.
Most trekking poles are sold in pairs, but a large portion of light hikers prefer to use a single trekking pole. Much like an elderly person with a cane, they can free up the other hand to do other things. Mountainsmith offers a great solution for just $30 that comes with a soft foam grip and a cork handle. The pole is made of full aluminum alloy and packs down to a fairly small size.
It is not suitable for those hikers in tough areas. Because a trekking pole can't evenly share the weight of two legs, you'll feel as uncomfortable as a three-legged horse on a long hike. Overall, although it's not great and the construction is no match for the sturdiest products on the list, there's no denying that the Mountainsmith is good value for money.
7. Cascade Mountain Tech Carbon Fiber Quick Lock ($52)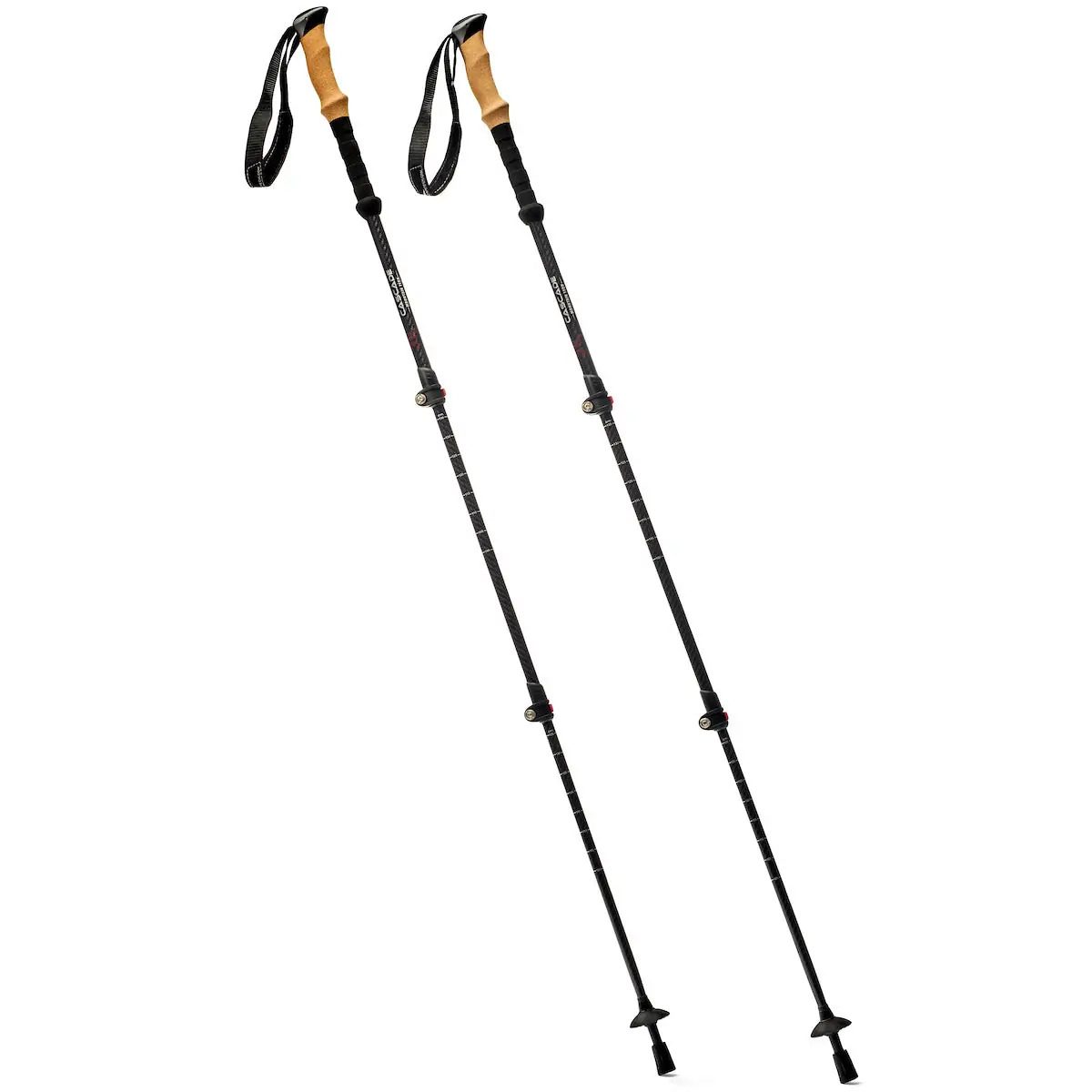 Type: Telescopic
Lock: Lever lock
Weight: 1 pound
Shaft: Carbon fiber
Grip: foam/cork
Length: 28 inches
What we like about it: Affordable trekking poles that are lighter in weight.
What we don't like about it: The durability is compromised.
This is the most affordable trekking pole on the list. For starters, the pole's 1-pound weight, simple no-fault lever lock, and foam extension grip stack up nicely. What's most impressive is that it doesn't skimp on any accessories, with rubber tips and two sets of snow baskets, and carbon fiber poles with a choice of either foam or cork grips. I usually prefer the foam grips, as the cheap cork grips will disintegrate over time.
The $52 carbon fiber material is very durable, but not as strong as aluminum at the same price level. But otherwise, the lightweight design allows you to get a lightweight and affordable trekking pole as long as you pay some attention when using it. The price is only a third of the price of traditional trekking poles.
8. LEKI MCT Superlite Carbon ($199.95)


Type: Telescopic
Lock: Button
Weight: 11.9oz.
Shaft: Carbon Fiber
Grip: Cork
Length: 12.6-15.5 inches
What we like about it: Short or single-day fast traverse design, very lightweight.
What we don't like about it: the length remains long after the double fold.
The Black Diamond Alpine Carbon Cork above is my favorite of the ultralight collapsible series. But another super streamlined design is offered on this trekking pole, specifically for fast traversers. And the folding system is very simple, weighing less than 11.6oz. per pair. Thoughtful features and a wrap-around mesh wrist strap allow for a larger support area while being breathable, and a 14mm carbon fiber shaft reinforces the lower portion, compared to the usual 12mm on traditional trekking poles.
The folded length is still a whopping 14.6 inches, which allows it to simply be strapped to the surface of the pack rather than tucked in. If you want a trekking pole that's easier to fold and store, check out the TSL Connect Carbon 5 Trekking Poles below, but overall, this is a lightweight design specifically for fast traversers. It's well-made and powerful for those who want to move quickly and lightly. The one-piece design makes it stronger than even thicker carbon fiber poles.
9. TSL Connect Carbon 5 Trekking Poles ($169)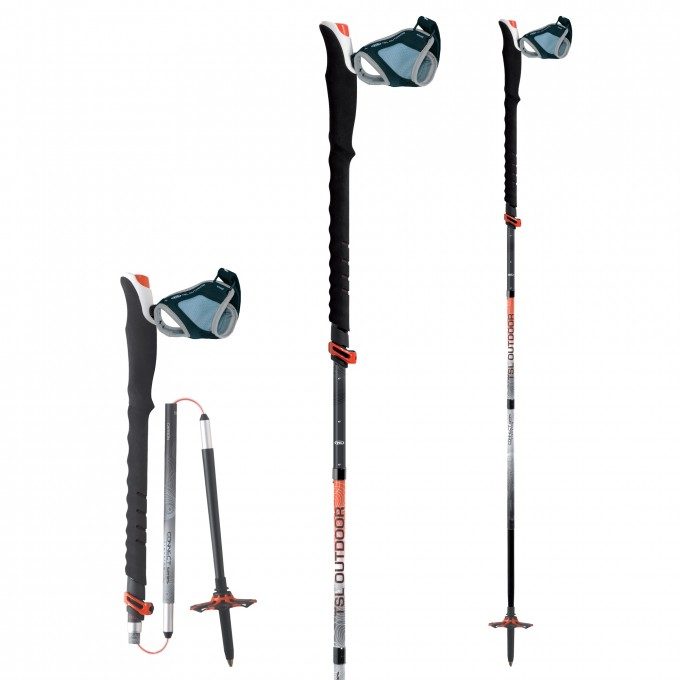 Type: Folding
Lock: Lever lock
Weight: 16oz.
Shaft: Carbon Fiber
Grip: Rubber
Length: 16.5 inches
What we like about it: The storage volume is small and can easily fit in your bag.
What we don't like about it: The structural design is more fragile than the traditional telescopic models.
Compact, lightweight, and impressively flexible for all-season use. The folding design allows it to be stored small enough. The ergonomic foam grip is twice as long as traditional trekking poles, allowing you to quickly tackle uphill and downhill without having to make impromptu adjustments. The removable carabiner with a magnetic connector allows for quick disassembly. The smaller storage size easily fits in a backpack after disassembly.
The structure needs to be disassembled often as it is very easy to damage. If you're not the kind of lightweight and easy-to-carry player that you are in the ultimate pursuit of, it is certainly the best choice. But if you are like me and are more in pursuit of sturdy and durable poles that can stay with you for a long time, then you can check out those telescopic folding lever lock design trekking poles. So this list only recommends this one folding and storing trekking pole for those who want to store a smaller volume of travelers.
10. LEKI Vario XS Kids Trekking Poles ($65)


Type: Telescopic
Lock: Lever lock
Weight: 15oz.
Shaft: Aluminum
Grip: Rubber
Length: 26.5 inches
What we like about it: It is suitable for children of smaller heights.
What we don't like about it: It's bigger for storage.
To keep kids entertained on the trails too, and as an excellent training tool, the LEKI Vario XS Kids Trekking Poles are here to stay. 31-43.5 inches of reach to grow with your child. For kids who love the outdoors all year round, these kids' trekking poles can be used in all seasons. A pair of concrete protectors and a pair of snow claws are included with the poles.
Stowed away still at 36.5 inches, they may be a bit bothersome for those smaller kids carrying them outside the duffel bag, which may collide with branches while traversing the woods. So we recommend that kids always grab them in their hands, and the two webbing straps that come with the pole allow kids to free up their hands to do other things while the trekking poles can easily hang on their wrists without getting in the way.
How to choose the most suitable trekking poles?
Three-section, two-section, and fixed length
Material of Shaft
Locking Structure
Mountain Pole Grip Structure
Cork
Foam
Rubber
Durability
Is it better to travel with one or two trekking poles?
How high should I set my trekking poles?
Three-section, two-section, and fixed length
Most hikers and backpackers prefer a three-section trekking pole, especially with the telescoping lever lock setting. This setup makes the trekking poles easier to store when you are not using them, and the design will be more durable. Folding poles, however, will be easier to store in your hiking bag, although this folding design will not last as long as the traditional telescoping model.
It is also worth mentioning that there is a completely unfoldable lightweight trekking pole with a fixed length that eliminates the weight of the folded structure. These trekking poles are usually suitable for trail running for a single day or a few hours of fast traversing and do not require storage.
Material of Shaft
Usually, the shaft is made of carbon fiber, aluminum, or a combination of the two (for example, a three-section trekking pole usually consists of two carbon fiber tops and an aluminum tail). High-end trekking poles are made of carbon fiber, which is lighter and stiffer, but also more expensive and brittle (carbon fiber tends to break when hit sideways, while aluminum will just bend or dent and still work fine). The disadvantage of lateral stress fracture of carbon fiber can be offset by a thicker diameter, but there is a weight compromise.
Locking Structure
Except for the ultra-light folding trekking poles, storage for almost all trekking poles is provided by a telescoping locking structure. The classic style uses a rotary tightening where you adjust and tighten the locking part of each trekking pole. If you over-tighten, it will make opening difficult. However, if you tighten them too loosely, they can collapse during climbing.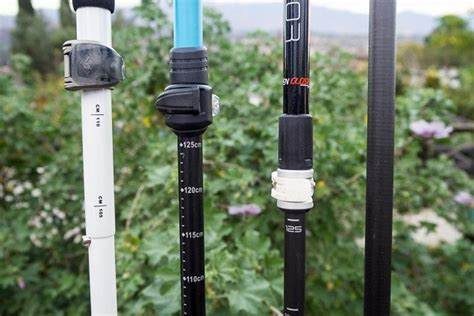 In hindsight, the tightening style is outdated. While it still does well on some models, such as the Kelty Upslope 2.0 in the article, we don't usually recommend that you use this type.
About lever locks, the use of external clamps adjusts the design to allow for quick opening and locking of the lever. This is a very easy-to-use system. An even better point is that in this locking situation, slippage is greatly reduced, thus providing the user with extra confidence. Lever locks are the new standard for trekking poles.
Mountain Pole Grip Structure
Usually, there are three types of grip materials for trekking poles: cork, foam, or rubber.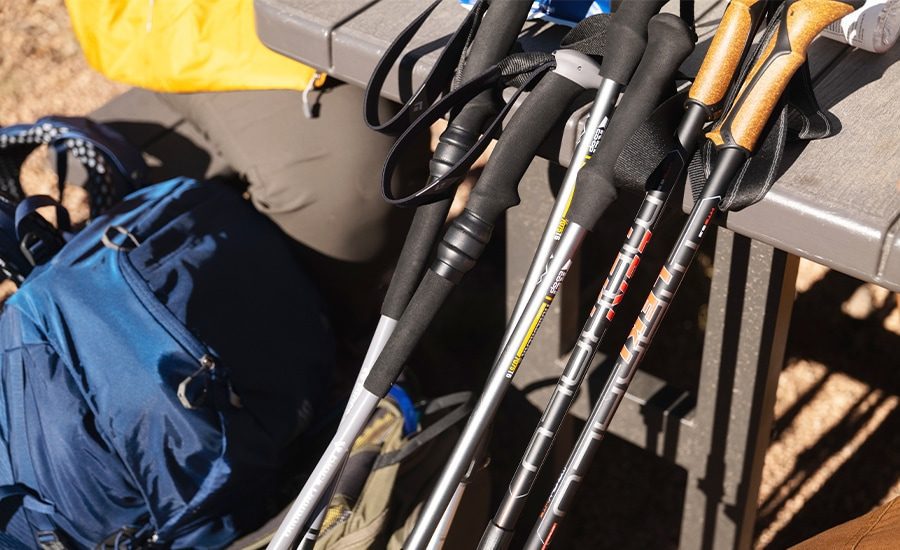 Cork: Cork is my personal favorite. A quality cork handle has a very comfortable feel in the hand and wicks sweat well. Over time, the cork material will also conform more to the shape of your hand, giving you a unique trekking pole that is only comfortable for you.
Foam: If the cork is not your favorite material, then foam would be good. EVA foam is soft and flexible, provides a degree of hand cushioning, and does a great job of wicking sweat and quick-drying in the summer.
Rubber: This will usually be found on the best-budget ground trekking poles. Sweaty hands can be slippery to use and not as soft to the touch. However, we have found it to be ideal for cold weather use and the rubber lasts a very long time.
Durability
For trekking poles, durability and weight are almost equally important. The easiest way for manufacturers to reduce weight in the first place is to reduce the thickness of the inner wall of the tubing. Overall, thinner poles will be less durable and more prone to deformation under pressure than wider and thicker poles.
As a result, aluminum products may be more durable. Although it may not be as rigid as carbon fiber material, it is very unlikely to break. This is why many manufacturers make mixed material poles. Aluminum is used at the very bottom of the three-section trekking pole to prevent the pole from breaking when inserting hard objects such as rocks.
As with any outdoor gear, you better consider your personal needs. For me, I'm willing to sacrifice a few ounces of weight to make a product more rugged. If I get a very harsh environment, I'm willing to compromise more on durability.
Is it better to travel with one or two trekking poles?
While the vast majority of hikers climb with two trekking poles, there is still a segment of the population that believes only one trekking pole is needed. Upon observation, we have found that they are often a good helper for day hikes as well as those who travel light. A trekking pole provides extra balance and more support than those travelers who don't use poles, especially on uphill climbs where it keeps you off your hands and feet.
In the end, it comes down to personal preference and I think a trekking pole may indeed be a good choice for those who want some help but want to keep it light. In terms of purchasing this article also provides a way to buy a single trekking pole. If you want one, I think it's worth trying. But there is no denying that two trekking poles can provide a more comfortable, balanced gait.
How high should my trekking poles be set?
When you hold a trekking pole in your hand, your arm is bent and the angle between your arms is ninety degrees. At this point, the height of the trekking pole should be your most comfortable and energy-saving height.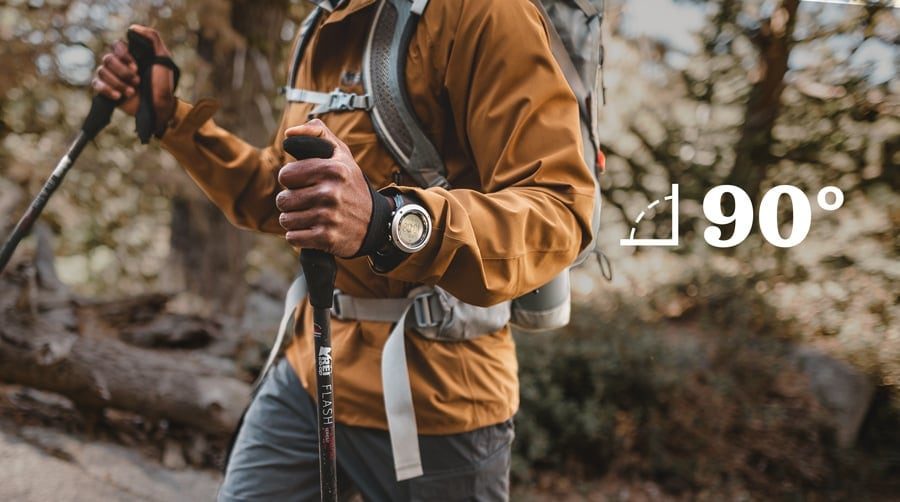 Generally speaking, people under 5 feet 1 inch will choose a rod of about 100 centimeters; while those 5 feet 7 inches will use a rod of about 110-115 centimeters; 5 feet 8 inches to 5 feet 11 inches people fairy tale village that need about 120 centimeters; and those above 6 feet people need to use a rod of about 130 centimeters.
It is worth mentioning that you usually need to shorten your trekking poles a bit when going uphill to accommodate the change in angle, and similarly, you need to lengthen them when going downhill. So before buying trekking poles, make sure you choose poles that stretch to fit your height and can be adjusted in length.
Conclusion
A quality trekking pole can make your journey easier, it's like your other two legs so you can go further and easier. It's not like simply picking up two branches from the ground, it provides super strong support, lighter weight, and a comfortable grip. And the easy-to-store design allows you to easily pack or hang them in your bag. Because you can't guarantee that you'll be able to pick up the right stick at any given time. There is a wide selection of trekking poles, and choosing one may be a very tough question, but you still need to find the best one for you.
For this reason, we have found the ten best trekking poles as of 2023, whether in terms of material, length, appearance, or use scenarios, there is one for you.
If you want more reviews of camping products, such as our Best Portable Power Stations of 2023, it allows you to have full peace of mind that all your electronics and electronics can be used.
Finally, if you like our content, feel free to share it with your friends! If our content is helpful to you, you can click the email subscribe button below! Thanks for your support!