We use affiliate links and may receive a small commission on purchases.
We've selected the Top 8 Best Enduro Bikes Under $4000 from over 156 road bikes.
With prices under $4000, there are many quality bikes on the market for you to choose from. Have you ever dreamed of riding on an enduro track? But you can't find the right enduro bike for you? Don't worry, we've tested exciting enduro bikes under $4000 for you.
Here, we list the following 8 best enduro bikes under $4000 that performed outstandingly well. We will tell you which ones are good and which ones should be avoided. If you want to know more, welcome to follow us and we will keep updating.
Enduro Bike Comparison Table
| | | | | | |
| --- | --- | --- | --- | --- | --- |
| Bicycles | Price | Suspension | Tires | Gear | Frame |
| Trek Slash 7 | $3829 | 170mm(front) 160mm(rear) | 29″ | 1×12 | Aluminum |
| 2023 Canyon Torque 27.5 AL 5 | $3299 | 180mm(front) 175mm(rear) | 27.5″ | 1×12 | Aluminum |
| 2023 Giant Reign 2 | $3600 | 170mm(front) 160mm(rear) | 27.5″ | 1×12 | Aluminum |
| 2023 Marin Alpine Trail Carbon 1 | $3599 | 160mm(front) 150mm(rear) | 29″ | 1×12 | Carbon |
| 2023 Canyon Spectral 27.5 AL 6 | $3299 | 160mm(front) 150mm(rear) | 27.5″ | 1×12 | Aluminum |
| Specialized Status 160 | $3000 | 160mm(front) 160mm(rear) | 27.5″ / 29″ | 1×12 | Aluminum |
| YT Industries Capra CORE 2 29 | $3399 | 170mm(front) 165mm(rear) | 29″ | 1×12 | Aluminum |
| GT Force Sport | $3025 | 160mm(front) 150mm(rear) | 29″ | 1×11 | Aluminum |
1. 2022 Trek Slash 7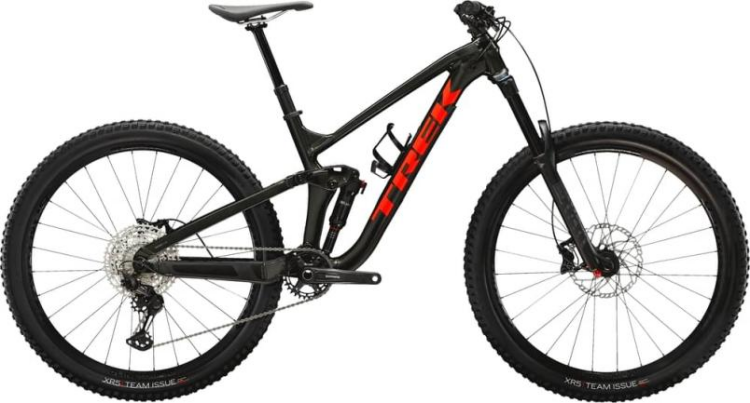 Price: $3829
Suspension: 170mm front, 160mm rear
Tire: 29″
Gear: 1×12
What we like about it: Superb high-speed stability.
What we don't like about it: It needs to be improved in terms of speed.
Learn More: Trek Slash 7 Review [2022]–Full Suspension Enduro Race Bike
In this price range, bike manufacturers from all the well-known brands have participated, and these enduro bikes vary in quality and performance. But Trek's Slash series stands out here. the Slash 7, the entry model in the range, comes with an aluminum frame built for demanding to ride, as well as a RockShox Select+ shock with 160mm of travel and a 170mm Yari RC fork. In addition, the Bontrager XR5 Team Issue vacuum tires and Shimano 4-piston brakes are used to allow you to descend with confidence. Moreover, the design of the dropper is able to give you better performance uphill and downhill.
As one of the most affordable full-suspension enduro bikes in the Slash series, the Slash 7 can handle complex terrain thanks to the Shimano Deore 12-speed drivetrain. However, it still needs to be improved in terms of speed. We'd like to see a bike with a better drivetrain to match the bike's other great features. If you're picky, then you can upgrade to the Slash 9.8 XT, but it costs $6699.
Combined with its full performance, it is an excellent enduro bike. The all-around performance gives you the ultimate experience, which is why we listed it as number one.
2. 2023 Canyon Torque 27.5 AL 5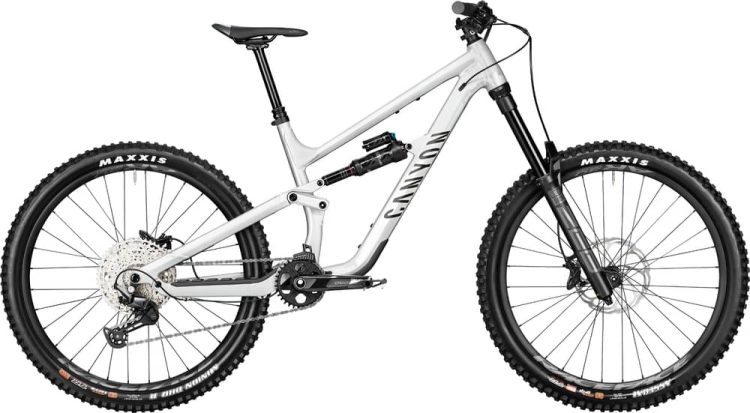 Price: $3299
Suspension: 180mm front, 175mm rear
Tire: 27.5″
Gear: 1×12
What we like about it: Excellent shock absorption performance.
What we don't like about it: The weight leaves much to be desired.
This Torque 27.5 AL 5 from Canyon managed to win our favor with its excellent component configuration at a price of only $3,299. The simple internal alignment design eliminates noise while riding and the high-performance aluminum frame is ready for the toughest roads. Further, the progressive geometry design makes your ride faster and smoother than ever before. Topping it off is the application of a 180 mm ROCKSHOX shock fork and 175 mm RockShox Super Deluxe Select+ rear shock, one of the largest travels on our list. This makes it have an excellent damping effect in the enduro, giving you a better experience.
The only complaint we have is the overall weight of 16.2kg, which makes you focus more on handling and pedaling during the ride. This may affect your climbing efficiency. If this is too much for you, don't worry, the Torque 27.5 CF 7 in the same series solves this problem very well. The use of a carbon fiber frame effectively reduces weight, while the SRAM GX Eagle 12-speed drivetrain allows you to cope with different terrain. However, it is not on our list this time because it costs $4399. If you have a good budget, it will be worth trying to choose.
3. 2023 Giant Reign 2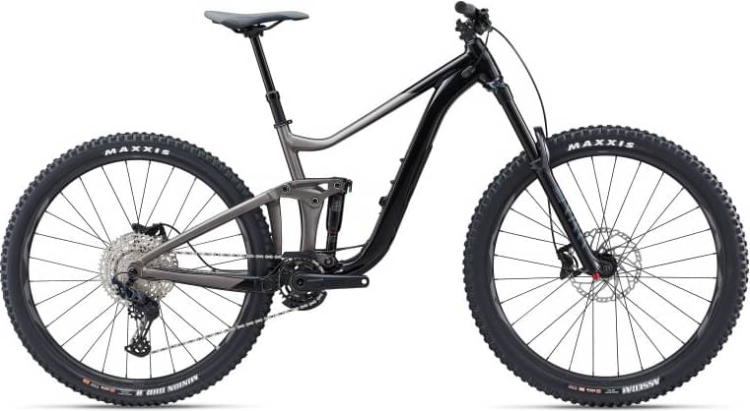 Price: $3600
Suspension: 170mm front, 180mm rear
Tire: 27.5″
Gear: 1×12
What we like about it: Adjustable geometry.
What we didn't like about it: The component selection was mediocre and not impressive.
Giant produces an enduro bike that comes in a close second. This Giant Reign 2 may not give you the best component experience, but it's certainly worth every penny. As the entry-level to the Reign series, it gives you the best experience possible. First, there is the use of the RockShox Deluxe Select+ rear shock with 180mm of travel. At this point, it is the same choice as the previous two bikes. Moreover, the RockShox Yari RC shock fork with 170mm of travel further provides its shock absorption performance. In addition, the updated suspension system can handle any obstacle on the road. There are also 27.5-inch wheels for more agile handling. What surprised us the most is its adjustable geometry design. The new reverse chip technology allows you to switch according to different terrain to help you win the race.
So what makes the Giant Reign 2 rank low, the reason is the choice of components. At this price point, most of them are entry models from popular series of well-known brands, so they are similar in terms of configuration options. And this makes Reign 2 not stand out. The adjustable geometry alone is not enough to support it as the preferred reason. For its all-around performance considerations, we put it in this position.
4. 2023 Marin Alpine Trail Carbon 1
Price: $3599
Suspension: 160mm front, 150mm rear
Tire: 29″
Gear: 1×12
What we like about it: The application of carbon frames.
What we don't like about it: The annoying cable rattle.
Marin's Alpine Trail Carbon 1 proves that it's possible to have a carbon-framed enduro bike on a budget under $4,000. The high-quality carbon fiber hard shell construction is tough enough to handle the most demanding terrain conditions. In addition, the one-piece forged rocker design is designed to provide smooth suspension operation in harsh conditions. Not to mention the Shimano BR-MT420, 4-piston hydraulic disc brakes deliver a safe ride. Of course, as an enduro bike, it has the same great performance in damping, equipped with a RockShox Yari RC fork with Rock Shox Deluxe Select + RT rear shock, allowing you to perform a lot of jumps.
However, what makes us dissatisfied is the noise it makes when it rides. This is because although it is designed for internal alignment, the rubber cable loop at the entrance does not clamp the cable, which causes it to make a noise on rough roads. This affects my interest in riding. If you're like me, then try its upgraded Alpine Trail Carbon 2. For only $4499 you get even better performance and a quieter ride.
5. 2023 Canyon Spectral 27.5 AL 6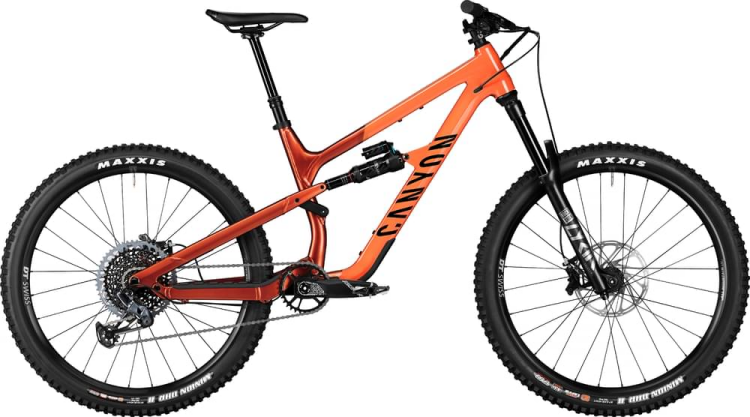 Price: $3299
Suspension: 160mm front, 150mm rear
Tire: 27.5″
Gear: 1×12
What we like about it: Excellent component specifications.
What we didn't like about it: Moderate performance in terms of damping.
The Spectral 27.5 AL 6, like the Torque 27.5 AL 5 above, is manufactured by Canyon, so you can be assured of its quality and after-sales service. We were also impressed by the SRAM GX Eagle 12-speed drivetrain, which allows for precise shifting regardless of the terrain. The MAXXIS Minion DHR II tires are even more powerful in providing traction on loose trails. Also with a dropper design for your climbing and descending. Plus the SRAM Code R hydraulic disc brakes have a responsive application. These great components give you a fun ride.
However, the Spectral 27.5 AL 6 struggles a bit when it comes to some of the tougher terrains. Because of the limited suspension travel (160mm front, 150mm rear), it doesn't provide as much damping as the other bikes on the list when faced with steeper roads. But if you want a bike with high-end features in other components and are willing to sacrifice a little damping performance, then this Spectral 27.5 AL 6 would be a good choice.
6. 2022 Specialized Status 160
Price: $3000
Suspension: 160mm front, 160mm rear
Tires: 27.5″ / 29″
Gear: 1×12
What we like about it: Different sizes of wheels are available.
What we don't like about it: The flimsy geometric design.
As a bike brand with a high reputation, Specialized has always been on our radar. This Status 160 is also a great performer. Unlike the previous bikes, it uses the FOX FLOAT series for both the front fork and rear shock options. With the same 160mm of travel, this provides plenty of trail feel. In addition, the hybrid wheel geometry on the frame reduces excess trim and allows it to take more of a beating. It's worth noting that the Status 160 has two different wheel sizes to choose from in terms of wheel selection. This is certainly good news for riders with different riding habits.
However, it has to be said that its geometry is not practical. The long and slack geometry makes it not as suitable for technical climbing as other bikes. To be honest, the slack 63.2° head tube angle is the lowest on the list, and the results of such geometry are already evident when facing climbs.
Of course, there are not many climbs that you encounter in an enduro. If you use it for mountain adventures then try the above bike, it will surprise you.
7. 2022 YT Industries Capra CORE 2 29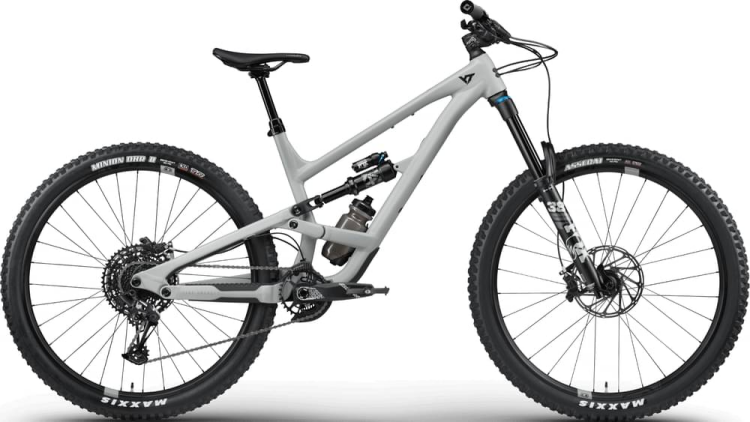 Price: $3399
Suspension: 170mm front, 165mm rear
Tire: 29″
Gear: 1×12
What we like about it: Frame protection design.
What we don't like about it: The slightly stiff dropper.
If the vehicles featured above don't tickle your fancy in terms of looks, then be sure to take a look at this YT Industries Capra CORE 2 29. This enduro bike managed to catch our attention in terms of looks. The internal alignment gives it a clean look. And the high-end aluminum frame is capable of handling more violent impacts, which allows you to make more intense moves. And when you're jumping, the rear lower fork and rear upper fork guards provide reliable protection. In addition, the new geometry has been further improved, making it easier to climb and descend.
While it performs very well with all the kit, it is a bit disappointing on the dropper post. It can seem a bit stiff when you are riding high in complex terrain, which might affect your race performance. Of course, it's not useless. What I mean is that it does work, it just lacks the level of refinement that the rest of it presents. If you don't mind that, then the YT Industries Capra CORE 2 29 is a great companion.
8. 2022 GT Force Sport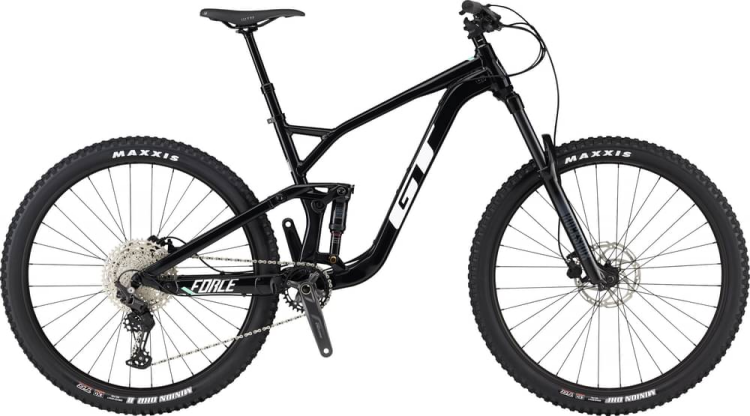 Price: $3025
Suspension: 160mm front, 150mm rear
Tire: 29″
Gear: 1×11
What we like about it: Versatile and fun.
What we don't like about it: Shimano Deore 11-speed drivetrain.
The Force Sport managed to catch our attention with its new geometry and sleek high-turn point suspension design. You can experience what it's like to fly around an enduro track for just $3025. Like many other professional enduro bikes, the Force Sport uses 29-inch wheels exclusively with a fork with 160mm of travel to give you a more comfortable experience while having fun riding. And, the high-end aluminum frame and aggressive geometry make it easy to ride through the park or on trails without looking weird.
But that doesn't mean it's perfect. As the entry model of the Force series, it uses a Shimano Deore 11-speed drivetrain in shifting, which has room for upgrade. Compared to the aforementioned bikes, it's a little less capable of shifting when facing complex terrain. The GT Force Sport Carbon Pro not only uses a more advanced drivetrain but also a carbon fiber frame. For that, you'll need $5,050 to enjoy it. So if you're on a budget, this GT Force Sport can be just as much fun to ride.
Enduro Bike Buying Guide
Carbon fiber and aluminum alloy
Drivetrain
Wheel size: 29- and 27.5-inch
What is an enduro bike?
GT vs Trek
What is the difference between enduro bikes and trail bikes?
How much travel is suitable for an enduro bike?
Is weight important for enduro bikes?
What should I carry in an enduro?
Carbon fiber and aluminum alloy
In enduro bikes, you'll often see carbon and aluminum frames, but not steel bikes. This is because in an enduro, there is a race against time, and the bulkier steel frames are not a consideration for riders.
Carbon fiber bikes are really popular, it has lighter weight and are more rigid, but it is more expensive. Of course, one of its biggest drawbacks is that it's not easy to recycle. That's why you only see the Marin Alpine Trail Carbon 1 carbon bike in the list.
The aluminum frame is widely used in bicycles. This is not only because it is cheaper, but also because it has a longer service life. For enduro bikes, which often encounter crashes from rocks or trees, aluminum frames can handle them well. It's no coincidence that all the bikes on the list are made of aluminum.
All in all, if you are not very weight conscious and want a longer ride, we think aluminum is the best choice in this price range.
Drivetrain
You'll be hard-pressed to see a 2× drivetrain in an enduro bike at this price point. That's because on an enduro you need to change quickly for fast ascents and descents, and a 2× system is cumbersome here. From the rider's point of view, they want to focus more on the road ahead and less on the shifting.
As you can see in the list, the 1×11 or 1×12 drivetrain is the best choice at this price point. It has a lighter weight and simpler operation. Its range is wide enough and controllable enough to handle the ups and downs on the road. The SRAM GX Eagle and Shimano Deore are two drivetrains that perform very well.
Wheel size: 29- and 27.5-inch
If you are careful enough, you will find that the wheel sizes in the list are 29- or 27.5-inch, and are similar in proportion. This is because the current market mainstream wheel size is these two. In comparison, 29-inch wheels are easier to go over obstacles, and better passability makes it smoother when riding. On the ride, you will get faster, which is why many professional mountain riders use 29-inch wheels.
And the 27.5-inch wheels will give you a more fun ride. Lightweight and easy to handle is its advantage. The 27.5 wheel works well when you're facing narrow or tricky trails. It can quickly change reverse and jump from one side of the trail to the other more easily.
Generally speaking, smaller riders will choose 27.5-inch wheels, while those with larger bodies tend to use 29-inch.
What is an enduro bike?
Enduro biking, a subset of mountain biking, combines the technical requirements of downhill with cross-country riding. Simply put, it is halfway between a cross-country mountain bike and a speed bike, designed for both uphill and downhill riding. In terms of configuration, enduro bikes are generally lighter in the frame and have good suspension and damping travel. And in most cases, 29-inch tires are used.
Overall, as a versatile enduro bike, it provides top-notch fun in any situation, whether it's a fast trail or a steep climb, it can handle it well.
What is the difference between enduro bikes and trail bikes?
Although both bikes fall under the broad category of mountain bikes, there are some differences between the two. First off, in terms of travel, the shock travel of an enduro bike is bigger, usually 150-180 mm, while the shock travel of a trail bike is usually around 140 mm.
On the other hand, trail bikes are more inclined to trail riding on mountainous forest roads, with good performance on climbs and some single tracks. Whereas enduro bikes are more of a short ride and are better suited for challenging descents. This is because, in terms of geometry, enduro bikes have a slack geometry and larger suspension system. Although enduro bikes are also designed for climbing, they are not as efficient compared to trail bikes.
So choosing the right kind of bike will allow you to focus better on your ride.
GT vs Trek
GT
The GT bicycle was founded in 1979, the brand was named after the initials of its founder Gary Turner and was dedicated to the development of BMX bikes. During this time, GT bicycles monopolized the top ranks of BMX racing and became a global hit. It was only in the late 80's that the development of mountain bikes began, with the development of the triple triangle frame that, like BMX, took the MTB racing world by storm. Its rich history brings GT a deeper understanding of bicycles, keeping it at the forefront of racing.
Trek
Founded in 1975, Trek bicycle is a world-renowned American bicycle manufacturer whose bikes have been used by professional riders in prestigious races for many years. The use of OCLV carbon fiber has revolutionized cycling, providing outstanding quality that many carbon bikes cannot achieve today, and the emergence of ABP technology has expanded the maneuverability of mountain bikes and brought riders more fun.
Both belong to well-known bicycle brands, and both have a history of decades. They both have a large audience of fans, and their bikes are equally good. So in the choice between the two, it's more a matter of which brand resonates with you.
How much travel is suitable for an enduro bike?
For enduro bikes, there is usually 150-170 mm of rear travel. And to cope with some tough downhill sections, they often have front travel to match the rear travel, sometimes even more. That's why most of the bikes on this list have more front travel than rear travel.
As an enduro bike will often encounter rough roads, it needs more travel to absorb the shock generated by the ride. If you ride more aggressively and are looking for effective shock absorption, then more travel is not out of the question. This will be judged largely on your riding habits.
Is weight important for enduro bikes?
It is well known that the heavier the bike the harder you will climb, and likewise, on the descent, you will gain more inertia and thus more speed. But if you slow down on the way, it will be more difficult to get up to speed again.
And while powerful brakes, grippy tires, and a fast drivetrain all add to the weight of an enduro bike, almost no one will sacrifice a little of that to save a little weight.
For those riders who are serious about weight, you can choose higher-end components and a carbon frame to reduce the weight. Of course, if you are just an ordinary enduro rider, then you don't have to worry too much about weight.
What should I carry in an enduro?
When it comes to enduro, you need a bike that fits your needs, in addition to some other equipment to keep you riding.
The first is the helmet carry, which is very important. It provides extra protection for you when you leap over roots or rocks, helping you achieve more complex movements.
The second is the goggles, in cycling vision is very important. And the presence of goggles is very good to protect your eyes, especially in sandy and rainy weather, it has a good performance. It works better with helmets.
Then there is the choice of knee pads and gloves. The right gloves will not only protect your hands when you fall, but they will also give you enough grip to control your bike. Knee pads are also a good choice to protect your legs from hard ground impacts.
Some other equipment can be carried according to your needs. But no matter what the equipment is the ultimate purpose is to ride better, not to play cool.
Conclusion
For enduro bikes, not every bike is created equal. Some are better suited for climbing and have pedaling characteristics, like the Canyon Torque 27.5 AL 5. Others are capable of going all out on rough roads, like this 2023 Giant Reign 2. But there's no denying that they all have great performances.
The Trek Slash 7 took the top spot with its all-around performance. For those who prefer a different frame material, the Marin Alpine Trail Carbon 1 and the Canyon Spectral 27.5 AL 6 will suit you very well. We hope our selection of 8 best enduro bikes under $4000 will be helpful to you this time. By the way, if you want to go riding in well-known terrain or special terrain, you can book your accommodation on Skyscanner. It is not only rich in variety but also easy to operate.
Finally, if you like our content, you can click the email subscribe button below and share it with your friends! Thanks for your support!